Posts Tagged 'chicago yacht club'
It's been six years since Mark Morley and Suzanne Bickel died during the Chicago Mackinac Race aboard Wingnutz, and Saturday night was very nearly Deja Vu all over again.  A nasty frontal line – similar to the one that capsized Wingnutz in 2011 – tore through the fleet from the West around Midnight.  Rather than just a big increase and righty, the line held huge, spiking gusts of well over 50 knots, shifting constantly in the turbulent boundary.
Few boats came through the squalls without damage, but the scariest report came from Bill Shellhorse's Virginia-based Farr 400 Meridian X, a perennial competitor in the Mac.  During a knockdown, they lost a crew overboard and it took a full hour to recover him.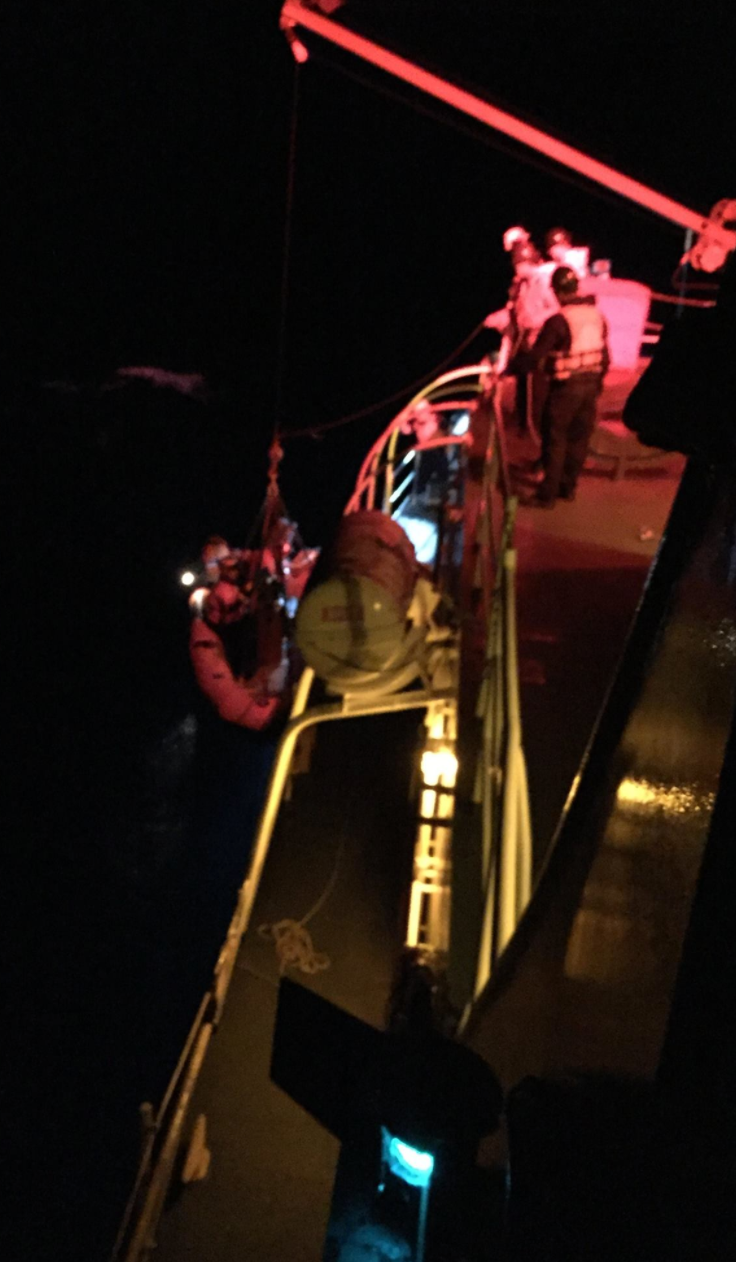 With water temps in the mid 60s and huge, short seas, it's amazing the crew was able to stay alive, and it's not a surprise to have received a tip that the rescuee was maybe a few minutes away from the worst end possible.  Despite multiple USCG assets in the area and quite a few boats trying to stand by and help, it was Meridian which recovered their crew under what must have been terrifying circumstances.
As much as a third of the fleet retired to nurse their wounds, while almost the entire multihull fleet pulled out, but not before the F31 trimaran High Priority 2 went over in a 50-knot gust and turtled; the pic to the left is of her crew being winched aboard a CG tender after they hung out on their upside-down hulls for a while.  The big showdown between the two ORMA 60s – Earth Voyager and Arete – failed to materialize, with EV pulling out with mast track problems.  Arete is just 5 NM from the finish as we speak – not of the Chicago Mac (which they finished with first racing boat and first in class) but of the SuperMac! Owner Rick Warner wrote us this morning.  "All of the Arete team wishes best wishes to
everyone forced to retire.  We are so glad the crews are all OK!  We saw plenty of wind, on the nose in the upper half of the lake.  It was steady 30s with 7-foot faces with a typical Great Lakes short period, the boat was fully out of the water at times, the main hull launching off the back of the waves and the leeward ama digging in and piercing the next one…if you know how far back the helm pods are on Arete, you understand what it means when I say that the waves were actually pounding on it…We are looking forward to the Port Huron-Mac and then the TransSuperior!"
Quantum owners the DeVos family aboard Windquest ironically retired with sail damage, with the big squall disintegrating an A3 and shredding the headboard of their mainsail, while TP52 Natalie J pulled out after destroying their jib tack, cunningham, and some odds and ends.
Thankfully there are no reports of major injuries, though the sailmaker's (and rudder repairers) bill is sure to total millions…
Tracker for both the CYC race and the SuperMac are here.   Results here.
July 17th, 2017 by admin
Long before she was the CYC's head of Comms, sailing cheerleader Morgan Kinney was sharing her passion with the Anarchists.  She continues with this great story from last weekend's Chicago Yacht Club hosted IFDS Blind Sailing World & International Championship, presented by Wintrust. Here's her report, with gorgeous shots from Zachary James Johnston, with more here.
Fourteen teams from as far as New Zealand came to town for four days of racing in hopes of winning the Squadron Cup for their country and being crowned the new World Champion. Each boat had visually-impaired skippers and main trimmers, and two sighted crew – one tactician and one jib trimmer. Teams were then divided into three classes dependent on the extent of their vision loss, ranging from completely blind (Blind 1) to legally unable to drive (Blind 3).
In true Chicago fashion, the fall weather was completely unpredictable and two days of racing were canceled due to no wind, storms, high winds and higher waves.
After no wind and looming storms canceled racing on Thursday, Friday's course featured 22 knots of wind and six foot waves. Teams raced four to five races in their respective sections while I sat in awe, getting soaked onboard my 12′ photo boat. All I could think was how tough it was to just chase these yachts around the course; in the meantime, they were expertly sailing over, around, and through the huge waves. "It's a lot about the feel of picking the bow up and knowing how to drive to that," explained 2013 Blind Sailing Champion Lucy Hodges (GBR). "Downwind was a huge amount of fun. If you caught the wave just right and come off the top, you were surfing down to the finish."
Dave Allerton (NZL), remarked, "That piece of sea out there is more than just a lake – you could fit the whole country of New Zealand in there." When fellow Kiwi skipper, Russell Lowry heard that Saturday's wind and waves were supposed to be heavier and higher, he declared, "Bring it on, Chicago!"
And that, the Windy City did… Eight foot waves and 30 knots of breeze from the northeast squashed all hopes of another big day of racing.
With only one day left in the competition, the pressure was on the Chicago Yacht Club Race Committee to make up for the two days lost. With calmed seas and a rotating breeze, RC started firing off races one after another until a fourth race was started and promptly abandoned due to a sudden 90 degree wind shift. As boats reached back to the start line, our watches read 1:15 P.M., and we were looking at a 2:00 P.M. cutoff. Race Committee attempted to save the race and run one more, but the wind had died.
Duane Farrar (USA) was crowned the 2015 Blind Sailing World Champion. It wasn't easy for Farrar, though, as Canadian David Brown was giving the American a run for his money. "The Canadians were very competitive, and we started the day in a virtual tie with them. Before we got enough races for a drop, we were just about a point apart," said Farrar. "We  smoked the fleet in what turned out to be the last race of the day. We really needed that race to solidify our position."
Despite earning top slot in two out of three classes, the US lost the Squadron Cup to Team GBR. This is the fourth time that Great Britain has won the Cup in 18 years. Hodges, who was on the team the last time they won in Japan, said, "It was a very close running this time around – USA put on a really great performance. It will be great to take this Cup to Houston for the next running of the Cup in 2017."
September 17th, 2015 by admin