Posts Tagged 'cheating'
We believe that hell may have actually frozen over a few hours ago.
We're not sure how else to explain the fact that of the seven teams just thrown out of the J/70 World Championship for measurement violations – in Italy – five are Italian!  Organizers even have the support of the J/70 Italian Class despite the stature of the excluded owners, which includes the current Alcatel J/70 Cup champion and several top teams.   It's a sign that the folks running the J/70 are taking their little boat as seriously as they have long needed to, given how prominent and huge the class has become since their first Worlds barely 3 years ago.
As past competitors in the Class, we're not surprised to see the hammer finally drop on some of the over-the-top mods that have been creeping in since the get go, but we are definitely surprised and quite impressed to see it happen in a place that's notorious for 'turbo" Italian one-design entries that get away with it (anyone remember the Melges 24 bulb with chines or the Farr 40 that floated 2″ high of her lines? We do).  We're also not saying that the DSQ'd boats are full of outright cheaters rather than opportunists taking advantage of Class Measurement guidelines and tools that were less than precise, but the hammer doesn't care what the nail looks like, as long as it is a nail. Those rules and tools have now been tightened up, which should mean fairer racing for everyone in this huge fleet.  Bravo, J/70 Class admins and measurers, and bravo, Italia!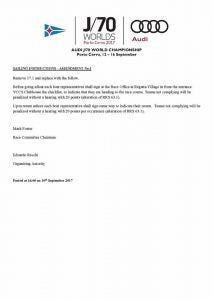 Anyway, the official notice is on your left.  From Italy, the DSQ'd boats are Achille Onorato's Mascalzone Latino Jr (Francesco Bruni, tactician), Allesandro Molla's Viva (Nicollo Bianchi, tactician), Marco Salvi's Vertigo (from Porto Cervo, the event host, with Charlie Mckee, Tactician!), Claudio Dutto's Asante Sana, prior Worlds podium finisher Carlo Alberini's Calvi Network (Branco Brcin, tactician), Mauro Mocchegiani's Rush Diletta (Matteo Ivaldi, tactician), and the Alex Semenov's Russian-owned New Territories (tactics by Portuguese J/80 and SB20 World Champion Hugo Rocha).  We're not sure whether this makes those pros more marketable or less marketable, but you might want to double check their work the next time they say 'it's legal, don't worry' before your big regatta!
Is this another case of pro sailors ruining a class, or does this kind of thing only happen when Classes slack on their measurement controls?  And is the J/70 Class's action signs of great governance to come?  We'll find out when SA brings our coverage to the J/70 Worlds on Wednesday (if the Mistral has shut down by then, that is!) . Until then, there's of course a thread…
September 11th, 2017 by admin
Get your minds out of the gutter: No matter how much it looks like it, that's not a vagina seeking out its owner!  It's actually something far more serious, if you believe the Swedish Swedish Oresund blog, which claims the Finnish Next 37 Audi Quattro discovered a lump of epoxy and remnants from a second stuck to their hull when they hauled out at the end of the Valencia ORC Champs.
We were very surprised after lifting the Audi Quattro up. We found a strange object in the bottom of the boat near the rudder. It looked like plastic or epoxy and was attached with glue to the bottom…This is a clear sabotage. This kind of items can not exist in the bottom by accident. Somebody must have put it there!   Also TP 52 Hurakan, the World Champion in 2013, had beed sabotaged in Valencia. Really fair racing in Spain!?!
If accurate, this is some seriously ugly crap.  But we're awfully curious why they didn't find it sooner; what serious team doesn't scrub their bottom each morning?
July 10th, 2014 by admin
The KNSV – the Netherlands' governing body for sailing – finally sat down to review the AC jury's findings on Oracle Team USA king post sensation Dirk "Cheese" De Ridder last week, and in a move that surprised precisely no one,  they recommended no further punishment for Holland's highest paid sail trimmer.  You'll recall the AC Jury found De Ridder a terrible witness, and in their findings, seemed convinced he was lying to them.  From the findings:  "The Jury is comfortably satisfied that:
1) Dirk gave the instruction to add the weight to the kind post;
2) Dirk knew the weight had been added;
3) Dirk knew it was a breach of the rules; and 
4) Dirk did not tell the truth in the hearing in this regard."
It seems as thought he KNSV didn't actually conduct their own hearing; they felt that 'investigating' the AC Jury's report was plenty, and they decided poor Dirk had been penalized enough.  From their report:
The Zeilraad further considered that being excluded from further participation in any role in the 34 America's Cup for a gross breach of a rule and of good sportsmanship, combined with the world wide publicity on TV/radio, Internet and newspapers, is by itself, a severe penalty.    Having considered all evidence the Zeilraad finds that it is not appropriate to impose an additional penalty.
After this investigation the Zeilraad finds that it is not appropriate to conduct a hearing and decides that no further action will be taken in this matter by the Dutch MNA. 
Gilles Martin-Raget photo.
October 28th, 2013 by admin
Is Oracle's win in danger?  3News reports that ETNZ is preparing a legal challenge to Oracle's win based on their electronic stability system.
At the same time, Facebook gossipmonger and NZ radio personality Paul Veitchy reports:
There's some serious rumours coming out of San Fran that something big is going to come out around Oracle and the pre regatta penalty.. and the improvements made to the boat. The rumour mill is in over drive.. watch this space…. bloody interesting talking to several parties this avo about it…
We also saw this from another source:  The yanks put a computer on board after they were down 8 – 1, and should not have been allowed to make this change mid series. So I said why didn't the Kiwis put one on too, and he said they didn't have the fun tickets. This computer came out of Boeing, and is the latest in technology, and this made the difference to their boat speed, foil angles and all that other shit that navigators used to wank away about, and was implemented automatically on board, where as the poor cousin Kiwis still had to do all theirs manually. So there you go this is what the press is saying in NZ, but don't know how true all of this is. Could be sour grapes…
Watch Veitchy's space to see if this is real or yet more hit counting.  If your Oracle Team USA contract just ran out and you're looking to unload, post your inside knowledge in the thread.
September 27th, 2013 by admin
Inside sources just confirmed the AC International Jury has slapped Oracle Racing with a two-point penalty for their illegal AC45 modifications.
That means they start the America's Cup this weekend – a first to 9 match – on minus 2 points.  More to follow, including, we expect, penalties for individual sailors and shore crew, or just fervently refresh the Jury thread.
UPDATE: CASH FINES TO BART CHARITY, CHEESE, MATTY, WALKER, RUTHENBERG GET FULL OR PARTIAL AC BANS/FORWARDED TO ISAF FOR RULE 69 HEARINGS, LANGFORD GETS WARNING ONLY/ANONYMOUS SAILOR PLUS MANAGEMENT (MOSTLY) EXONERATED…OFFICIAL JURY STATEMENT OF FACTS HERE.
Pursuant to Protocol Article 15.4(d)(iv), OTUSA shall be penalised one point for each of the first two races of the Match in which they would otherwise score a point. 100. OTUSA are ordered pursuant to Protocol Articles 15.4(d)(ii) and 15.3(B)/> to pay a fine of US$250,000. Such fine is to be paid to the following charities:  
US$125,000 to the Andrew Simpson Sailing Foundation which charity has been established following the death of Andrew (Bart) Simpson on an AC72 in San Francisco in May 2013, for the purpose of assisting young people to get involved in sailing through mentoring and support. (B) > US$125,000 payable to a section 501©(3) charitable organisation selected by the Mayor of San Francisco to provide support to at-risk youth in the San Francisco Bay area.
Individuals (Rule 69):
DECISIONS ON PENALTIES
Bryce Ruthenberg is excluded from further participation in any role in the 34th America's Cup. RRSAC rule 69.1© requires the Jury to inform his National Authority (Australian Yachting Federation) and the International Sailing Federation, which bodies may impose further penalties; however, in view of his full, frank and early admissions, the Jury will recommend that no further action be taken.
Andrew Walker is excluded from further participation in any role in the 34th America's Cup. RRSAC rule 69.1© requires the Jury to inform his National Authority (Yachting New Zealand) and the International Sailing Federation, which bodies may impose further penalties.
Kyle Langford In light of his age and inexperience in an America's Cup environment, the fact that he had no involvement in the work done and his truthfulness during the hearing, together with his sincere efforts to acquaint himself with the Class Rules since the matter came to light, Kyle Langford is warned to use his best endeavours not to be involved with any activity that may be in breach of a rule in the future. The Jury is not required to make a report to any federation.
Matt Mitchell is excluded from sailing on a Yacht competing in the Match for the 34th America's Cup until 4 races have been completed. RRSAC Rule 69.1© requires the Jury to inform his National Authority (Yachting New Zealand) and the International Sailing Federation, which bodies may impose further penalties; however, the Jury will recommend that no further action be taken.
Dirk de Ridder is excluded from further participation in any role in the 34th America's Cup. RRSAC Rule 69.1© requires the Jury to inform his National Authority (Koninklijk Nederlands Watersport Verbond) and the International Sailing Federation, which bodies may impose further penalties.
September 3rd, 2013 by admin
Dalts and Peter Lester put it best in the linked report below, but anyone who's ever raced one-design knows that the latest America's Cup drama is very real, and that Russell Coutts' "withdrawal" and explanation was both forced by the jury and well, if it smells like crap, it probably is.  Watch the TVNZ report here.
Anyone hear a bus coming?  Any guesses who gets run over by it?
The details, if you haven't seen them yet, are as follows:  When setting up the AC45s for the RedBull Youth AC, measurers discovered lead hidden inside the kingpost – the dolphin-striker-like post that extends downward from the forward beam – of the BAR boat.  Oracle did their own investigation and found that two of their boats were similarly modded.  The Jury protested the boats, and Oracle and BAR withdrew from the regattas in question.  Coutts says that management knew nothing about it, and while many one-design sailors will question the dodging of responsibility, there is a plausible explanation:  Murray raised the minimum weight on the AC45s a couple of times in response to the gradual fattening of boats due to repairs.  Teams were supposed to add weight in specific locations, and it seems that OTUSA's boatbuilding team, possibly in conjunction with some of the sailing team, decided to put the weight in a position more advantageous to performance than inside the dotted lines they were given.
What really happened?  We may never know; what we do know is that heads are going to roll thanks to an ISAF Rule 69 hearing…stay tuned.
From Dean Barker's Blog: "Well yet another bizarre twist today when Oracle withdrew from four AC45 events over the lat 12 months because they had been caught cheating. I do not know the exact details but supposedly lead ballast was discovered in the king posts of both the Oracle boats and also the BAR boat which was also prepared by the Oracle Team. It is incredibly disappointing to say the least to find out your competitors have been straight out cheating. It is an insult to the other competitors, particularly in an event that they have been running. The AC45 is a strict one design class and this was one of the great appeals of this type of racing. To deliberately break the class rules is hard to understand."
You can read all the outrage and comment here.  And props to Tool for the tune that captures Oracle's AC45 campaign.  Thanks to WetHog for the photo.
August 9th, 2013 by admin