Posts Tagged 'charleston'
UFO dinghy creator Dave Clark puts the boat through her paces while training for the little foiler's first run at the Charleston Fort 2 Battery Race this Saturday.  Clark will be on site starting today – if you want a test drive on a UFO on her short Southern road trip, give them a shout pronto.  If you just want to race against 'em with your quick ride, register for the race.
But if you just want to see the UFO in her first-ever live appearance, you'll either need to show up at James Island Yacht Club from Friday on, or just watch Sailing Anarchy's Facebook page.  This Saturday, Mr. Clean will be returning to his social media desk – for one day only – to commentate on the event he helped to launch with foiling firecracker Tim Fitzgerald – who is now training to learn to fly jets for the US Air Force.  Foiling just wasn't fast enough?
With a race record that's something like 6 minutes long, this is the fastest sailing race in the world.  Don't blink.
April 19th, 2018 by admin
We love our annual month-long visit to Charleston, SC, and not just because it's one of America's most beautiful cities.  What we love most about Chucktown is the fact that it's one of very few East Coast towns that fully embraces the maritime lifestyle, and it's growing up with an eye towards the sea.  It started with Charleston Race Week shining the spotlight on the harbor and it's surrounding coast, but now we've got the Fort2Battery, big E-Scow fleets, and for at least a few months in Spring, Charleston is the center of high performance wind-powered action in the USA.  Above you'll find a short pre-race report from Saturday's Fort2Battery where we grabbed a few minutes with motherfucking Bill Murray, who was on the water actually spectating the Fort2Battery on Saturday – and he's a kiteboarder (sort of)!  Here's the post-race recap from founder Tim Fitzgerald.  And if you want to watch Clean get beat to shit learning how to kiteboard today, keep an eye on SA Facebook. 
What a weekend. It's hard to believe we got away with one again, and we're 4 for 4 on getting a race complete. I think this was the most difficult one yet because by the time we'd know if we would have enough wind– people already had to be in motion and in position.
Shea nailed the forecast again for us. Even though it was light, it was spot on. If you look at the wind graph- we raced during the exact highest winds of the day which only lasted about an hour.
I'm glad the party was fun and the BBQ contest was insane – the race was even close and exciting, with the top 5 finishing within a few seconds.  I'm bummed that there were a lot of people still on the beach at race time, but that's just the wind!
Mostly because it's so cool to see 70 kites in the air all running toward the same spot.  So this summer I'll try to get something new together that's easier to organize, free to enter, quick and fun.
I'm thinking it'll be a drag race of sorts down Sullivans and ending at IOP pier or something like a big downwinder. Maybe a race, maybe a rally of sorts. We'll keep an eye on forecast for a big weekend when the tides are right and see if we can make something happen. Along the beaches it's much easier since we don't need a fleet of safety boats.
Be sure to check out the results, videos from race day and photos on the Facebook page. There's also a great gallery from Grace Adam on the water, and Mac Dickson who was shooting from the red Holy City Helicopter.
May 4th, 2017 by admin
Fort 2 Battery Race founder Tim Fitzgerald has done it again, attracting another record fleet of kiters, mothies, and fast boat owners to the shortest race in all of sailing.  82 entrants will hit the line to the 6 mile race at full speed at 1400 today, and if you're in town, join the massive spectator fleet (we counted some 150 boats watching last year) on the harbor.  For those who can't make it, head over to Sailing Anarchy Facebook at 1300 ET/1000 PT for the full, bumpy, 40-knot live stream video of the prologue and race.
Here's a video look at last year's race from Petey Crawford/Penalty Box Productions.
April 29th, 2017 by admin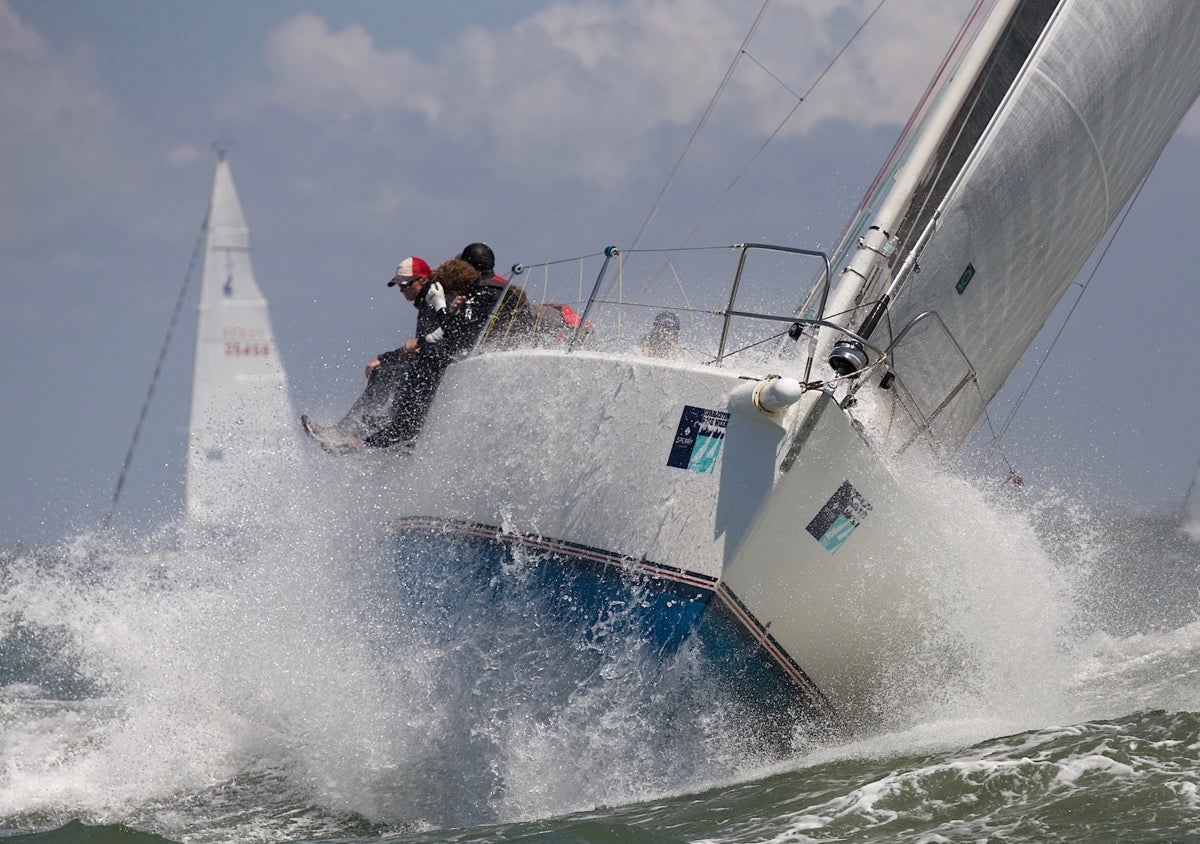 After several years with lost days and poor racing offshore, the 22nd edition of Charleston Race Week delivered 3 days of full-on racing, with moderate to big air inshore and big wind and seas outside the harbor for 212 boats at the biggest event on the calendar for many teams.  After losing around 30 boats for both 2017 and 2016, organizers are doing what others often haven't – they listened to their critics and moved things around significantly, and the 2017 event seems to have rewarded their moves.
The first move was working with the Coast Guard and Port to add a fourth circle in a harbor that many used to think couldn't even fit two, and the result was not only sailable, but it showed that there's easily room for another new fleet or two.  Stars and Lightnings are both perfect candidates, and both fleets are looking for some new venues, so we expect next year to begin growing once again.  They also moved the smaller handicap racing fleets – now all sailed under ORC – inside the harbor, and every team we spoke to will be back now that they don't have to face the long slog offshore in little boats.
As usual, Charleston reminded us that it's the only regatta party we know of with more women than men, and the diversity on the water was just as good; boats fully crewed by women, fully crewed by kids, and fully crewed by military vets and wounded warriors were all over the place, with some even winning their classes despite their bow guy/main trimmer being blind.
The overall winner was reigning J/70 World Champ Joel Ronning, who dodged a last-day protest to hang on in the biggest fleet at the event.  They almost lost it all though, when the forestay let go just before the final race.  Listen to the full story from Catapult trimmer and longtime SA fan Patrick Wilson here.
Clean and the media team posted stories, interviews, hundreds of photos and hours of video on the CRW Facebook Page here.  Full results here.  Meredith Block photo of the J/120 Illyria.
April 24th, 2017 by admin
After several years of losing multiple days of racing from the usually reliable Charleston Race Week schedule, the 2017 regatta is more of what Charleston became famous for: 80 degree days and 12-18 knots of sea breeze for the 200+ boat fleet.  It's also the first regatta in America to feature ORC for all handicap racing – an experiment that we'll be reporting on after the data are in.
Results, photos, and constant video updates from our own Mr. Clean are over here.
April 22nd, 2017 by admin
 The first edition of Charleston's Fort 2 Battery looked more like a back-alley drug deal than a sailing race. Last-second registrations, lots of confusion, and competitors being distributed "race packs" in overstuffed brown paper bags late at night in the alley behind a downtown Charleston building…
In just three years since the race became the biggest of its type in the hemisphere; it was the first to use chip timing (which captured a .005 second split between the 2nd and 3rd place finishers in 2016), it was the first to provide prize money for the winner, and it led to the spinoff Foil Mania regatta – the first ever to pit foiling kites vs. moths, course racing from the same starting line.  And of course, it's the first to offer a genuine Professional Wrestling Championship Belt as the overall prize! James Island Yacht Club has come along and helped class-up the operation, but fortunately not beyond a 'weekend at the motorcycle track' vibe.  Their welcoming atmosphere is more  'go'n getcha brother a corn dog!' than anything remotely yachtie.
The best Sailing Club in Charleston has stepped it up once again for 2017. On April 29 the college bowl atmosphere among the spectators will be bigger than ever; the competition ain't just on the water – it's at the club, and anyone coming down will be treated to a perfect front-row seat to the mayhem on the Harbor and at the JIYC Barbecue Championship1.  If you think you've seen a "Race back to the dock" before, just wait until these foiling craft pick up the scent of that sweet, sweet swine.  Just like 2016, you can watch Mr. Clean's pre-race beach walk and the whole race LIVE on Sailing Anarchy from around 1pm, with the race start targeted for 2:00.
Last year saw slalom racing on Friday which continues again, and the Intercontinental FOIL MANIA Championship Belt will be on the line through the weekend as the Foiling craft slug it out in a more traditional regatta format. Registration is on pace for another record attendance, and this year could even see an E-Scow or two looking for glory in the "floating boat" grouping. We've seen the Mighty Hobie 20's smoke the E's on a circle track, but it will be interesting should it become a VMG downwind race. Will they show? Or are they allergic to corn dogs?  Find out on April 29 right here on Anarchy.
Gill North America and Charleston's Holy City Helicopters who have both been on board since day 1 will be on hand to keep Fort 2 Battery racers looking sharp. The new Kite-Foil One Design Class CR:X will even be there which allows racers to fly in with a backpack, charter gear and be part of the big weekend! April sure delivers in Charleston with the biggest regatta- Sperry's Charleston Race Week just the weekend before.
With Foil Mania, Fort 2 Battery and a BBQ contest, you can bet this version of Charleston's most exciting race will be "Good enough to slap yo' mamma!"
Relive last year's excitement with the Rev's Penalty Box edit of the 2016 Fort 2 Battery.  Register Here. And if you like our promo poster, there's more pics of that photo shoot over here.
-Tim Fitz, Founder, F2B
April 15th, 2017 by admin
Clean Report
For episode # 20, we caught up with three guys who represent some of the brave new thinking in the sport of sailing.  Longtime SA'er Chris Woolsey runs the reborn Miami Havana Race for a reborn SORC, and we get into the whys and hows of recreating this complicated international race to one of the world's most unique race destinations.  After that, we catch up with Tim Fitzgerald, founder of Charleston's Fort2Battery Race, to talk about his motivations for creating the successful harbor sprint.  We also get into Tim's experience as one of the drivers behind Selden Masts growing dinghy business, discuss the first new hardware change in the 420 in years, and learn what Tim's learned about getting millennials and Gen Z excited about sailing.  Finally, we turn to one of those Z'ers, young Peter Cronin of the Mudratz.  This clever kid discusses the team's experience sailing amongst the big dogs in the Melges 24 and J/70 Class and the philosophy behind their growing Mudratz youth sailing movement in the Northeast.
Our next Sailing Anarchy Podcast will come to you from Havana Cuba, and you won't want to miss that one!  Don't forget to subscribe to the SA Podcast for instant notifications when each one drops.  (iTunes   Stitcher)
March 14th, 2017 by admin
It is with an incredibly heavy heart that we announce the death of one of the Charleston sailing community's most important figures.  Just 46 years old, former Charleston Race Week Director of Marketing/Sponsorship/PR Meaghan Van Liew died yesterday after complications related to a liver transplant operation – an operation required after damage her liver suffered from medication she took for an unrelated nerve issue.
Along with then-husband Brad Van Liew, Meaghan was the driving force behind Charleston Race Week's explosion from a small regional regatta to America's biggest sailing event.  She also ran the SC Maritime Foundation and oversaw the completion and running of the Spirit of South Carolina schooner and it's educational youth sailing program.  Meaghan took on the nearly impossible task of raising two kids on the road while running a round-the-world IMOCA program for Brad's dream of becoming the first American to win a RTW race.  From Balance Bar, to Tommy Hilfiger to Le Pengouin during the final days of the Around Alone, Meaghan sacrificed everything of her own to make sure her children had great life experiences and her then-husband had a chance to win.
Professionally, Meaghan was one of the first major event organizers to put her faith in Sailing Anarchy to help jump-start Charleston Race Week's march to prominence, and her risky move led to the worldwide acceptance we have today.  She also was one of the few American sponsorship agents at the time (or since!) to secure real funding for offshore racing from major corporations.  Creativity, work ethic, risk taking, and sacrifice for those you love – these were her foundations.
On a more personal level, Meaghan was one of my closest friends, and every year, Mer, the dog, and I would spend a week with her and the kids before Charleston Race Week to catch up and brainstorm new ideas to grow the event.  When her marriage fell apart, she devoted herself to helping her children navigate the tough emotional situation – often to her own detriment.  She ALWAYS put her children, her family, her friends, her clients before herself.
If there's an afterlife, we pray that Meaghan Van Liew has finally found some time there to devote to herself.  Meaghan, we will always love you and remember you.  Check in to ex-husband Brad's Facebook Page here, and there is a thread here. Ainhoa Sanchez photo.
Signed,
Alan, Meredith, Joey, Kuma (deceased), Cricket (deceased)
MEMORIAL SERVICE and celebration of Meaghan's life will be held at the Charleston Maritime Center (10 Wharfside St, Charleston, SC) on Sunday at 3pm.
UPDATE: We spoke to a gutted Brad Van Liew moments ago, and he requested that we ask the sailing community to please refrain from calling over the next few days so he can tend to his family in their mourning.  His phone has been blowing up from South America, New Zealand, Australia, the UK, France, helping him to realizes just how many people Meg touched over the years.
UPDATE 2: We are going down to Meg's memorial service on Sunday to pay our respects.  If you have great stories about Meg, find me at the Maritime Center so we can put together a video tribute to a great woman.
January 26th, 2017 by admin
Hurricane Matthew is close to finishing up his best impression of a Worrell 1000 race course, and the storm has now killed some 900 people (overall), done billions in damage, and left millions without power as he works his way up the Carolina Coast.  The footage above comes from the AP, and is mostly of a very wet Charleston SC.  Those gorgeous new James Island Yacht Club docks that made Charleston Race Week launching so much easier last year are smashed to pieces, while cars, boats and anything else with westerly exposure got slammed.  Fortunately the worst of the surge in CHS came with low tide, but there's plenty of rebuilding to be done everywhere Matthew has already touched.  Incredible that the US has only seen four deaths (two tree strikes and an elderly couple due to generator/carbon monoxide) despite it all.  We'll have more pics and stories of this direct hit soon, but with Matthew still lashing the southeast coast with nastiness, give a call to your friends near the water – they will appreciate it!
And for something really cool, watch the Frying Pan Shoals live stream right NOW!
October 8th, 2016 by admin
We'll admit to shedding a tear when the South Carolina sailing community said goodbye to sportboat and offshore racer Pat Eudy back in 2013, but the boat with the name and logo seen around the world is far more durable. Eudy's infamous Lutra 42 "Big Booty" was always a dog, and for the better part of a year she has sat at Pierside Boatworks in Charleston with US Marshal's Office stickers affixed to her hull.
Last week, they relocated the Booty to the other side of the lot, and yesterday a nasty summer squall knocked her on her Booty. If she's totaled, we want the section of transom with the name on it.
August 25th, 2016 by admin