Posts Tagged 'charleston'
Thanks in large part to Nicholas Hayes and the movement he began, sailboat racing is on the upswing in hotspots around North America, and while the new face of sailing might not look quite like it did 20 years ago, that ain't necessarily a bad thing at all.  One of the guys dragging the sport to its new look is young Tim Fitzgerald, and with seemingly boundless energy, enthusiasm, and passion for the sport, the founder of Charleston's Fort2Battery Race & Party has something new up his sleeve.  Let's hear from Tim, and you can get in touch with him via the Charleston H20 Fleet website or FB page.
After smoking the Mothies in the 2nd running of the Charleston Fort 2 Battery Race, the growing Hobie 20 fleet's next stop was the James Island Yacht Club Regatta, where Charleston's fastest boats race.  The teams' backgrounds include J24s, Thistles, Lightnings, Optis, 420s, Hobie 16s, and F-16′s (not the boat, the plane), and their 5-6 minute upwind legs while dodging Lightnings, E Scows and Sea Island One Designs was exciting as hell.  At mixed fleet mark roundings you'd look for just a window of daylight, and blast through the hole like Emmit Smith on crack!
In just 14 months, while most local fleets held even or lost a few boats to the war of attrition, the local H20 fleet went from zero to 7 boats locally, with two more on the way. With the exception of the J24, we are now the largest home-based fleet over 20ft in Charleston.  This weekend we had 2 female drivers who led races, 5 coed teams (of 8), and 40% of the sailors were college age or younger, every one of them lit up with excitement and passion.
People are so excited here! To give you an example- boats are being bought sight-unseen, up to 14 hours away, and by sailors with near ZERO catamaran experience.  One junior sailor who had nearly left the sport last year for lacrosse and basketball told me that last Saturday's racing was "a 9.5 out of 10, my favorite sailing day ever". He can't wait to race again, and since the regatta, has been working with his dad after school to dial in their boat.  One of the three "Guest Drivers" has already bought their own boat, and right now we have two more people we have to find boats for.
Part of the fleet's early success comes from our experience with kiteboarding. It's so much fun that if some other people show up, great.  If not, it's still the most fun you can have with two free hours.  Going super-fast, getting fire-hosed with water in the face, and wiping out occasionally is an absolute blast. Fleet co-founder Greg Walters said after the event "All three of my kids raced this weekend, I got to sail with two of them, and i've never had more fun racing a sailboat."
Ask yourself- When is the last time your kid, or a friendly non-sailor begged you to go "fun sailing" with them in 10-15kts on your raceboat? Or the last time you reached out for crew and had to turn people away due to the large response?  If the answer took some thought, you may be trying to push the rock uphill.  There can be a better way.
High Performance Sailing and constantly evolving ways of sharing it with the world are unquestionably attracting new people, spectators and sponsors all the way from the America's Cup and VOR, to the 7000 people who watched the Fort 2 Battery Race via Sailing Anarchy's live stream.  Whether we like it or not, the environment that we sail in has changed over the last fifty years.  As a result, the 50-year old model that many areas and clubs continue to operate under is no longer bringing in new people and retaining existing ones.
It's becoming more important than ever for sailing to be inherently fun.  I am not suggesting that we load up novices into aussie-18's and turn them loose, or have cake and ice cream after every race, but it is obvious that the iphone and X box have raised the level of excitement needed to capture young people's attention.
July 15th, 2015 by admin
Drizzle doesn't dampen the mood for Charleston Race week. It didn't stop the ridiculous Sperry/Sailing Anarchy party last night, and racing commenced on time and on pace today. Under dark morning clouds, an eight knot northwesterly greeted the inside fleet and held enough to get high quality racing in. And what's Charleston Race Week without current. The ebb was flowing hard today, with teams jockeying for shallow water position all day. Who played it the best?
It's not Cinco de Mayo yet, but the J/70 Mexican team Flojito Y Cooperando helmed by Julian Fernandez celebrated early with two bullets today to set themselves apart in this talent laden fleet. Elvind Astrup's Norwegian Steam stayed consistent with a 1, 6, 5 to hold on to an early second. The top and only US team currently on the J/70 podium is Joel Ronning's Catapult. Since there are 78 J/70s racing in four separate fleets, the points add up quick and the scores are really close with eight boats tied in one way or another in the top 15. The fleets will be reset tomorrow for more qualifying racing.
Continuing the south of the border but north of the fleet tone, the lone Brazilian Melges 20 entry, Portabello, led by Cesar Gomes Neto, threw down some spicy upwind skills to keep ahead of Bruce Golison's Midlife Crisis by three points. Midnight Blue sailed well in today's darker conditions to keep it tight on the podium, behind second by only one point. Only eight points separate the top six in this wide-open class.
Guy Mossman's name is on the Melges 24 score sheet, but he's mending a broken hand from a 'being a nice guy' moment.  Lesson: Don't punch a fighting pit bull in the head. In his place on Battle Rhythm is Will van Cleefe, who earned a four point lead today over Brent McKenzie on Ex-Kahn, followed closely by Bruce Ayres on Monsoon.
Watch the full replay of all the live racing action here, and if the wind ever fills in, we'll have Saturday's racing for you on this page.
Brian Carlin photo of the sexy C&C 30 and the rest of PHRF A offshore, and seriously big, badass galleries from Brian and Sander Van Der Borch are over here.
And the Team Vestas Wind award goes to Christian Koppernaes in the VX-One fleet, who took the 'short tack the shore' move a little too far.  Sander Van Der Borch photo.
Results after day one here, and of course a huge thanks to our friends at Sperry for making SA's extended coverage of Charleston's action.
-John Casey
April 18th, 2015 by admin
If ever a boat died with its boots on, it was this one – David Wallace and Richard Grantham's ancient Nacra 6.0 has lived through several Worrell 1000 races and countless hours on the Georgia Coast, but a 3.8 mile sprint in 20-25 knots on Charleston Harbor was the end of her days.  Wallace and Grantham drove up from St. Simon's Island, GA, and they said there's no question they will be back.  They didn't say whether they'd be racing or spectating!
Big congrats to St. Pete's Zack Marks for absolutely destroying Bora Gulari's record run from last year – official time is 6:10 for the 3.8 mile course. We're not great at math, but that sounds like somewhere around a 33-knot average to us.
Billy Goldsberry gets the Rescue of the Week award for this one, and you can see a gallery of really cool land-based and sky-based shots of this unique race here.
April 13th, 2015 by admin
Thanks to a string of boat and mast problems in the Mini fleet, we've called young solo/shorthanded offshore racer Jeffrey Macfarlane 'one of the unluckiest guys in the sport', but as of Monday, Jeff's luck seems to be changing.  Below is an SA exclusive from Jeff on his victory and leg record on Leg 2 of the Atlantic Cup, with a Billy Black photo to the left, and galleries of the whole race here.  You can check in with the racers tomorrow night at the party at Jamestown FISH, and say hello to Clean and Mer if you show up.  And Newport locals can watch them out racing this weekend alongside the International Moths and the Open 60s.  
My co-skipper, Jake Arcand , and I were looking for redemption in leg 2 and we got it! Our first leg was disappointing. We blew up our A2 spinnaker and lost all of our electronics for the majority of the 600+ mile race. Thanks to generosity of Steve Benjamin we were starting leg 2 with a one spinnaker – he donated an old Spookie kite to our program [that's the one with the Swisher cigar logo -Ed] and we were able to get a last-second sail recut, just in time to replace our irreplaceable A2.
At the start of the second leg, the breeze was fairly light and we decided to stay on the south side of New York harbor to take advantage of a slightly stronger tide and freshening breeze. But, it was not until after the bridge that our strategy began to pay off and we started to leg out on Dragon and Pleiad, more to the North. We led the fleet out of the harbor and planned to take the Swash channel. Everything was going perfectly to plan, but after seeing Pleiad choose to take the more inshore Sandy Hook Channel, we reevaluated and decided to cover. Unfortunately, they were able to stretch some distance on us, but once we were clear of the channel we slowly began to chip away at their lead, eventually passing them.
Most of the fleet chose an offshore route on the way south to the Barnegat Light buoy, but I positioned us more on the beach side of the course, anticipating the wind shifting West. Our strategy worked, except for the brief period of time when there was no breeze in a wind transition. Mike and Rob on Dragon stayed very close to us and they handled the transition a bit better, reaching the new breeze before us.  We rounded the tuning mark just behind, and began the night jockeying positions with them. We took a northerly course from rhumb line anticipating the breeze would head us come morning, and when morning came we were a mile or two in front of Dragon. However, the wind did not head us like all of the weather models predicted and we found ourselves in yet another wind transition zone where Dragon, who was further offshore, managed to pass the transition zone quicker, and passed us in the processl. From then on, it was all drag race – a speed run to Montauk Point during which time we desperately tried to regain our lead. As we sailed inside Block Island we kept going higher in order to get more speed on Dragon. Frustratingly, she matched us until we both began to sail as deep as possible in order to make Point Judith. The breeze offered us ideal downwind conditions on the way to Point Judith and we sailed downwind straight to Newport at 15-17 knots.
As we approached Narragansett Bay, we were still just a few boatlengths behind Dragon on port gybe and very close to the shore. The wind began to lighten and we matched Dragon's every move, hoping to get an advantage on them. We did not get the advantage until we both gybed and they came out a bit higher. I was able to take a few puffs and soak just a few degrees deeper than them, and we were able to get below them on the inside gybe. We took advantage of any depth we could get and we tried to get more separation from Dragon, covering their every gybe. It worked! We ended up in very light winds approaching the finish just 80 seconds in front of Dragon. We not only won the leg, but we also set a new course record by over 6 hours.
Jake and I could not have been more pleased, and what a result for one of the oldest Class 40s in the fleet, donated for my use by the inimitable Ralfie Steitz from the USMMA Sailing Foundation.  Ralfie and the King's Point program continues with its mission to help young, up and coming sailors get more opportunities in the limited American shorthanded sailing scene.  By coupling his support with that of Oakcliff Sailing, our team has fulfilled this mission proudly.  There is a very long list of sponsors and supporters that have had an instrumental part in the success that I have had over the past few years.
We have a fantastic inshore team consisting of Phil Garland – our mast manufacturer and sponsor from Hall Spars, Ross Weene – one of the boat's designers from Roger Martin Designs, Chris Poole – fellow Oakcliff sailor and top ranked match racer, as well as Oakcliff graduate Ervin Grove. We are looking forward to combining our strengths to find more success in the final, inshore leg of the Atlantic Cup this coming weekend.  We are hoping to win the inshore series and pull out an overall Atlantic Cup victory.
Wish us luck!
-Jeff
May 22nd, 2014 by admin
It's got more entries than any keelboat regatta in the Western Hemisphere, more women and juniors than any open regatta we've ever been to, and one of the best venues in the entire sport.  And now it's got one of the best highlight videos, too.  Petey Crawford from Penalty Box Productions went two days without sleep to get dozens of hours of footage from 2014 Sperry Top-Sider Charleston Race Week turned into 10 minutes of reality show/highlight reel/tribute film, and the result is just goddamned excellent.  If you want to know the recipe for success in modern American regattas, watch and learn.  And go here to find all the interviews, photos, and race coverage from the SA crew over this past weekend.
April 16th, 2014 by admin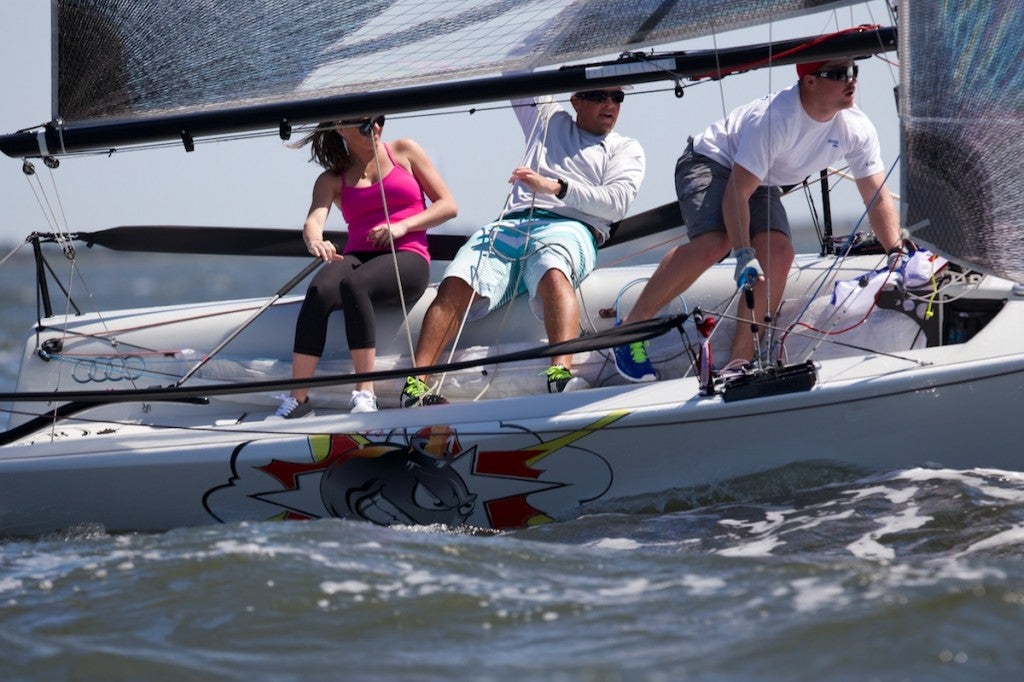 This week's Sailor Chick of the Week was a no-brainer; 23-year old Grace Lucas is smart, sassy, fast as hell, and just helmed her way to fourth place in an extremely competitive Charleston Melges 20 fleet, losing the podium spot she'd held through 6 races after a last-leg charge from Michael Kiss's Bacio.  Grace is finishing her college career this year after 3 years on the CofC sailing team; here's hoping she doesn't get so sucked up in the employment world that she gives up sailing.  Get to know Grace more in two interviews our own Mr. Clean did with the young NJ native, and enjoy tactician and Melges fixture Sam Rogers' new nickname.
April 14th, 2014 by admin
Young Tim Fitzgerald shares his experience as the founder of the first drag-race style speed sailing event on the East Coast; the 3.8 mile Fort2Battery Race in Charleston, SC.  Photos from Els Sipkes; her blog is here with more, and there are hundreds more in her SmugMug gallery.  
60 days ago I didn't know if Charleston wanted a drag race sailing event, and after today I can only say "WOW" when I see how much they do! Today I saw 150 people line up on the Battery to watch kites and boards and boats on a 9-minute sprint down Charleston Harbor. Elderly people stopped me in the park to confirm the start time. People in golf carts tailgated on the points of land on James Island to watch the watery wipeouts that equate to "the big one" in a NASCAR race. The only time in my sailing career I've ever heard of more than 100 people coming out for an American sailing race was the America's Cup or the Olympics and today we accomplished that with little more than the economical low-end of sailing's high speed Band of Brothers.
Charleston is the perfect place for a sprint like this; with the beaches, breeze, and boating community, it's a playground for those who chase the wind, and with North America's biggest regatta, the biggest Sportboat regatta in the world, and the East Coast's biggest kiting community, the "Sailing Capital of the South" has emphatically stuck its pin in the world of high-performance sailing.  With an oversubscribed field of 55 entrants in the first ever running of the Fort 2 Battery Race, you can consider that pin the size of a railroad spike driven in with the overhead swing of a sledge hammer.
Anyway, it went like this:  At 3 PM on Sunday, a new battle took place in the shadow of Fort Sumter; the site of the Civil War's opening salvo.  A ragtag fleet of foiling moths, kite board, catamarans, sailboards, and skiffs went on a downwind blast to the Battery in 13-18 knots of Northeasterly breeze for a cash prize, bragging rights, and the new title of "King of the Harbor."  Bora Gulari, fresh off his win in last weekend's Moth North Americans, led from wire to wire on a starboard-tack favored run; his time of 8m58s for the 3.8 NM course equates to an average VMG of nearly 26 knots – even more incredible when you account for the 2-3 knot outgoing tide and a gybe.  The first four finishers were moths, with the fastest course-race kite board about a minute behind; importantly, there were no foil boards in the inaugural Fort2Battery Race; we're told they will most definitely be back next year, as will the Moths.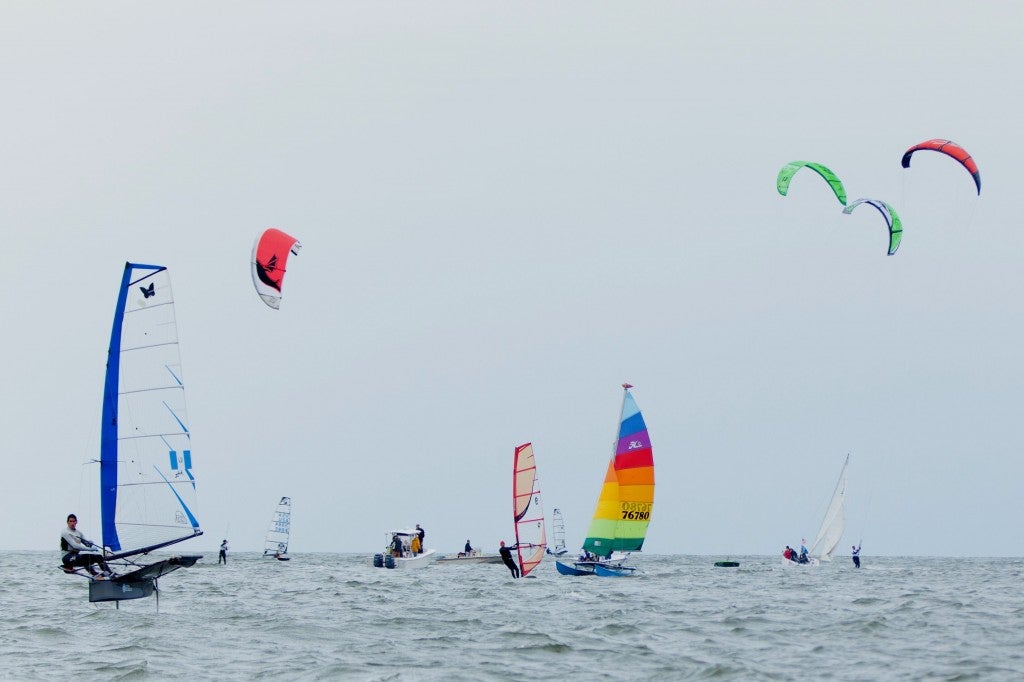 Of course there were obstacles along the way, but you'd be amazed at what a great community there is here around the water. The kind of roadblocks you'd expect for a new race with a new format and extremely high speeds just didn't exist; the USCG, Department of Natural Resources and local governments all shared the same message when I approached them; "That sounds awesome – go for it!" was their almost unanimous response, and thanks in large part to Sailing Anarchy, the entries rolled in from the moment we announced the race right here on the front page.
Now that it's finished, I find myself why there aren't events like this one everywhere; people were so eager to jump up and support a speed sailing event that it blew my mind, and confirmed what I had suspected; the only thing keeping people from doing more of this stuff is a lack of events.  The format – one start, one finish, and a short course – makes the racing incredibly accessible to both competitors and the public, just like the hundreds of easy 5K runs that happen every weekend all over the country.  We had a perfect mix of sailors; from full-family programs on a Hobie 20 to 65 year-olds on sailboards to the Moth World Champion, and everyone had a smile on their face afterwards.  The simple format was a relief to the journalists and spectators we spoke to; people who often struggle to understand the details of more complicated sailing formats
When it comes to gaining the attention of young people and our communities, high performance sailing is where it's at. This is exactly what kids need to put down the X Box and pick up a mainsheet, and I guarantee you that if you or your club or association wants to make it happen on your harbor, river, lake, or bay, you'll find it absolutely worth the effort.  And if you are interested in organizing a sprint race in your home town, hit me up through my website and I'll share any tips I can with you.
A huge thanks to Mr. Clean and Sailing Anarchy for all their help and support; without you guys, this would definitely never have happened.  Also a big thanks to Dave Pritchard at Gill North America for helping us out with competitor vests, and much love to James Island Yacht Club for your support and RC work; please can check out the rest of the sponsors at the Fort2Battery site, and we'll see you next year!
April 7th, 2014 by admin
February 17th, 2014 by admin
You may remember the Mothies making their winter "Moth Camp" home in Miami the past couple of years, but 2013 brings a change of scenery to Moth Camp.  The first race of the season was last weekend, when 13 Moth Sailors gathered in Charleston to kick off the first event of the 2nd Annual Gorilla Rigging Winter Moth Series.
"It's never like this" temps in the 70′s and major high pressure meant light air for the first event of the series; Friday was slalom racing where the moths started upwind and did a 5 buoy downwind slalom that lasted 3-4 minutes. Matt Knowles, Eric Aakhus, Brad Funk and Anthony Kotoun had a great final "battle royal" with multiple lead changes. Anthony found the puff from heaven for the win.
Friday night the Mothies attacked a college house party and later, trolled down King St.  With different sailors having different intensions the inevitable happened and we all got split u, but thanks to the Mothies' love for GPS trackers and the Friend Finder iPhone app, we were able to rescue the wayward from likely tears, expensive cab rides, or walks of shame…The college party didn't go as well as they used to; we got there as the beer ran out, and they quickly figured out that most of us were around twice their ages.
Racing on Saturday went along the same lines as the college party. We were all ramped up with nowhere to go.  We waited until 3 PM before having two "exhibition races"; welterweight USA Class President Matt Knowles took both bullets.
Fearing more failure amongst the playground of beauty and youth downtown, we resorted to beer and pizza at the club, burning up some of our competitive energy with some old guy vs young guys flip cup. The young guys took it two to one; unsurprising, yet depressing.  The fine southern gentleman of host club James Island Yacht Club then treated us to their "Lowrider Lemonade" double bourbon special. Not too bad!
The high pressure kept its grip on Charleston Harbor on Sunday as well, but luckily, a touch of seabreeze filled; enough for us to do six AC reaching start courses. Brad Funk, Anthony Kotoun and Bora Gulari battled it out again and again with lots of lead changes and come-from-behind wins. Brad Funk took the overall with Anthony and Bora rounding out the podium.
The Moth Class continues to grow with each regatta posting better and better numbers. This event had three new sailors as well as competitors from Sweden and Australia. The Gorilla Rigging Series continues here in Charleston with event two in February and the North Americans in April.  For more, check their Facebook page.
Priscilla Parker photo.
January 16th, 2013 by admin