Posts Tagged 'charleston race week'
Clean Report
When Sperry signed on to be a part of Sailing Anarchy's year-long media World Tour of some of the most interesting events in our sport, we had no mysteries about why.  "You guys ooze the kind of passion that Sperry was founded on, and we want to help you share it with the world," said Dave, one of their marketing bosses.
That's the easy answer; there is a deeper, more painful answer to 'why?' – and it's the reason Sailing Anarchy has been the world's best sailing website for the past decade.  Because this is not our job; it is our life, and without sailing, there's a good chance that the folks who run the place wouldn't be alive today.
So click the player above and learn what sailing means. To us at SA, to Petey behind the lens, to our sponsors, to our friends, but most importantly, to all the folks who do whatever it takes to bring the next generation to this lifesaving sport.
Gorgeous work from Petey Crawford; The first two parts of the series are here and here.
April 22nd, 2015 by admin
Clean Report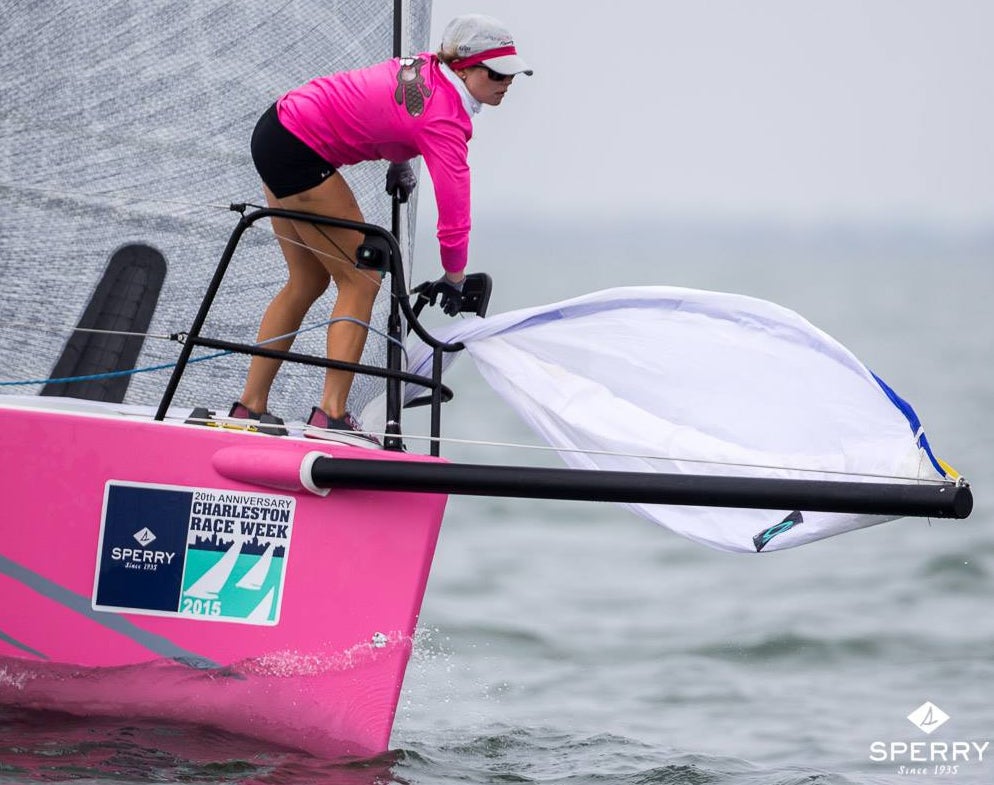 Despite light to moderate breeze and a noticeable lack of bikini weather, the 20th Anniversary of Sperry Charleston Race Week proved that CRW is not only here to stay, but that it is one of the most important regattas for sailing in America. 
It's not just the fact that so many serious racers gather here every year; the event seems to attract just about everyone in the sailing industry, and Randy Draftz and CORA are constantly chasing ways to make CRW more modern, more progressive and more fun.  Sailing Anarchy first partnered with the organizers an incredible 9 years ago, and we consider ourselves privileged to have been a part of what a few friends and sailing coaches started back in '96, and what CORA, the now-defunct SC Maritime Foundation, Randy Draftz, and a crowd of some of the most enthusiastic volunteers and sponsors in the world have built: America's must-do regatta.
We almost always avoid annoying you with press releases, but in this case, we're making an exception, because you all wanna know what happened in Charleston, and because I spent hours with Sperry Charleston Race Week Comms officer Dan Dickison and John Casey helping to write and edit an entire story about it.  Besides, it's my goddamned birthday, and I need a nap.  And it's not like you can't find out what really happened from the hundreds of awesome Sander Van Der Borch and Brian Carlin photos or hours of as-live streamed video and highlight reels and interviews from Petey Crawford.
So if you really want to know the down and dirty details, comb through on the CRW Facebook Page or head over to the Sperry Sailing Anarchy World Tour posts on our own Facebook Page and be sure to give yourself some time.   But other than a quick note of thanks to everyone at CORA and the CRW as well as our team of Mer, Petey, Morgan, JC, Sander and Brian here's a summary of the event, the way we saw it.
With an early start time, a moderate but consistent breeze from the Southeast, and a ripping tide pouring out of Charleston Harbor, overall victory and podium finishes were up for grabs through most of the 2015 Sperry Charleston Race Week fleet. Unlike Saturday, and early breeze meant three short, intense races in some classes and two in others, allowing a few teams to sew up runaway victories and a few more to make late runs to the top of the leaderboard in the quest for 20th Anniversary silver.
Charleston is immensely proud of its local university sailing team, and College of Charleston Sailing Team Captain Chase Shaw showed why in the J/22 Class. Shaw and his CofC crew reveled in the fast outgoing tide on Sunday, grabbing two bullets and holding off a late charge from US Sailing President Tom Hubbell aboard Air Force One.  Hubbell said he'd never had an easier time entering a regatta.  "You call up the College, they charter the boat to you, you jump in a plane, show up on the dock, and go race one-design at Charleston Race Week.  Could it be any easier?" said Hubbell, whose team finished just 3 points behind Shaw.  The J/22 Class also featured the Warrior Sailing Team, entirely crewed and helmed by wounded and disabled military veteran and managed by Charleston professional sailor Ben Poucher.  "Sailing with these guys against a fully able-bodied fleet was something we'd been relishing, and watching them put everything they have into it was pretty awesome," said Poucher.  The Warriors grabbed 8th out of 9th entries.  "It was a victory in every way," Poucher said.
14 year old Kyle Gamble and My Sharona shocked the until-then very tight J/111 fleet with three bullets on Sunday, giving them the easy win despite a hard week.  "We just sailed clean and fast and it's great to have days like that," said Gamble, whose father George steers their Pensacola-based boat.
Lone Mexican entry Flojito y Cooperando earned their first Charleston Race Week win with a runaway performance in the stacked 83-boat J/70 Class. But it still wasn't an easy day for them, despite their dominance. "With the black flag up and the current pushing us over the line, starting was nerve racking, said tactician Bill Hardesty, one of the most successful American one-design sailors of the decade. "We started in the second row a couple of times, and luckily we had the speed to work our way forward."
Also in the J/70s, Jud and Lindsay Smith on Africa stole a brilliant penultimate race win, setting up a final battle with Oslo, Normandy's Eivind Astrup and his Norwegian team on Norwegian Steam.  Smith found himself stuck in traffic on a crowded port-tack layline, while Astrup judged the speedy ebb current perfectly, sweeping around the final mark in first place and extending to the victory.  "It all came together at the right time, and now that we know the currents, we'll come back as locals," joked the skipper – just before singing "Happy Birthday" in Norwegian to celebrate Race Week's 20th.
The final race of the Melges 24 Class was a nailbiter, but in the end, perennial top helmsman and past Melges 24 Corinthian World Champion Bruce Ayres (Monsoon, Newport Beach, CA) stayed patient despite a spirited attack from College of Charleston junior Ryan Davidson aboard Battle Rhythm; Ayres and Davidson traded leads on the beat, with a luffing battle on the final run allowing Norway's Jens Altern Wathne (Bergen, Norway) to slip to leeward and take the final race win of the week. Ayres finished less than 10 seconds behind Davidson, tying the two on points, with Monsoon winning on the tiebreak – it was Ayres second-straight win in the Melges 24 Class at Sperry Charleston Race Week.  Wathne's win vaulted him into first place in the Corinthian (Amateur) division, with Australian entry ACCRU losing the top spot after having just gained it.  It may be decades since ACCRU skipper Kevin Nixon won his 18-foot skiff World Title on Sydney Harbour, and his crew consists of his wife and three children rather than two huge watermen, but the intense Aussie says he and his family knows they need to come back in 2016 to prove the Aussies can beat not only the Americans, but the Scandinavians as well.  "It's a point of pride," he said.  Both Wathne and Nixon agree that next year's event should be a big one for the Melges 24 Class.  "Charleston and the Melges 24 have a long history together, and with the 2016 Melges 24 Worlds coming back to the states for the November Miami Worlds, Charleston marks the real beginning of the workup to what should be a very big Worlds," said Wathne.
Only one point separated the top two teams at the start of the final race in the Melges 20 National Championship fleet. Midnight Blue performed under pressure, winning the final race with blinding downwind speed.  Richard Davies' Section 16 took second spot for the second time in Charleston, with third place Tom Kassberg on Flygfisk edging out Brazilian team Portobello, who spent much of the week in first place – until it really mattered. Both Portobello and Flygfisk found themselves in a dying breeze on the final leg, and deep in the fleet, the throwouts came into play.  According to Kassberg, "We were consistent throughout the week, so it felt good to have a cushion if we needed to throw out the last race."
In the Viper 640 fleet Jason Carroll's Argo didn't need the final race for a win, but 2nd and 3rd were still undecided. Zeke Horowitz on Jenny won his second race in a row to edge out Tumbling Dice by five points for second.
21-boat J/24 class also had a tight podium with local racer Scott McCormack (Mt. Pleasant, SC) and his Giggity playing the ebb perfectly today to jump ahead of favorite Tony Parker aboard Bangor Packet. Pipe Dream was only four points out of second place with a very steady score line.
Tohidu skipper Jay Cook won in two big ways this week; the lifelong Charleston sailor and longtime supporter of Sperry Charleston Race Week sailed with sons Adam and Travis together for the first time in more than 5 years, something Cook said 'was one of the best surprises I've ever had.' The Cooks and the longtime friends crewing their Beneteau 423 couldn't repeat her 2006 class victory, finishing in 10th place in the Pursuit Class, and Jay didn't expect to spend any time on the trophy stage, making the crowd's long and strong cheers all the more powerful when Cook was called up to receive the elegant wood-and-glass Jubilee Award for Sportsmanship.  Cook's tireless volunteerism and never-ending generosity in support of the Charleston sailing community are legendary in the community; an award well deserved.
After top-secret calculations to determine the winners in the most competitive classes in the regatta, Randy Draftz announced that Robin Team and his family-crewedTeamwork had won the historic and beautiful Palmetto Cup for the top PHRF performance of the regatta.  It marks an incredible 3rd overall win in Charleston, something the Teams say they want to try to add their name to the perpetual trophy again next year.
To no one's surprise, the Melges 20 National Championship fleet claims the trophy for the winner in the most competitive one-design fleet, with Long Island's Jason Michas  and Midnight Blue etching their names on the Charleston Race Week Cup.  Michas adds it to his new title of US National Champion.
In the Pursuit Class, Charleston-based Jamie Walker and his crew on board Walker's Swan 56 Azura were celebrating with smiles at the awards party. They didn't see the kind of breezes this heavier boat really requires, but nonetheless finished well enough to secure third overall. "Despite the lighter winds, this event is always fun and it's really spectacular. Fun is one of our principal goals. For us, it's safety No. 1, fun No. 2, and then results No. 3. But I'm really fortunate to have a crew that comes from Charleston, England, Germany and Boston. We're pretty multicultural actually." Walker said he loves and hates the Pursuit Class. "It's so frustrating to sit there and watch all those other boats start ahead of us, but once you're racing, it's an absolute blast."
Hank Stewart, the PRO on the most populous racing circle – the 83-boat J/70 course – was relieved and pleased at the end of the day. "I've never worked with the fleet split system that we used here (to orchestrate the large number of boats in this class), but it worked really well. I think the tight competition proves it works," he said.  Stuart says his volunteers and Race Week staff provided terrific support for the Race Committee, but emphasized that he "gives a lot of credit to the competitors. I think across all the classes at the event, the sailors were very gracious, particularly in showing such patience on Saturday when we had that lengthy postponement. And, at least on our course, it was worth the wait because we had two of the best contests of the event that day."
April 20th, 2015 by admin
Drizzle doesn't dampen the mood for Charleston Race week. It didn't stop the ridiculous Sperry/Sailing Anarchy party last night, and racing commenced on time and on pace today. Under dark morning clouds, an eight knot northwesterly greeted the inside fleet and held enough to get high quality racing in. And what's Charleston Race Week without current. The ebb was flowing hard today, with teams jockeying for shallow water position all day. Who played it the best?
It's not Cinco de Mayo yet, but the J/70 Mexican team Flojito Y Cooperando helmed by Julian Fernandez celebrated early with two bullets today to set themselves apart in this talent laden fleet. Elvind Astrup's Norwegian Steam stayed consistent with a 1, 6, 5 to hold on to an early second. The top and only US team currently on the J/70 podium is Joel Ronning's Catapult. Since there are 78 J/70s racing in four separate fleets, the points add up quick and the scores are really close with eight boats tied in one way or another in the top 15. The fleets will be reset tomorrow for more qualifying racing.
Continuing the south of the border but north of the fleet tone, the lone Brazilian Melges 20 entry, Portabello, led by Cesar Gomes Neto, threw down some spicy upwind skills to keep ahead of Bruce Golison's Midlife Crisis by three points. Midnight Blue sailed well in today's darker conditions to keep it tight on the podium, behind second by only one point. Only eight points separate the top six in this wide-open class.
Guy Mossman's name is on the Melges 24 score sheet, but he's mending a broken hand from a 'being a nice guy' moment.  Lesson: Don't punch a fighting pit bull in the head. In his place on Battle Rhythm is Will van Cleefe, who earned a four point lead today over Brent McKenzie on Ex-Kahn, followed closely by Bruce Ayres on Monsoon.
Watch the full replay of all the live racing action here, and if the wind ever fills in, we'll have Saturday's racing for you on this page.
Brian Carlin photo of the sexy C&C 30 and the rest of PHRF A offshore, and seriously big, badass galleries from Brian and Sander Van Der Borch are over here.
And the Team Vestas Wind award goes to Christian Koppernaes in the VX-One fleet, who took the 'short tack the shore' move a little too far.  Sander Van Der Borch photo.
Results after day one here, and of course a huge thanks to our friends at Sperry for making SA's extended coverage of Charleston's action.
-John Casey
April 18th, 2015 by admin
Too many stories, too many Dark'n Stormies, and too many competitors to keep track of, the 20th anniversary of Sperry Charleston Race Week sets another attendance record as the spring classic inches towards 300 boats.  This year they'll squeeze yet another sportboat class in with the VX-One, with 10 boats signed up for their first year at the event.  It's also Melges 20 Nationals and several other championships, but the monster fleet is again the J/70, with 80 and change on the split lines.  That's 230 boats or so racing in a harbor that's about a mile wide, and you can see who's what and where over in the scratch sheet.
As serious as some are, the majority of sailors are here because it's always fun and always unpredictable, and that's what Petey Crawford captured with this short preview and practice reel from today.  Enjoy the film and keep an eye on Facebook for all kinds of updates this weekend.  CRW has plenty going on themselves over at their Page, including a contest;  If you like them, along with Coral Reef and Gill NA, you get a chance to win one of two remaining Charleston'd up Gill Crew Lite jacket (they gave one away today).
And when you're bored tomorrow at work, click back here on the front page for our first livestreamed video coverage of Charleston Race Week in 4 years, with huge thanks to Sperry for helping us put it all together for you.
April 17th, 2015 by admin
Language boffins have complained for years that the 3-day Sperry Charleston Race Week is woefully misnamed.  But the wild success of the hemisphere's biggest regatta has allowed the event to leapfrog right over the 'week' part of its name, because this year, April is Charleston Race Month.  And thanks to our friends at Sperry and their Odysseys Await promotion, Sailing Anarchy is bringing you its biggest coverage of Charleston action ever – just when conditions in the South's sailing capital are a sailor's paradise.  For more, we go to For2Battery Race founder Tim Fitzgerald:
All the Charleston action begins on April 11th, when the second annual Fort2Battery sprint turns Charleston Harbor into "Caddy Day" at Bushwood.  This hot event reached its entry cap weeks ago, and some 75 high-speed kites, boards, catamarans and moths will be racing down the harbor at speeds touching 40mph, competing for some $20,000 in prizes including a brand new bike, and one of the largest single cash prizes in all of American sailing!
One notable absence is the inaugural Champion, "King of the Harbor" Bora Gulari, who's giving someone else a chance to win this year.  Will the sailors still be able to hold off the kites in 2015?  You can tune in right here on the front page for a live hour-long morning show from the beach, and the entire 9-minute race, streamed by the original troublemakers who called last year to tell us "DUDE! this race needs to happen, how can we help?!" at Sailing Anarchy. And we've got a pro photographer going up in a Holy City Helicopter to shoot the event – it will be awesome!  Head over to our Facebook Page to find out how you can enter to win a brand new Liquid Force Kite or Kiteboard, and please join us at the huge post-race party and awards at the awesome Palmetto Brewery at 7 pm. 
The nearly 300 teams entered in Sperry Charleston Race Week in about a hundred classes on 5 circles will begin arriving in Charleston immediately after the sprint, and we've got a full program of live, recorded, photo, and social content for everyone stuck at home.  For the 2500-odd sailors, shore crew, and support staff in the Holy City, we've got all sorts of goodies, including giveaways, contests, and a VIP after party with tons more giveaways, and a Karaoke contest where we'll award a year-long Sperry footwear sponsorship to one lucky crew!
While the multi-media fun ends on 4/20, the month ain't over for sailors until the next weekend, when 15-20 high-speed E-Scows (including one helmed by the aforementioned Gulari) will take advantage of the perfect SE seabreeze to race in the CYC E Regatta.  We've also heard rumors that several high-performance one-design and box rule classes are looking to join the late April fun in 2016; is there another 200+ boat Charleston regatta on the horizon?  We think there should be.
Check out the full webcast schedule here, and let us know about you and your crew in the Charleston Race Week thread.
April 6th, 2015 by admin
It's got more entries than any keelboat regatta in the Western Hemisphere, more women and juniors than any open regatta we've ever been to, and one of the best venues in the entire sport.  And now it's got one of the best highlight videos, too.  Petey Crawford from Penalty Box Productions went two days without sleep to get dozens of hours of footage from 2014 Sperry Top-Sider Charleston Race Week turned into 10 minutes of reality show/highlight reel/tribute film, and the result is just goddamned excellent.  If you want to know the recipe for success in modern American regattas, watch and learn.  And go here to find all the interviews, photos, and race coverage from the SA crew over this past weekend.
April 16th, 2014 by admin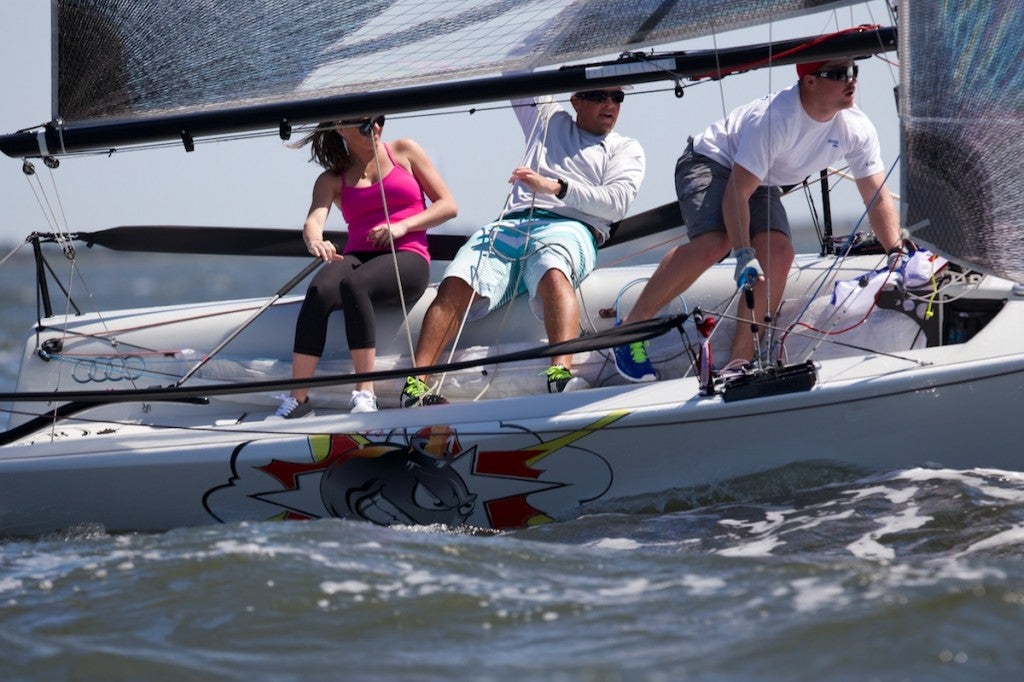 This week's Sailor Chick of the Week was a no-brainer; 23-year old Grace Lucas is smart, sassy, fast as hell, and just helmed her way to fourth place in an extremely competitive Charleston Melges 20 fleet, losing the podium spot she'd held through 6 races after a last-leg charge from Michael Kiss's Bacio.  Grace is finishing her college career this year after 3 years on the CofC sailing team; here's hoping she doesn't get so sucked up in the employment world that she gives up sailing.  Get to know Grace more in two interviews our own Mr. Clean did with the young NJ native, and enjoy tactician and Melges fixture Sam Rogers' new nickname.
April 14th, 2014 by admin
This cat sailor got a closer look than he bargained for and set up this great football analogy after a capsize just downwind of the Viper fleet during the second day of Charleston Race Week.  Meredith Block Photo and an awesome gallery of 111 photos from Day 2 here.
 The HD Day Two Highlight Reel from Petey Crawford is here.  Results here.  Follow the final day of action on Facebook here.
April 13th, 2014 by admin
Spring has sprung and the sailing world is on fire!  Here are 5 vids for your weekend viewing pleasure.
the young ones

Charleston continues to show its uniqueness, and never mind the huge fleets or sportboat-gathering.  Where else outside the Olympics do you see 20-year old skippers beating up on Grand Prix fleets, and what other regattas have literally hundreds of gorgeous girls in attendance – both on the race course and at the parties?  That's right – there are none.  Check Petey's Day 1 highlight reel above.
C___ Tease

Do you want to go foiling at the 2015 ICCC Worlds/Little America's Cup in Lake Geneva, Switzerland?  Well, now you can.  The Canadian build team for the last 3 Little Cups will make it happen for less than you think.  Go check out patersoncomposites.ca for more
Wake Me

It's been a while since anyone did a good wakeboarding-behind-the-boat video, and this one has the added bonus of being shot and edited by one of the most beautiful cat sailors in the world and the longtime SAers aboard the Formula 40 Soma.  
Everybody Quant Some

We're not sure if the DSS system is every really going to be ready for prime time, but the Quant boats are different and quick enough that we're still watching.  Check it out above.
Just In Time

This container ship gives a new meaning to 'emergency stop'.  Hong Kong, last week, and very close to a bad day.
April 12th, 2014 by admin


It's a Charleston time of year again, and who better to give you the lay of the land than the Rev. Petey.  For live video updates, near real-time HQ photos, drone videos, and plenty more, check out the Charleston Race Week Facebook Page.  Racing begins at 10:30.
April 11th, 2014 by admin