Posts Tagged 'charleston race week'
It's got more entries than any keelboat regatta in the Western Hemisphere, more women and juniors than any open regatta we've ever been to, and one of the best venues in the entire sport.  And now it's got one of the best highlight videos, too.  Petey Crawford from Penalty Box Productions went two days without sleep to get dozens of hours of footage from 2014 Sperry Top-Sider Charleston Race Week turned into 10 minutes of reality show/highlight reel/tribute film, and the result is just goddamned excellent.  If you want to know the recipe for success in modern American regattas, watch and learn.  And go here to find all the interviews, photos, and race coverage from the SA crew over this past weekend.
April 16th, 2014 by admin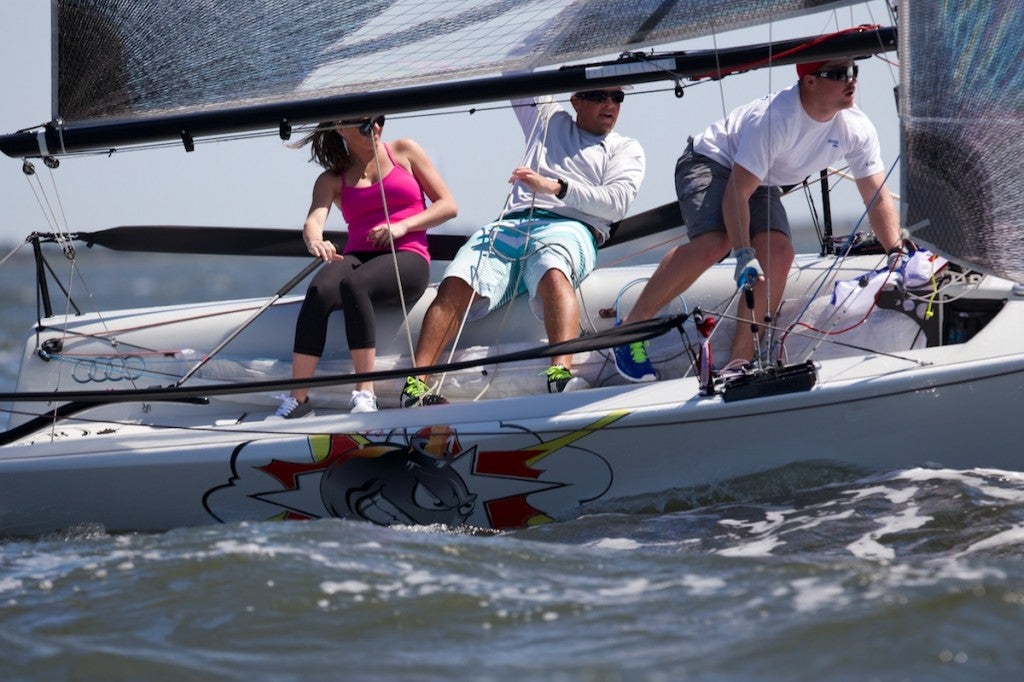 This week's Sailor Chick of the Week was a no-brainer; 23-year old Grace Lucas is smart, sassy, fast as hell, and just helmed her way to fourth place in an extremely competitive Charleston Melges 20 fleet, losing the podium spot she'd held through 6 races after a last-leg charge from Michael Kiss's Bacio.  Grace is finishing her college career this year after 3 years on the CofC sailing team; here's hoping she doesn't get so sucked up in the employment world that she gives up sailing.  Get to know Grace more in two interviews our own Mr. Clean did with the young NJ native, and enjoy tactician and Melges fixture Sam Rogers' new nickname.
April 14th, 2014 by admin
This cat sailor got a closer look than he bargained for and set up this great football analogy after a capsize just downwind of the Viper fleet during the second day of Charleston Race Week.  Meredith Block Photo and an awesome gallery of 111 photos from Day 2 here.
 The HD Day Two Highlight Reel from Petey Crawford is here.  Results here.  Follow the final day of action on Facebook here.
April 13th, 2014 by admin
Spring has sprung and the sailing world is on fire!  Here are 5 vids for your weekend viewing pleasure.
the young ones

Charleston continues to show its uniqueness, and never mind the huge fleets or sportboat-gathering.  Where else outside the Olympics do you see 20-year old skippers beating up on Grand Prix fleets, and what other regattas have literally hundreds of gorgeous girls in attendance – both on the race course and at the parties?  That's right – there are none.  Check Petey's Day 1 highlight reel above.
C___ Tease

Do you want to go foiling at the 2015 ICCC Worlds/Little America's Cup in Lake Geneva, Switzerland?  Well, now you can.  The Canadian build team for the last 3 Little Cups will make it happen for less than you think.  Go check out patersoncomposites.ca for more
Wake Me

It's been a while since anyone did a good wakeboarding-behind-the-boat video, and this one has the added bonus of being shot and edited by one of the most beautiful cat sailors in the world and the longtime SAers aboard the Formula 40 Soma.  
Everybody Quant Some

We're not sure if the DSS system is every really going to be ready for prime time, but the Quant boats are different and quick enough that we're still watching.  Check it out above.
Just In Time

This container ship gives a new meaning to 'emergency stop'.  Hong Kong, last week, and very close to a bad day.
April 12th, 2014 by admin


It's a Charleston time of year again, and who better to give you the lay of the land than the Rev. Petey.  For live video updates, near real-time HQ photos, drone videos, and plenty more, check out the Charleston Race Week Facebook Page.  Racing begins at 10:30.
April 11th, 2014 by admin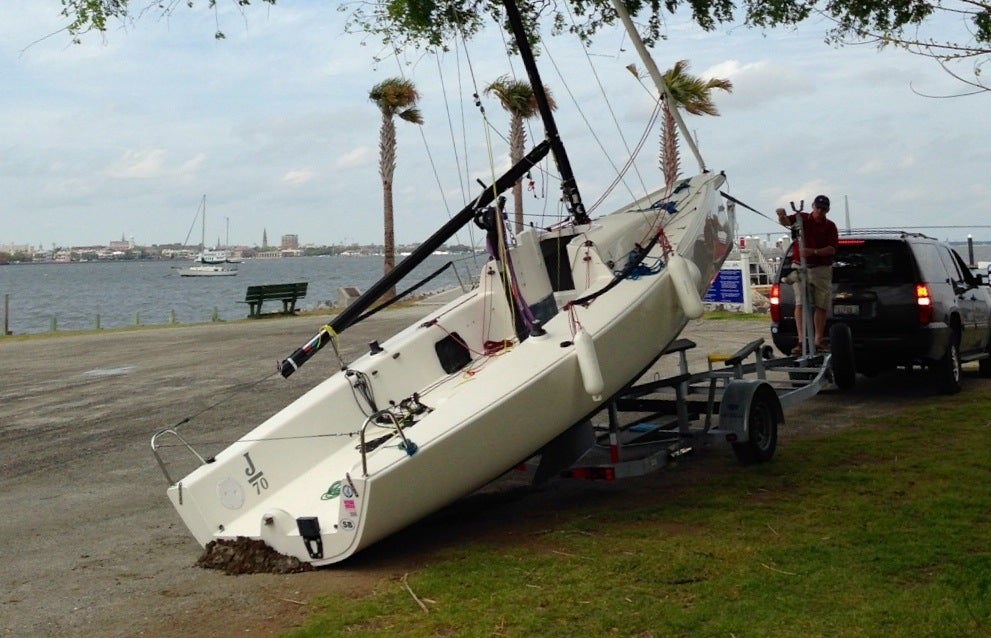 With 81 J/70s at Sperry Top-Sider Charleston Race Week – the biggest fleet by far in the 287-boat fleet - there's bound to be carnage; we just didn't know how soon it would start!  This driver forgot about the one tree at James Island Yacht Club at just the wrong time.  Racing starts tomorrow, and Clean and the team will be bringing you pretty much non-stop video and photo action all week long via the CRW Facebook Page.  There's plenty to see – big one-design fleets, four wicked-up Carkeeks racing in the HPR Class, a huge Pursuit fleet and for the first time ever, multihulls.  And no, you don't need to be a Facebook user to watch.
April 10th, 2014 by admin
February 17th, 2014 by admin
Another year, another countdown to America's funnest overall regatta, and we welcome back Charleston Race Week to the SA family.  With the rebounding Melges 24, the exploding J/70, the exciting HPR class, and continually growing big boat racing of all levels, it's hard to beat Charleston in April.  Here are a couple of words from our pal Randy Draftz, the wizard moving the handles around for the event.

"You've still got a couple of days to save $50 on your registration to America's biggest regatta (and the biggest beach party in sailing), but you have to ACT FAST!  After January 31, the Early Discount expires, so register now. Inshore courses are expected to reach capacity early, so late entries may be excluded in the larger inshore one-design classes. As of January 28, there are already 29 J/70s registered.  And remember; only entries that are fully paid are considered registered.  You can check out exactly who's already signed up here, and the link to register is right here.  Crew Board is here."
January 29th, 2013 by admin