Posts Tagged 'charleston race week'
It is with an incredibly heavy heart that we announce the death of one of the Charleston sailing community's most important figures.  Just 46 years old, former Charleston Race Week Director of Marketing/Sponsorship/PR Meaghan Van Liew died yesterday after complications related to a liver transplant operation – an operation required after damage her liver suffered from medication she took for an unrelated nerve issue.
Along with then-husband Brad Van Liew, Meaghan was the driving force behind Charleston Race Week's explosion from a small regional regatta to America's biggest sailing event.  She also ran the SC Maritime Foundation and oversaw the completion and running of the Spirit of South Carolina schooner and it's educational youth sailing program.  Meaghan took on the nearly impossible task of raising two kids on the road while running a round-the-world IMOCA program for Brad's dream of becoming the first American to win a RTW race.  From Balance Bar, to Tommy Hilfiger to Le Pengouin during the final days of the Around Alone, Meaghan sacrificed everything of her own to make sure her children had great life experiences and her then-husband had a chance to win.
Professionally, Meaghan was one of the first major event organizers to put her faith in Sailing Anarchy to help jump-start Charleston Race Week's march to prominence, and her risky move led to the worldwide acceptance we have today.  She also was one of the few American sponsorship agents at the time (or since!) to secure real funding for offshore racing from major corporations.  Creativity, work ethic, risk taking, and sacrifice for those you love – these were her foundations.
On a more personal level, Meaghan was one of my closest friends, and every year, Mer, the dog, and I would spend a week with her and the kids before Charleston Race Week to catch up and brainstorm new ideas to grow the event.  When her marriage fell apart, she devoted herself to helping her children navigate the tough emotional situation – often to her own detriment.  She ALWAYS put her children, her family, her friends, her clients before herself.
If there's an afterlife, we pray that Meaghan Van Liew has finally found some time there to devote to herself.  Meaghan, we will always love you and remember you.  Check in to ex-husband Brad's Facebook Page here, and there is a thread here. Ainhoa Sanchez photo.
Signed,
Alan, Meredith, Joey, Kuma (deceased), Cricket (deceased)
MEMORIAL SERVICE and celebration of Meaghan's life will be held at the Charleston Maritime Center (10 Wharfside St, Charleston, SC) on Sunday at 3pm.
UPDATE: We spoke to a gutted Brad Van Liew moments ago, and he requested that we ask the sailing community to please refrain from calling over the next few days so he can tend to his family in their mourning.  His phone has been blowing up from South America, New Zealand, Australia, the UK, France, helping him to realizes just how many people Meg touched over the years.
UPDATE 2: We are going down to Meg's memorial service on Sunday to pay our respects.  If you have great stories about Meg, find me at the Maritime Center so we can put together a video tribute to a great woman.
January 26th, 2017 by admin
As Event Director of the largest sailing regatta in the Western Hemisphere, Charleston Race Week's Randy Draftz has become one of the 'go-to' people in sailing if you're looking for information on any aspect of running a sailboat event.
Learn the crazy chain of events that led Randy to this current role and the strange reasons Randy is actually one of the pioneers of sailing and the web, including the rise and fall of Sailnet (in the 90s, ancient history!). We don't shy away from the tough subjects, either  – women still excluded from Yacht Club membership in Chucktown, conflict between sponsor goals, yacht club sensibilities, and the future of the sport, and loads of stories about the 'good ol' days' of yacht racing from this likeable and hardworking icon of modern race administration.
More to come!
May 28th, 2016 by admin
One of the breeziest Charleston Race Weeks in years wraps today, with waves so massive outside the jetties that organizers took the unprecedented step of moving the entire offshore racing fleet under the Ravenel Bridge for some tight windward/leewards in the Wando River.  Want to see how it all unfolds?  Watch Clean and the team on Facebook, all day.
Here's a shot and story from the inshore course.
I have been a part of some epic knock-downs, but I think this one had even more special meaning.  I was onboard with two amputees and a blind guy that not only recovered from this 90 degree charleston harbor perfect 10, but proceeded to put the spinnaker up again and push to get it right.  I can't tell you how amazing this group of men and women are that committed to sail in Charleston race week with Warrior Sailing Program. Back on the water today for some J22 action and big boat racing!
The Warrior Sailing Program is still seeking last bit of funding to help make their fund-raising goal!
This is the deal:  The men and women of Warrior Sailing Program have opportunities to sail onboard USMMA Sailing Foundation vessels.  One of the vessels provided this week is Metolius, an 84' donated vessel.  All of the expenses for this opportunity are covered by the Foundation.  We need help from the sailing community to make this happen on a consistent basis. While we have been sailing in regattas and having a blast, these men and women have been fighting for our freedom and safety.  If everyone takes a minute and donates even $5, it is going to a worthy cause!
Please introduce yourself and come meet the Team!  We will be at all of the Charleston Race Week events sporting our awesome new Zhik gear.
-Ben 'Pooch' Poucher
April 17th, 2016 by admin
There aren't a whole lot of regattas that have their own video morning weather report, but then again Sperry Charleston Race Week isn't like most regattas, though it does provide a blueprint for cool shit you can do at your own event.
Despite losing offshore circles yesterday (to conditions that ended up being perfectly sailable), the inshore fleets got 3-4 races in and the weather is only getting better in Chucktown.  Clean and Mer are blowing it up on CRW's Facebook Page all day with videos and photos and more, so check out the country's biggest regatta live today.
April 16th, 2016 by admin
Charleston's Fort 2 Battery Race was bigger, badder, faster, and nastier than ever, though you wouldn't know it from the ballerina-like gybe in this great Penalty Box Productions teaser from the race.  Enjoy (and share!) the quick edit above, and keep an eye out for a feature from The Rev Petey next month.  For the full video of the morning Beach Walk, go here.  For the full shaky-cam video of the Fort2Battery Race, here.
Here's the after-action report from F2B founder and organizer Tim Fitzgerald. (and for more from Petey on the upcoming monster Melges 24 Worlds, check out Petey's third 'View From The Chair.'
"10 seconds to start…Here I go!"
"Uh-oh."
There's a couple catamarans hooked up and I can see we may be getting acquainted.  No thought on my part of Port and Starboard, just simply that at 25 knots, it'll be wise of me to miss them one way or another. I'm crossing, until I hit a hole in the offshore breeze…and now I'm trying to stay on the foil.
3 seconds to impact, and now its too late to stop before I'm in their path.. But it's my friend Jeff.  "He wouldn't run me over," I think.  On second thought, yes, he would.  He'd wear my kite on the top of his mast like a trophy animal pelt.
2 seconds to impact, and now I'm way too slow to cross.  so I cross the first cat, and it's an e-brake bail to explode the water and stop before T-boning the second boat. I look up through the spray to see two masts fly past either side of my kite lines.  "Holy shit."
Time to get going again. Over there I think I see a moth. It's hard to tell because he's far away. A few seconds pass and now we're not far away at all.  We're both lit up like a Christmas tree in a big puff, heading for a 40mph pileup.
And again…3 seconds to impact.
I heat up to go behind just before a huge blast hits me and takes me downwind toward my handshake with the mothie, who is also at vaporizing top speed and planning to cross ahead.  2 seconds…I'm heading right at him. If I bail in front, I'm fish food,  so I lean back and heat up, which makes me go FASTER. It's that awful feeling you get in a keelboat when it's too late to duck and you know it's going to get ugly.
I close my eyes a split second before my board makes contact with my good friend Pat's Mach 2 moth with both of us at over 25 knots – though it feels like Mach 2.  We clear each other by inches.
I had survived the first minute of my 2016 Fort 2 Battery. Let it be known that the good advice of "sail in clear air and open space" applies to Fort 2 Battery races also.
It began without warning.  The first attackers landed at Fort Sumter in under 6 minutes with reinforcements pouring ashore in under 8. In just 15 minutes they had taken the Fort. It was glorious and it changed everything.
The third running of the Charleston Fort 2 Battery was run in reverse because of the west wind coming off the city at a chilly 20-30 knots. With the sun out, this was the kiteboarder's version of a Chamber of Commerce day. Charleston's Holy City Helicopters team was in the air with Sammy Hodges and Mac Dickson hanging out of the bird with long lenses astutely affixed to the competitors.  From the air they witnessed a "reverse invasion" of Fort Sumter, when dozens of kite boarders landed on the beach near the Fort to wait for a ride home.  You know it's survival conditions when the competitors can't even sail home after the race!
With the big breeze and favorable current, the hard work was getting to the upwind start but the race was all down-hill. Mr. Clean threw down the challenge in the morning letting the live audience on Sailing Anarchy know that records could fall. He was spot on, and the overall course record was cut to 5:52 by Foilboarder Zack Marks, who broke his own record in winning the race. Local kite hotshot Davey Blair also cut 7 seconds from Tucker Mason's record to bring it to 7:12 which was even faster than the winning time in the first edition of the race. Victor Diaz de Leon cut the moth time to 6:41 while defeating George Peet by an insane five one-thousanths of a second to take second overall and win the Moth race.
When you talked to the racers, one theme was common. Among a bunch of adrenaline junkies who love to fly 40 feet in the air on a kite, and break speed records on flying boats, "I was pretty scared" could be heard over and over. The conditions were at the top end which kept the big cats on shore and ended some Moth Pilots' days early with cartwheeling wrecks.
The high-octane format of the Fort 2 Battery is as addictive as it is exciting, and with over 36,000 people watching the pre-race Beach Walk and F2B Sprint on SA's Facebook page, we think we've really stumbled on something the public loves!   At James Island YC, dozens of fishermen and motor-boat owners were tailgating like Clemson Tigers football fans, and the innovating club's only questions were "how do we make this even better?" Sweetwater Brewing and Charleston Distilling Co. helped, keeping things lively at the beach bonfire and dance party well into Saturday night.
The rest of the weekend featured more wacky stuff – three days of Kite vs. Moth free-for-all course racing – which had never been done in the world. The verdict seems to be 'it's everything you'd think it could be.'  Terrifying but exhilarating for the racers and spectators. Amazingly, despite the big, puffy breeze, we didn't see a single collision or even a tangled-up kite.
It is fitting that this super high performance everyman's revolution has grown quickly in Charleston, specifically at Fort Sumter, where our last domestic revolution started…let's hope that this one is less messy. See you next year!
Mack Dickson photos.
-Fitz
April 13th, 2016 by admin
April in Charleston is one of the world's sweetest sailing destinations, and as you may already know, it ain't all about Charleston Race Week!  The weekend before the big event is a mess of racers who do not give a shit what your PHRF number is, or how many inches of prebend you carry in your stick – no, they're all about speed, speed, and more speed (with some partying mixed in).
It's the fourth running of the Charleston Fort 2 Battery, founded with the help of Sailing Anarchy in 2014 and already at over 80 racers in 2015, just its second year. For this race, if you can't hit 20-plus in your boat, you may as well grab a camera and join hundreds of spectators who fill the harbor rain or shine. 4KSB's need not apply.
Hardworking founder and anarchist Tim Fitzgerald pulled in some 'sweet' sponsors to fule the beach bonfire party – Sweetwater Brewing and Charleston Distillers are on board for the libations, as is Holy City Helicopters for the aerial shots.
Last year over 5000 people tuned in as Sailing Anarchy brought the race to you LIVE and you can see it again this year if you've got 20 minutes and an internet connection. It's like no sailing you've ever seen before and it happens fast! There were high speed wrecks, a destroyed catamaran, some bruised moth pilots and PLENTY of wind.
The 2016 F2B also scores a 'world first' for any sailing sprint race – just like a marathon or Ironman, all competitors will be 'chip-timed' for perfect accuracy, so you'll see the results the instant they cross the finish line.
On Fort 2 Battery weekend, James Island will become the first place to hold a mixed-foil regatta, when the moths and kites go head to head Friday on the slalom course, with course racing over the weekend. From local talk it sounds like many plan to spectate the 60mph closing speeds and 30mph NASCAR style wipeouts when some of the fastest sailors in the country go head to head with few rules. We don't even know what to expect, but if racers decide to weaponize you could see mothies running over downed kiters, and kiters boosting to chop moth sails to bits with their foils. The possibilities are endless and you may be seeing the start of something new.
Mac Dickson photo.
March 21st, 2016 by admin
Petey and the Charleston media team of Sander, Brian, and Dan the combat videographer put a rich and interesting 10-minute film together from 2015 Sperry Charleston Race Week.  Like all CRW videos, it's got girls, sportboats, and booze, and plenty more from another interesting cast of characters at the hemisphere's biggest regatta.  We'll have a post-mortem on the event early next week – where it's been, where it's going, and why it works – as well as a full index to every bit of the coverage the Sperry supported SA team put together for you last month.  Enjoy.
May 6th, 2015 by admin
Clean Report
When Sperry signed on to be a part of Sailing Anarchy's year-long media World Tour of some of the most interesting events in our sport, we had no mysteries about why.  "You guys ooze the kind of passion that Sperry was founded on, and we want to help you share it with the world," said Dave, one of their marketing bosses.
That's the easy answer; there is a deeper, more painful answer to 'why?' – and it's the reason Sailing Anarchy has been the world's best sailing website for the past decade.  Because this is not our job; it is our life, and without sailing, there's a good chance that the folks who run the place wouldn't be alive today.
So click the player above and learn what sailing means. To us at SA, to Petey behind the lens, to our sponsors, to our friends, but most importantly, to all the folks who do whatever it takes to bring the next generation to this lifesaving sport.
Gorgeous work from Petey Crawford; The first two parts of the series are here and here.
April 22nd, 2015 by admin
Clean Report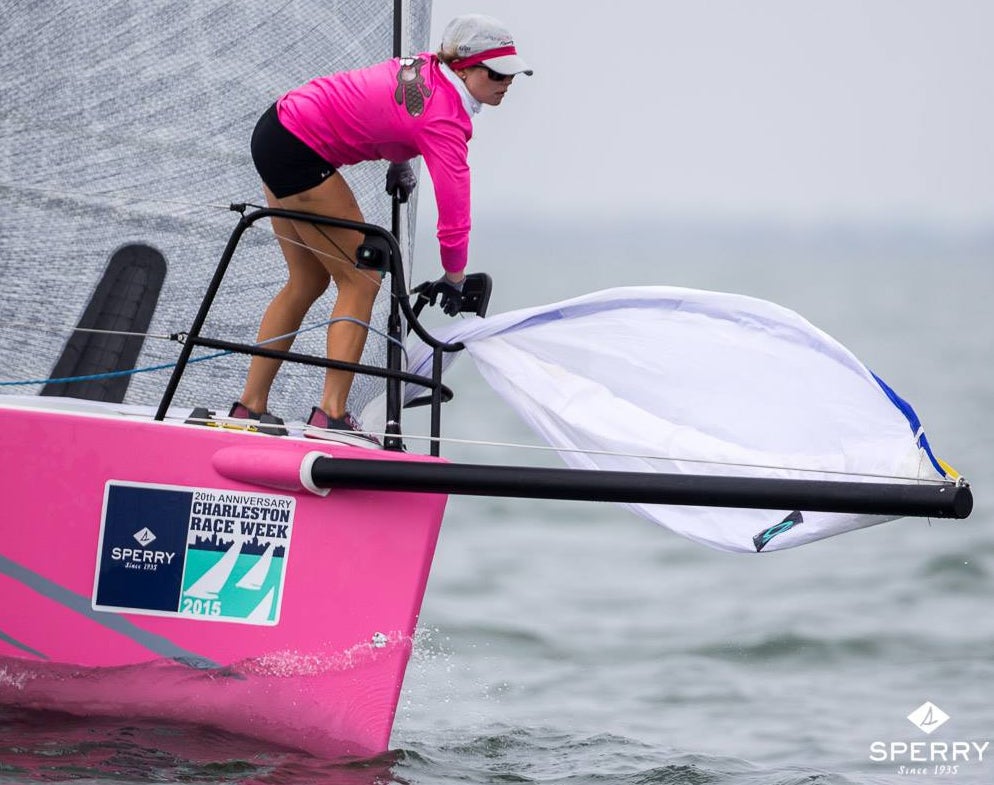 Despite light to moderate breeze and a noticeable lack of bikini weather, the 20th Anniversary of Sperry Charleston Race Week proved that CRW is not only here to stay, but that it is one of the most important regattas for sailing in America. 
It's not just the fact that so many serious racers gather here every year; the event seems to attract just about everyone in the sailing industry, and Randy Draftz and CORA are constantly chasing ways to make CRW more modern, more progressive and more fun.  Sailing Anarchy first partnered with the organizers an incredible 9 years ago, and we consider ourselves privileged to have been a part of what a few friends and sailing coaches started back in '96, and what CORA, the now-defunct SC Maritime Foundation, Randy Draftz, and a crowd of some of the most enthusiastic volunteers and sponsors in the world have built: America's must-do regatta.
We almost always avoid annoying you with press releases, but in this case, we're making an exception, because you all wanna know what happened in Charleston, and because I spent hours with Sperry Charleston Race Week Comms officer Dan Dickison and John Casey helping to write and edit an entire story about it.  Besides, it's my goddamned birthday, and I need a nap.  And it's not like you can't find out what really happened from the hundreds of awesome Sander Van Der Borch and Brian Carlin photos or hours of as-live streamed video and highlight reels and interviews from Petey Crawford.
So if you really want to know the down and dirty details, comb through on the CRW Facebook Page or head over to the Sperry Sailing Anarchy World Tour posts on our own Facebook Page and be sure to give yourself some time.   But other than a quick note of thanks to everyone at CORA and the CRW as well as our team of Mer, Petey, Morgan, JC, Sander and Brian here's a summary of the event, the way we saw it.
With an early start time, a moderate but consistent breeze from the Southeast, and a ripping tide pouring out of Charleston Harbor, overall victory and podium finishes were up for grabs through most of the 2015 Sperry Charleston Race Week fleet. Unlike Saturday, and early breeze meant three short, intense races in some classes and two in others, allowing a few teams to sew up runaway victories and a few more to make late runs to the top of the leaderboard in the quest for 20th Anniversary silver.
Charleston is immensely proud of its local university sailing team, and College of Charleston Sailing Team Captain Chase Shaw showed why in the J/22 Class. Shaw and his CofC crew reveled in the fast outgoing tide on Sunday, grabbing two bullets and holding off a late charge from US Sailing President Tom Hubbell aboard Air Force One.  Hubbell said he'd never had an easier time entering a regatta.  "You call up the College, they charter the boat to you, you jump in a plane, show up on the dock, and go race one-design at Charleston Race Week.  Could it be any easier?" said Hubbell, whose team finished just 3 points behind Shaw.  The J/22 Class also featured the Warrior Sailing Team, entirely crewed and helmed by wounded and disabled military veteran and managed by Charleston professional sailor Ben Poucher.  "Sailing with these guys against a fully able-bodied fleet was something we'd been relishing, and watching them put everything they have into it was pretty awesome," said Poucher.  The Warriors grabbed 8th out of 9th entries.  "It was a victory in every way," Poucher said.
14 year old Kyle Gamble and My Sharona shocked the until-then very tight J/111 fleet with three bullets on Sunday, giving them the easy win despite a hard week.  "We just sailed clean and fast and it's great to have days like that," said Gamble, whose father George steers their Pensacola-based boat.
Lone Mexican entry Flojito y Cooperando earned their first Charleston Race Week win with a runaway performance in the stacked 83-boat J/70 Class. But it still wasn't an easy day for them, despite their dominance. "With the black flag up and the current pushing us over the line, starting was nerve racking, said tactician Bill Hardesty, one of the most successful American one-design sailors of the decade. "We started in the second row a couple of times, and luckily we had the speed to work our way forward."
Also in the J/70s, Jud and Lindsay Smith on Africa stole a brilliant penultimate race win, setting up a final battle with Oslo, Normandy's Eivind Astrup and his Norwegian team on Norwegian Steam.  Smith found himself stuck in traffic on a crowded port-tack layline, while Astrup judged the speedy ebb current perfectly, sweeping around the final mark in first place and extending to the victory.  "It all came together at the right time, and now that we know the currents, we'll come back as locals," joked the skipper – just before singing "Happy Birthday" in Norwegian to celebrate Race Week's 20th.
The final race of the Melges 24 Class was a nailbiter, but in the end, perennial top helmsman and past Melges 24 Corinthian World Champion Bruce Ayres (Monsoon, Newport Beach, CA) stayed patient despite a spirited attack from College of Charleston junior Ryan Davidson aboard Battle Rhythm; Ayres and Davidson traded leads on the beat, with a luffing battle on the final run allowing Norway's Jens Altern Wathne (Bergen, Norway) to slip to leeward and take the final race win of the week. Ayres finished less than 10 seconds behind Davidson, tying the two on points, with Monsoon winning on the tiebreak – it was Ayres second-straight win in the Melges 24 Class at Sperry Charleston Race Week.  Wathne's win vaulted him into first place in the Corinthian (Amateur) division, with Australian entry ACCRU losing the top spot after having just gained it.  It may be decades since ACCRU skipper Kevin Nixon won his 18-foot skiff World Title on Sydney Harbour, and his crew consists of his wife and three children rather than two huge watermen, but the intense Aussie says he and his family knows they need to come back in 2016 to prove the Aussies can beat not only the Americans, but the Scandinavians as well.  "It's a point of pride," he said.  Both Wathne and Nixon agree that next year's event should be a big one for the Melges 24 Class.  "Charleston and the Melges 24 have a long history together, and with the 2016 Melges 24 Worlds coming back to the states for the November Miami Worlds, Charleston marks the real beginning of the workup to what should be a very big Worlds," said Wathne.
Only one point separated the top two teams at the start of the final race in the Melges 20 National Championship fleet. Midnight Blue performed under pressure, winning the final race with blinding downwind speed.  Richard Davies' Section 16 took second spot for the second time in Charleston, with third place Tom Kassberg on Flygfisk edging out Brazilian team Portobello, who spent much of the week in first place – until it really mattered. Both Portobello and Flygfisk found themselves in a dying breeze on the final leg, and deep in the fleet, the throwouts came into play.  According to Kassberg, "We were consistent throughout the week, so it felt good to have a cushion if we needed to throw out the last race."
In the Viper 640 fleet Jason Carroll's Argo didn't need the final race for a win, but 2nd and 3rd were still undecided. Zeke Horowitz on Jenny won his second race in a row to edge out Tumbling Dice by five points for second.
21-boat J/24 class also had a tight podium with local racer Scott McCormack (Mt. Pleasant, SC) and his Giggity playing the ebb perfectly today to jump ahead of favorite Tony Parker aboard Bangor Packet. Pipe Dream was only four points out of second place with a very steady score line.
Tohidu skipper Jay Cook won in two big ways this week; the lifelong Charleston sailor and longtime supporter of Sperry Charleston Race Week sailed with sons Adam and Travis together for the first time in more than 5 years, something Cook said 'was one of the best surprises I've ever had.' The Cooks and the longtime friends crewing their Beneteau 423 couldn't repeat her 2006 class victory, finishing in 10th place in the Pursuit Class, and Jay didn't expect to spend any time on the trophy stage, making the crowd's long and strong cheers all the more powerful when Cook was called up to receive the elegant wood-and-glass Jubilee Award for Sportsmanship.  Cook's tireless volunteerism and never-ending generosity in support of the Charleston sailing community are legendary in the community; an award well deserved.
After top-secret calculations to determine the winners in the most competitive classes in the regatta, Randy Draftz announced that Robin Team and his family-crewedTeamwork had won the historic and beautiful Palmetto Cup for the top PHRF performance of the regatta.  It marks an incredible 3rd overall win in Charleston, something the Teams say they want to try to add their name to the perpetual trophy again next year.
To no one's surprise, the Melges 20 National Championship fleet claims the trophy for the winner in the most competitive one-design fleet, with Long Island's Jason Michas  and Midnight Blue etching their names on the Charleston Race Week Cup.  Michas adds it to his new title of US National Champion.
In the Pursuit Class, Charleston-based Jamie Walker and his crew on board Walker's Swan 56 Azura were celebrating with smiles at the awards party. They didn't see the kind of breezes this heavier boat really requires, but nonetheless finished well enough to secure third overall. "Despite the lighter winds, this event is always fun and it's really spectacular. Fun is one of our principal goals. For us, it's safety No. 1, fun No. 2, and then results No. 3. But I'm really fortunate to have a crew that comes from Charleston, England, Germany and Boston. We're pretty multicultural actually." Walker said he loves and hates the Pursuit Class. "It's so frustrating to sit there and watch all those other boats start ahead of us, but once you're racing, it's an absolute blast."
Hank Stewart, the PRO on the most populous racing circle – the 83-boat J/70 course – was relieved and pleased at the end of the day. "I've never worked with the fleet split system that we used here (to orchestrate the large number of boats in this class), but it worked really well. I think the tight competition proves it works," he said.  Stuart says his volunteers and Race Week staff provided terrific support for the Race Committee, but emphasized that he "gives a lot of credit to the competitors. I think across all the classes at the event, the sailors were very gracious, particularly in showing such patience on Saturday when we had that lengthy postponement. And, at least on our course, it was worth the wait because we had two of the best contests of the event that day."
April 20th, 2015 by admin
Drizzle doesn't dampen the mood for Charleston Race week. It didn't stop the ridiculous Sperry/Sailing Anarchy party last night, and racing commenced on time and on pace today. Under dark morning clouds, an eight knot northwesterly greeted the inside fleet and held enough to get high quality racing in. And what's Charleston Race Week without current. The ebb was flowing hard today, with teams jockeying for shallow water position all day. Who played it the best?
It's not Cinco de Mayo yet, but the J/70 Mexican team Flojito Y Cooperando helmed by Julian Fernandez celebrated early with two bullets today to set themselves apart in this talent laden fleet. Elvind Astrup's Norwegian Steam stayed consistent with a 1, 6, 5 to hold on to an early second. The top and only US team currently on the J/70 podium is Joel Ronning's Catapult. Since there are 78 J/70s racing in four separate fleets, the points add up quick and the scores are really close with eight boats tied in one way or another in the top 15. The fleets will be reset tomorrow for more qualifying racing.
Continuing the south of the border but north of the fleet tone, the lone Brazilian Melges 20 entry, Portabello, led by Cesar Gomes Neto, threw down some spicy upwind skills to keep ahead of Bruce Golison's Midlife Crisis by three points. Midnight Blue sailed well in today's darker conditions to keep it tight on the podium, behind second by only one point. Only eight points separate the top six in this wide-open class.
Guy Mossman's name is on the Melges 24 score sheet, but he's mending a broken hand from a 'being a nice guy' moment.  Lesson: Don't punch a fighting pit bull in the head. In his place on Battle Rhythm is Will van Cleefe, who earned a four point lead today over Brent McKenzie on Ex-Kahn, followed closely by Bruce Ayres on Monsoon.
Watch the full replay of all the live racing action here, and if the wind ever fills in, we'll have Saturday's racing for you on this page.
Brian Carlin photo of the sexy C&C 30 and the rest of PHRF A offshore, and seriously big, badass galleries from Brian and Sander Van Der Borch are over here.
And the Team Vestas Wind award goes to Christian Koppernaes in the VX-One fleet, who took the 'short tack the shore' move a little too far.  Sander Van Der Borch photo.
Results after day one here, and of course a huge thanks to our friends at Sperry for making SA's extended coverage of Charleston's action.
-John Casey
April 18th, 2015 by admin