Posts Tagged 'charity'
Huge kudos to SAer 'JKozloff' and the thousands of people helping to alleviate the hurricane-induced suffering throughout the islands.  There are many ways to contribute now and over the coming sailing season, and we urge you to consider helping out.
Caption for the photo from JK:  We have been delivering supplies to St Maarten, Anguilla and the virgin islands since Irma. We were restocking on St Croix(home) when Maria was approaching and were able to sail around the storm. We are now restocking in St Lucia to go to Dominica, then restock in Guadaloupe to go St Marteen, restock in St Kitts for Virgin Islands, Vieques and Puerto Rico. Then around again. If anyone has family friends that they have not heard from we have been getting in contact with people in remote areas of each island. We also are looking for other boats that are in the area that want to help, we can stock your boat.
More here.
September 28th, 2017 by admin
This Sunday (May 7), 10,000 Sails of Solidarity will bring together sailors from all over the globe to raise money for the victims of Italy's horrible 2016 earthquake.  For those who don't have access to an affiliated event, you can enter a virtual boat to help spread the word.  The organizers have already gotten support from some of the world's top sailors, and we encourage you to head over to their website or Facebook Page to lend yours.
May 4th, 2017 by admin
Big thanks to Ben Poucher for reminding us that, no matter how divided we may be, we're still all part of the same country.  Happy Veteran's Day (a day late).
Let's take a minute to get over ourselves and honor those that serve, have served, and those that have made the ultimate sacrifice to allow us to vote and complain openly about our freedoms as Americans.  No matter what you do on veterans day, make the effort to tell a veteran 'thank you' for what they have done for all of us.
Warrior Sailing has continued its success by healing and strengthening veterans through sailing in 2016.  Warrior Sailing hosted 3 basic training camps and 2 advanced camps at partnering facilities throughout the US in 2016. In addition to the core camps competitive graduates compete in various 'open regattas' as well as the J22 World Championships this summer! (SDYC, SPSC, CofC, Sail Newport, St. Francis, AYC)  While the country might be divided on various issues, the sailing community remains open to those wanting to join, and Warrior Sailing has facilitated the introduction of veterans to this opportunity.  Over 150 wounded, ill, and injured veterans have been introduced to the sailing community and the sport of sailing since we started in 2013.
In honor of veterans day and to help support activities in the Charleston area, Charleston Yacht Club is raising awareness and funds for Warrior Sailing this Saturday during their Big Boat Regatta!  Sign up, go sailing with a warrior graduate, and get out to support this awesome initiative!
Get involved, donate, do something for a veteran!
Thank you for your service and have a great veterans day!
-Pooch
November 12th, 2016 by admin
Longtime SA'er and SoCal pro sailor Campbell Rivers may have one of the coolest-sounding names in the sport, but he's also the best kind of pro racer.  Helpful to a fault, always positive and fun and a great asset to any team, Rivers is in trouble and needs help.  Dig deep, y'all.
On Sunday evening, September 27, 2015, after the J/70 North American Championship in San Diego, a San Francisco area sailor, Campell Rivers, was in a Point Loma bar parking lot and was run over by a drunk driver. The driver was in a borrowed 1993 Jeep Grand Cherokee.  Campbell's injuries that he sustained was a left knee injury and 5 breaks to his pelvis bone. He is still in the hospital in San Diego recovering from 2 surgeries.
While Campbell is not the type that relies on help from others, he does not have medical insurance so rehab and recovery costs are going to be extreme.  At the moment, doctors are estimating that he will be in a wheel chair for 4 months, then a walker. It looks like it will be at least a year before we can see him on the race course with us again.
Campbell works as a pro sailor and also works on boats so his ability to earn a living has been taken away by a drunk driver.
With myself being his teammate at the regatta and being with him at the time of the accicdent, I have received an overwhelming amount of inquires of how people can help. As of right now the best support is financial as we need to transport him back home to San Francisco and help him get set up with a support system to help him  to a full recovery. We hope he will recover quickly and get him back on the water living his dream.
-Jeff Thorpe & Jennafer Anderson
October 13th, 2015 by admin
This one came in from longtime anarchist and President of the Victoria Moth Class Richard Jackson.  Nice one, Jacko – learn more about this excellent charity here.
I am writing you this short email to share something really cool with your readers. I was moth sailing off my home club at Mount Martha on Port Phillip Bay when a saw a massive fleet of kites coming down the bay. I went out a long way to make sure my eyes weren't deceiving me and got in amongst 100+ kite boarders flying down from Rosebud to Port Melbourne! It was truly one of the coolest things I've ever done on a boat.  I went with them until the beach I left from was almost a speck on the shore and decided the wife won't want a call from Melbourne telling her to come get me.
When I got home, I found the Across The Bay For Cancer page [which is loaded with great pics and reports -ed] and saw this video; it's amazingly compelling, a great cause, and the group is really accomplishing something special.  I hope to great a moth fleet to involved next year, but in the meantime, enjoy the video.
February 13th, 2015 by admin
Our apologies for missing Veterans' Day by a few, but big props to Ben Poucher and the USMMA Sailing Foundation for continuing to do great things with sailboats for our American servicemen.  Pooch checks in below.
The Warrior Sailing program was created in 2013 through a partnership between US Sailing and The USMMA Sailing Foundation.  Additional support has come from the adaptive sailing community and local sailing clubs like St. Pete Sailing Center, Chicago Yacht Club, and Texas Corinthian Yacht Club (to name a few).  All of these groups working together have successfully provided opportunities to veterans to learn the sport of sailing.  Warrior Sailing has organized multiple 3-day intense camps, where veterans learn from professional coaches the basics of sailing and racing.  From these camps individuals that want to pursue the sport have come forward and asked us to keep coaching them and the natural progression was to develop a 'core team'.  With additional support from the Foundation and continuing hard work from the 'core team', we attended the National Disabled Championships in Galveston in late October.  Our two military rookie teams showed tremendous amounts of dedication to training and learning the sport throughout the summer and fall seasons.  With the help of legendary coach and program co-director Lee Icyda, this group won Nationals with one entry, our second entry taking 5th.  Pretty amazing for only having 7 months of sailing experience! It was a humbling experience for the coaches and all of the support staff.
We're happy to announce that we have been granted an adaptive sports grant from the Veterans Administration for 2015 – the first such grant awarded to the famous USMMA Sailing foundation run by everyone's favorite smiling German, Ralfie Steitz. This grant sets a solid base of monetary support for 2015, but we are still in need of additional support!
Our team of directors, coaches, advisors, and strategic partners look forward to the furthering development of The Warrior Sailing Program 3-day open camps for 2015.  We are also excited about the upcoming traveling 'core team' of wounded vets coming to a sailing venue near you!  If you like this kind of thing, please head over to our Facebook Page and like us, and stay tuned for schedules and planning for the upcoming season!
If you are interested in helping support these deserving individuals, or you are a veteran that wants to get involved, please go to our website and send me an inquiry.  If you are feeling particularly generous and want to donate directly to our cause, please go to this link and donate a gift to the warrior sailing program though the USMMA sailing foundation website. www.usmmasailingfoundation.org
-Pooch/Poocher/Pouche'/Ben
November 13th, 2014 by admin
For a few years in the 2000s, Sailing Anarchy had a kindred spirit in the UK. His name was Magnus Wheatley and his Rule69 Blog was perhaps the only website besides SA to take on the tough stories in the sport and call a spade a spade.
While he's become something of a ghost over the past few years, Magnus seems to have developed a conscience lately, and he's currently raising money for the Andrew Simpson Sailing Foundation by sailing in the global Bart's Bash on 21st September.
We've not been huge supporters of the Bash, which was originally conceived of as some kind of world record attempt in Simpson's name but has since morphed into yet another boring fundraiser, and frankly it always seemed like a bit of bullshit to see all this effort going into honoring Bart's name, yet none going into explaining his death.
But Magnus is a friend and longtime member of the community, and he has convinced us to promote his effort to dig deep for a worthwhile cause (the Foundation's money goes to helping to get more people on the water to improve their lives), and maybe Bart's memory deserves a little SA bump.
So moved was Magnus that he set up a web page to raise money for the Foundation and has smashed through the £1000 mark in a couple of days. We applaud that. Mag's target?   Overtake Simpson's Olympic skipper "Not Sir" Iain Percy, currently leading the total on £3900. Mag thinks he can do it, and with the power of SA as the world's biggest and best sailing site – he should smash it.
Let's throw him a bone. Give him a shot. Sponsor. Donate. Be kind. Sail on Bart. Remember.
September 13th, 2014 by admin
Wanna win a 7-day charter or a 7-night resort stay in St. Vincent & The Grenadines?
We do, too, and this sweepstakes hopes to raise awareness for the excellent charity Hands Across The Sea, which aims to eradicate illiteracy in the Eastern Caribbean.
Head over to the ASA's contest page and scroll down to the bottom right to enter for free.  And if you're a kind soul, donate!
September 4th, 2014 by admin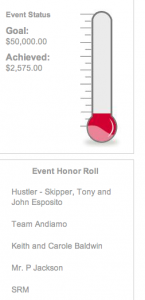 This year's Manhasset Bay Fall Series is a very special event, when Manhasset Bay YC honors a very special sailor and longtime friend John B. Thomson, Jr.  The 3-day event, which occurs on October 19-20 and October 26th this year, includes a Cruising division this year, and it will serve as a fundraiser to help find a cure for ALS.
I ask all local cruisers and racers to come out and support this event, or at the very least send a donation of your choice.  All the information to sign up to race or just donate can be found here.
John B. Thomson, of the famous yachts Infinity, is a pioneer in our sport.  One of the most generous men I've known, he's given countless young sailors the opportunity to compete at the highest level of our sport, all over the world.  John is one of the greatest people I've ever sailed with or been associated with, inside or outside sailing.

John competed and won almost every every major event around the world over the years.  He's the reason the MB Fall Series exists, or for that matter, than any fall racing at all exists on Long Island Sound.
Please do what you can to help this great cause. Let's show the rest of LIS what EBYRA is made of.
I look forward to seeing you all out there. Thank you so much.
John Esposito, Commodore
EBYRA
October 5th, 2013 by admin