Posts Tagged 'championship'
It may be one of the most isolated sailing venues on Earth, but almost 60 SB20s gathered up in the River Derwent off Hobart for their Worlds this week and had some of the best sailing of their lives.  French and UK teams took the top 5 spots, with the fledgling downunder fleet mixing it up with the rest of the Italian and French internationals who made the bucket list trek.  Good photos over here.
January 12th, 2018 by admin
Powertools-a-grindin', pain pills-a-poppin', and 160 wide-eyed Mothies recounting the highs and lows of a truly gnarly day on the water. That's the scene at the Sorrento Sailing Couta Boat Club after day two of qualifying for the 2015 Moth Worlds in Australia. After four days of dead to light air during the pre-Worlds and day one of qualifying, beautiful Port Phillip provided in a big way today with breeze that built into the low-20's with gusts approaching 30 knots; enough to toss the World's best into the piss on a regular basis. With carnage all over the fleet, both in terms of broken boats and broken egos, Super Sunday at the 2015 Moth Worlds was one for the ages.
Perhaps the world's best racer under 25, New Zealand (and ETNZ's) Pete Burling proved his unflappability in the big stuff, aided by blistering downwind speed and control that allowed him to score an absolutely incredible four straight bullets, and the top spot on the leaderboard entering the finals. When a 2nd place finish in an 80-boat fleet ends up as one of your drops, you know you've got it going on. Defending world champ, Artemis skipper Nathan Outteridge added a bullet of his own in the Yellow fleet and stayed consistent throughout the day to sit just one point back of his America's Cup rival to assure the fleet that he isn't ready to give up his world title without a fight. With close racing all over the fleet, a metric shitton of wipeouts, tight mark roundings and nuking downwind speeds, Sorrento is serving up an unforgettable Moth Worlds as the cream has risen to the top in this massively stacked fleet to set up a battle of epic proportions now that Gold and Silver have split.
Two hours after the day's racing had ended, at least one mothie was still unaccounted for, one boat was ditched a few kilometers down the beach where it will spend the night and the rest of the carnage throughout the fleet is simply too long to list. But the real story of the Moth Worlds isn't just carnage, big names and close racing; it's fun. When multi-time World Champions, Olympic medalists and AC sailors rock up to the bar with ear-to-ear grins on their faces, excitedly sharing stories with their on-water rivals, you know you're onto something special. Around the world, small and fast boats are becoming all the rage attracting big, enthusiastic fleets and with the Moth being both the smallest and fastest of them all, it's no surprise to see a venue packed beyond capacity create so many happy sailors that are more than likely to come back. And that's always a good thing.
Day 1 of the finals starts in just a few hours, and we'll of course continue to bring you all of the action live to your browser with Clean alongside the lovely and ultra-talented Sailor Girl Nic Douglass on the mic. Check out Clean's call of the day here, peep on more of Sander van der Borch's incredible photos in SA's Facebook gallery, view a never-ending supply of skipper interviews here, and of course, follow along in the always-active SA forums.  Sperry Top-Sider makes it all happen – don't forget about 'em – we won't!
-Ronnie
January 11th, 2015 by admin
Videokid Sam Greenfield continues to bring a fresh look to the classic 'regatta report', and today's installment from the F-18 Championship of the Americas highlights the next generation of high-performance sailing talent coming from its incubator; the Sarasota Sailing Squadron youth sailing program.  Results after 12 races: The Dutch are crushing!  There are Kattack tracks here as well.
October 25th, 2013 by admin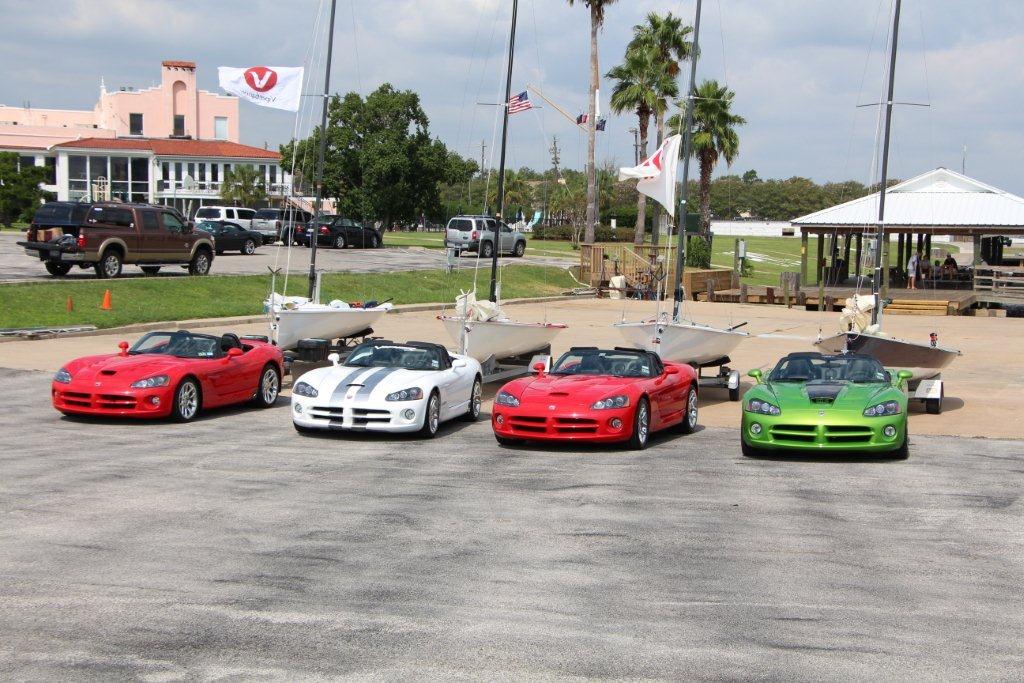 This week it's the Viper 640 North Americans at Houston Yacht Club. Texans believe that two Vipers are better than one, Babe.
Two Melges 32 owners tied for first after the second day. Two leaders are better than one, Babe.
Jason Carroll driving his Viper 640 Argo with crew Chad Corning and Danny Pletsch is tied with Malcolm Geftner's Celeritas with Willem Van Waay and Victor Diaz Deleon. Both teams are fresh from the Melges 32 worlds where Jason was crowned Champ; the Viper program is a tiny fraction of the cost of a Melges 32 program but it continues to attract some of the best sportboat sailors on the planet as both a great cross trainer for big boat owners and double the pleasure for half the cost for everyday one design sailors. In third,  Jay Gollison with Ched Proctor and Steve Flam are only two points behind the leaders, and they are closely chased by Luke Lawrence in Arethusa, Kevin Taugher in Hot Mess and Brad Boston in Jackpot. It's a field laden with talent and Anarchists.
Oh and for those Vipers that couldn't make it to Houston this year, there are another 30+ Vipers registered at the HPDO this weekend! Two Regattas are Better than One, Babe.
Title Credit from a song so old that we can't even find it online, and huge kudos to the Houston Viper fleet for creating this great cover shot at the HYC parking lot, and to KO Sailing for an incredible Texas Open Pit BBQ!
October 11th, 2013 by admin