Posts Tagged 'Catamaran'
The ignorance and rank incompetence of some people who do stupid things on boats is mindblowing. Watch how they ended up here. Comment here.
January 3rd, 2018 by admin
Sharp is sexy, and this thing is about as sharp as can be.  So what the hell is it?
November 10th, 2017 by admin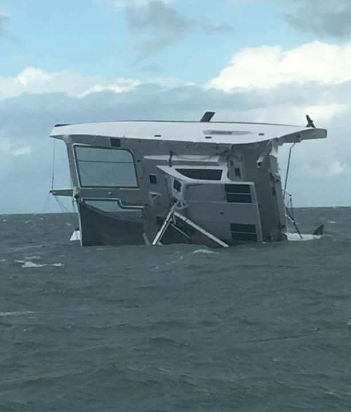 The 40 foot cat Rushour went over at the Royal Queensland on Wednesday, and the driver quickly posted a report to the SA Forums for the benefit of other cat owners.  Kudos to 'bushsailor' for a near-perfect after-action report full of lessons.
Forecast was for 20kn se wind.  We set the boat up with one reef and self tacking heady.  THIS CONFIGURATION IS VERY MANAGEABLE IN 20KN.
We started sailing to windward with the intention of building speed then bearing away to go downwind.  Main traveller was fully down and a crew member was holding the main sheet.
Speed built very quickly as we got hit by a big gust (40 kn). Hull started to come up, main was completely dumped but hull kept climbing.  I (helm) turned up to feather the sails but response was slow because all drive was coming from the heady and the bows were pressed.
Boat capsized sideways.  Whole thing took maybe 5 seconds.
Mistakes: Bloody B&G wind instruments were not working so no appreciation of building breeze. (Rushour commonly does 20kn on a shy reach so 30kn of wind across the boat seems normal.)
We never normally hold the jib sheet. (obviously a mistake)
We were rushed with some inexperienced crew and I  never allocated roles.
I was complacent. I never even come close to even flying the hull high on the new Rushour.
The gust of wind combined with boat speed gave approx 55 kn over the deck which was obviously enough to capsize a 7 ton boat.
The wing mast may have contributed to the capsize.
lucky we were only in 4m of water and Rushour has a very strong wingmast so we were able to attach ropes to the high hull and tow her around so the bows were pointing into the wind and towed her over.
The bottom hull was flooded and that helped to right the boat.  You need a very big tow boat to pull a big cat over. We used a commercial cat Cat of Nine Tails to pull her up.
We had her upright about 2 to 3 hours after capsize.  I would not want to go through that in the open ocean.  A huge thank you to all the people who rallied around and helped right, retrieve, clean the boat, and for all the messages.
It makes you realise how good it is to belong to a strong sailing community.
November 10th, 2017 by admin
Big Pimpin'
Our heartfelt congratulations to SA advertiser and supporter HH Catamarans for their very strong showing on the one-year anniversary of the launching of R-Six.  Here's their own take on it.
As the relative newcomer in the performance cruising cat segment, all eyes have been on HH Catamarans. The four-year old venture, a partnership between esteemed Kiwi boatbuilder Paul Hakes and visionary Taiwanese industrialist Hudson Wang, set out to build the world's finest cutting-edge, bespoke, performance cruising catamarans, and ensure a premier ownership experience by providing an unparalleled level of support and service.
HH Catamarans delivered their first launch, HH66-01 R-SIX, to her owner in Valencia last June. The Morrelli & Melvin designed HH Supercat set the pace in her first six months, sailing from Valencia to Cyprus and many points in-between. She wowed industry insiders and show goers when she made her debut at the Cannes Yachting Festival in September, then sailed directly to Mallorca to compete in the first-ever Multihull Cup Regatta. Sailing against a competitive class of her more seasoned peers, including Gunboat 66s Coco de Mer and Slim and Nigel Irens custom 78' Allegra, R-SIX pounced on the challenge, stunning the fleet and finishing in 1st Place Overall.
In January, R-SIX crossed the Atlantic, arriving in Antigua just in time to immediately switch gears and compete in the prestigious Caribbean 600. The multi day regatta challenged competitors with extremely light conditions for much of the 600 mile course. With gourmet food, entertainment and plush accommodations, R-SIX raced in comfort and finished in 3rd place behind two MOD70s. In March R-SIX was joined in the Caribbean by her sister ship, the newly launched HH66-03 Nala. The two went on to tag team the Caribbean race circuit, one or the other participating in the five high profile events of the season.
R-SIX sailed strong in the St. Maarten Heineken Regatta, defeating all three Gunboat 60s in class and coming in 2nd Overall behind the zippy, 7-ton, custom Bieker 53 Fujin. Next it was Nala's turn to shine; she made her racing debut at the St.Thomas International Regatta just days after arriving in the USVI from the Bahamas. STIR proved to be an exciting an event, with big breeze testing the fleet and providing Nala the chance to shine. Boat and crew held up strong and validated the HH reliability factor – sustaining zero breakages over three days of intense racing. Nala finished with 1st Place in three out of five races and 1st Overall, defeating the previously unbeaten Fujin.
The next event presented a new challenge; the BVI Spring Regatta was billed as the matchup of the season, with veteran Gunboats Elvis and H2O meeting for the first time and Nala, with only a few weeks on the water, and hoping to shake things up a bit. Shake things up she did, giving both boats a run for their money throughout the weekend. Nala endured a few missteps early on, but made adjustments and improved each day,  outperforming three of the five Gunboats in every race and chipping away at the elapsed time margins behind the two titans. Ultimately the tenacity paid off, with Nala taking 2nd Place Overall. A by-the-numbers analysis from Morrelli & Melvin (who designed all of the three fastest boats!) can be found on their Facebook page here.
R-SIX returned to do battle at Les Voiles de St.Barths. Light air prevailed throughout the regatta and R-SIX suffered a minor equipment failure making it impossible to use their asymmetrical headsail for much of the event. The team persevered and managed to sail well enough to secure a spot on the podium in 3rd Place Overall. Though not their best result, Les Voiles proved to be good practice for R-SIX for their next and final event of the season, Antigua Sailing Week. Mast lock issue resolved, the team attacked with full force, and after four days of competition only R-SIX remained unbeaten out of 150 yachts. Boat Captain Robert Janecki summed up the experience, "After many years of sailing racing catamarans, it is refreshing to see that there are things that can still surprise me. In Antigua we managed to maintain boat speed between 12-14 kts upwind, sailing against the waves! Quite amazing for a pleasure catamaran. What is more… the boat is built in such a way that it forgives us some of our mistakes during short and dynamic racing." Taking line honors in six out of seven races and wrapping up 1st Place Overall, R-SIX closed out their Caribbean season on a high note and immediately set out across the Atlantic once more, arriving in the Azores a quick ten days later.
With R-SIX and Nala providing ample proof of concept in the Caribbean, HH Catamarans pressed ahead with production, launching the first of the new HH55s in February. After a month of testing and fine-tuning, HH55-01 Minnehaha departed Xiamen bound for the USA. The boat was delivered into the waiting arms of her owner in Ft. Lauderdale just last week, and is currently undergoing recommissioning and some promotional sailing before setting off to the Bahamas for the owners' first cruise in June. She'll make her way up the East coast this summer, arriving in Annapolis in time to make her world debut at the United States Sailboat Show in October.
Production in Xiamen continues with three HH66s and three HH55s currently in progress. The next HH66, Flash, is slated to launch this summer, and features a newly styled cabin top, forward helm station and aft tillers with complete finger touch sail controls. Further expanding their product line, HH recently announced a new 48' model. The HH48 will maintain the pedigree of the larger HH models, while incorporating simpler, easier-managed systems and layout for short-handed sailing. The newest addition to the HH Catamarans line is likely to encourage new entrants to the market, further expanding the incredible features of fast and safe blue water cruising. Like the HH55 and 66, the 48 will be a big volume boat, capable of taking a large payload for extended cruising with family and toys without diminishing performance or safety. The HH48 as a base boat will be offered at less than $1M, and at such a great starting price the growth of this bold new venture and brand is set for substantive growth. For more information on the complete line of HH Catamarans, visit hhcatamarans.com.
Official race results can be found at the links below:
St. Thomas International Regatta
HH Catamarans builds state-of-the-art, carbon fiber, high-performance cruising catamarans for a discerning clientele seeking a luxury yacht and an exceptional owner experience. HH Catamarans are designed in California and built in Xiamen, China to exact specifications using the most advanced technology in the industry. The semi-custom line of 48-115 foot models is the latest evolution of the performance cruising catamaran concept and the culmination of the skills, dedication, passion and expertise of the multi-faceted team behind the brand. A collaboration of America's Cup-winning design team Morrelli and Melvin, master boatbuilders Hakes Marine, and manufacturing powerhouse Hudson Yacht & Marine. HH catamarans builds innovative luxury yachts with unmatched performance and pedigree.
May 27th, 2017 by admin
The future of foiling may be all chicken winged, if the latest from foiling design leaders VPLP is anything to go by.  Called Voilavion, it's a little black windmill of a 16-foot cat designed to be easily foiled by beginners at sailing schools,  clubs, resorts, and the like.
This certainly ain't the first tilting rig, but it would be the first to use a tilted rig to help a boat get – and stay – on the foils in little more than a mosquito fart.  Makes sense in theory and on paper, and time will tell if reality corresponds to the thinking.
It may be a little early to call the thing a success, but it's fun to talk about.  Folks are monitoring the project here…
April 20th, 2017 by admin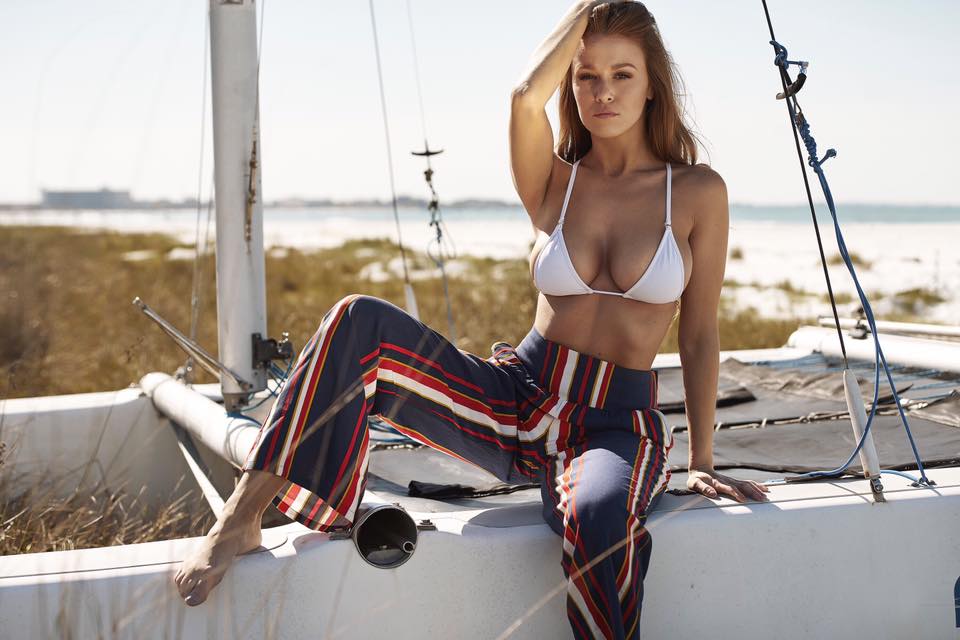 She probably doesn't sail, but one can dream (or fantasize!).  Pic of Vegas-based model Leanna Decker from her FB page, with thanks to "Les Behan" for the find of this week's long overdue SCOTW!.
April 12th, 2017 by admin
Gunboat Tech/Sales Director Nils Erickson got bored on the plane to the Caribbean and came up with this gem of a Form Guide for the high performance, HNW, hard-partying luxury cat racing class at the BVI.  This is too good a piece for plain old pimpin', but always consider the source!  
Hot on the heels of the St. Thomas International Regatta, this year's BVI Spring Regatta may well feature the hottest collection of performance multihulls ever assembled on Virgin Island waters.  This burgeoning market segment is seeing new players in what was once Gunboat's private playground, and with events not only in the Caribbean but in places like Palma (where last summer's Multihull Cup attracted 3 Gunboats, an HH-66, MC2-60 and APC78), the future of big multihull sailing looks bright indeed.
Traditionally, Gunboats have made the Heineken Regatta their winter event of choice, but this year the fleet has settled on the BVI Spring Regatta in Tortola. Nanny Cay Marina has been running the event for several years now, and it's become one of the best events on the calendar. With over 100 new slips open this season and constant improvements to the facility, Nanny Cay and BVI Spring Regatta have become a premier destination and event. This regatta will feature the fastest versions of 4 different platforms (Gunboat 60, Gunboat 62, Gunboat 66, and HH66) which should provide for some compelling action and some great stories.  With that in mind, here's my shot at an impartial Form Guide for the event, and we encourage you to follow along at Gunboat's Facebook page here.
Extreme H2O (Gunboat 66): She's the reigning queen of the West Coast performance cats having won catamaran line honors in almost every race she's entered (Cabo, Transpac, etc). She's left the Left Coast in search of stiffer competition and hopefully a new home (she's for sale). Extreme H2O will face off with her East Coast rivals for the very first time. This Morrelli Melvin designed Gunboat 66 is the most technologically advanced Gunboat out there (hybrid drive system, HUGE C boards, T-rudders, etc) and she's arguably the fastest Gunboat afloat. Weighing it at a svelte 17 tons, she's still going to need a bit of breeze to take advantage of her greater righting moment compared to lighter and smaller Elvis. Extreme H2O will be sailed by Team Gunboat, with Vincent (the LP of VPLP), Xavier, and Matthias also from VPLP, as well as some of Gunboat's French internal design and management team. Hopefully, Extreme H2O project manager Malcolm Park, skipper Hannah Jenner and her core crew can make up for the desk jockeys (myself included) that will be "trying to help". VI legend/Olympic/America's Cup/all-around rockstar Peter Holmberg will be joining to offer some local knowledge and expertise as well. He's recently purchased an Outremer for his own personal enjoyment, so he's the latest member of Gunboat's extended "family". (Photo credit Ultimate Sailing/Sharon Green).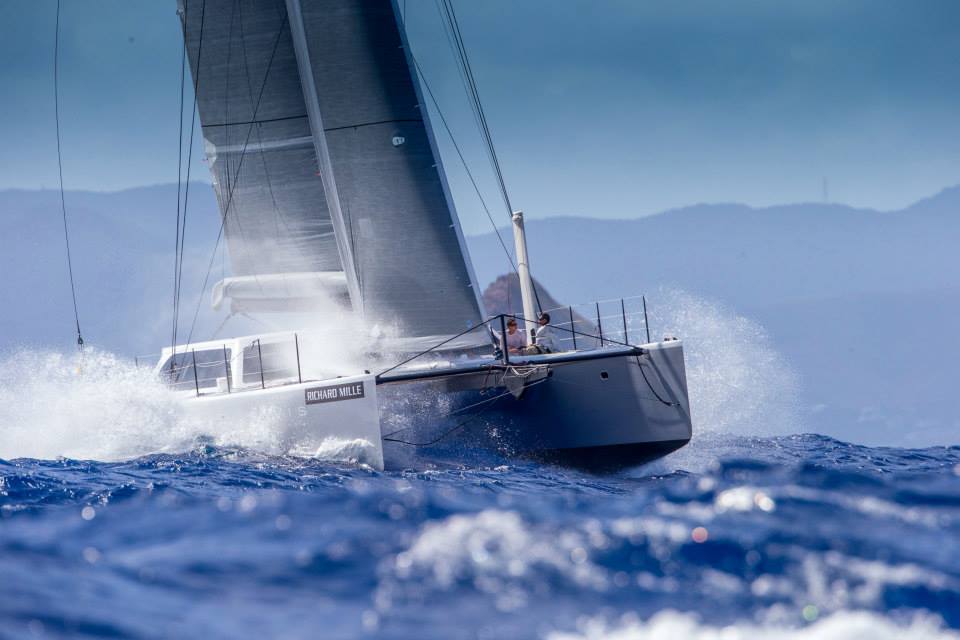 Elvis (Gunboat 62): The King. Jason and the Argonauts. Throw a dart on that boat and you'll hit a world champ. Their bench is deep with talent. Not only is Jason one of the best owner/drivers out there, he's one of the best drivers out there, period. When they aren't sailing on the Gunboat, they are busy in the GC32 circuit. When they aren't doing that, they are crushing it on the Melges 32, Marstrom 32, Viper, whatever is fast and fun. These guys rarely make a mistake on the course and they are fast into and out of the corners with superb sail-handling. At <15 tons she is powered up early, and these boys stay on the throttle up the wind range (I'm not sure they even know HOW to reef). Combined with a devoted rum tank and a booming stereo system, these guys know how to race hard, play hard.  Photo credit Christophe Jouany.
Flow (Gunboat 60): Hustle and Flow. The first Gunboat 60 to be fully optimized, she has redefined what we can expect from the Gunboat 60. There's been rigorous preparation of the boat by one of the industry's best skippers, Tony Teale. Rigging Project's Nick Black has gone through the deck gear, layout, and helped with a new Lorima ultra high mod rig, Jack Slattery has spearheaded a new suit of 3di Sails, and America's most famous multihull sailor and all around dynamo, Cam Lewis, is their own "Neal Cassidy".  Coming out of a refit that pulled 2 tons (!) out of the boat, they are sailing at the top of the game. Photo Credit Laurens Morel
Arethusa (Gunboat 60): No one better exemplifies the real benefits of a Gunboat like NYYC Commodore and Gunboat 60 owner Phil Lotz. He and his wife have spent the last several weeks living aboard, doing some racing and some cruising. They are more Corinthian in spirit, making full use of their boat before, during, and after the regattas. There's nothing like racing at 25 knots, then coming back and cooking a delicious meal and enjoying the sunset from the aft deck of the very same boat. Phil has no shortage of trophies on his mantle, and they are fantastic sailors. They've (so far) avoided the arms race, but with Phil's energy behind the new MultiRule rating rule, there should be more parity among the fleet. Photo credit: Gary Jobson
Momentum (Gunboat 60): Hide your daughters and bring your ear muffs. These Jamaicans WILL have more fun than anyone, guaranteed. The boat has 23 speakers and no shortage of Red Stripes. Legendary skipper Lucky Mike (picture a bald, S. African Captain Ron) and the rest of the crew will be the life of the party.  Photo credit: Lucky Mike
Dominator (Outremer 5x): These guys were the big surprise at this year's Heineken Regatta, beating larger (and way more expensive) boats on the water. Skippered by Gunboat 62 "Elvis" alum Dave Allen, and owned by the father of an Olympic sailor and Rolex Yachtwomen of the Year, this is a family that knows how to sail and these guys are punching way above their weight class. I expect Gunboat and Outremer owner Xavier Desmarest to be shocked at what you can do with/to an Outremer. Still in its original configuration, these guys are just sailing harder and smarter, and it shows.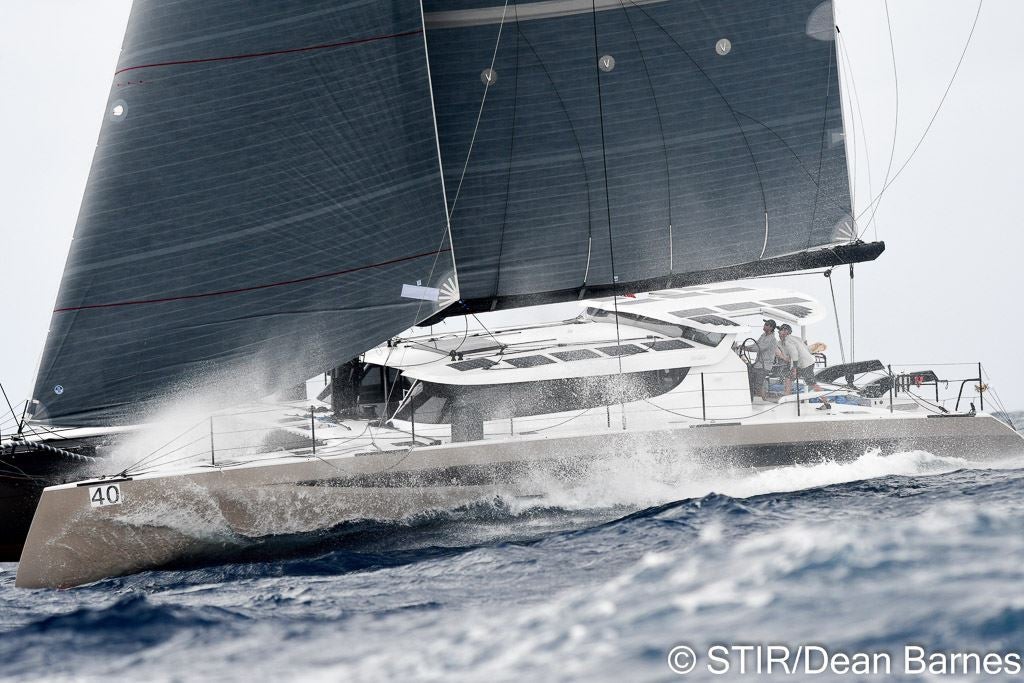 Nala (HH66): The lightest, fastest, and most turbo'd HH66, Nala will be one of the fastest boats on the course. Coming off a big win at STIR, expectations are high for the boat. Owner Jim Vos is a fantastic monohull sailor who is taking his first steps into the multihull scene. He did spend the summer training on his A-Cat, though, so he should be comfortable at the helm. With HH designer Gino Morrelli backing him up and Kenny Read in the afterguard, this boat should be a real threat for line honors. Most people think of Kenny as a monohull guy (Puma, Comanche, Stars and Stripes), but don't forget that he also owned a Marstrom 32 and previously owned my Formula 40, Soma, so multihulls are in his blood. Nala is over 3 tons lighter than her sistership R-Six, so any conclusions drawn about the HH66 based on R-Six's performance at the C600 or Heineken will have to be reevaluated after BVI Spring. (Full disclosure, I was owner's rep for the build of Nala for two years before I accepted the job at Gunboat. We pulled 3 tons out of the platform and turbo'd the mast, boom, and longeron. Despite my role with Gunboat I'm still quite proud of what we came up with. Go Nala!).  Photo credit on the shot with thanks to our old pal L for sourcing it.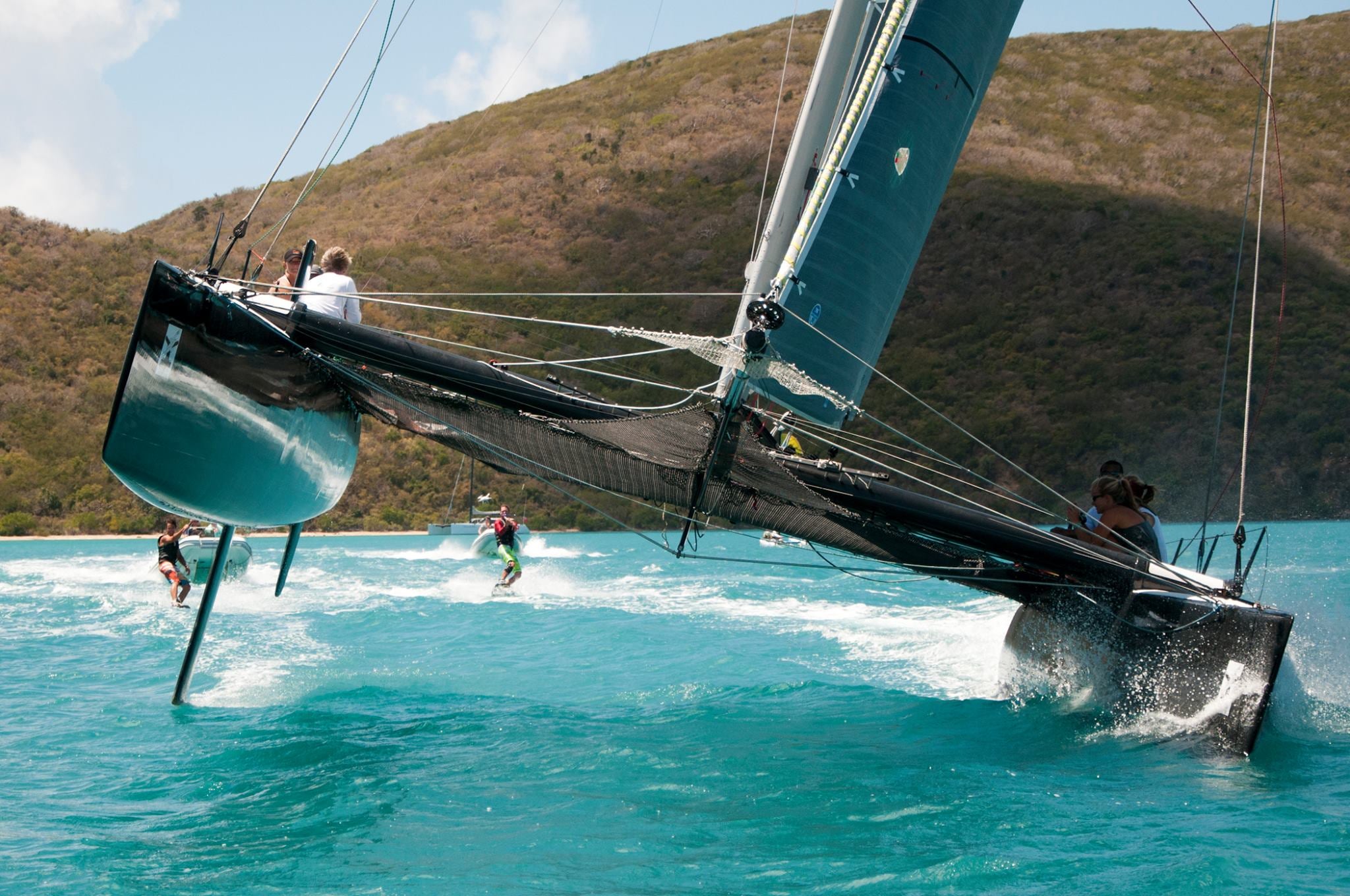 Conspicuously absent this year will be defending champ, Soma. She does have front row seats for all the action in the Sir Francis Drake Channel, though. Like Melania Trump, Soma is just a forgotten and unloved trophy wife…Photo credit: Mar Javierto
In the end, though, it's not about who's got the tallest mast or the most trophies. It has been (and hopefully will remain) about the people and times. The camaraderie on the dock, the time with friends and family, and the late-night repairs (and other shenanigans) are what make the events memorable and why people come back. We at Gunboat have got some fun events planned for the fleet that will hopefully form the backbone of a new tradition moving forward. VPLP are organizing a party at the Willy T (which should be legendary), BVI Painters and Nanny Cay are hosting a cocktail party in the new marina. Of course, Nanny Cay and the organizers of BVI Spring Regatta are responsible for all of it, so big thanks to Cameron, Miles, Emily, Judy, and everyone else there, too.
Though Gunboat invented this market segment, it's a big tent and there's room for everyone.
March 28th, 2017 by admin
Thanks to the wishes of an uber-secret previous owner, images and videos of the monster Gunboat 90 have been scarce since her launch.  But now that the biggest and baddest cruising cat of all is up for sale, the covers are coming off for the world to see.  She's got the M&M 'battleship' lines that so many love about the pre-2013 Gunboats, and this girl is definitely the only luxury superyacht that can easily hit 30 knots under sail and embarrass any other superyacht on the planet around the cans.
We're not superyacht lovers by any means, but if we were billionaire industrialists or climate-denying oligarchs, this is what we'd sail away on once the coasts are under water and the poor are eating the rich.   Hit up Nils for more details about the G90 or to arrange a (carefully pre-qualified) test sail.
March 24th, 2017 by admin
There's a new player in on-the-water drone work, and if this quick peak of M32 catamaran racing on Biscayne Bay from earlier this month is any indication, they've got the goods.  Check out Up Top Photography's other work here, and head over to M32 North America on Facebook to check in with the fastest one-design fleet racing in the USA.
February 22nd, 2017 by admin
Longtime Anarchist Dave Clark updates all of you foiling freaks on the new UFO.  Ask him specifics in the thread. Check out the latest video of some winter UFO foiling from the air and the water over on Youtube.
Hey Folks,
Time to get excited! Things are coming together over here in Rhode Island. The UFO is finally through the stage of production preparation that I've come to refer to as "Industrial foreplay" and it's go time. The hull and deck molds move back onto the Zim Sailing factory floor this week, where they'll commence to build the first 40 boats. The first 100 sets of foil struts are being finished up at the extruder in New Hampshire. The next 50 sets of spars are on their way from the manufacturer overseas. North Sails is hard at work making the first 20 suits of sails and Schaffer Marine in New Bedford is going full-tilt machining parts. The objective is to build 100 to 150 UFOs in 2017 with the capacity to step up production further as the class grows. This is the start of the period where you folks with deposits will be getting the heads up of the materials nearing the mold and thus the option to opt in or out.
The Tweaks: What's changed since The Foiling Week?
Controls: Every little percentage gain in foil control allows for a truer flight path. While these things aren't noticeable in the beginner or intermediate use ranges, they pay off in spades at the high end, enabling you to fly higher and more aggressively in all conditions.
We added a stiffer all-carbon wand with a carbon paddle, taking all available buffering out of the wand. Buffering does a few beneficial things but also comes with some flaws, especially in extremely gusty conditions. All told the stiffer wand realizes the full benefit of our 'mountain goat' style gearing.
We lengthened the wand sprit. There's been a revolution in the moth class around getting the wand as far forward as possible, as it increases the gain on the sensor and thus responds to pitch changes more immediately. This enables the boat to be flown more confidently in big waves.
Both of these things benefit performance racers and recreational sailors. From a performance racers perspective, the combined effects enable you to race harder. From a recreational perspective, it makes the boat hardier and smoother in challenging conditions.
Sail: We found it necessary to add a full-length batten just above the clew to get rid of a set of creases that propagated upwards from the tack. Further we added a cutout for the clew to add an extra bit of leech tensioning capacity, as a tight leech is critical to going really really fast on foils. We also added a fillet bulb to the bottom of the endplate which assures a solid deck seal. This bumps up the efficiency of the sail by another increment. The front end of the fillet bulb additionally functions as a pouch to stow the halyard and other items, closing with Velcro.
Dolly: While the single-axle beachcat dolly is the best option for a catamaran, keeping the bunks upright and lining them up on both bows is more annoying than it should be. Further, while a retaining strap across the deck does hold the dolly, it's more trouble than it could be to tie on and untie. We found that the easiest usable configuration is a beachcat dolly with cylindrical pads and short tethers on either side, which clip to the gunwales. This makes the dolly easier to put on and take off the bottom. Further we concluded that a wider wheelbase made it easier to pull the boat towards a ramp on a reach, so we moved the wheels outboard of the hull. A tertiary benefit is that the new dolly from Dynamic Dollies packs exceptionally well.
Hiking straps: Outstandingly short sailors and outstandingly tall ones pointed out that the straps were either too far away or too close for them. Making their position adjustable solves this problem easily.  People also wanted the straps to stand up more, so that sliding a foot into one would be easier. To do this, we rigged them with rigid tubing, which causes the straps to stand up.
Cosmetics: While I personally often scoff at considerations like this, it's nonetheless an important feature to a good percentage of people and the UFO has gotten noticeably more spruced-up. While our original hull tooling was incapable of imparting a high gloss finish, the production tooling imparts a polished gleam to the gel-coat. Further, all the aluminum parts are anodized black, there's a little bit more exposed carbon in the package and a few more decals and bright colors.  In line with the UFOs alien aesthetic, the production sails are clear with neon green trim, which together with the white hull and black hardware, foils and spars yields a tri-tone neon green, white and black color scheme. The available deck pad color options are neon green, black and white and the gelcoat options are black or white.
The fully enumerated list of tiny updates, improvements, cleanups is too long to go into. This is merely the shortlist. Beyond that, it's the same old basic fun-machine we know and love.  And with that, I need to get back to the fight.
Cheers,
Dave Clark
President
Fulcrum Speedworks llc.
February 7th, 2017 by admin