Posts Tagged 'Catamaran'
It has been a long time since we've seen this much excitement around a new boat launch, but we reckon if ever a boat deserved it, it's the world's first fully foiling cruiser/racer.  Sick work from all the Gunboat G4 build/design team, and we're proud to host this World Premier of the beautiful film of Timbalero 3′s sea trials earlier this week (thanks to Richard and Rachel).
Mr. Clean heads down to Antigua at the end of the month for his in-depth, Anarchy look at the G4; in the meantime, head to the thread for all the news and analysis here.
April 11th, 2015 by admin
As so famously documented in a brilliant article in Sports Illustrated (back when a brazillion men read it) and followed by hundreds of thousands of fans over the years, the Worrell 1000 was one of America's most iconic races.  It was 1000 miles (or quite a bit more, at times) of bone-crushing, soul-bruising beach cat sailing, surf-launching, and high-speed crash-landing along the Atlantic Coast, with tons of old legends and unknown-but-now-familiar names showing their sack and insanity.
The Worrell died through a combination of the naivete of its creator, the now-deceased Mike Worrell, and some bloodsucking lawyers; it lives on in our hearts, and in today's post from Anarchist "DryArmour":
I still have this Hobie 16 mainsail from the 1983 Worrell 1000. My dear friend Carlton Tucker was one of the team members along with Hobie [Alter, -ed] Junior and Miles Wood. The sail is in great shape.  Pretty amazing for a sail that is more than 32 years old…The format used that year was non stop round the clock racing alternating team members at each stop. Brutal.
Share your Worrell 1000 memories here.
January 26th, 2015 by admin
Turns out the M32 Cup is pretty damned fun to watch at least from what we saw yesterday in Sweden.  Sweet boats and ultra tight racing on America's Cup courses – what more could you want?  Final day of racing is above.
September 14th, 2014 by admin
It may look a bit like vaporware from a futuristic basketcase, (and it certainly isn't going to win any 'Prettiest Yacht Awards') but in fact this is nothing of the sort; it's a 53-footer from the desk of ultra-fast BMW/Oracle/Team USA alum Paul Bieker, it's already under construction at Gold Coast Yachts in the Virgin Islands, and it's a 'high-performance cruising cat' for the Seattle-based wners of the current J/125 Hamachi, though the new fish will begin her career racing in the Caribbean.
For more on the boat or to ask the new owners about it, head to the Bieker blog, and then over to the thread; or just read on.  Bob Perry's been doing design reviews in magazines for decades, so let's follow his lead; here's a review of the design from one of Sailing Anarchy's most verbose designers, Chris Ostlind.  
Personally, I like that Paul and Eric have pulled design cues from Polynesian boats while subtly mixing the forms with modern thinking. The raised Manu forms at the bow tips are very definitely Polynesian in execution and I feel that they serve both functionality, as well as providing a counter point to the same conformed styling we see in so many boats derived from "conventional wisdom" ideology.
There is a distinct, wave piercing capacity in the bow forms, while not giving away that precious interior volume that a cruising cat needs to provide the kinds of creature comforts that are the hallmark of a great cruising cat. The Manu shape at the bow gives a pronounced cutwater shape that parts oncoming seas and that philosophy holds down the length of the bow as it makes use of the beveled edge that gracefully submits to the need for a flat surface for going forward safely. That same shape enhances aero efficiency by allowing the wind and water to slide over the form rather than be forced to make abrupt changes of direction, which guarantee form drag losses. The shapes also enhance the strength of the bow through styling engineered geometry and that can ultimately save laminate weight in the build and potentially help with costs, while reducing weight in the ends of the boat. All kinds of thinking strata involved here.
The riskiest component of the design, to me, is the incorporation of C-boards to give foil assist. At typical cruising speeds and realities, these boards are maybe a nod to current fashionable ideas more than they serve as a real boost to sailing that most cruisers are not going to be doing while underway. That's another argument for another time, though. I get that the shapes of the boards can be incorporated into the hull shapes with a beneficial result on interior volume, so perhaps that is really what the creators are after here and the lifting foil aspect simply came along as an interesting side application. The T-foil rudder are definitely a good idea for a cruising boat as they allow for a more stable ride overall with little of the penalty issues that the forward boards entail.
The deck house is a nod towards the history of the Polynesian voyaging Cat, to be sure and I fid it refreshing in its approach and as a counter point to all the Space Station looking cats we see in huge numbers. I find the uniqueness of this take on a design to be a terrific statement in stepping away from the drudge of "me-too" cat design that tends to make all the boats in the marina look like Accords and Camry's… and it gets the sailors out into the elements a bit where they can enjoy much better forward vision and a sense of really being able to look around and take in what is happening to their boat in the environment. Yes, it's going to take a real special person to own and operate this boat, but I think that's exactly what the design team were shooting for. Something interactive, rather than simply another layer of structure that typically stands in the way of the experience of sailing in the weather, sun and wind. A lot of existing cats of this size are like tooling around in a medical waiting room, where this boat will be putting the owner, sailor directly back into the place where it all started several thousand years ago; definitely an attempt to reconcile our collective willingness to encounter a sterile sailing experience and call it good.
A pleasure to behold and contemplate.
August 21st, 2014 by admin
big pimpin'
Our pals at Gunboat continue to work on the super-sexy coastal racer/cruising G4, but with a twist:  Now, you can get them with J-foils.  Flight of fancy or flight for real?  We grabbed team member and design dude Rudo Enserink for a quick update.
SA: With the J-boards and T-rudders, this is looking like a full foiler.  Is that really possible on a boat with bunks and a kitchen?
RE: Yes and no. We're first going to build high-lift C-foils for safe but very fast foil-assisted sailing.  The mildly asymmetric C-boards can be raked from -1 to +7 degrees and will be set at the factory for safe cruising.   The lift of these foils maxes out at 80% of displacement, and advanced owners can play with the rake adjustment to optimize for purpose and conditions.  One of the great things about C-foils is that you can leave the windward daggerboard deployed in all tacks.
The hull and daggerboard casing structure is prepared for full foiling, as are daggerboard bearings and rudder bearings.
If there's enough interest from the market we'll develop an electronically stabilized full foiling package that will be available as aftermarket upgrade. The current concept for this is an L-foil and auto-leveling T-rudders.
SA: Who is building/designing the foils?
RE:  Foils are designed jointly by Doug Schickler from Schickler Tagliapietra, with Davide Tagliapietra, Pieter Jan Dwarshuis, Mischa Heemskerk and Rudo Enserink.  They will be built in by Holland Composites (also builder of DNA A-cats), in their autoclave, and you can see some progress at their Facebook page.
SA:   That's a pretty serious VPP chart.  Is that with the C-foils or with the new J/L foils?
RE: This VPP is with the C-foils.
For more info on the very hot Gunboat G4, check out the full details here or ask questions in the thread here.  Title shout to the best cartoon of the 80s.
May 14th, 2014 by admin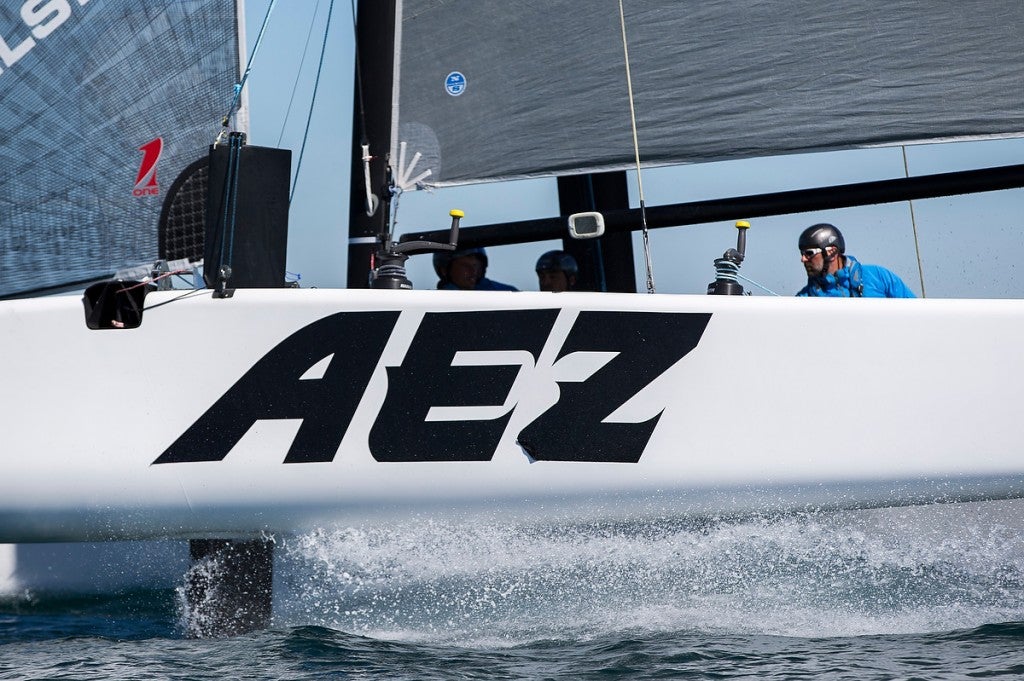 Clean Report
More than 18 months ago, just a month after ETNZ revealed their AC72 was a flying boat and lured by the potential for a 32-foot version of it, I spent 12 hours flying to Dubai just to check out the brand new GreatCup 32 catamaran from F-18 sailor Laurent Lenne and designer Martin Fischer.  I took a cab straight to the Dubai Marine Center, and an hour later, we were sailing the sleek carbon cat in 8 knots of Arabian breeze.  And 20 minutes after that, the boat was broken.
Needless to say, I was underwhelmed.  The Southern Spars-built spine of the boat wasn't right, and I wasted a couple of days in a plane to find it out.  To compound matters, it was pretty clear that the intricate, Alinghi 90-style S-shaped foils were cool-looking, but lacked true foiling ability.  They reduced displacement, but only in very specific conditions would they lift the boat out of the water and create anything that could be called stable flight.
But Fischer, Lenne, and Aussie project manager/COO (and longtime SA'er) Andrew "Macca" McPherson had just seen the future in the form of a flying red-and-black carpet in Auckland, and they were already planning on meeting it.  They spent much of 2013 studying, learning, and redesigning the foil system for the GC32, and while they didn't put a ton of effort into selling a boat they knew was in the midst of a big change, they quietly sailed a 4-boat, 4-event Great Cup series in Europe.  And they kept working.
Fast forward to April, when I got a call from Lenne.  "They're ready," he told me.  "And you should get your butt over here."  Hours after Charleston Race Week ended, I jumped on a plane from Charleston to JFK to Paris to Marseilles, and made my way to one of Europe's biggest marinas in La Grand Motte, France.
An intense design process had led Fischer to a ETNZ72/Flying Phantom/Groupama C-Class style foil solution, with acute-angled, rake-adjustable J-boards with a massive 1.2m span, and adjustable t-foil rudders like a Moth.  Built by Heol, supplier of foils for just about every major French racing multihull for the past decade, the foils are serious pieces of machinery – a single dagger supports almost the entire weight of the nearly one-ton cat and its crew, is built under a massive 8 Bar of pressure, and weighs some 50 KG.  The good news is that you don't often take them out; they insert from the bottom and retract up to the hull, allowing you to beach or ramp launch the boat with no hassle.
But even if they were a big hassle, it would be worth it, because after three days of sailing the GC-32, I can honestly say that this boat has the potential to change multihull racing forever – all of a sudden, non-foilers just seem kind of silly.  They're slower, less forgiving, harder to sail, more loaded up, and just nowhere near as fun.  I'm leaving for the airport in just a few minutes and there is a long, comprehensive video being put together next week with all the details, so I'm going to keep this short, but after crewing, driving, filming, and spectating for the past 3 days in winds from 5 knots to 30 knots, it's very clear that this boat is something entirely new.
What do I mean by that?  How about some numbers:  22 knots upwind at 44-50 degrees TWA, with more than 5 degrees of windward heel – almost like a moth.  32.7 knots downwind on the boat's fourth day in the water, with too much sail area and old sails designed for a skimmer.  And our gybing angles, confirmed by Velocitek GPS replay?  40 degrees.  In other words, this boat sails downwind at roughly the exact same angles as an AC-72, and 80% of the speed, with a quarter the crew.  And at 235K Euro, it's around 1% of the cost.
Far more importantly, a no-talent hack like me can EASILY drive the thing.  This is no joke – the GC32′s huge vertical lifting surfaces are nearly as big as those on the Oracle 72, and that means when you do something stupid – which I did plenty of – you don't crash down like a Moth or AC72, and if you press too hard and get too much heel on, the boat gently slips sideways rather than pitching you over into the piss.  I hit 24.4 knots yesterday in 14 knots of wind, heating up to pass a fleet of Fireballs rounding the top mark off Montpellier beach…the lead boat just stopped and stared and let his competition sail by him.  An excellent driver like Macca or Adam Piggot only got to 26 – if I can do 90% of their speed, truly anyone can.  In other words, you don't need to have Bora Gulari's cat-like reflexes, Jimmy Spithill's iron balls, or Larry Ellison's mountains of money.  Just a couple hundred grand and a desire to fly.  The Daily Sail's James Boyd hit 20.2 on Monday, so at the moment I am the fastest 32-foot foiling cat driving media person in the world –  a title I will wear with pride.  Back on you, Boydie.
More to come, and big thanks to Sander Van Der Borch for the gorgeous shots.  There's more info and some data in the thread.
April 18th, 2014 by admin


Thousands of sailors are following the Flying Phantom project to see whether Alex Udin and his group have created the holy grail of high-performance sailing; a full-foiling boat that's easy and stable to sail.   Based on this short video with some words from French multihull supercoach Philip Presti, (and admittedly in very flat water), it looks like they have succeeded.  Enjoy, and get in on the Phantom discussion in Multihull Anarchy.
April 7th, 2014 by admin
The Marstrom 32 has had an incredibly tumultuous year, yet somehow, the Class has overcome multiple dismastings as well as a management/ownership war over the molds and name of the boat, and the final result is that M32 owners and crew have had an excellent little series in Miami this winter and there are good omens for the future of the beach-cat-on-steroids.  Former Berg Composites chief Hakan Svensson helped preside over a huge sale of his former company to Caterpillar, and now the passionate sailor is on to greener pastures – in this case, running a racing catamaran company and class, and possibly even building a stand-alone beach cat racing center out of the Rowing Club in Miami.  He's a very smart cookie, and having someone as bright as Svensson at the helm bodes well not just for the Class, but for beach cat sailing in Biscayne Bay, the new "Lake Garda of the USA."
Above is a nice look at the series if you are obsessed with slow motion; otherwise, it's a good example of 'too much of a good thing' – but still pretty!  There's a good thread on the M32 Winter Series here.
March 25th, 2014 by admin
As long as Gunboat doesn't get bored of spending money on creative video teams like Rachel and Richard, we promise we won't get bored of watching them.  This one's a fun look at Jason Carroll's Gunboat 62 Elvis at the Heineken.  Title shout to Mojo Nixon; listen to the ultimate Elvis tribute in their 80′s punk classic here.
March 17th, 2014 by admin
 Our pal Jack from Cornwall checks in with some info on the just-launched double-masted foiling Cobalt Cat. You can check it out in this video as well as at the RYA Dinghy Show this weekend in London – always a great way to blow out the winter blues and get ready for the season ahead.
It was with great satisfaction earlier this month that the Team Cobalt Catamaran made its first leap up onto its hydrofoils in 10 knots of Breeze at Calshot Spit on the Solent.  This was the culmination of a 3 year part time build program for our team which we formed to design and build a 20′ hydrofoil bourne catamaran to take on the Round the Isle of Wight Record. An ambitious project to champion the merits of small multihulls and push the limits of the beach-cat platform.
The boat will be making its public debut at this weekend's RYA Dinghy Exhibition in London where myself and Luke Yeates co-founders of Team Cobalt will be manning the stand in the Palm Court entrance. Come on down to the stand we'll be giving talks on the project and running a "guess the weight of the boat" competition to win a Ronstan sailing watch.
Team Cobalt are now looking for syndicate partners to join the project and take it to the next stage of optimisation and taking on the challenge of the RTI course.  Get in touch with us via Facebook or Twitter.
February 28th, 2014 by admin
Vendee Globe winner Francois Gabart keeps going smaller as he prepares to go huge; the French IMOCA skipper is now racing F-18s and other little multihulls in preparation for the arrival of the first all-new, record-breaking sized maxi multihull to hit the water in years – the 100′ Macif.  In the meantime, Fran is enjoying some time on his Flying Phantom – the newest and most interesting one-design to hit the market in ages.  We've been telling you about this thing for almost a year now, and we promised that it would be easy, fast, and might very well change the landscape for one-design cat sailing.  With dozens already ordered (despite the steep price), and many going to prospective AC teams, we think this thing will probably stick, and early adopters might even get a good deal…
Thanks to Nicolas and the Flying Phantom buys for getting an exclusive, subtitled version of this out to us for the Anarchists first, with credit to Husband for the soundtrack and Wanaii Films for the production.
January 20th, 2014 by admin
Ryan Breymaier doesn't just do huge trimarans and Open 60s; he's also got an F-18 and loves hauling ass in little boats as well as big.  Last week, the Annapolis native and now adopted French super-rigger hopped over to Paris's massive boat show – the Nautic  – for a few meetings and round table discussions with the IMOCA and Barcelona World Race folks.  While there, he checked in on a couple of extremely cool small-boat projects we've been following from afar, and he gives us a real pro's look at the first of them below.  Be sure to Like Ryan's Facebook Page here, and if you think your company might benefit from the kind of exposure Ryan's prospective Vendee Globe bid would produce, get in touch with him today!
Other than the two C-Class cats on display at the Salon Nautique De Paris, the most interesting boats by far were the Flying Phantom and the Diam 24 OD trimaran.  At first glance they may seem competitors in the small racing multihull segment, they are in reality aimed at two very different skippers.
The Diam is for the F-18, A-Cat, or sportboat skipper looking to still go fast, but to do it with a bit more comfort; in other words, no trapeze.  Next week, I'll give you my take on that sexy little trimaran from VPLP.
Today though, I'll focus on Alex Udin's flying catamaran, and it's definitely for the 'young gun' beach cat sailor ready to step up to the next level – the foiling level.  Developer and creator Alex Udin (Sail Innovation) is quoting speeds of up to 30 knots downwind and sailing upwind at 55 degrees TWA, skimming the surface like the AC72s at the end of the San Francisco fun.  Want to foil upwind?  Crack off in a breeze to around 14 knots of boat speed and pop it up, then go upwind a few feet above the surface.
Since I tend to look at things through somewhat cynical and very specialized eyes, I like to get my wife Nicola's opinion first.  She sails the F-18 with me and is a keen observer, and to her eye, the Phantom is a really, really nice looking boat!  They've followed some of the recent trends in cars; lots of graphics options and a matte paintjob that's very cool and even a bit non-skid.  Of course the bottom will be wet-sanded and polished to a mirror sheen by any serious racer, but Alex clearly spent a lot of time making sure the Phantom looked just as good as it's meant to sail.
With the subjective out of the way, I had a long look at the technical side of the Phantom.  The hulls are all carbon with a nomex core, carbon mast and carbon boom, with the hulls connected by huge alloy beams from the Cirrus F-18.  This guarantees a super-stiff platform without a lot of weight.
The hulls have a sweet profile with no distortion and plenty of volume in the bows; perhaps not so important for a boat designed to stay on the foils the vast majority of the time, but still pretty good to have when inevitable splashdown happens.
Test pilot Gurvan Bontemps is a top F-18 sailor who recently raced the Patient Lady at the Little AC in Falmouth, and he said without a smile that the boat is up on the foils in 7 knots of TWS (though he looked at my frame and said 'maybe 8 with you aboard'), and that, contrary to what you might think, it's just a bit more twitchy than a stock F-18.  A foiler for mere mortals?  It could be.
The rudders are high aspect ratio, with ultra high aspect ratio elevators that bring to mind a moth's T-rudders.  The rudders are mounted in lifting cassettes; not for adjustment underway, but for beaching and launching.  The rake adjustments come via the cassette mounts; instead of normal pintles and gudgeous, the cassettes attach to the boat with uniballs to allow the boat to be properly balanced with angle-of-attack adjustments to the entire rudder and elevator.
One of the keys to the supposedly straightforward foiling performance of the Phantom is the angle of the J-foil to the daggerboard upright; it's quite closed instead of a right angle or something even more open; combined with the increased beam of the boat (compared to the F-18), this means stable foiling, meant for mere mortals rather than just the Franck Cammases and Mischa Heemskerks of the world.
Unlike the Oracle, ETNZ, or Team Hydros boats there is no cant adjustment for the boat (inboard/outboard foil movement); the Phantom only allows fore/aft rake adjustment with an endlesss string/worm gear moving the upper foil and thereby changing AoA on the main foil.  This sets the median speed of the boat and to some extent, the ride height, with the boat self-levelling as more of the foil comes out of the water.  In a great innovation and something we saw on the gorgeous Groupama C boat, the weather board is lifted not by a block and tackle, but by the weight of the crew as he or she wires up on the new tack.  Anyone who's pulled up loaded boards knows this is a huge labor saver, and these boards are around 12 kg of pure carbon!
In the photo to the left, you can also see the camcleat for the 4:1 board downhaul – a necessity for foils developing enough lift to support the entire platform plus two crew, plus all the power generated by the very high aspect rig.  I couldn't even get a good picture of the full mast; it was well into the rafters of the Nautic convention center. Attached is a sail plan drawing that shows it off well, and in person, the sails are beautiful.
I asked the obvious question as to what happens when you 'yard sale', and Gurvan says that a high speed capsize isn't much worse than on an F-18 other than one thing: You fly a lot further through the air because you start so much higher up. In any case, the platform is as solid as can be, and according to the test sailors, it can easily take plenty of abuse.
At the boat show the cost is 32,000 Euro, which seems like a lot for a 20-footer.  But remember that this includes VAT and other shipping fees.  And when you add up the latest foil technology, the excellently-finished carbon construction, and all the design and testing work that has gone into it, I am sure it would be a bargain at twice the price.
2 boats have already been sold to one America's Cup team,  and several other prospective AC teams are negotiating for more.  TNZ were at the booth when I was, and they were at least as interested as anyone I saw.  Udin took 13 paid orders overall at the Nautic; not a bad start at all.
Will it really be easy enough to sail to gain mass acceptance?  The jury is still out on that one for a few more weeks.  But if so, I can imagine some incredible racing and a real game changer.
Get in touch with Alex Udin for more info or to order your Flying Phantom at [email protected].
December 17th, 2013 by admin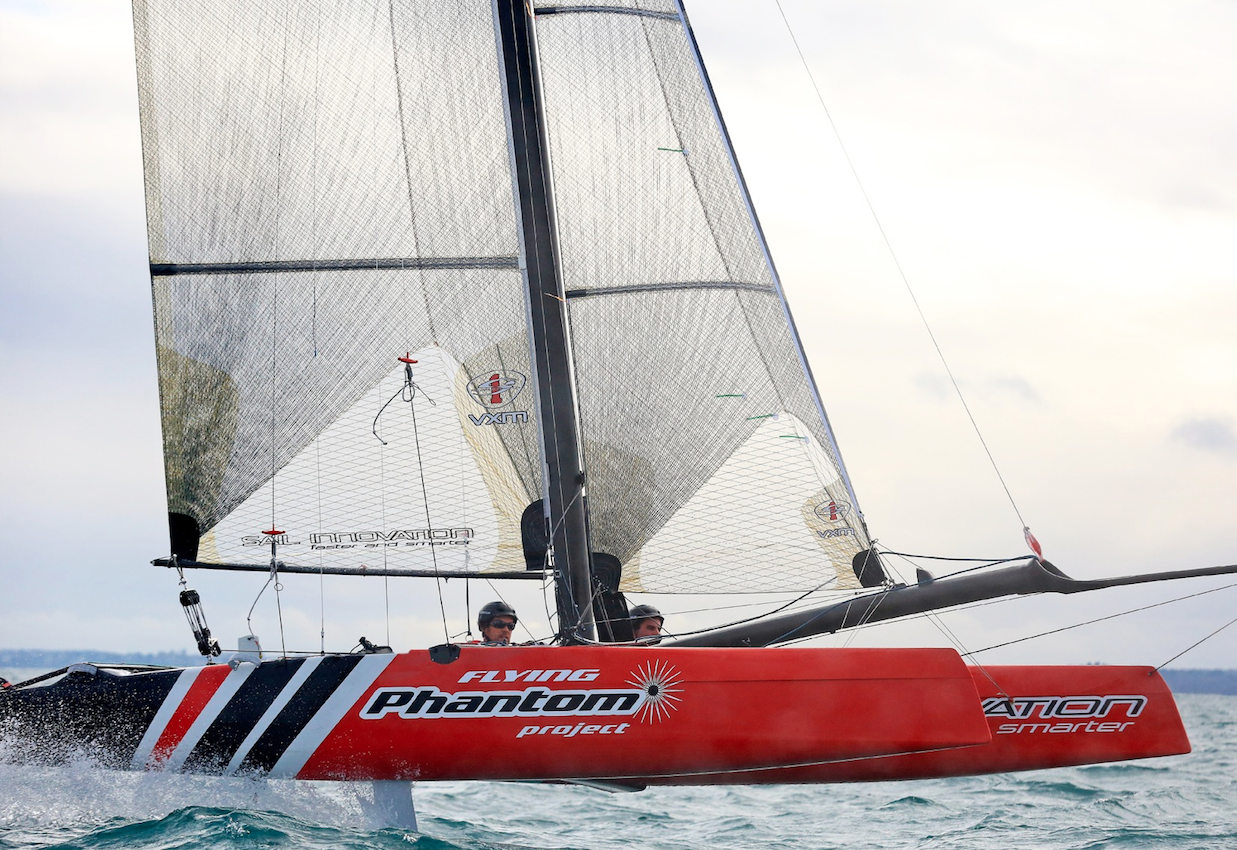 Our old pal Alex Udin officially launches his Martin Fischer-designed, Franck Cammas-tested Flying Phantom at next week's Paris Boat Show; will this sexy, well turned-out 18-footer finally open the floodgates on production foilers for the masses?  It very well might be, especially if, as we've been told, the Phantom is exceptionally stable and easy to fly.  We're also told it won't break the bank,  you can get it in about 17,000 different colors and patterns, and they've got piles of orders from everyone from old mothies to America's Cup teams.
Have a peak at this excellent official promo video out yesterday, and for a more in-depth discussion on the boat and its creator, here's a longer chat between Alex and Mr. Clean last month in England.
November 25th, 2013 by admin
Remember when we announced the 'flying' Great Cup 32 Catamaran more than a year ago?   With its 'compound W' daggerboard shape and L-foil rudders, the Martin Fischer-designed boat looked slick, modern and sexy.  They even sold a few, raced a couple of regattas, and last month, pulled off a demo day in massive waves and 25+ in Nice while the Extreme 40s were sitting at the dock.
The main problem?  High performance foil design changed more in one year than it has in decades. Essentially, if you have a new ultra-performance multihull these days and you're not flying, you're failing – and the GC32 foil package was doing just that.
In the meantime, the AC72 showed everyone the way, and Fischer's work on both the Groupama C foiler and the Flying Phantom project gave him the inspiration he needed to turn the 32 into a full foiler, and you can check it out above and here.  Sea trials will happen in France around the New Year.
November 14th, 2013 by admin
According to several America's Cup designers, the wing-loving world owes a huge debt to the C-Class.  Were it not for some 40 years of wingsail development in the C, they say, we'd probably still be decades away from wingsails on AC boats.
Fortunately, that's not the case, and here's your final look at the full, 17-minute video story of the 2013 Little America's Cup/International C-Class Catamaran Championship from Petey Crawford/Penalty Box Productions.  Huge thanks to Magic Marine, Team Canada, Paterson Composites, Camera Lens Rentals, and Team Invictus for all your support!
If your interest has been piqued by this most awesome of all catamarans, be sure to hit the 2013 thread and ask the boys how you can get into the Class for the 2015 Little Cup in Lake Geneva.  We'll be there, and we hope you will too.
November 1st, 2013 by admin
Videokid Sam Greenfield continues to bring a fresh look to the classic 'regatta report', and today's installment from the F-18 Championship of the Americas highlights the next generation of high-performance sailing talent coming from its incubator; the Sarasota Sailing Squadron youth sailing program.  Results after 12 races: The Dutch are crushing!  There are Kattack tracks here as well.
October 25th, 2013 by admin
Groupama C was clearly in a league of its own in last week's Little America's Cup, the Team Hydros foilers were quite a bit faster and deeper on several downwind legs. Had they had more time and less misfortune, we might have seen the first Swiss-owned (and Dutch or French helmed) Little Cup champion.
Here's a 22-minute walkthrough of their incredibly sweet ride, narrated by beach cat phenom Mischa Heemskerk, with a tip of the hat to Magic Marine and Camera Lens Rentals for their support.  Stay tuned for the Groupama walkthrough and the overall highlight reel coming soon…
October 9th, 2013 by admin
If the last few weeks has contributed to an obsessive need for you to watch foiling catamarans racing through big wind on your computer screen, we're happy to inform you that you'll have a full week of it coming up this Sunday with the Little America's Cup.  Formally known as the International C-Class Catamaran Championship, the Little Cup will feature 11 teams from all over the world with some of the most advanced racing craft ever developed; in some ways far more advanced than the 'real' AC.  
Clean, Mer, Petey and a cast of famous and not-so-famous guests are digging the On-The-Water Anarchy cameras out of the shed to bring you live, hilariously and expertly commentated video action from every race at the 2013 Little Cup, along with our infamous 'Cocktail Hour' live talk shows, piles of interviews, and highlight reels put together by some brilliant folks in the UK.  We expect to have trackers, great photography and plenty of updating on Facebook, too.  So keep watching here, and for everything C-Class, hit the 2013 International C-Class Championship thread and bring yourself up to speed. If Facebook is more your speed, Like the Little AC page here.
Like the Minista below, the UK's Team Invictus have had a tough road to the starting line.  Here's the update from their skipper and the fastest sailor on the water – Paul Larsen:
Sunday: The start line is often the first finish line.
It's past midday on Sunday here in Bristol. The shed is full of various wing parts in heater inflated bubble tents. To say we are a bit late is a massive understatement.
This is yet another big ol' mission just to make it to the start line. I didn't want it, nobody did. I had no idea what I was walking into 13 days ago. Basically, for one reason or another, Helena and I walked in just as things had fallen apart. We had come to hopefully help a little bit to get the last bits together and help the team along. What confronted us was obviously going to require substantially more input. We had a main spar with the ribs attached to it… and that was it! No flaps, no moulds, no leading edge and no control systems/linkages'hinges… just CAD drawings.
My first reaction was to keep walking. This would mean that there would be no British boat at this event. That was unthinkable. We had to have a go. We went to the pub and began hatching plans. As long as there was a chance… we would have a go. We began pushing on.
None of us wanted to stand next to a piece of junk. It's obviously not going to be as good as it could be… but the old girl might be alright. The platform seems OK and there are some aspects of the wing that I am interested to see. We don't have the time to re-design everything to fit the schedule so there has to be some shooting from thew hip and acceptance of what we have.
Keep it in mind that this needs to be in Falmouth getting rigged on Tuesday.
We had to come up with a quick way to make a 3D curved leading edge so we used polystyrene blocks, a skilled carver and then Dan (from Independent Composites) did a great job of fairing and skinning. In fact Dan and the boys have been ripping into it. They made the large lower flap and have let us take over the workshop for the weekend.
Thankfully the National Composites Center (NCC) in Bristol did the MDF tooling for the top flap and Helena and I went and built that there with Nick Hewlings. The mould came off the machine last Wednesday afternoon. We used a quick method of sealing surfacing the mould involving putting the whole thing in a 'envelope' vacuum bag which we then sucked down onto the mould and used as a surface to actually laminate onto. Unbelievably… for some reason this bag sort of dissolved during the cure and is now structural i.e. part of the laminate. We were so lucky that it held its vacuum and that it didn't result in the part being permanently stuck in the mould. None of us have ever seen that before . So we'll be sailing around (hopefully) with a vacuum bag still on the upper flap.
We just don't have any time to get hung up on one process. It's all a bit mad. At times I wonder what the hell I am doing here. We shouldn't still be doing things this way. I guess when it all looked a bit too much I began to wonder if we really could do it. I'm still wondering.
The parts are all coming together. The flaps are a bit heavy but then we haven't finished cutting them down.
Anyway, here we are. It's getting warm in here. I'll let the pictures do the talking. The picture of us cutting out the holes in the lower flap was taken around lunchtime today.
Monday:  All the big pieces are together. The little bits are turning up and the trailer just arrived. The Harken order is on the way direct to Falmouth and the Marlow order is still being chased. The daggerboards are curing under a heater just off camera.
Helena is trying to hook up live tracking. This will all be loaded in the trailer tonight and should be in Falmouth in the morning. It just has to be that way.
Tuesday:   Invictus has once again… left the building. Well, actually there is still quite a bit of building to be done… but she's out of the shed anyway.  This boat and this team, in one form or another, are why the event will be in the UK this year. We felt that she simply had to be down there mixing it up with her Brethren on home waters.
Goodbye Dan, Leighton Mitch and Nick from the NCC, thanks so much for going the extra mile and helping to get rid of us:)  We still have a lot to do but the overall spirit in the team is good. We turned a corner. Let's see what happens now.
Next stop, Falmouth and the 2013 ICCCC.
September 17th, 2013 by admin
Grant's boys on ETNZ continue to keep the pressure up on the America's Cup defender, and Oracle won't be happy to see that NZ's second AC72 has just been delivered from Cookson's to the Kiwi's Auckland base.  In contrast to the US team, we're quite happy – every day ETNZ gets on Oracle gets them that much closer to an exciting, close match rather than the Defender walkover that many feared.  More details in the AC Anarchy thread.
January 16th, 2013 by admin