Posts Tagged 'Catamaran'
With five different boats winning the first five races of the M32 Series opener in Oslo, calling the racing 'tight' is something of an understatement.  The one boat off the pace is first-time M32 competitor Eivind Melleby's Team Hydra from Norway, and here's a shot showing their form on a puffy day in the Oslo Fjord.  The M32 proved its beach cat heritage accurate – Melleby's team was upright and racing 15 minutes after their tip.
Thursday's highlight reel is here, and the full replay of the live footage is here.  Stay tuned to the front page for today's racing, beginning at 1400 CET/0800 EST with Clean on the mike.  Photo credit Henrik Ljungqvist/M32Series.
May 22nd, 2015 by admin
John Casey checks back in from the first real foil-off between the FLying Phantom and his Nacra 20 FCS. His photo, and of course our title reference to one of the funniest shows of the 2000s.
If you're having a light conversation with someone and they say, "Hey, you should come down to the Keys for a sail," you meant yesterday.  The sun was peering down on us, the wind was around 12 knots with low puffy clouds drifting over the shore and the water was about the same balmy temperature as the wind. It was absolutely pleasurable.
The real story of our day came courtesy of large clumps of sargasso lining up on their march to shore, just hanging out waiting for us. Yes, they play havoc with our daggerboard boats, but a unique and surprising thing happens when the FCS foils through the weeds; they slice right though them. What we thought was going to be the biggest hindrance on this flat water leg from Islamorada to Key Biscayne was actually helpful to us, as the slower boats had to clear their boards far more often.  We called our day 'mowing the lawn'.
The Nacra performed brilliantly as we foiled the entire upwind/close reach day except for a couple lulls and when we had to pinch up high to get over the sandbar protruding from Elliot Key. We finished in exactly four hours. The powerful sail plan definitely helped in the lighter conditions, as the curved board Nacra 20 Carbon arrived to the beach in second place 20 something minutes after us. It's really all about sawing that mainsheet as well. My crew, Colin Page, played it like a tug-of-war anchorman all day. Sail trim is so important for the balance you need to stay smooth on the foils.
The tried-and-rock solid Nacra 20 crew of Steve Lohmeyer and Jay Sonnenklar are leading the biggest fleet of Nacra 20s.
For more action, check out the Florida 300 site, and stay tuned for my final report over the weekend.
May 15th, 2015 by admin
It has been a long time since we've seen this much excitement around a new boat launch, but we reckon if ever a boat deserved it, it's the world's first fully foiling cruiser/racer.  Sick work from all the Gunboat G4 build/design team, and we're proud to host this World Premier of the beautiful film of Timbalero 3′s sea trials earlier this week (thanks to Richard and Rachel).
Mr. Clean heads down to Antigua at the end of the month for his in-depth, Anarchy look at the G4; in the meantime, head to the thread for all the news and analysis here.
April 11th, 2015 by admin
As so famously documented in a brilliant article in Sports Illustrated (back when a brazillion men read it) and followed by hundreds of thousands of fans over the years, the Worrell 1000 was one of America's most iconic races.  It was 1000 miles (or quite a bit more, at times) of bone-crushing, soul-bruising beach cat sailing, surf-launching, and high-speed crash-landing along the Atlantic Coast, with tons of old legends and unknown-but-now-familiar names showing their sack and insanity.
The Worrell died through a combination of the naivete of its creator, the now-deceased Mike Worrell, and some bloodsucking lawyers; it lives on in our hearts, and in today's post from Anarchist "DryArmour":
I still have this Hobie 16 mainsail from the 1983 Worrell 1000. My dear friend Carlton Tucker was one of the team members along with Hobie [Alter, -ed] Junior and Miles Wood. The sail is in great shape.  Pretty amazing for a sail that is more than 32 years old…The format used that year was non stop round the clock racing alternating team members at each stop. Brutal.
Share your Worrell 1000 memories here.
January 26th, 2015 by admin
Turns out the M32 Cup is pretty damned fun to watch at least from what we saw yesterday in Sweden.  Sweet boats and ultra tight racing on America's Cup courses – what more could you want?  Final day of racing is above.
September 14th, 2014 by admin
It may look a bit like vaporware from a futuristic basketcase, (and it certainly isn't going to win any 'Prettiest Yacht Awards') but in fact this is nothing of the sort; it's a 53-footer from the desk of ultra-fast BMW/Oracle/Team USA alum Paul Bieker, it's already under construction at Gold Coast Yachts in the Virgin Islands, and it's a 'high-performance cruising cat' for the Seattle-based wners of the current J/125 Hamachi, though the new fish will begin her career racing in the Caribbean.
For more on the boat or to ask the new owners about it, head to the Bieker blog, and then over to the thread; or just read on.  Bob Perry's been doing design reviews in magazines for decades, so let's follow his lead; here's a review of the design from one of Sailing Anarchy's most verbose designers, Chris Ostlind.  
Personally, I like that Paul and Eric have pulled design cues from Polynesian boats while subtly mixing the forms with modern thinking. The raised Manu forms at the bow tips are very definitely Polynesian in execution and I feel that they serve both functionality, as well as providing a counter point to the same conformed styling we see in so many boats derived from "conventional wisdom" ideology.
There is a distinct, wave piercing capacity in the bow forms, while not giving away that precious interior volume that a cruising cat needs to provide the kinds of creature comforts that are the hallmark of a great cruising cat. The Manu shape at the bow gives a pronounced cutwater shape that parts oncoming seas and that philosophy holds down the length of the bow as it makes use of the beveled edge that gracefully submits to the need for a flat surface for going forward safely. That same shape enhances aero efficiency by allowing the wind and water to slide over the form rather than be forced to make abrupt changes of direction, which guarantee form drag losses. The shapes also enhance the strength of the bow through styling engineered geometry and that can ultimately save laminate weight in the build and potentially help with costs, while reducing weight in the ends of the boat. All kinds of thinking strata involved here.
The riskiest component of the design, to me, is the incorporation of C-boards to give foil assist. At typical cruising speeds and realities, these boards are maybe a nod to current fashionable ideas more than they serve as a real boost to sailing that most cruisers are not going to be doing while underway. That's another argument for another time, though. I get that the shapes of the boards can be incorporated into the hull shapes with a beneficial result on interior volume, so perhaps that is really what the creators are after here and the lifting foil aspect simply came along as an interesting side application. The T-foil rudder are definitely a good idea for a cruising boat as they allow for a more stable ride overall with little of the penalty issues that the forward boards entail.
The deck house is a nod towards the history of the Polynesian voyaging Cat, to be sure and I fid it refreshing in its approach and as a counter point to all the Space Station looking cats we see in huge numbers. I find the uniqueness of this take on a design to be a terrific statement in stepping away from the drudge of "me-too" cat design that tends to make all the boats in the marina look like Accords and Camry's… and it gets the sailors out into the elements a bit where they can enjoy much better forward vision and a sense of really being able to look around and take in what is happening to their boat in the environment. Yes, it's going to take a real special person to own and operate this boat, but I think that's exactly what the design team were shooting for. Something interactive, rather than simply another layer of structure that typically stands in the way of the experience of sailing in the weather, sun and wind. A lot of existing cats of this size are like tooling around in a medical waiting room, where this boat will be putting the owner, sailor directly back into the place where it all started several thousand years ago; definitely an attempt to reconcile our collective willingness to encounter a sterile sailing experience and call it good.
A pleasure to behold and contemplate.
August 21st, 2014 by admin
big pimpin'
Our pals at Gunboat continue to work on the super-sexy coastal racer/cruising G4, but with a twist:  Now, you can get them with J-foils.  Flight of fancy or flight for real?  We grabbed team member and design dude Rudo Enserink for a quick update.
SA: With the J-boards and T-rudders, this is looking like a full foiler.  Is that really possible on a boat with bunks and a kitchen?
RE: Yes and no. We're first going to build high-lift C-foils for safe but very fast foil-assisted sailing.  The mildly asymmetric C-boards can be raked from -1 to +7 degrees and will be set at the factory for safe cruising.   The lift of these foils maxes out at 80% of displacement, and advanced owners can play with the rake adjustment to optimize for purpose and conditions.  One of the great things about C-foils is that you can leave the windward daggerboard deployed in all tacks.
The hull and daggerboard casing structure is prepared for full foiling, as are daggerboard bearings and rudder bearings.
If there's enough interest from the market we'll develop an electronically stabilized full foiling package that will be available as aftermarket upgrade. The current concept for this is an L-foil and auto-leveling T-rudders.
SA: Who is building/designing the foils?
RE:  Foils are designed jointly by Doug Schickler from Schickler Tagliapietra, with Davide Tagliapietra, Pieter Jan Dwarshuis, Mischa Heemskerk and Rudo Enserink.  They will be built in by Holland Composites (also builder of DNA A-cats), in their autoclave, and you can see some progress at their Facebook page.
SA:   That's a pretty serious VPP chart.  Is that with the C-foils or with the new J/L foils?
RE: This VPP is with the C-foils.
For more info on the very hot Gunboat G4, check out the full details here or ask questions in the thread here.  Title shout to the best cartoon of the 80s.
May 14th, 2014 by admin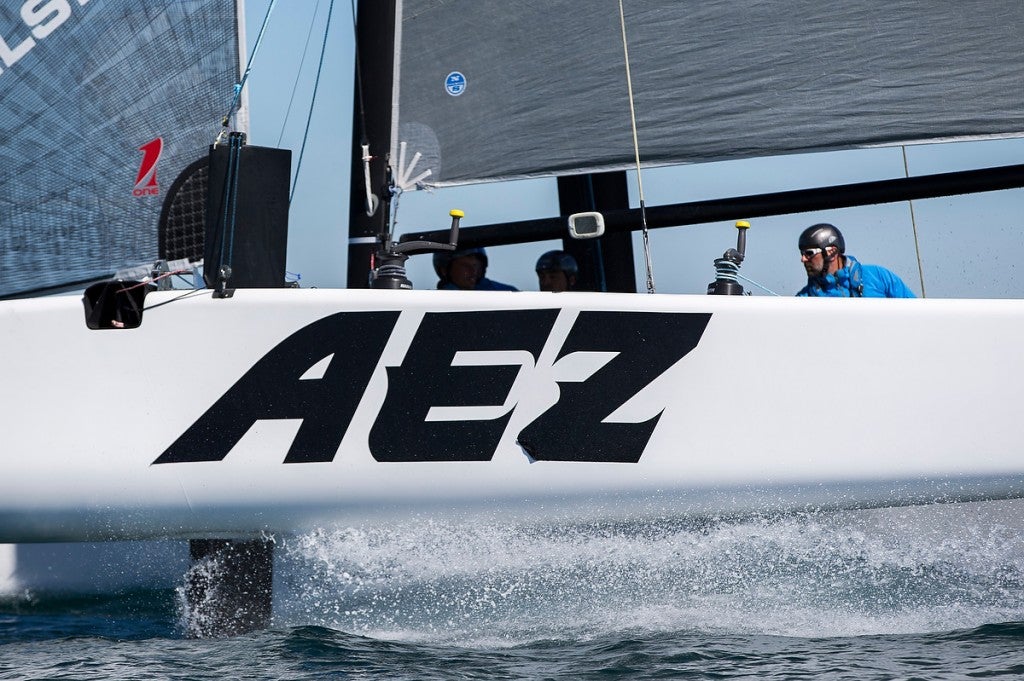 Clean Report
More than 18 months ago, just a month after ETNZ revealed their AC72 was a flying boat and lured by the potential for a 32-foot version of it, I spent 12 hours flying to Dubai just to check out the brand new GreatCup 32 catamaran from F-18 sailor Laurent Lenne and designer Martin Fischer.  I took a cab straight to the Dubai Marine Center, and an hour later, we were sailing the sleek carbon cat in 8 knots of Arabian breeze.  And 20 minutes after that, the boat was broken.
Needless to say, I was underwhelmed.  The Southern Spars-built spine of the boat wasn't right, and I wasted a couple of days in a plane to find it out.  To compound matters, it was pretty clear that the intricate, Alinghi 90-style S-shaped foils were cool-looking, but lacked true foiling ability.  They reduced displacement, but only in very specific conditions would they lift the boat out of the water and create anything that could be called stable flight.
But Fischer, Lenne, and Aussie project manager/COO (and longtime SA'er) Andrew "Macca" McPherson had just seen the future in the form of a flying red-and-black carpet in Auckland, and they were already planning on meeting it.  They spent much of 2013 studying, learning, and redesigning the foil system for the GC32, and while they didn't put a ton of effort into selling a boat they knew was in the midst of a big change, they quietly sailed a 4-boat, 4-event Great Cup series in Europe.  And they kept working.
Fast forward to April, when I got a call from Lenne.  "They're ready," he told me.  "And you should get your butt over here."  Hours after Charleston Race Week ended, I jumped on a plane from Charleston to JFK to Paris to Marseilles, and made my way to one of Europe's biggest marinas in La Grand Motte, France.
An intense design process had led Fischer to a ETNZ72/Flying Phantom/Groupama C-Class style foil solution, with acute-angled, rake-adjustable J-boards with a massive 1.2m span, and adjustable t-foil rudders like a Moth.  Built by Heol, supplier of foils for just about every major French racing multihull for the past decade, the foils are serious pieces of machinery – a single dagger supports almost the entire weight of the nearly one-ton cat and its crew, is built under a massive 8 Bar of pressure, and weighs some 50 KG.  The good news is that you don't often take them out; they insert from the bottom and retract up to the hull, allowing you to beach or ramp launch the boat with no hassle.
But even if they were a big hassle, it would be worth it, because after three days of sailing the GC-32, I can honestly say that this boat has the potential to change multihull racing forever – all of a sudden, non-foilers just seem kind of silly.  They're slower, less forgiving, harder to sail, more loaded up, and just nowhere near as fun.  I'm leaving for the airport in just a few minutes and there is a long, comprehensive video being put together next week with all the details, so I'm going to keep this short, but after crewing, driving, filming, and spectating for the past 3 days in winds from 5 knots to 30 knots, it's very clear that this boat is something entirely new.
What do I mean by that?  How about some numbers:  22 knots upwind at 44-50 degrees TWA, with more than 5 degrees of windward heel – almost like a moth.  32.7 knots downwind on the boat's fourth day in the water, with too much sail area and old sails designed for a skimmer.  And our gybing angles, confirmed by Velocitek GPS replay?  40 degrees.  In other words, this boat sails downwind at roughly the exact same angles as an AC-72, and 80% of the speed, with a quarter the crew.  And at 235K Euro, it's around 1% of the cost.
Far more importantly, a no-talent hack like me can EASILY drive the thing.  This is no joke – the GC32′s huge vertical lifting surfaces are nearly as big as those on the Oracle 72, and that means when you do something stupid – which I did plenty of – you don't crash down like a Moth or AC72, and if you press too hard and get too much heel on, the boat gently slips sideways rather than pitching you over into the piss.  I hit 24.4 knots yesterday in 14 knots of wind, heating up to pass a fleet of Fireballs rounding the top mark off Montpellier beach…the lead boat just stopped and stared and let his competition sail by him.  An excellent driver like Macca or Adam Piggot only got to 26 – if I can do 90% of their speed, truly anyone can.  In other words, you don't need to have Bora Gulari's cat-like reflexes, Jimmy Spithill's iron balls, or Larry Ellison's mountains of money.  Just a couple hundred grand and a desire to fly.  The Daily Sail's James Boyd hit 20.2 on Monday, so at the moment I am the fastest 32-foot foiling cat driving media person in the world –  a title I will wear with pride.  Back on you, Boydie.
More to come, and big thanks to Sander Van Der Borch for the gorgeous shots.  There's more info and some data in the thread.
April 18th, 2014 by admin


Thousands of sailors are following the Flying Phantom project to see whether Alex Udin and his group have created the holy grail of high-performance sailing; a full-foiling boat that's easy and stable to sail.   Based on this short video with some words from French multihull supercoach Philip Presti, (and admittedly in very flat water), it looks like they have succeeded.  Enjoy, and get in on the Phantom discussion in Multihull Anarchy.
April 7th, 2014 by admin
The Marstrom 32 has had an incredibly tumultuous year, yet somehow, the Class has overcome multiple dismastings as well as a management/ownership war over the molds and name of the boat, and the final result is that M32 owners and crew have had an excellent little series in Miami this winter and there are good omens for the future of the beach-cat-on-steroids.  Former Berg Composites chief Hakan Svensson helped preside over a huge sale of his former company to Caterpillar, and now the passionate sailor is on to greener pastures – in this case, running a racing catamaran company and class, and possibly even building a stand-alone beach cat racing center out of the Rowing Club in Miami.  He's a very smart cookie, and having someone as bright as Svensson at the helm bodes well not just for the Class, but for beach cat sailing in Biscayne Bay, the new "Lake Garda of the USA."
Above is a nice look at the series if you are obsessed with slow motion; otherwise, it's a good example of 'too much of a good thing' – but still pretty!  There's a good thread on the M32 Winter Series here.
March 25th, 2014 by admin