Posts Tagged 'caribbean'
Remember a couple months ago when a couple of little storms wrecked a big chunk of the Caribbean?  They're still not out of the woods yet, as you'll see in this 360 degree video (click and drag to look around at the continuing carnage) and the accompanying NYT article focusing on the losses to boat owners in the Virgin Islands.  It opens:
The wrecks lie half-sunk in marinas, fully submerged in coves, tangled in mangrove roots, tossed akilter against trees, or piled atop one another, a jumble of punctured hulls, snapped masts and bent propellers.

The hurricanes that raged through the United States Virgin Islands in September damaged or destroyed not only thousands of buildings, but also hundreds of boats, from tiny sailboats to 50-foot luxury yachts.

In a territory that is heavily dependent on tourism, where no spot is more than three miles from the sea, boats are as integral to the economy as the islands' beaches and their now-battered hotels. Boats are the livelihoods and even the homes of many locals, and for the mainlanders who leave their vessels there year-round, they are a big reason to spend time and money on the islands.

"Even if our boat had made it, we would really be struggling, because the customers aren't here," said Justin Cofield, 34, an owner of St. John Yacht Charters, whose 46-foot sailing sloop, Survivan, was destroyed.
Read on for the complete story from Richard Perez-Pena and thanks to Anarchist LM for the tip.
December 20th, 2017 by admin
Huge kudos to SAer 'JKozloff' and the thousands of people helping to alleviate the hurricane-induced suffering throughout the islands.  There are many ways to contribute now and over the coming sailing season, and we urge you to consider helping out.
Caption for the photo from JK:  We have been delivering supplies to St Maarten, Anguilla and the virgin islands since Irma. We were restocking on St Croix(home) when Maria was approaching and were able to sail around the storm. We are now restocking in St Lucia to go to Dominica, then restock in Guadaloupe to go St Marteen, restock in St Kitts for Virgin Islands, Vieques and Puerto Rico. Then around again. If anyone has family friends that they have not heard from we have been getting in contact with people in remote areas of each island. We also are looking for other boats that are in the area that want to help, we can stock your boat.
More here.
September 28th, 2017 by admin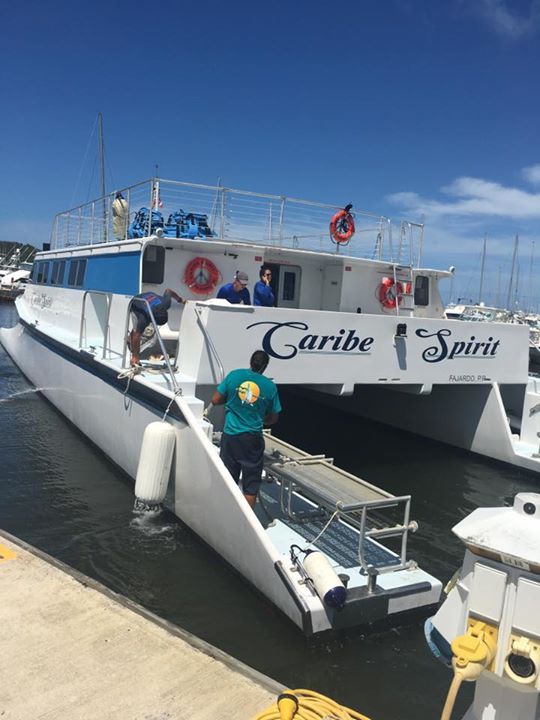 After what has seemed like months of churning, Hurricane Irma is no more. Downgraded to a Tropical Storm on her inland jaunt through Trump country, Irma's legacy will be years of rebuilding throughout the Caribbean and Florida.  While most of the Sunshine State escaped the worst-case scenarios, we all understand that a small shift in her track could have decimated the built-up centers of Tampa or Miami on an unprecedented scale.
Unfortunately, that decimation happened in St. Martin, Anguilla, Barbuda, St. Barts, the Turks and Caicos, and the US and British Virgins (and a few other islands), and the effort is just getting underway to help people who won't have communications, power or water for weeks. We've been following several relief efforts, but the most awesome info comes from Gunboat exec Nils Ericson and the folks at East Island Excursions, who've organized a Virgin Islands to Puerto Rico evacuation effort they've nicknamed 'Operation Dunkirk'.  Please donate here to help the effort, and here's an update from last night.  UPDATE: The New York Times picked up the PR rescue story here. UPDATE 2: A smaller effort led by yacht hauler John Woodruff is on its way south to begin digging out Florida boats and yacht clubs; donate money or gear here.
By today's end we will have organized a total of 7 trips to STT/STJ, delivering over $20k in supplies and evacuating about 300 people. Tomorrow, we have 6 (!) more boats delivering supplies and evacuating another +/-300 folks.
We have set up tents to serve as staging areas for supplies. If anyone wants to send supplies, send it to us here at Puerto del Rey marina in Fajardo. We'll make sure it gets to the right island. We depart daily around 8am and can transport whatever or whoever is going (more or less). PM me for details.
The crew here at East Island Excursions are working doubles and skipping days off to get it done. They're an inspiring group, ably led by Jayanne McLaughlin.
I don't see a horizon yet. The reports from people on the ground is totally heart-wrenching, and normalcy is seemingly NOT returning. The gov't in the Virgin Islands has failed the people and outside help is still needed. Fajardo is virtually 100% intact, the fuel docks have fuel, and flights are operating out of San Juan airport.
Today, private flights were allowed in and out of STT today. Hopefully the St. Thomas airport will reopen to commercial traffic soon and ferries will begin normal operation (relieving us of duty) but for now we plan to stay on the throttle.
I'm hoping to get up the road tomorrow to STJ and get eyes on my house and Soma, and hug some friends. It feels selfish to think of my own needs, but I have to say goodbye to Sailboat Soma in person.
And another update from this morning:
Alright St. John, we are coming to get you! We have departures organized throughout the day, and throughout the week. Be patient, be kind, work together, women and children first. You will ALL get off, we aren't stopping until everyone is safe and secure. To stateside family, do what you can to spread the word to your loved ones on island. If anyone on island gets this message, spread the word. We won't get everyone at one time, so please be patient. We want to fill every seat, but we want it to be a safe process for everyone. Love city.
PS: we have taxis, shelters, generous folks offering their homes, food, water, and big hugs waiting for you on the other side. See you soon.
TOMORROW'S EVAC SCHEDULE!!!
Island Flyer (40 pax): 9-10am, Cruz Bay to PR
Caribe Spirit (70 pax): 9-10am, Cruz Bay to PR
Bad girl (24 pax): 12pm, Coral Bay to STX
Betty Ann (36pax): 12:30-2pm, Cruz Bay to STX
Milemark (36pax): 12:30-2pm, Cruz Bay to STX
Adventurer* (~40 pax): 2:30-3:00pm, Coral Bay to STX
September 11th, 2017 by admin

We've been accused of being a little morbid with all the damage posts, but that's not it at all – we're mostly stunned at just how much worse the damage is from Irma than any other Caribbean hurricane we can remember, and how long it will take to rebuild. Especially as so many of the spots are those that we – and tens of thousands of Anarchists – have enjoyed every winter for decades.
The drone video above is a difficult look at Nanny Cay (and thanks a ton to Adam Dell for publishing it), the haulout location for hundreds and hundreds and boats of all sizes and the long time HQ for one of our favorite regattas of all.   Click on the BVI Spring Regatta link for a look at Nanny in much better times.
There are literally hundreds of heartbreaking images from all over the Caribbean that you can find linked in the Irma thread, so please head over there if you want to share your own story or offer help to others.  We send our best hopes and wishes to all of you affected by this disaster of a 'cane season in the Leewards, Virgins, Puerto Rico, and Cuba (some of whom are about to get battered again by the Southerly side of Cat4 Jose), and to the millions throughout Florida, Georgia, SC and Tennessee who might lose everything before this thing is over.  A special thought to all of you with property or boats n the Florida Keys, which look perilously close to armageddon in the latest forecast maps.
And now a word from Caribbean charter skipper and former Sailor Chick of the Week Lucy Jones – along with the folks at Performance Yacht Charters, she's responsible for thousands of sailors enjoying the Caribbean over the past decade, and we listen:
Lucy and the team of Performance Yacht Charter are shocked and saddened by the devastation that has taken place in the Caribbean in the wake of Hurricane Irma.

These Islands hold a very special place in our hearts, we have been sailing and racing in these waters for so many years it truly is a second home for us, and so many of our sailing family.  It will take many months to understand the full effect of this hurricane.  

In the short term we can support with financial donations, to the Red Cross and other charities supporting those most in need. But in the long term it is imperative that their economy has a future and that the Islands are kept alive. These islands are dependent on our tourism and as sailors we can do this by supporting the Caribbean regatta season and booking our holidays. 

Accommodation may be difficult, the selection of boats might be reduced but if you can go to the Caribbean this year and spend out pennies in their bars restaurants and shops. This will fund the rebuilding of our much loved Caribbean for a long time after Hurricane Irma has left our memory.

Donating through JustGiving is simple, fast and totally secure. Your details are safe with JustGiving – they'll never sell them on or send unwanted emails. Once you donate, they'll send your money directly to the charity. So it's the most efficient way to donate – saving time and cutting costs for the charity.
September 9th, 2017 by admin
With Antigua and Barbuda getting a glancing blow, St. Maarten and St. Barts taking direct eyewall hit, and the BVIs, St. Thomas and Puerto Rico all sitting inside the 100+ knot zone right now, it's almost like Hurricane Irma hates Caribbean yachting and is teaching it a lesson.  It's a sad day for St. Barts (seen in the photo to the left), which local officials called 'apocalyptic' and SXM, where locals
said most of the boats are 'just gone.'  We've had reports from the East side of Puerto Rico, where winds are just starting to get serious, and St. Thomas, where the worst is now overhead, and locals are less worried about boats and marinas than they are about how to deal without water and power for the days or weeks it may be gone.
South Florida is also a chaotic mess, with precisely zero outbound plane tickets left from MIA and FLL for any location, and all interstates loaded up with outbound traffic.  We send our thoughts to all of you in the shit – or about to be – and encourage you to post in the SA forums to share your experiences with the others dealing with it.
September 6th, 2017 by admin
Caribbean, Bahamas, or Eastern Seaboard: Any or all of you could be in the path of a beastly storm, so plan ahead: Get your stuff out of the water or tied up in a mangrove, get your home ready, and make sure you have a way out for you and your family.  Thanks to physicist and meteorologist Levi Cowan for the web's best hurricane forecasts.
Updates in the thread.
September 3rd, 2017 by admin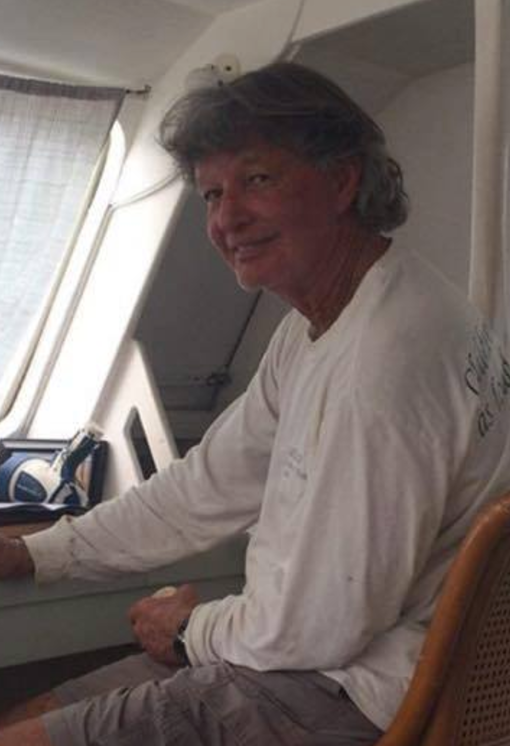 Anyone who's played around in the Caribbean racing scene for any time has come across "D" Randy West.  Quick with a multihull, quicker with a drink or a joke, we're sad to see West go and we enjoyed our own time racing with and against West on various Gunboats.   SA'er "Rasputin" wrote a little eulogy below; hit up D's Facebook Page for all the posts from wellwishers, and add your own.  And once again,  #fuckcancer. 
One of the Godfathers of the Caribbean multihull sailing and racing. and partying scenes D. Randy West has been lost to brain tumors from melanoma. I was still in bed early this morning and heard Skype ringing on my computer and it turned out to be a fellow Caribbean multi maniac in Aruba who had heard rumors of Randy passing. Must have been during the night and no real details yet but what I found on his Facebook page.
Randy owned PPALU, a 75′ Spronk catamaran and had skippered and raced a long line of Spronks since the 80's including SHADOWFAX and SKYJACK. I was lucky enough to have raced with and against him in the Caribbean and New England and he will be greatly missed among his tribe. His enthusiasm and smile was infectious and there was always a party that was threatening to break out wherever he went.
-Rasputin
August 15th, 2017 by admin
It's a struggle at times to get through this nearly 30-minute long homemade documentary of the recent rescue of the Dove II, but real footage of boats in trouble is rare and there's plenty to learn in this video from the rescuing crew aboard Tilly Mint (and video producers) from Monday Never.  Dove II is the boat we told you to go and find for a cool 10 grand in reward money after her crew abandoned her in the Caribbean around christmas, and Monday Never and their friends created a GoFundMe campaign to help them get back on their feet.
You can also find out more information by reading the family's blog account.
January 23rd, 2017 by admin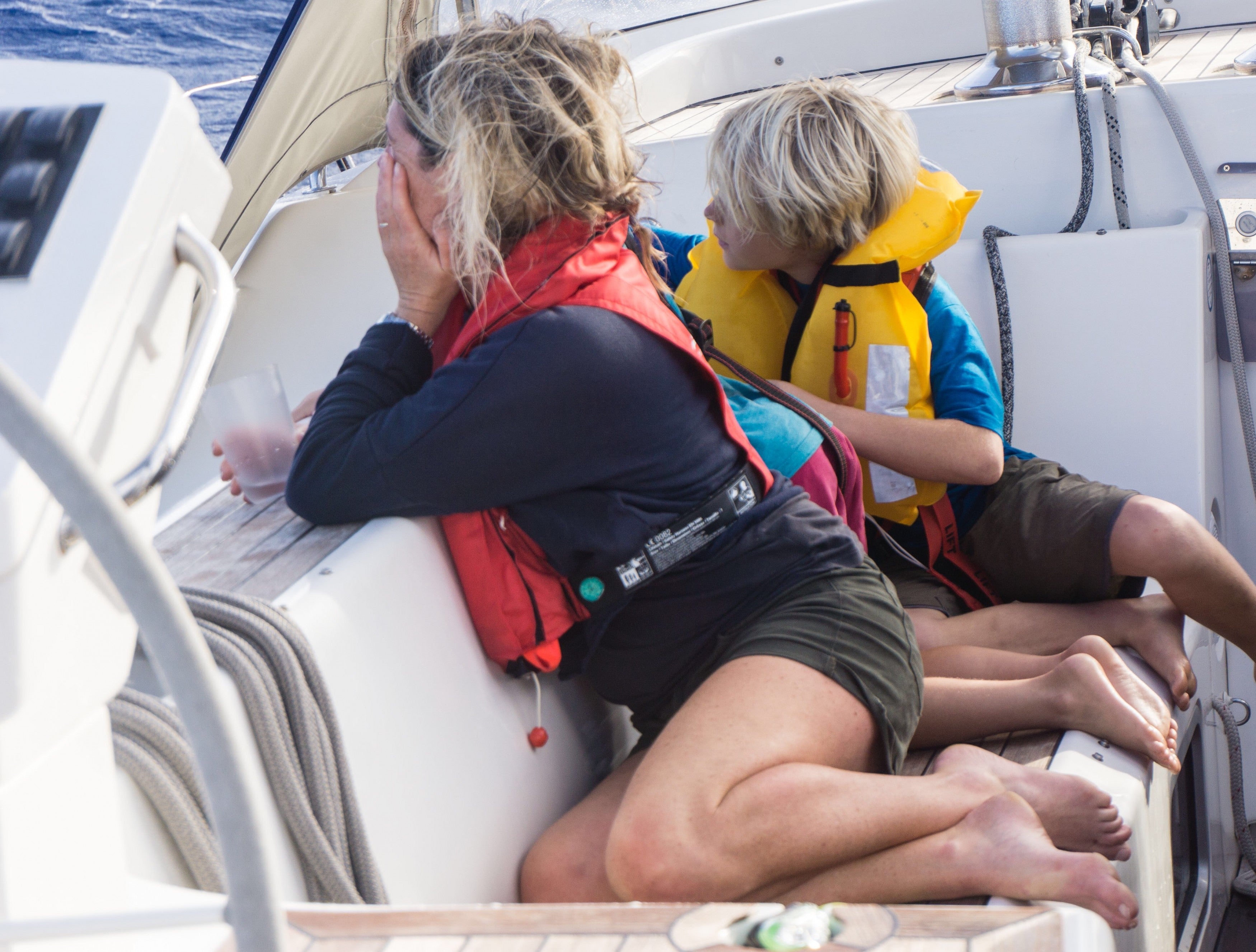 Looking for an extra $10,000 while you're lounging in the Caribbean? Read on.
A young English couple and their two adorable kids saw their cruising dream fall apart just before Christmas when they abandoned their disabled yacht Dove II in sporty conditions about 500 miles East of Antigua.  Two Chinese cargo ships couldn't make the rescue, but the lee they created while standing by helped the crew of the charter Discovery 67 Tilly Mint pull the crew of Dove to safety with a life raft.  Here's an excerpt of the rescue story from the rescuees, and head over to their blog for an extremely positive look at the aftermath of a decidedly non-positive experience.  The story begins with the disintegration of Dove's rudder, here. 
Around 5 o'clock a lot happened, Falmouth coastguard rang and advised James to leave the vessel, Fort de France followed and advised the same, Newseas Jade moved towards us, into a position to create a lee and Tilly Mint bounced around next to us looking gorgeous. When they'd radioed the night before they had sounded so professional, now we could see them and they looked professional.

We confirmed the plan on the radio and then it all happened so fast, Jim deployed the life raft off the back of the boat and then we had a moment, it was probably three seconds long but it was beautiful and broke my heart all in one and then I jumped, off the boat and fortunately into the life raft. Now I must pause here, when you think of life rafts you think I could do that, I could hang out in a life raft, drifting around, life would be fine and I'd survive. No, just no. This one was a six man raft, it was tiny and you feel incredibly exposed and open to the elements, it's sitting on a piece of plastic floating over 4000ft of sea? I got on my knees and James basically threw me Heath, he was so brave, I hadn't witnessed him and James's goodbye but he just sat where I told him, didn't scream, didn't cry, he just said "Mummy, I don't like this!"

Isla came down next and again she landed in my arms in the raft, she was very scared but she sat down next to Heath. I was saying things like " its like a paddling pool!" But as I looked at their faces they were just scared and in the end I just said repeatedly "you're fine, we're going to be ok" Tony appeared in the raft and James cut us free, we were off the boat, we were in a life raft in the middle of the Atlantic Ocean. This is a shit situation but we've got to get out of it and we unfortunately have to do that ourselves, so we all tried to stay calm.
Now, about that 10 grand: The patriarch of the Dove family posted this today: URGENT $10,000 REWARD FOR RECOVERY. Sadly we had to abandon our yacht DOVE II 460nm due east of Antigua on the 21/12/16. We are now trying to find out where it is with the hope of recovery and carrying on with our adventure.  It should now drifting towards the islands.  Could I ask people to keep a sharp lookout for it and report any sightings to myself or the coastguard. Many thanks, James.
You can read the full story of what actually went wrong on our blog.
Find out where the yacht is likely to drift by cruising the thread.  Photos from the Dove II blog.
January 9th, 2017 by admin
Tropical sailing means diseases, and the past decade has seen a grip of new threats facing anyone who spends their life next to the water.  As of last week, there's a new one.  According to the Science Daily, scientists at the University of Florida have identified a patient in Haiti with a serious mosquito-borne illness that has never before been reported in the Caribbean nation. 
it's called "Mayaro virus", and has similar effects of Chikungaya, only worse.  With the world's attention on stopping the Zika epidemic, "the finding of yet another mosquito-borne virus which may be starting to circulate in the Caribbean is of concern," said Glenn Morris, director of the UF Emerging Pathogens Institute. "Hopefully we will not see the same massive epidemics that we saw with chikungunya, dengue and now Zika. However, these findings underscore the fact that there are additional viruses 'waiting in the wings' that may pose threats in the future, and for which we need to be watching."
Watch, and learn here.
September 19th, 2016 by admin