Posts Tagged 'carbon'
There's a new player in on-the-water drone work, and if this quick peak of M32 catamaran racing on Biscayne Bay from earlier this month is any indication, they've got the goods.  Check out Up Top Photography's other work here, and head over to M32 North America on Facebook to check in with the fastest one-design fleet racing in the USA.
February 22nd, 2017 by admin
Big Pimpin'
We're not sure just what the recipe is for smashing the ultra-high performance fleets like they seem to, but we send a hearty congrats to our carbon-spinning friends at CST Marine on a phenomenal 2016 for the Aussie mast builders.  Learn more about their dinghy development and winning ways here.
1st Moth World Championships
1st Moth European World Championships
1st Contender World Championships
1st Contender Australian Championships
1st I14 Australian Championships
1st 16 Foot Skiff State Championships
2nd 16 Foot Skiff Australian Championships
1st MG Australian Championships
1st NS Australian Championships
1st Sabot Australian Championships
1st F11 Australian Championships
February 7th, 2017 by admin
Our Senior Editor and his new view on life found this carbon fiber construction irresistable. From the insanely artistic shop of Italy's Bruce Creations comes twin inlaid carbon pacifiers for a foil kiteboarder's twin babies.   Bruce spends most of their time making things that go fast (and check out this sexy custom Velocitek Speedpuck Case too), but if you're looking for something that's just black and beautiful for that special hi-performance guy or gal, he got that too.  Thanks to Rasputin22 for the find.
January 11th, 2017 by admin
The MUSTO + Torqeedo "Cleanin' Up Europe" report continues with this hour-long jaunt in Western France.
Easily one of the most influential people in all of sailing over the past decade and a half, Mark Turner has done it all.  A naval officer turned Mini racer, Turner jumped into the management side of yacht racing with his wildly successful running of Ellen Macarthur's campaigns – and he's never looked back.  The creator of modern "Stadium Sailing" and innovator of sailing events in dozens of countries, Mark moves into the top spot in the world's most widely followed ocean race against a fast-changing landscape in boat technology and event marketing, and he shared a full 1h40 with Mr. Clean at the Vendee Globe this past Friday to talk about it.
The boys got into some of the most important issues touching sailing, and Turner's characteristic bluntness is refreshing as hell.  Wanna get into the groundbreaking new rules to integrate more women into the VOR?  we got that.  Or the deadline for the decision on the next Volvo Ocean Race boat and the possible boat choices? It's in that chat.  Or maybe you're looking for info on the $1M refit of the existing VO65s or the new AIS rules and incentives to pull a flier?  Click "PLAY". Want to know exactly what's wrong with ISAF and why Turner leaked an internal marketing document a few weeks back?  Listen.  What about emerging nations, the loss of Abu Dhabi as a sponsor, and how the recent Omani and Chinese offshore tragedies have effected those new sailing countries?  Give us an hour and forty.  And like all conversations with Mark, if you want to understand more about the commercial end of event and sponsor management, this guy knows it ALL.
Enjoy, and a big thanks to MUSTO and Torqeedo for presenting all of our Vendee, ISAF World Council, and METS coverage this month.  Also thanks to Bruce Schwab and Ocean Planet Energy for their support of our coverage.
November 5th, 2016 by admin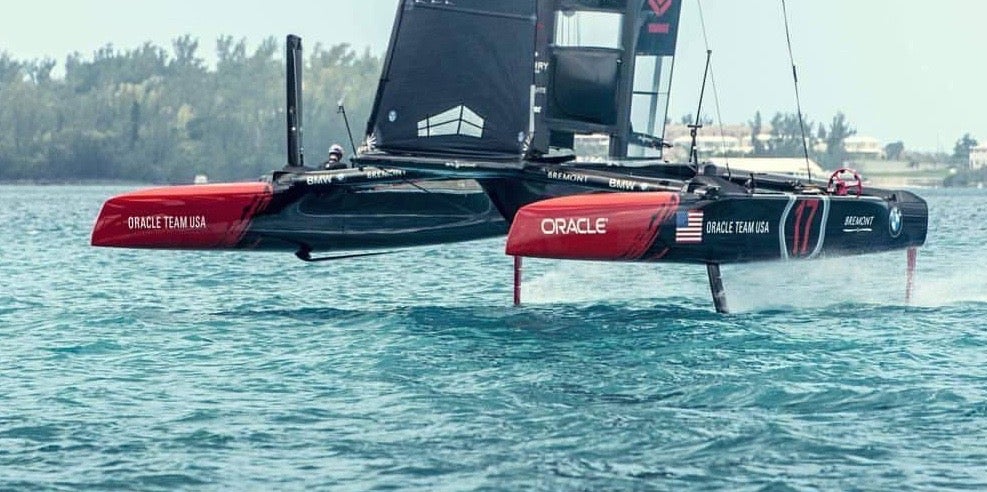 If the America's Cup were a one-design battle, we'd likely see the awesomely talented Pete Burling and his ETNZ boys run away with it, just as Pete has done against largely the same competitors in the past few years of Moth and 49er racing.  But even the highly restricted AC50 box rule allows enough design differences to likely take the ultimate prize out of the hands of the skippers, and the likeliest winner will be the team that can figure out how to get the most out of their foils, aero, and wing controls.
With variable ride control (à la the Moth) and changing foil shapes banned, designers tell us that variable foil bend characteristics may prove the key to the top speed puzzle.  You can see just how much bend the Oracle Team USA trial horse is putting into their foils, as seen above and shot the other day in Bermuda.  There's plenty of carbon bending knowledge inside the sport – see Moth, Finn masts, for example – but could the importance of flexi-foils mean the F-1 connected design team at BAR have a real head start?  After all, Formula One has been playing around with variable bend issues for a long time, most recently earlier this year.
Iron pumpers will recognize from whence comes our story title.  For the rest of you, clicky.
June 20th, 2016 by admin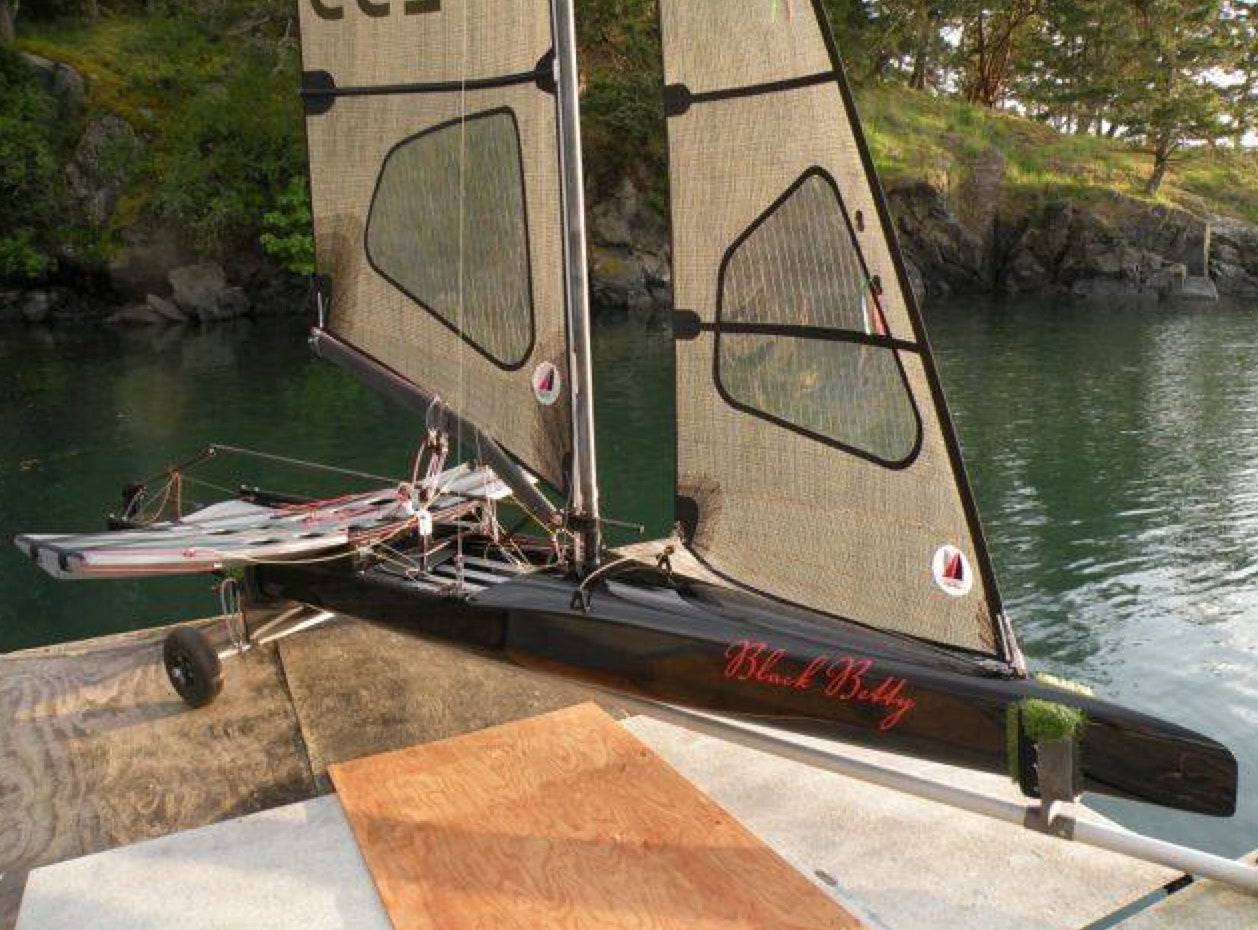 We confess to spending a few minutes ogling crack rowing shell builder and carbon artist Chris Maas's Facebook Page every week or two for the latest in carbon dinghy porn – the well-regarded PNW builder has a knack for making incredible looking craft of all types.
His last jaw-dropper was a homebuilt emerald-green Moth, but he's outdone himself with his brand new International Canoe Black Betty.   We'd say something snarky here about overused names, but this slinky little cocktail dress of a racing boat can call herself anything she damn well pleases.  More pics here.
April 22nd, 2016 by admin
There's nothing quite like low-riding in a foiling Moth, but at least it wasn't all like that for day one of the Moth Worlds.  Watch for yourself as Nath Outteridge throws down the gauntlet for this incredible fleet after three qualifying races.  It's all Aussies and Kiwis in the top 4, with Luna Rossa's Chris Draper mixing it up with the 5th place in 4-9 knots of breeze on Port Philip Bay.  Detroit's finest sits in seventh, with one more day of qualifying ahead.
Our first On-The-Water Anarchy/Perpetual Shit Show Production coverage in quite some time was about as we expected for day 1; technical issues, low framerate, and grey backdrops didn't subtract from the fact that we have finally been able to bring you our favorite event in sailing, live and in (mostly) HD resolution.  And we promise to keep getting better, so long as you keep watching.  Start with the player above – all four hours of it (we won't get mad if you skip forward, we promise), with big thanks to our 14-year old Optimist-sailing first-time cameraman Charlie Hiam, everyone at the Sorrento Sailing Couta Boat Club, Line Honors Yacht Racing Outfitters, and of course the fun-loving folks at Sperry.
G.Love brings you some title love.
January 10th, 2015 by admin
Dead calms meant lots of swimming and fishing on the big MN lake yesterday, with 29-year old Vince Porter (Melges 24 World Champ Brian's nephew) holding the A-Scow US National Championship lead after two races.  Racing begins at 10 AM central for all the marbles today, with Clean and the team streaming it all live.  Check it out above, and go here for the results after two.
June 22nd, 2014 by admin
The Rambler 100/Speedboat keel that nearly killed more than 20 sailors during the 2011 Fastnet has finally been plucked from the deep; will the world of yachting finally get an answer to what caused one of the most ridiculous and potentially deadly accidents in recent memory?  We're not holding our breath.  Photo via West Cork Photo's Facebook page.
June 13th, 2014 by admin