Posts Tagged 'carbon'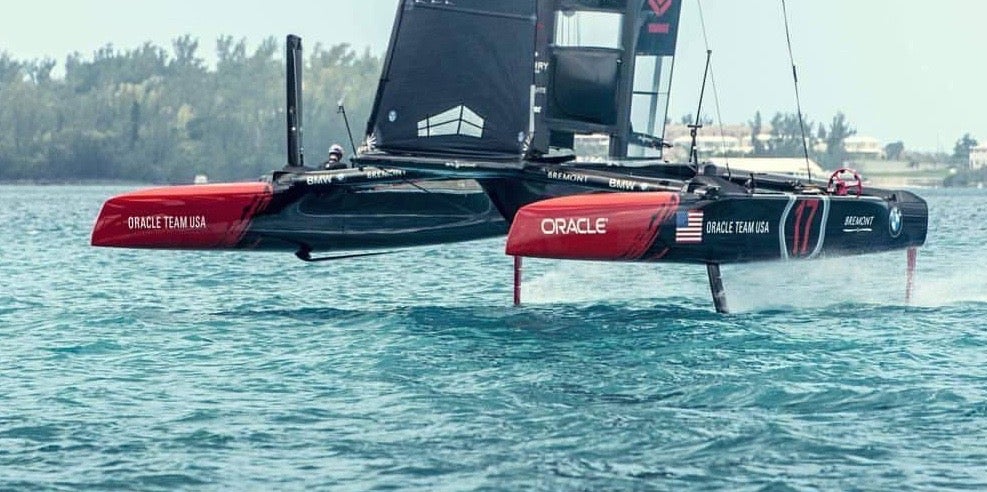 If the America's Cup were a one-design battle, we'd likely see the awesomely talented Pete Burling and his ETNZ boys run away with it, just as Pete has done against largely the same competitors in the past few years of Moth and 49er racing.  But even the highly restricted AC50 box rule allows enough design differences to likely take the ultimate prize out of the hands of the skippers, and the likeliest winner will be the team that can figure out how to get the most out of their foils, aero, and wing controls.
With variable ride control (à la the Moth) and changing foil shapes banned, designers tell us that variable foil bend characteristics may prove the key to the top speed puzzle.  You can see just how much bend the Oracle Team USA trial horse is putting into their foils, as seen above and shot the other day in Bermuda.  There's plenty of carbon bending knowledge inside the sport – see Moth, Finn masts, for example – but could the importance of flexi-foils mean the F-1 connected design team at BAR have a real head start?  After all, Formula One has been playing around with variable bend issues for a long time, most recently earlier this year.
Iron pumpers will recognize from whence comes our story title.  For the rest of you, clicky.
June 20th, 2016 by admin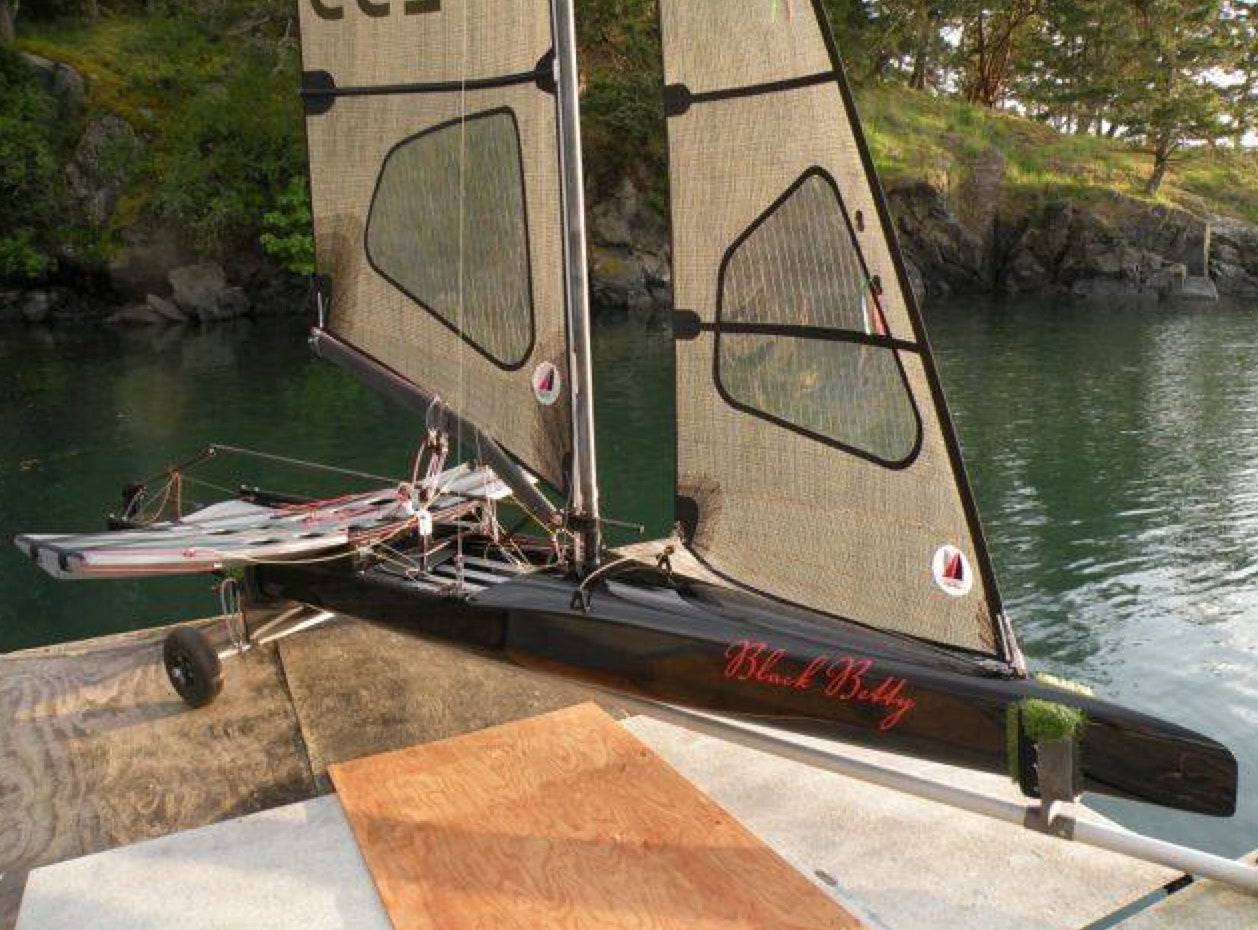 We confess to spending a few minutes ogling crack rowing shell builder and carbon artist Chris Maas's Facebook Page every week or two for the latest in carbon dinghy porn – the well-regarded PNW builder has a knack for making incredible looking craft of all types.
His last jaw-dropper was a homebuilt emerald-green Moth, but he's outdone himself with his brand new International Canoe Black Betty.   We'd say something snarky here about overused names, but this slinky little cocktail dress of a racing boat can call herself anything she damn well pleases.  More pics here.
April 22nd, 2016 by admin
There's nothing quite like low-riding in a foiling Moth, but at least it wasn't all like that for day one of the Moth Worlds.  Watch for yourself as Nath Outteridge throws down the gauntlet for this incredible fleet after three qualifying races.  It's all Aussies and Kiwis in the top 4, with Luna Rossa's Chris Draper mixing it up with the 5th place in 4-9 knots of breeze on Port Philip Bay.  Detroit's finest sits in seventh, with one more day of qualifying ahead.
Our first On-The-Water Anarchy/Perpetual Shit Show Production coverage in quite some time was about as we expected for day 1; technical issues, low framerate, and grey backdrops didn't subtract from the fact that we have finally been able to bring you our favorite event in sailing, live and in (mostly) HD resolution.  And we promise to keep getting better, so long as you keep watching.  Start with the player above – all four hours of it (we won't get mad if you skip forward, we promise), with big thanks to our 14-year old Optimist-sailing first-time cameraman Charlie Hiam, everyone at the Sorrento Sailing Couta Boat Club, Line Honors Yacht Racing Outfitters, and of course the fun-loving folks at Sperry.
G.Love brings you some title love.
January 10th, 2015 by admin
Dead calms meant lots of swimming and fishing on the big MN lake yesterday, with 29-year old Vince Porter (Melges 24 World Champ Brian's nephew) holding the A-Scow US National Championship lead after two races.  Racing begins at 10 AM central for all the marbles today, with Clean and the team streaming it all live.  Check it out above, and go here for the results after two.
June 22nd, 2014 by admin
The Rambler 100/Speedboat keel that nearly killed more than 20 sailors during the 2011 Fastnet has finally been plucked from the deep; will the world of yachting finally get an answer to what caused one of the most ridiculous and potentially deadly accidents in recent memory?  We're not holding our breath.  Photo via West Cork Photo's Facebook page.
June 13th, 2014 by admin