Posts Tagged 'Carbon Fiber'
Gunboat Tech/Sales Director Nils Erickson got bored on the plane to the Caribbean and came up with this gem of a Form Guide for the high performance, HNW, hard-partying luxury cat racing class at the BVI.  This is too good a piece for plain old pimpin', but always consider the source!  
Hot on the heels of the St. Thomas International Regatta, this year's BVI Spring Regatta may well feature the hottest collection of performance multihulls ever assembled on Virgin Island waters.  This burgeoning market segment is seeing new players in what was once Gunboat's private playground, and with events not only in the Caribbean but in places like Palma (where last summer's Multihull Cup attracted 3 Gunboats, an HH-66, MC2-60 and APC78), the future of big multihull sailing looks bright indeed.
Traditionally, Gunboats have made the Heineken Regatta their winter event of choice, but this year the fleet has settled on the BVI Spring Regatta in Tortola. Nanny Cay Marina has been running the event for several years now, and it's become one of the best events on the calendar. With over 100 new slips open this season and constant improvements to the facility, Nanny Cay and BVI Spring Regatta have become a premier destination and event. This regatta will feature the fastest versions of 4 different platforms (Gunboat 60, Gunboat 62, Gunboat 66, and HH66) which should provide for some compelling action and some great stories.  With that in mind, here's my shot at an impartial Form Guide for the event, and we encourage you to follow along at Gunboat's Facebook page here.
Extreme H2O (Gunboat 66): She's the reigning queen of the West Coast performance cats having won catamaran line honors in almost every race she's entered (Cabo, Transpac, etc). She's left the Left Coast in search of stiffer competition and hopefully a new home (she's for sale). Extreme H2O will face off with her East Coast rivals for the very first time. This Morrelli Melvin designed Gunboat 66 is the most technologically advanced Gunboat out there (hybrid drive system, HUGE C boards, T-rudders, etc) and she's arguably the fastest Gunboat afloat. Weighing it at a svelte 17 tons, she's still going to need a bit of breeze to take advantage of her greater righting moment compared to lighter and smaller Elvis. Extreme H2O will be sailed by Team Gunboat, with Vincent (the LP of VPLP), Xavier, and Matthias also from VPLP, as well as some of Gunboat's French internal design and management team. Hopefully, Extreme H2O project manager Malcolm Park, skipper Hannah Jenner and her core crew can make up for the desk jockeys (myself included) that will be "trying to help". VI legend/Olympic/America's Cup/all-around rockstar Peter Holmberg will be joining to offer some local knowledge and expertise as well. He's recently purchased an Outremer for his own personal enjoyment, so he's the latest member of Gunboat's extended "family". (Photo credit Ultimate Sailing/Sharon Green).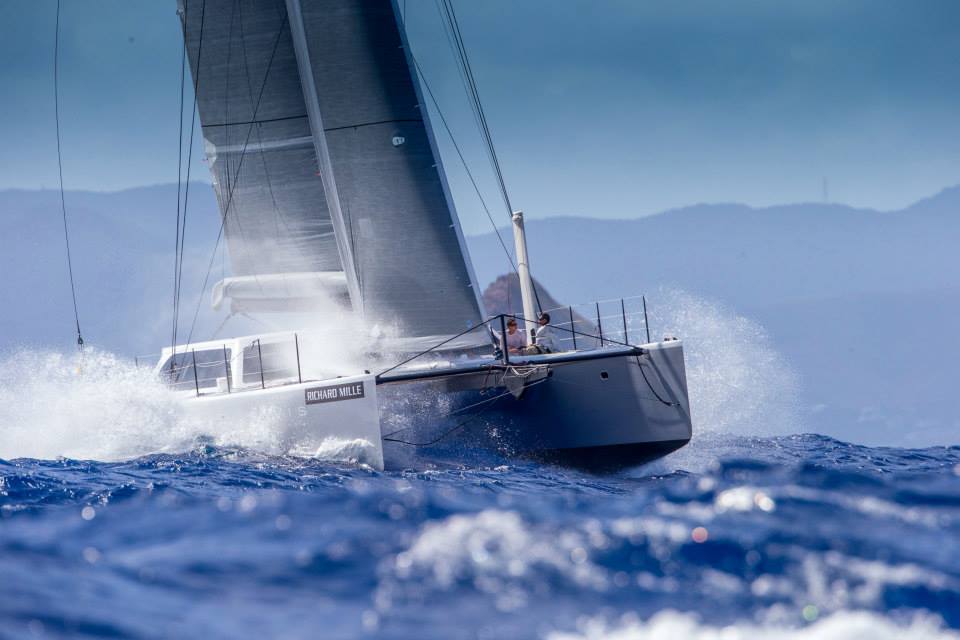 Elvis (Gunboat 62): The King. Jason and the Argonauts. Throw a dart on that boat and you'll hit a world champ. Their bench is deep with talent. Not only is Jason one of the best owner/drivers out there, he's one of the best drivers out there, period. When they aren't sailing on the Gunboat, they are busy in the GC32 circuit. When they aren't doing that, they are crushing it on the Melges 32, Marstrom 32, Viper, whatever is fast and fun. These guys rarely make a mistake on the course and they are fast into and out of the corners with superb sail-handling. At <15 tons she is powered up early, and these boys stay on the throttle up the wind range (I'm not sure they even know HOW to reef). Combined with a devoted rum tank and a booming stereo system, these guys know how to race hard, play hard.  Photo credit Christophe Jouany.
Flow (Gunboat 60): Hustle and Flow. The first Gunboat 60 to be fully optimized, she has redefined what we can expect from the Gunboat 60. There's been rigorous preparation of the boat by one of the industry's best skippers, Tony Teale. Rigging Project's Nick Black has gone through the deck gear, layout, and helped with a new Lorima ultra high mod rig, Jack Slattery has spearheaded a new suit of 3di Sails, and America's most famous multihull sailor and all around dynamo, Cam Lewis, is their own "Neal Cassidy".  Coming out of a refit that pulled 2 tons (!) out of the boat, they are sailing at the top of the game. Photo Credit Laurens Morel
Arethusa (Gunboat 60): No one better exemplifies the real benefits of a Gunboat like NYYC Commodore and Gunboat 60 owner Phil Lotz. He and his wife have spent the last several weeks living aboard, doing some racing and some cruising. They are more Corinthian in spirit, making full use of their boat before, during, and after the regattas. There's nothing like racing at 25 knots, then coming back and cooking a delicious meal and enjoying the sunset from the aft deck of the very same boat. Phil has no shortage of trophies on his mantle, and they are fantastic sailors. They've (so far) avoided the arms race, but with Phil's energy behind the new MultiRule rating rule, there should be more parity among the fleet. Photo credit: Gary Jobson
Momentum (Gunboat 60): Hide your daughters and bring your ear muffs. These Jamaicans WILL have more fun than anyone, guaranteed. The boat has 23 speakers and no shortage of Red Stripes. Legendary skipper Lucky Mike (picture a bald, S. African Captain Ron) and the rest of the crew will be the life of the party.  Photo credit: Lucky Mike
Dominator (Outremer 5x): These guys were the big surprise at this year's Heineken Regatta, beating larger (and way more expensive) boats on the water. Skippered by Gunboat 62 "Elvis" alum Dave Allen, and owned by the father of an Olympic sailor and Rolex Yachtwomen of the Year, this is a family that knows how to sail and these guys are punching way above their weight class. I expect Gunboat and Outremer owner Xavier Desmarest to be shocked at what you can do with/to an Outremer. Still in its original configuration, these guys are just sailing harder and smarter, and it shows.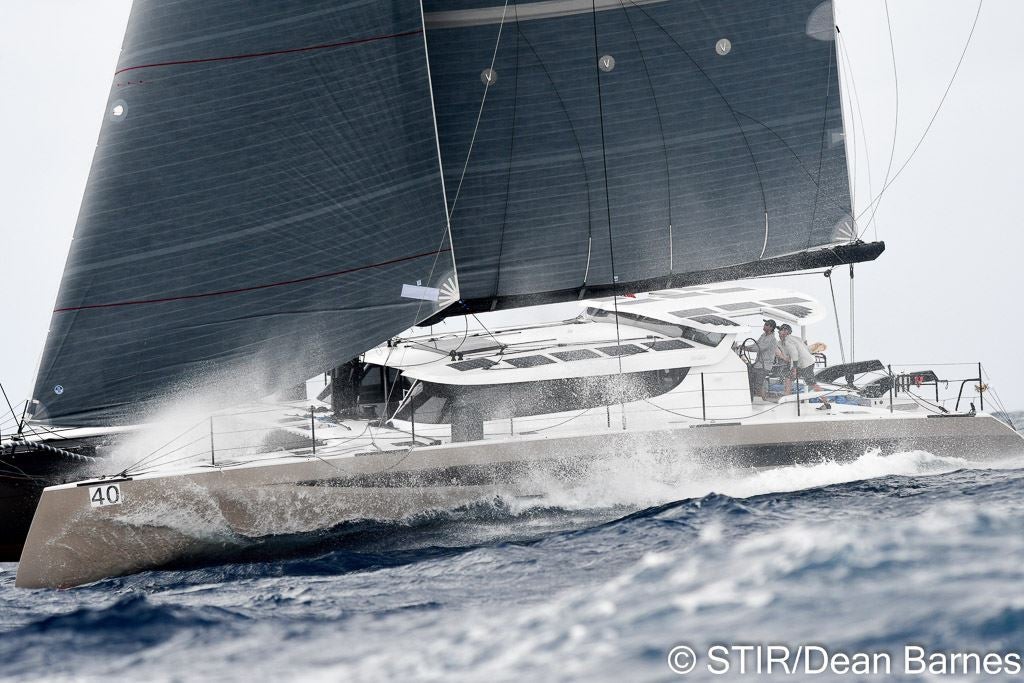 Nala (HH66): The lightest, fastest, and most turbo'd HH66, Nala will be one of the fastest boats on the course. Coming off a big win at STIR, expectations are high for the boat. Owner Jim Vos is a fantastic monohull sailor who is taking his first steps into the multihull scene. He did spend the summer training on his A-Cat, though, so he should be comfortable at the helm. With HH designer Gino Morrelli backing him up and Kenny Read in the afterguard, this boat should be a real threat for line honors. Most people think of Kenny as a monohull guy (Puma, Comanche, Stars and Stripes), but don't forget that he also owned a Marstrom 32 and previously owned my Formula 40, Soma, so multihulls are in his blood. Nala is over 3 tons lighter than her sistership R-Six, so any conclusions drawn about the HH66 based on R-Six's performance at the C600 or Heineken will have to be reevaluated after BVI Spring. (Full disclosure, I was owner's rep for the build of Nala for two years before I accepted the job at Gunboat. We pulled 3 tons out of the platform and turbo'd the mast, boom, and longeron. Despite my role with Gunboat I'm still quite proud of what we came up with. Go Nala!).  Photo credit on the shot with thanks to our old pal L for sourcing it.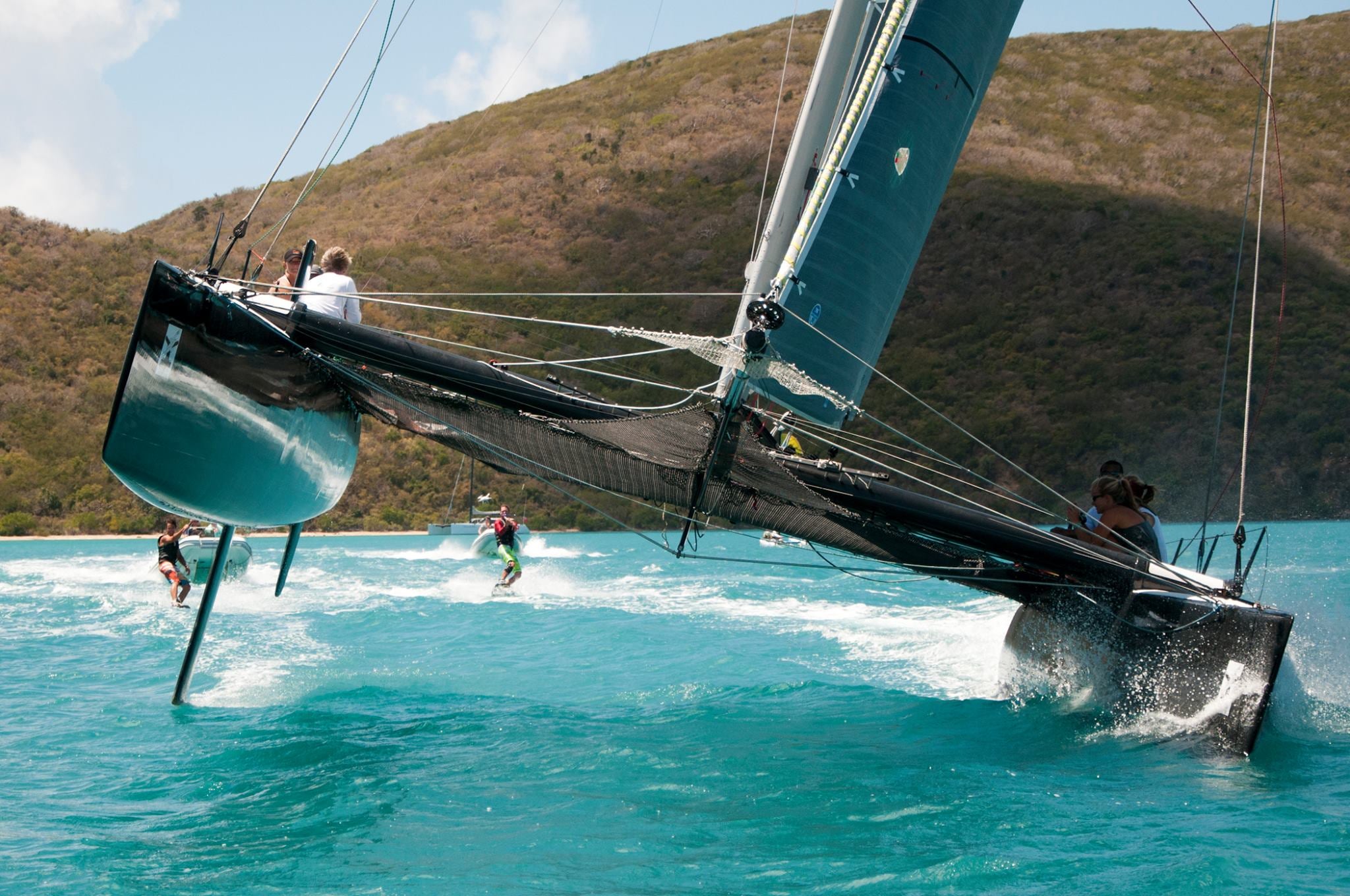 Conspicuously absent this year will be defending champ, Soma. She does have front row seats for all the action in the Sir Francis Drake Channel, though. Like Melania Trump, Soma is just a forgotten and unloved trophy wife…Photo credit: Mar Javierto
In the end, though, it's not about who's got the tallest mast or the most trophies. It has been (and hopefully will remain) about the people and times. The camaraderie on the dock, the time with friends and family, and the late-night repairs (and other shenanigans) are what make the events memorable and why people come back. We at Gunboat have got some fun events planned for the fleet that will hopefully form the backbone of a new tradition moving forward. VPLP are organizing a party at the Willy T (which should be legendary), BVI Painters and Nanny Cay are hosting a cocktail party in the new marina. Of course, Nanny Cay and the organizers of BVI Spring Regatta are responsible for all of it, so big thanks to Cameron, Miles, Emily, Judy, and everyone else there, too.
Though Gunboat invented this market segment, it's a big tent and there's room for everyone.
March 28th, 2017 by admin
Thanks to the wishes of an uber-secret previous owner, images and videos of the monster Gunboat 90 have been scarce since her launch.  But now that the biggest and baddest cruising cat of all is up for sale, the covers are coming off for the world to see.  She's got the M&M 'battleship' lines that so many love about the pre-2013 Gunboats, and this girl is definitely the only luxury superyacht that can easily hit 30 knots under sail and embarrass any other superyacht on the planet around the cans.
We're not superyacht lovers by any means, but if we were billionaire industrialists or climate-denying oligarchs, this is what we'd sail away on once the coasts are under water and the poor are eating the rich.   Hit up Nils for more details about the G90 or to arrange a (carefully pre-qualified) test sail.
March 24th, 2017 by admin
"The reports of my death are greatly exaggerated." -Mark Twain (or not)
Bad news from Bristol RI filtered around the top end of the sport this weekend after employees at Hall Spars US were sent home on Friday for the remainder of the year and the shop more or less shuttered.  It was widely known that a big player had been looking into the purchase of Hall for months, and last week, that deal died.  We reached out to Ben Hall to find out if one of the world's best and most beloved spar builders will make it through the suck, and after he spent the day putting 112 feet of carbon art into the new Gunboat 78 (see above), Ben seemed optimistic, telling us that there's lots of action from interested groups. Discuss here, and here's the official statement from the company.
From: President/CEO

To: Whom it May Concern

Subject: Status of Hall Inc.

There are many rumors being spread regarding the status of Hall Spars.  Hall Spars is a strong global brand and a leader of spar and rigging design and production around the world.  Hall has three locations: Hall USA, Hall BV (Holland), and Hall NZ (New Zealand). The three locations are owned by Hall Inc. and operated independently of one another with their own management team.

Approximately five months ago, Hall Inc. began a recapitalization effort to strengthen its position in the marine industry. For the past three months, Hall has been working on a deal with the company in the US.  Last Thursday, one week before closing this deal, our buyer dropped out.  Presently, Hall BV and Hall NZ are in full operation and will continue to be, while Hall US has shut down for the holiday season.

Our recapitalization efforts are continuing very aggressively with the goal of completing these efforts in January.  Hall has enjoyed great success over the past 36 years and will continue to do so.  I ask that you be patient with us as we complete our efforts to strengthen our company and continue to provide the quality product and service you have grown to expect from the Hall brand.

Thank you for your support!

-Thomas M. Rossi
December 20th, 2016 by admin
Dial-downs, slam dunks, lead changes, capsizes, and hot babes on the beach seemingly everywhere?  Yeah, we're cool with the new face of the previously ignored World Match Racing Tour.  Will 6-time World Tour Champ Ian Williams and the GAC Pindar boys beat out 2014 M32 Series Scandinavia winner Hans Wallen and his WAR racing team?  You'll have to tune in to Clean and Shawzi on the microphones on finals day from Fremantle to find out.
March 6th, 2016 by admin
Clean Report
As the M32 Series live TV commentator and the voice on the carnage-filled highlight reel above, I accept that I am a little biased.  But in my opinion, this video (and the live coverage of the final day of racing that it is pulled from) was some of the most interesting and exciting racing I've seen in a long, long time.
It's easy to be invigorated at an event like this: Between the decidedly youthful flavor of the M32 fleet, the genetic deliciousness of Swedish women, the absolute love for the sea and sailing that so many Swedes seem to have, and the excellent turnout for an event that's just barely off the ground, I'm on cloud nine, and I can't wait for the rest of the season.
Equally impressive is the vision that former Berg Propulsion CEO and owner Hakan Svensson has for the M32, and we'll have some surprising and interesting announcements from them later in the week.  In the meantime, you can relive the Gothenburg event with the video above, and the links below.
Team Essiq Crash and MOB (slow-mo)
Team Trifork Capsize (3-angle)
Interview: Goran Marstrom and Kare Lung (Creator and Designer of M32)
June 16th, 2015 by admin
Too many stories, too many Dark'n Stormies, and too many competitors to keep track of, the 20th anniversary of Sperry Charleston Race Week sets another attendance record as the spring classic inches towards 300 boats.  This year they'll squeeze yet another sportboat class in with the VX-One, with 10 boats signed up for their first year at the event.  It's also Melges 20 Nationals and several other championships, but the monster fleet is again the J/70, with 80 and change on the split lines.  That's 230 boats or so racing in a harbor that's about a mile wide, and you can see who's what and where over in the scratch sheet.
As serious as some are, the majority of sailors are here because it's always fun and always unpredictable, and that's what Petey Crawford captured with this short preview and practice reel from today.  Enjoy the film and keep an eye on Facebook for all kinds of updates this weekend.  CRW has plenty going on themselves over at their Page, including a contest;  If you like them, along with Coral Reef and Gill NA, you get a chance to win one of two remaining Charleston'd up Gill Crew Lite jacket (they gave one away today).
And when you're bored tomorrow at work, click back here on the front page for our first livestreamed video coverage of Charleston Race Week in 4 years, with huge thanks to Sperry for helping us put it all together for you.
April 17th, 2015 by admin
Volvo Ocean Race Breaking News
We're extremely stoked to be able to report to you with 100% confidence that Chris Nicholson will get another shot at winning the Volvo Ocean Race this coming October!  VOR fans will remember the affable Aussie sailing to a runner-up spot in the last two editions of the race, including an incredible run from the back to nearly a win in the previous race as skipper of Camper.  
Multiple sources have told us the the former 49er standout is the guy with the helm for the final Volvo 65, and the fact that we haven't been able to reach him despite blowing up a dozen connections over the past two days might even provide a little confirmation in itself (we're told he is 'out of internet range').  This confirms what we reported hearing back in June, but there's a new twist; rather than Russian sponsorship as we opined, it now appears that one of a select few Danish corporate giants will be footing the bill as title sponsor for a Danish-flagged Volvo 65.
It isn't hard to name the Danish companies with deep involvement in the Volvo; Satcomm giant Thrane & Thrane and shipping behemoth Maersk have been major corporate partners and sponsors for the race for years, and if the VOR allowed them, either would probably be happy to be a title sponsor for a team put together by a two-time runner-up in the race.  But our favorite rumor, and one that we think may be the real deal, is that monster windpower manufacturer and installer Vestas will be behind the effort.
The name Vestas is probably better-known to our readers than many sailing sponsors thanks to an extremely effective branding campaign with Paul Larsen's wildly successful  Sailrocket world speed record program, and a Volvo team makes some sense for them; while they still are at the top of their field, significant competition has seen their market share erode since the mid 2000s despite their growth throughout the world.  A major international effort in a green sport like sailing could help drive the Vestas name to a wider audience, while the hospitality part should be easy; Volvo has been accommodating the folks at Maersk and Thrane for years.
While we're not as sure of the Vestas connection as we are of Nicho's appearance, allow us some wishful thinking; how cool would it be to have a giant windpower sponsor – one we already dig because of their support of the batshit-crazy overachiever Paul Larsen –  in the sport's most visible ocean racing challenge?  And with one of the sport's coolest customers and best racers at the stick?
We love it, and fans of great racing should love it, too.  While it is indeed the 11th hour, with just 8 weeks left until the gun sounds in Alicante, we have zero doubt that Nicho can put together a shit-kicking team, and with Neil Cox back in his role as one of the world's most highly regarded shore/team managers in the game, we expect the Vestas boys to be damned fast, out of the box.  Bouwe, Ian, Iker, and Nicho all have some seriously unfinished business ahead of them, and it just got a lot tougher to win.
This is going to be war…and we just got a new favorite for the win.
MORE BREAKING NEWS
In another bit of somewhat astonishing news that continues to throw the early form guide into disarray, we have also recently learned that France's most famous and legendary living sailor, Michel Desjoyeaux, will indeed race aboard the Spanish Team Campos, as a Watch Captain, filling in for Iker as skipper during the two or three legs when he'll be off on Olympic duty in the Nacra 17.  Not many people can say they've got MichDej sailing for them as a watch captain.
Want more?  Hit the thread.
August 2nd, 2014 by admin
The A-Cats continue their uncertain march toward full foiling despite Class rules specifically formulated to prevent it; To paraphrase Jeff Goldblum, "Flight finds a way", and it certainly has.  And in spite of (or, perhaps, thanks to) the rules rift, the Gunboat A-Cat North Americans at SailNC on the Outer Banks has one of the biggest NorthAm fleets in the Class's history.
While we won't see the illegal but logical bottom-in L-foils that a few Aussies are experimenting with in Sydney, a 60+ boat fleet will include quite a few cassette and J-board foilers and some serious talent on hand.  Our own Senior Editor is on the ground in Manteo, North Carolina to help the Gunboat team provide all sorts of interesting coverage of one of the coolest events in the US this year, and it all begins above with a good look at some of the sailors and some of their rides.
Best place to follow every bit of 5 days of sailing on the breezy Carolina coast, including a pile of pics already? SailNC's Facebook Page.
June 9th, 2014 by admin
Since the end of the America's Cup, have you experienced any of the following symptoms?
1) Pain when you see slow sailboat racing?
2) Inability to sleep without youtube videos of AC45 crashes going in the background?
3) Compulsive watching of any foiling boat videos no matter how short, terrible, or foreign?
4) Obsessive research about J-foils, L-foils, T-foils, Elevators, and all sorts of other shit that has no bearing on your personal sailing?
If so, you need to take two Great Cups and call us in the morning.
That's because we will be broadcasting live from the first ever non America's Cup foiling multihull regatta this week in picturesque Lake Traunsee, Austria, where racing teams from all over the world will be test sailing and then racing the first few GC-32 foilers against each other as well as one of the older-foiled designs.  Luna Rossa's been training for the better part of a week with some seriously cool results – the first foiling gybe ever – and we certainly expect them to kick some ass, but with AC folks like Slingsby, Langford, Minoprio and more all checking in, it could be anyone's game.
Our own Mr. Clean will be leading the commentary team for four hours each day of live action racing. Tune in right here, but only if you like excitement, spray, beautiful alpine backgrounds, and top America's Cup teams.  Miss it and you miss one of the most exciting developments in the sport.
May 27th, 2014 by admin
Looks like some breeze finally hitting the Harbour for the fourth race of what's been a light air affair until now in the JJ Giltinan/18 Foot Skiff Worlds.  Today most of the fleet has their small rig up; will it pay or will it wallow?  Watch right here and a big shoutout to the great job the whole live streaming team is doing; it's our privilege to be their Official Streaming Partner and we're stoked there are another 4 days of great action ahead!
The Cocksweat aboard Thurlow Fisher Lawyers in the lead after three.  Make sure you register to view the video archive and play Pick the Podium.
March 4th, 2014 by admin