Posts Tagged 'capsize'
Granted our Hungarian is pretty awful but we believe this Libera-class lake boat went over on Lake Balaton on Saturday.  There's a nice sequence of photos on the the Raffica Team's Facebook page here, and more about this cool old racer's history here.  Thanks to Marco Perazzo for the heads up.
June 5th, 2014 by admin
With Cheeki Rafiki's crew being well known to many Anarchists, the continuing tragedy of their loss and the resulting discussion has been a painful one, but with yesterday's discovery by a USCG rescue swimmer that the life raft was still aboard the capsized Beneteau 40.7, the mourning can properly begin, and with it, the speculation.  It sounds very much like another Beneteau 40.7 incident from 2007, when the Great Lakes based Barracuda capsized after losing her keel with less sad results – read more about that one here.  With so many thousands of miles sailed by the 40.7 and so few incidents, it's hard to say there is a real design flaw in the boat, though some would say that a keel bolted to nothing more than resin and glass is an accident waiting to happen.  What's more likely in this case is human error compounded by an unforgiving keel attachment design – either a grounding or improperly torqued keelboats may have compromised the end bolts, and when they let go in big seas, the keel began tearing itself out of the boa by the middle ones.  This would explain Rafiki's crew searching for a water leak that they never found, and may have still been searching for when the keel let go and the boat capsized, and the photos bear it out.  Combine that with an oversize life raft located in a spot that may have been unreachable for the crew, and you have a recipe for the loss of four souls.
Our deepest condolences go out to the friends and family of the lost, and we encourage you to look in on the Rafiki Capsized thread to start digging in to the important lessons we can all learn from this sad accident.  It's early days and there will be plenty more to come, but we can start here:
1) At least one EPIRB should be attached to the deck of the boat with a hydrostatic release.
2) Always carry the proper life raft for your crew size.
3) A life raft stowed in an inaccessible spot might be worse than no life raft at all.
4) Immersion suits should be required equipment for high latitudes.
Photo courtesy of the US Navy.
May 24th, 2014 by admin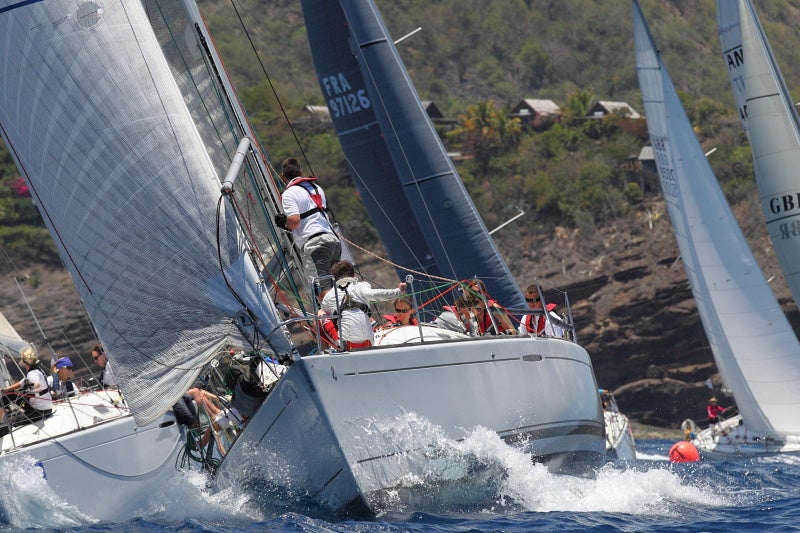 UPDATE 2: The petition to re-start the search for Cheeki Raffiki has pulled in 80,000 new signatures since we posted the link this morning, and we've got calls into the USCG to learn if they're listening – until then, keep signing and sending it around to your sailing friends!!
MONDAY MORNING UPDATE:  This is some heartbreaking shit, and we just don't understand why the USCG would end the search so abruptly, despite the upside-down hull being likely spotted (though not checked), two personal EPIRBs recorded and a crew and safety equipment that's been through the Middle Sea, Fastnet, ARC, and Caribbean 600.  This is just 600 miles or so from Cape Cod, and if the USCG doesn't fulfill its responsibilities so close, how can we ask other countries to SAR our sailors when we're overseas?? Tim Wright photo of the boat from Antigua Sailing Week just a couple of weeks ago.
PLEASE ADD YOURSELF TO THE 19,000 PEOPLE WHO'VE ALREADY SIGNED A PETITION TO GET THE USCG BACK OUT THERE NOW.  There are comments from hundreds, including the children, parents, friends, and relatives of the four souls abandoned out there; if you want to have your heart torn out, have a read.
And here's the official release from the owner of the boat, Stormforce Charters.
18th May 2014, 2234 BST

We remain devastated that the four missing crew from the yacht Cheeki Rafiki, Andrew, James, Paul and Steve have still not been found and that the US Coastguard has suspended the search.  We were informed on Sunday that a capsized yacht had been found in the search area by the merchant ship M/V MAERSK KURE. However, the sea state prevented them from closely examining it which is very disappointing but understandable. We remain hopeful that they are in the life raft although conditions have been poor in the Atlantic which would be very challenging for them.

We are working, with the crew's families, to try and persuade the US Coastguard to resume the search.  We are very grateful to the M/V MAERSK KURE which volunteered to remain and continue the search on Sunday until such time as it was stood down in the evening. 

Our thoughts remain with our friends Andrew, James, Paul and Steve and their families.

-DOUG INNES, Principal & Director, Stormforce Coaching
The crew of the Beneateau 40.7 Cheeki Rafiki  ran into difficulties on Thursday while returning from Antigua Sailing Week. Contact was lost early on Friday as they diverted to the Azores and a coast guard search has been called off.
They are feared to have capsized and abandoned to a life raft, Southampton charter firm Stormforce Coaching said. US and Canadian aircraft and merchant vessels looked for them on Friday and Saturday but have now called off the search, Stormforce director Doug Innes said.
The Royal Yachting Association named the four crew members as Paul Goslin, 56, and Steve Warren, 52, who are both from Somerset, Andrew Bridge, 21, from Farnham, Surrey, and 23-year-old James Male, from Southampton. It described all four as "very experienced offshore yachtsmen".
They are thought to have been delivering the vessel back after it participated in Antigua Week, regarded as one of the world's top regattas. Mr Innes said Cheeki Rafiki started taking on water on Thursday. He said: "We were in contact with the skipper and at the time the yacht and crew were keeping the situation stable.
"They had not been able to ascertain where the water ingress was from and were diverting to the Azores. Read on at the BBC News.
May 19th, 2014 by admin
This cat sailor got a closer look than he bargained for and set up this great football analogy after a capsize just downwind of the Viper fleet during the second day of Charleston Race Week.  Meredith Block Photo and an awesome gallery of 111 photos from Day 2 here.
 The HD Day Two Highlight Reel from Petey Crawford is here.  Results here.  Follow the final day of action on Facebook here.
April 13th, 2014 by admin