Posts Tagged 'capsize'
Everything about the Ultim class of giant, singlehanded trimarans is over the top.  The size, speed, and power output of these monsters is hard to comprehend unless you've been on one, and the speed at which bad things happen is truly stunning.  All of this makes it a surprise that we haven't seen more of the big trimarans go over, but with Gabart, Le Cle'ach and the rest of the nutters prepping for a busy year of record attempts and the Route Du Rhum, we're bound to see a lot more of what we saw early this morning: one of the world's fastest sailboats – upside down, with the skipper and crew hanging out inside waiting for their shore teams and a tow. Head over here to check out a 360 degree video of the Maxi Banque Pop, and here's more from their media team:
-Crew (Armel Le Cleach, boat captain Pierre-Emmanuel Herisse, and cameraman Fulvio d'Aguanno) are safe and uninjured inside the boat.
-Capsize occurred around 3 AM off of Morocco,
-Crew quickly triggered EPIRB, support and salvage plans were activated immediately and support operations are in progress.
-Trimaran was headed to Nice to compete in the Nice UltiMed event
-Weather data does not show anything extreme.  Team is awaiting Armel's explanation for the incident.
-Too early to say if Maxi BP will be able to make the Route du Rhum now.
April 14th, 2018 by admin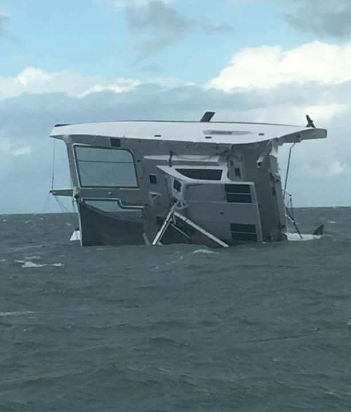 The 40 foot cat Rushour went over at the Royal Queensland on Wednesday, and the driver quickly posted a report to the SA Forums for the benefit of other cat owners.  Kudos to 'bushsailor' for a near-perfect after-action report full of lessons.
Forecast was for 20kn se wind.  We set the boat up with one reef and self tacking heady.  THIS CONFIGURATION IS VERY MANAGEABLE IN 20KN.
We started sailing to windward with the intention of building speed then bearing away to go downwind.  Main traveller was fully down and a crew member was holding the main sheet.
Speed built very quickly as we got hit by a big gust (40 kn). Hull started to come up, main was completely dumped but hull kept climbing.  I (helm) turned up to feather the sails but response was slow because all drive was coming from the heady and the bows were pressed.
Boat capsized sideways.  Whole thing took maybe 5 seconds.
Mistakes: Bloody B&G wind instruments were not working so no appreciation of building breeze. (Rushour commonly does 20kn on a shy reach so 30kn of wind across the boat seems normal.)
We never normally hold the jib sheet. (obviously a mistake)
We were rushed with some inexperienced crew and I  never allocated roles.
I was complacent. I never even come close to even flying the hull high on the new Rushour.
The gust of wind combined with boat speed gave approx 55 kn over the deck which was obviously enough to capsize a 7 ton boat.
The wing mast may have contributed to the capsize.
lucky we were only in 4m of water and Rushour has a very strong wingmast so we were able to attach ropes to the high hull and tow her around so the bows were pointing into the wind and towed her over.
The bottom hull was flooded and that helped to right the boat.  You need a very big tow boat to pull a big cat over. We used a commercial cat Cat of Nine Tails to pull her up.
We had her upright about 2 to 3 hours after capsize.  I would not want to go through that in the open ocean.  A huge thank you to all the people who rallied around and helped right, retrieve, clean the boat, and for all the messages.
It makes you realise how good it is to belong to a strong sailing community.
November 10th, 2017 by admin
It's been six years since Mark Morley and Suzanne Bickel died during the Chicago Mackinac Race aboard Wingnutz, and Saturday night was very nearly Deja Vu all over again.  A nasty frontal line – similar to the one that capsized Wingnutz in 2011 – tore through the fleet from the West around Midnight.  Rather than just a big increase and righty, the line held huge, spiking gusts of well over 50 knots, shifting constantly in the turbulent boundary.
Few boats came through the squalls without damage, but the scariest report came from Bill Shellhorse's Virginia-based Farr 400 Meridian X, a perennial competitor in the Mac.  During a knockdown, they lost a crew overboard and it took a full hour to recover him.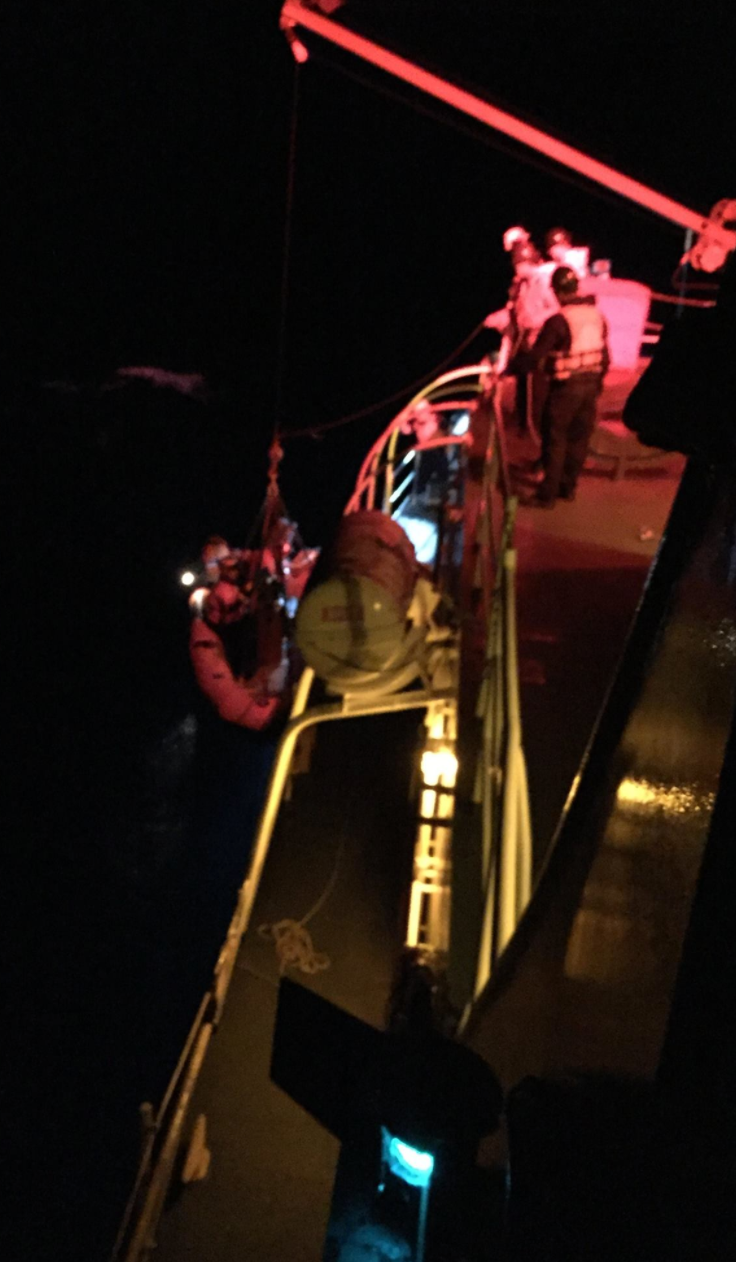 With water temps in the mid 60s and huge, short seas, it's amazing the crew was able to stay alive, and it's not a surprise to have received a tip that the rescuee was maybe a few minutes away from the worst end possible.  Despite multiple USCG assets in the area and quite a few boats trying to stand by and help, it was Meridian which recovered their crew under what must have been terrifying circumstances.
As much as a third of the fleet retired to nurse their wounds, while almost the entire multihull fleet pulled out, but not before the F31 trimaran High Priority 2 went over in a 50-knot gust and turtled; the pic to the left is of her crew being winched aboard a CG tender after they hung out on their upside-down hulls for a while.  The big showdown between the two ORMA 60s – Earth Voyager and Arete – failed to materialize, with EV pulling out with mast track problems.  Arete is just 5 NM from the finish as we speak – not of the Chicago Mac (which they finished with first racing boat and first in class) but of the SuperMac! Owner Rick Warner wrote us this morning.  "All of the Arete team wishes best wishes to
everyone forced to retire.  We are so glad the crews are all OK!  We saw plenty of wind, on the nose in the upper half of the lake.  It was steady 30s with 7-foot faces with a typical Great Lakes short period, the boat was fully out of the water at times, the main hull launching off the back of the waves and the leeward ama digging in and piercing the next one…if you know how far back the helm pods are on Arete, you understand what it means when I say that the waves were actually pounding on it…We are looking forward to the Port Huron-Mac and then the TransSuperior!"
Quantum owners the DeVos family aboard Windquest ironically retired with sail damage, with the big squall disintegrating an A3 and shredding the headboard of their mainsail, while TP52 Natalie J pulled out after destroying their jib tack, cunningham, and some odds and ends.
Thankfully there are no reports of major injuries, though the sailmaker's (and rudder repairers) bill is sure to total millions…
Tracker for both the CYC race and the SuperMac are here.   Results here.
July 17th, 2017 by admin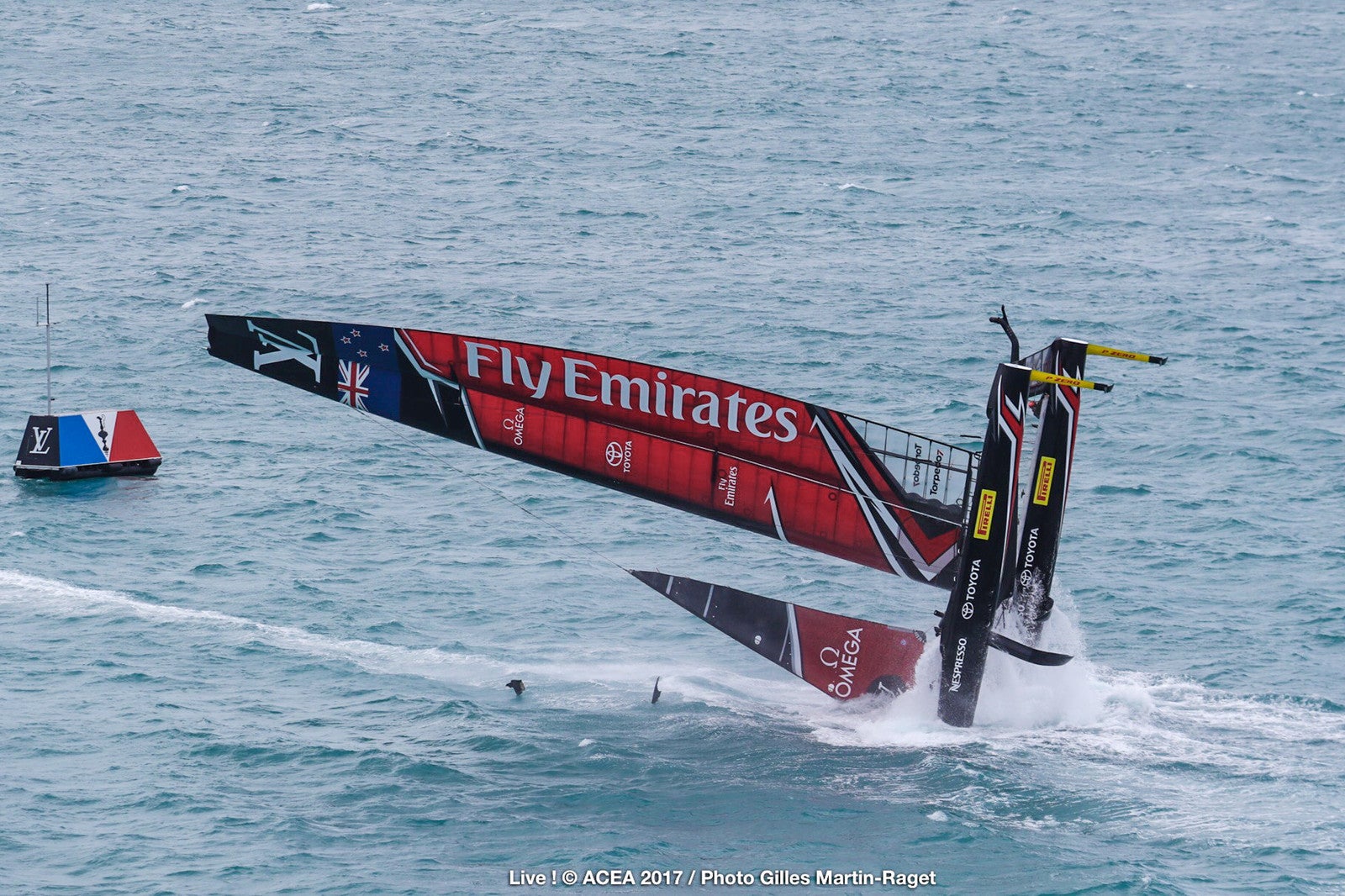 Gilles Martin-Raget was in the right spot at the right time to get this shot of Emirates Team New Zealand in the most stable position possible; on their side with a wrecked wing, destroyed fairings, and likely plenty more damage.  Burling pitched it into the piss at the start of their final race of the day after easily handling Sir Ben in the earlier race, and now we get to see just how their smaller budget has effected the New Zealand spares supply.
Artemis shit the bed a bit, dropping two more to Dean Barker's laid-back bunch in a fun and expletive-laden couple of races that included a 30-knot squall and spectator boats on the race course.  In real breeze, the issues change completely with these boats, and with more dogs-off-chains stuff likely for the rest of the series, those that can stay in one piece may just find themselves battling for some Louis Vuitton jewelry next week.
Analysis and chatter here.  How to watch replays here.
June 6th, 2017 by admin
Clean Report
The Gunboat G4's famous flip in St. Barth's a couple of years ago didn't do wonders for the marketing plan behind that 'cruising' foiler, but the dedicated racers developing the DNA F4 one-design spinoff of the G4 have been following a different, more logical path.  Two-time America's Cup winner Shannon Falcone (who sailed the G4 extensively) and the team at DNA have been working up the 30-knot-plus machine in Antigua to find her limits before going into full production, and they found those limits a few weeks ago while testing the boat on a squally day off the West Coast of the island.    We spoke to the guys in Holland to get the story (and if you want to see the F4 being built in the DNA factory, click here for the full tour we did back in November.)  Here's a photo from under the boat, and here's a look at the F4 at 30 knots on a more typical daysail.  In a bit of bad news for race fans everywhere, the golden F4 won't make the start of yet another record-setting fleet in the Caribbean 600.  Anyway, here's the official statement:
Thanks for your inquiry, Clean.  Although everyone knows cats can flip, we would wished it wouldn't have happened on a sunny day in the Caribbean after they'd already survived rough weather and storms from NY to Bermuda and then another thousand-mile trip to Antigua without issue!  But hey, it happened – so let's learn from it.  That's why Shannon has been working so hard to learn the boat.

While we hope you get the story straight from Shannon [it's coming sooner than you realize] we learned from him that he was sailing inside the jib, heading towards the harbour while his crew were on the bow getting the furled FRO down on the tramp.  A squall and a big shift caught them with the jib on the winch, and even with the main blown off completely, the pressure on the jib slowly carried them over.

In association with Andrew "Macca" Macpherson, we've been working for some time on a system that's essential for these kinds of boats, and this incident reinforced its need. While winged AC boats and sealed-mast cats lay on their sides in a capsize, boats with more conventional masts turtle almost immediately, making recovery complicated and causing damage to electronics.  That's why we're excited about the mast-mounted inflatable balloon system we've been engineering for the TF-10 trimaran and G4 and F4 foiling cats; in the rare case that one of these boats goes over, there's no reason they shouldn't be able to be righted quickly and easily.


We'll have more news on the system later, and while we get the boat back in racing shape, feel free to check out this video of the F4 sailing in BDA and Antigua.  She's a dream!
February 15th, 2017 by admin
Sharp-eyed mothie Joe Turner pulled a screen grab from yesterday's Oracle capsize, and look what he found: A mystery!
Said Tom Slingsby:  Gotta say I am enjoying reading the different theories, but it really is what I said it is. Below the bottom bearing is what we call the sliding door which keeps a flush surface to the hull throughout our 15 deg Cant range. This day it busted and was causing some drag. However, believe what you want, we get a good kick out of hearing some of the theories.
But we all know Oracle sailors will say whatever the chequebook tells them to… So, is it a super-secret foil fence?  Maybe it's a supercavitating thingamabob?  Camera pod?  Ride height sensor?  Herbie 2.0? A turd flown over from Rio?
March 3rd, 2016 by admin
Beach cats plus cold front equals a hell of an expensive beach sculpture.  Huge bummer in the North Holland beach village of Egmond aan Zee, and there are some more gorgeous, if painful, shots here.
July 26th, 2015 by admin
Just a year ago,  the charter-racing Beneteau 40.7 Cheeki Rafiki was enroute the UK with four souls aboard after a long and fun 2014 Caribbean racing season.  It was a typical delivery until a personal EIPRB signal – and no further contact – was received.  After extensive searches the hull was found, but the crew was never seen again.
Today, the UK Marine Accident Investigation Bureau released their full report on the loss, and as usual, there's plenty of good information in it for all of us, and in an age where keels are less and less reliable, it behooves us all to pay attention to things that make them fall off.  Read the report here, and below is a statement from Chief Inspector.
This has been a challenging investigation. Cheeki Rafiki capsized and inverted, almost certainly as a consequence of its keel becoming detached in adverse weather, in a remote part of the North Atlantic Ocean. Despite two extensive searches, its four crew remain missing and, as the yacht's hull was not recovered, the causes of this tragic accident will inevitably remain a matter of some speculation.
Nevertheless, a thorough investigation has been conducted, that has identified a number of important safety issues, which if addressed, should reduce the likelihood of a similar accident in the future.
The investigation has identified that in GRP yachts that are constructed by bonding an internal matrix of stiffeners into the hull, it is possible for the bonding to fail, thereby weakening the structure. In some yachts, including the Beneteau First 40.7, the design makes it harder to detect when the bonding is starting to fail. The report therefore highlights the need for regular inspections of such yachts' structures by a competent person, and for the marine industry to agree on the most appropriate means of repair when matrix detachment has occurred.
During the investigation it became clear that opinions were divided as to whether or not Cheeki Rafiki's return passage across the Atlantic Ocean was a commercial activity. I have therefore made a recommendation to the Maritime and Coastguard Agency to improve the guidance on when small vessels are, or are not required to have commercial certification. This should help resolve what has, for too long, been a grey area.
Finally, I hope that this report will serve as a reminder to all yacht operators, skippers and crews of the particular dangers associated with conducting ocean passages, and the need for comprehensive planning and preparation before undertaking such ventures. On long offshore passages, search and rescue support cannot be relied upon in the same way as it is when operating closer to the coast, and yachts' crews need a much higher degree of self-sufficiency in the event of an emergency. Thus the selection and stowage of safety and survival equipment needs to be very carefully considered before embarking, together with options for contingency planning and self-help in anticipation of problems that could occur during the passage.
April 29th, 2015 by admin
This Southport, Australia departure was discussed in the forums last year when it happened, but our friends at Voiles et Voiliers posted some great shots of the action and we figured we'd share one up.  Name of the boat?  Jeux De Guerre.  Translation?  Wargames.
Head over here for more info, and go to the V&V page to find out what happened.  If you don't get the title, we hate you because you're young.
April 15th, 2015 by admin
With no one dying, no boats breaking of late, and nothing really special in their media output, we can be forgiven for forgetting the pay-as-you-go Clipper Race has been 'raging' for months, and as we speak, beginning its final points scoring leg.  Sir Robin's pay-as-you-go crew are quietly getting their work done, training newbies whilst racing 'round the world on their heavy 70′ racer/cruisers.  The boat's size and stability are two reasons we were a bit shocked by this knockdown-plus video from two days ago.
Very, very few sailors will ever find themselves actually inside a waterspout, and a huge thanks to Team GBR for sharing it with all of us.  Show up tomorrow (the 12th) in St. Katherine's to check out the fleet.
July 11th, 2014 by admin