Posts Tagged 'california'
We dig this posterized shot of Manouch Moshayedi's Bakewell-White 100 Rio shot yesterday cruising up Newport Harbor as she gets ready for her run at the Barn Door Trophy when the final Transpac gun sounds off tomorrow.  As required by the Transpac There's no canting keel, powered ballast pumps, or powered winches for this bad boy, though there is a seriously stacked crew for this pure sailing machine.
In a world where it takes $35 million dollars and a diesel-burning 100-footer to beat a 7-year old record held by a 70 footer (by about 4%), and where both those records are a sad joke compared to what unpowered multihulls have been doing for a decade, we applaud Manouch's purer goal, and we wish he and the crew the best of luck.
Track the fleet here, head over here to add a few views to the almost entirely unwatched video updates and highlights from the TPYC, and head here for the much busier SA thread.
And if you don't get the title allusion, just remember: you're never too old to be crazy. Thanks to Berkley Green at SoCalSailSport for the shot.
And look for onboard race reports from boat captain Keith Kilpatrick.
July 17th, 2015 by admin
Tom Ehman's Golden Gate Yacht Club Challenge already made its first political change – it's now known as the SF Yacht Racing Challenge to keep from pissing off the rest of the Bay Area clubs.  One sneaky anarchist attended an Ehman presentation about this 'outside the box' event for the age-advanced, and here are the details we've scooped up:
+ The new class will be known as Super 12s, and will be more of a 'Spirit of Tradition' version of a 12 rather than a real one.  A Grand Prix (post-1983) 12 above the waterline, a modern fin-keel yacht below. Carbon-composite hull, deck and rig.
+ Strict OD including deck hardware and sails (lesson learned from Volvo) for the obvious cost savings, as well as to make it a crew contest, not a design/budget battle. Draft will be under 10′ – they're shooting for 9'5″ – both for access to area clubs and to commercial yards.
+ Boats are expected to be convertible to a charter life after their competitive lifespan ends.
+ Crews will have a strict nationality requirement (passports?) as well as an interesting diversity requirement: each crew will need to include a minimum of two women and two men as well as two aged 22 or younger, and one aged 62 or older.  College sailors should be eligible through their senior year, and the total crew size will be 12.
+Teams will have to work with local YCs/marinas/yards to create a base in an existing facility – no building out of own piers for a team base that is separate from existing local sailing community
+ Fleet racing and match racing finals will take place on the San Francisco city front for 2 weeks in July, when average afternoon (1300-1800) wind speed on the Bay is 13kts or more virtually 100% of the time (13-30kts). There will be no upper wind limit; lower wind limit of 5 knots or so, though stats say it ain't gonna happen much, if at all.  "Hell or high water" is what we were told.
+An East Coast venue will likely come into play within the first couple of years, and our guess is an obvious one: Newport.  We can see Annapolis trying to regain some of the luster they've lost as one of America's real sailing cities…other than that pesky problem with having breeze.
+The boats should cost somewhere between 2 and 3 million, and the campaign another 500k to 1M.
Several Italians are apparently quite keen; we'd hope to see Vincenzo and Patrizio back in the kind of racing they both enjoy.  Here's an Italian take on it.
May 24th, 2015 by admin
Looking to plan the next major championship for your class?   Look no further America's new 'Green Coast', and we're not talking about conservation.  Nope – we're talking about the new American West – a place where, thanks to the continuing voter revolution,  smoking weed is now legal from the Mexican to Canadian border – and beyond.  Add to that some of the best sailing spots in the World, and your class should never need to go to some windless, smokeless bay again.
This applies even to the cream of the crop, too, thanks to WADA's ten-fold increase in the amount of allowed THC in your blood. It's now legal to smoke even for Olympian and America's Cup racers (as long as you don't toke ten minutes before your test).
And it ain't just the California-to-Alaska pipeline – roughly half of US states now allow 'kind buds' to either treat what ails you, or just your need for the munchies, with another 10 dominoes likely to fall over the next few years.  Considering the massively positive effect that legal weed has had on Colorado's $3 billion/year ski industry, those who can capitalize on this new development will be way ahead of the curve, and we think sailors should be right on top of it.
Just imagine it:  Green medibles and vapor pens alongside Mount Gay and Coke, new sponsors, great T-shirt design ideas, and something to finally make that regatta food palatable.  We're in!  Is your class?
November 12th, 2014 by admin
French philosopher Joseph Marie told us two hundred years ago that, in a democracy, 'people get the government they deserve.'  But we can't believe that anyone could deserve the leadership of the allegedly murderous, corrupt ex-cop Russell Perdock – amazingly, running for local government.
You may remember Perdock as the cop behind the most bizarre and controversial case to ever go to trial in Lake County; a case that inspired thousands of SA'ers to stand up for the rights of Bismarck Dinius, the sailor nearly sent to prison for the death of sailboat crew Lynn Thornton.  After a major effort from the media and local sailors, the truth came out and Dinius was acquitted, but not before the world learned that it was Perdock's excessive speed, incompetence, and possibly inebriation that caused the death of an innocent woman.
There's more info on the Dinius vs. Perdock saga here, and you can go here to see this piece of shit's campaign website, but here's what is important:  If you are in Clear Lake or anywhere near Lake County, please make sure you vote for anyone besides this guy.  And while you're at it, send this story around to your neighbors and friends.  Here's the permalink.
November 4th, 2014 by admin
Gary Green's Bennie 44.7 Green Dragon 2 takes a bite out of Jerry Finnegan's Cal 40 Celebrity during the Santa Barbara to King Harbor Race.  Grab some popcorn and enjoy.  Then talk shit.   Thanks to 'Par Avion' for the find.
August 6th, 2014 by admin
Alright, Class: Raise your hands if you would entrust your life and the lives of your crew to a SPOT tracker.
Those of you with your hands up:  Grab a pair of scissors and give yourself a vasectomy.
There is good news for you, though – the widow of Aegean skipper Theo Mavromatis (or more likely, blood-sucking lawyers at her husband's insurance company) is fighting for your right to be stupid, too.
You'll likely remember the Hunter 37 Aegean as the cruising boat that allegedly crashed into one of the Coronado Islands off of San Diego during a 'fun race' down the coast.  Long-running investigations determined the problem to be one of, let's say, software – the crew likely failed to zoom in far enough on a chart plotter to see the islands, and compounded their navigational error by not keeping a lookout as they motored through the night on autopilot.  All hands perished after the wreck, and multiple lawsuits have been filed against Mavromatis' estate by families and insurance companies representing his crew – just as you'd see in any accident.  But now, there's something new;  Ms. Mavromatis and her three children are now plaintiffs against SPOT LLC and Amazon.com, and in a lawsuit filed last week, they contend that it was SPOT's failure to make sure emergency services got to the Aegean that was at least partially at fault for Mavromatis' loss.
The family is suing for wrongful death, negligence, and breach of warranty, seeking unspecified damages and burial costs, and probably seeks millions.  Assuming (and hoping) that Mavromatis, an aerospace engineer, had decent insurance coverage for his boat and life, this all smells like an insurance company casting a net for deep pockets to help defray the millions they have already paid out in this case, and they may just succeed.
Why?  Because, as you can see by the screen grab above and at SPOT's page here, the company really is advertising "911/SOS Member Rescue Benefit" for just $17.95 per year.  And according to the lawsuit and several investigators, the crew of Aegean pressed the SPOT rescue button at some point in the calamity, yet it took a day for anyone to come check on them.  Is this some serious bullshit advertising that should absolutely be curtailed or even punished? Absolutely.  Is it negligence, and did it contribute more to the death of the Aegean skipper than the fact that he ran into an island?  Umm…no.  Add to that the fact that SPOT requires you read and sign a dozen paragraphs on why SPOT is not really a rescue device before you sign up, and we don't think this one passes the smell test.
We're also pretty sure that Mavromatis, a longtime sailor and telecommunications/electronics consultant for Raytheon, knew the difference between a SPOT and an EPIRB, but then again, we'd be pretty sure a guy like that would know how to work a chart plotter.  In the meantime, it's yet more litigation that will result in increased insurance premiums and more lawsuits down the road.
There's a thread on Aegean litigation here if you want to stay on top of it.
March 28th, 2014 by admin
Yes, our old and cynical bones know that Valentine's Day is a sick scam perpetuated on us by corporate behemoths purveying billions worth of flowers, chocolate, and horrible movies on all of us.  But there's something incredibly cute about young love, and our pal Anne at the King Harbor Youth Foundation sent us this adorable photo from yesterday's practice along with the note below.  Check out the KHYF here and donate something if you like what they're doing.  We do.  
Attached is a photo of the Valentine's Day proposal one of our high school racers made to his Valentine (also one of our sailors) during practice yesterday.  It was a team effort to put the message on the spinnaker, and she said "yes."  Young nautical love; be still my heart!  -Anne
February 14th, 2014 by admin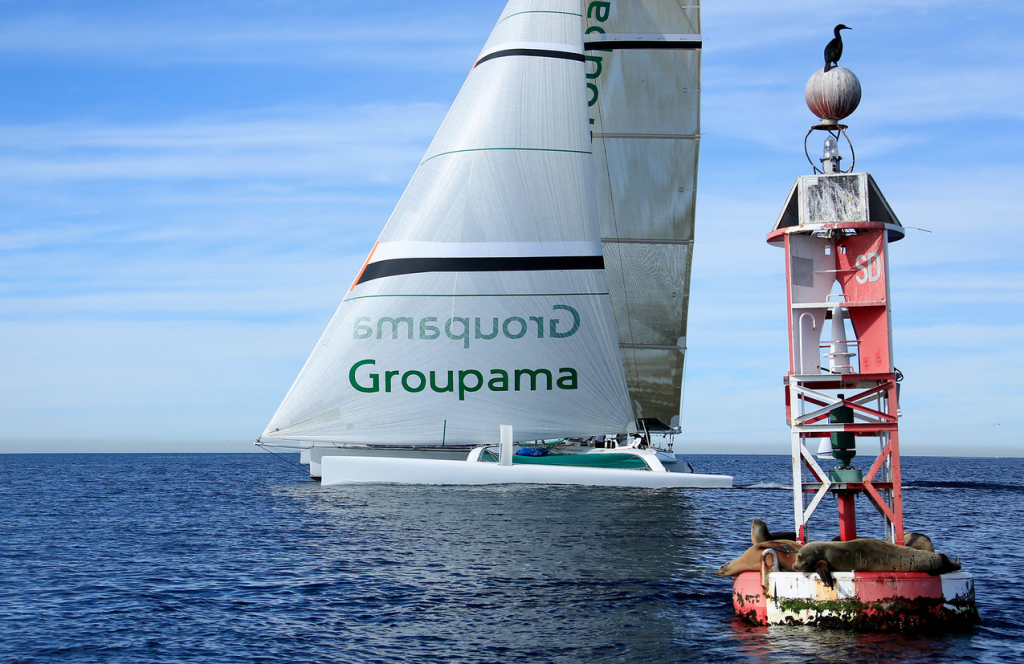 When Franck Cammas and VPLP put together the ORMA 60 Groupama 2 in 2004, the Class was already on its way to extinction.  But Franck's square-dimensioned, canting rig, lifting-foiled trimaran was so much faster, more innovative, and more expensive than the rest of the fleet that her launch pretty much ended the ORMA class right then and there.  The history is more detailed of course (and you can learn almost everything about the ORMA class here) but suffice to say, G2 is the fastest 60 foot pickle fork ever built.  And until the AC72s came around, she was still probably the world's fastest seagoing multihull in light air.
Now that G2 is long past her 'sell by' date, the former BMW/Oracle trainer has made her way to San Diego, where she'll be replacing the ex-Waterworld ORMA of Loe Enloe, who has gotten everything he can out of the ex-Waterworld boat.  That one's on the market for peanuts (pony up, SoCal sailors!), and we can now expect Enloe to crush and smash every West Coast record there is…provided she stays right side up.  Great shot thanks to Dal at Bayshots – plenty more of his excellent San Diego work here.
And hit this link to see just how fast the G2 goes in a moderate breeze.
December 19th, 2013 by admin
On The Hard alerted us to this mainstream story about David Crosby and Mayan, affectionately known as 'the yacht that inspired a thousand songs'. From the WSJ story:
When I was 11 years old, my parents wanted me to do something besides get in trouble. So they enrolled me in sailing classes at the Sea Shell Association in Santa Barbara, Calif. From the moment I climbed into that 8½-foot dinghy in 1952, I knew instinctively what to do and sensed I had done it before. I was a natural sailor, and it's one of the reasons I later wrote "Déjà Vu."
Sailing alone in that boat for the first time was a transforming experience. I came back the next day and every day after that. Sailing became one of the main streams of my life. I suppose my father was an influence. I remember seeing a photo of him at home sailing a big boat to Bermuda in his 20s. I still have it.
"High Noon" also left a mark. My father, Floyd Crosby, was the film's cinematographer. I didn't realize until later, but "High Noon" had blossomed in my head. The movie is technically a Western, but it's really about an honorable, stand-up guy who sticks to his principles—even when he has to go it alone.
Before long I sailed that dinghy around the harbor alone, getting as close as I could to the big sailboats anchored there—particularly a beautiful wooden schooner that I learned later was designed by John Alden, one of the great American yacht architects. I loved its design and wanted to see how the different lines and sails worked. As my confidence grew, I started sailing to the harbor's outer buoy. That scared everyone and they tossed me out of the club.
My next big sailing experience came in 1967, after I was thrown out of the Byrds. I borrowed $25,000 from my friend Peter Tork, who was in the Monkees, and went down to Fort Lauderdale, Fla., looking for a schooner. I found one identical to the John Alden-designed boat I had seen years earlier and bought it.
The 74-foot boat was named Mayan and was built in 1947 with Honduran mahogany. The cabins below can sleep eight, but six people is more ideal—four to keep watch and take turns manning the sails and two who can alternate cooking and cleaning.
After I took possession, I had to learn how to sail it. I had never sailed anything larger than 8½ feet, and you need a good wheel-hand—that's me—and two good deckhands to handle the sails. So I made friends with lots of experienced sailors who wanted to sail on the boat, and they taught me everything I needed to know.
November 14th, 2013 by admin