Posts Tagged 'Bruce Schwab'
Ask An Expert
A reader from Washington State asks "With Tesla Motors opening up its advanced battery patents to the world, will we see some major advancements in size/weight/capacity in the world of offshore power and storage?"  We turn to RTW racer and now energy guru Bruce Schwab from Bruce Schwab Energy Systems for an answer.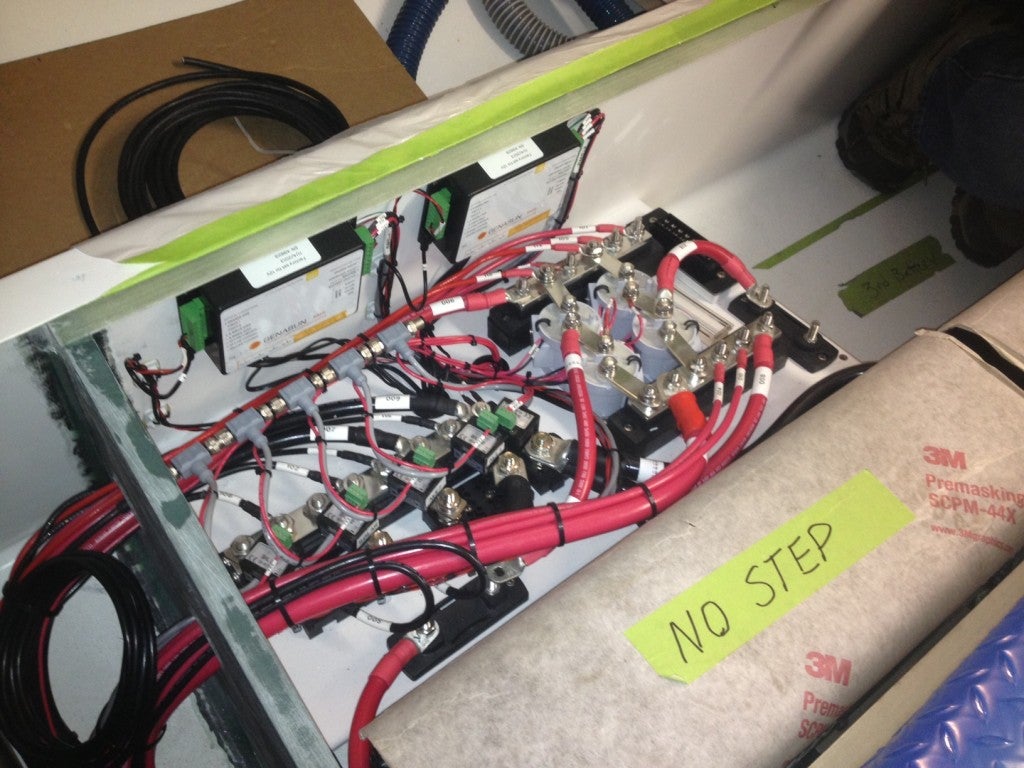 Thanks for the question, and I wish I had more exciting news, but the reality is that I don't think Tesla's move will have much effect on the marine market. Why? Because what makes Lithium (Li) battery systems expensive is not the "battery" cells themselves (usually four cells per 12V battery); rather, it is the application-specific "BMS" (Battery Management System) that makes the system useable and safe…and the lack of "scale" in the marine market to drive down costs. While the performance of lithium batteries is superior to Lead (Pb), if you run them flat or overcharge them that could cause them to fail prematurely. While it's not good to over/undercharge Pb, they typically will just lose capacity from such abuse and not necessarily become "finished".
The BMS in a car battery system has very different requirements than for a boat, first of all being much higher voltage. A boat typically has its own special issues, such as multiple charging sources (alternator, AC/DC charger from shore/genset, solar panels, hydrogenerator, wind generator, etc.) and multiple loads as well. So the system configurations are different, and even between top marine Li battery brands, the BMS philosophies differ.
For instance, Genasun marine battery system uses a dual positive bus, separating the charge sources from the loads. While this adds some work to an installation, in the long run it offers several advantages and protects both the battery investment and the boat. See attached pic of an very nice Genasun GLi installation in the IMOCA 60 Great American IV, by Steve Ecker of Maine Yachting Center here in Maine. Not the kind of thing a typical boat owner does on their own…;-) Of course, you can find and use an Li battery with a Pb-style physical format & terminals, and just plug it in. However the operation of such packs is far less graceful at the top and bottom ends of the charge/discharge cycles. Here is a diagram that partially explains a dual-bus configuration.
While Li battery performance is spectacular, they are not for everyone on the water. There are certainly many options and choices out there with Pb: AGM, gel, flooded, etc. each with their own attributes and disadvantages. and there are versions of AGM that the marine market has yet to discover. The primary weaknesses of Pb (aside from being so darn heavy) is the susceptibility to permanent internal sulfation (from undercharging) and corrosion (from overcharging), which usually spells the end of their useful life. Extended PSOC (Partial State Of Charge) operation…which is very common in marine use…leads to sulfation that is often impossible for the battery to recover from. However you will soon see Pb batts utilizing internal carbon grids/plates/etc. to help prevent this and/or allow complete recovery without high-voltage "Equalization" sessions. Equalization can help recover some capacity, however this must be carefully done or it can shorten cycle life as well.
Speaking of battery technology, and specifically Pb/AGM…the first to use a carbon foam grid internally (about seven years ago) in an AGM was Firefly batteries. These AGM's seem to have great resistance to permanent sulfating, making them good for the marine use. However for some reason, they never got any exposure in the marine market, despite burning through a lot of VC capital and a even going through bankruptcy way back in 2007. We are looking into offering a new version of the Firefly they are developing with input from us here at OceanPlanet Energy. Knowing that Lithium is great, but for the foreseeable future not for everyone, we want to have the next best thing as an option, and we'll be sure to share it with the Anarchists.
Ask a simple question….get a sales pitch in reply…sorry!
-Bruce Schwab
Ocean Planet Energy Systems
July 17th, 2014 by admin
Every now and then a boat restoration grabs our attention, and thanks to sailing video guru Franklin Tulloch and electricity/energy system project manager Bruce Schwab, we'll be following this one every step of the way.  This story comes from Tulloch, and you can learn more at the Ceramco NZ Facebook page and website.  The entire series is brought to you by Bruce Schwab Energy Systems, and we're stoked to see what the first American to finish the Vendee Globe brings to this most classic of racing yachts.
1983 was a big year in sailing, and at 14 years old, I would get my first real introduction to the world of international sailboat racing that year. I had grown up on boats, sailing in the Cheasapeake, My father's love for sailing a huge influence on my time on the water. That summer, my family and I would travel to Newport for what would be one of the most fantastic trips of my life, and also one of the most controversial America's Cups ever sailed. The competition had stepped it up in the past few years and with new futuristic keel designs, the Southern Hemisphere would come to Newport in hopes to take away a trophy that had never left the US.  The event itself would be summarized in two words, winged keel. My biggest memory of this trip was the 24-hour security watch over the skirts hiding the Aussie's now-famous keel design.
A year earlier, the international sailing community was introduced to a young man who would become a legend: Sir Peter Blake.  Well known already in his native New Zealand, Blake would become the first sailor ever to win both the Americas Cup (1995), and the most grueling and difficult race in the world, the Whitbread (now Volvo) Round-the-World race.
It was that 1981-82 Whitbread that gave the young Blake a chance to step out of the shadows, and with the help of a young 30-year old Kiwi named Bruce Farr, they would create a boat to crush the competition.   Equipped with a bulb keel and a flattened stern, their waverunning boat would dominate the competition across the ocean.  Winning every leg by a big margin (except for the first one), if not for an early dismasting, the boat would have, by average leg speed, crushed the competition by 30 hours along with a line honors Sydney-Hobart race in the process.  Blake would go on to win more major international sailing competitions than anyone else in history, while that first boat became synonymous with the talented skipper.
29 years later and 7 years since Blake's brutal death at the hands of pirates in the Amazon, I would find myself working on a set of short films for The Sailing Company about the US and British Virgin Islands.  At the tiny Texas Coast Grill in Cruz Bay, St John, I happened to sit next to a nice woman who was discussing her boat's repair schedule with a friend.  Like all sailors, I was curious and couldn't help asking her what sort of boat it was.  "It's a 68 footer designed by Farr in 1981," she answered.  "Really? What's her name?" I asked, as my mind ran over the possibilities.  "She's still called by her original name, Ceramco," she said.  "CERAMCO, NEW ZEALAND!!!??  ARE YOU KIDDING ME?" I responded incredulously. Before Diane, the owner, could get anything out, I asked the question: "Could I join you for a sail sometime?"  Diane smiled.  "Once she's fixed, you've got a ride."
A month later I would be asked to join Diane with a group of  locals for a sail over to Jost Van Dike for a day at the Soggy Dollar and One Love. I grabbed my camera in hopes of getting some good shots of the boat as we journeyed through the azure sea. A pleasure sail with a group of very dear friends was my first real introduction to a boat I had known nearly my entire life.
To Peter Blake, his family and the past crews of Ceramco NZ: I want you to know that, like a great race horse put out to graze beautiful fields, eat flowers and reflect on his incredible life as a celebrated champion, after years of competing at the highest level in the sailing world, CERAMCO NZ has a new life in the near-paradise of the Virgin Islands.  With a very different crew, but one that knows and loves this one-of-a-kind boat, we're bringing one of the most celebrated boats in history back to her former glory, and soon, Diane hopes to bring her back we hope to bring her back to Aotearoa, to her biggest fans in the world.
February 27th, 2013 by admin