Posts Tagged 'Breymaier'
This shot from the floor of Jean-Pierre Dick's Virbac St.Michel shows the broken ribs that knocked the new-gen foiling Open 60 out of the Transat Jacques Vabre last night; the fourth retirement out of the 5 VPLP/Verdier fliers and a clear sign that someone in the design office seems to have gotten these multi-million-dollar beats wrong – very, very wrong.
One of the major innovations in the new boats is a transverse version of the approach to hull design that we first saw in Comanche; instead of a few large stringers in a structural grid over a relatively thick hull, the VPLP solution uses these small semicircular ribs to support an extremely thin hull (4mm in some spots).  It's a significantly lighter way to do it, but if the difficult production process isn't micron-perfect or if the ribs aren't taking the load in unison, things go ugly quickly, as JP and Fabien discovered when they went down into the sail locker.
While four foiling boats are out, the final "Mustache" boat is showing why they all bothered, with the new Banque Populaire XVCCIVXIICL sailing an average of more than a knot faster than the ultra-quick previous generation PRB in the same stretch of ocean on a nice run.  In a Vendee, that would translate to a couple of weeks' lead…assuming BP can avoid the speed bumps…
To The Orphanage For You
Our sentimental favorites aboard Adopt-A-Skipper have unfortunately also pulled the plug thanks to a blown out backstay, with Ryan and Nico headed back to Concarneau.  What a yard sale this TJV has become!  Chat and crowdsource all the TJV news here.
Thanks to SA'er 'chasm' for grabbing the shot from Virbac before they pulled it from their site.
October 30th, 2015 by admin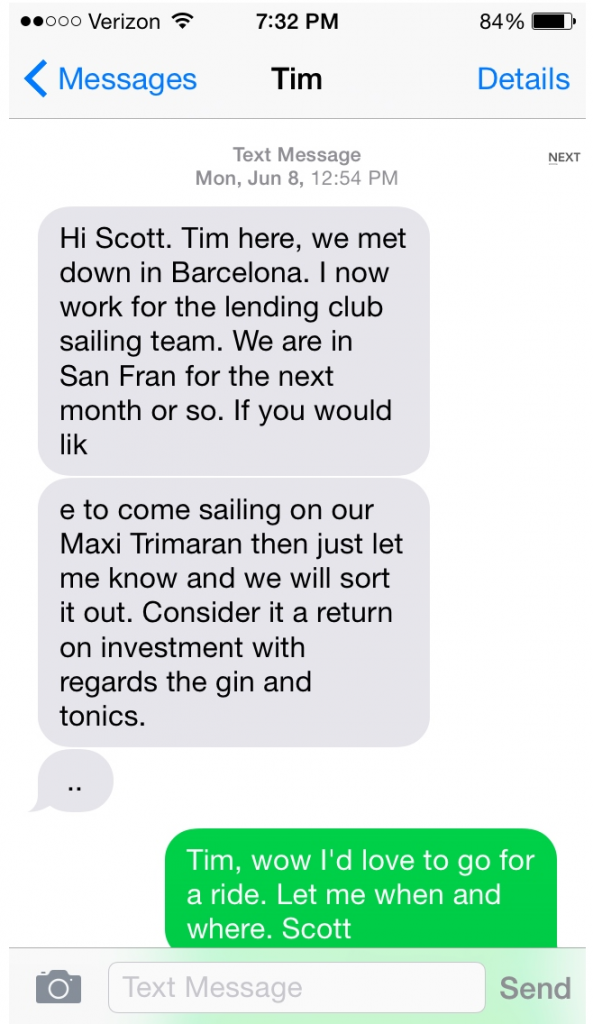 Next time you want those young racers to quiet down, or when you feel like being a cheap fuck at the YC bar, consider this story.
Here is the video from sailing on Lending Club, (ex-Groupama 3/Banque Populaire VII), a 105′ Maxi Trimaran here on the West coast getting ready to do the Transpac.  I met Tim, one of the shore crew, years ago and he had a friends and family ride slot open up last Friday.
This thing is a beast, and really fun to drive.  I hit 32 kts while driving.  Ryan, the skipper hit 40 kts at 120 deg true wind angle in 20+kts of wind.   The boat goes upwind at 45 deg true wind angle at 19.5kts in 20 kts of breeze.  We had the J2 jib and 1 reef in the main.
It was karma that got me that ride, or maybe it was Return on Investment, whichever you believe in.  Tim called it ROI, and I laughed.  But all I did was buy a bunch of drinks for a nice young racing shore crew years ago, and really enjoyed their company and stories.  Then years later, I get the text message above.  Bottom line…you really can't go wrong buying strangers a bunch of booze!
And Tim, If you are reading this [of course he is.  -ed], there are a bunch of San Francisco sailors that would like to buy you a drink.  Since you are here taking people for rides for the next 3 weeks…
June 16th, 2015 by admin
Thanks to Safran's bad luck with a few broken ribs and a confirmed abandonment this morning, Ryan Breymaier and Pepe Ribes find themselves in the lead of the NY-BCN Race aboard the shiny grey Hugo Boss. Ryan and New York Times sailing correspondent Chris Museler called in to flu-ridden Mr. Clean for a quick chat as they passed the Rock of Gibraltar this afternoon; their chat got cut off but here's 9 minutes with both of them that's worth a listen. Track the final three or four days here.
June 12th, 2014 by admin