Posts Tagged 'Breymaier'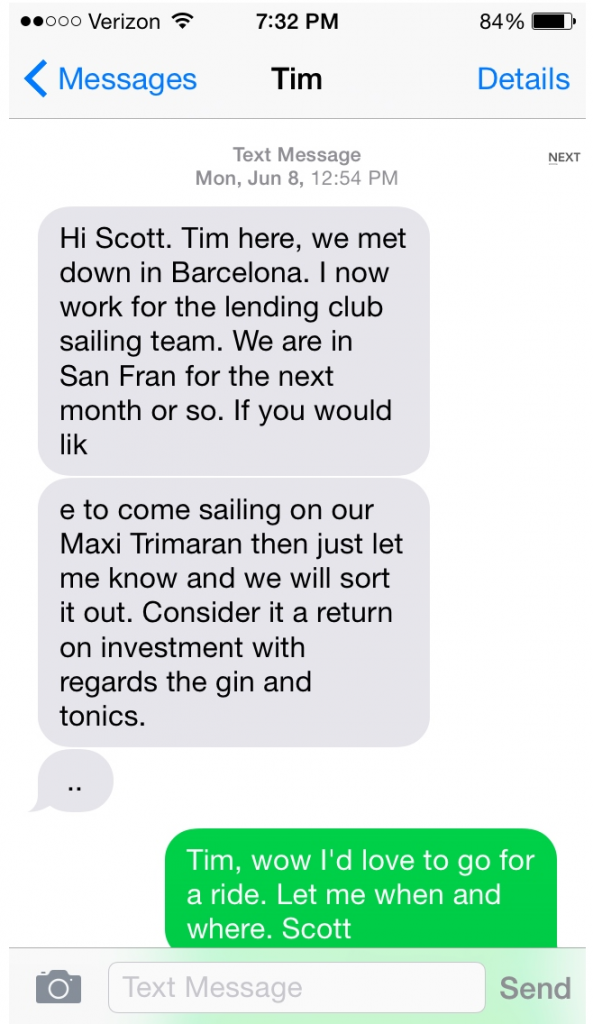 Next time you want those young racers to quiet down, or when you feel like being a cheap fuck at the YC bar, consider this story.
Here is the video from sailing on Lending Club, (ex-Groupama 3/Banque Populaire VII), a 105′ Maxi Trimaran here on the West coast getting ready to do the Transpac.  I met Tim, one of the shore crew, years ago and he had a friends and family ride slot open up last Friday.
This thing is a beast, and really fun to drive.  I hit 32 kts while driving.  Ryan, the skipper hit 40 kts at 120 deg true wind angle in 20+kts of wind.   The boat goes upwind at 45 deg true wind angle at 19.5kts in 20 kts of breeze.  We had the J2 jib and 1 reef in the main.
It was karma that got me that ride, or maybe it was Return on Investment, whichever you believe in.  Tim called it ROI, and I laughed.  But all I did was buy a bunch of drinks for a nice young racing shore crew years ago, and really enjoyed their company and stories.  Then years later, I get the text message above.  Bottom line…you really can't go wrong buying strangers a bunch of booze!
And Tim, If you are reading this [of course he is.  -ed], there are a bunch of San Francisco sailors that would like to buy you a drink.  Since you are here taking people for rides for the next 3 weeks…
June 16th, 2015 by admin
Thanks to Safran's bad luck with a few broken ribs and a confirmed abandonment this morning, Ryan Breymaier and Pepe Ribes find themselves in the lead of the NY-BCN Race aboard the shiny grey Hugo Boss. Ryan and New York Times sailing correspondent Chris Museler called in to flu-ridden Mr. Clean for a quick chat as they passed the Rock of Gibraltar this afternoon; their chat got cut off but here's 9 minutes with both of them that's worth a listen. Track the final three or four days here.
June 12th, 2014 by admin