Posts Tagged 'Bora Gulari'
Good things come to those who wait, and if you've been waiting for someone to finally unravel the mystery of the 35th America's Cup, have we got something for you!
Recorded earlier in the week, the 2 hours of audio above will give you the analysis and breakdown you've been expecting for the entire fleet in Bermuda.  First we spoke with Rio Olympian and former Luna Rossa driver and foiling star Bora Gulari, and then with Match Race World Champ and former BMW Oracle trimmer Hayden Goodrick.  Along with Mr. Clean, they share the kind of info on these teams that only real pro racers have, and that only guys who've been at this level can glean.  If you want to put money down on one of these teams or you want to wow your sailing friends with your deep, inside knowledge of what will happen in Bermuda, you can ditch the World Sailing preview guide, Alt-F4 on every other publications' dumb picks, and enjoy yet another Sailing Anarchy Podcast with the best AC35 preview in the world.
You can all stop sending emails to us about how shitty the AC coverage is; we understand that you probably can't watch it where you are, how you want to, or without shit tons of action breaks for no reason at all.  If you're having trouble finding a suitable way to watch what has so far been reasonably exciting racing, be sure to check out the 'How Do I Watch?" Thread here for the official, legal channels as well as more 'creative' options…
If you want some reality-show interviews and blondestyle stuff from our old friend Nic the Sailor Girl, click on her Bermuda HQ page here. For the old timers looking to relive the 20th century, Lester and Tasker are doing a free audio-only commentary feed over here with Voda.  For a look at how to run a shitty press conference, watch this.  And of course, any questions you have are probably already asked and answered somewhere in AC Anarchy.
May 28th, 2017 by admin
With the first of the new full-foiling Olympic Nacra 17 scheduled for delivery very soon and the ranking-essential Euros just around the corner, one of Team USA's best hopes for a medal was messing around in Holland, preparing for the coming battles above the water.
The Keith Brash video above (and there's another gorgeous one here) is of double Moth world champ Bora Gulari along with his new crew, 2016 FX competitor (and soon to be Stanford Masters grad) Helena Scutt.  And clearly, smart is fast – check out this video for the first-ever of a Nacra 17 nailing a foiling gybe.
Head over to Bora and Helena's Facebook Page here and like and share them.    Let the Olympic flying begin!
April 11th, 2017 by admin
Clean Report
I'd already bailed from the 1D35 I usually race in Detroit for this weekend's Bayview Long Distance Race, but when my wife's plans to hold a garage sale changed an hour before getting a text from Rick Warner on Friday, I jumped at the chance to sail Rick's ORMA 60 Arete in the historic race on Saturday.  I'd been trying to race with Rick since he bought the beastly trimaran, and a dead-calm delivery I did last month with him didn't really fit the bill.
With a forecast of 10-15 for the 50-mile race, this one would be somewhat different, especially since my old friend Bora blew off an invitation to appear as one of Michigan's Olympians on the U of M football field (in front of 106,000) to take the helm of the boat for this race.  And while the Bayview Race Committee gave us a start, we were an 'unofficial' entry and the only multihull, but no one cared – we were there to set a record, and as far as we know, we did.
An ORMA is perhaps the perfect boat for the Mackinac races; blazing fast in light air, and even faster in heavy – but for a race on the depth-limited Lake St. Clair, this truly was a case of bringing a knife to a gunfight, even with much of Arete's core crew off doing other things.  It took us twenty minutes to get through the 8 classes of boats ahead of us, flying at 20 knots all the way to the wind farm off the Canadian Thames light, and you couldn't ask for a less dramatic ride; furling sails and smart winch logistics make everything as smooth as the boat, and aside from one problem with the gennaker tack (that's me hanging on the bowsprit at 15-20 knots after the fix), we didn't leave much on the course, and while the Bayview Long Distance Race Record ain't something that matters to more than a tiny group of people, as my (possibly) first ever race record, it mattered to me!
Our total time for the 50 mile race was actually the same as my birthday: 4/20.  While none of us can find an actual race record, we're pretty confident we set it – our time was just under an hour and a half ahead of the fastest boat behind us, the GL70 Equation.   I uploaded some videos during the race – if you like big multihulls, you'll like them.  Here's my arrival, update 1, update 2, and some gorgeous slow-mo of the leeward hull streaming in the sunlight.
Rick has done a great job getting  young sailors aboard Arete in her two years in the Midwest, and his Mackinac resulted in one of the most interesting distance race video series we've seen in years, this one from a young videographer.  Watch the four-part series, produced by Andrew Jowett from the Port Huron Times-Herald, here. Photo from Bora Gulari.
September 19th, 2016 by admin
We know you've all been waiting for the Sailing Anarchy take on Rio 2016 and the US Sailing Team, so strap on your listening helmets and get ready for Sailing Anarchy Podcast # 9.  We grabbed Nacra 17 helm Bora Gulari to find out how all his Olympic gear was stolen (in Detroit), how he got it back, and everything Olympic we could cram into 2 hours of slightly inebriated yapping.  Find out about his DNFs, medal race craziness, what it's like to live amongst 10,000 other ultra-fit athletes, and why, at 40 years old, Bora's finally found his place in the sport.  Detailed discussions about the overall performance of the US Team and where it's headed; this one has it all.  Maybe our best podcast yet; listen above, download here for later listening, or subscribe on iTunes.
If you appreciate the fact that some random chick found all Bora's stolen Olympic gear on the street, brought it inside, and called to return it, check out her GoFundMe page for some kind of operation she needs and reward her.
August 30th, 2016 by admin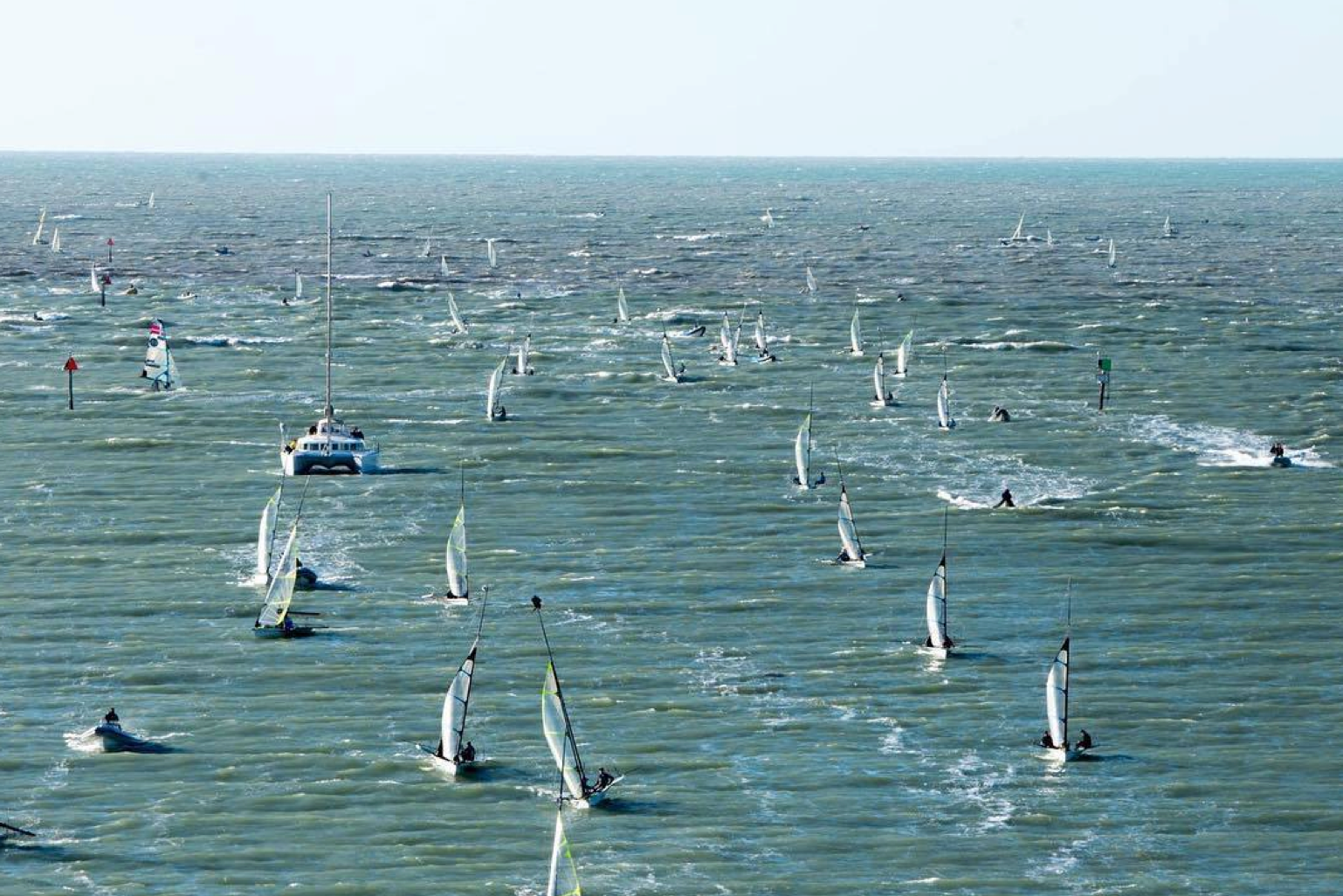 With day after day of boatbreaking conditions at the 49er/FX/Nacra 17 Worlds thanks to big winter breeze and shallow depths, Clearwater Sailing Center's race course was something of a bust, both for a double-digit number of masts and for replicating Rio conditions.  And while Paris Hencken and Helena Scutt held true to their recent form and claimed the Olympic berth for the FX, longtime favorites in both the skiff and cat took huge dives, and the final Nacra and 49er selections came as a shock to everyone in what is a life or death trials for those obsessives who put it all on the line for a shot at Olympic gold. (For instance, check out this glossy, expensively produced Sperry/US Sailing video profile of 49er favorite Brad Funk that dropped just before Worlds, when Funk and Burd sailed themselves right out of the trials and off the team.  Oops.
The American deficit in the Nacra was pretty obvious, especially when competitors Sarah Newberry and Matt Whitehead – who've held the official US Team designation for the better part of two years – came across the line as only the fifth American team in the selection trials – and near the back of the overall fleet.  Meanwhile, Mark and Carolina Mendelblatt continued their late charge for the Rio berths and offshore beach catter Mike Easton and Katie Pettibone showed their heavy air prowess while dominating the other US teams in Clearwater.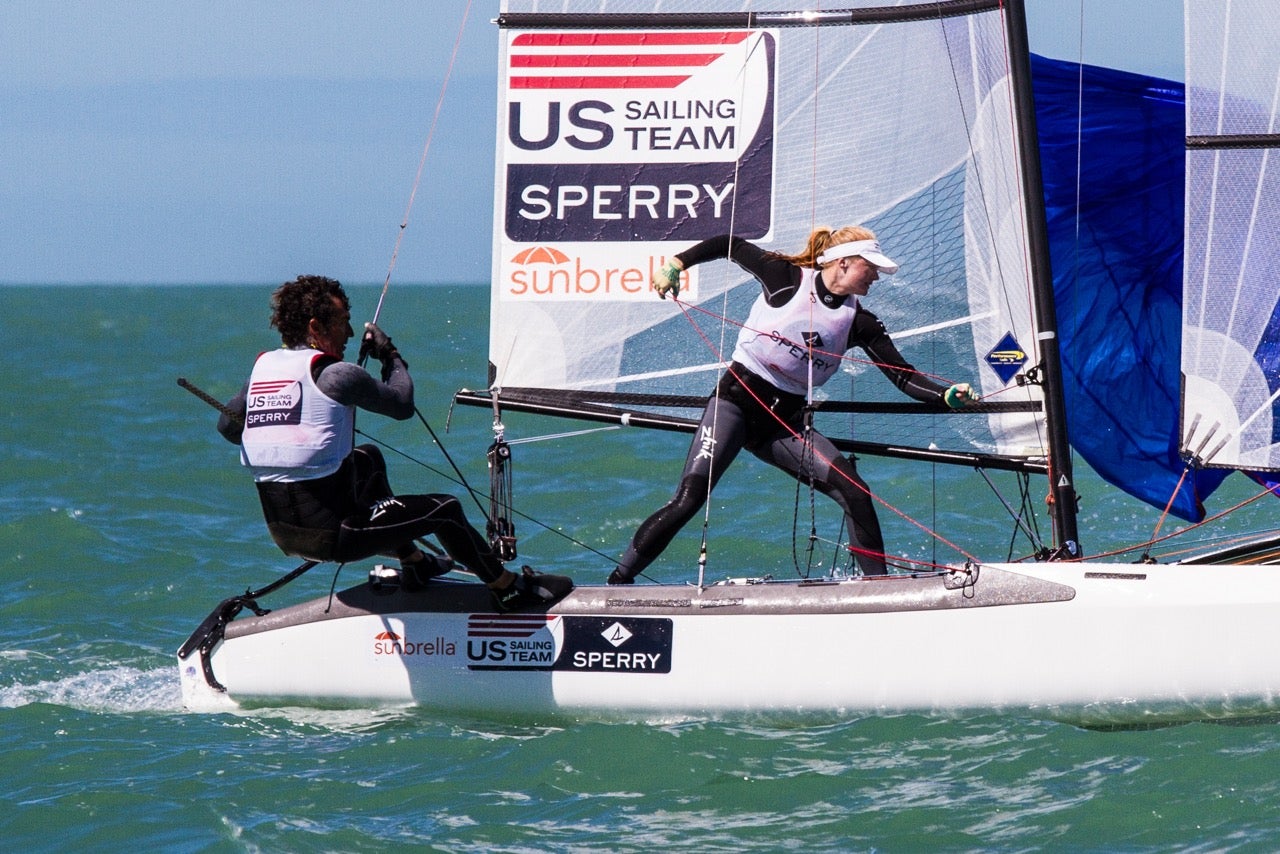 But it was one of SA's oldest friends who came through at the very, very last minute.  That's right, folks – double Moth World Champion, Melges 24 dominator, and sporty offshore navigator Bora Gulari, along with young crew Louisa Chafee, did just enough in the Clearwater event to squeak through qualifications by 2 points over Easton and just 3 over Pettibone.
Bora checked in to the SA Forums after a long hiatus from posting.  We will have a full interview with Bora when the Sailing Anarchy Podcast launches on March 1st, but until then you can check out Bora's bullet point report.  From the "US Sailing Is F&*ked" thread.
So sorry I have not posted in quite some time but some of the comments in here have motivated me to at least write a tiny bit. 
-The first time I stepped into a Nacra 17 was in the Miami OCR last year, I bought a boat 3 months later and that was the first time I was able to sail daily.
-I switched crews one week before the Miami SWC we got at high as third most of the way through the regatta and I started sailing worse once there was more off the water distractions of friends and family showing up.
-For Clearwater I had changed some foil angle setup things.  I do not have access to a VPP, so I am doing this on the fly.  The change I made was a definite mistake and boat speed showed it.
-Worlds had the most challenging sea state I have ever had to race a dinghy in, next time I will be ready for that stuff.
-There was more off-the-water distractions for me than I had ever to deal with.
-Ahead is 6 months of full-time sailing with a good teammate, great coaching, and unlimited resources from now 'till the games. If you discount me fine but I don't think I would.
It's hard to discount the best American apparent-wind helmsman of his generation (especially when he's a hydrodynamic engineer) in a very new and untested class.  It's a longshot, but outside the 470 girls and guys, they're all longshots.
Top photo from the 49er Dutchies, pic of Bora and Louisa from Will Ricketson/US Sailing Team Sperry.
February 18th, 2016 by admin
What's the latest stunt from America's fastest skipper and prospective 2016 Olympian Bora Gulari and his Nacra 17 crew Solvig Sayre?  You'll have to check back later this week for the video that shows it all, unless you're one of the lucky few headed to tonight's fundraiser at Harken World HQ in Pewaukee.  Go and like their page here, and if you're at the auction (for some crazy prizes) or at this weekend's big auction and party at Bayview, bid big!
October 26th, 2015 by admin
That's double gold medalist Shirley Robertson and her CNN Mainsail producer offering the first of many apologies to top US mothie and Luna Rossa Challenge team member Bora Gulari (Detroit, Michigan) after her media boat collided with his foiling moth.  Shirley's media boat destroyed the rudder gantry of Bora's Mach 2 during the carnage-filled pre-start to an aborted race yesterday while the CNN crew were facing the other way; they were filming a pre-start lineup with Nathan Outerridge and Paul Goodison.
CNN took Bora's foils to shore and then left him when help came along; Bora went into survival mode, with a club rescue RIB nearly running him over in an attempted recovery in wind-against-tide nastiness.  Finally, the ETNZ rescue boat came over and helped the American and his boat get to shore (along with helping about a dozen others, while event rescue boats milled about in some confusion).
While CNN may be used to being ridiculed, we're pretty disappointed in Robertson, who we know is a passionate, experienced sailor.  Given how lightly the responsible RIB got off (no injuries to Bora), Shirley would have certainly won our respect had she stood up and taken responsibility and assuring Bora that she would do what it took to get his boat back up to snuff.  Instead, she tried to divert blame from her, implying that the sailboat ran into her powerboat.   We understand that lawyers have made honesty something of a relic, but we would hope Shirley knows better.  Apparently not.
In contrast, Regatta Chair Peter Osbourne and the entire SSCBC team have been transparent and communicative, and this morning, we got a phone call assuring us that Bora would not be out of pocket for a penny.  That's how it should be done.  Top photo credit to Petey Crawford, rescue shot to Sander Van Der Borch.
Racing is cancelled for Wednesday, with 30-40 knots on Port Philip Bay.  Join us right here on Sailing Anarchy for all the live video action on Thursday and Friday as the Worlds Finals is packed into 2 short days.
January 13th, 2015 by admin
While they tend to have a national culture that's reserved and restrained, few can outdo the typical British sailor's ability to talk smack.  Most of the real junkies will remember when Rob Greenhalgh and team went down to Sydney to deliver the "Smack down down under", returning home with their tails between their legs (you can still buy this awesome movie!); well it seems from the above video that Robbie and friends haven't learned their lesson…
Have a look at this UK Mothies video throwdown to our favorite Turkish American foiling master, almost daring Bora Gulari to become the first back-to-back Moth World Champion since the foiling began.  Let the games begin – and with an all-time record field at the Hayling Worlds, they've already started.  Title shout very appropriately to Ohioan metalcore band Like Moths To Flames. 
March 27th, 2014 by admin
Anthony Kotoun continued to chip away at the faster Bora Gulari in their continued duel in the US Moth fleet this weekend, with the Newport pro beating Detroit's finest in the first Moth Winter event of the year.  The pair makes up the winner list of almost every major US event over the past couple of years, and born just a few days apart (and not particularly recently), it was Bora who brought Anthony into the fleet back in 2010.   With Bora taking his second World Title last October in Kaneohe Bay, he got the right to fly the coveted "USA 1" sail number for the year while Kotoun barely broke into the top 30, but last weekend it was Anthony's turn to strike back in the 16-boat fleet at the Upper Keys Sailing Club in Key Largo.
Located about an hour south of Miami and a bit of a secret spot for those outside the SE catamaran racing circuit, the venue is perfect for fast little boats: Clear, warm,
and board-flat water coming over the Keys, a small club with members dedicated to sailing, and a broad range of talent across the fleet to make sure everyone had someone to race against.  It was a common sight throughout the weekend to see class veterans helping the newer Moth sailors get rigged and tuned up, sharing gear and tips and of course, trash talk.    The fun continued off the water where the sailors shared a huge house down the road; just another way the Mothies keep costs down and the fun factor up, allowing a solid travel schedule and strong fleets despite few of 'em having three nickels to rub together.
Day 1 was the slalom, and Anthony came out of the gate hot, winning each of the qualifying races before snagging the winner-takes-all final over Charleston's Pat Wilson.  The trend continued on Saturday after a string of equipment problems for Gulari; he broke an inner wing bar just before the start of the first race, broke an outer wing bar before the last, and after sailing slower than a fleet that he usually dominates, learned at the end of the day that his main foil hinge had been partially wrecked for much of the day.  Light winds on the last day meant no racing, denying Bora any comeback hopes and giving Kotoun five points in six races, a horizon job in this fleet.  2008 World Champ and expat Aussie (now Chicagoan) John Harris took second, with George "Bear" Peet taking third.  "It's a good thing this was two sailing days after Worlds and not during", Harris told Gulari at the end of the day…Full results are here.
Both spectators and sailors are welcomed to join the fun at the UKSC next month for the second event in the 11th Hour Racing Moth Winter Series; check the Class Facebook Page for for reports, videos, photos, tuning tips, and a few stream of consciousness ramblings from Mothies who tried to have a long conversation with the remote control at the bar.
Canine pic from Tracy McLaughlin and top shot of Johnny Nugs (looking like the stud he is) from Ben Winkler Photography with a full gallery here.  Thanks to Matt Knowles and the US Mothies for contributing to this report.
January 6th, 2014 by admin
You may not know who these two characters are, but their years-long feud nearly tore the vibrant, ultra-strong Italian Melges 24 fleet to pieces, and the International Class down with it.  Somehow, though, last month Franco Rossini (owner of Blu Moon, on the left) and Riccardo Simonesci (owner of Audi Ultra) buried the hatchet, and the world's best sport boat can once again move forward. From the minutes of the AGM:  "…In a joint statement, [the two] advised the meeting that they acknowledged that they each have the best interests of the Class at heart, and that in the best interests of the Class, they wish to work together going forward to rebuild the Italian Class and the bonds between the Italian Class and the International Class. Having shaken hands, Riccardo and Franco made a toast to the future success of the Melges 24 Class with glasses of Palinka, a traditional Hungarian liquor, that had been made by the grandfather of Arkos Riko, the Hungarian Class representative. The entire meeting joined them in toasting the success of the Class and welcoming this excellent news.
How You Hike Me Now?
The ultra-high level of competition and the unrestricted status of crews and helms in the 20-year old M24 Class has always put the pocket rocket at the forefront of sport boat technique and development within its one-design restrictions.  When Brian Hutchinson's hiking line pads became universal in the fleet, it became feasible to hike your entire body well over the rail for an entire race, no matter how painful, stupid, and nerve-destroying it could be.  And now, like Ricky and Franco's feud, this too, is over!
Thanks to about 5 years of lobbying and plenty of testing and development, the new Melges 24 Rules require shorter stanchions and 'tight' lifelines.  This means asses on the deck, no 'climbing the stanchions' for the #1 and # 4 spots, and, according to Bora Gulari and Harry Melges, 'no loss in upwind speed at all, with a massively better experience for the entire crew'.  And not that it needs it (few designs have aged as gracefully as the Melges 24), but the lower stanchions look better too, and may allow backwater PHRF areas like Lake Erie to rate the archetypical sportboat, which celebrates its 21st birthday this spring.
Way Over Yonder In The Minor Key
2014 also sees the first-ever Class World Championship down under, the Class Association deciding to take the attendance hit by bringing the annual event to Geelong for a 'fleet-building' Worlds, and with barely 30 boats registered so far, we'd say Bora Gulari may be a shoo-in for his first Worlds but for the attendance of a ghost from Worlds Past – it's 2002 World Champion "Star", and we think it'll be the O.G. team of Harry Melges driving, Andy Burdick on tactics, and Federico Michetti and Jeff Ecklund up front.  America's top high-speed pilot versus the original gangstas with a little Blu-Moon flavored Italian sausage and some Aussie croc meat thrown in for good measure…we'll have reports from Bora and team when the US Air Force arrives in a few weeks.  Next year things go back to normal, and we should see 100+ boats on the line in the best-named regatta venue ever: Middlefart, Denmark.
Check in with the rules and other new development in the M24 Rules thread, and take a look at the very interesting 'Builder's Vision" document here.  Title shout to the Vampire song dude.
December 23rd, 2013 by admin