Posts Tagged 'biscayne bay'
There's a new player in on-the-water drone work, and if this quick peak of M32 catamaran racing on Biscayne Bay from earlier this month is any indication, they've got the goods.  Check out Up Top Photography's other work here, and head over to M32 North America on Facebook to check in with the fastest one-design fleet racing in the USA.
February 22nd, 2017 by admin
After being kicked out of the Olympics, our friends down at Coral Reef Yacht Club knew they didn't have much time to act if they were going to save the area's Star boat racing.  Series founder Stu Hebb shares the latest from the Star Winter Series. (and follow the Star Worlds, which starts any day now, over here.)
It was clear at the end of 2012 we were going to have a problem, with far more than just Olympians' boats rapidly disappearing from the area.  So rather than watching our existing regattas die a slow death with the Bacardi trailing the trend by a year or two, we looked at ways to package the existing Star regattas and provide something special to keep everyone engaged, and maybe even bring in the next generation of Star sailor.
CRYC member, big boat racer, Opti mom, and Ironman athlete Kenia Roche is a financial advisor with EFG International, which has a good track record of sponsoring interesting regional and continental events, and she jumped aboard from the beginning as more than a sponsor, but a partner.  This allowed us to go from somewhere around 1950 to the 21st century almost immediately.  We moved to electronic registration and scoring thanks to Yachtscoring, we created a website and Facebook page and brought in Blocksail for all our imagery and PR/marketing work, we spent some money on advertising and logos and apparel and signage, and we worked with CRYC and locals to make sure everyone could keep their boat where they wanted and get easy info on housing, logistics, and whatever else anyone needed.  And then we kept at it even when we didn't want to, and even when it looked like the series wouldn't catch on.
The first event attracted 14 boats. This year's final event, the Walker Cup attracted a record 43 boats, with more than 65 having sailed the full Series. That fed the Bacardi with 68 boats and now the Star Worlds has an 81-boat scratch sheet with a more international fleet than any other non-Olympic Class in the world.
We've spent a lot of time and energy trying to make sure we support younger Star sailors, and we've been lucky to have guys like Luke Lawrence and Josh Revkin and Thomas Hornos and a bunch of other young studs sailing in our events.  But we're even happier to see even younger sailors getting excited about the Star.  That's the pic you have above from Marco Oquendo – it's the Coral Reef, last weekend, where 3 past Star World Champs – George Szabo, John MacCausland, and Lars Grael spoke with a group of enthusiastic Opti sailors about the Class, and took them on the boats to show them the many, many ropes.  They're all sitting on Lars' 2015 Worlds-winner Renata, which was crewed by Samuel Goncalves, one of the 4000 kids who learned to sail thanks to the Grael Project in Rio.  Now, those 4000 kids – many of them from impoverished favelas like Samuel – have a World Champion from their ranks).
We don't think we changed the world, but we definitely saved a fleet, and we want the sailing community to know that there's more to be excited about than just foiling cats and skiffs –  Star boats are making plenty of waves, too.These kids of efforts – especially with the really young and excited kids –  keep feeding the pipe for the next 50 years, and we salute these Star sailors, these kids, and the hundreds of sailors who've come to play with us in Biscayne Bay these past few years.  Come back soon.
-Stu Hebb
Star District 20 Fleet Captain
April 8th, 2016 by admin
With his empty RIB found loaded up with phone, PFD, and GPS, the situation in Miami is confusing and tragic, and US Sailing Team Olympic racer, waterman, mentor, coach, and all-around awesome guy Trevor Moore and his family NEED YOUR HELP.  If you are anywhere near the Miami area, please get down to Dinner Key Marina at 0730 today (Saturday) to join the search for our missing friend.  More from Waterlust's Patrick Rynne, and good on him for leading the charge.
Trevor, we're coming buddy! We need boats and eyeballs. Also bring sunscreen, hats, binoculars, VHF radios and cell phones with full batteries. Backup phone batteries are a plus. Today was 14 hours on the water, prepare accordingly.
More here, and in the thread here.
June 27th, 2015 by admin
Longtime SA friend and 2012 Olympic 49er sailor Trevor Moore is missing.   If you are in the Miami area, please, please, please keep your eyes out.  From his Facebook Page:
Trevor was last seen at around 1pm today (Thursday) at the US Sailing Center in Coconut Grove, Florida. According to Libby, his fiancée, he went out alone in his VSR RIB.
Word has it the boat was found but Trevor wasn't in it. Please contact the Miami Coast Guard at 305-535-4562 if you know anything, saw anything, or see anything today. 
And if you are out there fishing, sailing, or booze cruising, please keep your eyes open.
June 26th, 2015 by admin
Like pretty much everything in sailing, it took three years of good management from the Star Winter Series  to go from nonexistent to nearly 100% growth, thanks to series founder Stu Hebb's hard work and an early partnership with Sailing Anarchy, EFG International, and Blocksail.  Stu's embrace of the modern era for his website, social media, and scoring helped move this sometimes-ancient class into the 21st century with predictable results: It's now got a 24-year old champion for the first event of the season and more buzz than quite a few more modern classes.  Not something you hear often in the Star!
Fresh off one standout performance after the next, 2014 J/24 World Champ tactician Luke Lawrence was stoked to take this one.  "After a really fortunate year as crew, it's great to get one as a driver, especially in such wildly varying and hairy conditions.  Huge credit to my crew Josh Revkin, who will hopefully help get me around the course in good fashion again in a weeks' time in Nassau.
Wind from 8 to 28 knots meant a rig or two went for a swim, but the rest had a blast.  Marco Oquendo photo with loads more here.
November 23rd, 2014 by admin
The Marstrom 32 has had an incredibly tumultuous year, yet somehow, the Class has overcome multiple dismastings as well as a management/ownership war over the molds and name of the boat, and the final result is that M32 owners and crew have had an excellent little series in Miami this winter and there are good omens for the future of the beach-cat-on-steroids.  Former Berg Composites chief Hakan Svensson helped preside over a huge sale of his former company to Caterpillar, and now the passionate sailor is on to greener pastures – in this case, running a racing catamaran company and class, and possibly even building a stand-alone beach cat racing center out of the Rowing Club in Miami.  He's a very smart cookie, and having someone as bright as Svensson at the helm bodes well not just for the Class, but for beach cat sailing in Biscayne Bay, the new "Lake Garda of the USA."
Above is a nice look at the series if you are obsessed with slow motion; otherwise, it's a good example of 'too much of a good thing' – but still pretty!  There's a good thread on the M32 Winter Series here.
March 25th, 2014 by admin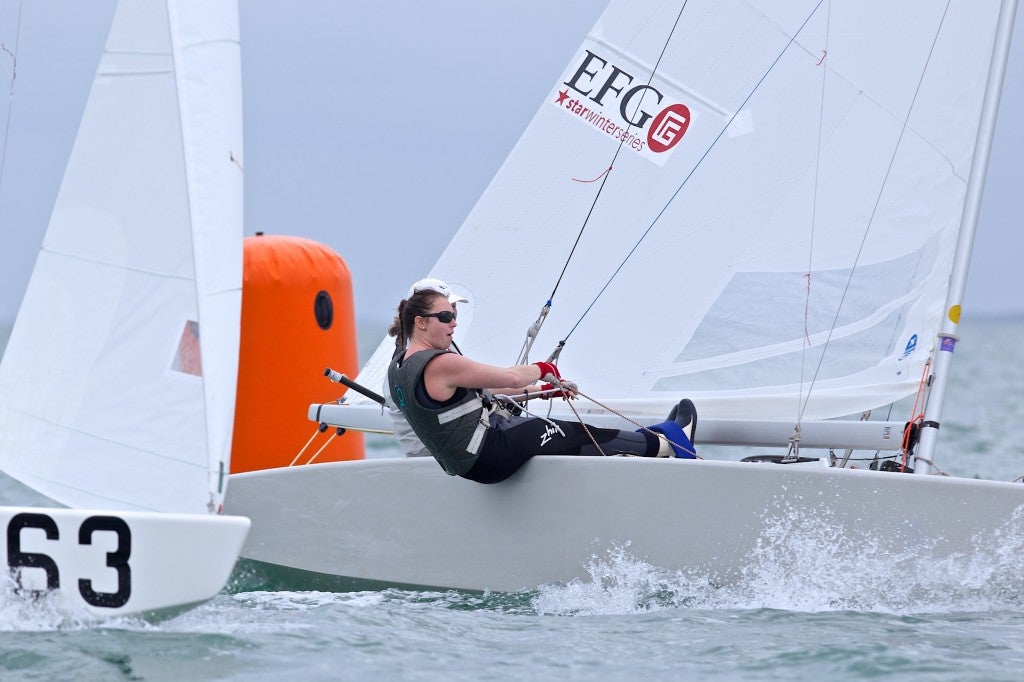 Like Colin Kaepernick in the frozen Midwest last week, Sailor Chick of the Week Laura Beigel (Annapolis, MD) shows off her guns despite a chilly and wet Saturday at Star Winter Series event number 3.  Beigel, along with her aunt and longtime Star skipper/Class Exec Barbara Vosbury-Beigel pulled a nice midfleet finish of 14/22 on the weekend despite tipping the scales at about half the weight of most of the fleet.  One-legged Brazilian badass Lars Grael/Sam Goncalves finally knocked Augie Diaz off the top spot in a regatta, but only on a tie-break; Augie continues to dominate the Series as the biggest event – the 26-boat, 8-nation, world champ and medal-filled Midwinters kicks off on Thursday.  Hit up the Series Facebook Page for event reporting from our boy Clean, with more photos like this one from Meredith Block.
January 8th, 2014 by admin