Posts Tagged 'biscayne bay'
Like pretty much everything in sailing, it took three years of good management from the Star Winter Series  to go from nonexistent to nearly 100% growth, thanks to series founder Stu Hebb's hard work and an early partnership with Sailing Anarchy, EFG International, and Blocksail.  Stu's embrace of the modern era for his website, social media, and scoring helped move this sometimes-ancient class into the 21st century with predictable results: It's now got a 24-year old champion for the first event of the season and more buzz than quite a few more modern classes.  Not something you hear often in the Star!
Fresh off one standout performance after the next, 2014 J/24 World Champ tactician Luke Lawrence was stoked to take this one.  "After a really fortunate year as crew, it's great to get one as a driver, especially in such wildly varying and hairy conditions.  Huge credit to my crew Josh Revkin, who will hopefully help get me around the course in good fashion again in a weeks' time in Nassau.
Wind from 8 to 28 knots meant a rig or two went for a swim, but the rest had a blast.  Marco Oquendo photo with loads more here.
November 23rd, 2014 by admin
The Marstrom 32 has had an incredibly tumultuous year, yet somehow, the Class has overcome multiple dismastings as well as a management/ownership war over the molds and name of the boat, and the final result is that M32 owners and crew have had an excellent little series in Miami this winter and there are good omens for the future of the beach-cat-on-steroids.  Former Berg Composites chief Hakan Svensson helped preside over a huge sale of his former company to Caterpillar, and now the passionate sailor is on to greener pastures – in this case, running a racing catamaran company and class, and possibly even building a stand-alone beach cat racing center out of the Rowing Club in Miami.  He's a very smart cookie, and having someone as bright as Svensson at the helm bodes well not just for the Class, but for beach cat sailing in Biscayne Bay, the new "Lake Garda of the USA."
Above is a nice look at the series if you are obsessed with slow motion; otherwise, it's a good example of 'too much of a good thing' – but still pretty!  There's a good thread on the M32 Winter Series here.
March 25th, 2014 by admin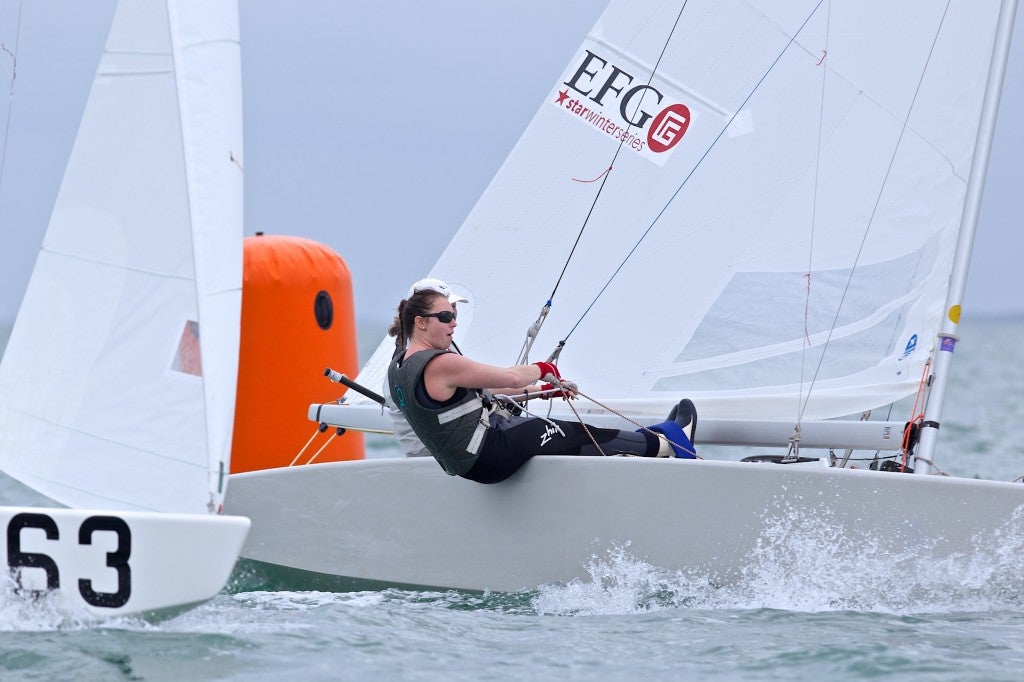 Like Colin Kaepernick in the frozen Midwest last week, Sailor Chick of the Week Laura Beigel (Annapolis, MD) shows off her guns despite a chilly and wet Saturday at Star Winter Series event number 3.  Beigel, along with her aunt and longtime Star skipper/Class Exec Barbara Vosbury-Beigel pulled a nice midfleet finish of 14/22 on the weekend despite tipping the scales at about half the weight of most of the fleet.  One-legged Brazilian badass Lars Grael/Sam Goncalves finally knocked Augie Diaz off the top spot in a regatta, but only on a tie-break; Augie continues to dominate the Series as the biggest event - the 26-boat, 8-nation, world champ and medal-filled Midwinters kicks off on Thursday.  Hit up the Series Facebook Page for event reporting from our boy Clean, with more photos like this one from Meredith Block.
January 8th, 2014 by admin