Posts Tagged 'big pimpin''
June 16th, 2017 by admin
Big Pimpin'
Our friends at RS Sailboats are lighting things up with the ultra-light RS Aero singlehander.  We'll have more from them next week as their North Americans gets set to go off in the Gorge.
A year ago almost to the day, the first production RS Aero dipped its toe in the water just around the corner from RS HQ in Lymington, UK. And then the whirlwind began!  A year gone by and an average of 2 RS Aeros have been sold every single day. As you read this, the 600th boat is in transit to South Korea with a further 150 boats on order. Alongside boats dispatched to Israel, Russia, Turkey and Bermuda, the RS Aero will have reached 39 countries and 4 continents around the world in just over a year.
Not yet established in Africa, Sailors in South Africa are eager not to miss out on the action with 3 competitors entered and chartering boats for the RS Aero Eurocup and Lift-Off Coaching taking place over the RS Tera Worlds in Bruinisse this Summer. The event will be the first official RS Aero International Championship and will immediately follow the RS Aero North American Championships, Oregon. Held in late July, both will set the precedent for a busy season on the International circuit. The RS Aero UK Nationals and International Open will take the baton a month later before handing over to the very first RS Aerocup to be held in Barcelona in October.
Now with 90 boats in the United States and over 40 in Australia, the Aero has well and truly taken flight. The UK remains the largest Aero nation with over 280 sailing at over 120 clubs, 19 of which have a fleet of 5 or more boats. Nations around the globe are hot on the chase; North America are ramping things up with 19 entries already in for the RS Aero North American Championships just weeks after entry opened, while Germany stakes claim to the second largest Aero Nation in Europe.
750 orders, 365 days, 39 countries, 4 continents, 4 awards, 1 big family doing what we love. It's been one to remember, and we can't wait for the next year of Aero!  Learn more about the boat and the Class here.
July 15th, 2015 by admin
Big Pimpin'
You know you've been putting off that new crew gear purchase, just waiting for the big deal to come around one last time before the season hits full swing.  Well, THAT TIME IS NOW with a full 60% off for the top end in professional technical gear.  Under 25$ for Pro-Tech in short or long sleeve for under $25 including your logo!
All you need to get the free logo on the left chest is an order of five or more and the coupon code "Best Crew" at checkout. Don't wait to order, this deal will come to an end before you know it!
We will even create your logo for you for FREE if you don't have one. Just place your order and then email [email protected] with art or just an idea for art and let our design team make your team look PRO for 2015.
May 6th, 2015 by admin
Big Pimpin'
One of the most competitive and extreme one-design fleets of the past decade has gotten the message from its owners, and we're excited to share the news that the Melges 32 Class is rolling out a new Winter Series for the 2015/16 season.  Hosting all three events from the same yacht club will cut down significantly on logistics costs, and the Fort Lauderdale venue will prove far more affordable than some of the over-the-top locations of recent years.  With used boats available at great prices, it's a perfect time to get into the exciting Melges 32 fleet.
Joy Dunigan photo, and check out the full schedule over here.
April 7th, 2015 by admin
Big Pimpin'
Rather than get into protracted trademark litigation with some asshat in an entirely unrelated business, our pals and longtime advertisers at YellowBrick have just announced a name change, and we're passing it along so that everyone knows where to find the most reliable offshore tracker in the sport.  From now on, they'll be known as YB Tracking, and you can find them at www.ybtracking.com.  We're also stoked to learn that more and more events will be offering free mobile tracking as well, solving the only gripe we have about the YB program. Here's more from Nick @ YB:
Aside from our name, absolutely nothing else is affected. Our staff, products and service delivery remain unchanged and our business will continue as normal. Your primary contact for any assistance should be [email protected]  Thank you for your continued support, and we look forward to serving your next race, event or expedition as YB Tracking.
July 25th, 2014 by admin
New York Angels founder Brian Cohen has made his mark on the business world by investing in over 200 disruptive start-up companies, though he is perhaps best known for being the original investor in Pinterest. So when it came time for Cohen to replace his Swan, the investment legend knew it was time for something a little more… disruptive.  Even Anarchist.  Very little in today's sailing market intrigued Brian until he discovered Gunboat, and the excellent new Gunboat 55.  We rarely publish gushing reports, but given the stature of this author and our love for all things Gunboat, we thought we'd share some glowing positive sentiments from a happy new boat owner. And to Brian: Keep disrupting, bro.  And for you grommets who don't know what we're referring to in the title of this piece, get educated, and don't forget to watch the video below Brian's thoughts.

My life has always involved technology disrupters. Little wonder that meant my sailing life would also be disrupted by the extraordinary vision of Peter Johnstone and my new Gunboat family of 100 artisan boat builders in North Carolina. From the moment RAINMAKER left the dock in Wanchese, headed for NYC, I knew my life would never be the same. Being the honored owner of the very first GUNBOAT 55 comes with the great responsibility of sharing its luxury, speed and grace with whomever I could. The sailing world has forever changed!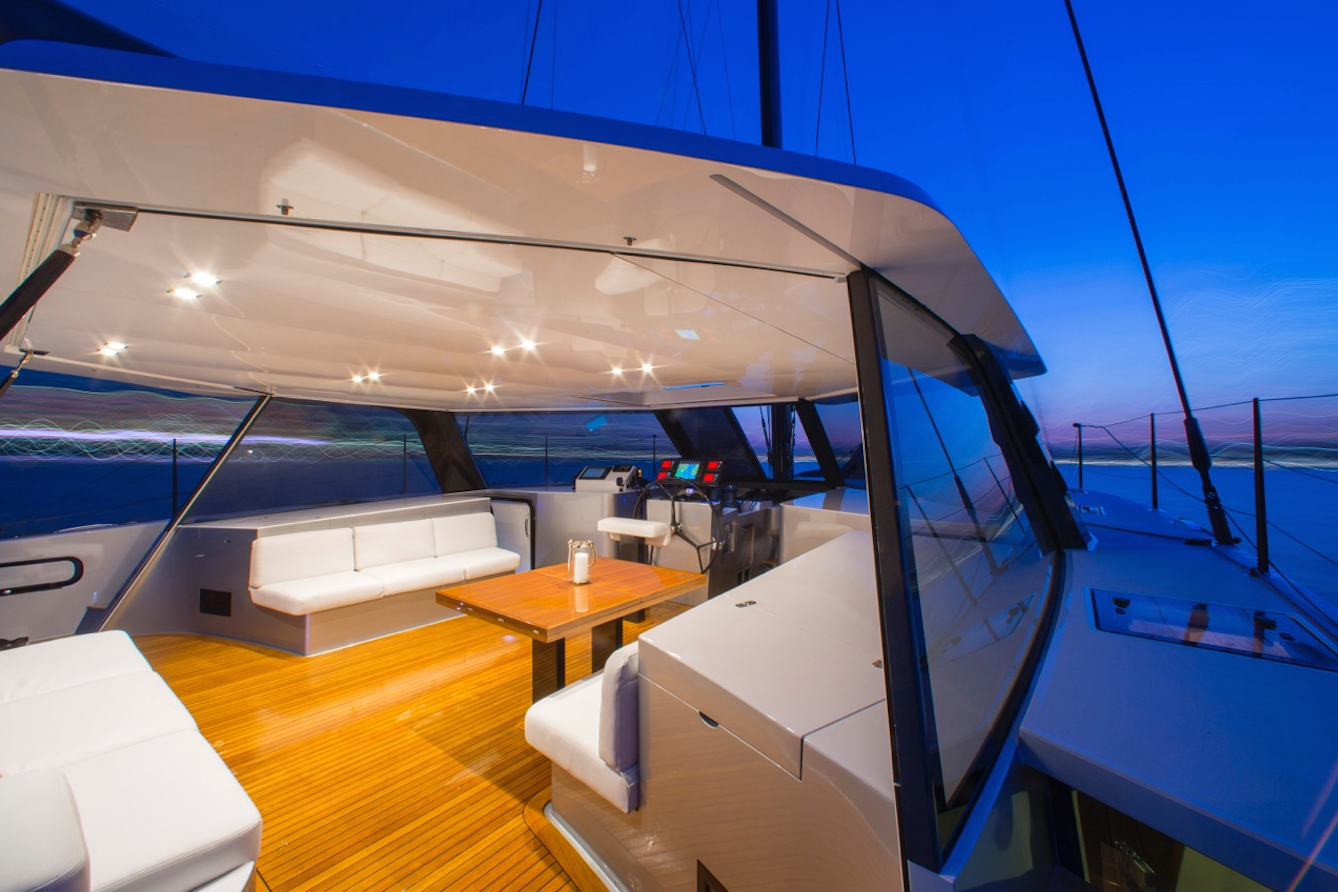 On Father's Day I took the first sail with my family on Long Island Sound and anchored in Huntington Harbor. If a sailing experience can be magical, this one was, and we all shared it together. We toasted the moment and then took turns at the wheel, sailing past every one, countless wide-eyed faces trying to figure out just exactly what it was that they were seeing.
On board we shared the exhilaration as RAINMAKER's speed dramatically accelerated, 12 knots, 13 knots, 14 knots, and screamed in harmony as she hit her stride at 18 knots. Screams gave way to giggles, everyone thoroughly enjoying the rush of fear and excitement of such an unknown experience. The boat's ease of use and power have created a new level of quality and performance expectation in the sailing universe.
My urge to sail RAINMAKER is very intense. I live in the West Village and have reserved a slip just 15 minutes away via the PATH train at the beautiful Newport Marina. Against the backdrop of the Manhattan skyline, and amongst the many 100'+ motor yachts, RAINMAKER's sailing power and luxury feel right at home.
We are fortunate to have the young but very experienced chief Gunboat skipper Chris Bailet onboard, who is quickly connecting with RAINMAKER's mind, as I become its soul. This past weekend with winds nearing 25 knots, we seamlessly climbed through speeds in the high teens and into the twenties, eventually flying faster than the wind!
I'm looking forward to getting RAINMAKER out on the racing circuit as soon as possible, our first test being the ALIR in late July, a race I won in 2002 aboard my Swan 40. If our early experiences are an indication of our potential, RAINMAKER will become a regular sight on the race course.
In the meantime, we'll be enjoying evening and weekend sails on the Hudson. If you happen to be in the New York Harbor, please come by and say hello.
-Brian
July 9th, 2014 by admin
Big Pimpin'
Our friends at West Marine have joined up with Nobeltec to give away a brand new iPad loaded with charts to celebrate their excellent nav data going mobile with the new TimeZero App for IOS.  We'll have  full review of the app for you as soon as the ice melts, but if you want a chance to win a jewel of a device with some useful tools, get over to Facebook and fill out a quick form right here.
February 7th, 2014 by admin
Big Pimpin'
Doyle Sails continues to crush it down in the deep South, with Stratis-powered boats taking overall line honors, overall handicap, and taking the line in 4 of 6 classes in last month's NZ Coastal Classic.  We've got two reports for you; one from Simon Kidd aboard overall handicap winner Omega, and one from Moose on the Team Australia trimaran.  Awards irony:  The brand new North Sails trophy for top monohull on handicap went to Omega and her brand new set of upwind Doyle Stratis ICE sails.  Full list of Doyle-powered results and photos are here, and Adam Sandler fans everywhere should get the title reference.
Omega Men
It was always going to be a great race for Omega upwind, with pressure and the breeze backing later in the day. We started well ahead of the starting gun with preparation on the boat, which is half the battle, dropping the rudder to service the bearing and undertaking several other small maintenance jobs. For the sail inventory we added a new Stratis ICE Code 2 headsail, which we carried from North Head up the coast, and also a new Stratis carbon technora mainsail.
With a large fleet off the line there was some urgency to set the Doyle A3 laminated gennaker and we made a nice jump on the other 40's down to North Head. We had a good run up to Sail Rock with a long port tack and couple of short starboard tacks. Just after Sail Rock a squall came through and we ended up bareheaded for a couple of minutes before settling back into a slightly cracked jib top and then into the Code 0 which carried us through to the Cape Brett. The 40 fleet was locked together with Mojo, Power Play, Pretty Boy Floyd and Lawless all metres apart as we cleared the Brett.
Omega was in her element with an 150% overlapping headsail we laid pretty much through to the Black Rocks, having taken advantage of the incoming tide and then a long starboard tack through to Tapeka Point. A short tack and we laid up to the finish just as the breeze started to die, with the tide changing as we finished. Skipper and owner Scott McLaren was delighted with the result and very complementary of both the crew and also the Doyle sails that powered Omega to her win.
Tri Harder
It's a long time since someone brought a boat all the way from Australia for the Coastal Classic and so when owner Sean Langman and his team made noises about bringing their very cool ORMA Trimaran Team Australia over for the 2013 event it was pretty exciting news. Team Australia is, like local boat Team Vodafone, an ex-French ORMA Class box rule  boat, maximum length, maximum beam, maximum mast length and that's about it… they were developed for a combination of round the buoy Grand Prix events and single and double handed Trans-Atlantic racing. Until the creation of the AC 72 they were the most developed large multihull in the world.
Team Australia started their 2013/4 campaign by setting a new bench mark for the Trans-Tasman sailing record, crossing from Sydney to Auckland in 2 days 19 hours 2 mins 45 seconds. Their new record, now ratified by the World Speed Sailing Association, has set the bar very high for others to try and have a crack at. Once in Auckland, with the crew recovered from their Tasman ordeal, we set about getting her ready for the Coastal Classic. This entailed the guys removing all the offshore equipment and most excitingly the fitting of three new Doyle sails to compliment the new mainsail we fitted late last year prior to their successful Sydney-Hobart record run. Ahead of the Coastal Classic, Team Australia got a new Radial Stratis gennaker, and replaced both the primary headsails, the "solent" and "trinquette." These new sails were utilising our very latest technology, with both the jibs being Stratis carbon ICE. All the sails went straight on and fitted like gloves and were "sweet as," to use the words of one of the crew.
Race day came around and I think I was the most excited person in Auckland, with the prospect of an upwind beat to Russell, knowing we had two brand new jibs in our arsenal. The start went well, with Sean's years of skiff sailing paying good dividends. We won the race to North Head but soon after Team Vodafone got through us by just carrying bigger sails. Team Australia is less powerful then Vodafone and so we decided to go with the smaller Trinquette jib. During the reach to Kawau Island we struggled to hang on to them as their added power let them slip away. Around Kawau we cut the corner on them and were right back into it… we then exchanged a couple of tacks and with the wind forecast to go left, we protected that side and were starting to pay good dividends. Just as we were about to tack and clear ahead the $10 lashing that held  the Solent Jib up snapped and we had the jib fall on the deck. There is no halyard for this sail, it gets hoisted on a Gennaker halyard and then lashed, so we had to change down to the Trinquette and set about to catch them up. Whangarei Heads was always going to be an interesting landmark to get past in a Westerly breeze. We saw Vodafone go wide and so hit the beach. This paid off big time and while they were struggling offshore in light winds and headed breeze, we were smoking down the beach. From the time we got past them through to when we finally rounded Cape Brett I believe we were just quicker, as we reasonably quickly extended our lead out to nearly 40 minutes from there it was a blasting reach into the finish..
All in all it was a very satisfying win for Team Australia, we certainly had had our share of obstacles along the way! A big thanks to Sean and the Team Australia team for putting their faith in Doyle Stratis sails to power their amazing boat, and thanks also to our team for delivering. Let's hope Sean can bring the boat back next year to have  a crack at defending our title!
November 4th, 2013 by admin
Big Pimpin'
Our performance-loving friends over at Velocitek have spent the last couple of years designing and building the perfect tactical compass, and today, they introduce it to the world!
The new Shift uses a nine-axis solid-state sensor to provide buttery smooth compass headings regardless of conditions, while the port/starboard reference angle buttons and indicators are huge, intuitive, and extremely easy to use.  Instead of doing mental gymnastics or waiting for your existing compass to stop bouncing around so you can see if you're lifted or headed, the Shift tells you what you need to know quickly, accurately, and reliably, taking the guesswork out of your tactics on the course.
Hit the thread and ask the inventors yourself if you have any questions.
October 29th, 2013 by admin
Doyle's new ICE fibers may be the worst kept secret in sailmaking over the past couple of years; it's been helping grand prix racers like Secret Men's Business, Hugo Boss, and the Team Korea AC45 perform for some time now.  Mike Sanderson tells us it's incredibly light and stable for a given strength and extremely durable, handling the  flexing and bending those neatly flaked and bricked sails take with very little loss of strength, if any.
The long-awaited official launch of the new ICE happened yesterday, so hit up your local Doyle dealer for their advice on the newest badass molecule, and check here for more info on the science.
August 14th, 2013 by admin