Posts Tagged 'big pimpin'
Big Pimpin
The SAP 5O5 Worlds has everything you'd want from a big event: Container accommodations, spectator boats, live race coverage on the SAP youtube channel,  and the event website is a great source of information.  So far, all that's missing is the wind. Like Outkast so wisely said, "You can plan a pretty picnic, but you can't predict the weather."  The next few days are looking better with breeze coming in for the final days.
Seldén Mast has been on site all week in support. Their "Alto" 505 mast has won about everything there is to win in the 5-Oh class and they're raffling a brand new one this week. This Alto is from their new "XPS" aluminum alloy, which is harder, stronger. better against corrosion, and can take more bend without a permanent set – ideal in a dinghy mast. You can jump in the raffle at the link below.
From the SAP 2017 International 5O5 World Championship event:
Dear Competitors,
Our Partners at Selden are going to run a raffle for their brand new Alto Mast Section.  Each ticket is $1.00, 6 tickets for $5.00, or 12 for $10 to be entered and randomly drawn for this great prize.  We will announce the winner at the closing ceremony on Friday.  Selden has also agreed to generously donate all proceeds to the Olivia Constants Foundation (link).  The Olivia Constants Foundation was founded in honor of Olivia Constants, a talented young 14 year old whose life was taken away on June 23, 2011 in a tragic sailing accident. Olivia lived her life with such joy and has impacted so many people that we have been encouraged to continue her legacy through this foundation.  The Foundation is run by Steve Constants a longtime member and leader at SSA.
You can buy as many raffle tickets as you like to maximize your chances of winning this great prize!
To buy your tickets please use this Paypal link.
And if you don't know about the 505, now ya know, Sailor.
September 28th, 2017 by admin
Big Pimpin'
Over eight years ago, Hakes Marine in New Zealand started building a very special catamaran for a German client. It was called the SL33: 10m in length, weighing only 650kg with a mast over 18m tall. A bit insane in its power-to-weight ratio, the boat was designed and built for the light winds of Lake Constance, where the goal was to fly hulls to victory fly to victory  in the typical 4 knot breeze.  
The SL33 was one of many successful ventures between builder Paul Hakes and designer Gino Morrelli. At the time of construction, Morrelli & Melvin were also contracted by Emirates Team New Zealand to design what would eventually become the very first flying AC72. Impressed by the SL33 project and recognizing it as a good training and development platform, ETNZ purchased two SL33s from Hakes, with Luna Rossa following suit and purchasing one of their own. Using this new, lightweight yet robust platform, ETNZ began daggerboard development and eventually learnt how to foil on the SL33s. This technology and valuable experience was quickly applied to the AC72, which went on to shock the world with the first-full flying America's Cup boat, setting a standard for AC racing that would continue through the exciting event in Bermuda while changing the face of racing forever.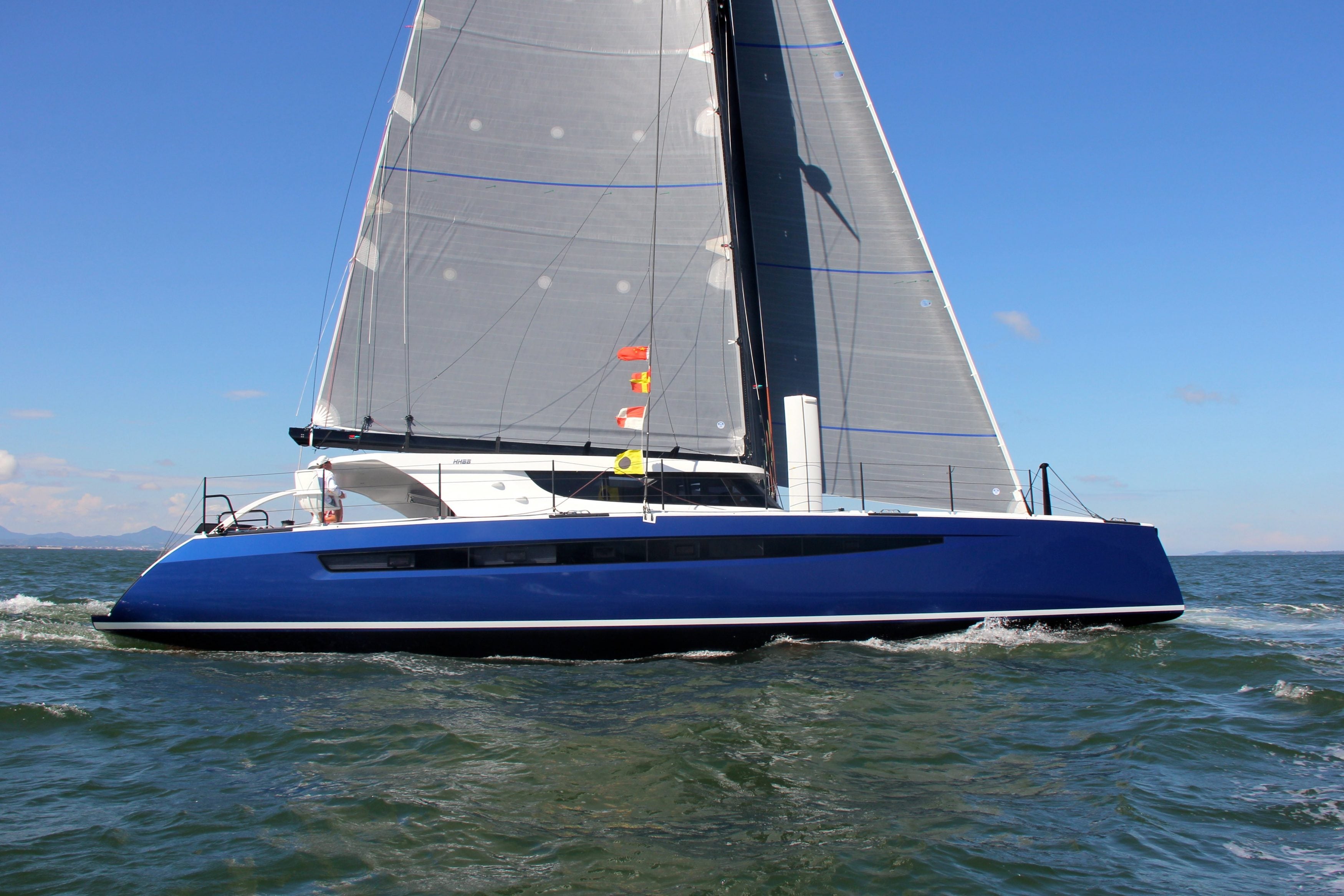 Since that revolutionary day in New Zealand, the world has seen a remarkable number of boats, both multihulls and now even monohulls, flying on foils with incredible speed. It's great to reflect back to one of the foundations to flying multihulls and spectacular America's Cup racing, the SL33. Today there are three SL33s still tearing it up around Auckland's Hauraki Gulf. Black Jack, the original SL33, still dominates lake racing in Northern Europe.
Today, we see Paul Hakes and Gino Morrelli teaming up again, this time on a slightly cushier project! HH Catamarans, the luxury, performance cruising cat line, has commanded the niche market, and considering the shared pedigree: carbon construction, curved C-boards, T-rudders, push button sail controls; and luxuriously comfortable platform, it's easy to see why. HH Catamarans' most recent launch, HH66-05 is currently in the midst of sea trials – check out the video of her launch here. The electric blue hull is already hitting speeds in the high teens in the light Xiamen seabreeze, with plenty left in the tank. With a forward helm inside the salon and ORMA style bucket seats and tillers aft, HH66-05 provides the best of both worlds for the serious dual purpose sailor. Loaded with all the amenities for cruising and entertaining in style, the HH66 will be the perfect platform for spectating the next Cup in Auckland in 2021… Want to get in on the fun? Contact [email protected] to discuss your AC inspired cruising catamaran, and find out more about HH Cats bere.
July 10th, 2017 by admin
Thanks to the wishes of an uber-secret previous owner, images and videos of the monster Gunboat 90 have been scarce since her launch.  But now that the biggest and baddest cruising cat of all is up for sale, the covers are coming off for the world to see.  She's got the M&M 'battleship' lines that so many love about the pre-2013 Gunboats, and this girl is definitely the only luxury superyacht that can easily hit 30 knots under sail and embarrass any other superyacht on the planet around the cans.
We're not superyacht lovers by any means, but if we were billionaire industrialists or climate-denying oligarchs, this is what we'd sail away on once the coasts are under water and the poor are eating the rich.   Hit up Nils for more details about the G90 or to arrange a (carefully pre-qualified) test sail.
March 24th, 2017 by admin
Big Pimpin'
After a complicated 2016, Gunboat is back with a vengeance, and they open up 2017 with a Caribbean get-together of Gunboats that includes a head-to-head war between two of the most turboed luxury cats ever splashed!
In the above video you'll see the beastly and beautiful Extreme H2O, the queen of West Coast Gunboats and the fastest multihull in the Transpac.  The last (and by far, the quickest) of the Gunboat 66 line, the burgundy and green mile muncher is transiting Panama tomorrow from Pacific enroute St. Maarten for some relaxing sailing and prepping at the Heineken before the battle of the BVI begins.
Double Melges 32 World Champion Jason Carroll's all-conquering Gunboat 62 Elvis easily owns the East Coast Champ title in Gunboat land, and has put a similar amount of hot rod performance into his now-teenaged silver G62.  Carroll's well-oiled multiple world champ, moth, and sportboat crew knows the BVIs like the back of their hands, and they'll be looking to represent the land of Tom Brady against the interlopers from the Republic of California.
It all goes down at the BVI Spring Regatta at the end of March, where Elvis and Extreme will join the turbo 60's Flow and Arethusa as well as Momentum and a couple of TBAs for the biggest Gunboat fleet of the season.  Extreme will hope that her extensive modifications and the racing knowledge of VPLP principals Vincent and Xavier as well as a few Gunboat ringers will give her the edge…
Extreme is now for sale, so if you're looking for one of the fastest and sexiest cruising boats ever assembled, and you're the kind of owner that appreciates a boat whose kinks have been worked out in excruciating details, let Nils at Gunboat know so you can schedule a closer look.
If you're puzzled by the title of this piece, get some gangsta in ya.
February 10th, 2017 by admin
Big Pimpin'
You can always spend more money, but you CANNOT BUY A BETTER SHIRT!
Right now you can save more than 60% and make your team or event look professional in 2016! Show your team you appreciate them with the top of the line UPF 50+ Pro-Tech in short or long sleeve for under $25 including your logo!  To get the FREE LOGO on the left chest…just order five or more and the coupon code "BEST CREW" at checkout.
Don't have your logo all done up yet?  We will even create your logo for you for FREE if you don't have one, or need a digital recreation. Just place your order and then email [email protected] with your ideas and let our design team make your team or event look…PRO.
Need ideas on creating a unique look for your team? Click Here.
For more on our models, click:
UPF 50+ Pro-Tech long sleeve
UPF 50+ Pro-Tech short sleeve
UPF 50+ Pro-Tech Hoodies
March 28th, 2016 by admin
Big Pimpin'
As paper publishers continue their slow collapse under the weight of thousands of tons of dead trees and industrial-age technology, only one English-language magazine remains truly relevant for those serious about their yacht and dinghy racing.
It is, of course, Seahorse Magazine, the only print pub on the market with a combination of detailed technical writing and exciting, first-hand coverage of many of the sport's most interesting players and games, and every year, the Anarchists that run the joint make their best offer for you SA'ers:
Sign up right now for a full 12-month bundle – that's 12 issues of the leader in print racing delivered to your door, and full access to Seahorse Digital –  and you'll get an incredible 50% off the regular price of 101$ – that's just 50 bucks!
Whether you're a new cord-cutter or you don't even remember what paper looks like, you can subscribe to the digital-only Seahorse for an even bigger discount – down from $49, now just 20 smackeroos!
DO your shopping right over here, and be sure to use the promo code BADBOY1 if you want the discount love.
December 21st, 2015 by admin
Big Pimpin'
One of the things we're excited to check out at the METS show is Oceanvolt's new smartphone app to go along with their very sexy electric motor and management systems.  We've got a treehugging streak, but even for the environmentally apathetic, these things have some phenomenal benefits over traditional diesel systems. More from our pals in Finland:
Oceanvolt's award-winning electric motors and energy management systems for sailboats and catamarans are silent, lightweight and maintenance free. Oceanvolt offers both sail drive and shaft drive motor models.  The Oceanvolt SD system has a patented, flexible mounting to attach the motor to the sailboat hull to absorb vibrations. This feature also makes it possible to refit or install the electric motor system on any boat between 20-80ft.
Oceanvolt systems create energy while sailing – up to 4000W per motor, monohull or catamaran. This will recharge the batteries quickly. Complemented with solar power and shore power, there is rarely any need to use a generator while sailing.  Compared
to traditional diesel motors, Oceanvolt electric motors have no gears or components that wear out or parts that need to be replaced in yearly service.
Oceanvolt has also developed a smartphone app that will show you the system's state of charge and status, as well as the location of your boat and other useful info, anywhere in the world. This same system is also used by Oceanvolt's service team to monitor, diagnose and remotely service customer boats. It is called Oceanvolt RSI- Remote Service Interface.
Learn more the Oceanvolt website, and like them on Facebook here.
November 13th, 2015 by admin
Big Pimpin'
The first new innovation in racing hull coatings in years is making a lot of noise on the race course; it's called Eelsnot, it's totally green and made in the USA, and it's available now at Latis International.  It also works for powerboats, boards – anything you have that needs a smooth hull and protection from critters.
In 2014, Newport's Will Welles took the 2014 J/24 World Championship using it, and it helped him take the National title as well as big-fleet firsts in the J/70 in Miami and 3rd in Charleston.  Here's what he had to say. We threw everything we could at our eelsnotted bottom during the J/24 Worlds weed sticks, flossing, even a crab pot or two.  When we pulled her out of the water she looked exxactly the same as she did when we splahsed her.  Eelsnot is fast enough to win a Worlds, and it lasts a full week in the water like nothing I've used.  Get some.
January 20th, 2015 by admin
Big Pimpin'
The father-and-son team behind the VX-One's steady growth can now move a mini-fleet all by themselves; their ability to transport 10 boats in their two rigs at a great price makes fleet-building that much easier.  Get up to date on one of the quickest and hottest new sportboats in this 8-minute Mr. Clean interview with Brian and Hayden Bennett this past Sunday from the shores of the newest VX-One home; Michigan's Macatawa Bay Yacht Club.
August 21st, 2014 by admin
Big Pimpin'
In between forecasting the latest storms' landfalls, our friends at DryUV still have to pay the bills, and they do so with a great line of technical apparel for all your racing and shoreside needs.  And check this out:  The 60+% off deal is back on!  That's less than 20$ for DryArmour's super comfortable, super efficient Pro-Tech UPF 50+ shirts – and that includes your team or sponsor logo!
You don't have to worry about any more poor-fitting 'yachtie' hats, either; DryArmour e just added FlexFit Hats to their awesome lineup.  Add in their compression shorts, hoodies, and polos, and you're covered from skin to foulies – all at a huge discount.  Mark can help with your graphic design and is always available to his customers; order your gear today and check out more about the sale right over here.
August 6th, 2014 by admin