Posts Tagged 'big boat series'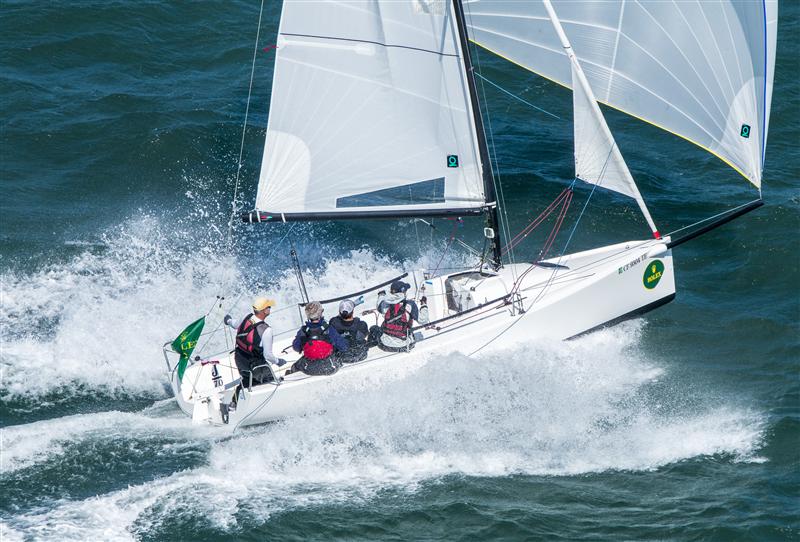 Some of the more entitled folks on San Francisco Bay continue to bitch and moan about our Big Boat Series criticism with the same fervor they have been peppering the America's Cup with since the AC deserted them; this despite the undeniable evidence of the RC's incompetence last week and the fact that the 'new, inclusive' BBS still can't manage a hundred boats on the line despite the average size of the boats dropping by 50% in the past 5 years and despite the draw of their 50th anniversary.  
How is it that Charleston can pull almost 300 boats and Detroit can pull over 200 to their marquee events?  Our issue is not with San Francisco Bay, which, despite the cold and fog, is still one of the world's best sailing venues; our issue is the fact that the folks running the BBS came to their new 'inclusivity' about a decade late, and only because they were forced into it by a nearly dead event.  Like the other 'Tier 1' clubs, the StFYC is, by its very nature, always behind the times (not to mention incredibly snooty) ; that inability to respond to change is yet another reason why the stewardship of the sport cannot be left in the hands of elite yacht clubs without suffering the same calamitous drop in racing interest we've had in the period from 1980 to the present.
All that being said, we've always promised to offer opposing views here on the sport's most-read page; below is one from a J/70 team.  One quick tip to all of our SF-based haters?  Keep hating on us and we'll keep beating on you.  Be productive rather than bitchy, send us reports, and you'll make your sailing community look far less entitled than it currently does. Daniel Forster/Rolex photos.
The 2014 Rolex Big Boat Series was a fairly different experience for me this year.  I've done more BBS's than I can can count now, but none like this.
First off, we didn't sail a big boat.   BBS has, over the years, grown more inclusive to the point where this year they included the not-quite-23 foot J/70s.   Thirteen teams plied the waters of San Francisco Bay, a pretty good turnout considering it was mostly local boats and the event was concurrent with the massively attended J70 Worlds.
Secondly, I sailed with an infant team.  It flies against my instincts to compete in a high level event without significant practice and preparation.  I like to be competitive, and a lack of preparation is a recipe for frustration.  As I said, however, this was a different Big Boat Series.
You see, we had a J/Would alumni who just a month ago bought a J70.  It's his first boat.  He's been a great client and his enthusiasm for all things sailing is a real pleasure to be around, so when he expressed interest in jumping right into the 'deep end of the pool' and taking a shot at BBS, I couldn't say no.  If I had really thought about it and considered the fact that he had never driven a boat in a real race (outside of J/World Racing Clinics), or if I had thought about the fact that we had precisely one, and only one, weekend regatta to prepare, maybe I would have passed on the opportunity.  But then I would have missed out on a remarkable experience.
What the fleet lacked in LOA was more than made up for in sheer talent.  Paul Cayard was trimming main and calling tactics for Andy Costello (also owner of the J/125 Double Trouble).  There were at least three sail-makers racing on different boats, and a huge host of talented skippers and crews.  The regatta was seven races over four days.  Each morning, our initial daily race was on a windward/leeward course up the SF city front.  Morning breezes were light (10-12 knots generally) and building, and a good flood tide kept the boats tight up against the shoreline for current relief.  For the afternoon race each day, the fleet over to the Alcatraz course.  Breezes each day had built to 20-26 knots and the current had only built.  The afternoon races were marathons, some 16  miles long, including legs from the Golden Gate all the way down to the Berkeley Circle….  and back!
So all of that is pretty standard BBS.  So what was different about this one?  We showed up at a the premier sailing event on the West Coast with a new boat, a new skipper, and a new team, and we felt like we were racing sailboats.  We didn't break anything, didn't crash-and-burn (well, ok, there were maybe two good solid broaches!), and didn't get flushed out the back. And we had an absolute hoot.  Our skipper, so new to the sport, was out there with some of the top sailors in the country…  and in the world!…  and we could taste the competition, sailing many of the courses and races right in the thick of the pack.  In what other sport could you possibly do that?  And in what other boat?
The J/70 is easy to setup, straightforward to dial in, and fun to sail.  In the big breeze, they get pretty physical,  and while my muscles are still aching after five long days of sailing, it all made sense when we would turn the boat downwind and take off on a screaming plane the full length of SF Bay!  Seriously, we were outrunning the Farr 40 World's fleet and other boats with twice the length and four times the crew!  Now if the Race Committee can just comply with our request to have shorter beats and longer runs…
Anyhow, congratulations to Andy Costello for the overall win, and thanks to Dan for a great effort, and a great event.  It really is a ton of fun sailing with him, and he puts up with our antics pretty well.  His progress has been remarkable (a testament to J/World training programs and coaching, if I do say so myself), and we expect great things from him!
Wayne Zittel
J/World Performance Sailing
September 18th, 2014 by admin
St. Francis's Rolex Big Boat Series continues to cling desperately to a name that becomes less and less accurate each year; just half the fleet at last month's event – billed as the 'climax to the summer of sailing' – fit the 49-year old definition of the event's namesake craft, with just two modern racing monohulls over 50 feet entered in the regatta.
That's not a bad thing – well, not unless you're a title sponsor whose image depends on the exclusivity of big yachts, anyway – and it's a good sign that San Francisco's most prominent annual regatta is adjusting to the new American reality of sailboat racing.  Everyone we spoke to loved the action on the mixed course.  "It's just such an amazing place to race, and practicing with the Cup going on made it even better," said one J/boat sailor.  "We had a MOD buzz us, we traded gybes with a big cat, and all in the middle of a tight one-design fleet – what a blast," said another.  There's no doubt that the new formula works, even if the old courses and the old way of thinking doesn't.
But an incident between Melges 24 Rock n Roll and J/120 Chance and the resulting injuries raises an important question for this new reality:  How do you best insure that comparatively potato-chip sized boats don't get run down by big lumps of lead and fiberglass?
The crash happened along the city front during a race where the bigger boats sailed to a mark a mile or two downwind of the leeward mark for the Melges 24 fleet.  While the fleet of J/120s was coming upwind along the SF shore, the Melgi were planing downwind, three abreast, on final approach to their bottom mark.
While a passel of starboard-gybe Melgi doused their kites as they reached into the mark, the J/120 Chance was rolling upwind on starboard tack.  According to several eyewitnesses, and despite the fact that the 120 had room to pinch up and let the battle by, Chance never altered course as the cruiser/racer blasted through the port quarter of longtime Etchells and Melges 24 helmsman Argyle Campbell's Rock n Roll.
"It was maybe the most violent collision I've ever seen on a race course," said one witness.  "It was like a pit bull lunging through a chihuaua," said another.  Campbell was thrown to the deck, splitting his chin open to the tune of 11 stitches, with the bowman landing on top of him.  Tactician Charlie Enright, one of America's most promising young pro racers, suffered injuries to his back, and faces a month or two of recovery.
The J/120 went on to finish their race after untangling themselves from the Melges' sheets, finishing their class in 5th.  We're told they then requested redress for their score, and were thankfully denied.  There was no protest against Chance despite having done nothing at all to avoid a collision – because they never saw it coming.  Rock n Roll would have been DSQ for a W/L foul against the J/120 had they been able to finish their race, but with half the crew headed to the hospital that wasn't really an option.
Other than for Enright (and Charlie, our thoughts go out to you bro), the story has a mostly happy ending; Jeremy "Troll" Wilmot flew in as a last-second sub for Enright.  Boat captain Bill Wiggins and a pile of well-meaning Melges folks rebuilt the boat. Trimmer and Bowchick Charlie and Danielle are still getting married.  And Campbell went on to finish a solid 11th at the Worlds.  But it could have been much, much worse, in a place where "much worse" has happened way too often over the past few years.
Unsafe At Any Size
We're not sure if there's some kind of 'acceptable' threshold, but too many people have died while racing sailboats lately, and if some more careful course management and a little foresight can eliminate the potential for this kind of incident, then that's what needs to happen.  By the same token, both little boat and big boat skippers/tacticians must do a better job preparing for potential boat-on-boat issues when courses and start times are set up in a way that guarantees inter-fleet contact.  Better yet, if you see potential incidents when courses are announced, say something to your RO; they will probably appreciate the chance to make conditions safer for your fleet.  And remember: Failure to keep a proper lookout is a violation of Rule 14 as well as being a violation of COLREGS; if you crash into a boat you didn't see, regardless of ROW, you should be DSQ from the race and may even be partially liable for damages.
If you remember the Melges 32s vs the Optimists this summer in Lake Garda, you'll remember why it was so egregious; not because of the actual danger level, which was quite low.  The outrage came from the potential danger of a locomotive striking a potato chip which just happened to have a little kid hanging off it.  Port/starboard and windward/leeward concerns become a lot less important than common sense and seamanship when this kind of disparate destructive power is on a collision course, and organizers that fail to understand that will, sooner or later, have to send a funeral wreath instead of a 'get well soon' flowers.
Defenders of the St.FYC are already on the attack…Do you think we are we out of line?  Talk about it here.
October 7th, 2013 by admin