Posts Tagged 'bermuda'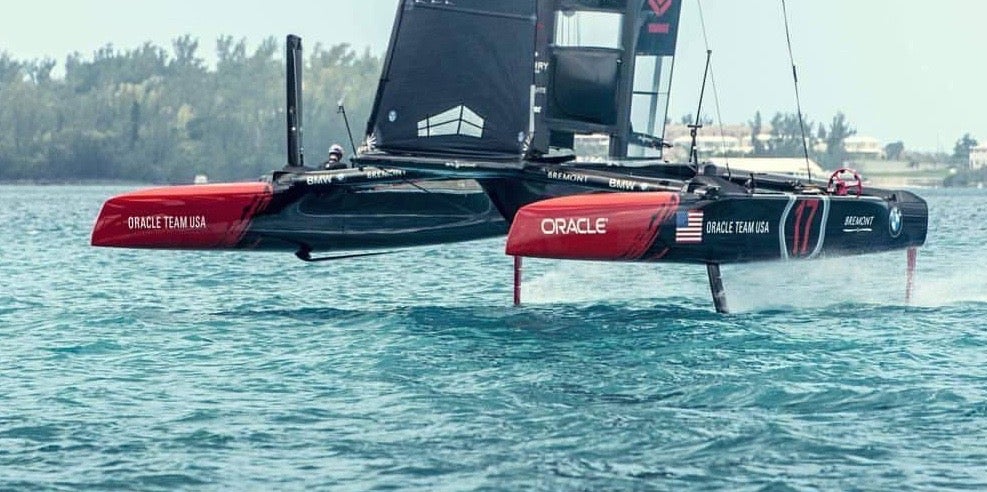 If the America's Cup were a one-design battle, we'd likely see the awesomely talented Pete Burling and his ETNZ boys run away with it, just as Pete has done against largely the same competitors in the past few years of Moth and 49er racing.  But even the highly restricted AC50 box rule allows enough design differences to likely take the ultimate prize out of the hands of the skippers, and the likeliest winner will be the team that can figure out how to get the most out of their foils, aero, and wing controls.
With variable ride control (à la the Moth) and changing foil shapes banned, designers tell us that variable foil bend characteristics may prove the key to the top speed puzzle.  You can see just how much bend the Oracle Team USA trial horse is putting into their foils, as seen above and shot the other day in Bermuda.  There's plenty of carbon bending knowledge inside the sport – see Moth, Finn masts, for example – but could the importance of flexi-foils mean the F-1 connected design team at BAR have a real head start?  After all, Formula One has been playing around with variable bend issues for a long time, most recently earlier this year.
Iron pumpers will recognize from whence comes our story title.  For the rest of you, clicky.
June 20th, 2016 by admin
We learned several hours ago that the Gunboat 55 Rainmaker has indeed been found, and here's where truth gets stranger than fiction.  The long-discussed G55, whose saga is here in all its glory, was spotted by members of Oracle Team USA while they were on a fishing trip off Bermuda!  A boat named Tenacious is slowly towing her back to base, and we'll have more when it's available.  Photo courtesy of Craig McFarlane and thanks to our friends for the heads up – you know who you are.
March 14th, 2016 by admin
If one crash video replay is great, it's logical that a dozen of them are spectacular.  Here's a little montage of all the possible angles of the Artemis vs. clueless umpire boat crash in Bermuda, set, of course, to German house music.  Just because.
November 2nd, 2015 by admin
With the conclusion of yet another one-day sailing event, the 2015 America's Cup World Series is a memory, with the most memorable moment of the season coming Sunday when yet another incompetent America's Cup worker bee (a judge boat) crashed headfirst into Artemis Racing.  The crash removed the Swedish-flagged boat's bowsprit, unintentionally helping them to an event victory in a nice, non-gennaker Sunday breeze.  If that was Shirley Robertson, it would've been Nathan's fault.  Anyone still think Russell's 2-day, 4-race format is a success? Bueller?
There's no reason to search for footage of Sunday's ACWS action, such as it was – just watch the crash linked above and the excellent ETNZ video in the player for all the flavor you need.  You won't be alone, either – the piece of shit live viewing App being touted by the America's Cup has pulled a grand total of between 5000 and 10,000 installs on Google Play, with the IOS app page showing even less action, and with an average rating of 2/5 stars for the primary communications platform for the AC (and more than half of reviews at 1-star), it's no surprise that the world's interest in the America's Cup has been dropping precipitously.  Here are a few reviews, but we really encourage you to head over and read some of the 100+ nasty ones for some afternoon fun.
too expensive Paid for app then found they want more $ to be able to watch the Bermuda replays.
Absolute cr4p… Typical of the ACEA… $7.99 and no racing… lol can't even see the leader board. .. Oh well one day they'll get it right.
This is terrible for the sport…. shame on you.
Bad experience overall. Continually freezing during video. Sits on authorization screen (checking location) forever.
Clearly, humiliation and a similar reputation to FIFA doesn't bother America's Cup too much; maybe a post to their Facebook or Twitter feeds will accomplish something, but we doubt it…
October 20th, 2015 by admin
The swan song for the monohull World Match Race Tour gets an extra dose of talent with the ACWS Bermuda in town, and some monster breeze in the wake of Hurricane Joaquin saw Taylor Canfield stomp to a 7-0 record on the first day despite the presence of names like Minoprio, Williams, Draper, Bruni, and Barker.  Bermuda also saw its share of wipeouts and rounddowns in the ancient IOR, though we've been unable to find any video from the event.
You can follow along on the Tour's FB page here; props to (we think) Charles Anderson for this shot of rolling thunder above; and the best pics are over here.
October 8th, 2015 by admin
We don't have to feign shock at the latest comically silly behavior from the America's Cup; the release of thousands of balloons into the air to celebrate the end of the otherwise non-noteworthy America's Cup World Series Göteberg event.
It seems like just yesterday when the America's Cup had partners like Sailors for the Sea to tell them that RELEASING BALLOONS IS NOT A FUCKING 'THING' ANYMORE!  Apparently, that kind of thing doesn't matter to them anymore.  Or maybe they were jealous of all that press that Rio's been getting.
But the environment matters to us as sailors, and we have long known that the balloon industries' claims about biodegradable latex are mostly bullshit. Even the most 'eco-friendly' marketed balloons will be in the water or on the ground for months or years, doing wonderful things to the airways of fish, birds and mammals while decorating shorelines with their pretty colors as they 'break down.'   That's why no one with a conscience still releases balloons.
And even if they were biodegradable, would it matter? Cardboard boxes are biodegradable – does that give you the right to drop  thousands of them on a city from an airplane to celebrate your sailboat race?
Listen, folks – we get that the AC and its title sponsor Louis Vuitton has decided that super-wealthy are really all that matters for AC35′s bottom line.   But we don't believe that you need to take a huge, stinking blue and yellow shit all over the environment just to show that you're part of their club.
Unless…hang on a second…could it be that Russell Coutts is hunting for some of that big fat Gazprom sponsorship money? Hey Russell, here's an idea for a ceremony to end the Bermuda ACWS event later this year: The party starts with a celebratory oil spill in the Great Sound, continues on to an all-you-can-eat conch, lobster, and bluefin tuna barbecue, and concludes with the release of thousands of mourning doves.  Be careful, though – it appears the Bermudians care more about their environment than you thought when you tried to steamroll them.

Title reference to something almost as nasty as the AC's environmental stance (NSFW).
August 31st, 2015 by admin
Big Ben Ainslie popped over to Gothenburg for a short break from the business of foiling to receive the Mange Olsson Award (and give two more out to a pair of standout junior sailors), and we grabbed him to catch up on his new sponsorship deal, on Bermuda's status as 'home turf' for Land Rover Team BAR, on multihulls and the next generation of sailing, and much, much more.  Always a great chat with Sir Ben, and keep your eyes on this page for more interviews from the last day of the #volvooceanrace.
June 27th, 2015 by admin
New teams continue to sign up new sailors and sponsors for Russell Coutts' Flying Circus as the Bermuda plans start to take shape, but it didn't take long for a supermajority of Bermudians to see what the rest of the world already figured out:  The tens of millions of dollars flowing out of Bermuda's coffers and into those of the fifth-richest man in the world ain't gonna benefit most of Bermuda in the least.
  Nearly 7 in 10 voters (68.8%) felt that economic benefits would go to a select few, while 3 in 10 (28.3%) felt that the event would benefit all of Bermuda.  Less than 1 in 20 (2.9%) were unsure.
By race, more than 8 in 10 Blacks (84.8%) felt that the economic benefits would go to a select few, compared to 4 in 10 Whites and Others (36.9%) of who felt that way.  Whites and Others were more inclined to believe that the event would benefit all Bermudians (58.4% compared to 12.9% for Blacks).
By gender, females were more likely than males to believe that benefits were for the select few (72.7% versus 62.2% respectively).  On the other hand, one-third of males felt that all Bermudians would benefit from hosting the races (35.6% versus 23.6% for females.)
Read the full survey at Today in Bermuda.
June 9th, 2015 by admin
As Bernie explained well an hour ago, Luna Rossa threatened to pull out of the Cup this morning if AC Commercial Director Doctor Harvey doesn't respect 'the principle of unanimity of all challengers required to change the Class Rule', and he immediately issues a clarification regarding the proposed shrinking of the AC to a regatta for foiling forty-fives.  This is huge news, and the SA Legal Department has been burning the midday oil and wearing out their swivel chairs researching why.
1) The existing Protocol, on its face, seems to require only a simple majority of challengers to shitcan the AC62, and SA'er 'porthos' unravels the mystery of how it works.
Paragraph 1.1.(p-bis) establishes the Challenger Committee. That same paragraph establishes that the CC may act via a simple majority unless some provision says otherwise: "Unless otherwise provided, a simple majority vote of all of the Challengers in the Challenger Committee shall be required for the Challenger Committee to make a decision and/or take an action."
Article 20 addresses amendments to the Protocol. Paragraph 20.2 indicates that the Protocol "may only be amended with the agreement of GGYC and the Challenger Committee." There is nothing Article 20 indicating that the agreement by the CC must be had by anything more than the simple majority set forth in Paragraph 1.1. In fact, I wasn't able to find any provision in the Protocol that requires more than a majority vote by the CC to make a decision or take an action. 
Paragraph 1.1 (p-bis) does indicate that the CC may make its own "organizational rules." I suppose it is possible that the internal rules of the CC may have something to say about this (i.e., that the internal rules of the CC would require more than a simple majority), but I doubt that. "Organizational rules" implies logistics and not substance.
Paragraph 29.1.(g) requires the Match be raced in yachts that conform to the AC62 rule. That is the operative provision that has to be changed in the Protocol. There would certainly be more references in the Protocol that would have to be amended, but that is the provision that dictates what boat is used. As that is a Protocol amendment, the simple majority CC rules set forth in 1.1.(p-bis) would apply. [Contrast to the AC62 Rule, where amendments require unanimous consent of all teams -Ed]
As long as a majority of the CC and GGYC agree to a change — such as ditching the 62′s — then it can happen.
2) We're not sure what it took just yet but Coutts and the Doc have enlisted that simple majority (including Artemis, the only team that stands to lose almost as much progress as LR), and if the AC press office is to be believed, a vote is a foregone conclusion.
3) Luna Rossa's reference to 'principle' in their release and their signalling that they won't sue is a clear sign the team is aware of the shortcomings of their legal position.
March 26th, 2015 by admin
Those of you who still think the 'second coming' story is real will probably not get this one either; instead, you might call your realtor to put in an offer…We promise we're not kidding when we tell you that this $2 million Bermuda America's Cup special 'fixer-upper' is actually named "Uppity".  Great views of the AC course top off this beauty – and according to the video walkthrough, she's selling at a discount.  Loaded African-Americans might want to look further afield…or at least change the name.
In other Cup news, Sailing Anarchy's new favorite is now Ben Ainslie Racing.  Not necessarily because we think they're going to win, but because BAR is the only team that's really thinking long term.  And with ETNZ's constant media shit show, they're now the most 'national' team – something that we find absolutely necessary if anyone is to turn around years of media, TV, and business model fails from Larry and Russell.  Ben would be a far better steward of the Cup and the competition than a confused old Ellison or the self-concerned Coutts.  Equally important is Ben's support – Portsmouth believes in him so much that they've given the BAR Portsmouth center 10 years of free rent Remember what San Francisco was prepared to give Larry after AC34?  A kick in the ass and a bill for $11M.
March 20th, 2015 by admin