Posts Tagged 'bermuda'
As expected, in any breeze at all, the Bermuda America's Cup will be sailed entirely above the water if Emirates Team New Zealand's most recent practice is any indication.  Watch the 11:30 mark of this video from AC junkie MyIslandHomeBermuda for an incredible sequence of foiling tack/foiling rounding/foiling gybe and note the stability on the Kiwi AC50; is ETNZ once again too stable for speed, or do they finally have it right?
April 24th, 2017 by admin
With just a few short months left until the America's Cup circus is over, the PR and publicity flacks and the sponsors who pay them are getting a little crazy, at least going by the latest endeavor promoted by Ben Ainslie Racing and their sponsors at 11th Hour.  We're talking about what we're calling the Lionfish Roomba, a new underwater robotic vehicle designed to vacuum up the invasive fish from the depths around Bermuda.  Chris Clarey's NY Times profile of the new robot points out that the company behind it – RSE – was actually founded by the guy who invented the Roomba.  And the chances of it actually making a dent in the exploding lionfish population?  Somewhere between slim and fuck all.
The designers of the underwater Roomba say the robot will "enable the mass capture of lionfish below depths reachable by sport divers, where the population expands unchecked. At the same time, RSE will launch a crowdfunding campaign to support the final development of the robot as well as resources to bring it to market in scale."  In other words, they don't have the money to actually create it, so they're trying to gin up some support from wealthy sailing aficionados (while their eyes are on Bermuda) to help pay to develop it.
The problems with the new toy are numerous: First, they believe it needs to be under $1000 to be successful.  Considering what a good drone costs, we'd be shocked if they can get the costs down to double that for what is essentially an underwater drone – with camera, suction, and shock treatment included – that can deal with the pressure at 400 feet below the surface.  Second, their hypothesis – that the lack of predators has made lionfish easy to catch with the robot – ignores the speed with which populations adjust to new predators.  Third, the numbers just don't add up: Lionfish breed like rabbits and reach sexual maturity quickly, so you'd need an army of these suckers to accomplish anything.  And an army will simply teach the fish to avoid them even more quickly.  Lionfish will disappear only when fishermen have an inventive to destroy them, either through the bounties already existing in some places or via government and private subsidies.  A robot vacuum ain't gonna do it.
There's something of a launch on April 19th in Bermuda, though we think they should have waited one more day before they splash the fish Roomba.  As an idea that must have been dreamt up after a big bong rip, a 4/20 introduction would've been perfect!
That ends today's biology section of Sailing Anarchy!
April 18th, 2017 by admin
Bravo to Groupama for maybe the best foiling tack we've seen yet from an AC cat, along with a pretty good dismount from what appears to be the wing trimmer getting clear from danger with style!
Go here for more from the local videographer who caught yet another AC oops, and stay up to date on Franck & Friends in the Team France thread.
April 11th, 2017 by admin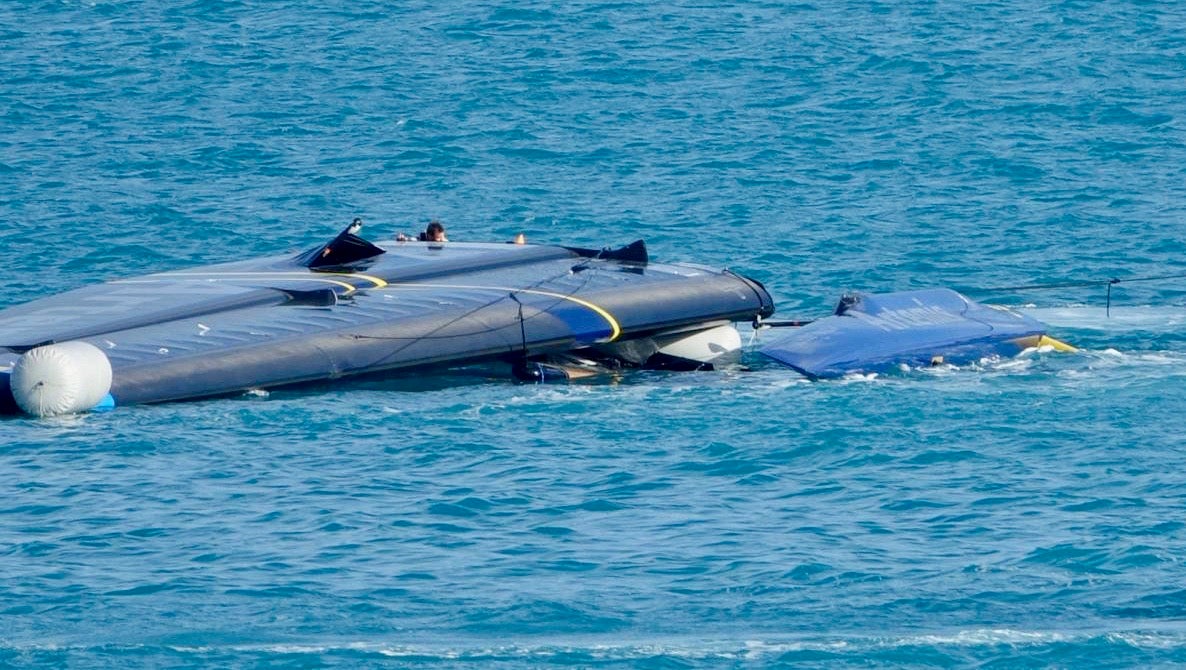 EXCLUSIVE: AC BREAKING (LITERALLY) - This afternoon Artemis Racing looks to have killed their America's Cup 45T – the test and trial horse for the AC50 they hope to challenge the big boys with.  The scene, posted by an anarchist in the Artemis thread, looks way too much like the fatal AC72 breakup for comfort, and we hope everyone made it out without major injuries.  Given the radio silence on team social media, we're not sure if that's the case, but he one thing is for sure: Artemis continues to be the unluckiest team in the modern AC.
UPDATE: The same guy who posted the shot wrote 'all are OK', and he's reliable.  Whether the team's AC program is capable of winning is another matter…
April 4th, 2017 by admin
SA'er '~Stingray~' flipped and resized the available AC50 shots for an effective comparison of the different design features vinyl decals for the battle of Bermuda, and you can have any color you want, as long as it's black (or navy).  10 feet of bow are required to be contructed in the competitors home country, but given the lack of visible distinction between the competitors, why even bother?
So while the hulls are basically one-design, there's still plenty to get excited about, especially if you geek out on foils, human power equations, and hydraulic valve response times – not that you'd know about if if you followed the official America's Cup newsfeed.  This morning, our inbox lit up with the groundbreaking news from ACEA that they hired someone new to sell America's Cup branded clothing. Incredible! [/sarcasm]
As anyone who's been paying attention knows, the Cup will be won by the boat with the best foils and the most efficient rig.  Unless that one breaks, capsizes, or crashes – or is sunk to the bottom by a co-conspirator as Grant seems worried about in this excellent Chris Clarey NYT article.
Wanna find out whose got the latest edge?  Stay informed (and annoyed) on the America's Cup Anarchy forum.
March 6th, 2017 by admin
Oracle, Softbank, and Big Ben have now all splashed their AC50s this week, but it's the throwback bicycle grinders that has set the mainstream's tongues wagging all over the world.  Will bicycle power make the difference to help ETNZ overcome the obstacles they face in just a few months' time, and if so, will Oracle or another team have time to catch up to a system the Kiwis have been working on for more than a year?  And will Franck Cammas – well experienced with leg-powered racing yachts - uncover his own spinning class on Groupama Team France?
As the unveilings begin, we're finding ourselves interested again.  Watch the excellent launch video above for a look at New Zealand, head over here to listen to Glenn Ashby discuss the new systems with RAdioSportNZ's D'arcy Waldegrave, and click the player below for Mr. Clean's take on what is finally an interesting week in AC land, also with RadioSport's Waldegrave.
The America's Cup Anarchy forum is heating up as well…chat about any of your favorite teams right over here.
February 17th, 2017 by admin
Sailor Chick of the Week
We're not exactly sure how 21 year-old Emily Nagel got the call to cross the stream with Jimmy, Shannon, and an Oracle-tinted crew, but the young match racer and BDA Youth AC team member is clearly on the way to making a name for herself thanks to a Red Bull publicity stunt that just ended last week.
Nagel helped crew Bronco -  Michael Domingez's Newport-based DNA F4 foiling catamaran – on a passage from New York to Bermuda with Spithill, Falcone and several other crew (along with a Red Bull media contingent) on what turned out to be a fairly underwhelming attempt to make some noise.  Their 66-hour trip – that's about three times the outright record -  was only noteworthy for the survival conditions, but Emily does become the first woman to make the crossing on foils, and we're always fans of women – especially young, passionate sailing chicks – getting a 'world first' under their belts.
After watching the surprisingly dull teaser video for the trip, we're mostly struck by just how uninspiring and monotonous 'James' Spithill has become now that age, success, and media overtraining have clearly ended any chance he had of leading the next generation of inspired racer.  Maybe the full-feature movie (dropping in a couple of weeks, we've heard) will show another side, but we doubt it.  It's too bad Red Bull can't hang their sailing hats on someone young, brash, and extreme….like Jimmy Spithill, circa 2005.
Meet Emily in a Red Bull video over here, and if you're allergic to Youtube, there's a full profile of Nagel from the Bermuda News.
If the DNA F4 looks familiar to you and you'd like to understand how it differs from the Gunboat G4 we all know and love (to hate?), take a half hour and watch this full video tour of the Holland Composites/DNA Performance Sailing facility in the Netherlands performed by Mr. Clean this past Thursday.  You'll get a full history of the shop as well as a close look at the world's fastest foiling A-Cats as well as a close inspection of the most advanced electro-hydraulic foil controls ever built.
November 21st, 2016 by admin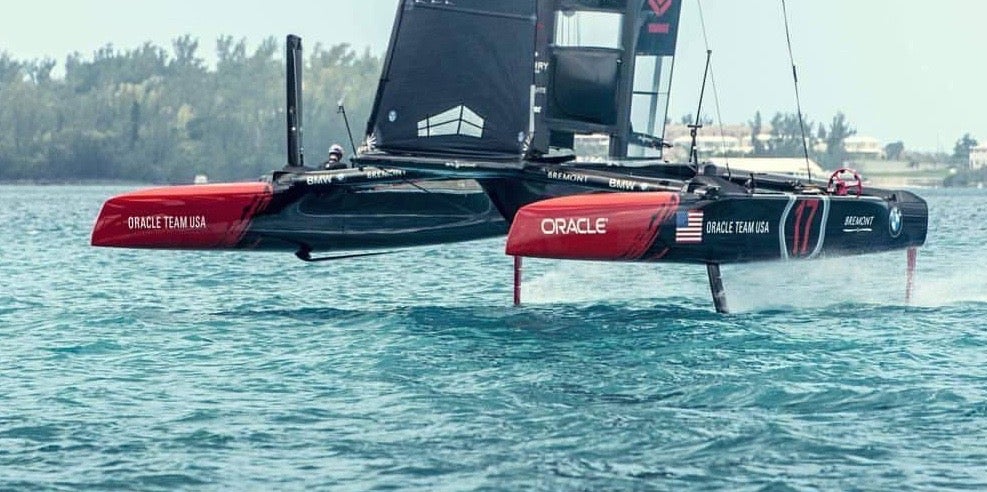 If the America's Cup were a one-design battle, we'd likely see the awesomely talented Pete Burling and his ETNZ boys run away with it, just as Pete has done against largely the same competitors in the past few years of Moth and 49er racing.  But even the highly restricted AC50 box rule allows enough design differences to likely take the ultimate prize out of the hands of the skippers, and the likeliest winner will be the team that can figure out how to get the most out of their foils, aero, and wing controls.
With variable ride control (à la the Moth) and changing foil shapes banned, designers tell us that variable foil bend characteristics may prove the key to the top speed puzzle.  You can see just how much bend the Oracle Team USA trial horse is putting into their foils, as seen above and shot the other day in Bermuda.  There's plenty of carbon bending knowledge inside the sport – see Moth, Finn masts, for example – but could the importance of flexi-foils mean the F-1 connected design team at BAR have a real head start?  After all, Formula One has been playing around with variable bend issues for a long time, most recently earlier this year.
Iron pumpers will recognize from whence comes our story title.  For the rest of you, clicky.
June 20th, 2016 by admin
We learned several hours ago that the Gunboat 55 Rainmaker has indeed been found, and here's where truth gets stranger than fiction.  The long-discussed G55, whose saga is here in all its glory, was spotted by members of Oracle Team USA while they were on a fishing trip off Bermuda!  A boat named Tenacious is slowly towing her back to base, and we'll have more when it's available.  Photo courtesy of Craig McFarlane and thanks to our friends for the heads up – you know who you are.
March 14th, 2016 by admin
If one crash video replay is great, it's logical that a dozen of them are spectacular.  Here's a little montage of all the possible angles of the Artemis vs. clueless umpire boat crash in Bermuda, set, of course, to German house music.  Just because.
November 2nd, 2015 by admin