Posts Tagged 'bermuda'
Oracle, Softbank, and Big Ben have now all splashed their AC50s this week, but it's the throwback bicycle grinders that has set the mainstream's tongues wagging all over the world.  Will bicycle power make the difference to help ETNZ overcome the obstacles they face in just a few months' time, and if so, will Oracle or another team have time to catch up to a system the Kiwis have been working on for more than a year?  And will Franck Cammas – well experienced with leg-powered racing yachts - uncover his own spinning class on Groupama Team France?
As the unveilings begin, we're finding ourselves interested again.  Watch the excellent launch video above for a look at New Zealand, head over here to listen to Glenn Ashby discuss the new systems with RAdioSportNZ's D'arcy Waldegrave, and click the player below for Mr. Clean's take on what is finally an interesting week in AC land, also with RadioSport's Waldegrave.
The America's Cup Anarchy forum is heating up as well…chat about any of your favorite teams right over here.
February 17th, 2017 by admin
Sailor Chick of the Week
We're not exactly sure how 21 year-old Emily Nagel got the call to cross the stream with Jimmy, Shannon, and an Oracle-tinted crew, but the young match racer and BDA Youth AC team member is clearly on the way to making a name for herself thanks to a Red Bull publicity stunt that just ended last week.
Nagel helped crew Bronco -  Michael Domingez's Newport-based DNA F4 foiling catamaran – on a passage from New York to Bermuda with Spithill, Falcone and several other crew (along with a Red Bull media contingent) on what turned out to be a fairly underwhelming attempt to make some noise.  Their 66-hour trip – that's about three times the outright record -  was only noteworthy for the survival conditions, but Emily does become the first woman to make the crossing on foils, and we're always fans of women – especially young, passionate sailing chicks – getting a 'world first' under their belts.
After watching the surprisingly dull teaser video for the trip, we're mostly struck by just how uninspiring and monotonous 'James' Spithill has become now that age, success, and media overtraining have clearly ended any chance he had of leading the next generation of inspired racer.  Maybe the full-feature movie (dropping in a couple of weeks, we've heard) will show another side, but we doubt it.  It's too bad Red Bull can't hang their sailing hats on someone young, brash, and extreme….like Jimmy Spithill, circa 2005.
Meet Emily in a Red Bull video over here, and if you're allergic to Youtube, there's a full profile of Nagel from the Bermuda News.
If the DNA F4 looks familiar to you and you'd like to understand how it differs from the Gunboat G4 we all know and love (to hate?), take a half hour and watch this full video tour of the Holland Composites/DNA Performance Sailing facility in the Netherlands performed by Mr. Clean this past Thursday.  You'll get a full history of the shop as well as a close look at the world's fastest foiling A-Cats as well as a close inspection of the most advanced electro-hydraulic foil controls ever built.
November 21st, 2016 by admin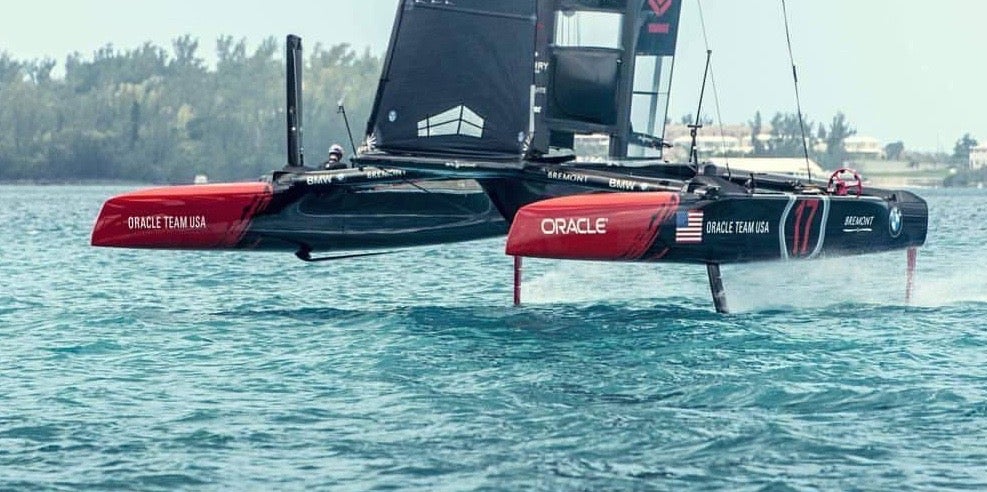 If the America's Cup were a one-design battle, we'd likely see the awesomely talented Pete Burling and his ETNZ boys run away with it, just as Pete has done against largely the same competitors in the past few years of Moth and 49er racing.  But even the highly restricted AC50 box rule allows enough design differences to likely take the ultimate prize out of the hands of the skippers, and the likeliest winner will be the team that can figure out how to get the most out of their foils, aero, and wing controls.
With variable ride control (à la the Moth) and changing foil shapes banned, designers tell us that variable foil bend characteristics may prove the key to the top speed puzzle.  You can see just how much bend the Oracle Team USA trial horse is putting into their foils, as seen above and shot the other day in Bermuda.  There's plenty of carbon bending knowledge inside the sport – see Moth, Finn masts, for example – but could the importance of flexi-foils mean the F-1 connected design team at BAR have a real head start?  After all, Formula One has been playing around with variable bend issues for a long time, most recently earlier this year.
Iron pumpers will recognize from whence comes our story title.  For the rest of you, clicky.
June 20th, 2016 by admin
We learned several hours ago that the Gunboat 55 Rainmaker has indeed been found, and here's where truth gets stranger than fiction.  The long-discussed G55, whose saga is here in all its glory, was spotted by members of Oracle Team USA while they were on a fishing trip off Bermuda!  A boat named Tenacious is slowly towing her back to base, and we'll have more when it's available.  Photo courtesy of Craig McFarlane and thanks to our friends for the heads up – you know who you are.
March 14th, 2016 by admin
If one crash video replay is great, it's logical that a dozen of them are spectacular.  Here's a little montage of all the possible angles of the Artemis vs. clueless umpire boat crash in Bermuda, set, of course, to German house music.  Just because.
November 2nd, 2015 by admin
With the conclusion of yet another one-day sailing event, the 2015 America's Cup World Series is a memory, with the most memorable moment of the season coming Sunday when yet another incompetent America's Cup worker bee (a judge boat) crashed headfirst into Artemis Racing.  The crash removed the Swedish-flagged boat's bowsprit, unintentionally helping them to an event victory in a nice, non-gennaker Sunday breeze.  If that was Shirley Robertson, it would've been Nathan's fault.  Anyone still think Russell's 2-day, 4-race format is a success? Bueller?
There's no reason to search for footage of Sunday's ACWS action, such as it was – just watch the crash linked above and the excellent ETNZ video in the player for all the flavor you need.  You won't be alone, either – the piece of shit live viewing App being touted by the America's Cup has pulled a grand total of between 5000 and 10,000 installs on Google Play, with the IOS app page showing even less action, and with an average rating of 2/5 stars for the primary communications platform for the AC (and more than half of reviews at 1-star), it's no surprise that the world's interest in the America's Cup has been dropping precipitously.  Here are a few reviews, but we really encourage you to head over and read some of the 100+ nasty ones for some afternoon fun.
too expensive Paid for app then found they want more $ to be able to watch the Bermuda replays.
Absolute cr4p… Typical of the ACEA… $7.99 and no racing… lol can't even see the leader board. .. Oh well one day they'll get it right.
This is terrible for the sport…. shame on you.
Bad experience overall. Continually freezing during video. Sits on authorization screen (checking location) forever.
Clearly, humiliation and a similar reputation to FIFA doesn't bother America's Cup too much; maybe a post to their Facebook or Twitter feeds will accomplish something, but we doubt it…
October 20th, 2015 by admin
The swan song for the monohull World Match Race Tour gets an extra dose of talent with the ACWS Bermuda in town, and some monster breeze in the wake of Hurricane Joaquin saw Taylor Canfield stomp to a 7-0 record on the first day despite the presence of names like Minoprio, Williams, Draper, Bruni, and Barker.  Bermuda also saw its share of wipeouts and rounddowns in the ancient IOR, though we've been unable to find any video from the event.
You can follow along on the Tour's FB page here; props to (we think) Charles Anderson for this shot of rolling thunder above; and the best pics are over here.
October 8th, 2015 by admin
We don't have to feign shock at the latest comically silly behavior from the America's Cup; the release of thousands of balloons into the air to celebrate the end of the otherwise non-noteworthy America's Cup World Series Göteberg event.
It seems like just yesterday when the America's Cup had partners like Sailors for the Sea to tell them that RELEASING BALLOONS IS NOT A FUCKING 'THING' ANYMORE!  Apparently, that kind of thing doesn't matter to them anymore.  Or maybe they were jealous of all that press that Rio's been getting.
But the environment matters to us as sailors, and we have long known that the balloon industries' claims about biodegradable latex are mostly bullshit. Even the most 'eco-friendly' marketed balloons will be in the water or on the ground for months or years, doing wonderful things to the airways of fish, birds and mammals while decorating shorelines with their pretty colors as they 'break down.'   That's why no one with a conscience still releases balloons.
And even if they were biodegradable, would it matter? Cardboard boxes are biodegradable – does that give you the right to drop  thousands of them on a city from an airplane to celebrate your sailboat race?
Listen, folks – we get that the AC and its title sponsor Louis Vuitton has decided that super-wealthy are really all that matters for AC35′s bottom line.   But we don't believe that you need to take a huge, stinking blue and yellow shit all over the environment just to show that you're part of their club.
Unless…hang on a second…could it be that Russell Coutts is hunting for some of that big fat Gazprom sponsorship money? Hey Russell, here's an idea for a ceremony to end the Bermuda ACWS event later this year: The party starts with a celebratory oil spill in the Great Sound, continues on to an all-you-can-eat conch, lobster, and bluefin tuna barbecue, and concludes with the release of thousands of mourning doves.  Be careful, though – it appears the Bermudians care more about their environment than you thought when you tried to steamroll them.

Title reference to something almost as nasty as the AC's environmental stance (NSFW).
August 31st, 2015 by admin
Big Ben Ainslie popped over to Gothenburg for a short break from the business of foiling to receive the Mange Olsson Award (and give two more out to a pair of standout junior sailors), and we grabbed him to catch up on his new sponsorship deal, on Bermuda's status as 'home turf' for Land Rover Team BAR, on multihulls and the next generation of sailing, and much, much more.  Always a great chat with Sir Ben, and keep your eyes on this page for more interviews from the last day of the #volvooceanrace.
June 27th, 2015 by admin
New teams continue to sign up new sailors and sponsors for Russell Coutts' Flying Circus as the Bermuda plans start to take shape, but it didn't take long for a supermajority of Bermudians to see what the rest of the world already figured out:  The tens of millions of dollars flowing out of Bermuda's coffers and into those of the fifth-richest man in the world ain't gonna benefit most of Bermuda in the least.
  Nearly 7 in 10 voters (68.8%) felt that economic benefits would go to a select few, while 3 in 10 (28.3%) felt that the event would benefit all of Bermuda.  Less than 1 in 20 (2.9%) were unsure.
By race, more than 8 in 10 Blacks (84.8%) felt that the economic benefits would go to a select few, compared to 4 in 10 Whites and Others (36.9%) of who felt that way.  Whites and Others were more inclined to believe that the event would benefit all Bermudians (58.4% compared to 12.9% for Blacks).
By gender, females were more likely than males to believe that benefits were for the select few (72.7% versus 62.2% respectively).  On the other hand, one-third of males felt that all Bermudians would benefit from hosting the races (35.6% versus 23.6% for females.)
Read the full survey at Today in Bermuda.
June 9th, 2015 by admin