Posts Tagged 'Barcelona World Race'
Clean Report
You see them at every major regatta; a chaotic, bedraggled corps of passionate wackos toting pelican cases and laptop bags who call themselves 'media professionals.'  They're more demanding than the most spoiled billionaire owner and more manipulative than a match racing champ, and they're more cynical and jaded than any sailor could hope to be.  The scariest part of it all is that the success or failure of an event can come down to whether or not someone can keep the journalists, filmmakers, and photographers happy, and in all the world, there was one woman better at that job than anyone else in the world.
And we're gutted to tell you that yesterday, after years of quietly battling against the disease that took her, one of the world's best managers of personalities anywhere died.
I'd say Isabel Genis exemplified the term 'grace under pressure,' but in reality, grace permeated Isa did regardless of pressure.  When we first met Isabel she was running a massive press operation at the Barcelona World Race, and her deft hand at handling the stickiest situations was already legendary.  Somehow able to turn the most negative story into a feel-good win/win narrative, Isabel always managed to find an elegant solution to any problem without sacrificing her integrity or honesty.
Isabel took the time to read every reporter's filing and watch almost every film.  She spoke at least 6 languages and could provide you with a fact, a name, or a translation in microseconds. To me,  a 30-something 'reporter' with my 20-something photographer wife representing an 'outlaw' publication, Genis did something that no one else running a major event had ever done: She made us feel like a truly valuable part of the whole thing, and helped us really want to bring our readers behind the scenes for some amazing stories.
Without Isabel, the world's understanding of the great races she worked – The Race, the Vendee Globe, Olympics, Barcelona World Race, America's Cup, Volvo Ocean Race (and everything else Isabel touched in her busy career) – would be much poorer.  Personally,  had I missed out on several late night, hours-long, red wine-fueled talks about the sport, controversy, ethics, technology and family with Isabel, I know I'd be a much poorer person for it.  We are all poorer this morning for her loss.
As evidence of the strength of her personality, the internet's blowing up with thoughts on her death.  First, an excerpt from Marcus Hutchinson's eulogy on Facebook (thanks for the pic, Marcus):
There is not a day that goes by that we are not confronted by a difficult choice or a situation where we need to lean on past experience. When it comes to being patient, understanding, tolerant and forgiving, something I often struggled with in my younger years, I now frequently revert to the behaviour of Isabel Genis and how she would have dealt with this or that situation. I know too that my children watch me and often react to how I react. This is good, great, the best possible outcome. Thank you Isabel. RIP
And from Corriere Della Sera's Bianca Ascenti:
When I landed in Auckland in September 2002 I had only two details, a contract with the Louis Vitton Cup and a postal address. When I arrived in what would have been my home for six unforgettable months, I came through the door: With one hand you gave me the house keys and with the other, a glass of red wine, all while speaking perfect italian about the Cup, the Kiwis, and the beauty of the land down under…
I want to talk about my friend Isa, who I had the honor of knowing and the privilege of attending: a rare person, able to hear and understand without ever judging; to enjoy life and to laugh at things without losing them; to take everything that came with strength and with extraordinary balance; to always find time for friends and affections, to say the right words at the right time, to recommend deep books and to stimulate always interesting conversations …
I can not believe it, but after 15 years the time has come to say goodbye. I'll miss you, Isa. And look at you when you're up there, as you always said to me, "Hay gente para todo."
Here's another from well known Spanish sailing journalist Pedro Sardinia, and another from Nicolas Martinez.
Fair breezes to you, Isa, and to her friends and family, we shed a tear for you, and with you.
November 21st, 2017 by admin
You can be forgiven for not realizing that Jean Le Cam and Bernard Stamm won the Barcelona World Race the other day, and we congratulate them for finishing a task that's never easy, even if their only real competitor dismasted shortly after the start.  Stamm adds the BWR to his other major victory in the also sparsely populated 2005 Velux5Oceans (née Around Alone) Race, and he'll try to break a string of bad Vendee finishes next year.  Second place Guillermo Altadill and Jose Munoz will cross tomorrow, five days after the winner.  The rest of the 7-boat fleet is similarly spread out.
This episode of the BWR suffered from a small and widely varied fleet of Open 60s with a wide spread in performance, and because of this, the race seemed more about adventure than competition.  Fortunately, the lack of boat-on-boat battles has meant time for some of the skippers to write wonderful prose from the middle of the ocean as well as sharing their experiences with tens of thousands of Spanish schoolchildren involved through a science education program.  It may not have been a great race, but they've done great things with it.
The most compelling stories were unsurprisingly coming off a boat with the most problems; Nandor Fa and Conrad Colman's troubled Spirit of Hungary, and we caught up with our old pal Conrad during a repair stopover in Auckland a couple of weeks ago.  Colman is funny, smart, and honest, and he and Clean have an entertaining 40-minute chat about those troubles and much, much more, in the video above.  And be sure to dig through Conrad's full blog here – it really is some of the best race reporting we've ever seen.
We apologize for taking so long to get it up here, but with Hungary's 8,000 nm deficit in the race, we figured it wasn't all that time-sensitive.  Thanks to Petey Crawford for finally sorting us out and making the video pretty.  Get some of his top quality video work for your regatta here.
March 29th, 2015 by admin
After most of my last month spent with the Volvo Ocean Race and Barcelona World Race, it seems the phrase "see you later!" has become quite the norm amongst friends and families.  This one, though, was a bit different; the BWR is a truly intimate affair amongst the crews and racers, with wives, brothers, sisters, children – even grandparents all chipping in to work, feed, or cheer on 'their' team.   I was so impressed with Lili Fa, daughter of Nandor and shore crew for Spirit of Hungary with her mature presence, calm nature and talking about how proud she is of her father. It touched my heart and reminded me why I love what I do. I'm excited to continue to follow the race and always my heart and mind are with the sailors to stay safe, have a great race and enjoy the ride.  Thanks for following it along with me, and be sure to follow the race at www.barcelonaworldrace.com.
-Jen Edney, Edney Adventure Photography
January 8th, 2015 by admin
SA Special IberianCorrespondent Jen Edney gives us some great insight from the Barcelona World Race start.  Enjoy it, and check back towards the end of the week for our first look at what she can do with a video report. Track the fleet here, and get all the latest chatter in the thread.
"Bye Oscar!"
"Bye!"
"Bye, Oscar!"
"Bye, Dad!"
IT was one of the most touching scenes I've seen in my coverage of the sport; Alex Thomson and his 4-year old son Oscar, seeing who could shout the loudest as Hugo Boss team headed out to the race course for their third Barcelona World Race.  Boss is the only team to sail all three editions of the race, and that same young Oscar is a big reason they're the odds-on favorite for this one: They've got unfinished business.
Oscar was born just before the 2011 race, and then Alex developed apendicitis days before the start, sending him to hospital and the strong Hugo Boss team scrambling for a last-minute replacement skipper. Wouter Verbraak, there to help with last-minute weather routing, was recruited, and he and Andy Mikeljohn never were able to get on the pace. The HB team's high expectations for a strong second edition turned into a disappointing mid-fleet finish despite a faster boat and bigger budget than many of the boats ahead.  It was tough for the team to handle, and it's a big part of what motivated them to put everything they had into winning this race.
The long goodbye is an emotional and touching sight, and when combined with Boss's BWR saga, it's enough to give me goosebumps.  These sailors are waving goodbye to their family, friends and fans for the next 100-odd days, with all the dangers that entails.  So many nonsailors ask me 'why would they do something so crazy?' I'd never really thought about it, and it seemed like a great question to put to the racers.
We Are Water's Bruno Garcia:"I really don't know! I've never considered it a sport, it's something more…"  Garcia thought about it for a minute, then gave me a modified version of Everest trailblazer's answer about mountain climbing.  "Because the sea is there."
Bruno will be sailing with his brother Willy around the world, and their 'family affair' highlights one of the nice things about this edition of the race; the accessibility of communications between the boats and their families, friends, and fans. "I have two kids. One daughter, 12 yrs. old and a 10-year old son," said Bruno. " Four years ago, it was not that difficult. Now they are older, they ask you about the dangers of the race, and 'what will you do if you fall in the sea. You have to be quite clever to discuss with them what happens on the boat and what you will be doing. But I know they support me a lot and I can I count on them."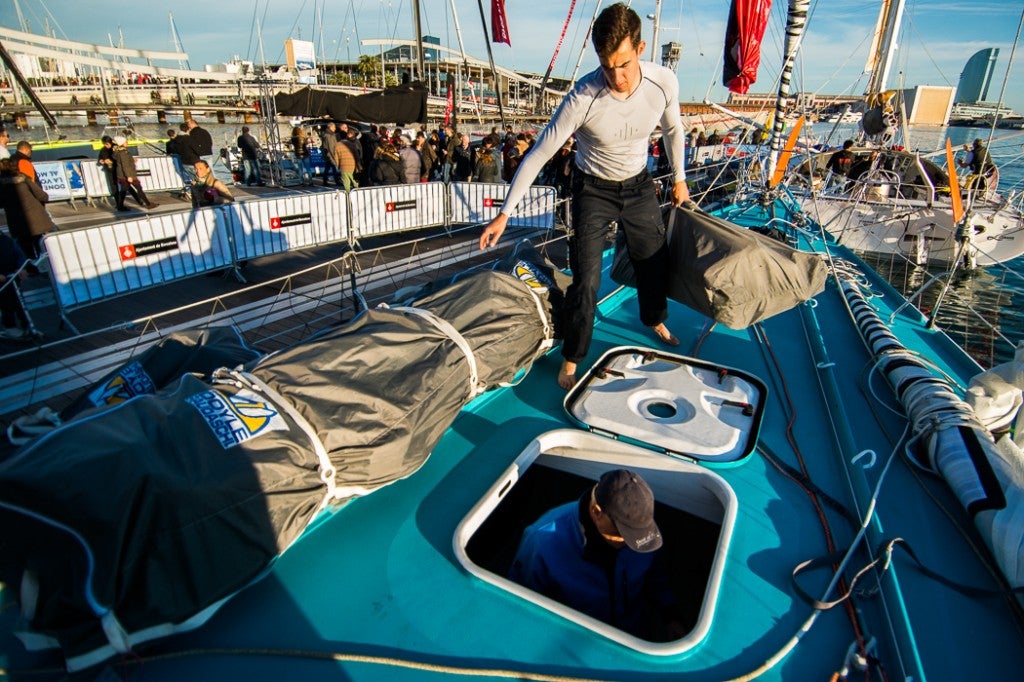 Sailing together is not new for the Garcia brothers, they grew up cruising with their parents and have been racing together since the 90s, but the world Barcelona World race is new for them. "My brother is one of the best gifts I've ever had in my life. He is a very good friend, a great brother and is also a great sailor. I trust him both on the sea and in the mountains. With him I have done many miles, many peaks, many courses..and trust we have is phenomenal…Since the last edition with Jean Le Cam I have learned that this type of racing is not just for those who go and sail but it is also for people like the shore crew and those who follow us. And there are many out there and my brother and I hope to reach out to them and have the public enjoy and share our adventure."
For some, like Nandor Fa's Spirit of Hungary, the entire team is a family affair, with his wife and daughter working full time for the project. "When I decided to return for racing, the family was the first I asked 'what do you think?' And they told me they supported me completely."  Nandor's wife is his media manager, and 22 year old Lili – a baby the last time he went racing – is now an adult and part of the support team.  Nandor's 'third daughter' is Spirit – the only home-built boat in the fleet. Lili says she is so busy that they have less time for worrying. "It is much better to be involved then watching from the outside, biting our nails!"  Lili has mixed emotions on his departure.  "I am going to miss him, but at the same time I am so happy for him because I know that this is his life, his passion and he's been stuck in Hungary for so long working hard and supporting his family…he really deserves to be at sea again."
Nandor is the oldest skipper in the fleet, and he's sailing with the youngest – Conrad Coleman, and they are already well in back of the fleet.  For them and many of the teams on the much slower Open 60s, winning isn't even a possibility; the journey, the challenge, the adventure – that's the victory for them.
For others, like Alex Thomson and Pepe Ribes on Hugo Boss, winning is everything.
And for me, watching and shooting and reporting on this human drama is winning too.  A huge thanks to all the teams for the unfettered access they provided, and an even bigger thanks to Isabel and Daniel and everyone at the FNOB for their constant support this week.
-Jen
January 4th, 2015 by admin
With just a few hours left until the fleet shoves off for the 3rd BCN World Race, Jen Edney gives us a look at the fleet (and we'll have the start live right here on the front page). To talk everything BWR and see more of this talented young photog's pics, head here.
Barcelona's Old Port is a flurry of activity here at the start of the third edition of The Barcelona World Race 2014/15, as birds and fans flock to the race village to get one last look at the boats and crews before they set out on their 23,000-mile, doublehanded journey around the world.  Hustle and bustle is the name of the game as the skippers and preparateurs (french for 'shore crew') make final preparations for the boats. The day has been quite busy for the teams as they had their final skippers meeting, the last of their media and interview obligations, and making sure everything is onboard…especially enough food.  Jorg Riechers had some comments about their food choices.  "We take a lot of food with us because I think many teams in the last race try to save weight with food which is stupid because when you are hungry you are not functioning and if you are not functioning you cannot work hard on the boat. We take food for 95 days so the goal is to eat as much as possible. No specific food, freeze dried food, lots of Chicken Tikka. The only thing we have that is brilliant is we have freeze dried fruit. Freeze dried fruit, freeze dried strawberries save your day."
Tomorrow the family, friends and fans of the sailors will say farewell in a ceremony before the start of the race at 13h00. It will be an emotional day as the sailors say goodbye to their families and switch into racing mode for the next 3 months. Many of the sailors, including Alex Thompson, know all too well what the feeling is like. When asked about how this time is different then the previous edition of the race Alex (who has two children age 4 and 6 months) said, "It didn't seem to be too bad when they were younger, I mean harder for me, less for them I guess because they don't really know what is going on but certainly as Oscar (4) has gotten older he's become more aware of what time is and how long 3 months is. I think it's important to try and remain with a connection, whether it be a phone call or a video…just small details keeps them happy and makes it easier for both of us."  For Bernard Stamm's family it is all they have known,"It's my job so it's part of their life.  We communicate, my wife is the contact on shore for everything. We are not leaving to say 'why did I leave!' We're going to race!"
The double-handed heavyweight duo have been asked many times how they will get along after many miles sailed single-handed. "It will be better then alone. You have 2 heads, 4 arms, 4 legs and everything will be more easy. People always ask if we can live together for three months but we are going to race for three months. We are just two to make the boat go as fast as the boat can go. For me it is not a problem, normally easy. But I will tell it much better when I come back."  Stramm says with a grin.
Here's a short look at the steeds.
The Beauty of an Open Class vs. One Design is that the boats have taken on personalities of their own, a combination of miles sailed, skippers who have driven them, "injuries" they have sustained,  improvements and races they've won. Below are the stories of the boats competing in the Barcelona World Race 2014/15:
Spirit of Hungary is the fourth IMOCA 60 designed and built by Nandor Fa. Launched in 2014, the boat is the first model to be built according to the new class rules. The hull, which is carbon fibre, was built at the Pauger shipyard (well-known for RC44s) and Nandor himself undertook some of the work. Following a return to the shipyard due to technical issues, that also prevented the crew from taking part in the IMOCA Ocean Masters New York-Barcelona Race last summer, the Barcelona World Race will be the first great test for Nandor and Conrad's yacht.
The Hugo Boss Alex Thomson and Pepe Ribes are sailing in the 2014/15 edition of the BWR is the former Virbac Paprec 3, winner of the previous edition of the race and a boat which stands out from the rest in terms of technical innovation. With Jean-Pierre Dick at the helm the boat finished in fourth place in the Vendée Globe 2012/13, despite sailing without a keel for 2,650 miles. Alex Thomson Racing purchased the boat and carried out a comprehensive refit, which included fitting a brand new keel. The IMOCA 60 was back on the water in April 2014 but en route to America for its first race, the IMOCA Ocean Masters New York to Barcelona Race, the yacht dismasted. However, following repairs the new Hugo Boss sealed a victory in the event, her first, with Pepe Ribes and Ryan Breymaier (in place of Alex, whose second child was due to be be born) on board.
After losing his JuanK IMOCA 60 to a storm on Christmas Eve in 2013, Bernard Stamm signed a lease/option to replace his Cheminees Poujoulat with Jörg Riechers' former boat Mare.. This is a yacht from the Farr studio, launched in 2007, taken by Michel Desjoyeaux to Vendée Globe victory in 2008/09 and later sailed to second place in the Barcelona World Race 2010/11 by Iker Martínez and Xabi Fernández. It later took the Vendée Globe 2012/13 start with Jérémie Beyou. The boat has been refitted a number of times to ensure it is up to date with the class rules. Bernard and Jean have also made some changes of their own.
GAES Centros Auditivos is the former SynerCiel skippered by Jean Le Cam, that finished the Vendée Globe 2012/13 in fifth place. Before that, as Renault Z.E., the yacht was sailed to third place in the Barcelona World Race 2010/11 by Pachi Rivero and Toño Piris. This yacht's first round the world challenge was the Vendée Globe 2008/09 as Gitana Eighty with Loïck Peyron at the helm, when she incorporated a number of innovative features including a swiveling/tacking interior. Therefore GAES Centros Auditivos really has been performance-tested and was prepared for this edition of the regatta at the FNOB's Ocean Sailing Base in Barcelona.
Built in 2007, Neutrogena is a solid vessel that has demonstrated its impressive potential on many occasions. Above all, this is a boat Guillermo knows well. The Spaniard took the yacht to the start of the first edition of the Barcelona World Race as Estrella Damm, although the crew were forced to abandon the race in South Africa due to rudder issues. The boat then took on the Vendée Globe 2008/09 as BT with Sébastien Josse at the helm. It later became Roland Jourdain's Veolia Environnement, winning the 2010 Route du Rhum. A year later, the boat donned the colours of Hugo Boss and Guillermo Altadill stepped back on board, joining Alex Thomson for the Transat Jacques Vabre 2011, finishing in second place. The Briton also logged a west-east transatlantic record with this IMOCA 60 and third place in the Vendée Globe 2012/13. Guillermo has been training with what was his former yacht since 2013.
The crew of One Planet, One Ocean and Pharmation will be racing on the former Kingfisher, the boat Ellen MacArthur famously smashed the Atlantic record from Plymouth to Newport with in 2000, taking second place in the Vendée Globe 2000/01 and later a Route du Rhum victory in 2002. It then became Educación Sin Fronteras with Albert Bargués and Servane Escoffier making their first non-stop, circumnavigation of the planet in the Barcelona World Race 2007/08. In the second edition of the double-handed, round the world challenge Gerard Marín and Ludovic Aglaor raced the yacht re-christened as Fòrum Marítim Català. One Planet, One Ocean & Pharmaton is therefore one of the IMOCA 60 fleet with the highest mileage and number of circumnavigations under its belt. This is a solid and reliable yacht that has recently undergone a thorough inspection at the FNOB Ocean Sailing Base, with special attention paid to the keel and appendages, the steering and the electronic on-board systems
Renault Captur is a Finot-Conq design launched in July 2007 that Armel Le Cléac'h took to second place in the Vendée Globe 2008/09 in 89 days and 9 hours. Le Cléac'h was also in the driving seat for the yacht's second place Route du Rhum finish in 2010. The boat underwent a refit in July this year. Over the past few weeks the rigging and appendages have been inspected and work has also been done on the electronics and mast. For this preparation, the team has had an outstanding technical advisor: Bertrand de Broc, the last skipper to compete aboard this IMOCA 60.
The We Are Water IMOCA 60 won the 2007-08 Barcelona World Race as Paprec- Virbac 2 in the hands of Jean-Pierre Dick and Damian Foxall. It is a Farr design which was built in New Zealand by Southern Ocean Marine, launched in February 2007. Then in the 2010-11 Barcelona World Race it was sailed to fourth place as Estrella Damm by Alex Pella and Pepe Ribes.
More to come on the crew themselves, and their ms are getting along and their thoughts on the race. In the mean time check the BWR site for daily updates and keep up with the skippers as they battle their way around the world!
December 30th, 2014 by admin
We get a lot of fun Christmas cards every year, but this one from SA'er iTa303030 made us chuckle the most.  Share your Kwanzaa, Hanukah, and yeah, Christmas wishes in the thread, and remember: Just 'cause you ain't working doesn't mean we ain't!
So what's in store for the end of the year?  Plenty! 
We've got boots on the ground in Sydney and Hobart, and we'll get you everything you need to listen to both Nic Douglass's all-day live radio show and the official Yahoo/Channel 7 streaming video start of the Sydney-Hobart Race on December 26th (25th in the US and Europe)
Mr. Clean hits the road for Abu Dhabi on Sunday to bring you his customarily awesome interviews, analysis, and live commentary from the In-Port Race and Leg 3 start of the Volvo Ocean Race on January 2 and 3.
Our favorite cornbelt photojournalist Jen Edney is off to Barcelona to get all the inside stories from the 3rd Barcelona World Race.
and Petey Crawford's International Date Line troubles means he's missing Christmas entirely as he heads to Melbourne, Australia at this very moment to scout for our world-leading coverage of January's Moth Worlds.
If you love sailing, 2015 is going to be one hell of a year.  Don't change the channel.
December 24th, 2014 by admin
"Back" as in back sailing again! A quick repair of Hugo Boss' broken spar gets Ryan Breymaier and Pepe Ribes ready for the start of the OCEAN MASTERS New York to Barcelona Race on June 1. Great to see them back on their feet so quick. Here's the Tuesday morning update from Ryan, with nice photos from mstrsail, and be sure to check Ryan's search for Vendee Globe partners here.
Since breaking the rig about 400 miles from Newport, it has been a stressful journey to get back on the water.  We were very lucky the break happened where it did, as the spreaders and most of the rigging remained sound, and allowed us to reuse them, and there was not one broken stitch on any of the sails.
Fortunately we were coming to Newport; if you have to break a mast, this should be the destination.  When we arrived at Newport Shipyard, all the concerned parties were there and ready to help.  Jimmy and Jay from the Shipyard have been great, Scott and Dave from Composite Rigging, Chuck, Mike, and the rest of the Southern Spars team, and Stew, Vinny, and Dan from Al Fresco composites are all great guys at the top of their respective games, and each put in long hours to see us back on the water as soon as possible.
Of course, there is no way any of this would have happened without the Hugo Boss shore team, who are each expert in their field, and have been above and beyond, putting in many 20 hour days.  You cannot say enough about these guys and their dedication to our success.
It has been a great sojourn here in Newport, irrespective of the rigging problems, and I can honestly say that the Hugo Boss has never been in better shape.  As you can see from the photos, we have been out for our first sail, and are confident in the repair.  The mast sets up beautifully, the sail shape is even better than before, and we are ready to leave this morning for New York City and our pro-am race on the 29th.
It looks like 15-20 upwind for the trip, (as expected) which should be fine, as it allows us to make good time getting there.
This whole process has been a drag for everyone involved, but positive thinking and hard work are putting us in a great position to still win the NY-Barcelona!  I am looking forward to putting on that Hugo Boss suit as we cross the finish line in first place.  With everything that the team has dealt with here, that will be the ultimate success.
It is a few days off, but it looks like a very classic North Atlantic crossing at present, riding low pressure system across in 30 knots of breeze, just what Boss loves and is set up for.  We can then tackle the Med, which is Pepe's home turf, and I know quite well.  The race is ours to lose.
Please do not hesitate to come down to North Cove Marina in Manhattan to check out the boats.  If we are not super busy (or if you have kids along), you might just get a look around."
Ryan Breymaier
May 26th, 2014 by admin
It took us longer than we thought to get this up and we thank you for your patience, but it's worth it; this hour-long Sailing Anarchy Innerview with Hugo Boss skipper Alex Thomson tells the secrets behind his mast walk stunt (and whether it was a stuntman who did the big dive) and gets into dozens of other subjects thanks to your excellent questions; Alex shares his plans for 2014 and the next Vendee Globe, tells us who has new boats coming in the IMOCA world, and gives us the low down on his Caribbean 600 race on a Beneteau 40.  You can grab audio only via your smartphone or browser here on the Mixcloud, or download an MP3 file for later listening here.
We highly recommend you check out the "Behind the Mastwalk" video here as well; it's even better than the other one.
March 20th, 2014 by admin
We welcome our friends from the Barcelona World Race back and thank them for their support and advertising with Sailing Anarchy!  The BWR is a completely unique race, providing most of the adventure and challenge of the Vendee Globe, but adding the spice and flavor of a start in the fabulous city of Barcelona and the excitement and adrenaline available from the higher-performance of a double handed crew.
The additional body aboard also means the interpersonal relationship is a big part of the race, and with one more person to write/shoot/edit there's more content as well.  In just three editions it's become one of the world's greatest ocean races, and you can talk about the race here, and hit their Facebook Page here for more info.  Here's their big announcement:
The third edition of the Barcelona World Race starts New Year's Eve, December 31, 2014 and will reveal ten duos or more on the start line, ready to take on the biggest and most arduous challenge in double-handed ocean racing!
Four high caliber teams have already announced their participation, including six co-skippers who return as BWR race veterans.  Entered teams are the Mare Racing Team with German and French skippers Jorg Riechers and Sebastien Audigane, GAES Centros Auditivos with Spaniards Anna Corbella and Gerard Marin, Hugo Boss with Alex Thomson from Great Britain and Pepe Ribes from Spain and the recently announced Neutrogena Sailing Team with Spaniard Guillermo Altadill and Chilean Jose Munoz, to be joined by another six in the upcoming weeks and months.
The next edition will take a new course, taking the fleet south of New Zealand this time. Stops will be taxed much more heavily. The Barcelona World Race, a thrilling adventure to take competitive human sporting partnerships to the limit of endurance, has long since set its position as a 'must do' on the IMOCA Ocean Masters World Championship.
An innovative and exciting media programme using up-to-the-minute platforms will bring the Barcelona World Race to individual race fans and into households around the world, developing and reporting the sporting and human stories hour by hour and day by day. The commercial returns for sponsors and partners on previous editions of the race represent excellent value. And alongside the sporting challenge, the Barcelona World Race will open avenues for important scientific and marine research.
March 5th, 2014 by admin
IMOCA's Open 60 rule has a maximum width rule for the front of the boat; its goal is to prevent the 'scow-bowed' type of design that has proven so successful (at both racing and raising hackles amongst sailors) on David Raison's TeamWork Mini.  We're not sure why IMOCA felt the need for the rule other than the fact that most sailors find blunt noses fugly, but to that, we say 'speed is beauty', and we salute German Class 40 performer Joerg Richers for having the balls to get it done.
We're told that you're looking at Joerg's last-generation Farr-designed Open 60 Mare (ex-Foncia) under refit at the old stomping grounds of the recently departed Hubert Desjoyeux – CDK Technologies, which recently announced they won the build contracts for the new Safran (now without quick-release keel!) and Banque Populaire.  And here we thought France was broke!
Mare will sail the singlehanded Route Du Rhum this November as well as the doublehanded Barcelona World Race a month later.  Will a blunt weapon be a dangerous one?  We'll find out this winter.  Stay in tune with the latest and greatest coming out of IMOCA world in the thread.  Big thanks to secretive Anarchist "Kalitmotxo" for what we think is a world's first look at the scowbilly Open boat.  More discussion in here.
February 7th, 2014 by admin