Posts Tagged 'Australia'
We promised it to you…and not unexpectedly, the practice race for the 18 Foot Worlds found all the bugs in the live streaming system and shut the live stream down.  Our friends at 18 Footers TV promise us the first points-scoring race will go smoothly and we'll have it right here.
In the meantime, the three "S" boys – Seve, Sammy, and Scotty – crushed it, with the new Gotta Love It Seven looking as strong as pre-race indicators and the form guide said, winning over UK challengers PICA by around a minute and a half.   The full report on the Invitation Race is here, and thanks to Michael Chittenden for the speed shot.  You can get updates from yesterday's action via Facebook, enter the Pick-the-Podium competition here, and check this story for all the links.  If you're having issues with any of it, get over to Twitter and send a message to @18Skiff and they'll get it answered.  Tonight's race coverage will start around 11:30 PM on the US East Coast; that's 3:30 in the afternoon on Saturday in Oz.  Huh?
February 27th, 2014 by admin
Whether you're in the middle of the Southern Summer or like most of us, you're still locked into the hellish landscape of ice and snow that is Winter 2013/14, we have got something extremely special for you beginning this Friday!  After our begging for it for years, the good folks of the 18 Foot Skiff Class have finally bitten the bullet to bring you FULLY LIVE COVERAGE of the entire week-long JJ Giltinan/18 Foot Skiff World Championships, and as their Exclusive Streaming Partner, we'll bring it to you every day, right here on the front page of Sailing Anarchy!
This ain't no stop-and-go stadium sailing surrounded by wind-blocking buildings, either – this is full-speed, full-on racing in beautiful Sydney Harbor at the height of sea breeze season, and if you thought 'Eyedeens" were just for Aussies, you haven't been paying attention: There are an amazing 34 teams from seven countries on the beach, with seriously credible challenges like the ass-hauling boys from the UK's Haier Team in the video above as well as a veritable smorgasbord of America's Cup, Olympians, Extreme 40′ers, Volvo Ocean Racers, and more.  You read that right: 34 of the fastest, flipppingest, launchingest, most acrobatic racing dinghies every created, picking their way through islands, ferries and spectators for the right to be known as the baddest boys (or girls, 'cause they've got them too) in all of dinghy-dom.  They may not be as fast as an AC45 or fly over the waves like a Moth, but let's be frank here: There's just nothing on the water that looks quite as awesome as an 18 Footer caught out with the big rig in a building breeze, careening from wave top to wave top, bows pointed skyward, crews leglocked together and hanging onto a tiny thread of spectra for dear life as they dodge sharks, crocodiles, and satan himself.
The format is simple:  There's just one race each day with a lay day somewhere in the middle, and the first day is the Invitational – a non-points scoring practice race that lets some of the many visitors get to know the Harbour, and lets the streaming video team and RC get up to full speed.  Racing begins at 3 PM daily in Australia except for the two Saturdays, when it starts an hour later, and the live stream will start 30 minutes before that.  Never mind the time conversion – we'll do it for you:  That means that for the next week, each night at 10:30 PM EST (7:30 PST) you'll get a full 2 hours of live action from one of the most colorful and exciting regattas in the entire world, commentated by the hilarious and knowledgeable team of Bob Killick and Mark Heeley along with a stream of guest stars to help along. Here's a little excerpt from 2010, with Killo explaining just what the Invitational is all about, and you can explore the past four years of JJ Giltinan racing videos in the archives here.
We'll have the live player up a couple of hours before each day's start, but in the meantime, now's a good time to register at 18footersTV.com so you can enter the Pick the Podium Competition, where the sponsors are giving away a bad-ass retro bar fridge worth literally thousands of dollars and shipped to whoever wins it regardless of your nationality, cases full of high-performance Barz sunglasses, and more; there's no cost to enter and each day you simply enter your three podium picks to be eligible for each day's prize.  Will Seve Jarvin defend his title and tie the all-time wins total of the legendary Iain "Big Fella" Murray?  We certainly don't know, but it will sure be fun to find out, and you might as well win some swag while you're at it.
Run over to the 18 footers Twitter page if you can't get to a real screen, and check into Facebook for a constant stream of info, including some soon-to-be-released shots of some of Sydney's most beautiful sailor chicks that you'll have to see to believe.
This event really does have it all, and we can't wait.
February 27th, 2014 by admin
Australia's Brad Blanchard gave us some info on the kind of charity work we love.  Check out this amazing program; if you can help them out, do it.  If not, get over to Facebook and like them.  We'll be following this one closely right through the 2014 Hobart, and we expect a major sponsor announcement today.
Ocean racing is a long way from the landlocked and war-torn country of Afghanistan, but it's certainly helping some of our country's wounded veterans heal their physical and psychological wounds.  Australia's Soldier On charity was established in April 2012 by John Bale following the death of a mate, and the program is all about the Australian community coming together to show support for our wounded and ensuring they know we will always having their backs. It's about giving those who have served our country the dignity they deserve and the chance to do and be whatever they choose through; providing access to inspirational activities, supporting rehabilitation and providing opportunities that empower them.
As a Soldier On volunteer and Veteran of modern conflicts including Iraq and Afghanistan, I developed my interest in sailing following retirement from the military.  After returning from combat, I craved adventure, excitement, competition, and competitive sailing and ultimately participation in the Rolex Sydney-Hobart Race was just the thing to scratch that itch. Recognising that a lot of other Veterans weren't coping well after their service in conflict areas, I leapt at the chance to get involved with the Soldier On organisation. I realised that my involvement in sailing had helped me successfully transition out of the military and I wanted to inspire those who were struggling to get back into life, particularly those who had been injured, by helping introduce them to a sport I have become so passionate about.
After the first Soldier On Sailing Program was successfully run in 2013 out of Royal Perth Yacht Club, the organisation has now scheduled courses across Australia to help our Wounded Warriors get involved in the great sport of sailing. Incredibly, plans are now well under way to take one of these Veterans from sailing virgin to Category 1 ocean racer in less than a year by taking part in the 2014 Rolex Sydney to Hobart.
Any sailor worth his salt knows that the Rolex Sydney to Hobart is one of sailings' great ocean races and 2014 should see a huge and massively competitive fleet with the running of the 70th iteration. In thinking about how we could best capture the spirit of Soldier On's Sailing Program and the resilience of wounded Veterans, we felt the Sydney to Hobart would be the perfect platform to raise awareness for such a great cause. As a fundraising event our venture will not only help Wounded Warriors recognise that there is life after service and injury but encourage wider participation in our great sport.
For the 70th Hobart, one 'newbie' wounded veteran and I will be crewing along with the Volvo 70 Southern Excellence II.  If you would like to follow our Soldier On 2014 Sydney to Hobart Challenge please head over to our Facebook Page here, and share it with anyone in the world who might appreciate it. To discover more about Soldier On and how they help our wounded Veteran community please visit them at www.soldieron.org.au. The official launch for this massive undertaking is today at the Royal Perth Yacht Club, and we are still looking for sponsors for this worthy program.

February 19th, 2014 by admin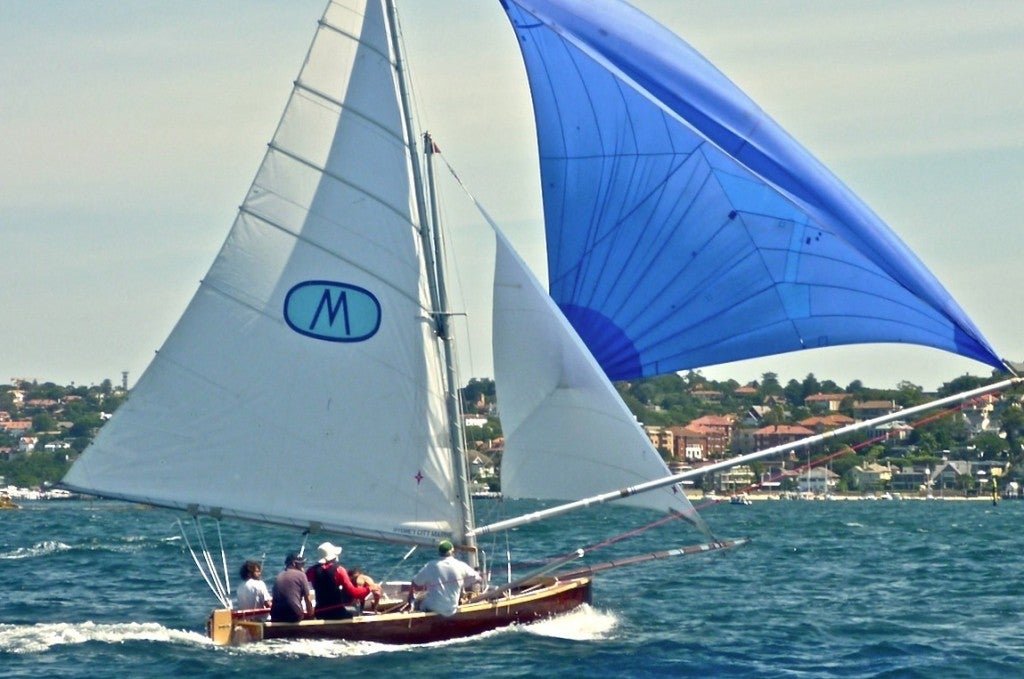 We reported on yet another 18-foot skiff replica popping her cherry on Sydney Harbour the other week; now they are sail testing, and check out this shot from Aussie National Maritime Museum's David Payne of the new Myra Too. 
Frank Quealey from 18 Footers TV wrote up a chat comparing the 18s with the AC72s with someone who should know: Oracle Team USA bowman/Gotta Love It7 forward hand Sam Newton.  Sam's back on the red 7 boat in search of his fifth JJ Giltinan title in early March, he took a few minutes to discuss what he sees as the differences in the two boats.
"I had the pleasure of doing a lot of sailing and racing on the AC45's and AC72's over the past 2 years and between them I also experienced a lot of similarities to the 18ft Skiff.
When Oracle set the Protocol for the 34th Cup, their concept had a lot of similarities to what the 18ft skiffs have been doing for decades.  It was all about creating a spectacle for sponsors and fans, something the skiffs have done well for a long time. The racing is short and intense and the venue is close to vantage points to ensure it encourages a big following.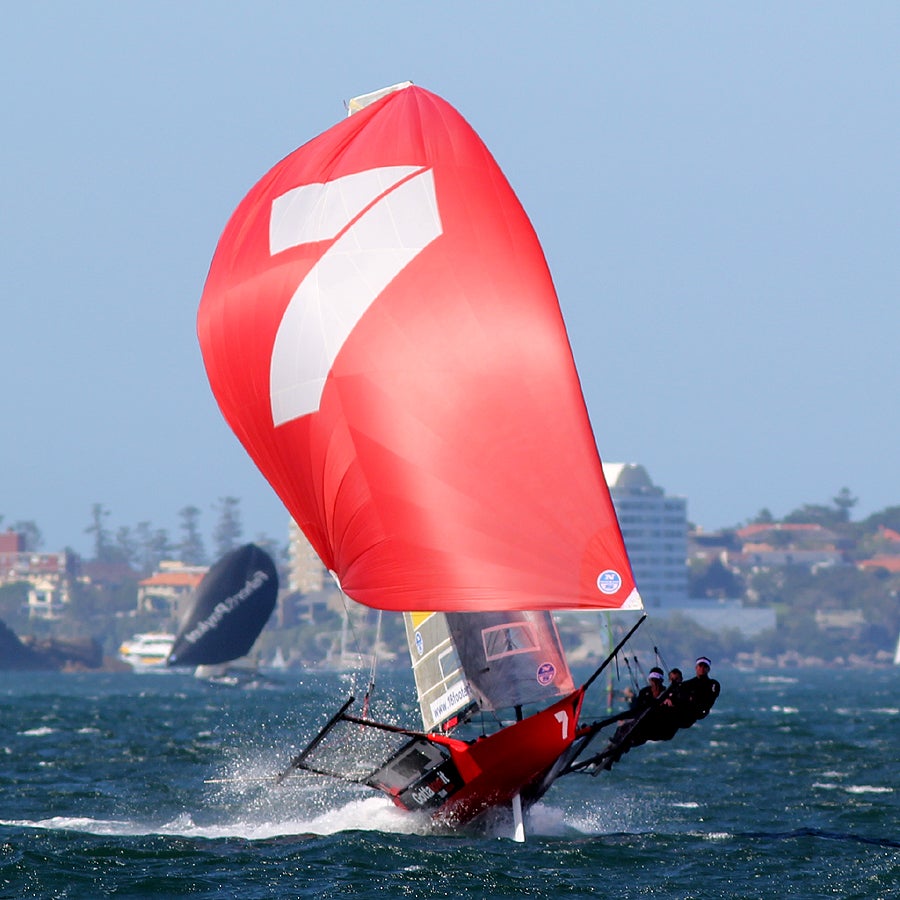 On board the boats, the main difference between the Skiff and the cat is obvious.  Two hulls and a wing sail compared to the single hull and a conventional mainsail.  Another is the much larger team of eleven sailors on the AC72, which brings in a whole new dynamic.  All the boats are fast, they are all wet and they all get the adrenaline going when the breeze is up, which is what I love.  They all feel like your sailing on the edge in the higher winds, which keeps you on your feet and thinking ahead as you become fully aware of the consequences if it goes wrong.
One thing still remains; the 18ft skiff is by far the hardest to bear away at the top mark in 20+ knots.  The 45's give good action to the sailors and spectators at the top mark as we saw through the AC World Series, and the 72ft Cats are a lot easier by using the foils to create lift in the bow which we don't have the option of in the skiff.
It's been great to be back out sailing on Sydney Harbour.  From my travels, it's still the best harbour in the world to sail and play and I'm enjoying being back with my long time sailing partner Seve (Jarvin).  Now it's all about getting the new "7" skiff up to speed to challenge in the upcoming JJ Giltinan Championship, which is looking like being the most competitive line up in recent years."
The Gotta Love It 7 team of Seve, Sam and Scott Babbage will go into the 2014 JJ Giltinan Championship as favourites in March, but face a challenge of more than 30 skiffs from six countries in the regatta, which will celebrate 75 years of the world's greatest 18 Footer championship.  Stay in touch (and check out the new Livestream action) at the 18footers TV site.
January 15th, 2014 by admin
Long time Anarchist Beau "Bangin' the Corners" Outteridge did some of his usual wizardry with this dismasting from the Aussie 5O5 Nationals.  Beau's brilliant when it comes to creative media and marketing; if you're looking to help your Aussie or Kiwi event get some exposure, hit him up via LinkedIn here.  More info on the Aussie 5-Ohs here.  Title hits up the 80s for inspiration.
January 10th, 2014 by admin
Ronnie Simpson checks back in with Part 2 of his Sydney-Hobart adventure.  You can read Part One here, and check back on this page for a final and probably debaucherous Hobart wrap-up later this week from the inimitable Mr. Clean.
Back to a non-poled out jib top in 40 knots, I remained on the helm and we managed more 16-18 knot surfs, but at horrible angles with the poor reaching jib flogging itself to death in the lee of the main. As the breeze dropped slightly, we hoisted the A3 and eventually chose to go back to the A2 around dinner time. I was off watch and down below when I heard the crew preparing for the peel. With just one tack line on the bow-sprit, we can not do proper kite peels and must douse and then re-hoist the new kite. Hoisting bareheaded the A2 wrapped itself around the headstay in what became the worst kite wrap i've ever personally seen. In one of those moments when a racing sailor sheds a tear of compassion for both the boat and the owner, we sent Ben up the rig to cut away the kite while myself and Rod "Fergo" Ferguson cut away the kite at the bottom. Eventually, we got the remains of the kite down into the forward hatch. More time lost. Things were going from bad to worse and the wheels were falling off for One for the Road and her crew. Back into the A3, we were under-wicked and slow, gybing dead downwind to remain where we thought we wanted to be.
Watching the barometer continue its rapid decline, we were expecting the breeze to go light and then instantly shift to the W-SW and quickly build with a forecast 50-60 knots on the leading edge of the front. Ben spotted the quickly approaching cloud line around sunset. Light refracted by the approaching moisture lit up the sky into a million fiery shades of pink and orange shrouded in an ominous grey cloud cover. It looked nothing like the lead-colored, cigar-shaped cloud line that I had read would indicate a southerly buster. Watch leader Jeff Shute made the call "kite down now! #4 jib on deck, deep reef the main!". In a scene straight out of Rob Mundle's book "Fatal Storm" (about the '98 Hobart race), we were all on deck for our chinese fire drill, which we pulled off in just 3 minutes. The main was double, then triple-reefed as we expected the blow. The shift was immediate and with 20 knots we sailed slowly for half an hour before it built to 30. Then 35. Then 40.
Less than two hours after dropping the kite, we were in the full force of the front with breeze in the mid-40's puffing into the 50's. Adrian was driving as I began thinking to myself that it must be hard to drive as his normally spot-on helming was up and down of course. Handing me the wheel, I was confronted with the reality of how challenging the driving was. Driving half my shift 4-hour shift with 3 reefs in the main and #4 jib up, it was some of the most full-on, gnarly sailing i've ever experienced. Waves slammed into and broke over the boat with a spray that made it nearly impossible to keep my eyes open. Driving almost entirely by feel, I merely tried to keep the boat on course and avoid upwind wipeouts.
Exhausted from both physical and mental exertion, I fell asleep in my soaked foulies as soon as I got off watch. When I came back up on deck a couple of hours later, we were sailing bald-headed with the #4 lashed to the rail. I was not happy to see this as it meant we had continued to bleed miles to our rivals for an untold number of hours. I called for the storm jib. The boys agreed, so Ben and I went to the foredeck to tee it up. Coming out of the bag twisted and with the long pennant wrapped around the sail, Ben and I faced a monumental struggle just merely getting the sail ready to hoist. 50 knots of breeze, intense saltwater spray and breaking waves battered the two of us for what felt like an eternity before we were ready to put it up. Once we got the storm jib hoisted, boat speed went from 4 knots to 7+. We were racing again. Back in the cockpit, Ben clenched his fists and grunted "ahhh!!!, I live for this shit!!!". A kindred spirit…
With the new sail configuration, the boat drove like a Cadillac while she tore through the building seas like a race horse on crack, leaping up and over each wave. With no light pollution and the strong clearing breeze, the stars were amongst the most brilliant i've ever seen while every wave that broke over the boat brought a million bright green specks of bio-illuminescence. It was beautiful heavy-weather sailing and while the breeze remained in the 40's, the seas stopped building as we sailed into the lee of Flinders Island, just north of Tasmania.
I went off watch and when I came back up, the sun was up and the breeze had moderated significantly, now down into the high 20's and low 30's. Back to the #4 and we started shaking reefs. Within another hour, we were reaching along in champagne conditions about 13 miles east of land. By 9 am, we hit a transition in the breeze and became almost becalmed in a lumpy, confused sea state with residual slop that had rounded the corner from the west only to meet several variations of southerly swell coming up from the Southern Ocean. We chased the breeze, attempting to sail from wind line to wind line; not an easy task when nearly becalmed in lumpy seas. Big John Searle the rugby player and dinghy sailor shined in the tricky tactical conditions and kept the bus rolling.
With our bottled drinking water nearly gone, we prepared to make the switch to the water tank. In a race where even the easiest of tasks turned into monumental struggles, even this normally mundane chore became an arduous ordeal. With no manual water pump, pumping water would require electricity. Electricity that we barely had. After a brief debate, we flipped the water pump switch and began filling water bottles. The water came out brown. Our lone water bladder that we left full before leaving Sydney had ruptured during the rough night and become contaminated by the endless procession of water that ran through the boat in the hectic crossing of Bass Strait. We were now faced with a grim reality: 6 liters of bottled water now had to last 10 people more than 24 hours.
In what was one of the most challenging days of sailing in my recent memory, we had to fight highly variable, shifty conditions all the way down the coast of Tasmania. Were we too far inshore? I don't know. None of us knew as we were on very limited weather data, with only the electrical capacity to receive verbal forecasts via the SSB radio sched's. With 4 knots of breeze gusting to 25 out of every possible variation of south, we soldiered on in a tack – tack – sail change – tack – sail change fashion with up to half a dozen other boats in sight at times. Boats inshore would catch a puff lift and put a mile or two on us, while the boats outside would die off. The scenario would then exactly reverse itself in this navigator's nightmare.
The breeze began to fill and solidify from the west during the very early morning and by day break, we were reaching along with a full main and #3. The jib top would have been the right call, but it was still on strike after it's massive flogging in the strait. Things felt a bit cruisy, so we put up the #2. Things still felt a bit cruisy so we put up the A1, which we knew would be a bit dicey as the angle and pressure would put us on the edge. Kym drove us on the ragged edge of control. I was off watch, so after the kite was up and the jib was back down, I went down below. A few minutes later, I heard a sail flogging and a lot of yelling, so I jumped on deck to see the A1 coming down behind the boat. The tack line's block on the end of the retractable bow-sprit had broken off the sprit. The design is that of a threaded pad eye attached into the end of the sprit and the pad eye broke flush with the sprit. The kite partially went into the water, but we managed to get everything back on board while the #2 was re-hoisted. With a freshening breeze, we were back in the #3 within a few minutes. So much for my final off watch, which I was desperately hoping for so that I could be rested for the final approach to the finish.
We rounded Tasman Island at about 10:30 in the morning, hardened up on the breeze and began beating into Storm Bay. We each took a sip of Drambuie and toasted to the Newcastle-based 40-footer Aurora, who donated the bottle to us after missing their first Hobart in 15 years. Throwing in a couple of tacks, we were again disheartened to find another problem. A mainsail batten was working it's way out of it's pocket and moving forward with half the batten in the pocket and the other half working forward towards the mast. We contemplated sending Ben up the rig but it would be doubtful that one man aloft could fix the problem. We dropped the main, shoved the batten back in it's pocket and re-hoisted, which is always a difficult chore on a bolt-rope main. More boats slipped by and more time was lost.
Sailing upwind on starboard tack, famed Tassie photographer Richard Bennett flew by in his airplane less than a hundred meters over the water to capture an image of One for the Road. We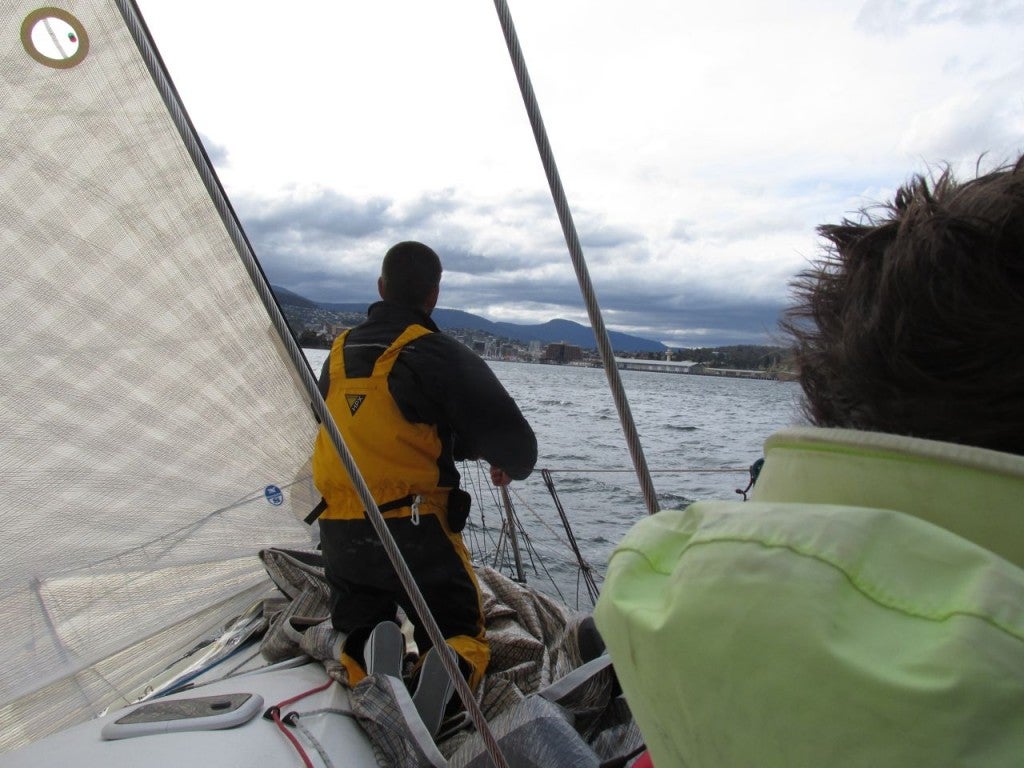 tucked in and shook a reef twice before the breeze shut off again. Becalmed in the middle of Storm Bay, we scanned the clouds over head and watched other boats sail in different breeze as we created a strategy. Big John again shined as inshore tactician. We worked to a wind line and saw another boat sailing 90 degrees higher than us on port tack, about a mile away. Our angle was atrocious and we all wanted to tack to starboard and try to get into the same breeze. Kym urged us to wait a moment longer before tacking and as we stuck our nose further into the pressure we were initially knocked and then the lift came. Pressure again increased, and we had a beautiful port tack beat straight towards the River Derwent.
We threw in a couple quick tacks to clear the Iron Pot and then passed a bottle of Pusser's Rum down the rail. Our third sip of the liquor in 4 days. One for the Road was almost home. We cracked sheets as the river turned right, as I again longed for the jib top. Approaching Hobart, I got a proper introduction to the River Derwent. There were holes everywhere, powerful gusts coming down and contradictory current that built as we made our way deeper into the river. We chased a Beneteau the entire time until they picked up a lift and sailed across the finish line. Minutes later, our private puff came down, we took a major lift on port and hardened back up towards the line. The puff tapered off, but before it died completely, we crossed the finish line just before 7 pm.
It was over. I mentally broke out a black marker and added a large check to my bucket list, just as I added "do ten more Hobarts" and "win division in Hobart" to the ever-growing list. (Sail in the Vendée Globe is still written in 100-font bold print at the top…) Life is like working on a race boat, I suppose. Every time that I cross something off the list, I have to add two more and the process repeats itself as the work is never actually done.
We achieved another goal of ours after the finish as we had enough electricity to use the engine to motor into the harbor and not require outside assistance. We dropped the main and lashed down the two headsails that were on deck. Motoring into the harbor, we cruised past the wharf which was filled to capacity with the annual "Taste of Tassie" festival. The lead singer of the band that was performing stopped his song early and recognized One for the Road for completing the journey from Sydney. The massive crowd on the wharf stopped what they were doing, put down their food and drink and stood to clap and cheer for us. A lone voice yelled "hip hip" and the crowd would respond "hooray!". It was the most beautiful and heartwarming reception i've ever received at the end of a yacht race.
We placed 17th out of 21 boats in our division, and about two thirds of the way down in the overall standings. It's one of the worst results i've ever achieved in an ocean race and while the competitor in me is upset with our result, the sailor in me deeply proud and grateful to have sailed, and finished, this great race. Things don't always go your way when you set to sea, but by working together, we all achieved something that is much more important than any poor result on paper. No two people on the boat ever argued with one another and all ten of us got off the boat much better friends than when we started. In my mind, we are all champions.
As an American who has done quite a bit of sailing on the west coast, traveling to Australia to sail in the Sydney- Hobart has been one of the best experiences of my life and only increases my love for the sport and my resolve to constantly learn more and improve as a sailor. There were a million lessons learned and lessons reinforced during this race, but that constant learning curve is what keeps sailing fresh and exciting. This race was not just a race, it was a beautiful adventure that released the emotions that only true adventure can. That feeling that compels us to undertake challenging races; when you're profoundly grateful for simple things like seeing the sun rise after a rough night at sea, when a sip of water tastes like fine wine, when a $6 meat pie on the street tastes like a gourmet 5-star meal.
If I still have your attention after this marathon recap, I want to thank Kym Butler for this incredible experience and all of the crew on One for the Road. Rockstar sailors we were not, as we found ourselves thoroughly tested, but even if I were to hand-pick a crew I could not pick a more enjoyable bunch to spend four days with than the nine strangers that i'm now honored to call friends.
It's the Sydney-Hobart, and whether you are a boat owner, crew, or just a random guy or gal looking for a great adventure; put it on your bucket list and make it happen.  You will never regret it.
-Ronnie Simpson
January 7th, 2014 by admin
The Sydney 18 footer freaks continue to astound and amaze; and they've knocked together a replica of the iconic and dominating 18 footer Myra Too from the 50s,  splashed a couple of days ago for her maiden sail above.  Myra was built with the help of of the Aussie National Maritime Museum – take a look at some of their excellent research and photos here.
Myra Too will join the Flying Squadron's Historic 18 fleet, which (quite incredibly) sails constantly though the summer out of the squaddie.  She'll bring their number to an amazing 11, including a replica of Britannia, the first 'modern' 18 footer, whose original lives at the museum and is worth a visit from any sailor worth their salt.  We'll have shitloads more news on the "eyedeens" over the next few weeks leading up to the fully live video coverage of the modern 18′ers World Champs, where 30 of the bastards will go for J.J. Giltinan's gold.
For a really cool look at the fleet in the 60s, check out Sports Illustrated's old files here for "A Bloody Way To Go Sailing."  A great read, and you can actually see the original, as-printed story in the e-mag here (click forward to page 58).
January 7th, 2014 by admin
All the interviews, stories, and pictures in the world can't replace a few seconds of 100′ yacht getting smacked around by a 30 foot wave, so here's all that and more from what may be the best event video we've seen from Rolex since they entered the world of yacht racing.
Don't forget we've got dozens of interviews, hundreds of photos, and quite a bit more up on the Macca's Facebook Page, and keep an eye on this front page for Part 2 of Ronnie's race report as well as Mr. Clean's overall 'report card' from the 2013 Sydney Hobart Race.
You'll need to be deep into your '80s trivia to get the title reference.
January 2nd, 2014 by admin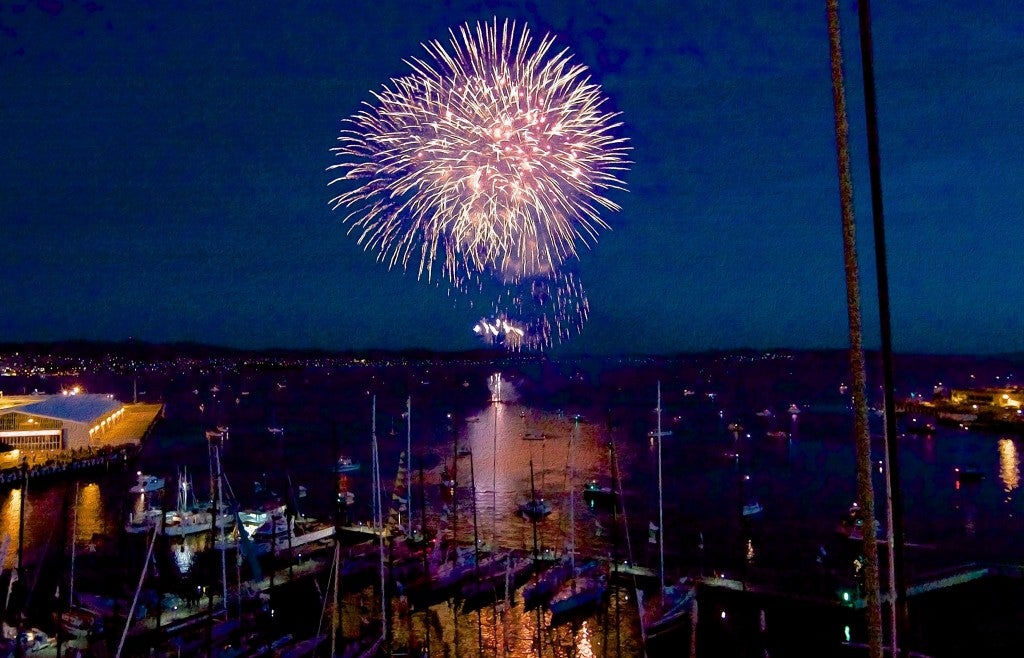 From beautiful Tasmania, we wish every Anarchist everywhere around the world a wonderful new year, and a huge thanks to all of our Aussie Anarchists (including the Perpetual LOYAL boys who made this Meredith Block shot possible) for such an incredibly warm welcome for our first-ever coverage of the world's toughest (mostly) amateur yacht race.   May 2014 bring fun, breeze, and plenty of sailing your way.
January 1st, 2014 by admin
The Anarchists aboard Brindabella got their own escort in to Hobart this afternoon and Carlo Borlenghi shot it in this beautiful vista above; around 20 boats have finished while 10 have retired and 60 remain on the continuously nasty course; 35-40 knots is commonplace out there, and it's going to be a long night ahead for the 50′ and under crowd.  The original Wild Oats (now Wild Rose) still has a chance at the overall handicap trophy, but it looks more and more like Cookson 50 Victoire will take it; check in on the almost unmanageably big thread (150,000 views and nearly 2500 posts) for loads of pics, videos, and plenty more.  And don't forget there's still swag to be won; McConaghy's Facebook Page is where you find that.  Track the fleet here.
UPDATE:  We spent many hours and imbibed liters of rum digging for the real stories of the race late last night at the infamous Customs House; open for 24 hours a day for the next four days, this bar/pub makes about 20% of its annual revenue in one week, thanks to the sailors who rarely leave there until it's time to go home.  Last night, we dug deep and picked up our 'Epic Story of the Hobart" so far, and here it is (with apologies to a rum haze for any minor inaccuracies or embellishments):
With 35 knots up the ass (before the Westerly change),The VO 70 Blackjack (ex-Telefonica) had a few miles lead over Beau Geste and Giacomo (ex-Groupama 70), with Wild Thing a bit back.  BJ went for her final gybe to clear the island, and when the main snapped across, they broke a batten; I think I remember they had an A5 and two tucks in.  The batten pierced the 3DI mainsail and zippered it from leech to luff.  Half the sail came down and the rest stayed up.
Now they have half a sail violently flogging up the mast with no way to bring it down; up goes the bowman on a halyard to cut it free.  During the drama, BG, Gia, and WT all get through ahead.  Mind you this is at about 11 at night and nothing but nav lights and spray are visible… BO Peter Harburg – who is as cool as can be – told me "We went from 4th to 7th in a few minutes and I just went to bed.  What was I going to tell my wife?"  Meantime, the crew got the trysail on and set the FrO, and guess what?  They fucking ground down the 100 footer, then the Volvo 70, then the 80 foot Beau Geste, and they only beat Karl Kwok's brand new beast over the line by something like 50 seconds.  Giacomo came in a minute later.  Harburg (who had barely slept until  after losing the mainsail) popped up from his 3 hour nap to find he'd gone back from 7th to 4th.
I hit them up at the dock just a few minutes after they tied up, and in contrast to the BG and GIA guys, Harburg was completely charged up and full of energy.  He was hanging out at the stern, watching the crew clean up and smiling his ass off as he pulled off the tracker to return it to the race official in exchange for two slabs of complimentary beer.  He smiled and told me "beating those boys across the line without a mainsail?  To me, that felt like we just pulled a line honors victory."
Later on I spoke to Rod Keenan off Giacomo, a long time Anarchist and ultra-talented sailmaker from Auckland with a list of wins as long as the list of banned SA forum members. Rod  laughed when he told me "who would have thought a trysail was the fastest sail for those conditions, but when three reefs is still too much area, maybe that's what you have to do."
There are plenty more stories waiting to be told…stay tuned.  Blackjack photo from @Greg_Faull.
December 29th, 2013 by admin
Update: With Loyal backing up in the light, WO has ground them down and is now sailing away with a 30 mile lead and growing…
Despite sailing into some squally crap when he brought WOXI a bit too close to shore, Tom Addis, Navigator (and ex-Puma nav) sounds confident that they can reel in the bigger, more powerful Perpetual Loyal by the time they get to Storm Bay.  The gap has shrunk from 11 to now just 5 miles, with Oats gaining another mile every hour.  This sets up a truly spectacular finish, and we're on station in Hobart to bring the play by play to you right here on Sailing Anarchy and on McConaghy Boat's Facebook Page.   Listen to Tom's from 7 AM this morning.
December 26th, 2013 by admin
World-girdling ex-military adventure-lover Ronnie Simpson made his way down to Sydney to experience one of the world's great races, and he checks in with his first comprehensive look at the Sydney-Hobart fleet with this missive.  Expect tons more content this week from Ronnie and a fleet full of Anarchists.  It's already started; want to check out the sports book line and place a bet?  How about a virtual walk-through of the boats on the CYCA docks in glorious high-res photos?  Get your ass into the Sydney Hobart thread and get involved.  And finally, if you're looking for interviews, boat tours of the biggest and baddest, and words from some of the biggest characters in the race, get yourself plugged into the McConaghy Boats Facebook Page – ground zero for all our race coverage from the start to all the finishes and the only place you need to go if you want to win some sweet SA swag.  And for our North American spectators, remember that the start will be broadcast live by Yahoo!7 starting around 8 PM EST on Christmas day (with our coverage starting long before that) with the first finishes on the evening of the 26th.  For the next week, Sailing Anarchy (thanks to McConaghy Boats) A will be Hobart Central – don't miss out on any of our coverage!  Photos by Ronnie and SA'er 'point'.
Sydney.  Hobart. Two of the most notorious words in all of sailing.
The words themselves bring up so many visuals and so many stories that simply muttered under one's breath, they cause rapid synaptic firing in the brain of any offshore sailor.
Spurring vivid recollections of massive spectator crowds ringing the famous harbour and foreshore, 100-foot super maxi's battling for line honors as they trade tacks in the Derwent, 60-foot breaking waves skirting the skids of rescue helicopters among the streaky spindrift from hurricane-force winds, if there's a race that has spawned countless legends, it's this one. Now in its 69th edition, it's got the well-earned reputation as one of the most challenging, dangerous, and brutal competitions in all of sport – despite still being accessible to your average mom-and-pop club racer – and this 69th edition should easily live up to the reputation we've all come to expect.
With a highly complex and constantly changing weather scenario, the fleet is preparing for everything from light-air upwind to heavy-downwind and back.  While not a likely record-breaking year, you never really know, especially with the ultra-high quality of yacht at the top end of the fleet and a constantly evolving weather scenario.
As it stands, a localized low moves over the New South Wales coast at the start with the accompanying Southerly breeze.  In a 'classic' pattern, the wind should back to the Northeast and light to moderate run to the South.  The speed of the low's movement – or outright dissipation – will determine how early the NE fills in and how fast it builds, with the potential for a real slingshot South for the boats that can position themselves for it.
As the big boats approach the Derwent, the rest of the fleet will be bracing for impact as a classic Southerly Buster rolls in from West to Easy over Tassie.  With a forecast up to 45 knots (with gusts that may be MUCH higher) this one could be a true test not only of racing prowess, but of straight-up seamanship for any boat stuck behind the frontal change.
With yours truly covering the race from on-board, dozens of Anarchists spread throughout the fleet, and Clean and Mer just on the ground ready for some bang-up interview, video, and photographic coverage from both Sydney and Tasmania, our hack team will be covering the Christmas Classic as it's never been done before.  As a Sydney- Hobart virgin who admittedly doesn't know the local Aussie sailing scene, I had but two options when compiling data for this article; regurgitate what's already been written about the race or get drunk with the players in the scene and get the real scoop.
The latter option got the nod. This is Sailing Anarchy, after all…so on to the Ronnie Simpson form guide:
With IRC, ORCi, PHS and one-design fleets, it's impossible and redundant to write a preview for every fleet, so i've focused on the IRC divisions, as that covers the vast majority of the fleet.
IRC 0
Many of the biggest, baddest, fastest monohulls in the world are represented in IRC Division 0. From perennial line honors contender Wild Oats XI to 2011 line honors winner Ragamuffin 100 (previously Loyal), the new Loyal (ex- Speedboat/ Rambler), the sparking new Beau Geste 80, a trio of Volvo 70's and a host of others, this is the division that everyone is watching. Who's going to win? Hell if we know, but after talking Bundaberg-fueled shit with some of the top guys in the game, Beau Geste sounds like she may be the real deal, and the sleeper pick. Aside from the usual suspects, keep an eye on Volvo 70 Black Jack and Cookson 50 Victoire to be contenders for a handicap win.
Here's the run down of the three big line honors contenders:
Wild Oats XI- Unlike many years in the past where Wild Oats XI was the clear favorite to take line honors, this year's Hobart race is wide open. While still the line honors favorite with the bookies, Oats is getting a bit long in the tooth after 8 years in the game now, and it's starting to show. She's been heavily bastardized, er, modified to include new DSS foils and a lighter, stiffer new rig and the results are far from conclusive, but they're also far from confidence inspiring. The rig's already suffered two failures, the DSS foils are unproven and they've got a new navigator to boot (though Tom Addis is no one to sneeze at). With a weather forecast that has the best in the business confused (including ultra-navigator Stan Honey navigating Loyal…), WOXI's Addis will have his hands full, that's for sure. Don't count the old girl out, but personally, my money's on the competition.
Perpetual Loyal- Owner Anthony Bell took line honors two years ago on the earlier Loyal, and clearly he wants to do it again.  To that end, he picked up the most powerful monohull every built – Alex Jackson's Speedboat – putting her back together after her capsize and near-destruction back in the Fastnet.  Bell loaded the boat with a who's who of top sailing, including  Stan Honey, Tom Slingsby, and Michal Coxon (though now marked as questionable due to illness), and he spent plenty of time on refitting some important bits thanks to McConaghys.  In Loyal, he's got a wider, newer, more powerful boat than Wild Oats, and it showed in the Big Boat Challenge two weeks ago as Loyal led Oats around the course before blowing up one of her specialty reaching sails and giving away the victory.  Loyal has only shown two weaknesses in her career:  Light air, and breakages.  Barring either of these two occurences, it's hard to bet against her.
Beau Geste – The brand new, and most eagerly anticipated boat in the Sydney- Hobart is as revolutionary and cutting-edge as it is downright sexy and intimidating. The new Botin Partners – designed 80-footer weighs half as much as Wild Oats at about 16 tons, yet creates 60 tons of righting moment vs. 68 for Oats.  The keel cants 3 degrees more than a Volvo 70, while the canards are angled at an incredible 18 degrees, generating around 3 tons of lift at 27 knots of boatspeed.  The closest we'll see to monohull foiling in this race, Beau Geste's polars indicate multihull-like downhill speeds approaching 40 knots of boat speed. Not just fast, she's designed from the ground up to be a durable and burly boat with a rig designed to withstand 50 tons of pressure at it's base and an innovative hull structure. Remember, this boat was built as a replacement for Farr-designed BG that broke in half last year, and project manager Gavin Brady isn't scsrewing around when he says this boat is ready for anything the Bass Strait has to throw at her. Bigger, more powerful, and lighter than a Volvo 70?  Hard to bet against this one either.
IRC 1
Tied for being the largest IRC division in the race with 21 boats, Division 1 should entertain from start to finish. The new Carkeek 60 Ichi Ban is as highly anticipated as Beau Geste, and despite her relatively short length, expect her to school all of the bigger Clipper 70's and even a few of the boats in Div 0. Like the Carkeek 40s wake-up call to the 50-foot racers, the new Carkeek 60 should give plenty of trouble to the very well-sailed Ker 51 Varuna and the brand new sexpot Tony Kirby's Ker 56 Patrice.
Patrice is a development of Piet Vroon's all-conquering IRC beast Tonnerre De Breskens which has now claimed three RORC season championships in a row. Kirby and his crew have been putting in the work, doing a lot of sailing and earning some great results. Their thorough preparation and level of boat development makes them a definite contender, though the same can be said about her larger cousin Varuna. With a well-run program that's been campaigned around the world, to include this summer's Transpac, and rockstars such as Barcelona World Race vet Guillermo Atadill onboard, Varuna's hard work and dedication should pay off in spades.
Don't count out previous winner Primitive Cool (ex-Secret Men's Business 3.5), the R/P 55 Wedgetail, the 100-foot racer cruiser Zefiro or my personal favorite, Frantic; the first-gen TP 52 owned by former pro rugby player Michael "Mick" Martin and navigated by Singlehanded Transpac champ Adrian Johnson. Frantic comes in with momentum after winning this year's Gosford- Lord Howe Island race.
IRC 2
A fifteen boat division with depth throughout, merely getting onto the podium will be a monumental feat. Standouts include the always compettive Rogers 46 Celestial, sexy new Ker 40 Midnight Rambler and IRC optimized DK 43 Minerva amongst several other solid programs
Celestial is a contender not just for Division 2, but for the overall if they get their conditions. Consistently running near the front of the fleet on handicap, the Rogers is a good all-around platform sailed by a wicked up crew that includes former Olympic sailor and multi-time champion at everything Steve McConaghy (yes, that McConaghy…) Midnight Rambler on the other hand is an experienced group that has a weapon in their sexy new Ker 40. Winners of the notorious 1998 race in their old Hick 35 AFR Midnight Rambler, the crew has 120 Hobart's between them and earned a second in Division 2 last year. A wild card in the fleet is the Humphreys 42 Zanzibar. A stalwart on the Asian scene, the Singaporean yacht has tasted success to the tune of winning last year's Rolex China Sea Race overall on IRC and should go well in a range of conditions.
IRC 3
With 5 Sydney 38's, 4 Archambault 40's, a slew of Beneteau First 40's and 45's and several other IRC optimized racer-cruisers, Division 3 is a complete toss-up. Tied with Div 1 as the biggest of the IRC fleets at 21 boats, it will require equal parts luck, skill, conditions and seamanship to end up on the podium. I'll be on the Archambault 40 One for the Road as we battle the fleet to Hobart, hopefully updating to SA along the way! The Sydney 38's should entertain as they always do, and with a huge fleet of boats occupying a very narrow rating band, IRC 3 should offer some of the closest racing of any division. As an added bonus, it'll even last a couple of days longer than the big boys! Just long enough for us to get creamed in the Bass Straight and down the Tassie coast…
IRC 4
The slowest of the IRC divisions, IRC 4 is loaded with class. The Petersen 44 Bacardi is competing in her 28th Hobart race- a record. Also in the fleet is the Hick 35 Luna Sea, (ex-AFR Midnight Rambler) that won the notorious and tragic 1998 race. When conditions turn heavy and out of the south, look for some of these older, slower upwind machines to revel in the heavy upwind stuff and move up the leaderboard.
-Ronnie Simpson
December 24th, 2013 by admin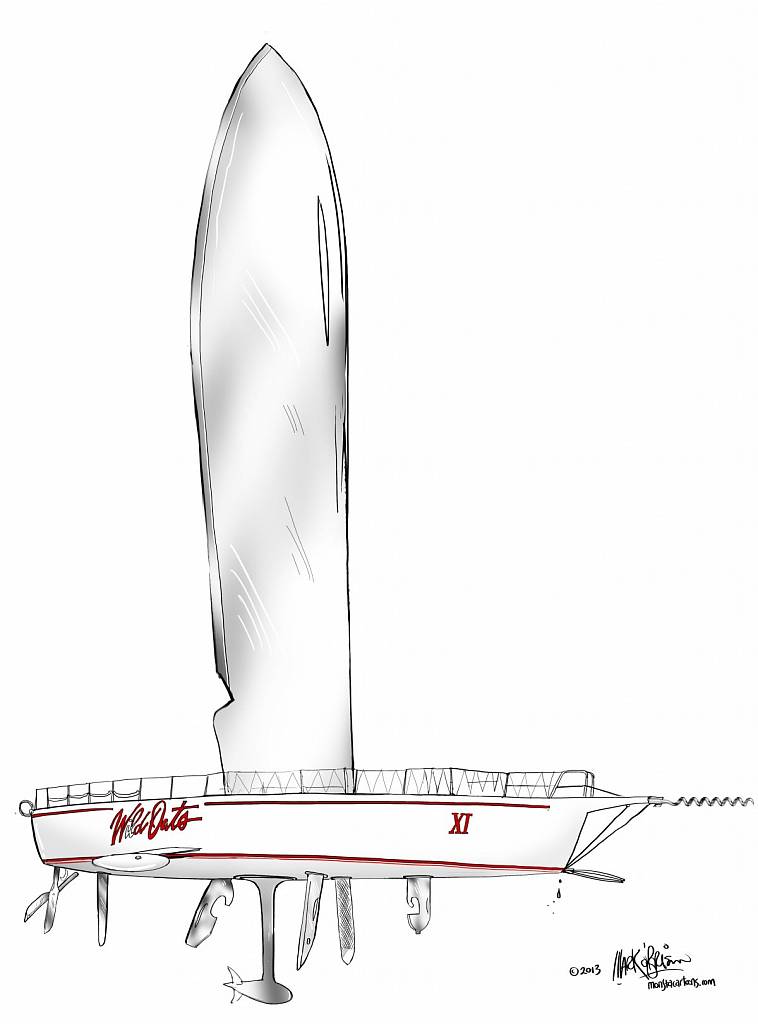 Mark O' Brien put his Monstacartoon pen to the Wild Oats XI appendage package, and as usual, it's awesome.  Wanna buy a print of any of his work, or a cartoon of your own boat?  Hit him up here!  Credit to the great composer Kurt Weill (via Louis Armstrong here).  And get in the Sydney Hobart thread to post your own predictions for the race, and win brand new SA swag, and don't forget our McConaghy Boats-sponsored coverage of the 69th Sydney Hobart Race, coming at you live from Oz in just a few days.  Like McC's Facebook Page now, or you might well miss something….
December 19th, 2013 by admin
With her six different underwater appendages, a finned bulb, and a monster bowsprit, it's obvious to see why Sydneysiders quickly dubbed the improved Wild Oats XI the 'Swiss Army Knife'.  But is the skinny rapier R/P 100′ enough to challenge the ultra wide-load JuanKer 100 Loyal?  Only time and tide will tell, and for the first time ever, our own crack team of reporters (a/k/a one drunken bald guy and his way-too-sexy-for-him photographer/wife) combined with an army of Anarchists in the fleet and spectator corps, will be there to bring you all the action from Sydney and Hobart.
We've also got giveaways, contests, and lots of other interesting things planned; the best place to keep abreast is in the already mondo Sydney Hobart thread here.  With barely a week left until the start, it's also a great time to get over to McConaghy Boats' Facebook Page and give 'em a Like – that's where much of the reporting, video interviews, boat tours, and photos will go thanks to the Aussie boatbuilder's sponsorship of our coverage.
Finally, McConaghy Boats dominated the CYCA trophy series over the weekend taking first and second places in both IRC and ORCi.  Have a look at their Form Guide to the CYCA Trophy Series here.
Andrea Francolini photo/www.afrancolini.com.
December 16th, 2013 by admin
While IMOCA figures out what to do with its future, some of its most legendary skippers are moving in another direction.  As first reported here on SA almost half a year ago, Franck Cammas is moving forward with his usual laser-beam focus on a French America's Cup bid, and an announcement at the Paris "Nautic" boat show may be the first indicator that he could succeed where Les Freres Peyron couldn't.
Picking up his second-annual French Sailor of the Year award last night, today Cammas pulled together a true 'who's who' in French racing history for this morning's announcement.  Michel Desjoyeaux will lead the technical team and Franck the sailing team, while Olivier de Kersauson and Stephane Kandler will handle the less exciting parts of the effort.
The team's "founding members" — in other words, the guys that have funded the initial sponsorship hunt and tried to open some boardroom doors — include big biz bosses Bruno Bich (Bic), Bertrand Méheut (Canal +), Thierry Martel (Groupama), Bruno Luisetti (formerly Kraft Jacobs Suchard) and Erik Maris (Messier Maris & Associés), but crucially no major sponsors were announced.  In other words, there's enough money to go looking for more, but not enough to start spending.  We also hear from les anarchistes in Paris that some of the veteran grinders are being asked to keep their schedules open for late 2014 and 2015's AC45 World Series, but no contacts have been signed…
The newly opened Team France thread is bound to be a big one; check it out over here.
Kiwi Kontinuity
While France throws its hat into the ring, Grant Dalton yesterday told 3News NZ that he was back in as well despite earlier question marks from the public and Dalts himself, and the bitter taste of a crushing defeat.  It's great news for AC35, as Team NZ continues to prove, year in and year out, that it's the most credible of challengers.  We're guessing he won't be on the boat this time, though Glenn Ashby has already re-upped and Dean Barker is a lifer.  Meanwhile, Dalts continues his publicly lukewarm face on the VOR, claiming the $30M he estimates necessary to win might be impossible to find in the current economic climate.  Then again, Dalts might just be pulling the old 'negotiation by media' option with VOR CEO Knut Frostad…
Pauly (on the) Shore 
Doing it's beat to leave the Paul Cayard-led disaster that was Artemis' AC 34 effort, the team  just announced that Nathan Outteridge and Iain "Goobs" Jensen are continuing with the team, which is currently preparing its bid for the 35th America's Cup. More. no word which teams are beating down the door to pay way too much for Cayard's incredible leadership skills.
World Series of Poke Her
The Bay Area Economic Council reported their final America's Cup economic benefit analysis on Monday, with around $364 million in total economic impact landing in the area over the roughly 3 month period of the event.  This is less than 30% of the original (and insane) $1.4B projection, and less than 40% of the revised $902M projection from March 2013 (and hopefully the City will tell ACEA to get fucked when they tote the same incompetent financial consultants to the table when negotiating the 2017 deal).  With this crap news and the embarrassing ratings for the entire "Summer Of Sailing" and even the incredible AC final (outside of NZ), Coutts is already hedging against big expectations for AC35 in recent softball interviews.
"We're considering having each of the teams host a World Series event", Coutts told AC33 and 34 PR staffer Peter Rusch, who's apparently playing reporter with Yachting World until his AC35 contract comes in.  Coutts says this "would be great in terms of generating excitement in their home countries," but let's be serious:  After dropping half the US military budget on incredible ACWS events, Russell is very clearly telling potential teams that they will be responsible for their own regattas in the future.  It's a shame, because the ACWS is the one part of the AC34 plan that provided awesome racing from beginning to end, and if OTUSA has the kind of massive advantage over AC35 challengers that we would have seen had they not had the big capsize, it might be the only exciting racing of the next Cup – especially if, as we have been hoping, the AC45s race as one-design platforms with unrestricted foils.
Thankfully Coutts cited a coming nationality rule, a welcome change to anyone (like us) who thinks patriotism and sport make great bedfellows.  But he's already preparing us for a small fleet, presumably because Ellison is shooting to keep the AC72 Class for AC35.  "I think we are better to aim at quality rather than quantity," he said, despite claiming that new cost reduction measures should cut overall team budgets by around a third.  Call us cynical, but there's no way in hell another AC72 program will magically cost 25-35 million less than the last time around, even if some one-design elements come into play and there is a joint logistics package.  If there's one thing that Russell Coutts has proved over and over again, it's that he always wins, and it always costs a lot more than he says it will.
Legal Beagle
In our final bit of Cupdate news, longtime Kiwi Cup lawyer (and architect of Alinghi's doomed CNEV challenge) Hamish Ross hit the news today after claiming in a piece in the NZ Law Journal last month that the New York Courts should have no place in deciding how the America's Cup is run.  Claiming that foreign litigants can't get a fair shake in the US courts (mostly because he personally can't seem to win one) Ross says that the Cup should be administered by ISAF instead.  Because of course ISAF is so very impartial, and of course unmotivated by greed or the millions if fees they seek from the AC.  Ross argues that the Deed of Gift and AC Trust are not even valid, and that they could perhaps be overturned by the Court if a strong plaintiff sued the current Trustee; it's been Ross's pet argument for a decade, and it's quite persuasive, until you realize Ross's theory rests on two centuries of hearsay, dicta, footnotes, quotes from irrelevant politicians, and courts of another country.  It's no wonder Ross can't win a case in the US – even after all this time, he still doesn't understand how precedent works here.
There's a thread to discuss the legal stuff, and you can download the full NZLJ piece here.
December 11th, 2013 by admin
Wild Oats XI may have added yet another Line Honors victory to her long and illustrious career, knocking back the nastiest fleet of challengers to her throne yet in the SOLAS Big Boat Series.  It's hard to take the results too seriously of what is essentially a practice start for the Hobart, but there's no doubt at all that Loyal (a/k/a Speedboat) had WOXI's number in around 20 knots of breeze, sailing away from the 100 foot maxi upwind and down.  That is, until a late douse of a headsail that owner Anthony Bell called a "North R-1″ that turned rapidly into $150 grand worth of North-branded tarpaulin.  Here's the best video of the sail implosion, while here's some from a different angle, and here's some more.  Note the Black Jack (ex-Telefonica) flying down the track ahead of both maxis; when you remember that Volvo 70s own pretty much every offshore monohull speed record, you find it harder and harder to dismiss them regardless of the length advantage for the 100 footers.
Bell said they already had another big reaching sail being sourced from the US; either way, it was a great outing for the big JuanK boat that perhaps will presage what we'll see in the race:  The Speedboat hauling the mail until she blows a gasket, when either WOXI, Beau Geste, or one of the Volvos will sail on by.  As much as we dig the thing's beastly nature and raw look, we have to remember that Speedboat/Rambler/Loyal has broken in more races than she's finished.  Like a Volvo 70 only more so, you spend most of the time slowing the boat down rather than speeding her up.
Even the bookies agree; betting odds for Loyal have decreased to just over 2$, while WOXI is up to 1.80.  Place your bets and post your thoughts on everything Hobart in the all-encompassing thread, and note that Sailing Anarchy is finally doing something about the canned coverage of the Hobart we all suffer through every year:  We're sending The Cleans down to bring you interviews, photos, and live (or near-live) video of the dock and start for the 2013 race, making it the most comprehensively covered Hobart Race in recent memory.  With the support of McConaghy Boats (and using their Facebook Page to bring you rich reports from the Harbor and beyond) and with embedded reporters throughout the fleet, our coverage begins on Christmas day and runs right through New Year's.
Photo thanks to "Brit down under", with a full gallery of his pics here.
December 11th, 2013 by admin
Anyone remember a little AC program called Young Australia, skippered by an arrogant little ginger named Jimmy?  It was a hell of a program.  They didn't win, but Syd Fischer's program (managed in part by Iain Murray) helped fire up more talented young Aussies than any other sailing initiative could have.    And now, according to an article in the Australian, Murray is back on track for another 'young' Cup challenger after being outbid by Oracle, ETNZ, and Artemis for Aussies Tom Slingsby, Nathan Outteridge, Glenn Ashby, and most likely Jimmy himself.
We know some of those boys used the Oatley-led challenge to bid up their own salaries with their respective expat team, and now after a couple of months of 'silly season', we're guessing Murray's just about had it with the 'establishment' Aussies; with the Cup more and more athletic, youth may be far more valuable than experience anyway.  And with the Aussies Olympic talent and their near-dominance of the top end of the foiler moth fleet, there's no shortage of talent down under.
More importantly, Murray is hopefully signaling the Oatleys' intent to challenge for more than just one cycle, with AC35 more of a training exercise than a real bid for victory against the massive favorite Oracle Team Everywhere.  One good practice run, and maybe they will really be ready to win.
December 10th, 2013 by admin
Occasionally we'll relax Sailing Anarchy's "No Press Release" policy, but only if (a) something awesome is involved, (b) it's for a good cause, or (c) hot chicks are involved.  The following meets two out of three criteria, and more importantly, shows some of the constantly good work that CYCA does with the month-long circus around Australia's biggest sailing event.  The only qualifier:  You need to get to Sydney…by next weekend.  Check it out, and of course use the community for more info about everything Sydney-Hobart.
The Cruising Yacht Club of Australia has once again launched its eBay auction that provides an exclusive opportunity to bid for places onboard one of the Rolex Sydney Hobart Yacht Race favourites, when they compete in the CYCA's SOLAS Big Boat Challenge – the spectacular maxi yacht race around Sydney Harbour on Tuesday 10 December.
Seven Rolex Sydney Hobart entrants have offered places onboard for the auction and they include: Wild Oats XI, Perpetual LOYAL, Wild Thing, Brindabella, Southern Excellence II and Giacomo, all providing two places available for auction, with Black Jack making one guest spot available. Other yachts to also offer places are Terra Firma and Ginger.
In a much anticipated event, this will be the first time Bob Oatley's super maxi Wild Oats XI will line up against Anthony Bell's new Perpetual LOYAL, the former Rambler, and the rivalry between the two will be fierce. However, the two will also have to deal with Grant Wharington's Wild Thing.
This will be the seventh year that the fleet will race to raise awareness and money for the CYCA's Safety of Life at Sea (SOLAS) Trusts, which have donated just on $900,000 to search and rescue organisations Australia-wide and provide assistance (financial and other) to immediate families of those lost at sea during Yachting Australia sanctioned races.
Bid today for your chance to sail on board one of these yachts!
Wild Oats XI
Wild Oats XI secured her sixth line honours victory under the guidance of Mark Richards in last year's Rolex Sydney Hobart, broke her own race record, which now stands at 1 day, 18 hours, 23 minutes 12 seconds and won the race overall. It was the second time the super maxi had achieved this historic treble and the only boat to do so twice in the race's history. As it does each year, Bob Oatley's super maxi has undergone further modifications that include having a radical, retractable, hydrofoil-type wing fitted in a bid to make her even faster when sailing downwind. Two places are on offer on one of Australia's most recognized super maxis.
Make a bid for the two places on Wild Oats XI
Perpetual LOYAL
Anthony Bell returns to the blue water classic with the former Rambler 100. Since acquiring the boat earlier this year, Bell has embarked on a mammoth project to re-build the yacht since her keel snapped off, causing her capsize in the 2011 Rolex Fastnet Race, after taking line honours in numerous races. She was originally and aptly christened Speedboat – for good reason – and took line honours in her maiden outing, the Newport Bermuda Race.
Reputedly the fastest racing 100 footer in the world, buckle up for a white knuckle ride. The SOLAS Big Boat Challenge will be the first time Perpetual LOYAL and Wild Oats XI will sail against each other before the Rolex Sydney Hobart. Two places are on offer on this slick super maxi.
Make a bid for the two places on Perpetual LOYAL
Wild Thing
Two places on Grant Wharington's Wild Thing were also posted on eBay today. The Rolex Sydney Hobart 2003 line honours winner has been a process of evolution over the last ten years. Modifications were made to the yacht last year, which included extending her to 100ft and making improvements to her original hull shape. Earlier this year, Wharington secured a line honours win in the Brisbane to Gladstone Yacht Race which she followed up by taking line honours in the Sydney Gold Coast Yacht Race in July
Make a bid for the two places on Wild Thing
Brindabella
Australia's most famous maxi Brindabella, a former line honours winner of the Rolex Sydney Hobart and holder of the record for a conventionally ballasted boat (1d, 20h, 46m, 33s set in 1999). Designed by Scott Jutson, Brindabella still turns heads today with her sleek lines and elegant sail plan and still holds many Australian east coast race records including the Sydney Mooloolaba Yacht Race, Sydney Noumea Race, and the Sydney Wollongong Race.
Make a bid for the two places on Brindabella – the people's yacht
Southern Excellence II
Andrew Wenham purchased the former Ichi Ban in March this year and won line honours in the protracted Gosford Lord Howe Island race in a time of 63hrs, 45mins 22secs; one of the longest in the race's recent history after being marred by light and fluky winds. In similar conditions in this year's Sydney Gold Coast Yacht Race, Southern Excellence II finished fifth on line and fifth in IRC Division 0 and then took line honours in the Blue Water Pointscore's Bird Island Race in October. Wenham has upgraded a number of systems on the boat to improve her IRC rating and to suit his requirements.
Make a bid for the two places on Southern Excellence II
Giacomo
New Zealander Jim Delegat, Managing Director of Delegat Wine Estate (distributor of Oyster Bay wines), purchased the 2011-2012 Volvo Ocean Race winner, Groupama earlier this year. Renamed Giacomo, she has a canting keel, dagger boards and the latest in rigging. Was built for fresh off the wind conditions and will be impossible to stop in the right conditions in the Rolex Sydney Hobart.
Make a bid for the two places on Giacomo
Black Jack
One guest spot is available on Black Jack, the former 2011-2012 Volvo Ocean Race entrant Telefonica, which Spaniard Iker Martinez won the first three legs of the race with, but ultimately finished the VOR fourth overall. Peter Harburg shipped his new Black Jack to Australia earlier this year and ordered modifications to bring the yacht up to Australian standards. She made her Australian ocean racing debut in the Sydney Gold Coast Yacht Race in July and finished third on line and in IRC Division 0 following a tight tussle with the top two, Wild Thing and Lahana.
Make a bid for one guest spot on Black Jack
Terra Firma
The name Terra Firma lives on again – Nicholas Bartels stepped up from his successful Sydney 47 to the Cookson 50 formerly known as Shogun in 2010. In the 2011 Sydney Gold Coast Yacht Race, Terra Firma finished ninth overall, and third in IRC Division 1 and ORCi Division 1. With some talented sailors onboard and a strong crew, Terra Firma will be out to do well in this year's SOLAS Big Boat Challenge
Make a bid for two guest spots on Terra Firma
Ginger
This 60 foot Swan is a well-tuned ocean racer owned by Leslie Green. In 2011 Ginger took the line and IRC double win in a foggy Ocean Pointscore race to Port Hacking and is a regular CYCA competitor. She also won the Rolex Trophy Series Passage race in 2008.
Make a bid for the two places on Ginger
Bidding for all ten items will close on 6th December 2013. Terms and conditions apply, see the individual URL's for details.
The highly charged SOLAS Big Boat Challenge, is a big attraction to spectators both on and off the water, and starts at 12.30pm on Tuesday December 10. It takes the yachts on a tight 14 nautical mile course starting off Steele Point at Vaucluse, down the Harbour to Manly for two and a half laps. The yachts will pass many of Sydney's famous landmarks along the way, including Fort Denison, Mrs Macquarie's Chair and the Sydney Opera House, which provides the picturesque finish line.
December 5th, 2013 by admin
Yes, we know we're insufferably sophomoric.  We like topless women, crashing boats, fart jokes and dick jokes and yes, even gay jokes.  And there's always something funny when sailmakers and graphic designers get it oh, so wrong – like they did here on a poorly planned jib window aboard the boat sponsored by North Sydney's oldest pub - the Rag & Famish Hotel.
Rag's been a part of the 18 fleet for well over a decade now, and their 'wardrobe malfunction' was the only thing that went wrong on Christening Day for a brand new boat; Jack Macartney, Peter Harris and Mark Kennedy put the finishing touch to the day of celebration with a great win in Race 7 of the 3-Buoys Challenge on Sydney Harbour on Sunday.
Check out 18footers.TV for all the video coverage, and a shout out to Deckhardware for the Facebook find.  And for everything 'Eye-deen", including historic videos and near-constant shitfights about things you'll never understand, check the thread.
December 5th, 2013 by admin
With the first real competition for line honors in years, excitement continues to build over the 2013 Sydney-Hobart fleet.  We showed you the new Carkeek 60 landing in Australia a couple of weeks ago, and here's something sexy from Carkeek's old partner; it's the new Botin 80 Beau Geste hitting the harbor after a balls-to-the-wall build sched at Cookson's.
The canting mini-maxi replaces the almost new Farr 80 that famously and terrifyingly cracked in half  during last year's Auckland to Noumea Race, and she has some new thinking and quite a bit more structure than the ill-fated boat; given the right conditions, this thing is going to be a rocket, even capable of line honors if everything went her way.
In the meantime, Bob Oatley's Wild Oats XI looks to have suffered a mast failure during testing/practice of her new rig.  Eyewitnesses said the rig compressed at the gooseneck; no big deal for the Southern Spars techs on hand to fix it.
In other news, Loyal (ex Speedboat) got some good facetime on the 18 Footers broadcast last week; this link will take you right to it.  Stick by the Hobart thread for a stream of news that will continue to get better and better as Boxing Day approaches!
Cheers to Rockstar Yachting for the shot (via FB).
November 20th, 2013 by admin