Posts Tagged 'Australia'
That's double gold medalist Shirley Robertson and her CNN Mainsail producer offering the first of many apologies to top US mothie and Luna Rossa Challenge team member Bora Gulari (Detroit, Michigan) after her media boat collided with his foiling moth.  Shirley's media boat destroyed the rudder gantry of Bora's Mach 2 during the carnage-filled pre-start to an aborted race yesterday while the CNN crew were facing the other way; they were filming a pre-start lineup with Nathan Outerridge and Paul Goodison.
CNN took Bora's foils to shore and then left him when help came along; Bora went into survival mode, with a club rescue RIB nearly running him over in an attempted recovery in wind-against-tide nastiness.  Finally, the ETNZ rescue boat came over and helped the American and his boat get to shore (along with helping about a dozen others, while event rescue boats milled about in some confusion).
While CNN may be used to being ridiculed, we're pretty disappointed in Robertson, who we know is a passionate, experienced sailor.  Given how lightly the responsible RIB got off (no injuries to Bora), Shirley would have certainly won our respect had she stood up and taken responsibility and assuring Bora that she would do what it took to get his boat back up to snuff.  Instead, she tried to divert blame from her, implying that the sailboat ran into her powerboat.   We understand that lawyers have made honesty something of a relic, but we would hope Shirley knows better.  Apparently not.
In contrast, Regatta Chair Peter Osbourne and the entire SSCBC team have been transparent and communicative, and this morning, we got a phone call assuring us that Bora would not be out of pocket for a penny.  That's how it should be done.  Top photo credit to Petey Crawford, rescue shot to Sander Van Der Borch.
Racing is cancelled for Wednesday, with 30-40 knots on Port Philip Bay.  Join us right here on Sailing Anarchy for all the live video action on Thursday and Friday as the Worlds Finals is packed into 2 short days.
January 13th, 2015 by admin
There's nothing quite like low-riding in a foiling Moth, but at least it wasn't all like that for day one of the Moth Worlds.  Watch for yourself as Nath Outteridge throws down the gauntlet for this incredible fleet after three qualifying races.  It's all Aussies and Kiwis in the top 4, with Luna Rossa's Chris Draper mixing it up with the 5th place in 4-9 knots of breeze on Port Philip Bay.  Detroit's finest sits in seventh, with one more day of qualifying ahead.
Our first On-The-Water Anarchy/Perpetual Shit Show Production coverage in quite some time was about as we expected for day 1; technical issues, low framerate, and grey backdrops didn't subtract from the fact that we have finally been able to bring you our favorite event in sailing, live and in (mostly) HD resolution.  And we promise to keep getting better, so long as you keep watching.  Start with the player above – all four hours of it (we won't get mad if you skip forward, we promise), with big thanks to our 14-year old Optimist-sailing first-time cameraman Charlie Hiam, everyone at the Sorrento Sailing Couta Boat Club, Line Honors Yacht Racing Outfitters, and of course the fun-loving folks at Sperry.
G.Love brings you some title love.
January 10th, 2015 by admin
Clean Report
WARNING: IF YOU HAVE ATTENTION DEFICIT DISORDER, SKIP TO THE VIDEO BELOW.  Sander Van Borch is already loading up more awesome shots here, and a title shout out to some boys that did for hardcore music what the Mothies do for sailing.  And of course a huge thanks to Sperry, who've been supporting Olympic youth sailing in the US for years, and now they're learning to love the Moths like we do.

I got off the water steamin' mad yesterday; no matter how prepared we seem to be (and there's no doubt this is the most ambitious coverage we've ever done), tech issues always pop up and bite us in the ass.  In this case we had inverter issues, but it's always something!  Fortunately, our backup to the backup plan – streaming 540p video on battery power – worked, meaning there is zero doubt that foiling, dinghy, AC, and really anyone who loves sailing will be able to watch all of the McDougall + McConaghy Moth Worlds completely live starting today.  And if we can get our shit together, it will all be in 720p HD quality.  If not, deal.
I stormed off down the beach with about 30 bucks worth of vodka in an icy glass, and within 100 meters, I'd been called over to look at the latest aero fairings on  49er star Simon Hiscocks Mach 2. Within moments, all my anger was gone.  "Shock" and his childlike glee at putting together a really cool piece of carbon fiber porn knocked it all out of me.  Then he  – a goddamned olympic medalist – told me that "it's just absolutely incredible to be bullshitting on the beach and racing up the line with these guys all around me – when do you ever get to do that?" as he gestured towards Glenn Ashby, Dean Barker, Loick Peyron, and any one of dozens of other legends of the sport on the beach around us.  Think about that for a second: An Olympic medalist is completely blown away because he's never been to anything quite like this.  And he's not getting paid for it; he's doing it because racing the Moth has made him love sailing as much now as he did when he was a child.
I walked the beach for another hour, talking to another dozen guys and gals about their boats, the conditions, the class – and I walked away with one overarching impression: Moth Worlds really is a window into the future of the sport.  It's not necessarily because foils are going to somehow dominate the world – though with Amac's new one-design "Wasp", they might (and we'll have MUCH more on that soon). What makes this event special is the fact that it attracts the people that will lead the sport for the decades, and they – along with everyone else here – bring a youthful energy  to the beach that is palpable, uplifting, and leaves everyone walking away with a smile and a great outlook for the future of sailing.
The Sorrento Sailing Couta Boat Club knows it; their Opening Ceremony was one of the funniest and most welcoming we've ever heard, including a confetti canyon and dozens of local kids frolicking in the veggie-derived bio paper snow, and despite being a pretty posh place, there are more crazed kids sailing random boats off the beach than we've seen at any club.  The members – even those who don't know much about sailing – are out in force, volunteering or just adding to the massive spectator crowd.  It is a scene that needs to be seen to be believed – and that's why we're so glad to bring it to you live.
Our singlehanded ocean racer Ronnie's been on a crash course learning what these boats are all about, and without further ado, here's the official SA FORM GUIDE for the 2015 Moth Worlds.

The Ballers
The podium at a Moth Worlds is perhaps the most difficult place for a sailor to reach.  Here's what we think it might look like.
Nathan Outteridge - The name literally needs no introduction. Olympic Gold medallist in the 49er three years ago, two-time Moth World Champion (defending world champ in Hayling last year), and AC 72 skipper onboard Artemis, Outteridge has clearly established himself as being arguably the best high-speed sailor on the planet. That one-in-a-million freak of nature who can squeeze 100% out of any boat and be cool as ice on tactics and in the face of advertsity, Nath is the complete package, the hometown favorite and the smart money.
Peter Burling – Every sport has their superstar of a generation, and if Nath is "it" for the skiff world, Burling's day is coming. At just 24 years of age, he has competed in two Olympic Games, winning 49er Silver in London 2012, won two 49er Worlds and skippered an AC 45 to a commanding win in the Red Bull Youth America's Cup in 2013. Just like Outerridge, Pete is also a hot-commodity in the America's Cup scene, earning the position of heir-apparent to the helm of Emirates Team New Zealand. Blazingly fast in the Moth, big and strong and talented beyond belief, Peter Burling will be a Moth World Champion one day; we just don't know if that title will be awarded this week or further on down the road.
Josh "Yoshi" Mcknight – If a guy like Nathan Outteridge is the Iceman in this fleet, then Josh McKnight is Maverick. Like Maverick, he's cooler than the underside of the pillow, but also happy to stir the shit and create a little conflict when he can. Josh won a tough world champs in Garda three years ago and plenty thought it was a bit of a fluke, but in the intervening years, he's proved as fast as anyone over the long haul.  McKnight has raw boat speed and talent to spare, while his one weakness may still be a touch of youthful arrogance. Sticking to the basics on boat set-up (he told us that much of the work in the boat park is probably just mental masturbation) and just doing massive amounts of sailing, young Yoshi is a potential World Champion if he can sail a smart regatta.
Bora Gulari – America's fastest foiling helm and the two-time American World Champion in the Moth, Bora is something of a public enemy hear in Sorrento, though you'd never hear the polite Aussies ever say it. With Australians like Nath, Josh, Babbage, and the rest of the all-stars leading  a 97-boat home nation team into this Moth Worlds, no one wants to see an American walk away from 'straya with the goods. With arguably more hours in a Moth than anyone else, hundreds of hours of development on rig, foil, and ride control and an aerospace engineers intuition, the Detroit-based Luna Rossa sailor is always a factor.  He's also never lost a Moth Worlds to Nathan…
The Top Ten
Tom Slingsby – A 5-time Laser World Champion, Laser gold medalist and strategist aboard Oracle Team USA during their historic win in AC 34, 'Slingers' a god on the tactics, ultra-fit, able to hike for ages.  He's got plenty of time training in Oz recently, and there is no doubt in our minds that Tom could walk away with his first Moth Worlds.
Blair Tuke – Sailing alongside Peter Burling to win Olympic Silver in the 49er, and also in the AC 45's, Extreme 40's and Moth's, Peter is also well in line to become a superstar for a generation. Reportedly well on the pace, don't be surprised to see Blair mixing it up at the very front of the fleet.
Scott Babbage – Obi-wan Kenobi in the Moth, the the current Class President has put a million hours into the boat and has been within striking range of the title on countless occasions. With a huge fleet racing in highly varying conditions that Babbs knows well, he's got the experience and race craft to manage a big fleet and finally secure the elusive Moth World title…if he can just close the deal.
Chris Draper – The Luna Rossa skipper and Olympic medalist has the speed, tactical prowesse and experience to win in any fleet, but may be hampered by lack of time in the boat due to other commitments.
David Lister – A-class stalwart and Moth aficionado, Lister sails a fully one-off boat that he built with his own two hands. With as many hours in the Moth as anyone and boat speed as his tactical trump card, David is a threat to the podium whenever he lines up.  And his foils are all over the fleet;
Paul Goodison – A 3-time Olympian in the Laser with a Gold medal to show for his efforts, Goodison is the naturally gifted sailor that will sail near the front of any fleet that he sails in. Reportedly on-form, Goody will look to improve on his 12th place Worlds finish from last year, with more time in the boat.
Andrew McDougall – The Builder and developer of the Mach 2 and the only guy who's ever been able to successfully produce a mass-market Moth, AMAC defies physics and medicine, and can easily win races despite being old enough to be some of the fleet's grandpa.  In fact, Amac seems to look younger every year, and be having more and more fun to boot.
The Dark Horses
Iain Jensen - The Artemis wing trimmer and 49er Olympic Gold medalist crew offers the total package, and can sail with the best of 'em when he's on point.
Chris Rashley – Immensely experienced in the Moth and ultra successful over the years, the 2014 Worlds runner-up won the pre-Worlds practice race.  Rashie blew out a spinal disk and was laid out in the middle of the street just a week ago, but some steroid injections and a bit of rehab combined with an attitude harder than an Ice Road Trucker might just see this light-air speedster performing at the top of the fleet…or laying in a hospital bed..
Rob Gough -A super fast all around sailor with tons of experience in the Moth, many within the class have them as their biggest dark horse to break into the top 5. A popular pick among the fleet, strong, heavy, and no-nonsense.
Glenn Ashby – The 8-time A-Cat World Champion and Emirates Team New Zealand wing trimmer knows how to make a boat like a Moth go fast, but lacks experience compared to the front runners. The nicest guy you'll ever meet, Glenn Ashby is the sentimental favorite amongst his competitors to score an unlikely podium finish.
There are battles throughout the fleet; Youth champions, masters champions, women's title – and we've only mentioned a handful of the sailors, constrained by space and time from giving everyone their due. in a fleet where sailors like Route du Rhum winner and ocean sailing legend Loick Peyron, current Mini Transat champ Benoit Marie, and Emirates Team New Zealand helmsman Dean Barker blend in with the masses, you know you're in for a special regatta.  We sure do.
January 9th, 2015 by admin
Big thanks to Hamish Nicol for a great writeup from the Melges 24 Nationals in Adelaide, Oz.  For more info, check the South Australia FB page.
After two days and with 5 races completed the 2015 Melges 24 Australian Championships are at their mid-point with competitors enjoying crash/bang/wallop racing followed by so much free sponsored beer at the dockside and wine in the club that the sponsors themselves cannot remember what happened and why they did it.
PRO Rogers is taking the piss because he keeps promising steady 15kt sea breezes that never show. The 14 competitors have seen everything from light Northerlies disappearing to nothing, to howling 20-25kt Southerlies with 2 meter swells to launch off. Add in the bushfires on the way over (now thankfully out), gear breakages and involuntary swims, and the fleet now expects tempests, locusts for the next few days.
The front of the fleet has a familiar look to it at the halfway stage with Chris Links-fresh from Wild Oats Hobart win-helming Cavalinho to several wins with Olympic Gold Medal winner Nathan Wilmot calling tactics. Adelaide favourite and former AC and 505 man Ronnie Duessen is following closely in second overall with his Red Mist's red coachwork unmissable in the grey surf. Johnno Bannister's Penultimate Challenge is in third crewed by a team of Mornington Peninsula hot shots. Another local boat Adrenaline is in 4th overall. Having been second after the first day Luke Stephen's team had to survive a swim and a wild broach avoiding Red Mist.
The teams now prepare for an already breezy day three, re-examining their gear (two forestays failed on day 2)  or perhaps breakfasting on Glenelg's famous pie floater.
January 9th, 2015 by admin
We're not quite sure how we missed this one; a really cool rendering of a monohull AC foiler concept that must have been done by a five year old with a really nice computer.  Or not.  From the Trickle Down thread.
December 30th, 2014 by admin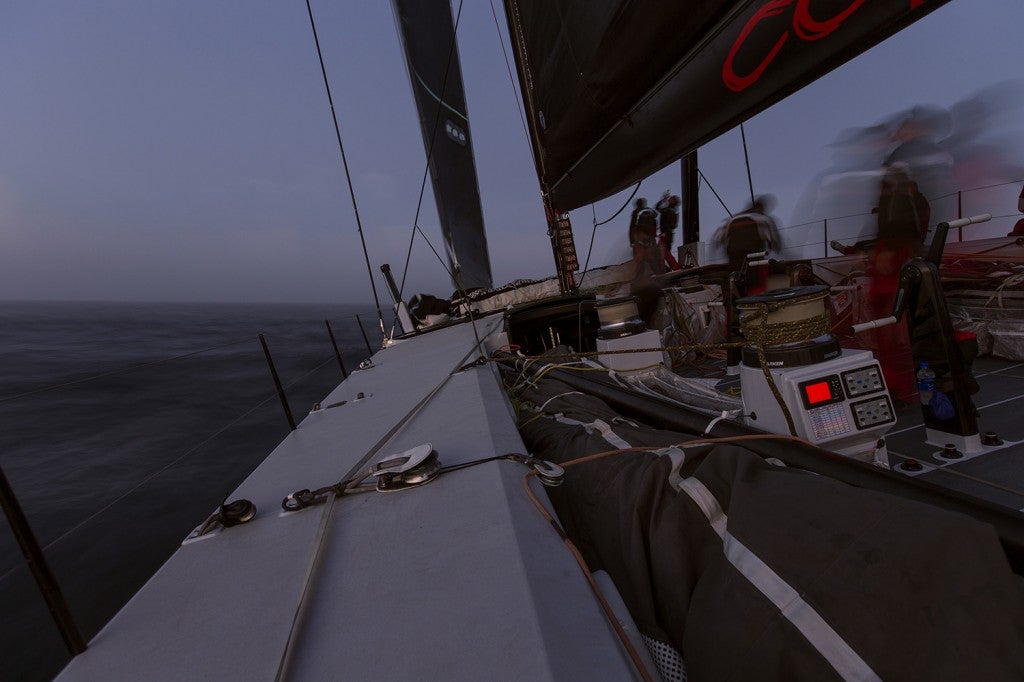 Wild Oats XI is on fire in the light breeze off the SE tip of Oz; she's a good 20 NM ahead of Comanche as they enter the Bass Strait at sunrise.  With building breeze and a free direction (and with Jimmy Spithill on the American boat), don't count 'em out just yet, and don't forget about the other monsters well to the West in potentially much better conditions; here's a great Morning Report from the Sydney-Hobart radio team including some info from Comanche navigator Stan Honey.  There's only one place on the web to get all the latest info in one spot; hit the thread. Andrea Francolini photo.
UPDATE: Here's a hearty SA shoutout to the boys on ADA (Assistance Dogs of Australia) Celestial, the Rogers 46 currently leading all handicap categories overall, and a crew which includes at least one On-The-Water Anarchy past staffer and OG Anarchist.  Get 'em, dingo!  A few boats have withdrawn, including the Perpetual Loyal 100′er, which claimed delaminating bow sections for the stop.
December 26th, 2014 by admin
Check out these portraits of the men at the top of the 5 Supermaxis on this year's Sydney-Hobart line.  Andrea Francolini's shots continue to up the bar in creative photocoverage of this race; check his page here. 
December 25th, 2014 by admin
Nicole Douglass continues to push the boundaries with her 'Adventures of a Sailor Girl' show, with the embedded show above perhaps her most ambitious yet; it's got Ken Read, Tom Slingsby, Nathan Wilmot, Morgan Larson, and plenty more of the cream of the crop at last week's Extreme show and tomorrow's big race. We dig what Nic's doing for the sport, and we are extremely glad so many of the racers are taking the time to get online with young personalities like Nic who are spreading the word…keep it up, boys and girl.
We're also excited to hear that Douglass's show will be live for something like 7 hours on Boxing Day right through the start of the Hobart Race, so start your morning (or your Christmas dinner, if you're in the US) with Nic's Hobart Race show starting at 0800 local on the 26th;  that means Christmas Day for the rest of the world, and the radio show will start at 1600 on the US East Coast.
December 24th, 2014 by admin
There's something special about a pretty drawing, and Francois Chevalier has long been the world's most interesting racing yacht illustrator.  He and the Anarchists over at the ChevalierTaglang blog have knocked up not only this awesome drawing of Comanche, but all 5 of the Supermaxis contesting this year's Hobart.
They've even got analysis, and thanks to SA'er 'nuttyrave', you can check it out here.
December 17th, 2014 by admin
Succumbing to the same fear that spurred the creation of what has been dubiously called the 'biggest spinnaker ever built' for the Perpetual Loyal, Jim Clark's big native was seen today sporting her own monster mega-kite, an answer to the 10-degree advantaged soaking power that shot the old Speedboat out the back of Wild Oats XI's skinny ass last year.  While the window for a loose-luffed kite on boats these fast is extremely narrow, if those deep downwind angles are required, the fat girls are going to need every advantage they can get to stay in touch with the low-drag hull of the silver arrow.
The first problem?  Big ratings hit, which means the decision to carry or not will be a last-minute one.  The bigger problem? The 100-foot tall warrior head looks far more like the Rolling Stones' own Energizer Bunny than it does a fearsome warrior.  But the motherf*%ker can play, can't he?
Longtime SA'er 'gybe-ho!' coined the new sail's name, forever now known as "Big Keef"in the continuously enjoyable trash-talk thread.
For a great look at a couple who's really growing on us, head over to this Channel 7 sitdown with Clark and supermodel wife Kristy Hinze on whether the decidedly not fat-bottomed girl will race down to the Customs House on a jet or on a supermaxi.
December 15th, 2014 by admin