Posts Tagged 'Australia'
Now that Formula 1 is over, thank god the 18 Foot Skiffs are back!  And even better, the live streaming they started during last year's JJ Giltinan Championship is now a thing; this week's archived episode features a whole bunch of footage of the Comanche training on the Harbour, typically great commentary from a couple of old salts, and massive amounts of 18 foot carnage.  Not unlike Michael Coxon's swan dive into the piss, executed in style, while leading the race.  Check it all out here.
December 7th, 2014 by admin
Comanche's child-rearing hips vs. Wild Oats XI's svelte pooper as shot by SA'er 'wildboats!": Could there be a better illustration of what to expect in just 25 days?  Great shot and plenty more from the fanboy thread.
December 1st, 2014 by admin
Silently she glides toward the Harbour City, with one aim: Beat the mighty WOXI.  Game on.
November 29th, 2014 by admin
Are you getting stoked for the Sydney Hobart Race?  We sure as shit are, and judging from longtime Sydney-Hobart photographer Andrea Francolini's Facebook Page, he is too (and thanks AF for sending over a higher-res shot of this 2006 dunking for the SA'ers).  It's not just the long-awaited US vs. AUS showdown between the wily, old, rarely-defeated veteran Wild Oats XI (going for her record-breaking eighth overall win) and the bleeding edge Kenny Read-led star-spangled Comanche.  Even better than this tête-a-tête is a big upswing in the typical fleet size (up to 117 boats for this year) thanks to the extra buzz of the race's 70th anniversary.  Relive some of the great shots of the past with Andrea as well as some non-sailing Sydney vistas over here. The CYCA is on board with the nostalgia too – how about a movie from the 1974 race?
And for some classic SA shit talking between the Aussie fanboys and the yank shit-stirrers anxious to prove their maxi is bigger than yours, start here.
November 24th, 2014 by admin
James Cameron's stupidly-named Deepsea Challenge 3D movie comes out today across the US, and while it hasn't garnered the best reviews, we suspect that water people like us will probably like it just fine.  The world's most successful movie maker is certainly impressive man and he spent some serious coin to fulfill a lifelong dream, and whether his pet project's film makes any money at all (or whether it is anything more than a shallow vanity project) is besides the point for us.  We just want to get a little irie, have a tub of popcorn, and see the bottom of the ocean in huge, glorious 3D with an ear-splitting soundtrack.  And not just because advertiser McConaghy Boats built Cameron's record-breaking sub, either!
August 8th, 2014 by admin
Our favorite blonde bombshell hits the airwaves with another edition of Adventures of a Sailor Girl; for this weekend's edition, Nic Douglass mixes rock and funk songs with some of Australia's biggest sailing talents.
At 7:05 – She's got one of the winningest one-design pros in history on the line and a longtime friend to SA; Darren 'Twirler' Jones, a show regular called in from the farm, ahead of going to the Farr 40 Worlds.
At 18:52 – She spoke with Josh Chant, the founder of 33 South Racing, about the scholarship program and where the program is headed (including an Extreme 40).
At 39:18 – Nic got 'the big get' with 'the Big Fella' – Australian AC Team CEO Iain Murray who took some time out of his busy schedule to chat about the sails, foiling cats, and the America's Cup.
At 53:05 – Nic gets into the CYCA winter series with her own report from sailing on the Harbour.
Enjoy, and if you dig Nic like we dig Nic, go give her some Facebook love over here.
June 16th, 2014 by admin
Our gal pal Nic Douglass continues to burn up the internet airwaves with her Adventures of a Sailor Girl radio show, and this week, she says her show was 'massive!'  We don't know about that, but we do know that we love this petite blonde dinghy sailor's attitude and pluck, and encourage you to give her show a listen. It's an hour's worth of mostly music peppered by interviews and monologue about racing sailboats. Nic tells us about her show:
At 5:36, we caught up with the awesome Howie Hamlin after his 5o5 North Americans win, and all that is ahead for him this year.  So many adventures to draw from that no doubt make him the fantastic sailor that he is today, and always great to talk to!
At 18:00, I managed to catch  Red Bull Youth AC skipper Jason Waterhouse straight from the Alps at the GC32 Austria Cup – too awesome! With his team, skippered by Sebastian Cole, they had two bullets just before I spoke to him. Great to hear that all is going well for this dedicated cat sailor.
At 36:13, last but definitely not least, Stacey Jackson, a great friend, called in from the Canary Islands to touch base about all that is happening for Team SCA leading up to the Volvo Ocean Race. She has promised to be in touch regularly, after the Canary Island race, and also following the UK/Ireland race when all the boats should be out racing. We chatted for a decent amount of time off air as well – and it is just amazing to hear what she has been up to.
At 56:30, I talked about my adventure for the week, involving a very serious story about M&M's post-racing at the CYCA Winter Series race today!

June 4th, 2014 by admin
Lagoon Catamarans Director Yann Masselot gives us the corporate view of the "Creature From The Sunk Lagoon" story we published yesterday about the sinking of a 50′ cat near Brisbane, Oz.   
Lagoon has built one hundred fifty Lagoon 500 catamarans between 2005 and 2012, when we replaced this popular model with the Lagoon 52.  Many of the Lagoon 500s have sailed around the world with their owners, and the boat is widely recognized as a seaworthy, safe and good performance catamaran.  We do not know yet what happened to One World and we hope that the investigation will bring more information. The important matter is that the crew is safe, thanks to the efficient intervention of the Australian coastguards.
Regarding your statement about the Thai Lagoon 500 Nipper, we would like to supply you with the truth about this story: Nipper was abandoned by its inexperienced new Thai captain after catching the Dyneema dinghy painter in its propellor, tearing the engine off its bed, and creating a huge leak.  This captain never closed the connecting valve between the engine bilge and the main bilge, and he never started the bilge pumps.  He got scared, abandoned the vessel on a nearby sand bank, leaving all windows open.  At the next tide, the waves flooded the grounded vessel and sank her with no one aboard.
The owner of the vessel sued our dealer in Singapore and lost the case. He then tried to escape Singapore with his money to avoid paying the court fees and expenses he was ordered to by the judge.  This owner was upset about his own bad decision to choose a cheap insurance plan with a high deductible (that he asked us to pay) that he is trying to blame Lagoon for what transpired.  Of course the court in Singapore did not see it that way.  If you read the content of his website, you'll find all pertinent documents that prove our version.
Thank you for sharing this information with the readers of your great website.  Many thanks, and best regards,
-Yann
May 9th, 2014 by admin
The US-based Lagoon 500 cruising cat One World went down off Brisbane, Australia earlier this week just 16 miles from the Aussie coast. The L500, according to documents, billed by brokers as 'nearly unsinkable, with watertight bulkheads', clearly is quite sinkable, and owner Wes Garner says he thinks one of the hulls cracked; this is the second Lagoon 500 that we've heard of going down in just four years – far too often for a modern cat of any stripe.  We've got feelers out to Lagoon but we're not holding our breath, and until they address these two sinking cats, we counsel you to stay far away from Lagoons unless you intend to never leave the dock.
You can read far more about the Garners three-year voyage on their blog, here.  And here's a local news video on the sinking, and here's the long, nasty story of the litigation over the earlier sinking.  And the place to talk about it all?  Here in Multihull Anarchy.
UPDATE: Lagoon head honcho Yann gives us his version of events…definitely an important read if you want to get the full picture.
May 8th, 2014 by admin
Here's a good look at historic 18-footer Yendys on her way to a 2014 season championship win in the Sydney Flying Squadron with far too little mainsail on…Look at that boom!  Congrats to our good friend, sailing cheerleader, camera cat owner and all-around lover of sailing Bob Killick on the victory, and here's a report from the Squaddie.  Bob Ross photo and full results here.
April 16th, 2014 by admin
Did anyone misplace a blue mast about 170 km west of Darwin, Australia last year?  If so, call Bill Passey from Australia Bay Seafoods to pick it up.  Passey said one of his ground trawlers had a huge snag last week in 90 meters of Timor Sea while fishing for snapper, and after about six hours of tugging, 'something finally gave way."  The fisherman hauled up a mast and sails that have become quite the mystery over the past few days.  Northern Territories water police are taking this thing seriously; while they can't find any unaccounted-for Australians in their database, the boat could be from anywhere.
Springing to mind immediately is the tragic loss of the classic gaffer Nina last year; the timing works out but the mast color and location don't.  One Anarchist suggested the mast may have fallen off a Fremantle to Bali Race competitor last May; the timing and location both work for this one, we can't find any that fit the mast profile.
A huge percentage of Australia's racers read Sailing Anarchy, so spread the news around amongst your friends and let's see if we can solve this mystery.  Brainstorm in the thread here, and thanks to Bill E Goat for the heads up.  Here are the full details reported so far:
-Mast color: Blue
-Timing: "8-10 months in the water", according to a shellfish expert's examination
-Location: 170 km West of Darwin
-Depth: 90 meters
-Sails: "Match a type made by a boutique sailmaker in Sydney"
-Hardware: "Stainless rings on mast (maybe spinnaker pole mounts?) made in Auckland"
April 2nd, 2014 by admin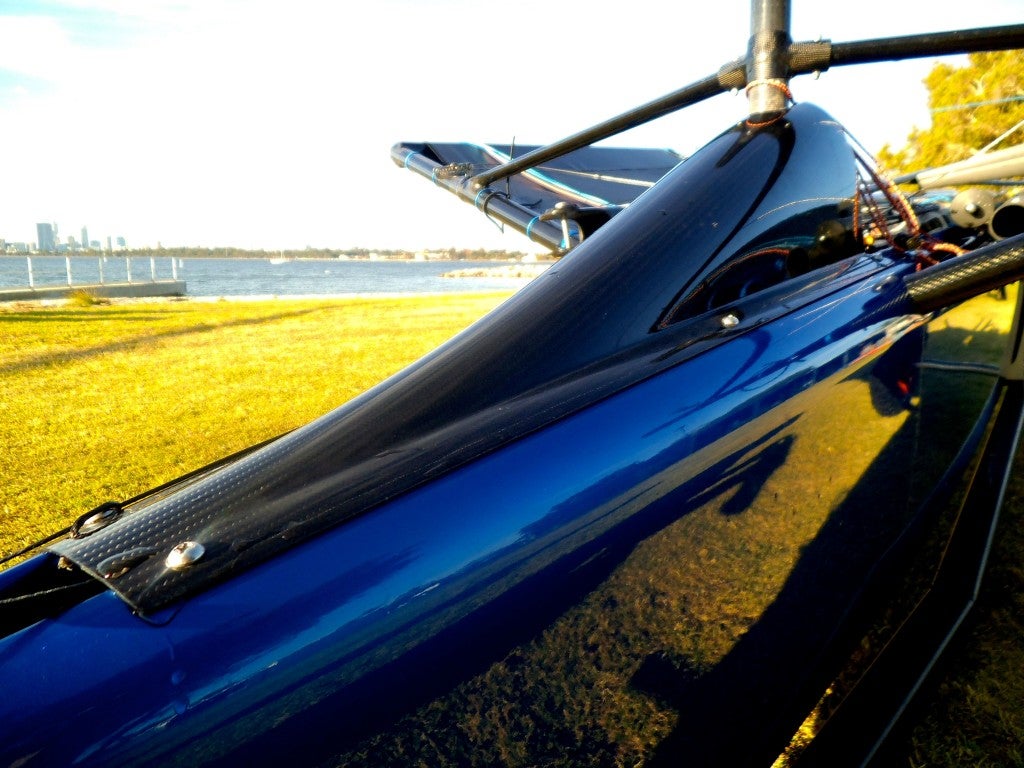 Despite inventing and perfecting the most wand-controlled t-foil flying system used by every Moth and plenty of imitators, John Ilett and his Fastacraft-built Moths were simply out-developed by Andrew McDougall and McConaghy China's Mach 2 Moth in the supremacy of the world's fastest dinghy.  Launched back in 2009, the Mach 2 has dominated every major event for half a decade, with the first real contender – the Exocet in England – getting a couple of top ten finishes at Worlds just this past fall and likely to get on or near the podium this summer at the Hayling Island Worlds.
Meanwhile, many have wondered what the Ilett boys have been up to over in Perth, Australia;  wonder no more; John's been working on this beauty.  It's the new Fastacraft Moth,  and it looks slick, sleek, and aero as hell.  John sent us a note:
March 25th, 2014 by admin
Looks like some breeze finally hitting the Harbour for the fourth race of what's been a light air affair until now in the JJ Giltinan/18 Foot Skiff Worlds.  Today most of the fleet has their small rig up; will it pay or will it wallow?  Watch right here and a big shoutout to the great job the whole live streaming team is doing; it's our privilege to be their Official Streaming Partner and we're stoked there are another 4 days of great action ahead!
The Cocksweat aboard Thurlow Fisher Lawyers in the lead after three.  Make sure you register to view the video archive and play Pick the Podium.
March 4th, 2014 by admin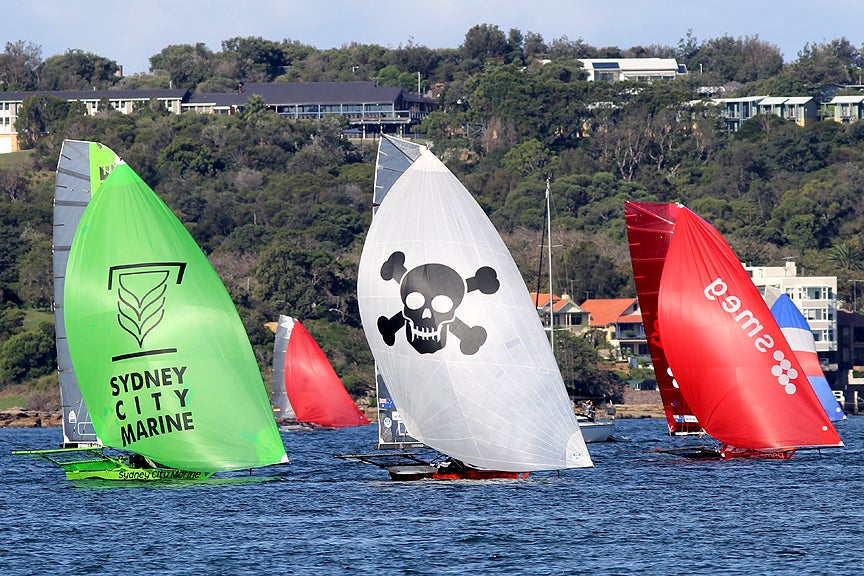 The spectacular racing of the 34th America's Cup was, at times, frustrating for we sailors, with an overhyped know-nothing commentator and an over-aged AC winner pointing out irrelevant facts and useless trivia in vain hopes of getting the 'mainstream' to buy into the live feed.  We got to see some of the most amazing sail racing ever captured on screen, but it was often better with the sound off.
This week's 18 Footer Worlds (also known as the JJ Giltinan Championship presented by Sydney City Marine) might feature some of the same faces; AC34 Regatta Director and AC35 Challenger of Record CEO Iain Murray is helping out with the commentary at times, while numerous AC sailors are spread throughout the fleet.
But this broadcast ain't for the landlubbers, it's for sailors only, and the boys behind the microphone make no bones about it.  So if you're a racer and you want to know who's on the inside of what shift, and who's got a slightly better kite drop than the other guy and the inside position at the Zone, this live coverage is for you.
Check out Day 3 of the JJ above, with all the news and current results from yesterday's racing here.  Scroll down the page for yesterday's video, and the highlight reels are here.
March 3rd, 2014 by admin
Saturday's abandoned race day for the JJ Giltinan/18 Foot Skiff Worlds got another chance on Monday, and with Gotta Love It 7 manager and Australian America's Cup CEO Iain Murray on the Camera Cat with Killo and Marko, a great race with tons of lead changes and drama even if the good breeze never showed up…replay above and full story and news over here and plenty more action throughout the week, live here on the SA front page.
March 2nd, 2014 by admin
An up and down 2 hours of racing in everything from 2 knots to 15 knots for the 18 Footers.  Watch it all above or fast forward to this page for the day's results.  Tonight's racing starts 2230 EST/1930 PST once again, and once again, it's all live right here on SA.  Get over to Pick The Podium to bet on the winners.
March 1st, 2014 by admin

UPDATE:
For the first time in the 75-year history of the JJ Giltinan, the first day of racing was abandoned after two races were started and sailed in a shifty and dying breeze – watch above for the call.  Monday's lay day will likely become the replacement for the abandoned race day, and we'll have it all live starting at 1430 Sydney time;10:30 PM US EST.  The coverage from yesterday is still damned good, especially for a team that's doing its first fully live stream of 18 footer racing; go here to check out the videos from the day. 
Bob Killick hits us with the race report and the first Pick The Podium winner from a funky practice race on Sydney Harbour.  Register and get your entries in NOW: Just an hour and change left before the deadline!  Racing starts at 11:30 PM on the US East Coast; perfect for you drunken knuckleheads just coming in from the bar.  Or plug the computer into your club's HDMI port and away you go!  Can't watch it live?  Eyes on Facebook and Twitter for the latest updates.
What can I say? yesterday's Invitation Race was a practice race, and at this stage the Livestream gadget is 1 and and we are at 0.  Something about the brain to web interface…in other words, the 'software' that is us.  See, there you go:  The geeks are winning again!
Apparently the live tracking didn't live up either, so 2 for the Geeks and still nought for the Camera Cat boys and girls.  To make matters worse, whilst heading into the Double Bay wharf the Camera Cat and Brett Van Munster's 18 footer Kenwood Rabbitohs came together with a crunch.  Brett was not happy and we certainly should've had eyes on him with so many on the cat, but it could have been a lot worse as it sounded like we had taken his bow off.  Great evidence that Van Munster-built boats are tough [Bret builds the 18 footers and high performance carbon racing yachts at his shop North of Sydney -Ed].
Yesterday's race video will be uploaded asap today, and is a must watch for you more serious players, because of the next two day's weather forecasts.  We noted especially the ability of C Tech NZ, Yamaha NZ, and Mojo Wines' ability to push it to the big rigs – something that shouldn't happen.  Also, the performances of Pica UK and CST Composites USA who look to have the measure of the Sydney boats.  So look at their work when the video goes live and factor that in with the forecasts for today and Sunday before you Pick Your Podium!
So Gotta Love It 7 was a no brainer for most, but Pica UK was not on anyone's radar, and as a result we had a stand alone winner yesterday. Congratulations go to Jimmy Flemming, who was the only entry with two boats in the correct finishing order: 7 in first, and Fisher & Paykel in third, nice job Jimmy! He wins the  Java sunnies from Barz Optics, takes the Bragging Rights for the race AND is our first winner to go into the draw on Sunday 9th for a crack at the best-ever set of major prizes for this JJ competition.  Prize donors listed over here along with the form guide for you P-T-P aficionados, and a big THANKS to them.
Entries close off for today's JJ Race 1 at 1200hrs local Sydney time so get cracking and have a shot…..here's an obvious tip: Just enter Gotta Luv it 7 as your 1st place pick, and at least you will get one right.  Good luck!
-BK
February 28th, 2014 by admin
We promised it to you…and not unexpectedly, the practice race for the 18 Foot Worlds found all the bugs in the live streaming system and shut the live stream down.  Our friends at 18 Footers TV promise us the first points-scoring race will go smoothly and we'll have it right here.
In the meantime, the three "S" boys – Seve, Sammy, and Scotty – crushed it, with the new Gotta Love It Seven looking as strong as pre-race indicators and the form guide said, winning over UK challengers PICA by around a minute and a half.   The full report on the Invitation Race is here, and thanks to Michael Chittenden for the speed shot.  You can get updates from yesterday's action via Facebook, enter the Pick-the-Podium competition here, and check this story for all the links.  If you're having issues with any of it, get over to Twitter and send a message to @18Skiff and they'll get it answered.  Tonight's race coverage will start around 11:30 PM on the US East Coast; that's 3:30 in the afternoon on Saturday in Oz.  Huh?
February 27th, 2014 by admin
Whether you're in the middle of the Southern Summer or like most of us, you're still locked into the hellish landscape of ice and snow that is Winter 2013/14, we have got something extremely special for you beginning this Friday!  After our begging for it for years, the good folks of the 18 Foot Skiff Class have finally bitten the bullet to bring you FULLY LIVE COVERAGE of the entire week-long JJ Giltinan/18 Foot Skiff World Championships, and as their Exclusive Streaming Partner, we'll bring it to you every day, right here on the front page of Sailing Anarchy!
This ain't no stop-and-go stadium sailing surrounded by wind-blocking buildings, either – this is full-speed, full-on racing in beautiful Sydney Harbor at the height of sea breeze season, and if you thought 'Eyedeens" were just for Aussies, you haven't been paying attention: There are an amazing 34 teams from seven countries on the beach, with seriously credible challenges like the ass-hauling boys from the UK's Haier Team in the video above as well as a veritable smorgasbord of America's Cup, Olympians, Extreme 40′ers, Volvo Ocean Racers, and more.  You read that right: 34 of the fastest, flipppingest, launchingest, most acrobatic racing dinghies every created, picking their way through islands, ferries and spectators for the right to be known as the baddest boys (or girls, 'cause they've got them too) in all of dinghy-dom.  They may not be as fast as an AC45 or fly over the waves like a Moth, but let's be frank here: There's just nothing on the water that looks quite as awesome as an 18 Footer caught out with the big rig in a building breeze, careening from wave top to wave top, bows pointed skyward, crews leglocked together and hanging onto a tiny thread of spectra for dear life as they dodge sharks, crocodiles, and satan himself.
The format is simple:  There's just one race each day with a lay day somewhere in the middle, and the first day is the Invitational – a non-points scoring practice race that lets some of the many visitors get to know the Harbour, and lets the streaming video team and RC get up to full speed.  Racing begins at 3 PM daily in Australia except for the two Saturdays, when it starts an hour later, and the live stream will start 30 minutes before that.  Never mind the time conversion – we'll do it for you:  That means that for the next week, each night at 10:30 PM EST (7:30 PST) you'll get a full 2 hours of live action from one of the most colorful and exciting regattas in the entire world, commentated by the hilarious and knowledgeable team of Bob Killick and Mark Heeley along with a stream of guest stars to help along. Here's a little excerpt from 2010, with Killo explaining just what the Invitational is all about, and you can explore the past four years of JJ Giltinan racing videos in the archives here.
We'll have the live player up a couple of hours before each day's start, but in the meantime, now's a good time to register at 18footersTV.com so you can enter the Pick the Podium Competition, where the sponsors are giving away a bad-ass retro bar fridge worth literally thousands of dollars and shipped to whoever wins it regardless of your nationality, cases full of high-performance Barz sunglasses, and more; there's no cost to enter and each day you simply enter your three podium picks to be eligible for each day's prize.  Will Seve Jarvin defend his title and tie the all-time wins total of the legendary Iain "Big Fella" Murray?  We certainly don't know, but it will sure be fun to find out, and you might as well win some swag while you're at it.
Run over to the 18 footers Twitter page if you can't get to a real screen, and check into Facebook for a constant stream of info, including some soon-to-be-released shots of some of Sydney's most beautiful sailor chicks that you'll have to see to believe.
This event really does have it all, and we can't wait.
February 27th, 2014 by admin
Australia's Brad Blanchard gave us some info on the kind of charity work we love.  Check out this amazing program; if you can help them out, do it.  If not, get over to Facebook and like them.  We'll be following this one closely right through the 2014 Hobart, and we expect a major sponsor announcement today.
Ocean racing is a long way from the landlocked and war-torn country of Afghanistan, but it's certainly helping some of our country's wounded veterans heal their physical and psychological wounds.  Australia's Soldier On charity was established in April 2012 by John Bale following the death of a mate, and the program is all about the Australian community coming together to show support for our wounded and ensuring they know we will always having their backs. It's about giving those who have served our country the dignity they deserve and the chance to do and be whatever they choose through; providing access to inspirational activities, supporting rehabilitation and providing opportunities that empower them.
As a Soldier On volunteer and Veteran of modern conflicts including Iraq and Afghanistan, I developed my interest in sailing following retirement from the military.  After returning from combat, I craved adventure, excitement, competition, and competitive sailing and ultimately participation in the Rolex Sydney-Hobart Race was just the thing to scratch that itch. Recognising that a lot of other Veterans weren't coping well after their service in conflict areas, I leapt at the chance to get involved with the Soldier On organisation. I realised that my involvement in sailing had helped me successfully transition out of the military and I wanted to inspire those who were struggling to get back into life, particularly those who had been injured, by helping introduce them to a sport I have become so passionate about.
After the first Soldier On Sailing Program was successfully run in 2013 out of Royal Perth Yacht Club, the organisation has now scheduled courses across Australia to help our Wounded Warriors get involved in the great sport of sailing. Incredibly, plans are now well under way to take one of these Veterans from sailing virgin to Category 1 ocean racer in less than a year by taking part in the 2014 Rolex Sydney to Hobart.
Any sailor worth his salt knows that the Rolex Sydney to Hobart is one of sailings' great ocean races and 2014 should see a huge and massively competitive fleet with the running of the 70th iteration. In thinking about how we could best capture the spirit of Soldier On's Sailing Program and the resilience of wounded Veterans, we felt the Sydney to Hobart would be the perfect platform to raise awareness for such a great cause. As a fundraising event our venture will not only help Wounded Warriors recognise that there is life after service and injury but encourage wider participation in our great sport.
For the 70th Hobart, one 'newbie' wounded veteran and I will be crewing along with the Volvo 70 Southern Excellence II.  If you would like to follow our Soldier On 2014 Sydney to Hobart Challenge please head over to our Facebook Page here, and share it with anyone in the world who might appreciate it. To discover more about Soldier On and how they help our wounded Veteran community please visit them at www.soldieron.org.au. The official launch for this massive undertaking is today at the Royal Perth Yacht Club, and we are still looking for sponsors for this worthy program.

February 19th, 2014 by admin