Posts Tagged 'Australia'
It may be one of the most isolated sailing venues on Earth, but almost 60 SB20s gathered up in the River Derwent off Hobart for their Worlds this week and had some of the best sailing of their lives.  French and UK teams took the top 5 spots, with the fledgling downunder fleet mixing it up with the rest of the Italian and French internationals who made the bucket list trek.  Good photos over here.
January 12th, 2018 by admin
Despite what looks to us like a pretty clear foul at the start from WOXI, Comanche has jumped out to a big lead on the fleet in the Sydney to Hobart Race and it looks like she's closing in on the race record! Jump over there for the latest.
We take back all the nice things we said about the CYCA, who apparently got everything all sorted out for their Youtube stream of the start – except forgetting about the copyright-protected ads for the PGA Tour that ran on their Channel 7-sourced feed.  Youtube killed the video, and somehow the CYCA has not been able to solve the problem, leaving us with the no-sound Livesaildie video of the port/starboard incident above.
December 25th, 2017 by admin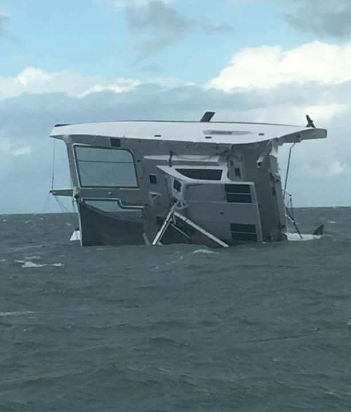 The 40 foot cat Rushour went over at the Royal Queensland on Wednesday, and the driver quickly posted a report to the SA Forums for the benefit of other cat owners.  Kudos to 'bushsailor' for a near-perfect after-action report full of lessons.
Forecast was for 20kn se wind.  We set the boat up with one reef and self tacking heady.  THIS CONFIGURATION IS VERY MANAGEABLE IN 20KN.
We started sailing to windward with the intention of building speed then bearing away to go downwind.  Main traveller was fully down and a crew member was holding the main sheet.
Speed built very quickly as we got hit by a big gust (40 kn). Hull started to come up, main was completely dumped but hull kept climbing.  I (helm) turned up to feather the sails but response was slow because all drive was coming from the heady and the bows were pressed.
Boat capsized sideways.  Whole thing took maybe 5 seconds.
Mistakes: Bloody B&G wind instruments were not working so no appreciation of building breeze. (Rushour commonly does 20kn on a shy reach so 30kn of wind across the boat seems normal.)
We never normally hold the jib sheet. (obviously a mistake)
We were rushed with some inexperienced crew and I  never allocated roles.
I was complacent. I never even come close to even flying the hull high on the new Rushour.
The gust of wind combined with boat speed gave approx 55 kn over the deck which was obviously enough to capsize a 7 ton boat.
The wing mast may have contributed to the capsize.
lucky we were only in 4m of water and Rushour has a very strong wingmast so we were able to attach ropes to the high hull and tow her around so the bows were pointing into the wind and towed her over.
The bottom hull was flooded and that helped to right the boat.  You need a very big tow boat to pull a big cat over. We used a commercial cat Cat of Nine Tails to pull her up.
We had her upright about 2 to 3 hours after capsize.  I would not want to go through that in the open ocean.  A huge thank you to all the people who rallied around and helped right, retrieve, clean the boat, and for all the messages.
It makes you realise how good it is to belong to a strong sailing community.
November 10th, 2017 by admin
SA n00b Graceful Lady caught sight of the old Comanche while cruising up the Brisbane River in Queensland this past weekend, and while forum posters in the ever-popular annual Sydney Hobart thread would have known more than two weeks ago that Jim and Kristy Clark's Hobart winner has been chartered out to Neville 'Croaky' Crichton of Alfa Romeo fame, few will know that Nic Douglass reported today that Brindabella owner Jim Cooney is the new owner of the fastest offshore monohull on the planet!
Occasional shitposter Lonely Boy 15 has his own snarky take on the harbor gossip for the 2017 Sydney Hobart.  None of the opinions in the following are accurate, true, or ours:
Wow. Just got the skinny from the Sydney dock rats. You won't believe this…

Harberg has bought the big Indian and it is to be renamed 'Red Jack'. It and BJ 100 will race fully funded, head to head in the Hobart with the winner getting to challenge for the Americas cup. Crews for each boat yet to be announced.

Sid is out of retirement and has teamed up with Sean and bought the old Loyal. It is to be renamed 'Raga-zena' and is having a canting mast and deck fitted.

The Oatleys have commissioned a new boat to be designed jointly by Juan K and the Farr office. Wild Oats XII will be the first FarrK 100 and will be launched in time for the race.

Ragamuffin 100 has gone to Arlie beach where the operator believes the wide beam will give more room for back packers to root each other than on the old 80 foot Maxi Ragamuffin. 

CQS has had its entry rejected by the CYC for being too stupid looking.

And Erin Molan has bought WOXI and is entering an all girl crew in this years race. Skippered by Alan Jones the crew includes Kristy Hinze Clark, Kelly Landry, Mercedes Corby and Sophie Monk and is to be named '2UE Sewn Oats'

Well at least that is what I have heard.
More classic Aussie banter in the best thread of the coming northern winter.
October 3rd, 2017 by admin
Well-known Aussie yachtie James "Jimmi the Magician" Doherty found himself with a bad ticker yesterday after delivering a boat from Japan to LA for the Transpac, and one of his friends has asked a special favor of the SoCal anarchists: Go and see this legend and talk yachting while he recovers from an emergency heart valve replacement.
No one has done more Melbourne Osaka races, and he usually delivers back to Oz singlehanded.  He's sailed tall ships, fast boats you all know, and everything in between; even sailed a square rigger to Siberia with a Russian crew.  Jimmi has hundreds of thousands of miles delivering, and lives on his half-tonner in Australia.
His friends wrote that "Jimmi is by himself and now faces another 10 days in hospital alone, and another 3 weeks before he can fly  back to Oz.  If any sailors nearby feel like dropping in to Cedar Sinai Hospital in LA to go and talk sailing for a half hour, it would do wonders for him.  He is the real deal."
Photo thanks to Tak Yamakasi.
June 16th, 2017 by admin
Mcconaghy's MC38 is yet another bit of proof that a beautiful design and good value don't mean shit when it comes to selling boats. We raved about the super sportyacht when she first launched, but without an organized international marketing plan and the ridiculous ouster of  Jono Morris, the quick one-design never caught on outside of Sydney.  It is also worth mentioning that the idiots who now run Mcconaghy won't even return our e-mails regarding advertising with us. A sad state of affairs of a once great builder
Fortunately for some of New South Wales' best-known team owners and the hotshot pros and amateurs they fill them up with, most of the boats ended up racing in a nice little fleet in and around Sydney, and Bob Fowler caught this shot of one of them during the first MC38 Winter Series event in Pittwater over the weekend.  Croaky took the win with Maserati.
A long, weird video from the regatta is over here.
May 9th, 2017 by admin
Dogs can be bogans too! Check out this playful animal going after a tiger shark in the Torres Strait, Queensland.  Battle for best caption in the thread.
December 31st, 2016 by admin
We have not gone easy on the CYCA and Rolex over the years for the less-than-impressive Rolex Sydney Hobart coverage the world usually sees on boxing day.  That makes us even more excited to be able to say this year "WELL DONE, AUSTRALIA!"
Why's that?  Because the Channel 7/CYCA feed looked great, sounded great, and streamed live on Youtube for the world's bored sailors to geek out on while avoiding family at Christmas.  They still think they own the water, but let's tackle one issue at a time.  Meanwhile, SA'er 'forss' has created a super simple tracker using the WindyTV streamlines, so if you prefer something less hungry than the official tracker, you can find the SA'er version here.  Latest news in the thread.
December 25th, 2016 by admin
Get the inside stories, the boat tours, and whatever else Nic Douglass can come up with, LIVE from the Sydney Hobart Race.  For details on Nic's program, click here.
December 25th, 2016 by admin
We love the attitude on this nearly crushed spectator boat as the five-boat SOLAS Big Boat Challenge gets rolling; listen closely for best effect.  For full, stable, HD video of the race, check out the 18 footers guys over here. The Sailor Girl did her own live thang over here.
December 13th, 2016 by admin