Posts Tagged 'auckland'
Homicidal monster supercyclone Pam is tearing through Vanuatu today with gusts to a stupefying 175 knots (while an amazing 3 more cyclones are sweeping the Southern hemisphere) and she's now headed towards Aotearoa.  It confuses the hell out of us – we thought killer storms were consigned to Australia, just like venomous jellyfish/toads/reptiles, giant man-eating crocodiles, surfer-loving Great Whites, and debtor's prison exiles. It turns out that New Zealand tropical cyclones are now (or since 2011, anyway), a thing.
After consulting with team skippers and Boatyard leadership, Volvo Ocean Race Control has delayed the start of the Auckland to Brazil leg until at least Tuesday.  This throws a logistical wrench into the works for both Auckland and Brazil, but in the meantime, we get spectacular conditions for today's Auckland In-Port Race.  Above you'll find a short promo, and check back here in about 5 hours for the live link to some great racing.  Join a few hundred of your closest friends to discuss it here. 
If you really need your sailing fix, here's some day 3 Extreme Sailing Series analysis and a preview to tomorrow's finale for their Oman stop.
March 13th, 2015 by admin
It's a 3-way battle with just a mile of separation as Xabi Fernandez's MAPFRE holds a slim lead over Azzam and the Dong in the last couple of hours before the Volvo frontrunners hit Auckland.  Genny and the live feed start now!  (or very soon, anyway).  Click the player and compare photos, performance stats and trivia in the thread.
February 27th, 2015 by admin
While the world's sailing media is reporting an Antipodean battle between Sydney and Auckland for the right to host the "America's Cup Qualifiers", it emerged this morning that Sydney has most likely lost it to the Kiwis, meaning ETNZ should have the funding soon to get their challenge really rolling.  Did the Harbour ever have a real shot, or do they join Rome, Newport, and San Diego as yet another pawn in Coutts' repeat-as-needed negotiating program?

Premier Mike Baird's events team has been slammed for "wasting everyone's time" after it let the opportunity to stage prestigious America's Cup races on Sydney Harbour slip away to Auckland.
The America's Cup organisers are set to award the qualifier races to New Zealand after Sydney's events tsar, Destination NSW chief executive Sandra Chipchase, told them she needed another eight weeks to make a decision on whether to lodge a formal bid.
It is believed Auckland secured the event — which organisers estimated could have attracted 40,000 international visitors and 15,000 domestic tourists to Sydney — for less than $10 million.
"For this opportunity not to be treated seriously is just a massive waste of everyone' time and a missed chance,'' said veteran promoter Tony Cochrane, who was trying to generate interest from Sydney.  "This is not how world-class event organisations operate when it comes to securing what is clearly a world-class event."  Opposition Leader Luke Foley said he feared the government had been "asleep at the wheel". "We have to show we are hungry for these lucrative money spinners otherwise you miss the boat,'' Mr Foley said.
Read on, and shout about it in America's Cup Anarchy here.  Tip o' the hat to previously self-exiled but recently returned AC Anarchy addict "Stingray".
February 16th, 2015 by admin
Remember Kiwi skipper AJ Reid, skipper of the ill-fated and now very waterlogged J/111 Django, which sank on delivery after the Auckland-Fiji Race?  As we mentioned in September, Reid is building a brand new Bakewell-White rocket ship at Yachting Developments, and he sent us a note this morning about her progress.
"Hiya Clean, you'll be amused to know that the new boat is called Anarchy!  Check out our Facebook Page for updates on the build, and yes, you're welcome aboard even though you're clearly bad luck!"
Big thanks to sailing/adventure photojourno Jen Edney for a little last second photoshop work, and head over here to see her latest work from the VOR in Cape Town.
November 17th, 2014 by admin
As the 35th America's Cup "Deadline Day" hit us here in the US,  The Royal NZ Yacht Squadron became the first team to formally announce that it ponied up the millions required for a challenge to Golden Gate Yacht Club, and that Emirates Team NZ would be their representatives. "We look forward to working with the other teams to create a great event. [emphasis ours]".  
The solo Kiwi news release, along with Dalton's emphasis on 'working with the other teams' tells us that Russell and Grant definitely haven't kissed and made up; you can expect a more coordinated flurry of news today as 'Russell's Four" – the teams that pledged their lukewarm support to Coutts and the Cup a couple of weeks ago – are likely to have worked with AC AlphaWhat on a distribution schedule.  In other words, when the Cup is ready to tell you who challenged and who is the new Challenger of Record, they'll fucking tell you, you impatient twat!
Meanwhile, RadioSport NZ's D'arcy Waldegrave grabbed Mr. Clean for a morning drive time chat about the challenges the Kiwis face on "The Sauce", also known as "New Zealand's Loosest Sports Radio Show".  Listen to it above.
August 8th, 2014 by admin
UPDATE: STATEMENT FROM J/BOATS:
"J/Boats have been in contact with the owner Andy Reid since the incident happened, in fact he will be in Newport soon on a scheduled trip already.  We're sorry to hear about the breakage and have already commenced our own internal review on the circumstances that may have led to the rudder post failure, working with our team of engineers, builders and materials specialists.  In the meantime, our condolences to the delivery crew and hope that all are well and in good health and spirits despite the circumstances."
We got news late last night that our most awesome Kiwi pal AJ Reid lost his new-last-year J/111 Django while on delivery back from Fiji.  You'll probably remember Django as the boat that won its first-ever race while handicapped by our own Mr. Clean aboard, and then went on to some great results in New Zealand and then last week's reported finish from the Fiji Race.  Here's a note we got from crew coordinator and Doyle NZ sailmaker Andy Pilcher late last night, and you can discuss the J/111 over in the thread:
For those that haven't heard, I'm sorry to announce that Django Racing has been abandoned about 300 miles North of Auckland, on her way home from Fiji.  At approx 11:00am NZ Time this morning, in winds averaging over 50 knots and seas over 5 meters, the rudder stock snapped between the two bearings, leaving the rudder swinging underneath the boat, trying to rip itself free.
The delivery crew sent out a request for assistance and set the liferaft up for immediate deployment, keeping in touch with Maritime Operations throughout the day via Satellite phone.  An Airforce P-3 Orion came by the boat to do a flyover, and fortunately,  NZ Navy Frigate Otago was in the region.  The Navy reached Django around 6 PM on Monday evening, when the crew made a hairy but successful transfer via lifeboat onto the Frigate.
We have spoken to the crew and they're safe and well, albeit very relieved and a bit shaken.   I suspect that the reality of the situation may not have set it yet for them.  Delivery skipper Ben Costello along with Bex Heilkema and Andrew Cooke  all responded exceptionally well, and did everything they could have done in the most seamanlike manner.   The boat was still floating when they transferred onto the frigate, and the rudder had not yet sheared off.  But with large cracks appearing around the area of the bottom bearings at the time of rescue and more gales and big seas forecast, we don't know how long she will last.
Otago is heading directly back to Auckland and we expect the crew to be safely back on land shortly.  That's all we know for now, we just wanted to let everyone know the facts as they currently stand.
Thanks for your thoughts and wishes,
Andy
July 8th, 2014 by admin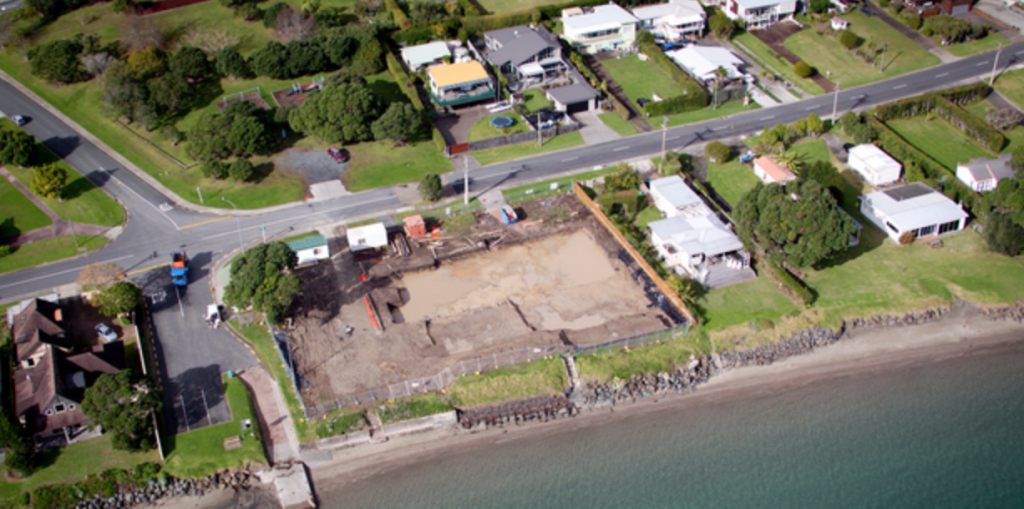 Any of you kids thinking about going into professional sailing after college?  Do it well, and you just might be able to build a $10M beachside mansion like Sir Russell Coutts!  Check it out; according to the NZ Herald, Coutts' contractors have just finished their demolition of the three houses on Tindall Beach in North Auckland to make the property ready for Sir Russell's 5-bedroom, 6-bath, 667 square meter (7200 s.f.) home.  This goes into a Coutts' real estate portfolio that includes apartments in Auckland and homes and farmland in Otago; he ain't Larry Ellison, but not too bad for a 52 year old sailor…
July 7th, 2014 by admin
Our old pal Andy Pilcher from Doyle NZ checks in from aboard the J/111 Django after one of the most exciting ocean racing finishes of the year.  A great yarn from an excellent group; check out the Auckland-Fiji Race results over here. Photos from C Brad Davies/LiveSailDie Media.  Title appropriate to the best song the Beach Boys ever wrote.
Who remembers the 1995 Rugby World Cup Semi-Final between the All Blacks and England?
 The one where Jonah Lomu ran rampant right through the whole team and scored four tries, including that most memorable one where he bowled right over the top of Mike Catt?
  Keith Quinn, the veteran broadcaster with decades of experience, was so lost for words that all he could say – live on air – was "Jonah….. JONAH…..Oh!!!……Oh!!!!!"
Well, try saying this in your best Keith Quinn voice: "Django….. Squealer……. Oh!!!!……..Oh!!!!!!"
That's what we were looking at during the Auckland Fiji Race after almost 1400 miles and nearly a week of racing.  Two middleweights standing toe to toe, slugging it out, neither giving an inch.   In the White corner we have Django Racing, the younger, better looking of the two, dancing and jabbing, sticking and moving, trying to wear their opponent down.
 In the (toxic) Lime Green corner, the clever old veteran, gnarled by age and years of fighting, and looking, searching for the knockout blow.
The bout started off in a typically brutal manner, with both fighters taking a beating during the first four rounds (days). 
Eventually things calmed down a bit, and a searching, tactical battle was underway.  Django scored the first major points with a swift left hook, right across Squealer's nose, early in the fifth. 
They thought this could give them a decent advantage, but you don't get to be older and wiser without learning a few dirty tricks, and sure enough, the pugilists from Tauranga Bridge Marina eventually wore them down and scored a few back themselves. 

Deep into the sixth round, the fighters got up close and personal after fighting blind for most of the bout; after that, it was all on!
The teams stood right in each others faces, neither one wanting to let the other slip away and gain an advantage.  No one let up, with stamina and endurance being pushed to the absolute limit. Both teams pushing harder than they ever thought possible, somehow finding reserves of energy they didn't realize they had. 

Squealer used all their collective years of cunning to gain an advantage late in the seventh, and it looked like this would carry them to a famous victory. 
But Django wasn't giving up that easily, and with barely a minute to the final bell pulled their last move of the fight, launching a straight right across the face of Squealer, seemingly dropping them on their arse for the final time.
 Surely there was nothing left to give…but Squealer had other ideas.
They picked themselves up off the canvas and launched one final assault on the young pretenders. 
Django tried holding them off with a series of jabs, but Squealer countered with a brutal right hook just on the final bell. 

So who won? 
Well, it took a while for the ref's decision to come in and it was eventually announced over the public address system (also known as the VHF Radio) that Squealer had taken out the narrowest of points victories – beating Django by 10 seconds. 

Both fighters fell to the floor, exhausted, before picking themselves up one final time for an embrace that lasted well into the night.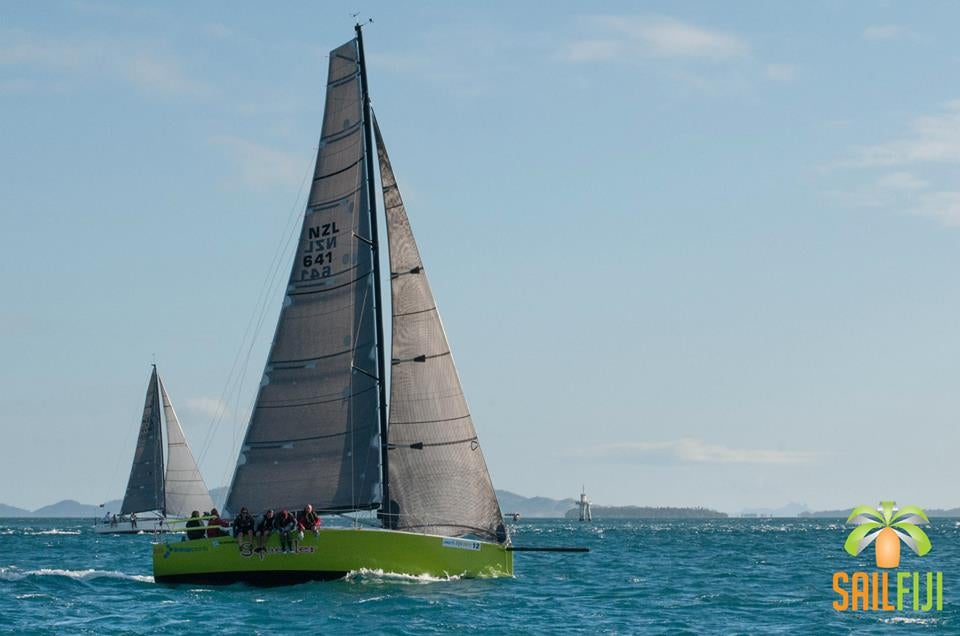 After a race that lasted just a few hours shy of a full weak and some 1370 NM, Squealer really did beat us over the line by 10 seconds. This photo was taken from the finish boat, showing their nose crossing the line, with us barely a boatlength behind. 
It was hard to comprehend at the time what we were involved in, but for all of us, this was the race of a lifetime, and it was only more poignant because of the battle raging between two boats full of good friends.  
I have known some of these guys for the best part of 20 years, and can genuinely say that we could not have hoped to be beaten by a better team.
For those that don't know, the DDF Syndicate that owns Squealer is a team of seven mates, most of whom are old school friends from Tauranga. This is the third boat they've owned, over a period of around 15 years, with their ultimate goal of competing in an offshore race.
That dream was cruelly cut down just 120 miles from the finish of last years race to Fiji, when the mast fell down as they were pushing hard for an overall win. 
So to see the joy on their faces at the finish line really did make everything worthwhile, and (almost) made us forget our awful first half of the race!
Well done guys, it was an absolute pleasure trying to knock the shit out of you, and we cannot wait to do it again.
Django Racing out.
June 25th, 2014 by admin
Sean Langman's Team Australia (ex-Banque Populaire IV) just set the reference time for the Sydney to Auckland passage at 2:19:02:45 – that's an average of just under 19 knots for the rough and unpredictable stretch of water. TA dried themselves off in Auckland, grabbed 'pick-up crew' Moose Sanderson and Dean Barker, then promptly sailed the wrong course to lose a practice race to the big South's other ORMA – NZ's Team Vodafone Sailing (click here for cameraphone video).
Both boats square off later today as the Coastal Classic begins, and NZ's marquee fleet race is clearly doing something right; 139 monohulls and 25 multis entered for a 100+ mile race in a country no bigger than a shoebox ain't bad!
Here's the report on the record run from crew Ben Kelly, and be sure to check the thread for the trip 'as it happened':
"Funny, I expected the boat to make the speeds feel like less, but doing 22-25 knots a couple of hours out from the heads felt crazy fast because of the sea state and our high angle to the breeze. Then as we slowly cracked away into the night I got to experiance 25-30 knots, this is pretty full-on in 4mtr waves and quite a violent action on the body that took some time to get used to. By early morning we were seeing up to 40 knots of wind and the speed sitting around 32 knots, and every now and then with an insane burst of acceleration, we would get a run on that would take us to 36-38 knots and then work its way back to around 32 again.
I would say that whilst the high speeds are quite full-on and the adrenaline is definitely pumping, the action of the boat improves by the time you are doing 35-40 knots.  With the boat simply obliterating whatever whatever it's going through, it's more of a vibration, and one of the best felings I have ever experienced.  I'm sure the motion changes depending on the sea state and direction and especially the angle to the breeze.
"The best true wind angle seemed to be 115 degrees, at this angle in 30+ knots of wind the driving is easy, the boat behaves insanely well, she is bow up with 2/3 of the leward float out of the water and the centre hull in/out constantly. Unfortunately we had the wind at around 80-90 for a big part of the leg across which just held us back a little from consistantly higher averages, basically if the top end of NZ had have been 100 miles further south I think we may have done 600+ nm for the 24hrs. You have to trust the foil when driving, on non foil boats you tend to have to run away with the pressure. With a foil that works so effectively when the power comes on and you are staring down the back of the next big growler you head up (if you react early enough), put more power into the boat, the bows rise as the boat accelerates and the foil works even more, then you get to the back of the wave in front and launch over it from behind as if it is a ramp, basically the best feeling ever!
"The problem is at 80 degrees true you feel like coming up is a bad option and you feel like going down is bad so quite often you just hold your course and your nerve and let the boat do its thing! Give me the helm of that thing, 25-30knots of wind, 4-5 metres of swell 2 x reefs in the Main and the smallest HWJ jib and I would be in heaven! I miss it already.  All the best to the crew of the Coastal, I think they have the legs…."
PIRATE STYLE
But here's even bigger news:  In just 60-odd days, if this interview with Sean Langman is accurate, Team Australia and Team Vodafone will race against each other in the Sydney-Hobart!  But before you old Sydneysiders fall off your rockers – no, Bob Oatley's America's Cup challenge hasn't suddenly spurred the CYCA to join the 21st Century, and no, the Hobart Race won't stop being ridiculed as the race that allows diesel-driven keels and winches…but no multihulls.  Apparently, dealing with these conditions doesn't make a boat safe enough for the Hobart…
Instead, the two ORMAs will sail the S-H pirate style, starting two hours after the last boat is off and presumably tearing through the fleet handily on their way to a new S-H record that Wild Oats fans and motor-driven yacht lovers won't claim is 'unfair because of different conditions.'  This is going to be the most exciting Hobart in years, thanks largely to two boats that aren't even allowed to race.  Follow that thread here.
October 24th, 2013 by admin