Posts Tagged 'Atlantic Cup'
UPDATE: Tales II is just 6 miles from the finish.  Go and welcome them in!
It's been a wet, wild and fast first leg in this year's Atlantic Cup presented by 11th Hour Racing. Tales II hit 19.6 knots yesterday as they were rounding Hatteras and most of the teams have been consistently sailing in the teens, with Libby Greenhalgh reporting top speeds in the low 20s on the Zero.. Tales is still holding a 10 mile lead over Eärendil, but only 30 miles separates 1st to 6th. And there's a four-way battle for third between Oakcliff, Toothface, Dragon and Amhas and they have been taking miles out of the leader all night. With winds forecast to lighten, decisions on when to exit the Gulf Stream and head for Brooklyn will make or break the leg.
Also, on this Memorial Day, the A Cup is proud to be supporting the Warrior Sailing Program in Brooklyn. We have a graduate of the Warrior Sailing Program working with us for the duration of the Atlantic Cup learning the ins and outs of race management and we are excited to have 4 warriors sailing in our Pro-Am race to give them some Class40 racing experience. Also we are collecting used and old sails as part of our sail drive with Sea Bags. Proceeds from that sail drive will benefit Warrior Sailing so if you are near to Brooklyn and have an old sail, come by the race office at One15 Marina.
Track 'em here.
May 31st, 2016 by admin
Michael Hennessy checks in from the nav station on Dragon as the Atlantic Cup fleet gets ready for the long jump from Charleston to Brooklyn today!  Head over to their Facebook Page to watch the start LIVE at noon ET  (hopefully). And don't forget – Now that it's come to the revitalized borough, no Atlantic Cup coverage is complete without this tune.
For the past couple of days, we have been keeping an eye on this low pressure that popped up east of the Bahamas. First a trough, then a potential cyclone, now a depression.
She has threatened and teased, providing relief from the high pressure system that has gripped the southeast coast for the past several days and its light airs. But maybe too much relief?
The call is made, and today we are chasing storms.  The system is moving a bit quicker than thought, and when we start in light north easterlies we will be racing east to meet her. As she comes to us, she brings a shift to the Southeast, and we will tack North on that building wind. Tonight should be sporty and wet with big confused seas. If we survive that, then we sail into lighter winds North of Hatteras.
The Transat knocked Carac out of the A Cup fleet, so we're at 9 boats for this edition.  Tales is the boat to beat, having won every race she has started.  The rest of the fleet is pretty well matched, with each boat having its sweet spots. We are motivated – it was this race that made Dragon a YouTube star for the wrong reasons.
Stay posted. Much more to come.
May 28th, 2016 by admin
My second Atlantic Cup truly was a great experience. I love the event for so many reasons – it's really the only Class40 race in the US, with very special venues and phenomenal organization.  Charleston and Newport are great sailing towns with marinas, shipyards, and everything you could possibly need before a regatta, and New York – well, that's got New York City,  and it is a very special experience to approach the skyline from the sea after a few days offshore.  Knowing my friends and family were nearby during both the finish and start made it even better.
My Atlantic Cup experience started back in February, when USMMA Sailing Foundation boss Ralfie Steitz offered me the use of the Foundation's Class40; the pretty grey boat known to many of you as Icarus.  I was so flattered by the offer and was looking forward to getting on the boat, but with my winter regatta schedule and the horrible winter in the northeast, I only had two opportunities to sail the boat before the start of leg 1 (including the delivery to Charleston)! At the start of leg 1, we put up our race sails for the very first time. We had three serious problems during this leg. The first was our inexperience with the boat – this certainly hurt us, but also meant that our learning curve was steep as we figured out ways to make the boat go fast. Second, we encountered trouble with our electronics – none of them worked for the first three days of the race and we had a faulty iridium antenna so we couldn't download any weather information. And third, we blew up our A2 kite during the first day! With all of the trouble we encountered, we managed to keep a positive attitude. I saw how responsive the boat was and began to really understand its potential. All in all, while we would have loved to have had a better result, we were proud that we only finished just over three hours behind the leading boat.
While leg 1 was full of frustration, leg 2 was just the opposite. It was our time for redemption and our sailing was fantastic – our speed was fast and our navigation was spot on – the weather reporting we had from PredictWind's (one of www.jeffreymacfarlane.com sponsors) high resolution forecasts certainly helped. The race was incredibly tight – I slept for just a single hour and my co-skipper Jake took only two hours rest. I drove the entire time and Jake stayed busy taking care of sail and boat trim. We managed to squeeze out a win over Dragon by just 80 seconds.
While the first two legs of the Atlantic Cup are sailed double handed, the third and final leg – the inshore series – is sailed fully crewed. Making the transition to sailing with five other people is not an easy task, but our fantastic crew made it worth it! We sailed with Phil Garland, Chris Poole, Ross Weene, and Ervin Groove.  Phil focused on navigation and main trim. Phil knows the waters of Newport better than anyone and is an incredibly talented sailor. He and I communicate well on the boat and I was so pleased to have another opportunity to sail with him. With Chris's great match race experience, I asked him to focus on boat-on-boat tactics.
Chris and I both represent Oakcliff but this was the first time we've had the chance to sail together, and hopefully it will be the first of many. He made great decisions and was able to help position the boat in strong places. Ross works for Roger Martin and helped design the boat. He trimmed the jib and kite, always keeping his eyes forward, watching to see what needed to be done. Ervin was at mast and helped Jake with the bow. Both of them worked together to make sure the front of the boat stayed organized and they moved very fast. Ervin's height and strength coupled with Jake's quickness helped us avoid errors. Together, we won two of the races and took second place for the inshore series.
At the end of the two and a half week regatta, we scored 34 points, tying with Gryphon Solo 2 for first place. Unfortunately due to the tie breaking method, we took second place. Regardless we were pleased with and proud of the result. The Atlantic Cup gave us the opportunity to do some fantastic Class40 sailing close to home and I look forward to sailing in the race again next year.  Thank you to all of my sponsors and supporters for making it possible for me to sail in such an exciting event!
-Jeff Macfarlane
June 8th, 2014 by admin
By Saturday, Michael Hennessey's Class 40 Dragon was finally on a roll in the Atlantic Cup.  Tied for first place going into the final weekend of inshore racing in Newport, Dragon got a great start in the first inshore race today, with a great kite hoist leading to a 7 boatlength lead at the turning mark off Beavertail.  And then disaster struck; Dragon clipped a big rock just as bowgirl and former SCOTW Emma Creighton went out on the bowsprit to set up the douse.  The boat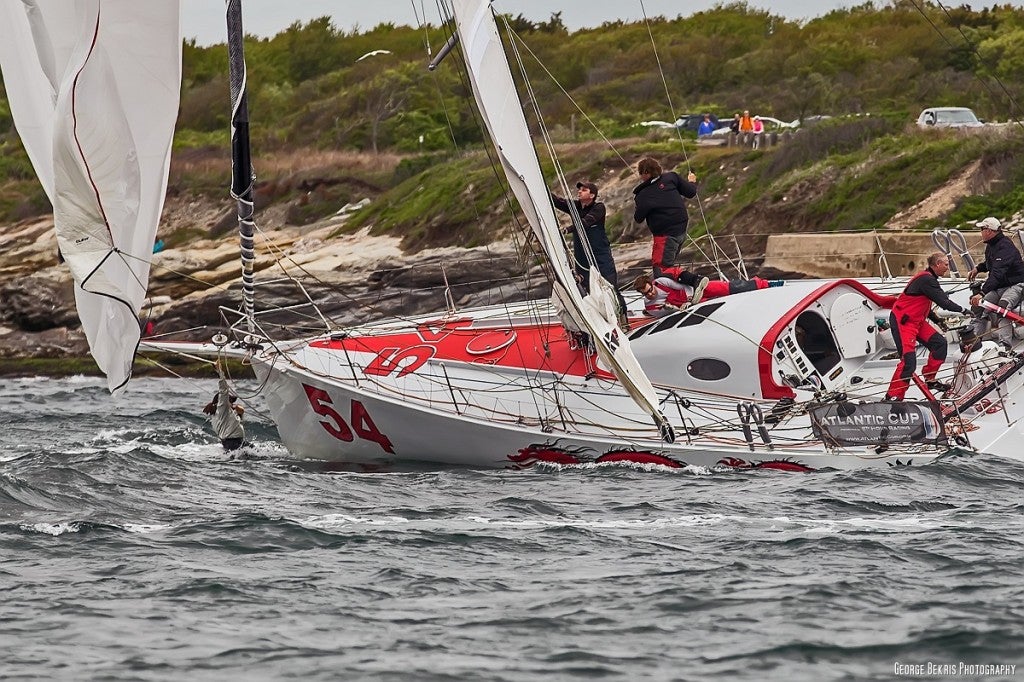 went from 12 knots to zero, knocking the crew off its feet and launching Emma off the bow, though the young Maine native's badassery knows no bounds, and somehow she held on, and no one was injured on the crew.
The boat is another story however; have a look here and you'll see what we mean.  Cracked keel box, cracked grid frames, wrecked fairing, and cracked glass around the keel entry.  Huge bummer on a beautiful Memorial Weekend sailing day, but it could have been much worse.
More info at the Atlantic Cup site here, huge thanks to SA'er "Mister Sail" for the shot of Emma to your left, and to Julianna for the keel shot.
May 24th, 2014 by admin
Thanks to a string of boat and mast problems in the Mini fleet, we've called young solo/shorthanded offshore racer Jeffrey Macfarlane 'one of the unluckiest guys in the sport', but as of Monday, Jeff's luck seems to be changing.  Below is an SA exclusive from Jeff on his victory and leg record on Leg 2 of the Atlantic Cup, with a Billy Black photo to the left, and galleries of the whole race here.  You can check in with the racers tomorrow night at the party at Jamestown FISH, and say hello to Clean and Mer if you show up.  And Newport locals can watch them out racing this weekend alongside the International Moths and the Open 60s.  
My co-skipper, Jake Arcand , and I were looking for redemption in leg 2 and we got it! Our first leg was disappointing. We blew up our A2 spinnaker and lost all of our electronics for the majority of the 600+ mile race. Thanks to generosity of Steve Benjamin we were starting leg 2 with a one spinnaker – he donated an old Spookie kite to our program [that's the one with the Swisher cigar logo -Ed] and we were able to get a last-second sail recut, just in time to replace our irreplaceable A2.
At the start of the second leg, the breeze was fairly light and we decided to stay on the south side of New York harbor to take advantage of a slightly stronger tide and freshening breeze. But, it was not until after the bridge that our strategy began to pay off and we started to leg out on Dragon and Pleiad, more to the North. We led the fleet out of the harbor and planned to take the Swash channel. Everything was going perfectly to plan, but after seeing Pleiad choose to take the more inshore Sandy Hook Channel, we reevaluated and decided to cover. Unfortunately, they were able to stretch some distance on us, but once we were clear of the channel we slowly began to chip away at their lead, eventually passing them.
Most of the fleet chose an offshore route on the way south to the Barnegat Light buoy, but I positioned us more on the beach side of the course, anticipating the wind shifting West. Our strategy worked, except for the brief period of time when there was no breeze in a wind transition. Mike and Rob on Dragon stayed very close to us and they handled the transition a bit better, reaching the new breeze before us.  We rounded the tuning mark just behind, and began the night jockeying positions with them. We took a northerly course from rhumb line anticipating the breeze would head us come morning, and when morning came we were a mile or two in front of Dragon. However, the wind did not head us like all of the weather models predicted and we found ourselves in yet another wind transition zone where Dragon, who was further offshore, managed to pass the transition zone quicker, and passed us in the processl. From then on, it was all drag race – a speed run to Montauk Point during which time we desperately tried to regain our lead. As we sailed inside Block Island we kept going higher in order to get more speed on Dragon. Frustratingly, she matched us until we both began to sail as deep as possible in order to make Point Judith. The breeze offered us ideal downwind conditions on the way to Point Judith and we sailed downwind straight to Newport at 15-17 knots.
As we approached Narragansett Bay, we were still just a few boatlengths behind Dragon on port gybe and very close to the shore. The wind began to lighten and we matched Dragon's every move, hoping to get an advantage on them. We did not get the advantage until we both gybed and they came out a bit higher. I was able to take a few puffs and soak just a few degrees deeper than them, and we were able to get below them on the inside gybe. We took advantage of any depth we could get and we tried to get more separation from Dragon, covering their every gybe. It worked! We ended up in very light winds approaching the finish just 80 seconds in front of Dragon. We not only won the leg, but we also set a new course record by over 6 hours.
Jake and I could not have been more pleased, and what a result for one of the oldest Class 40s in the fleet, donated for my use by the inimitable Ralfie Steitz from the USMMA Sailing Foundation.  Ralfie and the King's Point program continues with its mission to help young, up and coming sailors get more opportunities in the limited American shorthanded sailing scene.  By coupling his support with that of Oakcliff Sailing, our team has fulfilled this mission proudly.  There is a very long list of sponsors and supporters that have had an instrumental part in the success that I have had over the past few years.
We have a fantastic inshore team consisting of Phil Garland – our mast manufacturer and sponsor from Hall Spars, Ross Weene – one of the boat's designers from Roger Martin Designs, Chris Poole – fellow Oakcliff sailor and top ranked match racer, as well as Oakcliff graduate Ervin Grove. We are looking forward to combining our strengths to find more success in the final, inshore leg of the Atlantic Cup this coming weekend.  We are hoping to win the inshore series and pull out an overall Atlantic Cup victory.
Wish us luck!
-Jeff
May 22nd, 2014 by admin
Class 40 Dragon skipper Mike Hennessy explains just how differently doublehanders go about things in this post from the Atlantic Cup thread. You in the NY area?  Get down to the water to watch the Saturday start of their sprint to Newport!  And follow along with Dragon here.
So you ask "hey, mister… how do you swap out your kites in the middle of the night, with 20+ knots of true wind and only two of you on board".  Well, Johnny, let me tell you how it is done:
Picture a messy, quartering sea in the stream that allows for a little bit of surfing, but mostly just limits your use of the pilot.  Imagine winds in the mid-twenties.  Envision the big ass A2 kite up, doing perhaps a bit too much work for the conditions.  And progosticate that a front will be coming through in about two hours with rain, more wind, and lightning.  Now do this all with your eyes closed, since with no moon or even stars it is as dark as dark can be.
This is how it works:
1. One of you sits on the helm, the kite cross sheeted to your hand.
2. The other suits up, clips in and stumbles / slides to the foredeck with the new sail  (really looking forward to the refit this summer and new non-skid!)
3.  Clip the bag for the new sail to the life lines
4.  Open the forward spin tack clutch
5.  Sort your halyard tail which has been washed into a tangled mess.
6.  Sort out your haul down line for your sock.  Curse your head lamp whose over taxed bulb won't illuminate what you really want to see up top.
7.  Call for ease (and poke the boat down) from the helm.
8.  Haul down the sock
9.  Helm blows the aft clutch on the spin tack line, puts the boat on pilot, clips in, then stumbles / slides forward to feed you the halyard.
10.  Haul down the sock to the deck and frantically try to collect the foot.
11.  Open up the hatch and dump the whole mess into the sail locker.
12.  Helm stumbles back to the cockpit
13.  Hook up all the bits of string to the A5 kite, trying not to trap anything in the dark
14.  Question what circumstances in your life led you to pursue this relaxing pasttime.
15.  Tie down the haul down line, cuz if you don't it will sky as you hoist the sock, your partially hoisted kite will pop open and you will have a really crappy morning.
16.  scream back to the helm to sheet on and go deep
17.  Pull on the tack line.
18.  Wrap one arm around the sock to keep control over it and then hoist with the other, whilst attempting to stay on your feet.
19.  Curse as the sock flips over the forestay, then flop around trying to get it sorted
20.  The sock finally gets somewhere near the top.  You "confirm" with the helm that he has sheet ready, and you haul up the sock.
21.  Your kite made, you then toss the bag into the forepeak and hopefully remember to dog the hatch or unhappiness ensues.
22.  Grind on the last bit of halyard.
23.  Sort your tail, knowing that despite your efforts it will be a tangled mess when the clew of the A5 rips off three hours later and you need to do a quick douse.
24.  Stumble back to the cockpit, wish you had a beer, and then go on watch.
See, Johnny?
Simple.
May 17th, 2013 by admin