Posts Tagged 'artemis'
Artemis Racing skipper Nathan Outerridge could have been one slip-and-fall away from turning the tide on the quick Kiwis and moving on to an Oracle that he clearly feels would have been an easier test, but he's good natured and honest about it in this 10 minute long interview with Mr. Clean on the pierside in Bermuda.  Clean finally brought some good questions to an island that's seen weeks of fluff from the vast majority of reporters on the ground, and his subject – also the guy commentating if you watched NBC or the NBCSN app in the states – is one of the brightest and most accomplished sailors in the sport.  Learn about Nath's feelings on his loss, whether Artemis will challenge again, Nath's opinion on the speed difference between the two AC boats, and Burling's mental toughness as the young Kiwi goes into tomorrow with a 4-1 lead. That and more in this 10 minutes with the flying Aussie from Lake Macquarie.
June 24th, 2017 by admin

Design optimization and simulation specialists Altair put together the sweet little film above that may just be the slickest media yet to come out of AC35.  We're not picking Artemis to advance to the grand finale, but this film shows they've left very few stones unturned in their quest to shock the world in Bermuda.
Tell Altair's Comms guy what you think in the thread.
May 21st, 2017 by admin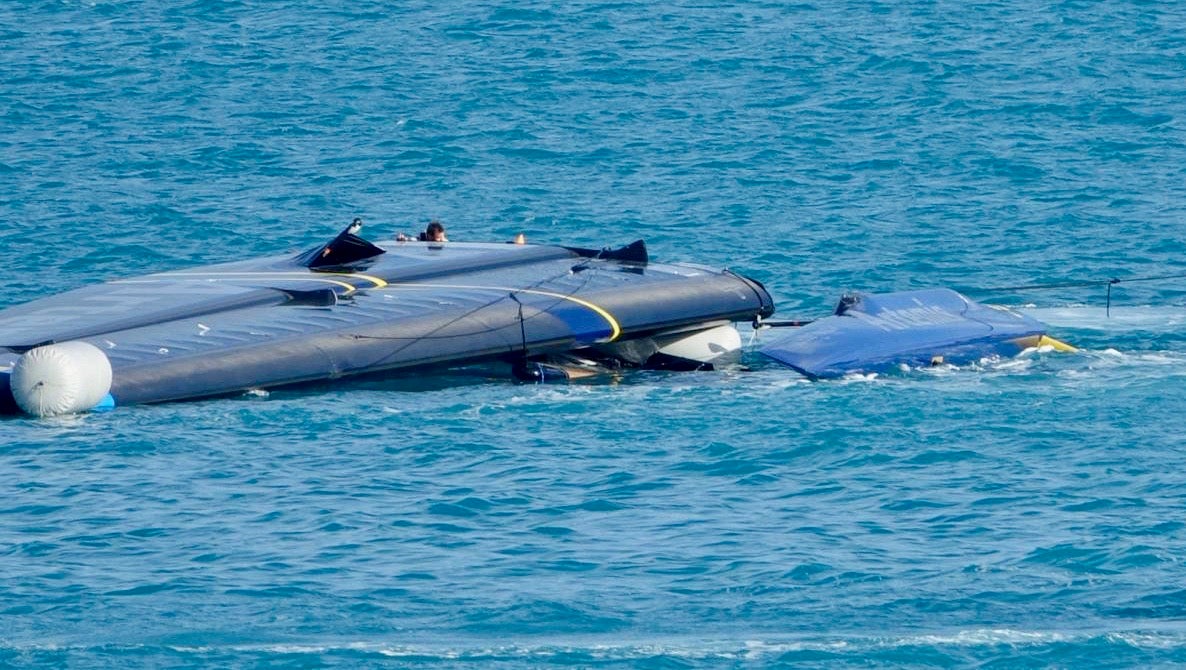 EXCLUSIVE: AC BREAKING (LITERALLY) – This afternoon Artemis Racing looks to have killed their America's Cup 45T – the test and trial horse for the AC50 they hope to challenge the big boys with.  The scene, posted by an anarchist in the Artemis thread, looks way too much like the fatal AC72 breakup for comfort, and we hope everyone made it out without major injuries.  Given the radio silence on team social media, we're not sure if that's the case, but he one thing is for sure: Artemis continues to be the unluckiest team in the modern AC.
UPDATE: The same guy who posted the shot wrote 'all are OK', and he's reliable.  Whether the team's AC program is capable of winning is another matter…
April 4th, 2017 by admin
If one crash video replay is great, it's logical that a dozen of them are spectacular.  Here's a little montage of all the possible angles of the Artemis vs. clueless umpire boat crash in Bermuda, set, of course, to German house music.  Just because.
November 2nd, 2015 by admin
Oracle just launched their test bed AC45 last week, and in just 5 days their maneuvers and boatspeed already look to have far surpassed the very similar Artemis 45 foiler.  They also look a hell of a lot smoother, more stable, and faster than what we've seen from the Luna Rossa testers months after their launch in Sardinia.  Meanwhile, Franck Cammas is playing with his C-Cat, and there's a whole lot of silence in the AC45 action from Sir Ben and ETNZ (at least on sailing issues) while Slingsby notches nearly 46 knots of boatspeed on San Fran Bay.  We sort of hate to say it, but it looks like Oracle are on their way to a 3-peat dynasty in Bermuda, assuming they don't turn any AC boats into matchsticks again a few months before the AC.
Kudos to San Fran videographer John Navas for the first 4K Ultra HD video we've ever posted here; we hope the 68 people in the world with 4K televisions love it!  More chat about the Bay in the thread.
February 26th, 2015 by admin
After the ass-kissing statement of support released last week by the 'Euro 4' AC35 challenger heads (Ainslie, Sirena, Percy, Cammas), we're unsurprised to learn that, according to AC authority and AP writer Bernie Wilson, Russell Coutts specifically told ETNZ to stay home from a major, confidential Challenger/Defender summit meeting later this week in London.
According to Wilson's piece, "the event authority is working with the teams "to further define an event based on the published protocol." Coutts said that after he heard from another team [emphasis ours -ed] the Kiwis didn't want to want to proceed on that basis, "I rang them up and said, 'It's best that you not come.' We have four other challenging teams and the defender that want to work together to have a great event this time and in the future."
We're not quite sure what Coutts' offered to get formerly logical and critical guys like Sirena on board with whatever failure-doomed plan Coutts is trying, now that his greed and hubris sent Iain Murray and Team Australia into the void previously occupied by Vincenzo Onorato.  Discounted entry fees?  Access to some of OTUSA's old data archives? It's gotta be something, because they all know that Australia's Challengus Interruptus makes Russell Coutts and Larry Ellison look like some of the biggest buffoons in international sport.
Coutts' latest bit of nastiness to his countrymen is just one more folly from a guy who is almost comically bad at the business of sport, and the same question is on every AC watcher in the world's lips:  Why would one of the world's best businessmen keep Russell Coutts at the head of the AC organization when he has failed at every single AC-related business decision he's ever made, including the most costly boondoggle in the history of modern sport?  It ain't the biggest newspaper in the world, but the Otago Daily Times has one possible answer: They say Coutts' contract may have a 'Bertarelli Clause', guaranteeing Coutts the top job until he gives it up himself.
Golden Gate Yacht Club members are not happy.  Notwithstanding their recent "support", Challengers are not happy.  Sponsors are not happy (or nonexistent).  And fans are not happy.  Hell, even Obama has a 40% approval rating.  But how long will the notoriously headstrong Larry Ellison continue to allow his reputation and the sport he loves to be screwed over by a piss-poor businessman who's proven that he is terrible at everything…except for one skill:  Winning the America's Cup?
Unless this is all part of the plan…screw everyone and you might not come so close to losing the next one?
Is there anyone in the world left that supports Russell Coutts?
July 28th, 2014 by admin
Looking for some of the great sailing videos this week to watch on a near-summer Sunday?  We've got it for you right here.
High Line
As much as we like the one-design idea of the next Volvo Ocean Race, there's no doubt that the usual buildup of excitement for the VOR is largely gone without the open design challenge of a developmental class.  The VOR hasn't handled this change with a lot of grace, but Rick Deppe and his video team are finally getting it rolling, and this look at what it's like to work in the sky is both beautiful and interesting.
Time Line
Petey Crawford shares a time lapse look at a series of 'days in the life' of a sailing videographer, with a nice track and some of the prettiest scenery you can imagine.
Scout Report
We never let a chance to speak to Loïck Peyron slip by, and he stopped by the Austrian Alps with Artemis teammate Iain Percy to have a peek at the foiling GC32 action on Lake Traunsee.   Mr. Clean sat down with the boys to see what they thought about the foiler and where it fits into the AC world, and watch the final day of action at the GC32 Austria Cup right here on the front page starting at 1000 CET/0900 UTC today.  For dozens more interviews, go here.
Scouts Rising
If sailing is to ever to grow again, it ain't Yacht Clubs that will make it happen; it will be the sailing centers, community organizations, and folks like the Sea Scouts who spread the word to the unwashed masses.  Huge, well-funded spots like the new 60,000 square foot Sea Scout base in Galveston, TX will lead the way; check them out above and support Sea Scouts in your neck of the woods.
The Haunted
Sure it's a sport, but it's also all about soul and history and isolation and all the things that don't easily fall into the realm of 'competition.'  Here's a look at some of that soul, captured by some of the sport's ocean racing pioneers.
May 31st, 2014 by admin
AC34 Challenger of Record Artemis Racing has had a rough year of it; first losing Bart Simpson, then blowing some $100M of team owner Torborn Tornquist's cash in what turned out to be the a completely uncompetitive bid for the America's Cup and the weakest in the fleet.
Artemis boss Iain Percy has been busy building Tornquist's team for AC35, with helmsman Nathan Outteridge signing up again and a design team rapidly coming together, but Russia's military action in Ukraine may throw a wrench in Tornquist's money machine if a Reuters report yesterday is a sign of things to come.
Reuters (via BusinessInsider) says that the US Government's latest round of economic and travel sanctions names Gennady Timchenko (on the right in the image above), Tornquist's partner and the co-founder of oil and gas business giant Gunvor, writing that "Timchenko's activities in the energy sector have been directly linked to Putin" and that the Russian President "has investments in Gunvor and may have access to Gunvor funds."  Timchenko's US holdings are immediately subject to an asset freeze and the oligarch can no longer travel to the US or its territories, and he 'sold' his 44% stake in Gunvor yesterday to Tornquist to prevent the turmoil from effecting the monster company he built.
With Europe in strong solidarity with the US and Russia showing no signs of backing down from its occupation and annexation of Crimea (and making strong moves now in Latin America), could Tornquist be next, potentially losing the ability to sponsor his Cup team or even attend any US-based events?  Almost as importantly, the Russian annexation and its consequences certainly crush any hopes that Russian gas giant Gazprom had for getting their own Cup team off the ground this year.  That could kill two well-funded AC teams off before the Protocol for AC35 even hits the mailbox, and the rumored Russian ACWS venue negotiations are not going to go well.
Nice work, Vlad!
March 21st, 2014 by admin
An entire summer without time for practicing hasn't seemed to hurt Nathan Outteridge much, as his 1-2-1 scoreline gives him a massive 12-point lead over Rob Greenhalgh after three marginal-foiling races.  It's a great mixup in the Top Ten, with 3 UK, 3 US, and 4 Aussies showing what the rivalry is all about; read the Worlds news story here.  Check out the video above for the day's action from Penalty Box, with delicious pro kiter Gretta Kruessi on the microphone.  For a more in-depth interview of the former Artemis skipper with Mr. Clean, go here.
ThMartinez photos here.
October 16th, 2013 by admin