Posts Tagged 'artemis racing'
Clean Report
Terry Hutchinson's surprise departure from Artemis Racing a year and a half ago was overshadowed by Big Red's tragic accident a few months later, but we'd always noted how incredibly quiet Hutch was after getting the flick.  An article in his hometown-ish Baltimore Sun gave a clue as to why a short time after his ouster; "not wanting to say anything that could jeopardize the terms of his release…" was how the author put Terry's reticence to open up, and that's all anyone would get for more than a year (not that it stopped the speculation for a minute).
Until earlier this month, when Maxim writer Alexa Lyons's interview with Hutch hit the interwebs; called "Can Sailing Be The Next F1" (Answer: No, dumbass), there was, at first glance, nothing remotely new or interesting about the piece – other than the fact a sailing profile was in a major national mainstream men's pub.  But one answer was a little shocking, and it was allegedly in response to a question from Lyons about his termination from Artemis Racing."I had a massive falling out with the owner of the team and the CEO about the safety of our yacht so they decided to terminate me." Hutch told Lyons.  "Ten weeks after my argument with the owner about the safety of the Artemis boat, the boat capsized in the San Francisco bay and one of the sailors was killed. It was a known thing that the boat was not safe…"
And today, he is backpedaling faster than a foiling AC72 in San Francisco breeze.
While Hutch has refused to answer any of our detailed questions on this one (despite 16 months of badgering and my reminder that a few answers would stop a lot of speculating), he admitted to us that he deserved all the blame for what Lyons typed up and published – though it would be easy and fairly graceful for him to fall on his sword for everything.   We can probably assume that his comments were some kind of breach of the Cup-standard non-disclosure clauses in any employment and termination agreement, for which he presumably received a nice severance package. But we know Hutch, and he's not the kind of person to slip up like this with a newbie editor of a pretty vapid magazine; maybe he was off on one of his early morning A-Cat training sessions when the Cup media people came through to do interview training?
Hutch certainly wouldn't be the first to be screwed by a reporter turning background conversation into foreground publication, through we doubt that Lyons, fresh off the intern roster and still proud of her title as "Project Manager, Maxim Hometown Hotties Competition" was playing investigative journalist, driving Hutch into a slip-up about the intrigue of the America's Cup.  Possible? Sure.  Likely?  No.
As for the specifics of what caused the big accident, we've told you before that we've never been happy with the information available, but after 16 months with seemingly no one else giving a shit, we've stopped caring too.  There's just not a lot out there other than one post from Hutch and one from a Maxim blog writer who interviewed him.  We'll leave it to you guys to figure out where reality lies.
And hopefully, the whole mess will end with Terry's strong and unequivocal apology, posted on Facebook an hour and change ago.  Here it is in full.
On August 7, Maxim magazine posted an interview about the 35th America's Cup that included some untrue statements and inaccurate remarks I made about Artemis Racing. To be clear, Artemis Racing is a well-organized and responsible professional sailing team that considers safety an absolute priority. My departure from the team more than five months prior to the tragedy of May 9, 2013 was on agreeable terms with the owner and my teammates. No one could have anticipated what occurred, and I meant no disrespect to the memory of Andrew "Bart" Simpson or to any current or past members of the Artemis Racing team. I deeply regret any misunderstanding that was drawn from the Maxim interview.

Regarding the safety issue specifically, following the capsize of the Oracle AC72 in October 2012, Artemis Racing went through a thorough safety review, including enhanced training for the crew. Every sailor conducted underwater survival testing, including carrying and learning how to use canisters of spare air in the case of an accident. As a participant in these exercises, I can attest to the fact that the sailors, shore support, and entire team made safety the highest priority. Like many professional sports where competition is conducted at the highest levels, the 34th America's Cup tested many boundaries, as demonstrated by the sheer power of the AC 72's, in both their size and performance.

As preparations for the 35th America's Cup come underway, I wish Artemis Racing and all involved success.

Thanks to Juvenile for the title inspiration.
August 29th, 2014 by admin
It's the one-year anniversary of Andrew "Bart" Simpson's death aboard the JuanK AC72 known as Big Red, and also Bart's wife Leah's birthday, and no one can say that Bart's friends – guys like Iain Percy, Nathan Outerridge, Paul Goodison, and Ben Ainslie – have let the memory of the man fade away, even for a few moments.  They've spread his name all over the UK in countless ways, with major time and money going into the creation of the record-attempting Bart's Bash and todays 's dedication of the Andrew Simpson Sailing Centre in Weymouth.
It all seems so uplifting until you realize that there still hasn't been a single word of the investigation into Bart's death released by anyone, anywhere, at any time – if one was ever completed at all. We asked the San Francisco PD whether their investigation was ever completed, and they said, "what investigation?"  We asked last year for the results of Artemis' investigation, and never heard a word.  Not a single federal or state agency has said a word about culpability for Bart's death, and we don't expect them to.
Is every one of Bart's friends willing to just say 'shit happens' instead of finding a shred of responsibility or accountability for the fuckups in design, construction, and/or sailing that killed their teammate?  We  expected it from disgraced team CEO Paul Cayard, who said next to nothing and basically became invisible after Bart's death until being booted from the team after Artemis' ignominious exit from the LV Cup.  But to get the same silence from real leaders; guys like Ainslie and Percy and Goodi who've never been bashful about speaking their mind, we expect better.
If this was Formula One, someone would be in court or jail right now, or at the very minimum, hauled before a governmental investigation panel.  But this is sailing, something no one in public office cares about for more than 12 seconds, and if Bart's friends inside the sport don't make noise, no one will.  While we think it's awesome they are raising all this money – much of it going to Bart's widow – we also wonder if maybe, the best way to remember Bart would be to find out exactly why his boat killed him after folding itself into little pieces on a typical day in San Francisco. You don't hold people accountable out of vengeance, or anger – you do it so history doesn't repeat itself.
CLARIFICATION: There's been a lot of discussion about our editorial above, and we'd like to clarify a bit:  We are not questioning the integrity of any of Bart's friends or family.  We are questioning why a death on an AC72 is any different than a motor sports, air racing, or traffic accident, or for that matter, any of the numerous life-ending sailing tragedies we've seen over the past couple of years, and we are questioning why people close to Bart haven't demanded more.  Low Speed Chase went up on the rocks just a few miles from San Francisco last year in a crewed race, killing 5 crew of the 8 aboard.  An extensive, expensive, nearly year-long investigation took place thanks to US Sailing, with a lot of important lessons learned by the hundreds of thousands around the world following the tragedy, and some closure for the families and friends of the deceased sailors.
Meanwhile, there's been no such response by US Sailing, ISAF, the USCG, the State, or anyone else for Simpson; rather, there have been a few open-and-shut inquiries by police departments with no apparent interest in delving into an area that's totally unfamiliar to them, with every move watched over by legal counsel to billionaire businessmen.  There has been an internal investigation by Artemis without a single page released to anyone outside a tiny circle of Artemisians.  What about the tens of thousands of fans Bart had?  What about an English public that cheered he and Percy on so strongly during the Games?  Do they not deserve more than silence?
CORRECTION: Richard Butcher is Chairman of the Board of Trustees for the Andrew Simpson Sailing Foundation, the charity formed in memory of Bart, and he wanted to correct our piece.  Over to him.
The purpose of the charity is principally educational, via the sport of sailing. This will partly be met by encouraging into the sport those youngsters who would not otherwise have that opportunity. One of our aims is to help find marine related apprenticeships for some of these youngsters.  Yesterday, we achieved a historic milestone in the charity's short period of existence by opening the sailing centre in Weymouth. This enables us to have a focus at a world class facility.  Every bit of the amount raised is destined to help fulfil our objectives, and we have every ambition of this becoming a world-wide charity once funding permits.
There was a serious inaccuracy in the item you published yesterday. None of the monies raised for the charity will go to Leah, Bart's widow. It will only go towards the fulfilment of our objectives. Leah is one of our Trustees and it would not, in any event, be permissible for her to benefit from the charity.   It is most important that those making donations to the charity, whether it be by Bart's Bash or otherwise, are not in any way misled as to what will become of their donations.
Yours sincerely,
Richard Butcher
May 9th, 2014 by admin
The incompetence of Paul Cayard and the silence of both he and Juan K in the wake of Artemis Racing's horror show of an AC72 program nearly ruined the team's name for many sailors.  Only through the incredibly hard work of the team and the leadership of Iain Percy does Torborn Tornqvist's team have any credibility left at all.   Cayard is now a ghost, unseen in public for months.  Taking over is Percy, and judging from his attitude and the early moves he's putting in,  Tornquist might actually have a credible challenge for the Cup on his hands.  
Pierre at Vsail.info had a chat with Iain at the final stop of the RC-44 circuit in Lanzarote.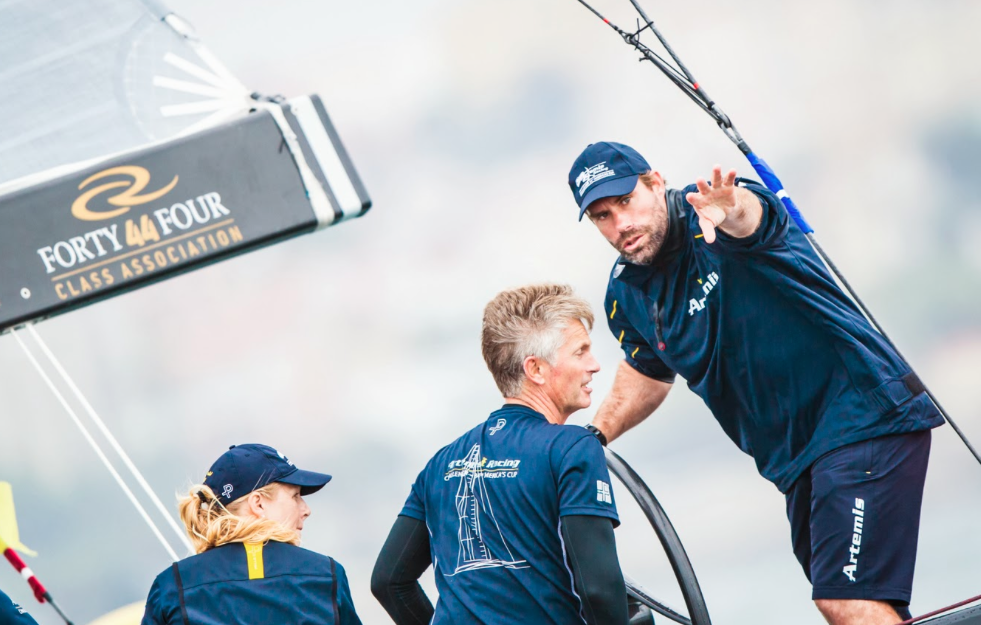 VSail.info: What is the next small boat you will sail now? The Moth?
Iain Percy: I wanted to sail a Moth and I asked my friend Adam May who works for Artemis Racing. He said I wasn't allowed to sail it because I was too fat and I was going to break it. We are trying to find a solution to that with a different boat. We will do a lot of foiling in-house and that's, obviously, the future of the America's Cup. You see it everywhere, it is becoming the future of sailing as well. It is a real step change, it's a cool feeling and it's incredibly efficient.
However, the focus now for myself and Artemis Racing is to build a strong team, capable of winning and dominating the America's Cup arena. That's our goal, that's Torbjörn's goal. Artemis went through some very tough times last year and some real highs when we managed to race against all the odds. It's time now to show we are a winning team, a serious, professional team that is going to win the next America's Cup. That's the team we are building right now, quietly, as we tend to do, not always to the pleasure of everyone else, including the press, but we get on with our business quietly, respectfully to all our competitors. This is the way Torbjörn likes it, the way he is as a man. We are very professional and with a real will to win.
VSail.info: I'd like to step back to the previous America's Cup. Artemis Racing was one of the teams that started very early, as early as the fall of 2010, had ample resources and became the Challenger of Record. However, it suffered from a series of very serious setbacks that culminated with the unfortunate and tragic accident last May. In hindsight, looking back, what were the errors the team committed? What lessons did you draw so that you avoid repeating them in this America's Cup?
Iain Percy: Huge lessons! To be fair, I think that all teams that did this new challenge for the first time learnt a lot and you learn from doing things badly. Like everyone else we learnt through both, through making mistakes. I wasn't very involved until after the 2012 Olympics but I must say that in the final 6-8 months, because of guys like Bart, Nathan or Iain Jensen, the feeling in the camp was absolutely incredible. I have, personally, never worked in such a politics-free team, such a hard-working, driven team. Where we were for most of the time I experienced, there was very little wrong. We are now going to be one team, in one venue, concentrating on winning the America's Cup. This is probably our central message.
VSail.info: In what regards the 34th America's Cup as an event how would you assess it? What do you think were its strong points and where do you think it could be improved? Do you have any criticism regarding the organization, the format or what you personally think should be done?
Iain Percy: One thing I never doubted was that Larry's and Russell's vision, what they truly believed, was going to be the best for our sport and the best for the America's Cup. I always supported that, I never was one of those cynics and, in the end, I think that the final product proved to be a step transformation for our sport. Finally, it was very appealing to the non-sailing public as well as the sailing public. Like we all learnt from our good and bad things, I'm sure the event will too. I think it's clear that both on the safety side and the cost side, it would be good to increase safety and reduce costs, so that we have more teams.
VSail.info: This means you personally think there should be more teams. Isn't the America's Cup after all meant to be just for the Torbjörn Törnqvists and Larry Ellisons of the world?
Iain Percy: I think the America's Cup will always be exclusive, it will always be the premiere event and it's never going to be an event for the masses. This is clear, it never has been and never will be. This is precisely part of its appeal. For centuries we had the involvement of people like Sir Thomas Lipton and it's always going to be the pinnacle and premiere. Just like Formula 1 or Premier League Football, it's an expensive game. However, there is a balance. You can make it so exclusive that just one man in the world can afford it and you can go down to the Optimist level where you have hundreds and thousands of people.
I think that collectively, ourselves, Torbjörn and the other teams would like to see a few more teams involved. It doesn't need to be a huge event, we want to keep it exclusive and we want to keep the "wow" factor in there and a few of the things that were breathtaking, not just on TV but also from the shore. I think that requires a certain boat size but for sure we support very much the efforts of Oracle and we are regularly communicating with them about cost, trying to get that balance just right. You want to keep the development element as much as possible, the excitement and the "wow" factor, that also comes from the development.
VSail.info: Everybody's raging about foiling but, after all, it wouldn't have existed if Emirates Team New Zealand hadn't developed it!
Iain Percy: Absolutely and that's another thing I have huge respect for them, having led the development side of that cycle, but there is a balance. We are trying to bring the costs down by 20-30% so that the next Cup can include a few more enthusiasts of our sport, companies and commercial partners, to join and make it slightly bigger.
VSail.info: That would also allow your buddy Ben Ainslie to find the adequate corporate funding and come in with a British team, wouldn't it?
Iain Percy: That would be great. I'm really proud of what he's trying to achieve. It takes a lot to take that on. He's genuinely trying to be a businessman as well as a successful sailor. Whether he succeeds or not takes nothing away from the effort he's putting in, which I think is fantastic for the sport. He's a huge name for our sport, he's a good friend but also incredible competitor. It takes personalities like him to take our sport beyond its traditional public and as a result, I really support what he's doing. I talk to him regularly and I wish him very well with that.
VSail.info: If at the end, unfortunately, he's unable to come up with the necessary funding for the British team, will you hire him for Artemis Racing?
Iain Percy: We are currently building a team independent of that, we have to. Myself and Ben are pretty open with each other that we don't need to play games with each other, after knowing him for 30 years. We at Artemis Racing need to build a team that is capable of winning and dominating the Cup arena. We are going ahead doing that.
November 22nd, 2013 by admin