Posts Tagged 'argentina'
Racing in Rio may have been completely overshadowed by mass protests, a wave of murders, the Zika epidemic, and a government in shambles, but if you missed the story of Santi Lange and his crew Ceci, it's one you want to catch up with.  From losing part of lung to cancer to winning Olympic Gold after two-plus decades of attempts, Santi is a legend – and this piece from The Olympic Channel is a well-produced look at his battle.  Above is just a trailer – the full 10 minute mini-doc is over here.
June 23rd, 2017 by admin
29 year-old Lucas Calabrese is perhaps the world's best Optimist coach, but he's also one of a handful of Argentinos to ever win an Olympic sailing medal.  He's back at it in the 470 Class this August, and our old pal John Casey caught up with him in an entertaining chat about a whole pile of stuff; meeting the Argentine president and being a celebrity for 15 minutes, crime and disease and South American politics and the Olympics, and much, much more in the next episode of the JC Worldwide Podcast.  Catch up with all of JC's work over here or subscribe on iTunes.
June 27th, 2016 by admin
Haegar/Provencha and McNay/Hughes offer by far the US Sailing Team Sperry's most solid medal hopes for Rio 2016, and with both duos performing exceedingly well over the past year, even gold is within reach this August.  But more than halfway through the Argentina Worlds (the first selection series for the American mens' and womens' 470 teams), neither team has quite found their form.  Stu and Dave lie just inside the medal race cutoff at 10, and Annie and Brie sit in 6th place, 3 back from the peaking past SCOTW Sydney Bolger with crew Carly Shevitz.  The big story is just how impossibly clogged the racing area is with massive, moving islands of vegetation pouring out the river mouth.  Supercoach Morgan Reeser reports (with thanks to Morgs for the shot of the Greek team soft aground):
Weeds continue to dominate the 470 Worlds.  In race 6 today, the 5th overall placed Greek team became mired in a maze of weed so thick on the first beat that they could not find a way out, so they retired from the race.  We had three races today, but were forced to move course areas for each race because of the weeds eventually took over the course area. Each course area move about a 3 mile change of venue.
I will never complain about a little bit of kelp again.
February 25th, 2016 by admin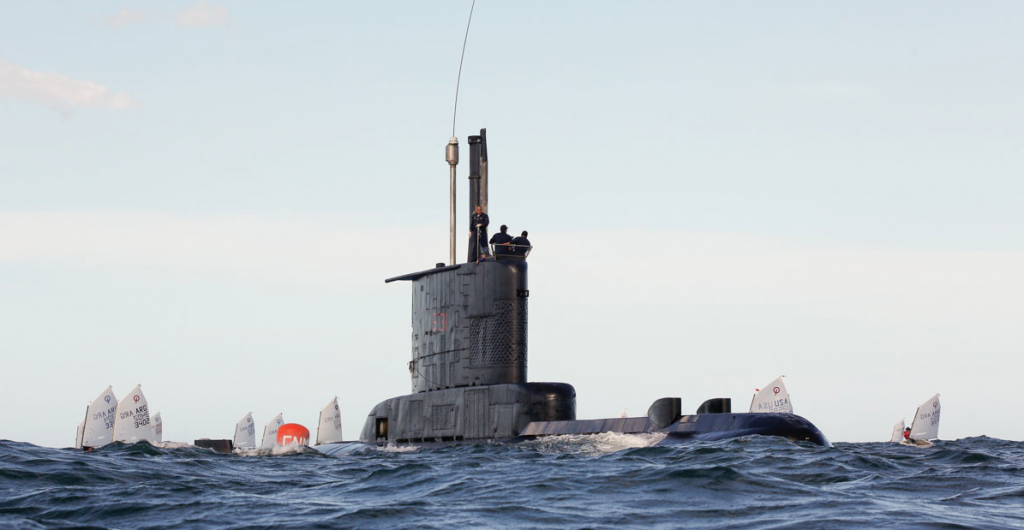 Argentine parents are taking this 'helicopter mom' thing to a whole new level.  
Get to the thread to insert your own caption of this hilarious picture and the real story.  Matias Cappizano photo from the Mar Del Plata Sailing Week.
February 7th, 2014 by admin