Posts Tagged 'annapolis'
Big Pimpin
The SAP 5O5 Worlds has everything you'd want from a big event: Container accommodations, spectator boats, live race coverage on the SAP youtube channel,  and the event website is a great source of information.  So far, all that's missing is the wind. Like Outkast so wisely said, "You can plan a pretty picnic, but you can't predict the weather."  The next few days are looking better with breeze coming in for the final days.
Seldén Mast has been on site all week in support. Their "Alto" 505 mast has won about everything there is to win in the 5-Oh class and they're raffling a brand new one this week. This Alto is from their new "XPS" aluminum alloy, which is harder, stronger. better against corrosion, and can take more bend without a permanent set – ideal in a dinghy mast. You can jump in the raffle at the link below.
From the SAP 2017 International 5O5 World Championship event:
Dear Competitors,
Our Partners at Selden are going to run a raffle for their brand new Alto Mast Section.  Each ticket is $1.00, 6 tickets for $5.00, or 12 for $10 to be entered and randomly drawn for this great prize.  We will announce the winner at the closing ceremony on Friday.  Selden has also agreed to generously donate all proceeds to the Olivia Constants Foundation (link).  The Olivia Constants Foundation was founded in honor of Olivia Constants, a talented young 14 year old whose life was taken away on June 23, 2011 in a tragic sailing accident. Olivia lived her life with such joy and has impacted so many people that we have been encouraged to continue her legacy through this foundation.  The Foundation is run by Steve Constants a longtime member and leader at SSA.
You can buy as many raffle tickets as you like to maximize your chances of winning this great prize!
To buy your tickets please use this Paypal link.
And if you don't know about the 505, now ya know, Sailor.
September 28th, 2017 by admin
If your dream boat was the Wauquiez Pilot Saloon 48, you may wish to steer clear for a bit; the boat at the US Sailboat Show in Annapolis seems to have some legal issues…
In other news, the new Gunboat is rising from the ashes of their bankruptcy on the back of the just-announced Gunboat 68.  It's just vaporware as of today, but with orders already placed, we expect we'll see this gorgeous creature IRL before too long.  and she looks gorgeous.  The VPLP design seems to integrate some of the swoopier, sexier lines of the Nigel Irens boats (G55, G60) without losing the look of power and substantialness of the more enduring 48/62/66.  With longtime SA'ers running the project, you can of course get firsthand info in the forums.  Find Nils and Mer hanging out at the boatshow.
October 8th, 2016 by admin
As one of America's most prestigious yacht clubs dating back to the late 19th century, Annapolis Yacht Club was always a little stuffy and elitist for our taste, but that doesn't take away our sadness at the nasty conflagration that totaled the Maryland mainstay with smoke and fire damage on Saturday.  A lot of good people will be out of work for a long time, and a massive collection of yachting history is likely lost, but there are two silver linings; first, reports say just one firefighter was injured, with no other casualties, and second, AYC member's race boats are tucked away for the winter.  The big drysail fleet lives on the site across the river, so the racing fleet shouldn't suffer big losses next year.  And who knows? The dockside might just get better without that posh, formal building to distract from what we all love – sailing (and it could be a great time to join SSA).
"We thank the Annapolis Police and area Fire departments for their quick action and our senior management for quickly evacuating the facility," Commodore Rod Jabin said in a statement. "We are saddened by the events of today but thankful that no one was seriously injured. The yacht club was closed to its members while preparing for the Lights Parade and all of the staff got out safely. Club officers and management will be assessing the situation tomorrow to determine the extent of the damage and move the process forward to rebuilding."
Info is in the thread here.  Photo from a sweet drone gallery on Mid-Atlantic Aerials on Facebook.
December 13th, 2015 by admin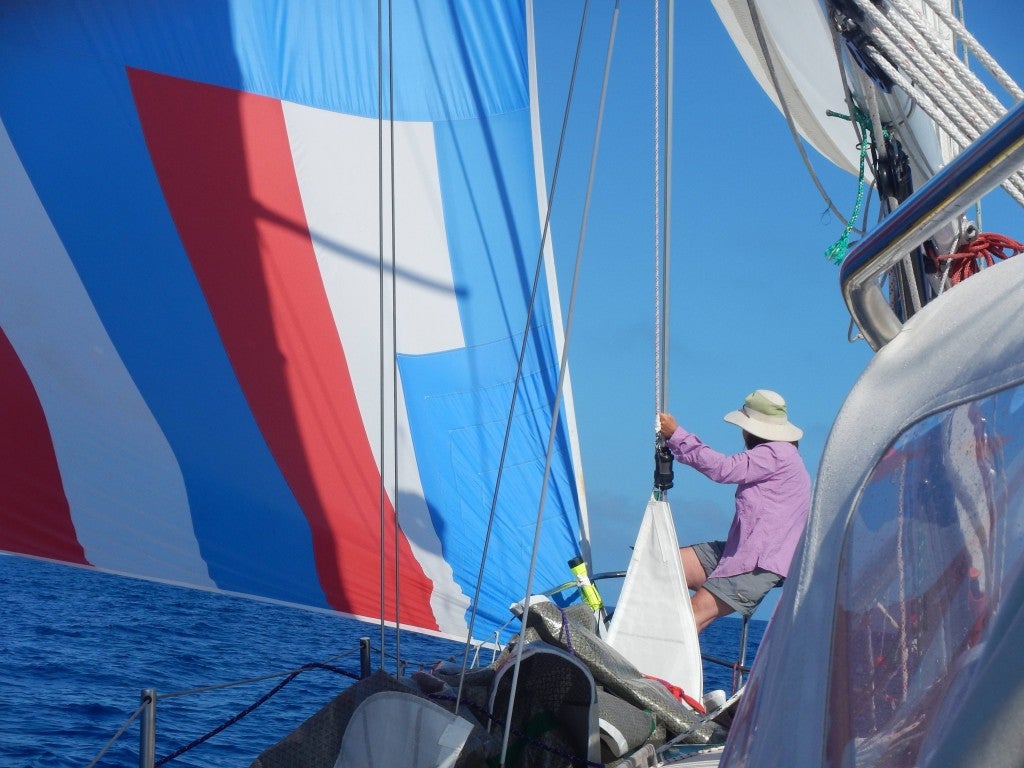 Annapolis SA'er 'just a skosh' reminds us that Sailor Chick of the Week ain't necessarily about winning at the top end (or having nice bottom end); female sailing's top honor is also about every women who marches to her own beat, shatters stereotypes, and powers through obstacles with her passion for the sport. 
With Team SCA winning the penultimate leg of the VOR, everyone has been praising them and saying what a big win it was for women in offshore sailing.  I think it's great that they won, and maintaining the intensity required to win this leg despite poor showings in the previous legs is a remarkable accomplishment.
While the women of team SCA may be inspirations to girls who want to be offshore sailors, I personally know at least one female sailor who deserves just as much praise as Dee, Sam, and everyone else on board the pink boat.
Lauren Anthone is the Annapolis based owner of a Nordic 34, Rover, and one of the best sailors I've ever had the privilege of knowing.  Lauren didn't grow up on sailboats, but she started sailing fairly early in her adult life, and caught the bug hard.  She's got thousands of miles of offshore experience, and bought her first boat, a Cape Dory 28, 11 years ago.
She is probably the most hands-on owner I've ever sailed with.  She knows every system on her boat forwards and backwards, and has done major repairs or replaced just about everything on the boat, by herself.  Easter 2015 we were motoring out of Back Creek when the engine temp alarm started going off when we had just cleared the creek mouth.  We very calmly turned the boat into the wind, hoisted the main, shut off the engine, and went sailing while she tore apart the raw water system.  Turns out the intake was clogged so we sailed all the way up the creek till we were just to windward of her dock, then she had my wife pump water by hand from a bucket into the strainer so we could moor up.
Last year Lauren sailed in the Annapolis-Bermuda race.  She had never done an offshore race before, and had only sailed in cruising class distance races in the Bay.  She spent the winter of 2013-2014 prepping the boat, including putting on a new coat of bottom paint, splicing new Dyneema lifelines, and doing the 101 other things needed to prep a boat that had never gone seriously offshore ready for that kind of a race.  She had a lot of help from her friends in the Annapolis sailing community, but she also did a ton of the work by herself.
During the race, we had a rash of systems that had issues.  From the tricolor flickering on and off during the first two nights to the head clogging, Lauren was always the first one opening hatches, access panels, and diagnosing the problems.  Out of our crew, I was the only one who had sailed an offshore race before, and in fact 3 out of the six had never even been offshore period.  Lauren's calm, assertive leadership style kept us focused throughout, and helped prevent any conflicts between us.  Like most boat owners I know, Lauren thinks she knows the best way to do things on her boat, but unlike a lot of people, she is more than willing to listen to other ideas and try them out.
We made it to Bermuda safely, and quickly, finishing 2nd in class, and 4th overall.  Not bad for an owner's first offshore race.  Since then I've sailed with Lauren on a few distance races in Annapolis, and have been absolutely impressed with her focus on the helm.  When she's driving, that's all she's doing.  She relies on her crew to trim and call tactics, and only interrupts if she is concerned for safety, which is rare.  This has translated to success on the race course, where she hasn't finished outside the top 5 in a while.  And this is with a 30+ year old boat that hasn't had a new sail bought for it in over 5 years.
I think it's great that there's an all-womens team in the VOR.  They provide a fantastic inspiration to young girls across the world, but it's just as important for female sailors to see someone like Lauren, a regular woman with a regular job, who maintains and sails her boat to an extremely high level, while maintaining a great attitude and being a fantastic friend.
Also, for all you lonely sailors out there, Lauren is a very eligible bachelorette.  If you've always wanted a significant other who loved sailing, look no further, but be warned that she'll probably be way better at it than you.
June 11th, 2015 by admin
While the weather didn't cooperate to make our lives easy during our test sail window in Annapolis, Anarchist 'gone' went and did some of our work for us, with a good comparison after test sailing the two sexiest monohulls to hit the racing scene in years.  He sailed both the Farr 280 (which just hit UK shores) and the C&C 30 (with orders spreading quickly, especially in the Midwest) and posted a good little comparison.  For loads more about either boat, check the F280 thread here and check in with C&C via Facebook (until we can find the thread).  Photos from Meredith Block (F280) and Onne Van Der Wahl (CC30).
I sailed the 280 in 8 building to 10-13. As the breeze built, the Farr rep shortened the headstay and tightened the rig up and the easily hit the polars for the wind speed. The boat has a solid feel when it sits on her chine going upwind. I really like the systems on this boat, they speak to my inner MacGyver (TV character that could disarm a warhead with his pocket knife, dental floss and a toothbrush). The boat is fast to accelerate and decelerate, which is a small boat feel. This boat will reward handsomely the crew that cross-sheets the jib going upwind.
Downwind the boat scooted along but one must keep the boat up on its chine or it sticks to the water. The rep showed how proper crew position really influences performance downwind. Boat was moving at mid 8's sailing VMG angles, I do wish we had a little more breeze to get the boat popped on plane.
The C&C 30 was sailed in 11 building to 20+. This boat has a more big boat feel. Most of this effect comes from the higher freeboard. Rig adjustments are done with a screw driver and wrench. I sailed the boat upwind in the big breeze and it the boat stayed near its polars through the building chop and went back up to speed by pressing on the jib slightly.
The downwind ride was something. In displacement mode keeping the boat on its leeward chine is important. The boat pops onto a plane around 15 knots. When the boat gets ready to pop her nose drops and when it starts rising the boat rapidly accelerates. We saw 20.5 knots of boat speed sailing angles between 150-155 degrees.
Both boats are quality builds. I have raced on custom boats from MORC 25 footers to TP 52's and the 280 is the closest I will ever be able to affording a custom quality boat. Premier creates jigs (think this is the term) for pre-bending the foam before it is put in the build mould. Farr oversees the whole build process and specs all laminate schedules and resin amounts. Premier actually pre-measures the amount of resin to be used in each part.
So the big finish:
Both are great boats, but I prefer the 280 because I enjoy adjusting boats to make them go fast; in fact it is the learning how the boat communicates is what I find most interesting about racing.
October 22nd, 2014 by admin
Clean Report
Two big events for the US kick off this weekend – the first is the US Sailboat Show in Annapolis, and the second is the Volvo Ocean Race.  And as usual, SA's the place to go for the best info.
After 6 years of economic mayhem and dying boat shows, the US economy has (maybe? hopefully?) finally begun the broad-based recovery we've all been waiting for, and our luxurious hobby is responding at last.  Sales are flat or increasing throughout the industry with both small and large boats selling, and, at Annapolis at least, it appears the exhibitor list is finally growing again.  For our part, we're excited to see a new 'Racing' section at America's most important sailboat show, and we're especially stoked to see sexy new offerings from our pals at C&C and Gunboat hit the water.  And we timed our visit to hit what might be the most fun couple of hours at the show: Saturday morning's start of the Volvo Ocean Race – live and loud – on the 70″ flat screen at the Musto booth.  With mimosa and bloody mary accompaniment.
We're toting along The Goddamned Reverend Petey so we can get some high quality video interviews, new product showcases, and 'first sail' reports from the deck of the new boats, and we encourage you to send us an email with your booth location and product description if you've got something cool to show our team.  If you want to shoot the shit and just buy us drinks, you can e-mail us too.  For a decent bit of enthusiast info on the show (and the spot we ripped this photo from), check out this blog.
October 10th, 2014 by admin
The never-ending J/Boats celebrity bounty from the keyboard of StuJ continues to roll, with today's installment focusing on the talented and ubiquitous actor Kevin Bacon and his lesser-known brother Michael.  With this news, every American sailor can say they are now just a degree or two separated…
Ever since learning how to sail on Sunfish at Red Cross summer camp in upstate New York as little kids, Michael Bacon and his younger brother Kevin always loved to head down to the lake for a swim and a sail, often doing both at the same time.  Having spent summers at their family's Adirondack camp, the sporting challenge for the day was often nothing more than hopping into a cedar sailing canoe that their Mother gave to their Father as a wedding present.  Using a simple leeboard and a paddle to steer, the boys would have fun trimming the sail on the little lateen rig, going for adventures across the lake like one of their childhood folk heroes, Huck Finn.
After growing up in Philadelphia, the boys went their separate ways, but they retained two great bonds: Boating with friends, and a love for music.  While Kevin went off to greater fame and fortune as a Hollywood movie star, Michael stayed in the New York area and ultimately grew his business in the music industry, both as a song writer and performer.  Having played in various groups in the past, the two brothers joined together in 1995 to create The Bacon Brothers.  That re-connection also fueled their passion for going sailing and having fun anywhere they had a gig near water.
Michael became a happy J/22 owner recently, having bought his boat from the Commodore of the Corinthian YC, a beautiful little club on the Delaware River not far from Philadelphia, PA.  With the help of the Commodore himself and friends at the club, Michael not only became a proficient sailor on his J/22, but also managed to squeeze in an ASA Coastal Navigation course at Manhattan YC, practicing on J/24s and J/105s.  His dream is to bareboat charter in the Caribbean and is already charter certified…and a trip this coming winter to J/World Sailing School in Key West won't hurt.
The Bacon Brothers' latest road trip to Annapolis was for their annual appearance at the famous Ram's Head, where they had four sold-out shows booked.  What to do with a weekend full of working nights and lots of playtime during the day?  Of course, find some Napolitan locals and go sailing!
Each of the past few years, Harry Legum of Annapolis Sailing Fitness has urged the brothers to go sailing on the Chesapeake Bay with friends.  Last year they sailed a J/105 and took a tour of the Bay.  This year Harry wanted to dial-up the sailing experience a notch and tap into brothers' competitive side.  He enlisted the current J/80 North American champs Will & Marie Crump to host a little match-racing on two identical J/80s.
With cool weather and steady easterly breeze that seemed to defy the standard July conditions with "less than zero" winds on the Bay, the group gathered at the Annapolis YC dry-sail area for a brief white-boarding session from Marie . Shortly after, teams were divvied up first by driver, Will on one and Marie on the other; then sorted by Bacon Brother, Michael with Will and Kevin with Marie and then on to the rest of the group that included Michael's wife Betsy and twin sister Pat along with other close friends Hilary and Andrew Armstrong.
The morning plan was to perform 4 practice starts before moving on to actual races. Once off the dock, the Bacons were introduced to close-quarter trimming techniques on the J/80 and then a few practice maneuvers, including start-stops and penalty turns. When the first sequence began the teams wasted no time showing that bragging rights were important. From the first dial-up, the Bacon's were into it with a little shock, some excitement and smiles all around.
Race by race, the teams sailed matches that included penalties, changes in lead and overall tight racing with some extremely close calls. Neither team was out to make any concessions in this friendly outing. By the end, older brother Michael was happily taunting younger brother Kevin over the race record and challenging for more— seemingly the old "playground rules" when they were kids haven't been forgotten!
Later that evening, the Crumps, friends and fellow Napolitans, enjoyed the Bacon Brothers' show at Rams Head Tavern. Kevin, in particular, was gracious enough to talk on stage about their interest in the town and the sailing it offered, with a special "Thanks" to all their hosts.
August 1st, 2014 by admin
By now you know that we think the Carkeek 40 is the fastest 40-foot monohull we've ever seen.  In any direction except straight upwind, the pocket maxi sails faster than most boats twice her length, as Steve Benjamin's Spookie proved convincingly in October's AYC Fall Series (Long Island) under IRC and then reinforced a week later in the Annapolis Big Boat Regatta.  Spookie didn't just beat a fleet of 'conventional' 40-50 footers (and one slow TP52), she destroyed them, sailing so far ahead of the fleet in the distance race that they sailed the wrong course, and after finishing, went back on course and sailed another 10 miles to get a score.   This let the sexy new Ker 40 Catapult sneak in for the IRC victory (Spookie took second) ahead of a fleet of 'IRC-friendly' boats, while the Carkeek walked away with the HPR trophy (and thanks to Randy Blomquist for the great shot). Tons more great shots from Dan Phelps here.
All that aside, that's not why we're featuring her on the front page today; for that, you can thank her sponsor.  We just can't resist anything from Swisher, even their e-cigarettes.
But just imagine for a moment the sponsorship opportunities once marijuana is legal all over the country.
November 5th, 2013 by admin