Posts Tagged 'anna tunnicliffe'
In news that will make even the most cynical US Sailing Team spectator rejoice, Anna Tunnicliffe has entered her Laser  in the Sailing World Cup Miami next week for the first step in what everyone hopes is a huge comeback.  By most accounts the fittest sailor in the world (and possibly the single fittest athlete on the entire US Olympic Team back in '12 according to USOC staff), Tunnicliffe famously ditched her 2016 campaign for a life of Crossfitting with her significant other (and you really want to see that photo…)
Tuna did well in the huge world of Crossfit but failed to set the world on fire,  and we're praying a good result in Miami will get her sailing passions rekindled for the 2020 cycle.  Anna is an absolute beast on the water and she'd be an immediate medal favorite anywhere she competes, but she adds a lot more than that to any team: Her work ethic, mentoring ability, and team leadership are legendary. Anna's already been working out with the team in Miami, and she's picked up right where she left off.  Please, Anna!
January 17th, 2017 by admin
We wouldn't usually burn the majority of our readers' eyes with a photo of a naked dude and like 99% of the folks born after color TV was invented, we'd never heard of ESPN THE MAGAZINE until they put a nude sailor in their pages 2 years ago.  But we've gotta give some love to sailing's King of all Redheads and share him with our tens of thousands of female readers…right?  Jimmy appears in this month's 'Body Issue', and while he doesn't do the same justice to the genre that fellow Cross-Fitter Anna T did, the dude's got some seriously scary big deltoids.  Fittest male sailor in the sport?  Based on these pics, pretty close.  And he doesn't even have to grind!  Pic from Jimmy's Facebook Page, and a peek at the magazine (since we know you're not actually going to buy dead trees, right?) over here.  Don't get the title reference?  Get urban.
July 8th, 2014 by admin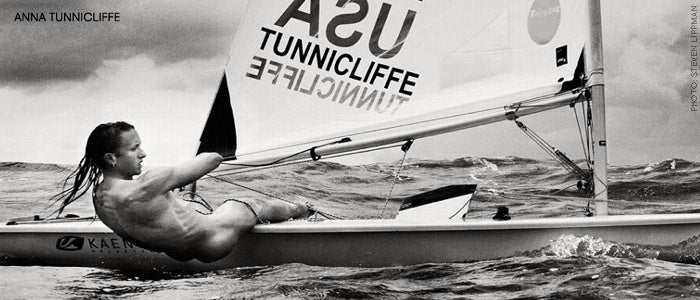 If we were betting men, we'd start selling short on the US Sailing Team's Olympic medal hopes right about now after Anna Tunnicliffe's not-so-shocking announcement earlier this month that she was retiring from her Olympic 49er FX campaign with crew Molly Vandemoer.  Insiders have noted Anna's lack of close connection to her teammates for some time; along with her obsession with CrossFit competition and her becoming one of the fittest humans on the planet, Anna has a non-sailing boyfriend and knows very well how all-consuming a real Olympic effort must be.
Anna is one of those extremely rare people that can do what mommy and daddy always lied to you about; anything she put her mind to.  That ultra-rare focus, power, and intensity translated into 1 Olympic Gold Medal, 2 ISAF World Sailor of the Year awards, 2 World Championships, Multiple Podium World Championship finishes, and a lot of World Cup titles for Anna, who'll be remembered as one of America's top sailors – if not the best –  of the past decade.  She's not gone forever; we anticipate we may see Anna on some big boats and maybe more of the Extreme Sailing Series-style stuff.  But with one of America's only proven winners now out of the Olympic game, weak results from the rest of the team in recent World Cup level-events, and a decidedly pessimistic feel from much of the US Sailing Team lamenting too much of the 'same old, same old," a rapidly-approaching Brazil is not looking good for the Red, White, and Blue.  Maybe Josh and Charlie have something special up their sleeves – we've just confirmed that they're about to sign the papers on a brand-new US Sailing Team Training Center based out of the Clearwater (FL) Community Sailing Center – but that just sounds like more of the 'divide and be conquered' approach that so humiliated American sailing in Weymouth.
If you're interested in the US Team's progress, pay close attention to the Miami OCR (or whatever the fuck ISAF is calling it these days) coming up later this week. Talk more about Anna here.
And those who don't know what the title reference means, remember that her nickname has long been 'tuna', and then go to a fucking library.
January 22nd, 2014 by admin
The world's fittest female sailor and former Sailor Chick of the Week Anna Tunnicliffe has ended our long time 'difference of opinion' with Ernesto Bertarelli's Alinghi team.  How can we not cheer for this incredible sailor chick calling tactics for one of America's best high-performance sailors at the helm of one of the most successful team in sailing history?
Alinghi and Muscat, The Wave are tied on points going into today's finale of the Extreme Sailing Series in Wales; Morgan Larson squares off against Leigh MacMillan, and we're all ready to wash off some of that LVC stink and finally see some competitive catamaran racing.  It starts at 11 AM EDT/8 AM PDT right here.
August 26th, 2013 by admin