Posts Tagged 'Amory Ross'
Cruising is at its best when it's about uncovering mysteries and discovering new spots, and when world-famous snowboarder Travis Rice and big-wave surfer Ian Walsh are the ones doing the searching, we're all in for a treat.  It doesn't hurt to have former Volvo Ocean Race filmmaker Amory Ross aboard either, and a Gunboat 48 (awesomely named Falcor) ain't a bad ride to do it in.
The trailer above is for what we expect to be a series about Travis and Ian's search filmed during their 2500 Tahiti to Hawaii trip.  First real short film drops next Thursday, and we'll have it right here.  Thanks to Gunboat for letting us know about it, and to ROAM and whatever the hell Gnarbox is for making it happen.
December 2nd, 2017 by admin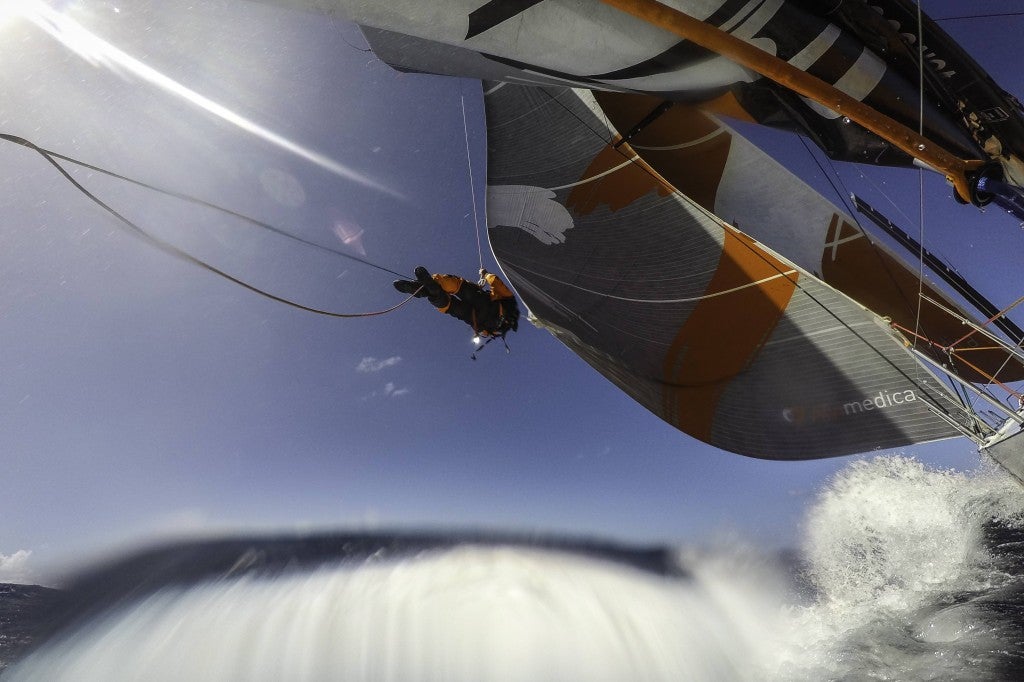 With thousands of photos coming through the Volvo Ocean Race satellite pipeline it's easy to skim past them, but this one sent in from Amory Ross a few days ago is, as of today, our favorite shot of the entire race.  It's likely Team Alvimedica bowman Nick Dana untrapping a halyard in big waves churned up by Cyclone Pam, and the tilt/shift effect on the crashing wave and the crispness of the headsail and logo create a truly unique and stunning contrast aboard the boat that's currently in the lead as they work their way into the Southern Ocean.  For one of the prettiest art shots of the race, check another Amory grab here.
Weather analysis, race chatter, and general yapping along with hundreds of your buddies in here.
March 20th, 2015 by admin
If Sam Greenfield's latest Volvo Ocean Race video doesn't get you stoked for the race, nothing will.  Along with Amory Ross finding really finding his writing voice during last week's Team Alvimedica Transat, Americans should be proud of having two of the best young storytellers in the sport playing key roles in the biggest ocean racing event we've got.  They're also helping US fans get stoked about their team on the world stage, and we're digging it.
Alvimedica's updates are most easily followed via Twitter, and browse the VOR's channel for some of their latest work here.
June 10th, 2014 by admin
If the US Sailing Team can race as well as Amory Ross can shoot video, Brazil is going to be full of shiny golden trinkets for our Americans. Get to know the team in the first excellent Olympic sailing video we've seen this cycle, and props to Sperry for throwing down the coin to get this kind of film made.  Show your support here.
May 29th, 2014 by admin
With a number of long time friends of SA on the US Sailing Team, we've been anxiously awaiting the Amory Ross shot and edited 6-part Youtube microseries Rising Tide that, we were told, would really help get America pumped up about the athletes who'll represent America in Brazil in 2016.  And with Amory's track record of pulling a good story together (think Mar Mostro in the middle of the Atlantic with no mast) we had high expectations.  But after checking out the 8-minute long Episode 1, we have to say we're underwhelmed by the Sperry-underwritten production; and based on the decidedly weak viewer numbers after two weeks online and an e-blast to the full 40,000 US Sailing list, (a hair over 2,000 views combined between Sperry's and US Sailing's pages), the public agrees. While it's great to see good production values and pretty imagery rather than the usual blurry Facebook interview, there's very little meat in the movie except for a heartfelt speech from one of our best medal hopefuls, Paige Railey.  Both the team and the director can do better; consider the fire under your asses lit.
March 8th, 2014 by admin