Posts Tagged 'America's Cup'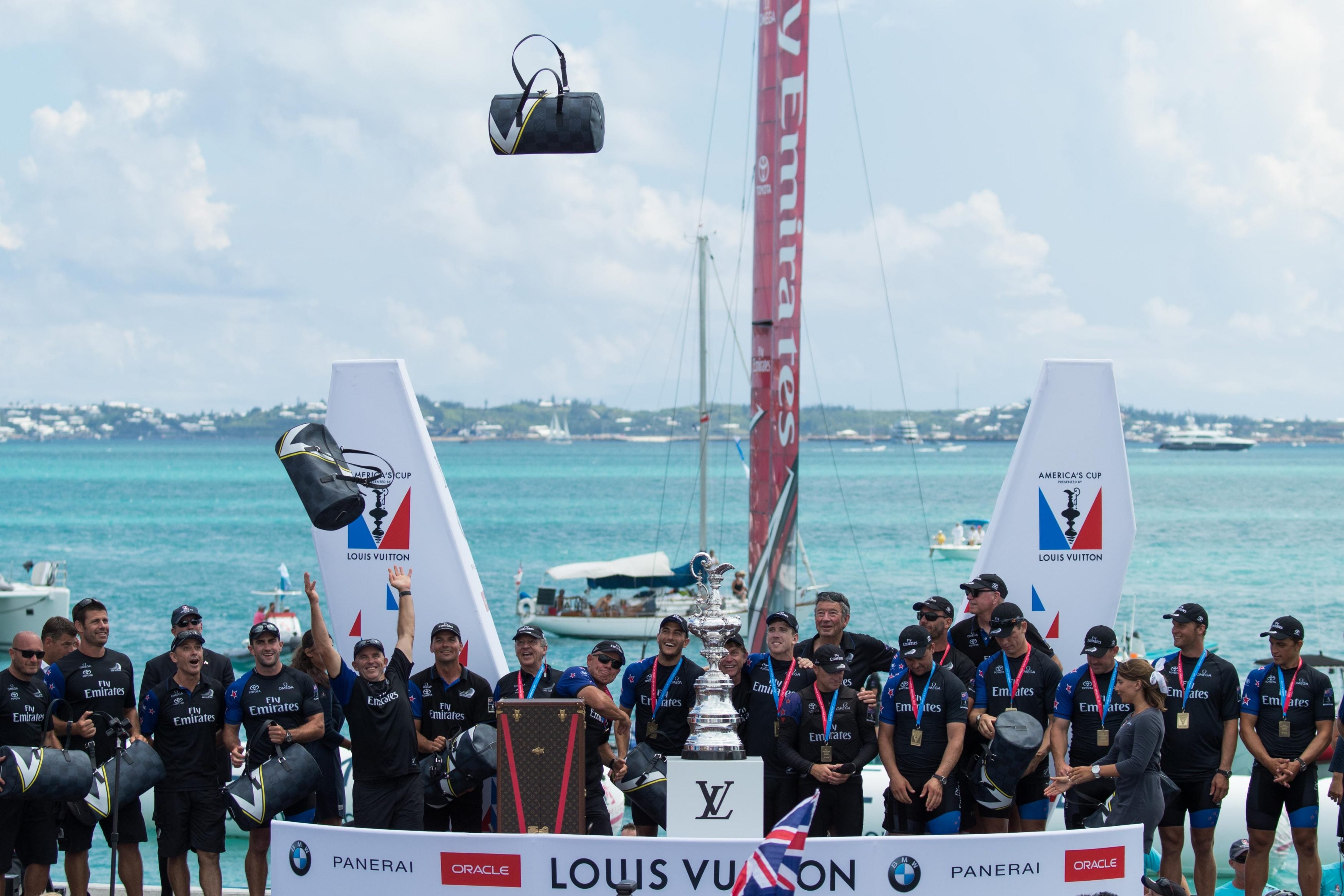 All sporting competitions have losers, but the America's Cup has more than most.  For the Bermuda America's Cup, we're not sure yet just who the biggest loser is, and while it will take some time (and some numbers) to figure out just whose ass is bleeding the most, we've got our ideas:  Is it Russell Coutts, who lost his first-ever America's Cup after winning 6 of them as either CEO or Skipper, while picking up a reputation as one of the worst event administrators in the history of the Cup?
Or perhaps it's Bermuda, where a funereal pall has descended on an island that was promised so much by Russel and his minions and is now left with nothing but a huge bill, terrible TV ratings, a giant new events center in a country that doesn't have enough inhabitants to attract big events, and a July election that will likely see the AC-friendly government out on its ass.  Is it Franck Cammas, who has all but promised that his sponsors will not spend the money to go to New Zealand?  Or is it Jimmy Spithill, who was not just beaten around the course, but beaten at his own game – the starting box, and the press conference – by a kid who was sailing on the Youth team just four years ago?
Actually, the biggest loser might just be the folks at Louis Vuitton, and as you can see in this photo from the final awards ceremony, the new holders of America's Cup don't like their overpriced bags at all.  That's tens of thousands of dollars of ugly-ass Louis Vuitton "prize" duffels being launched into the crowd by ETNZ seconds after receiving them from some functionary, and with Prada now the Challenger of Record, it's safe to say that the next America's Cup will be the first in a very long time where Louis Vuitton ain't on the event sponsor list, the guest list, or any other list.  Good news for tennis, golf, and motor racing though – give LV a call folks – they'll have some spare sponsorship money laying around now!
Photo courtesy of Richard Hodder/Emirates Team New Zealand
June 28th, 2017 by admin
Every now and again some rich guy tries to dispute the validity of an America's Cup challenge, and a couple of hours ago this photo surfaced to nip all that in the bud.  The photo, shot aboard ETNZ principal Matteo De Nora's 46m Imagine, shows the Commodore of the CVS handing over their Challenge to the Comm of RNZYS at the actual moment ETNZ completes its dominant run over Oracle Team USA.
Chat about the new Challenger of Record in the COR thread here, and vote for the kind of boat you'd most like to see in AC36 in Auckland in the Next AC Boat Poll thread here.
June 28th, 2017 by admin
This could very well be the final briefing of the ACRM age. regatta director Iain Murray and head judge Richard Slater answer our questions and lay out Day 5 of the 35th America's Cup Match.
June 26th, 2017 by admin
This great piece from the aptly named "Civilian" news. Its slogan?  All The News That Fits On A Page. 
After two consecutive wins against Team Oracle in Bermuda, Emirates Team New Zealand have set themselves up perfectly to lose the competition 7-6.
The New Zealanders pushed themselves out to a 6-1 lead this morning, maintaining the position they've held for the last four years; one win from victory.
Helmsman Peter Burling said he was "very happy" to have reached the same milestone the team did in 2013.
"A large match-point lead is what we've been aiming for this whole competition," he said, "so we're very happy to get here, and we feel we're now well poised to lose from this point on."
But despite a cautious optimism, Burling says the job isn't done yet, and that it "won't be easy" to lose another six races in a row.
"That will be a challenge," he said, "and I think Jimmy [Spithill] and his crew will certainly give it their best shot."
For his part, Spithill isn't counting his chickens either, and is instead planning to race boats.
"We're not taking this for granted, no," said Spithill, who answered questions today flanked by 3 screens playing the last race of the 2013 Cup in San Francisco. "The consensus amongst our guys is really, this is going far, far too much to plan for our liking.
"In some ways it almost looks like they're trying to give us the win, so we have to be wary of that."
Asked if he could turn the video down so reporters could hear his answers, he replied "No, I won't do that."
Despite the fact there may only be one race left in the competition, Oracle has demanded four more press conferences for tomorrow morning, as Spithill feels he hasn't talked enough yet.
June 26th, 2017 by admin
For some reason, a nervous Kiwi nation can't be consoled by talking to their countrymen, so they turn to Mr. Clean to calm their frazzled nerves.  Here's a strong 7 minutes of live radio with Sailing Anarchy and Newstalk ZB's Larry Williams on what to expect for Day 5 of the America's Cup Match.
June 26th, 2017 by admin
While the Bermudians should be proud of providing an excellent in-person experience for fans of America's Cup racing, the media output from the event has been – until quite recently – far weaker, with the dull press conferences at the centerpiece.  Fortunately they allowed longtime Chicago media pro (and F-18 and A-Cat racer) Laura Muma to take over last week, and with Mr. Clean showing the rest of the reporters how to get their hands dirty after his arrival, things are finally getting interesting.  Still, we absolutely love this shot posted by Facebooker MOA BEER last night of Pete "Sam The Eagle" Burling and Jimmy "Rowlf The Dog" Spithill.
To watch Jimmy finally begin to crush under the pressure of a woefully unprepared and underperforming America's Cup effort, head into last night's Press Conference, below.  Two more races today (if necessary)…and we've learned not to make any predictions when things are on Match Point.
June 26th, 2017 by admin

Is today the day the battle really begins?  Maybe so, but you'll need a good weather report first.  Here's that and much more as shot live just a few minutes ago in the BDA. Click for a discussion of yesterday's penalties (with data), discussion of rudder and board mods, and other rules questions answered by AC head judge Richard Slater and regatta director The Big Fella, plus a bonus interview with commentator Simon Shaw and legendary Kiwi broadcast voice Peter Lester.
June 25th, 2017 by admin
The hardest-digging sailing journalist in Italy spotted the former Ruler of the Cup in Bermuda last week, and his short interview with Ernesto Bertarelli touches on the kind of stuff any fan of AC history or high performance sailing will want to know.  Our translation, with thanks to the always-good work of Luca Bontempelli and La Gazzetta.
Sporting an Alinghi watch and hat, in a great mood, Ernesto Bertarelli is back in his element: water – or rather, the America's Cup.   He enjoys talking with everyone.
Bertarelli: "The other night I was having dinner at the home of Russell Coutts [holy crap! -ed], and we had a long chat about everything.  Except sailing. Against the beauty of Bermuda I realized he had nothing against anyone.  Life is too short to waste on bickering.  In fact the thing I am most proud of in my years of America's Cup racing is the personal relationships that I built. From pilot to rafts to the most important person in the Cup, I had a lot of testimonies of affection. This for me has great value. "
He was more than once in the shore base with the Kiwi team: "They showed me the base, I tried their simulator, we spoke, I can tell you that I am not the next Challenger of Record. I believe it to be Patrizio Bertelli with Luna Rossa if the Kiwis win.
One cannot tell whether he is ready to challenge, but there is no doubt the Cup is one of his passions, and underneath, there's work going on for an Alinghi return to the AC soon.
"It's important to increase the number of teams at this competition, doing what's necessary to ensure there is a base of 8 to 10 challenging teams.  Of course keeping the same boat will make this easier."
On Nationality requirements [reported as probably 80% of the sailing crew if the Kiwis win -ed]. "It is something I could support.  Speaking as a Swiss, after years of Alinghi  now there are a generation of sailors who are now adults, and they are ready to enter Cup racing. I do not see problems with this rule.
Does Bertarelli have any other ideas?  "Do not expect four years for the next edition, but three at the most.  In the meantime, have racing in the interim to keep the plate warm.  The TV product is there, but it needs development.  We always compare the AC to Formula 1, but there is a big return for F-1 teams and sponsors, and that's something we still do not see with sailing. You must give something concrete to the sponsors who want to finance a team, and of course you must have more nations – including Italy – which has always been a great engine for the Cup."
What do you think of the Cup up to here? "I really like the boats, which are fascinating and hold great potential in the future.   I was invited on board the French cat, thanks to Frank Cammas, and it really shows that they still have a lot of potential to be developed. With a few tweaks of the plumbing, they can become really fascinating boats ".
June 25th, 2017 by admin
Artemis Racing skipper Nathan Outerridge could have been one slip-and-fall away from turning the tide on the quick Kiwis and moving on to an Oracle that he clearly feels would have been an easier test, but he's good natured and honest about it in this 10 minute long interview with Mr. Clean on the pierside in Bermuda.  Clean finally brought some good questions to an island that's seen weeks of fluff from the vast majority of reporters on the ground, and his subject – also the guy commentating if you watched NBC or the NBCSN app in the states – is one of the brightest and most accomplished sailors in the sport.  Learn about Nath's feelings on his loss, whether Artemis will challenge again, Nath's opinion on the speed difference between the two AC boats, and Burling's mental toughness as the young Kiwi goes into tomorrow with a 4-1 lead. That and more in this 10 minutes with the flying Aussie from Lake Macquarie.
June 24th, 2017 by admin
Bermuda internet may not be quick enough for a live show down on the docks at the AC Village, but Mr. Clean's loaded up 18 minutes of pre-race analysis (in two parts, above), including some seriously interesting rumors about Oracle's case of the slows and the interesting Challenger possibilities opening up if ETNZ can close it out this weekend.  With 8-12 knots on call today and less tomorrow when Race Director Ian Murray can add a third race if it's match point, most are expecting this to be over by Sunday night.
Keep an eye on Facebook for interviews and analysis all day long.
June 24th, 2017 by admin