Posts Tagged 'America's Cup'
Offshore Rules
For a decade, Alex Thomson has distinguished himself as the one non-French solo racer who can truly battle with the big boys both on the course and in the boardroom.  Second in the inaugural Barcelona World Race and then an incredible third place in the last Vendee against far quicker designs, Hugo Boss has become synonymous with Alex and his Open 60, and they are clearly happy about it.  That's why the fashion house pulled the trigger last week on yet another 4-year deal with Thomson and management company 5West; they used the occasion to announce Thomson's participation in the next Barcelona World Race with long time SA favorite Pepe Ribes, and the team also committed to next summer's Ocean Masters NY-BCN race; a bit of a stunt to try to get US interest up in IMOCA action prior to what should be a well-funded, well-attended, and brilliant 2015 BWR.  Congrats to Alex and his entire extended team; they are keeping IMOCA relevant for a hell of a lot of English-speakers.
Inshore Fuel
Thanks in part to some of the same great supporters of Alex's campaigns, we can confidently report that Sir Ben Ainslie – the first British member of a winning America's Cup team in 110 years – is most of the way to meeting initial funding pledges and goals for the next America's Cup and an all (or mostly) British team.  While Sir Ben wouldn't confirm or deny this when we spoke to him, other Pommie friends tell us that Ben's been making great inroads, and probably has around 80% of the necessary funding pledged by a syndicate of UK businessman and long-time commercial sponsors.  This all assumes a satisfactory protocol coming to light sometime before Judgment Day, and it's spectacular news for the Cup and great news for fans of arguably the world's best (and best-known) sailor, and we wish him all the luck in the world.
World Championship of the World
We're also hearing that the AC45s may be done and dusted, and that 2014 will not be a year of ACWS racing of any kind.  Meanwhile, Ben, Cammas, Luna Rossa, and ETNZ are likely to jump into the Extreme Sailing Series tout de suite, and some of the younger potential Cup B-teamers may get some starting and match racing practice in a resurgent World Match Racing Tour.  Add in some cross training with the Flying Phantom foilers and you've got plenty of AC action for the next year, even with no AC.  Good times (on tight budgets)…
December 19th, 2013 by admin
While IMOCA figures out what to do with its future, some of its most legendary skippers are moving in another direction.  As first reported here on SA almost half a year ago, Franck Cammas is moving forward with his usual laser-beam focus on a French America's Cup bid, and an announcement at the Paris "Nautic" boat show may be the first indicator that he could succeed where Les Freres Peyron couldn't.
Picking up his second-annual French Sailor of the Year award last night, today Cammas pulled together a true 'who's who' in French racing history for this morning's announcement.  Michel Desjoyeaux will lead the technical team and Franck the sailing team, while Olivier de Kersauson and Stephane Kandler will handle the less exciting parts of the effort.
The team's "founding members" — in other words, the guys that have funded the initial sponsorship hunt and tried to open some boardroom doors — include big biz bosses Bruno Bich (Bic), Bertrand Méheut (Canal +), Thierry Martel (Groupama), Bruno Luisetti (formerly Kraft Jacobs Suchard) and Erik Maris (Messier Maris & Associés), but crucially no major sponsors were announced.  In other words, there's enough money to go looking for more, but not enough to start spending.  We also hear from les anarchistes in Paris that some of the veteran grinders are being asked to keep their schedules open for late 2014 and 2015's AC45 World Series, but no contacts have been signed…
The newly opened Team France thread is bound to be a big one; check it out over here.
Kiwi Kontinuity
While France throws its hat into the ring, Grant Dalton yesterday told 3News NZ that he was back in as well despite earlier question marks from the public and Dalts himself, and the bitter taste of a crushing defeat.  It's great news for AC35, as Team NZ continues to prove, year in and year out, that it's the most credible of challengers.  We're guessing he won't be on the boat this time, though Glenn Ashby has already re-upped and Dean Barker is a lifer.  Meanwhile, Dalts continues his publicly lukewarm face on the VOR, claiming the $30M he estimates necessary to win might be impossible to find in the current economic climate.  Then again, Dalts might just be pulling the old 'negotiation by media' option with VOR CEO Knut Frostad…
Pauly (on the) Shore 
Doing it's beat to leave the Paul Cayard-led disaster that was Artemis' AC 34 effort, the team  just announced that Nathan Outteridge and Iain "Goobs" Jensen are continuing with the team, which is currently preparing its bid for the 35th America's Cup. More. no word which teams are beating down the door to pay way too much for Cayard's incredible leadership skills.
World Series of Poke Her
The Bay Area Economic Council reported their final America's Cup economic benefit analysis on Monday, with around $364 million in total economic impact landing in the area over the roughly 3 month period of the event.  This is less than 30% of the original (and insane) $1.4B projection, and less than 40% of the revised $902M projection from March 2013 (and hopefully the City will tell ACEA to get fucked when they tote the same incompetent financial consultants to the table when negotiating the 2017 deal).  With this crap news and the embarrassing ratings for the entire "Summer Of Sailing" and even the incredible AC final (outside of NZ), Coutts is already hedging against big expectations for AC35 in recent softball interviews.
"We're considering having each of the teams host a World Series event", Coutts told AC33 and 34 PR staffer Peter Rusch, who's apparently playing reporter with Yachting World until his AC35 contract comes in.  Coutts says this "would be great in terms of generating excitement in their home countries," but let's be serious:  After dropping half the US military budget on incredible ACWS events, Russell is very clearly telling potential teams that they will be responsible for their own regattas in the future.  It's a shame, because the ACWS is the one part of the AC34 plan that provided awesome racing from beginning to end, and if OTUSA has the kind of massive advantage over AC35 challengers that we would have seen had they not had the big capsize, it might be the only exciting racing of the next Cup – especially if, as we have been hoping, the AC45s race as one-design platforms with unrestricted foils.
Thankfully Coutts cited a coming nationality rule, a welcome change to anyone (like us) who thinks patriotism and sport make great bedfellows.  But he's already preparing us for a small fleet, presumably because Ellison is shooting to keep the AC72 Class for AC35.  "I think we are better to aim at quality rather than quantity," he said, despite claiming that new cost reduction measures should cut overall team budgets by around a third.  Call us cynical, but there's no way in hell another AC72 program will magically cost 25-35 million less than the last time around, even if some one-design elements come into play and there is a joint logistics package.  If there's one thing that Russell Coutts has proved over and over again, it's that he always wins, and it always costs a lot more than he says it will.
Legal Beagle
In our final bit of Cupdate news, longtime Kiwi Cup lawyer (and architect of Alinghi's doomed CNEV challenge) Hamish Ross hit the news today after claiming in a piece in the NZ Law Journal last month that the New York Courts should have no place in deciding how the America's Cup is run.  Claiming that foreign litigants can't get a fair shake in the US courts (mostly because he personally can't seem to win one) Ross says that the Cup should be administered by ISAF instead.  Because of course ISAF is so very impartial, and of course unmotivated by greed or the millions if fees they seek from the AC.  Ross argues that the Deed of Gift and AC Trust are not even valid, and that they could perhaps be overturned by the Court if a strong plaintiff sued the current Trustee; it's been Ross's pet argument for a decade, and it's quite persuasive, until you realize Ross's theory rests on two centuries of hearsay, dicta, footnotes, quotes from irrelevant politicians, and courts of another country.  It's no wonder Ross can't win a case in the US – even after all this time, he still doesn't understand how precedent works here.
There's a thread to discuss the legal stuff, and you can download the full NZLJ piece here.
December 11th, 2013 by admin
Anyone remember a little AC program called Young Australia, skippered by an arrogant little ginger named Jimmy?  It was a hell of a program.  They didn't win, but Syd Fischer's program (managed in part by Iain Murray) helped fire up more talented young Aussies than any other sailing initiative could have.    And now, according to an article in the Australian, Murray is back on track for another 'young' Cup challenger after being outbid by Oracle, ETNZ, and Artemis for Aussies Tom Slingsby, Nathan Outteridge, Glenn Ashby, and most likely Jimmy himself.
We know some of those boys used the Oatley-led challenge to bid up their own salaries with their respective expat team, and now after a couple of months of 'silly season', we're guessing Murray's just about had it with the 'establishment' Aussies; with the Cup more and more athletic, youth may be far more valuable than experience anyway.  And with the Aussies Olympic talent and their near-dominance of the top end of the foiler moth fleet, there's no shortage of talent down under.
More importantly, Murray is hopefully signaling the Oatleys' intent to challenge for more than just one cycle, with AC35 more of a training exercise than a real bid for victory against the massive favorite Oracle Team Everywhere.  One good practice run, and maybe they will really be ready to win.
December 10th, 2013 by admin
The incompetence of Paul Cayard and the silence of both he and Juan K in the wake of Artemis Racing's horror show of an AC72 program nearly ruined the team's name for many sailors.  Only through the incredibly hard work of the team and the leadership of Iain Percy does Torborn Tornqvist's team have any credibility left at all.   Cayard is now a ghost, unseen in public for months.  Taking over is Percy, and judging from his attitude and the early moves he's putting in,  Tornquist might actually have a credible challenge for the Cup on his hands.  
Pierre at Vsail.info had a chat with Iain at the final stop of the RC-44 circuit in Lanzarote.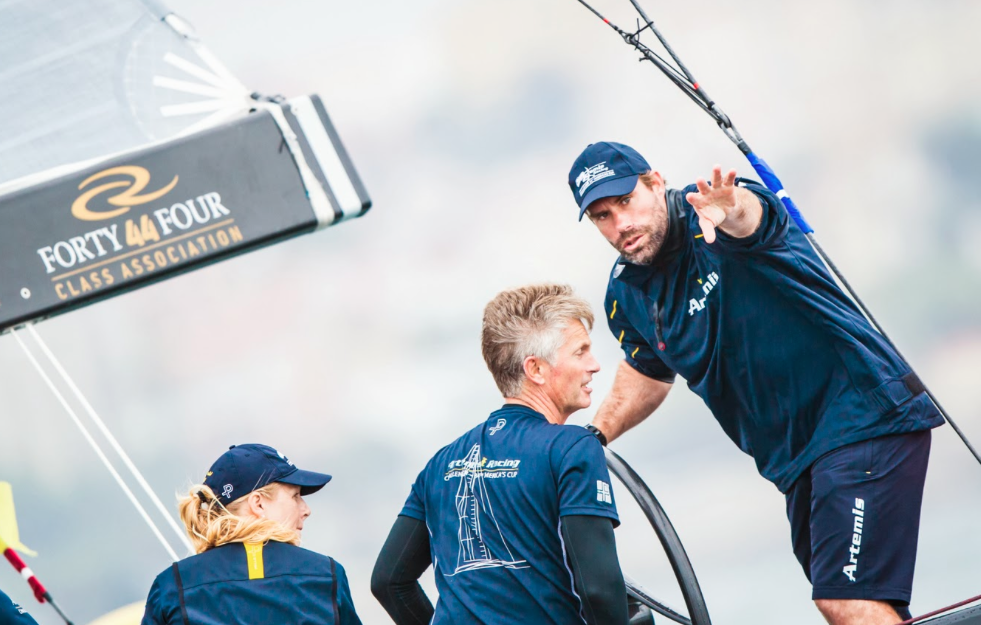 VSail.info: What is the next small boat you will sail now? The Moth?
Iain Percy: I wanted to sail a Moth and I asked my friend Adam May who works for Artemis Racing. He said I wasn't allowed to sail it because I was too fat and I was going to break it. We are trying to find a solution to that with a different boat. We will do a lot of foiling in-house and that's, obviously, the future of the America's Cup. You see it everywhere, it is becoming the future of sailing as well. It is a real step change, it's a cool feeling and it's incredibly efficient.
However, the focus now for myself and Artemis Racing is to build a strong team, capable of winning and dominating the America's Cup arena. That's our goal, that's Torbjörn's goal. Artemis went through some very tough times last year and some real highs when we managed to race against all the odds. It's time now to show we are a winning team, a serious, professional team that is going to win the next America's Cup. That's the team we are building right now, quietly, as we tend to do, not always to the pleasure of everyone else, including the press, but we get on with our business quietly, respectfully to all our competitors. This is the way Torbjörn likes it, the way he is as a man. We are very professional and with a real will to win.
VSail.info: I'd like to step back to the previous America's Cup. Artemis Racing was one of the teams that started very early, as early as the fall of 2010, had ample resources and became the Challenger of Record. However, it suffered from a series of very serious setbacks that culminated with the unfortunate and tragic accident last May. In hindsight, looking back, what were the errors the team committed? What lessons did you draw so that you avoid repeating them in this America's Cup?
Iain Percy: Huge lessons! To be fair, I think that all teams that did this new challenge for the first time learnt a lot and you learn from doing things badly. Like everyone else we learnt through both, through making mistakes. I wasn't very involved until after the 2012 Olympics but I must say that in the final 6-8 months, because of guys like Bart, Nathan or Iain Jensen, the feeling in the camp was absolutely incredible. I have, personally, never worked in such a politics-free team, such a hard-working, driven team. Where we were for most of the time I experienced, there was very little wrong. We are now going to be one team, in one venue, concentrating on winning the America's Cup. This is probably our central message.
VSail.info: In what regards the 34th America's Cup as an event how would you assess it? What do you think were its strong points and where do you think it could be improved? Do you have any criticism regarding the organization, the format or what you personally think should be done?
Iain Percy: One thing I never doubted was that Larry's and Russell's vision, what they truly believed, was going to be the best for our sport and the best for the America's Cup. I always supported that, I never was one of those cynics and, in the end, I think that the final product proved to be a step transformation for our sport. Finally, it was very appealing to the non-sailing public as well as the sailing public. Like we all learnt from our good and bad things, I'm sure the event will too. I think it's clear that both on the safety side and the cost side, it would be good to increase safety and reduce costs, so that we have more teams.
VSail.info: This means you personally think there should be more teams. Isn't the America's Cup after all meant to be just for the Torbjörn Törnqvists and Larry Ellisons of the world?
Iain Percy: I think the America's Cup will always be exclusive, it will always be the premiere event and it's never going to be an event for the masses. This is clear, it never has been and never will be. This is precisely part of its appeal. For centuries we had the involvement of people like Sir Thomas Lipton and it's always going to be the pinnacle and premiere. Just like Formula 1 or Premier League Football, it's an expensive game. However, there is a balance. You can make it so exclusive that just one man in the world can afford it and you can go down to the Optimist level where you have hundreds and thousands of people.
I think that collectively, ourselves, Torbjörn and the other teams would like to see a few more teams involved. It doesn't need to be a huge event, we want to keep it exclusive and we want to keep the "wow" factor in there and a few of the things that were breathtaking, not just on TV but also from the shore. I think that requires a certain boat size but for sure we support very much the efforts of Oracle and we are regularly communicating with them about cost, trying to get that balance just right. You want to keep the development element as much as possible, the excitement and the "wow" factor, that also comes from the development.
VSail.info: Everybody's raging about foiling but, after all, it wouldn't have existed if Emirates Team New Zealand hadn't developed it!
Iain Percy: Absolutely and that's another thing I have huge respect for them, having led the development side of that cycle, but there is a balance. We are trying to bring the costs down by 20-30% so that the next Cup can include a few more enthusiasts of our sport, companies and commercial partners, to join and make it slightly bigger.
VSail.info: That would also allow your buddy Ben Ainslie to find the adequate corporate funding and come in with a British team, wouldn't it?
Iain Percy: That would be great. I'm really proud of what he's trying to achieve. It takes a lot to take that on. He's genuinely trying to be a businessman as well as a successful sailor. Whether he succeeds or not takes nothing away from the effort he's putting in, which I think is fantastic for the sport. He's a huge name for our sport, he's a good friend but also incredible competitor. It takes personalities like him to take our sport beyond its traditional public and as a result, I really support what he's doing. I talk to him regularly and I wish him very well with that.
VSail.info: If at the end, unfortunately, he's unable to come up with the necessary funding for the British team, will you hire him for Artemis Racing?
Iain Percy: We are currently building a team independent of that, we have to. Myself and Ben are pretty open with each other that we don't need to play games with each other, after knowing him for 30 years. We at Artemis Racing need to build a team that is capable of winning and dominating the Cup arena. We are going ahead doing that.
November 22nd, 2013 by admin
The KNSV – the Netherlands' governing body for sailing – finally sat down to review the AC jury's findings on Oracle Team USA king post sensation Dirk "Cheese" De Ridder last week, and in a move that surprised precisely no one,  they recommended no further punishment for Holland's highest paid sail trimmer.  You'll recall the AC Jury found De Ridder a terrible witness, and in their findings, seemed convinced he was lying to them.  From the findings:  "The Jury is comfortably satisfied that:
1) Dirk gave the instruction to add the weight to the kind post;
2) Dirk knew the weight had been added;
3) Dirk knew it was a breach of the rules; and 
4) Dirk did not tell the truth in the hearing in this regard."
It seems as thought he KNSV didn't actually conduct their own hearing; they felt that 'investigating' the AC Jury's report was plenty, and they decided poor Dirk had been penalized enough.  From their report:
The Zeilraad further considered that being excluded from further participation in any role in the 34 America's Cup for a gross breach of a rule and of good sportsmanship, combined with the world wide publicity on TV/radio, Internet and newspapers, is by itself, a severe penalty.    Having considered all evidence the Zeilraad finds that it is not appropriate to impose an additional penalty.
After this investigation the Zeilraad finds that it is not appropriate to conduct a hearing and decides that no further action will be taken in this matter by the Dutch MNA. 
Gilles Martin-Raget photo.
October 28th, 2013 by admin
While the sailing world continues to gab about the on-water Greenpeace protest of the Gazprom-sponsored 100 foot Reichel-Pugh Esimit Europa in last weekend's Barcolana, facts continue to roll in.  Most interestingly, the Jochen Schumann-skippered enviro-disaster just broke the top 5 meters of her rig off during at attempt on the Trieste-Malta record (apparently, someone keeps track of this shit).  As of this morning they still were unable to get the mainsail released, and they have now pulled out of next week's Rolex Middle Sea Race, where they took line honors for the last three years.
Is karma catching up to the boat sponsored by one of today's great enviro-villains?  The more we look, the nastier Gazprom appears, and not just for their part in the Russian special ops-team arrest of 30 protestors in the Arctic.
Exhibit 1:  After Belgian racing website ClubRacer ran an editorial wondering about the propriety of Gazprom's title sponsorship of the newly ISAF-ized Swan 60 Class, they were allegedly contacted by Europol and threatened by other parties to stop criticizing the gas giant.  They also say multiple attempts to hack their website began the same week.  We love ClubRacer's response to what is fairly typical thuggery from a major corporation; they write "We will not stop criticizing until a decapitated horse's head is found in our bed."
Exhibit 2: Somehow, the Gazprom Swan 60 Class held a World Championship this year, being named an ISAF International Class.  That's a 5-boat World Championship, for those of you counting.  Remember when ISAF actually required a Class to have a substantial international makeup before being granted the right to hold a World Championship?  Apparently, they no longer give a shit about what that means, or maybe that gassy money is more than sufficient to keep them from caring?  Does ISAF think the Gazprom Swan 60 World Championship fleet fulfills everything about a Worlds they've fought so hard to define?  We don't know that, but we do know that something smells pretty awful, and it ain't natural gas.
Exhibit 3:  Unlike the Esimit Europa project, which only races their maxi at events where she is guaranteed line honors,the aforementioned title sponsorship of the Gazprom Swan 60 Class puts the world's biggest natural gas producer in the limelight at some of Europe's biggest regattas.     Given the nearly universal effort by sailing's stakeholders — events, teams, classes, manufacturers, National Associations, sponsorship seekers — to associate the sport with clean energy and green growth, this could force a huge step backwards for the sport's image.  The logo is burning gas, for chrissakes!  Does ISAF and the pile of major regattas they have scheduled really want to see all that work ruined by associating the top level of sailing with a company with this kind of enironmental and human rights record?    Maybe if they get another big check…
Exhibit 4: Persistent rumors say Gazprom is on the verge of funding an America's Cup team.  It would be a drop in the bucket for a company that supplies half the world with fuel, and sources say either Igor Simcic (the head of the Esimit program) or Vladimir Liubomirov (recently entered in the RC-44 circuit) would run the program.  In either case, can you imagine the protests when the Gazprom foiler comes to San Francisco?  While we appreciate irony as much as anyone, no one looking out for the Cup, the sponsors, or the sport wants to see the Gazprom flame logo flying right in front of the Sailors for the Sea banners.
While everyone hates to turn down real money from a new sponsor to the sport, we urge anyone considering a Gazprom deal to consider the long term damage to your brand, your association, and the sport.  It's not like Greenpeace will forget, and whether you disagree with their politics or not, this sport can ill afford the kind of scandal that a Gazprom in the AC or any major event could bring.
What do you think?  Share it here.
October 17th, 2013 by admin
An entire summer without time for practicing hasn't seemed to hurt Nathan Outteridge much, as his 1-2-1 scoreline gives him a massive 12-point lead over Rob Greenhalgh after three marginal-foiling races.  It's a great mixup in the Top Ten, with 3 UK, 3 US, and 4 Aussies showing what the rivalry is all about; read the Worlds news story here.  Check out the video above for the day's action from Penalty Box, with delicious pro kiter Gretta Kruessi on the microphone.  For a more in-depth interview of the former Artemis skipper with Mr. Clean, go here.
ThMartinez photos here.
October 16th, 2013 by admin
The background may be pretty but the forecast ain't; with the trades looking weak to non-existent, the mothies are doing whatever they can to get their boats ready for an unexpectedly light regatta.  Above, Petey Crawford gives you the first HD look at the Worlds fleet; Like the Moth Worlds Facebook Page for a little On-The-Water Social Anarchy from Mr. Clean throughout the week.
October 14th, 2013 by admin
Jimmy Spithill (or "James" as he seems known as lately) hasn't rested much since his historical, incredible come-from-behind victory for the America's Cup.  He spit champagne on Jay Leno last week, hung out with the Howard Stern crew in NY, delivered a hilarious interview to Stephen Colbert, and even dropped in for the Facebook Generation on an interactive Deadspin chat.
But now it's time for some real questions from some real sailors, and we all know what that means:  A Mr. Clean Skype Innerview with Anarchist-sourced grilling!
So if you want to know what Spithill eats for breakfast or where he poops when racing, don't go here.  If, however, you want to ask some great questions of the Aussie superstar, hit the thread.  Best two questions get a new Sailing Anarchy hat or belt.
October 9th, 2013 by admin
We're still a few days (and a transpacific flight or two) away from the comprehensive SA "Report Card" on the 34th America's Cup.  It will perhaps not surprise or amaze you, but it will lay out the reality behind the event, without qualifications or a worry that somehow Sailing Anarchy will be excluded from future Cups for being honest in front of a massive audience.  In the meantime, Pierre over at Vsail continues to be run one of the few sailing publications unafraid to tell it like it really is, and here's a portion of his own solid analysis of what went right and what went wrong in San Francisco.
Does Larry Ellison really want an America's Cup with many challengers?
Despite Larry Ellison's own statements as back as February 2010 and Russell Coutts' frequent claims, the 34th America's Cup wasn't conceived and implemented in order to attract a great number of competing teams. We will not go once again into the details of the high costs, enormous complexity and mind-boggling logistical needs of the AC72 boats, these aspects have been exhaustively covered by this and many other sailing and mainstream media. If Ellison truly wanted to have 12 challengers and 3 defenders, he could have easily done it in the three and a half years since his victory in Valencia in February 2010. The end result was that only three challengers were able to afford the necessary costs to mount a credible challenge and one of them, Artemis Racing, had no interest whatsoever in the commercial and media return of the event since they were entirely privately funded.
Having just two challengers with serious commercial interests makes it much easier for any defender, in general, and Larry Ellison in particular. He's only goal was and is to retain the America's Cup, not to organize a challenger selection series with 12 teams, avoiding a great deal of headaches that come with that. The less, the merrier. We can't see why it will be different this time.
The question is of course whether it really matters if there are 2 or 12 challengers. The America's Cup was never meant to be a a "big" TP52 circuit. Each one has its own place in the sport of sailing and the America's Cup isn't meant to be for everybody, even if they can afford it! Take for example Niklas Zennström, the founder of Skype. He's an avid sailor, his fortune could eventually allow him to fund a Cup campaign and he spends a lot of money in his TP52 and Mini-Maxi 72 campaigns, nearly 7 million euros per year! Yet he's not interested in the America's Cup because he wants to helm his boat, not write checks and watch her from the dock. Other, equally wealthy businessmen, prefer to race in the RC44 class.
Bob and Sandy Oatley, the father and son billionaires from Australia and Challenger of Record, stated a couple of days ago they would like to see a significant reduction in costs so that more teams can enter but then again it's up to Larry Ellison to decide the future. Vincenzo Onorato, Challenger of Record for the 34th America's Cup, agreed with Ellison's protocol because he thought Ellison would also fund his campaign. When he saw that he wouldn't get a single euro from the American billionaire he withdrew since he was unable to find the necessary funding for Mascalzone Latino. This shows that the Challenger of Record doesn't have a say in shaping the event and Larry Ellison doesn't seem to bother if the challenger he chose withdraws…
However, one thing that Larry Ellison's organization should refrain from doing again this time is to embark on a PR campaign preaching their desire to have "multiple" challengers while at the same time doing everything possible in order not to have more than a handful.
October 9th, 2013 by admin

After the video overload of the 34th America's Cup, the vacuum of content from the AC video industrial complex is startling.  Where are the overall shows?  The reality episodes?  The outtakes, the humor, the internal highlight reels?  Maybe they are somewhere, but as far as we can tell, the minute the Cup ended, all the media folks got their walking papers – exactly the opposite you'd expect if the America's Cup was indeed some kind of sustainable sport instead of a rich guy's circle jerk.
Thankfully, Beau and Randy are still producing, and this week, Bangin' The Corners gives you an inside view of commentators Andy and TuggerT.  Definitely a side of the cam we've not seen yet, and confirms everything about the ACTV team…
October 8th, 2013 by admin
There's just something we love about sailboat renderings.  New boats or old, they all look pretty and perfect.  So when the Anarchists found a treasure trove of drawings of every single America's Cup, Louis Vuitton Cup, and Defender trial yacht since 1983, we figured y'all should know where.
It's apparently an Austrian site, and includes some written history and a few links, but the real treasure here are the boats, and the ease with which you can search them.  Want to share more history of the past 30 years of AC action?  Here's where you go.
October 7th, 2013 by admin
How's about a little HD action after a busy week?  We've got you covered.
Always A Bridesmaid 
In his decade-plus-plus of Melges 24 racing, Brian Porter's Full Throttle has w0n everything there is to win – except a Worlds.  It's a remarkable record, especially considering Porter is a real dude with a real job, though it doesn't hurt to count folks like Melges Prez Andy Burdick as some of your closest friends – and your tactician.
In any event, with just two races to go in the 'it's not normally like this' M24 Worlds in San Francisco, Porter is exactly where he's found himself so many times; one point behind the leader.  With longtime FT trimmer Sam "Rashid" Rogers off on new baby duty and four-time M24 World Champ Fed Michetti subbing in for the week, will Porter's bad luck streak end with that elusive victory?  Not if Flavio Favini has anything to say about it!  Some nice vid from an anonymous videographer, with voiceover from long time SA'er Justin Chizz.  Pierrick Contin photos here.  And some really pretty HD vid from AC boffin John Navas here.
Sky Hook
Kiteboarding not quite extreme enough for you?  Surfing or boardsailing just too 'grounded'?  Or maybe you're just looking for a way to get more performance out of your dirigible?  Have we got a product for you!  It's French, of course.
Comin' Back Soon 

Grant Dalton helped foster the idea that a loss in AC34 would probably mean the end of the team.  But after the performance of their lives, it's great to see the homeland ain't giving up on the Kiwis just yet!  During a massive homecoming welcome in Auckland, Economic Development Minister Stephen Joyce pledged government $upport for a TNZ challenge for the next Cup, and given the ROI for the 2013 event – and the continuing credibility it gave not only Kiwi sailors but also the Kiwi boatbuilders that built both ETNZ and Oracle's AC72s – it's easy to anticipate at least a portion of the tens of millions going back into the TNZ coffers as the early stages of contract negotiations and sponsor hunts begins.  If not, there's always the public, and they're digging pretty deep themselves, and already have more than 20,000 Facebook fans behind them in just 10 days…that's 10% of what the Cup has after 3 years…
On another note, SA'er "DryArmour" seems to have figured out where it all went wrong for the Kiwis…story title inspired by the Dummies.
Wild Island
Given GGYC's last Challenger of Record's humiliating withdrawal and replacement CoR Artemis Racing's feeble effort,  questions abound about the seriousness of the Oatleys' Hamilton Island Yacht Club Challenge for the 35th America's Cup.  It's early days, but given the wine baron's age and net worth and the luxury resort's need for marketing, they seem like the real deal.  Judge for yourself after 20 minutes with Sandy and Bob Oatley in this ABC-recorded press conference.
October 5th, 2013 by admin
Those of you vainly searching for Americans inside the Oracle team can take solace in the fact that OTUSA lead designer Dirk Kramers  is indeed a US citizen, as well as being incredibly humble despite his awesome success.  Never one to rest on his laurels, Kramers jumped on a jet almost immediately after the San Francisco win to check out the new foilers in the Little Cup and cheer on son Max aboard Cogito.  Clean and Olympic multihuller Will Howden caught up with him to ask him about the rumored "Herbie" system, about Oracle's incredible improvement, and what he thinks about the future of Cup designs.
October 1st, 2013 by admin
With Franck Cammas and Louis Viat sitting on the beach with a comfortable 2-0 lead, Billy Besson and Jeremy Lagarrigue on Team Hydros went out to try to even the final match against Groupama C for the Little AC Championship.  They didn't last long; in 15-18 knots with some wicked puffs off Mylor Harbor, Besson lost a control on his rudder and pitchpoled, destroying the wing and handing the 2013 Little Cup to Franck Cammas, who became the first-ever French C-Class Champ.  We'll have a long story about the event along with a pile more photos from Mer and a must-view 'reality show' video story of the Little Cup coming over the next week or so.  Video of the crash here.  Results here.  Meredith Block photo with a full gallery here.
September 30th, 2013 by admin
With Franck Cammas mostly denying our report yesterday of his Challenge (though confirming he's been working for over a year to make a French Challenge happen), we turn to the New York Times's Christopher Clarey, whose morning piece names billionaire wine magnate and yachting-obsessed Bob Oatley and his  Hammo Yacht Club as the new Challenger of Record for the 35th America's Cup.  
Oatley may not be alone either; you might remember a few months back when Ernesto Bertarelli and friends were racing in beautiful Hamilton Island,  Oatley's island paradise, on Oatley's own boat.  Perhaps it was more than just a race charter?  Hell, the Cup went down there for a photo op with Oatley himself (see above).  Coincidence?
If true, it's almost too good a story: The most famous of all Challengers, Australia joining the Cup just as their nation is leading the yachting world in up-and-coming talent, funded by a sailing obsessed billionaire with deep ties to Ernesto Bertarelli?  Could you write a better story?  We couldn't.  
The Alinghi angle makes a great deal of sense as well; splitting the $100++ million costs between two billionaires makes it that much easier to pull the trigger for both, and with a likely 50% or so nationality rule coming into play (as Coutts himself has supported), Bertarelli could be part of the game in a place that's actually on the sea and full of potential Cup sailors.
With guys like Glen Ashby likely free agents and flag-carrying Aussies like Slingsby and Spithill and Langford and Fowler possibly in a contract-free state, an Aussie challenge could instantly include some of this Cup's top sailors while weakening the Defender at the same time. We know those boys would rather sail for their home nation if they don't have to take too big a pay cut, and what an epic tale an Aussie/American final would make.
In other news, NZ digital hooligan and billionaire Kim Dotcom (who founded the slickest and sexiest filesharing and piracy host on the web and essentially bought his citizenship in Kiwilandia) has thrown his support behind a TNZ challenge.  While Dotcom is a polarizing figure at best, he's got a few spare millions lying around, especially now that he has beaten the crap out of the US effort to imprison him for piracy.  Dotcom wants to screw America, and this could be a great way to do it.  With the NZ government unlikely to throw much cash into another Dalton-led challenge, Dotcom's inclusion could be both poetic and a NZ challenge's only chance, despite, as the Ed announced earlier, the creepiness of the dude.
The silly season has begun, and if just a few of the stories we are hearing are true, it's going to be an interesting one!
Chat about it all on the AC Anarchy forums. Photo from our pals at HIRW.
September 26th, 2013 by admin
Mr. Clean ain't bashful about telling the world what he thinks, and he became RadioSport NZ's primary US contributor over the past couple of months of AC action.  Here's their last chat from this morning's drive time show; a succinct SA wrap-up of the 34th Cup.
September 26th, 2013 by admin
The first day of actual racing at the Little America's Cup certainly didn't disappoint; a mix of the kind of carnage you'd expect from the most bleeding edge of development classes and incredible high-speed, high-flying action from the dominant Franck Cammas and Groupama C.  The Rev Petey is back in action too, as you can tell from this incredible highlight reel from Races 1-3 of the 2013 C-Class Cat Champs.  Enjoy, and be sure to check out a full day's racing, broadcast live by Clean and team beginning at 1100 GMT – right here. 
The full video from races 1-3 are here.  Part One here, and Part Two here.
September 24th, 2013 by admin

Live Video streaming by Ustream
If you're into wings, foils, and technology, you've been waiting for this for a long, long time.  If not, you owe it to yourself to check out the 2013 Little America's Cup.  Technically known as the International C-Class Catamaran Championship, it's the best thing about sailboat racing, and thanks to Clean and the team, along with Magic Marine and the Canadian C-Class Team, it's live every minute of every race from today to Saturday.
Pics, interview, amd much more at the event Facebook Page.  Like it, share it, and enjoy.
September 22nd, 2013 by admin
It's not too fragile a limb that we're on when we tell you that this is the last day of AC34.  Let's watch it all happen (including the expected protocol signing aboard Imagine) right here (unless you're in America or New Zealand, of course).   If you like to jaw about your sports, go here.
EDIT:  With the Kiwis looking absolutely stunning in the light air, it looks like ACEA already knows their tenure is over.  At least that's what it looks like when they auction off hundreds of thousands worth of furniture, boats, and America's Cup gear!
September 20th, 2013 by admin