Posts Tagged 'America's Cup'
UPDATE: Well, the world is getting what it wanted – USA v Kiwis. Odds are the yanks (cough) will win it, but that's why they play the games….
ACEA's had some good luck with weather up til this point, but the spectre of Bermuda's light summer winds finally reared its ugly head today during race 7 of the AC Chall decider.  Burling won the start with ETNZ streaking toward the bottom mark when the wind died off to nothing, and it remains to be seen whether we'll see more racing today.  It's the one issue no one's spoken about, but anyone who's spent June in Bermuda knows well that it can get calm – really calm – for days on end at this time of year.  Monitor the forecast and talk smack in AC Anarchy…
June 12th, 2017 by admin
It's a fairly well documented fact that major sporting events rarely meet their forecasted numbers to the host venue, and the political fallout from things like the World Cup and Olympics tend to destroy careers and governments while the economic hangover can destroy economies.  While the America's Cup isn't in the league of the true 'majors', for a tiny country like Bermuda, it's proving to be quite the headache.
Since the awarding of the 35th AC to Bermuda in exchange for roughly $78 Million of local money and guarantees, the majority OBA party has lost its majority over the BDA government, with the opposition PLP party starting to storm the battlements while the world's wealthy look on.  Last month, the PLP party won on two issues opposed by the ruling OBA but supported by non-rich, non-white Bermudans – the decriminalization of marijuana and the reduction of the island's statutory interest rate,
The PLP called for a vote of "No Confidence" in Premier Michael Dunkley's government that May election, and after realizing that he was probably going to lose it if allowed to continue, Dunkley on Friday dissolved parliament and called for a snap election on July 18th – after the AC is over, of course.
While Bermudians are way more polite than USAnians, it's definitely getting hot on that little island; one newspaper calls the PLP's move cynical and deceitful, while PLP supporters claim that shadowy government figures are behind mass mailings and anti-PLP propaganda posted all around the AC.  One local political watcher explained what may be quite invisible if you're rich and like watching yachting:
"Mold in our schools; neglect of the needs of our seniors; break downs in our transportation system focusing on the upkeep of our buses. Cutbacks on education scholarships; Concluding an agreement to develop a new airport that gives a foreign entity control of that important asset for 30 years. Bermudian still facing a high level of unemployment prompting many to leave the country in search of better living conditions. This government has touted the America's cup as the greatest economic stimulus in Bermuda's history but to date that has not fully manifested itself in its impact on tourism. Numbers of tourists coming to Bermuda have in fact only reach the level that the former PLP government had reached before the  last economic downturn. In fact we now hear of workers in major hotels been put on short work weeks as the hotel occupancy levels have not reach expectations and this in the middle of the America's cup."
Russell and friends seem to have promised Bermuda the next AC if they can successfully defend the Cup, as most expect them to.  But will Bermuda want them back?  If it's all about the benefit to the island as a whole and the decision is a democratic one, it's looking less and less likely – just as we saw in San Francisco. If, as some detractors claim, it's an opaque deal driven by moneyed interests?  Well, that sounds like the AC to us!
June 12th, 2017 by admin
Clean Report
With Pete Burling and the kiwis just one win away from the rematch of 'sporting's greatest comeback' and a seemingly unsurmountable speed advantage over Nathan Outerridge's Artemis Team, today will likely see Emirates Team New Zealand skate through to another America's Cup.  Radiosport NZ's Darcy Waldegrave gave me a call last night to dig into the Burling vs. Outerridge starting dynamic on the air as well as to go over some of  TNZ's reliability issues and some interesting AC Organizer drama…listen to it as you get ready to watch the Scandinavian team's last hurrah today at around 1300 ET.
To talk about the live action and get updates, clicky.  If you miss it, clicky to catch up.
June 12th, 2017 by admin
Ben and friends will be watching the rest of the America's Cup on TV after prood that the Formula 1 genius of aero-guru Adrian Newey and ex-Mclaren F1 team boss Martin Whitmarsh just wasn't enough to help Ben Ainslie Racing put together a winning package for Bermuda.  They finally looked better-than-average in the one race they legitimately won yesterday, but they were still a few percent away from ever mounting a credible challenge to anyone in the 2017 edition of the industrialists' most precious game.  Ainslie's team came up against a triple threat in ETNZ; A quick upwind boat with a radical Verdier foil shape (with upgrades on the way from C-Tech!), slick-as-hell boathandling from the well-practiced, pedal-assisted crew, and an apparent-wind beast in young Peter Burling.
While not quick enough to be a factor in Bermuda, we salute Ben, CJ and the boys for impacting the event in fundamental ways and providing a much-needed dose of honor to what is so often an honorless game.  Ben's was the only sailing team in AC35 to be made up of all national citizens, and to take it all the way to the design and management team – an arena where many of the world's best are not from the UK – shows a lot of national pride indeed.  They were similarly the only team to pay more than lip service to the sustainability and conservation movement that's begun to pervade sailing, and Ben (and wife Georgie) did a great job speaking to the public back home and grabbing huge volumes of UK TV and radio coverage.  They look damned good, too.
Ben's starting tactics also provided us with the two most memorable moments of the Cup so far; the Softbank collision and the ETNZ capsize.  Without Ainslie, there's no reliable provider of excitement, on or off the water.  At least there's Dalts!
While we disagree with Ben and the rest of the Framework Five on the future of the Cup, we're glad Ainslie – and the pride of the UK – will be back for the next go-round.
In other news, despite the Japanes and Swedish entries being surprisingly close in speed in 12-16 knots of breeze, Artemis skipper Nathan Outerridge finally showed the kind of speed and smarts that won him his Moth World Championships.  They went three in a row, sitting on Match Point over Dean Barker with the closing race (or races) today starting at 1305 Eastern. Win or lose, now that Softbank's picked up the baddest military robot-building company in the world, we're just hoping they stay in the sport long enough to make robots that sail.
Wanna find out everything there is to know about the America's Cup?  It's all somewhere in here.
June 9th, 2017 by admin
For anarchist 'minimum fuss' the America's Cup is more reality show than sporting event. Why, you ask?  Here are his episode notes: 
This AC is shaping as the next version of Survivor, but with no hot chicks in badly fitting bikinis.
ETNZ was outvoted before the first episode, and had to play by themselves on an Island far away.
France tried to charm their way into the next round but were voted off the island.
Oracle won immunity in the round robins but made an alliance with Japan.
Angry Ben and Percy are providing much entertainment but aren't playing nice and are copping penalties.
It rained and blew and boats became see through, but the good bits got blurred out.
Burling got a hug from his Mum after breaking the tribe's boat and losing them valuable points in one of the challenges.
ETNZ are hoping for a care package from home after running out of parts.
As we head to the merge it looks like there will be a blindside from Japan.
This is reality TV at its best, but viewer numbers are rumoured to be way down due to technical problems getting video off the island…
June 8th, 2017 by admin

The buzz in Bermuda is that the Kiwis are not just ready; they've rebuilt their boat stronger than before, and both Emirates Team New Zealand and Softbank Team Japan sit on 3-1 scores going into a busy day on the Great Sound.  12-16 knots will greet the four teams at 1 PM East Coast time, and Barker and Burling can both wrap things up by taking two of the three races scheduled today.  For a great look at how the team came together to handle a huge 'fix-it' list to be ready for yesterday's called-off racing, watch this Vodafone vid.
With Barker sailing a stellar regatta, ETNZ's decision to take on Big Ben before the BAR team figured out how to get rid of their case of 'The Slows' is looking smart indeed, and if Outteridge and Percy can't get their shit together, the storyline for the Louis Vuitton Cup is compelling, indeed.  The upstart Japanese with the legendary Kiwi skipper taking on the behemoth he once bled for, and which canned him after the debacle in San Fran.
Will the pretty blue boat make it a match?  Will Burling get manhandled again on the start line?  We don't know, but the racing is damned good and we're certainly gonna watch.  You can, too.
June 8th, 2017 by admin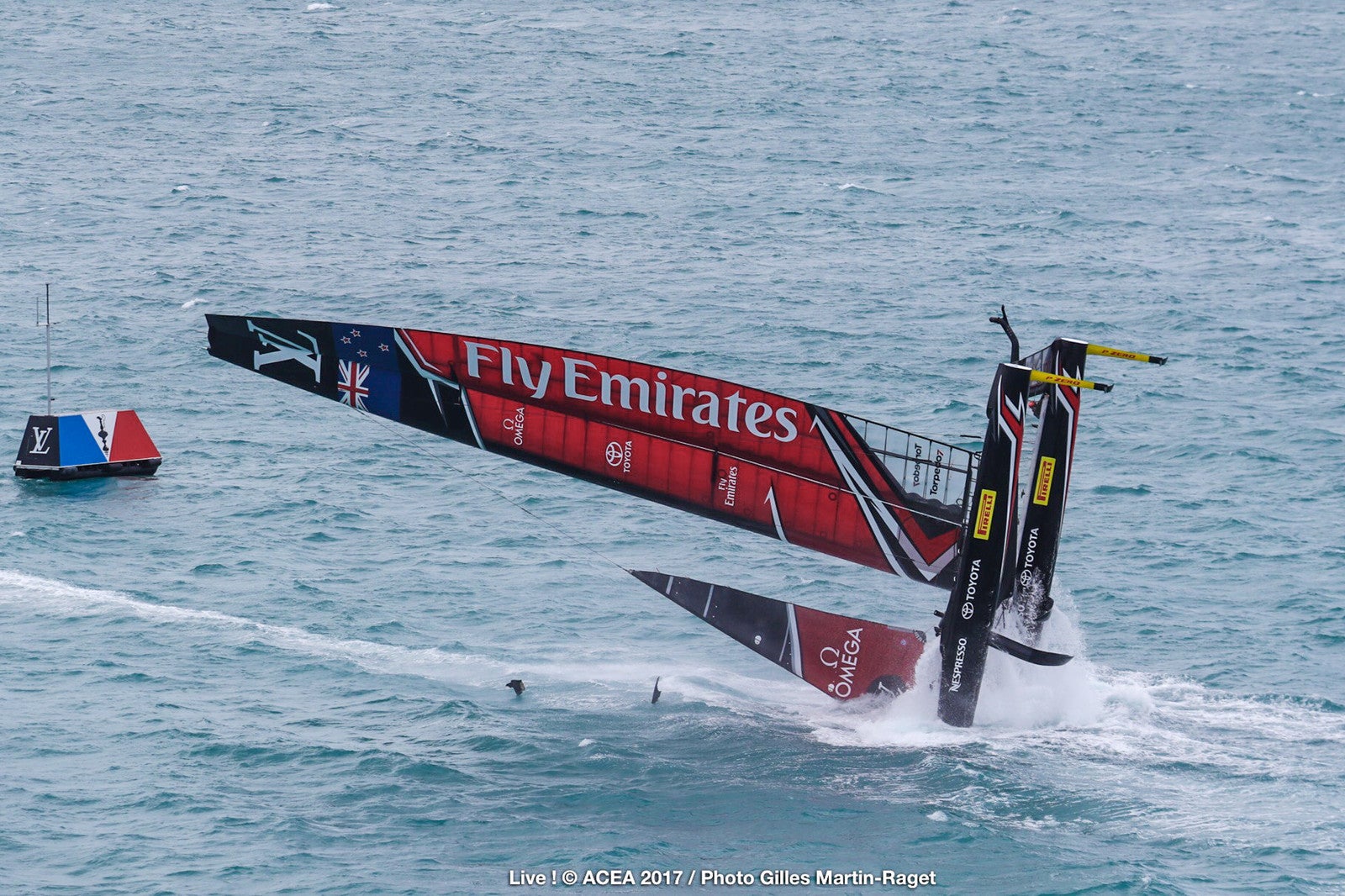 Gilles Martin-Raget was in the right spot at the right time to get this shot of Emirates Team New Zealand in the most stable position possible; on their side with a wrecked wing, destroyed fairings, and likely plenty more damage.  Burling pitched it into the piss at the start of their final race of the day after easily handling Sir Ben in the earlier race, and now we get to see just how their smaller budget has effected the New Zealand spares supply.
Artemis shit the bed a bit, dropping two more to Dean Barker's laid-back bunch in a fun and expletive-laden couple of races that included a 30-knot squall and spectator boats on the race course.  In real breeze, the issues change completely with these boats, and with more dogs-off-chains stuff likely for the rest of the series, those that can stay in one piece may just find themselves battling for some Louis Vuitton jewelry next week.
Analysis and chatter here.  How to watch replays here.
June 6th, 2017 by admin
Expect plenty of fireworks between 'bash 'em Ben' and the Kiwi biker gang when the AC Challenger Playoffs begins in earnest today.  20 knots of breeze and 40+ knots of boat speed are on call if you can manage to watch an event that isn't even broadcast on television in North America.  Fortunately, the modern internet has ways of making things free and easy even when event owners don't want them to be; follow along the Live Racing Thread for updates, and go here to find out how to watch it all live.
UPDATE: After losing the start to Burling, Ben Ainslie Racing has retired from the opening race with the first major breakdown of the AC.  Paul Campbell-James said 'the camber arm is broken' on the race audio feed – a custom part that's not easily replaced, and potentially costing the British team not just the point for the race they DNF'd, but another point for the second race scheduled for today.  With two more GBR vs. NZ races scheduled for tomorrow, Ben's 35th America's Cup hopes are now down to the skill of his engineers and shore team.
June 5th, 2017 by admin

New Zealand again looked unassailable in 14 knots of breeze yesterday, blowing out Barker and Cammas and mathematically eliminating the French from competition regardless of Saturday's action.  Artemis also showed she's not done just yet, holding out Spithill at the start and camping on him all the way around the course.  Oracle was hampered by sheering off the end of their rudder shortly before their race was scheduled to begin, and it seemed they never quite got the settings on the replacement rudder right, but Outerridge looked quick when it mattered.
The final races today are all irrelevant, except of course for the opening heavyweight brawl – Burling(NZ)/Ashby(AUS) vs. Spithill (AUS)/Slingsby(AUS), and in breeze.  If the Kiwis take it, they'll carry a 1-point advantage over the Defender when they face off in a couple of weeks.  Should Oracle win, she'll take the same advantage into the Only Match That Counts.
In more sobering news, the first on-the-water casualties of the 2017 AC season in Bermuda aren't on the foilers at all; Kiwi tourist Mary Elizabeth McKee, her 69-year-old husband Arthur, and a 26-year-old British tourist were flung from an inflatable in a collision with a powerboat returning to shore in Hamilton.  McKee died from her injuries, while the other two people are in hospital.  According to BDA police, "the male operator of one of the vessels involved has been arrested on suspicion of operating a vessel while impaired."
Watch the racing at 1:00 PM (ET) today on your major TV networks if you can make one of the geoexclusionary, restricted, poorly-rated, cobbled-together digital solutions work.  In the US, watch out for the commercials!
How to watch thread.  Replay thread.
June 3rd, 2017 by admin
The Kiwis finally lifted their skirts yesterday to absolutely destroy Ben Ainslie Racing in light Bermuda breeze, foiling their way around the course easily while Ainslie wallowed his way to a DNF.  Even Oracle looked weak in their win against Barker compared to ETNZ, and if light air reigns – as it should around half the time in Bermuda in June – we may have just seen the ascent of the next America's Cup Defender, thanks in part at least to the Verdier-led design team that came up with the slick gull wing foil that allowed them to foil so much easier than the rest of the fleet in the light.
Meanwhile, Ainslie and Groupama Team France continue their race to the bottom; just two days to go with Artemis, Softbank, and Cammas all fighting to avoid elimination.  Our money is on France to go down, but after seeing Ainslie's morale fall apart on camera and Artemis' sudden issues, don't count a meltdown out amongst either of them!
Talk about all of it in the buzzing AC Anarchy Forum, and check your 'local listings' for plenty of ways to watch the AC, even if the powers that be haven't deigned you with any racing footage at all.
June 2nd, 2017 by admin