Posts Tagged 'America's Cup'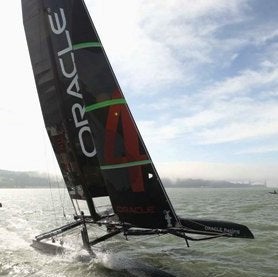 Add Joe Spooner to the pro sailors calling shenanigans on the already-embattled Oracle Team USA's hiring and firing practices.  From our friends at www.BoatingLaw.com, who do NOT represent the Plaintiff.  You can read the full complaint here.
The America's Cup AC45 "4 Oracle Team USA" may soon be arrested by the U.S. Marshals at its berth in San Francisco, pursuant to a lawsuit filed in Federal Court by a former crew member against Oracle Racing and the AC45 itself.   Joe Spooner, Oracle Racing's former grinder and crew for two America's Cup titles and three Fastnet Race wins, is claiming a seaman's lien against the vessel for approximately $725,000 in unpaid wages, plus punitive damages, for an alleged wrongful discharge by Team Oracle.

Under maritime law of the United States, the vessel itself can be sued in Federal Court and be arrested by the U.S. Marshals pending the outcome of the suit. 
The AC45 foiling multihull is raced in the America's Cup World Series and used for America's Cup training It is a smaller version of the AC72 raced in the 2013 America's Cup.  
For more information on admiralty and maritime law, click here.   We will keep you updated as this case develops.
February 19th, 2015 by admin
While the world's sailing media is reporting an Antipodean battle between Sydney and Auckland for the right to host the "America's Cup Qualifiers", it emerged this morning that Sydney has most likely lost it to the Kiwis, meaning ETNZ should have the funding soon to get their challenge really rolling.  Did the Harbour ever have a real shot, or do they join Rome, Newport, and San Diego as yet another pawn in Coutts' repeat-as-needed negotiating program?

Premier Mike Baird's events team has been slammed for "wasting everyone's time" after it let the opportunity to stage prestigious America's Cup races on Sydney Harbour slip away to Auckland.
The America's Cup organisers are set to award the qualifier races to New Zealand after Sydney's events tsar, Destination NSW chief executive Sandra Chipchase, told them she needed another eight weeks to make a decision on whether to lodge a formal bid.
It is believed Auckland secured the event — which organisers estimated could have attracted 40,000 international visitors and 15,000 domestic tourists to Sydney — for less than $10 million.
"For this opportunity not to be treated seriously is just a massive waste of everyone' time and a missed chance,'' said veteran promoter Tony Cochrane, who was trying to generate interest from Sydney.  "This is not how world-class event organisations operate when it comes to securing what is clearly a world-class event."  Opposition Leader Luke Foley said he feared the government had been "asleep at the wheel". "We have to show we are hungry for these lucrative money spinners otherwise you miss the boat,'' Mr Foley said.
Read on, and shout about it in America's Cup Anarchy here.  Tip o' the hat to previously self-exiled but recently returned AC Anarchy addict "Stingray".
February 16th, 2015 by admin
February 16th, 2015 by admin
Extinct.  Ancient.  Deadly. From pre-historic times.  Once-feared, but presumed dead.  Defeated by modern technology.    Whatever we're talking about, it's back, and it's already in Bermuda, the next America's Cup venue.
Are we talking about the return of the measles, last seen in BDA more than 25 years ago?
Or is it something  far more frightening?
February 12th, 2015 by admin
We promised Larry back in December that we'd closed the chapter on our excessive whinging and criticism of the America's Cup.  And in that new light, we analyze yesterday's big TV announcement from Cup Commercial Commissioner Dr. Harvey Schiller.
The America's Cup has selected NBC Sports Group as its partner for the upcoming edition of the America's Cup – including the America's Cup World Series events (2015-16), and the America's Cup Qualifiers, Playoffs and America's Cup Finals (2017).
So far, so good.  As long as you don't claim you were shot down by RPG fire in a Chinook, there's nothing wrong with NBC at all! Given the network's recent efforts to move to a more international audience with a focus on Premier League Football and Formula 1 , it's probably the best mainstream choice for American sailing. For context, and in case you don't remember, NBC and its regional cable stepchild the NBC Sports Network showed the Cup the last time around, drawing a million or so viewers during the first weekend on the national network, and then around 100-200,000 viewers when it moved to the cable channel.  You might also remember that the main network NBC chose not exercise their option to broadcast the final two races of the biggest comeback in the history of sport – apparently, there was some regional golf tournament that was far more important to all of the US – and relegated the comeback to cable.
"We are delighted to announce this agreement with NBC Sports Group," said Harvey Schiller, the Commercial Commissioner of the America's Cup. "This is a great deal for the America's Cup, our teams and our partners. NBC Sports Group's continued interest reflects the growing popularity, as well as potential additional growth, of the America's Cup as a major television sport."
It's really, really early for anyone to be talking about 'growing popularity' of the America's Cup, and we're hoping Dr. Harvey steps well back from the same overpromising cliff that shat out former ACEA boss Richard Worth and made Russell Coutts' name synonymous with 'sports media failure'.
NBC and NBCSN were the US television home for the last America's Cup, in which ORACLE TEAM USA staged one of the greatest comebacks in sport to retain the trophy for the United States. The television coverage was widely acclaimed and saw the development of the Emmy Award-winning on screen graphics package, AC LiveLine, which enhanced the viewing experience by making the sport more engaging and more easily understood, especially for new fans.
Damned straight – Stan Honey's Liveline was awesome.  It's unfortunate that it was not enough to turn AC34 into an audience success, as the costs of developing Liveline helped transform AC34 into one of the most expensive sporting events in the history of the world, on a per-viewer basis.
"We are excited to once again showcase the best sailing in the world to a national audience," said Jon Miller, President, Programming, NBC and NBCSN. "The 2013 America's Cup served as the setting for one of the greatest comebacks in recent sports history, and we will again leverage the full collection of broadcast, cable and online platforms of the NBC Sports Group to present the race for the oldest trophy in international sports."
We told you we'd closed the chapter on our unnecessary critiques of the America's Cup, but we can't let this corporate douchebag get away with this one: Does Miller not know that NBC turned down the opportunity to broadcast that that 'greatest comeback' to a real American audience?  Apparently, he thinks that NBC 'leveraged the full collection of…' oh, forget it – reading these quotes is like going to the dentist.  Mark our words: Whether it's by pre-empting Youtube, failing to promote, or relegating the sailing to cable, NBC will almost assuredly fuck the sailing public.
Highlights of the agreement between NBC Sports Group and the America's Cup include:
  * Live coverage on NBC on both weekends of the America's Cup Finals 2017
  * Extensive live coverage of the America's Cup Playoffs (and additional America's Cup Finals racing) on NBC and NBCSN
  * Coverage of all America's Cup World Series events in 2015 and 2016 on NBCSN
  * Live-streaming of all NBC and NBCSN telecasts on NBC Sports Live Extra
What about the qualifiers?  We understand they are to be held in Auckland, but why aren't they listed here?  Oversight?
"It's encouraging to have a partner like NBC who is highly motivated to return and help build and promote the event and increase the profile of our athletes and our teams. I have no doubt that over the next three years we will touch more viewers, in more ways, through the reach of NBC Sports Group's platforms." Schiller concluded.
Doctor H may have no doubts, but we sure do.  Still, he has a point in welcoming NBC back to the fold.  You probably remember that the AC actually paid NBC a massive fee just to get the US network to broadcast the last Cup (not to mention the tens of millions that AC spent to actually produce the broadcast), and a little bit of morning research tells us that this time is indeed quite different.  Schiller told Sportcal that he "received other offers, but we really appreciated NBC's support," which he wouldn't quantify other than to call it "financially a very pleasing deal."  Knowing how little American networks care about yachting, we translate that as follows: "Last time, we spent 8 figures to get NBC to run the shows we provided to them at our cost.  This time, other network's asked us for money, but not NBC, who we are not paying at all.  In other words, I'm financially very pleased!"
We're pleased too, and other than the fact that another NBC deal probably means we'll still have to listen to Gary Jobson drone on for another two years like a deranged granddad about his 1776 AC victory, this is about as good a TV deal as sailing in America could get right now.  It means a few more million people will be exposed to the Bermuda Cup (and NZ qualifiers) than would be otherwise, and there remains an almost infinitesimally but real chance that NBC will actually put in the kind of effort and marketing to make AC35 a real TV success in the US.
Unfortunately for everyone involved, the smart money says the Bermuda AC will draw even smaller US television numbers than San Francisco did, and NBC's deal – specifically the presumably exclusive 'NBC Sports Live Extra" online portion of it – may mean that overall online distribution and viewership suffer.
Either way, we won't mind, because we've found the key to satisfaction in the America's Cup world: Low expectations.  It's liberating!
February 10th, 2015 by admin
At this point, former Oracle Team USA grinder and 5-time AC sailor Matty Mitchell's allegations against the AC34 jury and fellow competitor Simeon Tienpont are all he said/she said at the moment, but take a few minutes and listen to what the Kiwi has to offer in this excellent interview with NZ Channel 3.  He's believable as hell, and his story is frightening.  Railroaded by ISAF, burned at the altar by his team, and stabbed in the back by a lying crew mate – and now he's fighting back.  Collusion, blackmail, all sorts of nasty shit – given the way ISAF has been conducting itself lately, anyone surprised out there?  And then there's the part Oracle played…but that's another story.
It's great to see an honest discussion rather than the media-trained corporate speak we've gotten used to from Cuppers; we're hoping to speak to Matty soon, but we're not sure we need to after this comprehensive chat! Want to know more or share your view?  Hit the thread in America's Cup Anarchy.
February 6th, 2015 by admin
Stern-steerers, litigation (not ours, thankfully!), luscious Hannah, the slickest metal in the world, the boys in Orange coming on, and the boys in Bermuda flying high.  Another edition of Video Anarchy is all yours.
Magic Carpet Ride
Yacht designers and racers have been searching for some breakthrough in hull coating technology for as long as boats have raced; so much so that the  fluid-emitting system on the BMW/Oracle 90 is illegal in every other type of racing.  But what if the perfect hydrophobic hull was a single sheet of metal?  And what if you could etch metal foils so the water literally ran away from them?  We don't know what the long term outlook would be, but we sure are interested, and we know the AC guys are, too.  Check this incredible video above, and you will be too.
All Hannah, All The Time
We were going to post an interesting kiteboarding movie here by the awesome Broken Head Film guys, but then we noticed one of their stars (and an avowed SA reader) Hannah Whiteley – had a new video up herself. And since we're head-over-heels in love with her, we'll feature that one.  Follow Hannah here.
Big Ben's Bermuda Base
Is this just an easy winter vacation for a team whose backers probably all have winter mansions in Bermuda, or are Ben & Friends the most serious Cup team of all right now?   Time is the one thing that matters most for the AC, and here's a slickly produced video showing Ben and the team getting feet wet in Bermuda with Nacra F20C foilers.  UK 1, everyone else: 0.
Orange Is The New Bronze
If you're like us, you're proud of Charlie and Mark and the youngest VOR team for their hard-fought podium finish in Sanya.  But if you're like us, you didn't pay much attention to this long, light-air leg, and you don't understand how they got there.  Watch this video and catch up.
 Section 68
Former OTUSA sailor Mattie Mitchell is taking Larry and Russell to court for being thrown headfirst under the bus during the 2013 AC's Kingpostgate (and hung out to dry for $68K),  and now that it's in court, all the OTUSA/ACEA/ISAF secret meetings, back room deals, and 'confidential' submissions are finally going to see the light of day. Mattie sat down for a 10-minute interview with NZ's  Good Chaps the other day, and it's definitely a good listen for anyone who likes a good AC dustup.
We're excited for the discovery process to begin, and we think the world will get to see just what kind of folks were running the show over in San Fran and at ISAF headquarters for the past few years.  Stay tuned for more developments coming soon, and let's all hope Mattie doesn't settle!
Lords Of The Deuce

54 feet. 104 MPH. 6 crazy dudes.
Total Anarchy.
January 29th, 2015 by admin
You saw it all if you watched some of our 4-hour live feed yesterday from the Moth Worlds, but you didn't see it like this.  Hear from the runaway leader and watch 7 high-intensity minutes of the single most epic dinghy racing we've ever seen – from the visual stylings of Petey Crawford…
January 11th, 2015 by admin
We're not quite sure how we missed this one; a really cool rendering of a monohull AC foiler concept that must have been done by a five year old with a really nice computer.  Or not.  From the Trickle Down thread.
December 30th, 2014 by admin
Our old friend RadioSport NZ talker D'arcy Waldegrave caught up with Mr. Clean after yesterday's Bermuda AC announcement for his drive time show 'The Sauce". As usual, they talked some shit together, and as usual, it's worth a laugh or two.
December 3rd, 2014 by admin