Posts Tagged 'America's Cup'
We've been telling you for months that Russell Coutts is funding a Japanese entry for the next America's Cup, and the Independent has the confirmation this morning that another commercially viable backer of the world's wealthiest men has joined the fray for AC35.  Banker Masoyashi Son and his Kansai Yacht Club (to include Dean Barker at or near the helm). Like Franck Cammas' team, the Japanese will be subsidized by Coutts' and his designers.  With Artemis and Ben Ainslue Racing having allied themselves against the ETNZ/Luna Rossa bloc on every issue, it appears that the Coutts and Ellison plan to kill off everything historic about the AC is just about complete.  The funded but always-underperforming Artemis anchors a group of 'little sisters' to Coutts' team, including Team Ben, Oracle Team France and Oracle Team Japan.  With Coutts having done everything he could to land in Bermuda while screwing all American fans, the AC Anarchy forumites have already dubbed the Coutts team "Oracle Team British Overseas Territory", or OTBOT.  We agree.
Meanwhile, Russell Coutts continues to defend himself on Facebook like some mentally deranged person in the SA forums; to paraphrase; "Watch me bring in Japan – they're even bigger than Luna Rossa!"  We are frankly amazed that he is even allowed to speak in public, but with Larry old and sick, there's literally no one left to reign in King Rusty.
Out in the wilderness, Emirates Team New Zealand awaits as the sole challenger with a real America's Cup history.  The fight for AC35 will be a fight not only for the Cup, but a real quest, with actual good guys and at least one actual bad guy.  He wears black.
April 24th, 2015 by admin
It's taken less than two years to go from the fantastic AC72 to the ghost of an AC62 to an AC48 – the smallest boat conceived to sail in an America's Cup in the 165 year-history of the event.  The 48 will clearly be cheaper in every way, but is it the America's Cup?
One might well doubt it in view of AC48 Rule version 1.0 dated March 31st – this is a one-design rule, and one that the Defender – Oracle Racing – has been thinking about for some time.  Master illustrator and yacht designer François Chevalier and partner/historian/analyst Jacques Taglang analyzed the rule this morning, and their drawings give us a good comparison view of the new AC48 – and surprisingly, it looks like it won't even be as big visually as the AC45 (and the proportional drawing shows even more that the AC48 looks like a 'special' brother to the 45).  Here's a comment from the team.
What we have is a boat whose wing, sails, hulls, platform/crossbeams are standardised!  Same engine, same body, all engineered by Oracle's designer.
To reassure the world that the America's Cup still means something, the Rule throws the engineers and computer scientists a bone; they have a small amount of freedom to design the daggerboard/lifting foils, the rudders, non-structural aero fairings, and some parts of the wing and board control systems.
In other words, history showed us what the America's Cup is, and we all know of the Little America's Cup, so then this new AC-1D-48 should probably be called the Medium America's Cup.  Looking at the design drawings, you will see that the new boat is no longer visually special, and will probably be overlooked amongst the already large and growing number of multihull racing events.  Only the name of the trophy will maintain whatever legend remains.  Hence the Medium Cup!
Little Is Bigger

As a result of AC organisers' wholesale changes, the Little America's Cup (now called the Little Cup thanks to trademark claims by the AC organizers) raced with C-Class cats becomes the sole remaining event in which the inventiveness of yacht designers is still free.  The sole constraints in the C-Class: Length, width and sail area.
Let us say straight away: Vive the Little Cup!
April 6th, 2015 by admin
Longtime SA'er and A-Cat, Moth, and 18 footer sailor SimonN begs for it, though the vote is already likely over. Agree or disagree?
I know that members of a number opf teams read this forum, so i address this to them in the hope of avoiding what i believe will be a disaster for the America's Cup. I would welcome others posting as well, but please don't let this thread degenerate like the other threads. Well thought out support or rejection of the One Design ideas are welcomed. let's prove that SA can have a sensible voice that is work listening to.
First, it goes against the very spirit of the Cup which has always been about who can design, build and sail the better boat on a 1 on 1 basis. Changing that turns it into any other match race championship, even if it is in the fastest match race boats.
However, my biggest concern is that this move will drive away followers and reduce the interest in the AC. Each "package" that becomes one design has a significant impact on how the viewers see the boats, If, as suggested, we see a one design platform married to a one design wing but with free development on foils and systems, the general public will see boats that look identical going at different speeds for reasons that are hard to explain. The motor racing analogy would be having everybody driving the same car but that tyre development is free. With AC34, it was easy for people to understand there was a rule and that ETNZ and OTUSA had developed different boats within that rule. The discussion as to which was better was pretty transparent. It will not be if the new rules come in.
If these rules are brought in, the America's Cup will no longer be at the forefront of cat development. That will go back to the C Class and A Class. While I cannot comment on the C's, I know that in the next 2-3 years in the A's, we will see some pretty interesting stuff. Instead of it being trickle down from the AC as it has been from AC34, we will see the AC boats needing to play catch up in AC36. The chances are that by 2017, the AC boats won't even be the most advanced cats around.
Finally, if costs really are the reason for going down this route, why aren't we seeing efforts to cut costs in other areas. the boats mustn't take the full force of the need for economy. They aren't even the most expensive part of the whole campaign. Of course, we all know the real reason why other costs aren't being tackled and that is because the biggest single cost, the one that is easiest to regulate, is wages and the very people making these decisions would be the ones who see their wages reduced, even if it is from some highly inflated number that is beyond the wildest dreams of any of them when the were young.
The only reason to support the one design ideas is to preserve the money earning opportunities for the sailors. I appeal to the sailors and decision makers to put aside their personal greed and remember why the America's Cup was such a dream for them. I believe that every single sailor dreamed of sailing in the AC not for the money, but because it was the ultimate challenge, because of the acknowledgement of the history and traditions. To kill those in order to maintain the viability of teams is simply wrong.
March 31st, 2015 by admin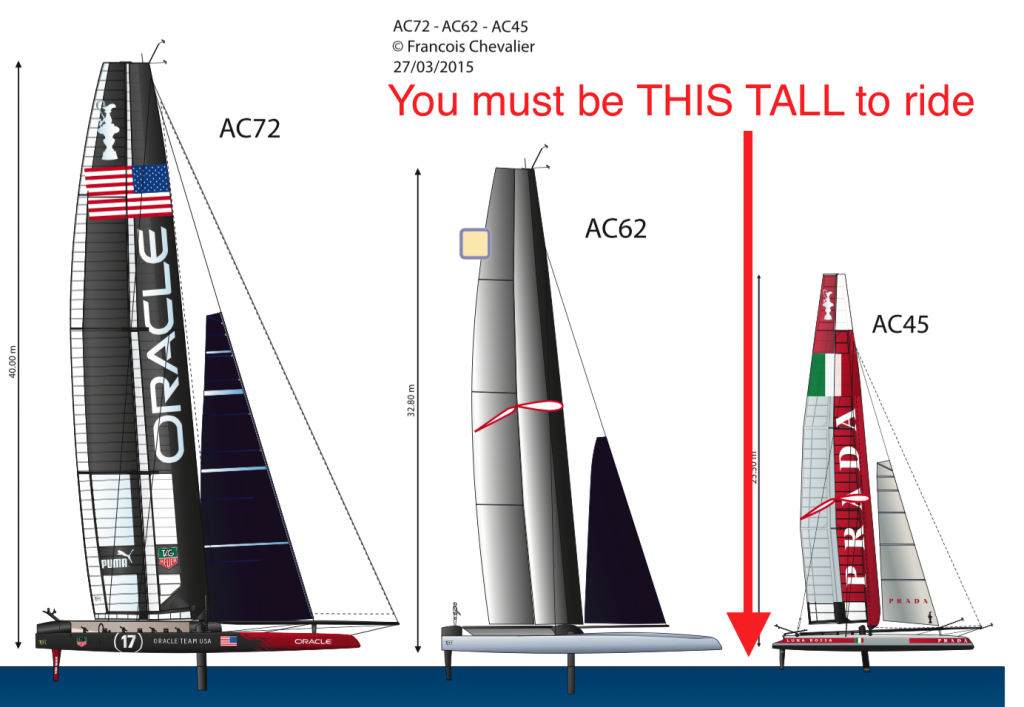 As Ferrari finally gives Italy something to cheer for in top level racing, the fanatical Italian fans are on the verge of losing their maritime standard bearer Luna Rossa thanks to the impending vote on the new America's Cup One-Design 48. That's right, folks, and you heard it here first, of course: The next AC will be sailed in one-design boats – at least if Tuesday's Challenger vote goes the way we forecast.  And Emirates Team New Zealand may follow Prada right out the door, making Russell Coutts the most hated man in New Zealand for the second time, and in Italy for the first.
The SA Army has been working overtime since Coutts' proposal reached the teams on Saturday, and we think we've nailed it thanks to some of our less enthusiastic friends inside (otherwise enthusiastic) teams.  So meet the new boat:
-Strict one-design hull/platform, 48 feet long x 30 feet wide,
-Strict one-design wing, similar proportions as Oracle AC45T,
-Strict one-design daggerboard location and case,
-Strict one-design rudder location and case,
-Open main foil design,
-Open rudder design (minimum horizontal area)
-Hulls and wings to be built by teams with strict ACEA controls (weight, dimension certs, etc.)
It may shock you readers who think we are perpetual AC antagonists, but we actually are fully in favor of the move to a smaller boat.  We have never and will never 'hate' the America's Cup – we're just embarrassed to part of a sport when open, public greed and repetitive incompetence govern the pinnacle event, and that's why we let them know constantly.  But we love fast boats, and we dig foilers, and we're stoked to see flying get so much love.
Meanwhile, the boat will be very sexy, but crucially, having the development dollars go exactly where they can be most effective – the foils – is extremely clever.  There should be no barrier to AC48s hitting similar speeds to the AC72s downwind and upwind, and while open-design foiling AC62s would unquestionably be quicker and a great deal more spectacular than the new 48, the majority of the public wouldn't be able to tell the difference.
While we like the new boat, and we like the idea of a fun regatta in beautiful Bermuda, we are quite sure AC35 will be a flop, if only because it's part of Russell Coutts Flying Circus.  We've learned to always bet against Russell when it comes to business and marketing, and never bet against him in sailing.
In addition, we can't help noticing that ACEA has caught itself in a massive conflict: On one hand, they have an edict from Larry to 'make the event self-supporting', in other words, MAXIMUM CASH INTAKE, and hence, Bermuda's $72M in cash and prizes.  On the other hand, Larry and Russell want to see an event with a long-term future, in other words, maximum public, TV and sponsor interest – which would mean a major population center in a transportation hub with tons of media.  That ain't Bermuda, and that's all you need to know about Ellison's priorities.
Tuesday morning, the five teams of the Challenger Committee will vote on the new design.  If, as we expect, Team France, Ben Ainslie Racing, and Artemis all vote 'yes', we should see another team enter – a Japanese entry that will be a partner to the Oracle boys.  Luna Rossa will probably make good on its promise, killing off the team with by far the most time and money in the next Cup and the AC62 design – something we think Russell has been wanting to do since they made him look like an incompetent boob in San Francisco.  It makes us sad, but we have ZERO pity for Luna Rossa – as the second-in-time challenge, they had the right to take over for the embarrassment that was Team Australia and become Challenger of Record and prevent ALL of this.  Instead, the Italians chose to sit on their ass and be part of a committee, and they have no one to blame except themselves.
As for ETNZ, despite Doc Harvey already saying that ACEA would ignore its written contract to bring the qualifiers to Auckland, we think Coutts will use this tremendous leverage to get ETNZ on board with the change.  Dalts can 'toe the line' for his Italian friends during the vote and still remain part of the new AC48 Cup, if it will get the qualifiers back in Auckland – and his coffers filled.
Many of the die-hards think this move is the death knell for the America's Cup, and if public sentiment depends on a real design competition, they're right.  We think the spirit of the AC died a long time ago, and this move could turn it into something useful, at least.  What do you think?
March 30th, 2015 by admin
Last week we asked our friends Jacques Taglang and Francois Chevalier if they could put together one of their awesome line drawings comparing the various AC multihulls, and they did us one better – here's a look at the 'evolution' of the fastest inshore racing boats in existence; the BMW/Oracle 90, AC72, stillboard AC62, AC45, and GC32, simply to compare them with a more mortal boat (that still goes 38 knots and only costs $300k or so).
We'll have an update on Russell Coutts' Flying Circus tomorrow; use the time to troll Stingray in AC Anarchy.  For the more cultured, read up on Jacques and Francois' awesome project "The Impressionists and Yachting On The Seine" here.
March 29th, 2015 by admin
As Bernie explained well an hour ago, Luna Rossa threatened to pull out of the Cup this morning if AC Commercial Director Doctor Harvey doesn't respect 'the principle of unanimity of all challengers required to change the Class Rule', and he immediately issues a clarification regarding the proposed shrinking of the AC to a regatta for foiling forty-fives.  This is huge news, and the SA Legal Department has been burning the midday oil and wearing out their swivel chairs researching why.
1) The existing Protocol, on its face, seems to require only a simple majority of challengers to shitcan the AC62, and SA'er 'porthos' unravels the mystery of how it works.
Paragraph 1.1.(p-bis) establishes the Challenger Committee. That same paragraph establishes that the CC may act via a simple majority unless some provision says otherwise: "Unless otherwise provided, a simple majority vote of all of the Challengers in the Challenger Committee shall be required for the Challenger Committee to make a decision and/or take an action."
Article 20 addresses amendments to the Protocol. Paragraph 20.2 indicates that the Protocol "may only be amended with the agreement of GGYC and the Challenger Committee." There is nothing Article 20 indicating that the agreement by the CC must be had by anything more than the simple majority set forth in Paragraph 1.1. In fact, I wasn't able to find any provision in the Protocol that requires more than a majority vote by the CC to make a decision or take an action. 
Paragraph 1.1 (p-bis) does indicate that the CC may make its own "organizational rules." I suppose it is possible that the internal rules of the CC may have something to say about this (i.e., that the internal rules of the CC would require more than a simple majority), but I doubt that. "Organizational rules" implies logistics and not substance.
Paragraph 29.1.(g) requires the Match be raced in yachts that conform to the AC62 rule. That is the operative provision that has to be changed in the Protocol. There would certainly be more references in the Protocol that would have to be amended, but that is the provision that dictates what boat is used. As that is a Protocol amendment, the simple majority CC rules set forth in 1.1.(p-bis) would apply. [Contrast to the AC62 Rule, where amendments require unanimous consent of all teams -Ed]
As long as a majority of the CC and GGYC agree to a change — such as ditching the 62′s — then it can happen.
2) We're not sure what it took just yet but Coutts and the Doc have enlisted that simple majority (including Artemis, the only team that stands to lose almost as much progress as LR), and if the AC press office is to be believed, a vote is a foregone conclusion.
3) Luna Rossa's reference to 'principle' in their release and their signalling that they won't sue is a clear sign the team is aware of the shortcomings of their legal position.
March 26th, 2015 by admin
#LunaRossaChallenge is distinctly opposed to the proposal to change the Class Rule for the 35th America's Cup

— Luna Rossa Challenge (@lunarossa) March 26, 2015

To no one's surprise, Luna Rossa Challenge just said 'fuck you' to Coutts and Doc Harvey's plan to cut down the America's Cup to 40-footers, and judging by the silence coming from Bermuda's media, it appears they were blindsided as well.  Is this one of those changes that requires unanimous consent from all parties?  ETNZ seem to think it does.
What do you think?  Join the discussion raging in America's Cup Anarchy right here.
March 26th, 2015 by admin
Now that the big money is locked in for Bermuda's contract, it appears the America's Cup is looking to cut their expenses massively by getting rid of the entire AC62 concept, sticking instead with modified AC45 foilers for all teams.  And no, this is not April 1; AC PR released this bit of news today: "The existing operational costs of teams is much too high with a boat like the AC62."
Let's revisit the timing on all this; it has been 19 months since Oracle won AC34, and almost a year since the AC62 rule was announced.  And apparently, the folks at ACEA are just now figuring out how much it's gonna cost.  We honestly had to check the date when we first saw this release, because it seems like a joke.  Then again, this joke is brought to you by the same folks who've been delivering great ones for the past two years, though we have to think that Bermuda ain't laughing.
While it could be negotiation-by-press-release, it seems real enough, but we can't believe anyone thinks the AC45 will make a successful America's Cup. Running an AC in the visually much smaller (compared to an AC62) AC45s will absolutely destroy whatever spectacle the Bermudians and Cup lovers were hoping for; the thousands of you who've seen an Extreme 40 event know what kind of impact a 40-foot cat makes, and it just ain't much unless you're a couple hundred feet away or less.  On TV, the AC45 foilers will look great, but for sailors and AC enthusiasts – and let's face it, AC34 view counts and ratings proved that's the audience now – a 45-footer will simply be too close to what's already out there to generate real interest.   The Extreme 40 has a bigger fleet, and Alinghi, still one of the best-known teams in professional sailing – just joined the foiling GC32 show. The M32 is growing as well.  And a 45 foot cat is really America's Cup-worthy?
Worse even than the loss of the spectacle is the fact that the shrinking of the boat will mark the final admission that the America's Cup will never again be the pinnacle of yacht racing.  They tried, and for a few short years, the Cup truly had some of the world's fastest inshore sailboats.  But the AC45s won't be the fastest at anything, because in sailing, size matters. The reason a Formula 1 car is tiny is because small is fast.  In sailing, it's the opposite. Doc Harvey pretending the speed of the 45-footer 'is expected to be similar to what was achieved in the last America's Cup' is just plain silly, and yet another example of an AC promise that will fail to materialize.  The AC45 foilers are very cool boats.  They're slower, cheaper, easier to handle, and safer than AC62s.  But here's the thing: If you're gonna do it in slower, cheaper, easier, safer boats, why not just do it in GC32s?  If you follow Doc Harvey's logic, there's no reason to sail the 45 when you can sail the 'similarly fast' smaller boat.
Interestingly, the announcement says the deal ain't done yet, and Luna Rossa is missing from the list of team quotes giving half-hearted support for the change.  Maybe Patrizio Bertelli feels the millions they've spent to design their AC62 already (and millions more on salaries for dozens of sailors working toward that goal) shouldn't be thrown away to let in teams without the resources to compete?  As far as we can tell, the entire advantage LR has been working so hard for these past two years will be wiped away the moment this change is agreed to during next week's meetings.
Also missing from the endorsing quotes is anyone from Bermuda, where the change to AC45s will probably be rationalized by the fact that the AC eventually has their way with every municipality.  Someone might want to bring the island a bandage; we see a little blood dripping from its ass…
As we said a couple of months ago, we've given up our expectations, and we've quit criticizing the AC for their move to Bermuda; we're just looking forward to a fun regatta for fast boats.  It might be a little tougher to see them, if the GGYC has their way…
March 25th, 2015 by admin
Those of you who still think the 'second coming' story is real will probably not get this one either; instead, you might call your realtor to put in an offer…We promise we're not kidding when we tell you that this $2 million Bermuda America's Cup special 'fixer-upper' is actually named "Uppity".  Great views of the AC course top off this beauty – and according to the video walkthrough, she's selling at a discount.  Loaded African-Americans might want to look further afield…or at least change the name.
In other Cup news, Sailing Anarchy's new favorite is now Ben Ainslie Racing.  Not necessarily because we think they're going to win, but because BAR is the only team that's really thinking long term.  And with ETNZ's constant media shit show, they're now the most 'national' team – something that we find absolutely necessary if anyone is to turn around years of media, TV, and business model fails from Larry and Russell.  Ben would be a far better steward of the Cup and the competition than a confused old Ellison or the self-concerned Coutts.  Equally important is Ben's support – Portsmouth believes in him so much that they've given the BAR Portsmouth center 10 years of free rent Remember what San Francisco was prepared to give Larry after AC34?  A kick in the ass and a bill for $11M.
March 20th, 2015 by admin
Oracle just launched their test bed AC45 last week, and in just 5 days their maneuvers and boatspeed already look to have far surpassed the very similar Artemis 45 foiler.  They also look a hell of a lot smoother, more stable, and faster than what we've seen from the Luna Rossa testers months after their launch in Sardinia.  Meanwhile, Franck Cammas is playing with his C-Cat, and there's a whole lot of silence in the AC45 action from Sir Ben and ETNZ (at least on sailing issues) while Slingsby notches nearly 46 knots of boatspeed on San Fran Bay.  We sort of hate to say it, but it looks like Oracle are on their way to a 3-peat dynasty in Bermuda, assuming they don't turn any AC boats into matchsticks again a few months before the AC.
Kudos to San Fran videographer John Navas for the first 4K Ultra HD video we've ever posted here; we hope the 68 people in the world with 4K televisions love it!  More chat about the Bay in the thread.
February 26th, 2015 by admin