Posts Tagged 'America's Cup'

The first of Mr. Clean's podcasts from Bermuda dropped yesterday, and while it's half the usual length, it's full of fascinating stuff from maybe the most important member of the Cup-winning New Zealand team – ETNZ wing trimmer Glenn "Lenny" Ashby.  Don't forget to subscribe to the SA Podcast here: (iTunes   Stitcher).  Show notes:
How his time as a kid, watching the C-Class cats on the beach and other ultra-fast sailboats near Melbourne, led to his career.  About wing development boss Steve Collie's work and their different design philosophy for wing handling compared to the other teams.  "You can't fly a plane with a piece of rope!"  Why no one else copied their wing system, and how many secrets are they still guarding?  How did their wing trim and foil loading give them stability without penalty, and enable their slick maneuvers.
Once and for all, were they sandbagging in the earlier rounds?  "We kept our good fruit for the end!"
How did they balance the need to push and develop the boat with the fact that any breakage in Auckland might mean an end to their campaign? "27 hours before the first race of the America's cup was the first time we had all of our good componentry on the boat". What was the actual speed difference between Oracle and ETNZ?  To what does Glenn attribute Pete's 7-1 advantage over Jimmy in the starting box?  What maneuvers could they do that no one else could?
In what conditions does the jib hurt boat speed, and why didn't they go bareheaded in their racing?  Will wing sailed boats in the future need jibs?
Why did Glenn and so many sailors take less money than other offers in order to stay on ETNZ?  Just how close did ETNZ come to shutting their doors and walking away from competition back in 2015?  Will Glenn return with ETNZ for the next America's Cup?  If he was given a free hand to pick any boat for the next America's Cup, what would it look like?
Did ACEA/Oracle's shenanigans provide additional motivation for ETNZ to fight their hearts out?
Next for Lenny: Moths? A-Cat Worlds?  Vacation?
Photo thanks to Sander Van Der Borch/America's Cup.
July 6th, 2017 by admin
The New Zealand government put a non-refundable deposit of $5 million down today on their next regatta; and while Prime Minister Bill English is already posturing in the hopes of gaining some leverage in the upcoming negotiations with Dalts and the TNZ Board, it seems obvious that Kiwi stakeholders will pony up to put on another successful regatta like in 2000 and 2003.   Most would expect the impact to be in line with (or better than) the half-billion in reported spending for each of those events, and with Larry finally out of the AC, we could see a return to the boom times of the turn of the century.  Remember them? Double-digit fleets of Challengers making the Land of the Long White Cloud their home for a year or two as they built up to an event with a million fans on shore and on boats?  Well, it could happen again, and we truly hope the Defender can stick to their stated plan of targeting a worldwide audience with an innovative and free digital platform for all the racing.
The Anarchists are already spiritedly debating the politics and funding of the thing – who would expect anything else?   ETNZ principal Matteo De Nora has some interesting things to say about the next AC boat, the TV deals, the other teams' lack of courage, and the "Lone Wolf" status of ETNZ in Bermuda in this  interesting interview with Italy's La Stampa yesterday.
July 3rd, 2017 by admin
With the Coutts money train out of steam, it looks like it's open season for those posting those ultra-restricted America's Cup videos.  They're all over Youtube and Facebook, and props to the RNZYS for letting the public watch what they want regardless of whatever bullshit deal ACEA sold to the networks. Here's the entire Race 9 as broadcast live last Monday.
It's not like anyone watched anyway, as you'll note from the final ratings for the last weekend of AC racing in US markets...beaten this time by drag racing, college baseball, and the US Track & Field champs, at a Nielsen number that's  roughly half the San Francisco ratings.  Bravo! [/sarcasm]
July 2nd, 2017 by admin
It's about twice as long as it needs to be, but this slow-mo video of ETNZ fans' agony and ecstasy in 2013 and 2017 digs straight into your heart no matter where you call home.  We've got plenty more AC content coming your way over the next week, but nothing like this – a window into just how much winning the AC means for a tiny nation at the end of the world.
July 1st, 2017 by admin
The most watched thing on the sailing social media last week wasn't the America's Cup – it was the Toyota/Vodafone live stream about the America's Cup!  Despite ACEA trying to shut them down time and time again, Martin Tasker and Peter Lester kept pushing their Kiwi-friendly narrative to the world, and it worked very, very well.
Whilst the final Cup presser was reasonably good (especially with Dalts taking the piss out of Russell @28:50), this set of live-recorded interviews with all the key figures from the ETNZ base has quite a bit more information than that, and with a very fun backdrop.  Watch it all for the keys to their victory, their disintegrating daggerboard, and much more.
June 29th, 2017 by admin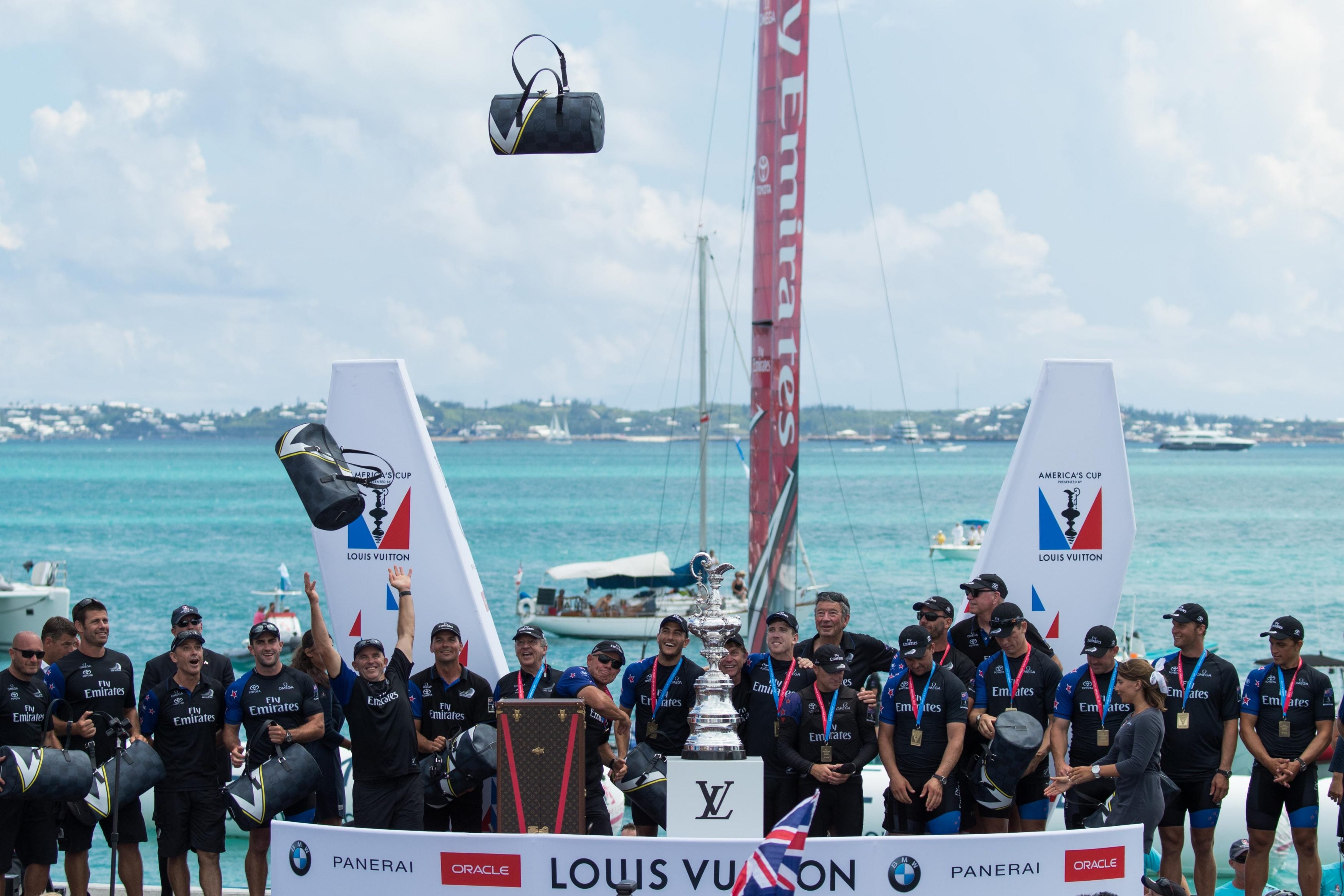 All sporting competitions have losers, but the America's Cup has more than most.  For the Bermuda America's Cup, we're not sure yet just who the biggest loser is, and while it will take some time (and some numbers) to figure out just whose ass is bleeding the most, we've got our ideas:  Is it Russell Coutts, who lost his first-ever America's Cup after winning 6 of them as either CEO or Skipper, while picking up a reputation as one of the worst event administrators in the history of the Cup?
Or perhaps it's Bermuda, where a funereal pall has descended on an island that was promised so much by Russel and his minions and is now left with nothing but a huge bill, terrible TV ratings, a giant new events center in a country that doesn't have enough inhabitants to attract big events, and a July election that will likely see the AC-friendly government out on its ass.  Is it Franck Cammas, who has all but promised that his sponsors will not spend the money to go to New Zealand?  Or is it Jimmy Spithill, who was not just beaten around the course, but beaten at his own game – the starting box, and the press conference – by a kid who was sailing on the Youth team just four years ago?
Actually, the biggest loser might just be the folks at Louis Vuitton, and as you can see in this photo from the final awards ceremony, the new holders of America's Cup don't like their overpriced bags at all.  That's tens of thousands of dollars of ugly-ass Louis Vuitton "prize" duffels being launched into the crowd by ETNZ seconds after receiving them from some functionary, and with Prada now the Challenger of Record, it's safe to say that the next America's Cup will be the first in a very long time where Louis Vuitton ain't on the event sponsor list, the guest list, or any other list.  Good news for tennis, golf, and motor racing though – give LV a call folks – they'll have some spare sponsorship money laying around now!
Photo courtesy of Richard Hodder/Emirates Team New Zealand
June 28th, 2017 by admin
Every now and again some rich guy tries to dispute the validity of an America's Cup challenge, and a couple of hours ago this photo surfaced to nip all that in the bud.  The photo, shot aboard ETNZ principal Matteo De Nora's 46m Imagine, shows the Commodore of the CVS handing over their Challenge to the Comm of RNZYS at the actual moment ETNZ completes its dominant run over Oracle Team USA.
Chat about the new Challenger of Record in the COR thread here, and vote for the kind of boat you'd most like to see in AC36 in Auckland in the Next AC Boat Poll thread here.
June 28th, 2017 by admin
This could very well be the final briefing of the ACRM age. regatta director Iain Murray and head judge Richard Slater answer our questions and lay out Day 5 of the 35th America's Cup Match.
June 26th, 2017 by admin
This great piece from the aptly named "Civilian" news. Its slogan?  All The News That Fits On A Page. 
After two consecutive wins against Team Oracle in Bermuda, Emirates Team New Zealand have set themselves up perfectly to lose the competition 7-6.
The New Zealanders pushed themselves out to a 6-1 lead this morning, maintaining the position they've held for the last four years; one win from victory.
Helmsman Peter Burling said he was "very happy" to have reached the same milestone the team did in 2013.
"A large match-point lead is what we've been aiming for this whole competition," he said, "so we're very happy to get here, and we feel we're now well poised to lose from this point on."
But despite a cautious optimism, Burling says the job isn't done yet, and that it "won't be easy" to lose another six races in a row.
"That will be a challenge," he said, "and I think Jimmy [Spithill] and his crew will certainly give it their best shot."
For his part, Spithill isn't counting his chickens either, and is instead planning to race boats.
"We're not taking this for granted, no," said Spithill, who answered questions today flanked by 3 screens playing the last race of the 2013 Cup in San Francisco. "The consensus amongst our guys is really, this is going far, far too much to plan for our liking.
"In some ways it almost looks like they're trying to give us the win, so we have to be wary of that."
Asked if he could turn the video down so reporters could hear his answers, he replied "No, I won't do that."
Despite the fact there may only be one race left in the competition, Oracle has demanded four more press conferences for tomorrow morning, as Spithill feels he hasn't talked enough yet.
June 26th, 2017 by admin
For some reason, a nervous Kiwi nation can't be consoled by talking to their countrymen, so they turn to Mr. Clean to calm their frazzled nerves.  Here's a strong 7 minutes of live radio with Sailing Anarchy and Newstalk ZB's Larry Williams on what to expect for Day 5 of the America's Cup Match.
June 26th, 2017 by admin