Posts Tagged 'America's Cup'
One of Chicago's top sailors takes his shot at explaining why The Windy City was dropped in favor of The Windless City.  And then, of course, there's Bermuda…
I have been asked by many people about the AC being in Chicago and I could not ever see how it was ever a real or even potential possibility. I'm guessing by the lack of any real information about the "Chicago Bid," the team here never saw it as a real possibility either, but they did see a real potential for something. More on that later. Don't get me wrong: Chicago is an awesome place to sail part of the time, and frankly I saw that as the biggest hurdle.  Here's my list of 'issues' with the Chicago AC:
1) Think about it…In almost every real AC with a Louis Vuitton Series, teams were setting up at the venue site 15+ Months in advance! It has been rumored they want to hold the Cup races in July..Do you really see AC-62's or whatever they are sailing around Chicago during Strictly Sail Chicago? If you were here this year, you would have noticed one small issue with that…a foot-deep coating of glistening ice on the course.
2) Also, they have mentioned that Chicago has the facilities for teams and boats? I would like to know where that was going to be.  The lakefront is pretty jammed up with harbors, beaches and Navy Pier, and I can't see how there is room for these big beasts and their wings on the pier…go down there and check it out if you don't believe me.  Northerly Island? Well good luck with that…Either place would essentially have to be shut down and wow, would you need some very radical political support from the City, Mayor, Alderman, every tenant and business at Navy Pier etc…If someone was paying Chicago to host it would probably cost as much to fund both team NZL and Prada – and then some.
3) And what about the Race Area; is a 1.2 mile leg long enough for an AC62?  For a 45 sure, but for the new AC boat that sails at 45 knots…I doubt it. What if the breeze is out of the west or out of the east as it has been for so much of this summer? Anyone feel like watching 300 yard upwind legs?  Frankly, Oak Street Beach would be better.
4) $$$$$$….Where the hell is Chicago going to get the $ to host the Cup? We are maybe doing ok, but just barely…Frankly the money would have to come from the State and private backers and we know how that went in San Francisco.  Not well.
5) No matter what they say about Chicago being a very serious consideration, I'm guessing that was all lip service and never was for the actual Cup. They released the three candidate Cities' names and eliminated one pretty quickly – the ink had barely dried from the San Francisco elimination press release to the Chicago one.   If you asked was Chicago a serious consideration for an AC-45 event…for sure!  And in fact that would be a perfect fit without doubt, and I'm sure that is why Russell was here.
6) It makes perfect sense is for Chicago to host a AC-45 Event…Every reason above would not apply and frankly the 45, regatta is about a perfect fit, and that is not only doable, it would be simple and not cause too much disruption. It's a two to three week deal. I have always said an AC-45 will be the consolation prize and frankly one that makes good and frankly the best commercial sense for all involved.
Going forward to Bermuda vs SD….Well for sure, SD will get it. Bermuda will get an AC45 event. The one thing Bermuda has going for it is government backing (they can do that since they are Bermuda), and no doubt it would be great boost for the economy, but logistically for the teams it will be a nightmare! The only local draw will be that of the locals.
The thing with SD is its "local to the rest of CA" and easy to get to from the rest of the US, and world for that matter, though Europe becomes a bit more problematic.. If it did go to Bermuda it would be a real first and make for a very different Cup that is for sure…Would that be bad? It's a pretty nice place.
But if you think Coutts doesn't know exactly where the next AC will be held, you're crazy.  It's called 'getting a jump on the design game'…SD and Bermuda…Think they have similar conditions? Not liklely.
It's the same game that has been played for decades now. Not selecting a venue causes teams difficulty in raising money, putting challengers on their back foot…They now have another 5 months to keep people and syndicates guessing and losing time they need to study the conditions of the venue, to design and build the new boat. The guys at OR are not stupid, and they undoubtedly have confidentiality agreements with both locations to not leak anything.
Its all just logic…lets see how it all turns out, but not expecting any surprises nor should anybody else. The AC-45 is the real marketing deal from a global level, as the AC is a 'one and done' event rather than something that endures on an annual basis.
July 9th, 2014 by admin
AC Breaking
UPDATE: We were clearly dead wrong about San Diego losing their AC bid.  It was in fact Chicago that went down.  Our apologies for getting it wrong, and y'all can read the full press release here; it says that San Diego and Bermuda remain as the possible targets for Coutts and Ellison's "goal of hosting an exciting and successful America's Cup built on a strong commercial foundation."  We'll leave the text below as a lesson to ourselves…
Rest assured, San Diegans: You won't have to deal with any America's Cup crowds in 2017! Or is it?
With Anarchists reporting Russell Coutts traipsing around Navy Pier last weekend and an independent confirmation from Vsail's Pierre O, we can safely report that San Diego looks to be knocked out of the running to host the next America's Cup, and we expect a press release on Wednesday announcing just that.
Remaining will be Bermuda and Chicago, though we are nearly certain that Coutts is only keeping Bermuda on the hook as a negotiating tool.  At the end of the day, the months of national and international outrage that will erupt if  Coutts and Ellison carpetbag the Cup offshore will make Kingpost-gate look like a Sunday cartoon, creating the kind of unpredictable obstacle that can be near-impossible to overcome.  In other words, if Coutts wants to guarantee his vision fails and his wallet swells, he will choose Bermuda. If he wants a remote chance at commercial success, longevity, and a positive impact for sailing, Chicago's the only place left.
July 8th, 2014 by admin
The Bermuda Sun didn't take kindly to our analysis of potential AC35 venues last week, devoting half a page of text to Sailing Anarchy's 'naiveté' in criticizing the tiny island as an America's Cup venue.  The Sun's confidence comes in part thanks to a single source they cite; a retired sailing coach named Paul Doughty, the Bermuda media's go-to guy for quotes.  "Sailing Anarchy…have no idea what this tiny island gave the sailing world," said Doughty.
We do, in fact, know what Bermuda gave the sailing world, Mr. Doughty.  But your island's 17th century contribution to upwind sailing has precisely fuck-all to do with the logic of holding an AC in Bermuda, especially one held by a US-based team.  Doughty says "I think it would be a tremendous shot in the arm for Bermuda…In terms of world exposure, it's massive. Every single yacht club in Europe would see us and the incredible place that we sail in."
You know what, coach?  It would be incredible for the economy of, say, Haiti, if FIA decided to hold a Formula One race there.  The whole world would see how pretty it is – imagine the world exposure!  But it's still a stupid fucking idea.
So listen up, all you dicks in those stupid shorts and socks: Sailing Anarchy likes Bermuda just fine.  It's a pretty island with good sailing conditions (once you get there, at least!) and a great lagoon.  But it's also got a British culinary culture, some of the most over-priced goods anywhere, and is right in Hurricane Alley.  And with just 60,000 inhabitants, a Bermuda AC would be a luxurious but very, very quiet affair – perfect for Louis Vuitton to get back on the scene, anyway.
More importantly, if Bermuda is picked as a Cup venue, it will be an outright admission by the folks running the AC of something that we already know, and an indicator of something far worse: Larry Ellison and Russell Coutts' stated mission before AC34 – transforming the Cup into a worldwide brand with sustainable commercial appeal to a worldwide audience – has failed.  Choosing a major US city might mean Coutts is giving it another try, but a Bermuda Cup would mean that they've all given up, and that the AC is, indeed, solely for the super rich.  And of course, for 60,000 Bermudans.  For everyone else, there's Youtube.
What were we saying about Chicago again?
June 25th, 2014 by admin
Former San Francisco politician and now barkeep was one of the city's biggest naysayers in the negotiations for AC34, and with the City being 'pumped and dumped' as a possible AC35 venue, Peskin is clearly feeling vindicated, and, well, a bit punchy.  And yesterday, he penned the "Top Ten Reasons AC Banners Are Still Flying Over SF"  that gave us a little chuckle.  From SFGate's blog:
10. Larry Ellison demanding taxpayers give him $11.5 million more just to make him go away.
9.  Cup Banners hiding sacks of lead weights Team Oracle used to "speed things up a bit"
8.  Port likes to pretend things it doesn't like never happened – see secret plans to revive 8 Washington
7.  First C.W. Nevius has to write another bizarre column blaming NIMBYs for everything
6. Ed Lee hoping "America's Cup Success" banner is his version of "Mission Accomplished"
5.  Top Port officials don't even live in SF so they never noticed banners still there
4.  David Chiu hoping banner maintenance can fulfill his mayoral campaign promises that "America's Cup has already created thousands of local jobs right here!"
3.  Just a few more layers of car exhaust and dirty banners will blend in perfectly with piers
2.  Larry Ellison cemented banners on with his super-fancy "billionaire yacht glue"
1.  Ed still waiting for the ok sign from Willie and Rose.
In other America's Cup news, Coutts was seen at the Chicago Yacht Club yesterday; ostensibly scouting out his new office space…We're going to throw our endorsement behind the Windy City as our top choice for the Cup, and we encourage you to do the same.  Why?  How about our own serious Top Ten list?
SA's Top Ten Reasons For Oracle To Hold An America's Cup in Chicago:
10. Bermuda's costume is possibly the stupidest national dress in the universe.  Worse than Burkhas.  No one can take a year of those shorts.
9. Bermuda's sharks and big reef fish would play havoc with AC62 foils.
8. The Editor would be angry for two years if SD got taken over by Coutts and his minions.
7. SD Kelp + foiling = uh-oh.
6. No more mammal slaughter; AC34 killed literally tons of seals, sea lions, and dolphins.
5. Chicago's hipster population is minimal.
4. Chicago is way closer to Clean's house, meaning SA might actually cover the 35th AC.
3. Don Wilson is smarter than the entire San Francisco City Board of Supervisors, and should be able to drive a good bargain.
2. 2 of the 4 Americans currently sailing for Cup teams are (more or less) local.
And the number one reason to have AC35 in Chicago:
1. Late night lead 'modifications' to Oracle's boats will weigh more in fresh water.
June 19th, 2014 by admin
Our favorite blonde bombshell hits the airwaves with another edition of Adventures of a Sailor Girl; for this weekend's edition, Nic Douglass mixes rock and funk songs with some of Australia's biggest sailing talents.
At 7:05 – She's got one of the winningest one-design pros in history on the line and a longtime friend to SA; Darren 'Twirler' Jones, a show regular called in from the farm, ahead of going to the Farr 40 Worlds.
At 18:52 – She spoke with Josh Chant, the founder of 33 South Racing, about the scholarship program and where the program is headed (including an Extreme 40).
At 39:18 – Nic got 'the big get' with 'the Big Fella' – Australian AC Team CEO Iain Murray who took some time out of his busy schedule to chat about the sails, foiling cats, and the America's Cup.
At 53:05 – Nic gets into the CYCA winter series with her own report from sailing on the Harbour.
Enjoy, and if you dig Nic like we dig Nic, go give her some Facebook love over here.
June 16th, 2014 by admin
San Francisco's demands to host the 35th America's Cup proved too much for Russell Coutts, who sent a letter to Mayor Ed Lee this morning.
""Given the tight timeline and demands from prospective teams to confirm the final venue, it has been necessary to continue reducing the shortlist of candidate cities," Coutts wrote. "We have therefore taken the difficult decision to no longer consider San Francisco as a possible candidate to host AC35."
Union wages, NIMBY bitching, and the lack of concessions on fire/police services and pier restoration money don't work with Coutts' mission to make the Cup sustainable – a mission that depends on 8-figure venue hosting fees, tax breaks, and long term subsidies from places that see the value in offering them, and we've learned that Bermuda is currently throwing the biggest pot of gold at Coutts & Co as of today.
Far be it for us to criticize the business acumen of a guy who just threw spent more money on a per-spectator/per-viewer basis than anyone in the history of sport with almost nothing to show for it, but is an island nation that has lost more than a third of its hotel rooms since 1990 and that, according to most sources, has less than 10,000 beds and 4,000 rooms, a good choice to host what they called a couple of years ago, the 'third most economically valuable sporting event in the world?'  Remember, this is an island where literally everything needs to be flown in from elsewhere, and it has one of the highest costs of living on Earth.
Maybe Russell is on to something here; after all, the only Bermudian industry bigger than tourism is tax avoidance and international banking; specifically, Bermuda is one of the world's top tax havens for businesses, and a great place to register your multi-million dollar yacht or plane.  Did Coutts finally come to the decision that millions of poor, downtrodden masses will never make the Cup pay?  Can the Cup reach commercial nirvana by catering only to the kind of ultra-rich folks who own super yachts and can write off million-dollar trips to schmooze in VIP tents in Bermuda?  It worked for Louis Vouitton – well, at least until Coutts' last big plan chased them out of the game…
Or is Coutts just completely out of his mind?
June 11th, 2014 by admin
As Russell Coutts continues his efforts to become the Bernie Ecclestone of the America's Cup, another Bernie learned yesterday that San Francisco is most likely OUT of consideration for AC35.  You'd think the new buzzwords of sustainability and commercial viability might argue for Northern California staying part of the AC, but apparently, they're just too big a pain in the ass for Coutts; in a truly bizarre twist, an island in the middle of the Atlantic is now thought to be at the head of the list, thanks to government subsidies, tax breaks, and time zones, while San Diego and Chicago remain in the hunt, with the SoCal gem a marginal, haven't-we-been-here-before option, thanks to the kelp, light air, and the fact that the racing will either be so far south offshore that it will be in Mexico or so far west that it might as well be in Hawaii, except it isn't. It is equally retarded to think that the Midwest option is probably the best possible one, all things considered.
A Bermuda choice would be a major admission that huge crowds aren't that important to the 'commercial cup', nor does any connection to America matter beyond the 25% nationality requirement or the name of the defending team or the competition itself.  More irony in an AC35 that's overflowing with the stuff.
June 10th, 2014 by admin
Straight out of the box, we expect Ben Ainslie Racing to have possibly the best shot at beating the Larry and Russell show for America's Cup 35.  Ben's played this one pretty close to the bone, though it isn't a stretch to tell you that long time big boat bowman and BAR Extreme Sailing Series crewmate Nick Hutton will be on the boat, as will, we expect, Paul Goodison and Mattie Cornwall.  Will Big Ben bring along sailor chick Pippa Wilson?  While size and strength will be at a premium for the AC62, Pippa's proven in the X40 that she can do good things for a 40 footer and perhaps the ACWS; it's been a goddamned long time since we saw a woman in the sport's premier competition and Ben could make some serious PR points if she came along for the ride.
But his crew isn't the reason we expect Ben to shine this time around, and the biggest news of the day isn't about sailing teams; it's about designers, and we understand that Ben has or is close to signing up Adrian Newey OBE – the 4-time Formula One winning aerodynamicist responsible for the dominant Red Bull Racing cars for the past three seasons of F-1.  Red Bull announced last week that Newey had signed on for a contract extension with the team, but not a typical one; Newey will design the 2015 cars and then expand his job to oversee the new Red Bull Technology program, and we believe that Sir Adrian's first big project is to help Sir Ben bring the Cup home to Britain for the first time in more than a century and a half.  It makes sense that Red Bull will come along as a major sponsor of Ainslie as well, especially as we've heard from several Red Bull insiders that they were less-than-enamored with their Oracle partnership in 2013.  If you're not an F-1 fan, trust us – this is the biggest threat to Ellison on the horizon; well, that, and the fact that Detroit's favorite sailing son is now in Cagliari wearing a shiny helmet and robot armor…
We'll have the press conference for you as soon as it is available; watch this space and www.benainslie.com.  And stay tuned for a detailed analysis of the Protocol and AC62 rule later in the week – the kind of thing you'll only see here on SA.
UPDATE:  Apparently, streaming a press conference on the web is simply too difficult to handle for the world's most decorated sailor, his media team, and a 100 million dollar budget, so you're shit out of luck if you want to watch it here, or frankly anywhere that isn't BBC on a television set.  Welcome to 2014.
UPDATE 2: Oracle Team USA lead designer Dirk Kramers has jumped ship; the American will be with Team Ben for the next AC.  If you don't remember Dirk, we caught up with him at the Little AC last fall.   
June 10th, 2014 by admin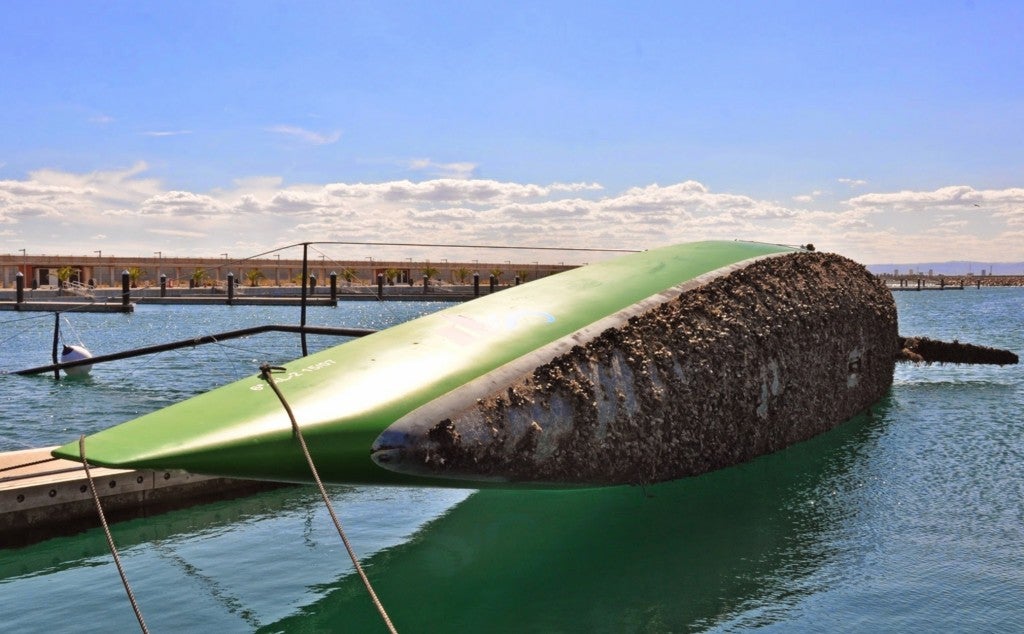 Formerly ESP-65 Desafio Espanol and before that, USA-65 One World, this IACC boat has definitely seen better days.  Unfortunate situation or an allegory for the sorry state of Spanish sailing these days?  Pierre Orphanidis at Vsail has the story, and he took this excellent shot.
May 30th, 2014 by admin
big pimpin'
Our pals at Gunboat continue to work on the super-sexy coastal racer/cruising G4, but with a twist:  Now, you can get them with J-foils.  Flight of fancy or flight for real?  We grabbed team member and design dude Rudo Enserink for a quick update.
SA: With the J-boards and T-rudders, this is looking like a full foiler.  Is that really possible on a boat with bunks and a kitchen?
RE: Yes and no. We're first going to build high-lift C-foils for safe but very fast foil-assisted sailing.  The mildly asymmetric C-boards can be raked from -1 to +7 degrees and will be set at the factory for safe cruising.   The lift of these foils maxes out at 80% of displacement, and advanced owners can play with the rake adjustment to optimize for purpose and conditions.  One of the great things about C-foils is that you can leave the windward daggerboard deployed in all tacks.
The hull and daggerboard casing structure is prepared for full foiling, as are daggerboard bearings and rudder bearings.
If there's enough interest from the market we'll develop an electronically stabilized full foiling package that will be available as aftermarket upgrade. The current concept for this is an L-foil and auto-leveling T-rudders.
SA: Who is building/designing the foils?
RE:  Foils are designed jointly by Doug Schickler from Schickler Tagliapietra, with Davide Tagliapietra, Pieter Jan Dwarshuis, Mischa Heemskerk and Rudo Enserink.  They will be built in by Holland Composites (also builder of DNA A-cats), in their autoclave, and you can see some progress at their Facebook page.
SA:   That's a pretty serious VPP chart.  Is that with the C-foils or with the new J/L foils?
RE: This VPP is with the C-foils.
For more info on the very hot Gunboat G4, check out the full details here or ask questions in the thread here.  Title shout to the best cartoon of the 80s.
May 14th, 2014 by admin
It's the one-year anniversary of Andrew "Bart" Simpson's death aboard the JuanK AC72 known as Big Red, and also Bart's wife Leah's birthday, and no one can say that Bart's friends – guys like Iain Percy, Nathan Outerridge, Paul Goodison, and Ben Ainslie – have let the memory of the man fade away, even for a few moments.  They've spread his name all over the UK in countless ways, with major time and money going into the creation of the record-attempting Bart's Bash and todays 's dedication of the Andrew Simpson Sailing Centre in Weymouth.
It all seems so uplifting until you realize that there still hasn't been a single word of the investigation into Bart's death released by anyone, anywhere, at any time – if one was ever completed at all. We asked the San Francisco PD whether their investigation was ever completed, and they said, "what investigation?"  We asked last year for the results of Artemis' investigation, and never heard a word.  Not a single federal or state agency has said a word about culpability for Bart's death, and we don't expect them to.
Is every one of Bart's friends willing to just say 'shit happens' instead of finding a shred of responsibility or accountability for the fuckups in design, construction, and/or sailing that killed their teammate?  We  expected it from disgraced team CEO Paul Cayard, who said next to nothing and basically became invisible after Bart's death until being booted from the team after Artemis' ignominious exit from the LV Cup.  But to get the same silence from real leaders; guys like Ainslie and Percy and Goodi who've never been bashful about speaking their mind, we expect better.
If this was Formula One, someone would be in court or jail right now, or at the very minimum, hauled before a governmental investigation panel.  But this is sailing, something no one in public office cares about for more than 12 seconds, and if Bart's friends inside the sport don't make noise, no one will.  While we think it's awesome they are raising all this money – much of it going to Bart's widow – we also wonder if maybe, the best way to remember Bart would be to find out exactly why his boat killed him after folding itself into little pieces on a typical day in San Francisco. You don't hold people accountable out of vengeance, or anger – you do it so history doesn't repeat itself.
CLARIFICATION: There's been a lot of discussion about our editorial above, and we'd like to clarify a bit:  We are not questioning the integrity of any of Bart's friends or family.  We are questioning why a death on an AC72 is any different than a motor sports, air racing, or traffic accident, or for that matter, any of the numerous life-ending sailing tragedies we've seen over the past couple of years, and we are questioning why people close to Bart haven't demanded more.  Low Speed Chase went up on the rocks just a few miles from San Francisco last year in a crewed race, killing 5 crew of the 8 aboard.  An extensive, expensive, nearly year-long investigation took place thanks to US Sailing, with a lot of important lessons learned by the hundreds of thousands around the world following the tragedy, and some closure for the families and friends of the deceased sailors.
Meanwhile, there's been no such response by US Sailing, ISAF, the USCG, the State, or anyone else for Simpson; rather, there have been a few open-and-shut inquiries by police departments with no apparent interest in delving into an area that's totally unfamiliar to them, with every move watched over by legal counsel to billionaire businessmen.  There has been an internal investigation by Artemis without a single page released to anyone outside a tiny circle of Artemisians.  What about the tens of thousands of fans Bart had?  What about an English public that cheered he and Percy on so strongly during the Games?  Do they not deserve more than silence?
CORRECTION: Richard Butcher is Chairman of the Board of Trustees for the Andrew Simpson Sailing Foundation, the charity formed in memory of Bart, and he wanted to correct our piece.  Over to him.
The purpose of the charity is principally educational, via the sport of sailing. This will partly be met by encouraging into the sport those youngsters who would not otherwise have that opportunity. One of our aims is to help find marine related apprenticeships for some of these youngsters.  Yesterday, we achieved a historic milestone in the charity's short period of existence by opening the sailing centre in Weymouth. This enables us to have a focus at a world class facility.  Every bit of the amount raised is destined to help fulfil our objectives, and we have every ambition of this becoming a world-wide charity once funding permits.
There was a serious inaccuracy in the item you published yesterday. None of the monies raised for the charity will go to Leah, Bart's widow. It will only go towards the fulfilment of our objectives. Leah is one of our Trustees and it would not, in any event, be permissible for her to benefit from the charity.   It is most important that those making donations to the charity, whether it be by Bart's Bash or otherwise, are not in any way misled as to what will become of their donations.
Yours sincerely,
Richard Butcher
May 9th, 2014 by admin
Some of us were extremely excited at the possibility for a Hawaii America's Cup.  Hot bodies, perfect weather, great weed, and locals that hate everyone – it would have been the ultimate 'fuck you' to the mainstream spectator so desperately sought out during AC34 and like San Francisco, the distance helps keep those pesky Euro-riffraff out.
Unfortunately for lovers of the Rainbow State, a strangely worded piece with a missing story link from the Maui News appears to put 'paid' to the idea, with blogger Robert Collias telling the tale of GGYC bigwig Norbert "The Mechanic" Bajurin and his speaking junket in Hawaii last week.  Bajurin confirmed to at least one Hawaiian journalist that, between the lack of infrastructure and lack of a protected sailing venue, it wasn't going to happen, and that 'Perhaps, we'll have a training thing."
The smart money says San Francisco's leaders need to hold the line against GGYC's now-familiar venue-shopping charade.  No one on the team wants to move again, especially not to light air San Diego or Chicago.  What does Grant Dalton think?  Get those answers in this great interview with RadioTalkNZ's Tony Veitch.
The Protocol Watch continues…join in here.
May 5th, 2014 by admin
Two AC wins and the informal title amongst San Franciscans as the AC's sexiest sailor haven't gone to Angtiguan Shannon Falcone's head; the musclebound monster is still as humble and down-t0-Earth as he's ever been, and he's an easy guy to cheer for – especially when he's using his connections to help kids in the islands get more into sailing.  Shannon was instrumental in getting the big Cup to town for a quick visit as Sailing Week comes into its final days; check out the video profile above for a look at Shannon and his family, with thanks to Roddy and the ASW video team.
May 2nd, 2014 by admin
AC34 Challenger of Record Artemis Racing has had a rough year of it; first losing Bart Simpson, then blowing some $100M of team owner Torborn Tornquist's cash in what turned out to be the a completely uncompetitive bid for the America's Cup and the weakest in the fleet.
Artemis boss Iain Percy has been busy building Tornquist's team for AC35, with helmsman Nathan Outteridge signing up again and a design team rapidly coming together, but Russia's military action in Ukraine may throw a wrench in Tornquist's money machine if a Reuters report yesterday is a sign of things to come.
Reuters (via BusinessInsider) says that the US Government's latest round of economic and travel sanctions names Gennady Timchenko (on the right in the image above), Tornquist's partner and the co-founder of oil and gas business giant Gunvor, writing that "Timchenko's activities in the energy sector have been directly linked to Putin" and that the Russian President "has investments in Gunvor and may have access to Gunvor funds."  Timchenko's US holdings are immediately subject to an asset freeze and the oligarch can no longer travel to the US or its territories, and he 'sold' his 44% stake in Gunvor yesterday to Tornquist to prevent the turmoil from effecting the monster company he built.
With Europe in strong solidarity with the US and Russia showing no signs of backing down from its occupation and annexation of Crimea (and making strong moves now in Latin America), could Tornquist be next, potentially losing the ability to sponsor his Cup team or even attend any US-based events?  Almost as importantly, the Russian annexation and its consequences certainly crush any hopes that Russian gas giant Gazprom had for getting their own Cup team off the ground this year.  That could kill two well-funded AC teams off before the Protocol for AC35 even hits the mailbox, and the rumored Russian ACWS venue negotiations are not going to go well.
Nice work, Vlad!
March 21st, 2014 by admin
Sailing Anarchy was launched right around the time when the first Moth – Brett Burville's surface-piercer – went flying.  As the Moth took over the world of ultra high-performance single handing, SA took over the sailing internet, and we've had a special relationship with the Moth ever since.  That explains our joy when we see just how incredibly strong the Moth is, with 2014 likely to mark the strongest year in the history of the foiling Moth.
This year's North American circuit is well underway, with longtime SA'er and two-time World Champ Bora Gulari defending his National title this coming weekend against new US Sailing Team member Brad Funk and a fleet including Star Gold Medalist Freddy Loof, multiple keelboat world champ Anthony Kotoun, and all the rest of the adrenaline junkie crowd.  We'll be there helping the US Class get photos, video, and news out via the US Moth Class Facebook Page this Friday to Sunday.
Meanwhile, the Moth Worlds at Hayling Island in the UK is about to set an all-time record for entries in a Moth WC – with 5 months to go until the event!  We Expect somewhere over 150 boats in Hayling including full teams from a number of America's Cup campaigns – foils will be the key to the next Cup, and the smart designers and sailors know that, with the A-Class split over whether to go forward or backwards, there is only one singlehander that will let them hone their skills for the biggest trophy of them all.
Europe is heating up just as quickly, with the first Act of the EFG MothEuroCup taking place in Bordeaux, France soon. It's the first of six awesome events held all over Europe, including the excellent Delta Lloyd Regatta in Holland in May, the Swiss and German Nationals, Traunsee Week in Austria and of course Europe's best sailing spot in Lake Garda has to be on the calendar as well. In this second year edition of the MothEuroCup, EFG Bank has stepped up to the plate as the series Sponsor, offering more than € 13,000 in total prize money.
With EFG Bank supporting Stars, Vipers, Melges 24s, and now the Moth, we're giving them a shout out; keep it up, bankers!  For a little video teaser of the Europcup, check this out on Vimeo.  Thierry Martinez photo from Hawaii.
March 20th, 2014 by admin
The rapidly changing face of sponsorship in a post-GFC world requires new thinking and new alliances, but it also is brings new problems to the table.
Example 1:  All Americans are stoked to see the All-American Offshore Team boys running the show for the first Volvo Ocean Race challenge with a Turkish sail number.  Turkish sponsor Alvimedica is a young, cutting-edge medical tech company from Istanbul, and the entry hopes to build and grow interest for offshore racing in the near East nation.  But what happens to that effort if both Youtube and Facebook can't even be accessed from Turkey, as an Associated Press story today reported might be coming soon?  Check out what the Turkish Prime Minister said on censoring the internet here.
Example 2:  The whole world has eyes on the Black Sea as Russia continues what seems like an empire-building exercise in Crimea.  With sanctions on Russian individuals already imposed by the US and EU, suddenly those Greenpeace protests of the Gazprom-sponsored Esimit Europa Maxi seem almost quaint.   Why's that?  Because the massive Russian-owned energy utility is already sponsoring an Extreme 40 team, and solid inside rumors have them looking at entering the next America's Cup with a big Gazprom logo on the wing.  ABC Madrid reporter Pedro Sardina says that Gazprom will be on the world stage even before that (though we haven't been able to confirm); Sardina writes that ETNZ boss Grant Dalton has already signed a deal with Gazprom for sponsorship of the ETNZ/Pedro Campos round-the-world bid.
What happens when a Russian owned and/or sponsored team comes to a Europe that may be boycotting Russia?  And what happens to events like the Extreme Sailing Series' Russian stage?
March 7th, 2014 by admin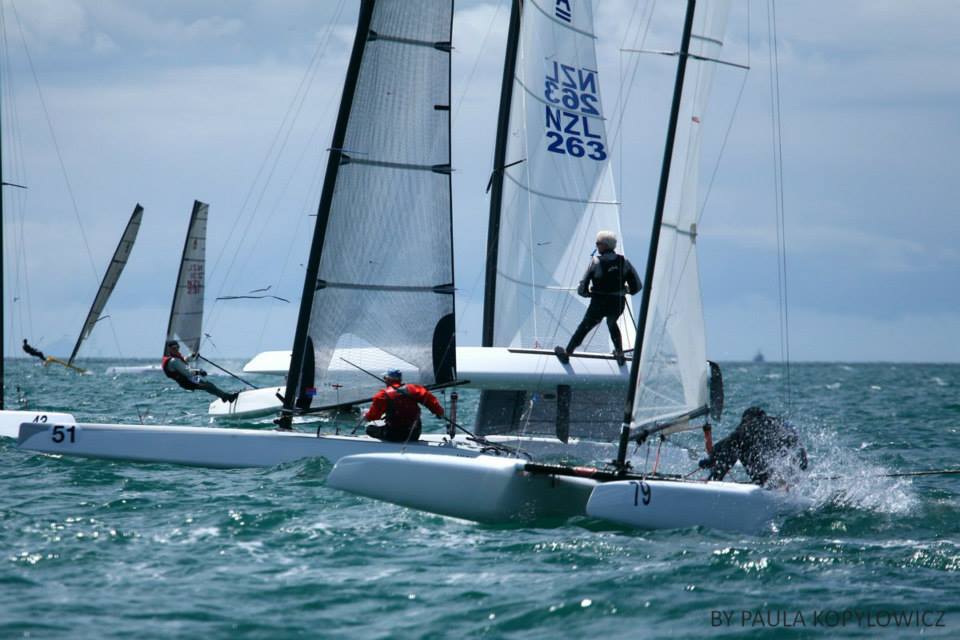 While interest and membership in the International A-Class Cat remains at an all-time high, the just-concluded, semi-foiling Takapuna Worlds brought significant new questions to light in the world's premiere singlehanded multihull.  
The problem isn't necessarily foiling – anyone watching the Worlds saw a fleet where even the very best pro racers could only foil for some of the time, and most of them would be in similar positions if there were no J, L, or C foils at all.  The problem is that the Class is quite neatly split down the middle as to whether they want a foiling boat.
Current A-Class rule 8.1 limits the span of any vertical foil, which means only relatively small "J" or "L" shaped foils are allowed on an A-Cat.  Rule 8.2 requires all appendages to be inserted from the top, which further limits the size of the foils and makes the kind of efficient wand-type controls that make a Moth so effective difficult or impossible to fit on an A-Cat.
None of this is new – in fact, Rule 8 dates back to 2009, and was clearly written to keep boats from flying.  But as America's Cup rules writers quickly learned (and nearly lost the Cup over), it's easier to design around a rule than to design an effective rule.
So has it been with the A-Cat, and the cream of the Takapuna crop came up with huge board-holding cassettes fitting into massive holes in the hulls to circumvent rule 8.2 and a range of innovations to try to fly around rule 8.1, with less than satisfying results for those that think an A-Cat should truly fly.  Meanwhile, a vote taken at the AGM to rescind Rule 8 failed to garner the requisite 2/3 majority, and the half-foilers remain the best option available for the next year.
Many young folks look at the Moth and scratch their head about the A-Cat conundrum.  "The Moth is so successful, why not follow right away with the A-Cat?" is a common refrain.  But unlike the Moth Class of the early 2000s which was on life support and in danger of being delisted by ISAF when John and Garth Illet pioneered the two-bladed foiling moth, the A-Cat Class is extremely healthy throughout Europe, America, Australia, and NZ, and compared to the Moth, the A-Class is a long, heavy and ungainly machine.  It's also an expensive boat already; a top of the line DNA will not leave you a lot of change from $40 grand. A pre-foiling, top-of-the-line Moth cost around US$10k in 2000; today's production Mach 2 is well north of twice that.  Can the A-Class support the additional expense it takes – both in money and weight – to handle foiling loads?
Will the thousands of A-Cat devotees around the world stand for the kind of wholesale obsolescence of their expensive toys that would necessarily follow if someone comes up with the kind of world-beating machine that Andrew Macdougall and McConaghy China have with the Mach 2 Moth?  And perhaps most importantly, what kind of  unintended consequences will follow from the inevitable 30-knot crashes of a boat three times the mass and two or three times the cost of a Moth?
No one knows the answer to these very tough questions, but a group of dedicated A Class sailors in Australia led by Steve Brayshaw and sailmaker Stevie Brewin has a real desire to see stable flight become a reality. After consultation with foil designers, they've realized they can't do this under the current rules, so they're taking the next step:  To see what it will take to make a stable foiling A-Cat.  They believe that if they can prove to themselves and the world that it can be done, the worldwide members of the A-Class will only then have the information they need to be able to support a rule change.
The Steves are calling it the A-Class Speed, and the boats will measure as A-Class cats in all respects with the sole exception of Rule 8.  This will allow them to insert new foils from the bottom into old boats with a minimum of fuss, allowing the kind of testing and development necessary to produce a proper foiling boat.   Brayshaw will make the Speed his main focus as soon as the new foils are available, while Brewin will also sail the current A-Class until the Europeans to continue to provide sails and service to his Brewin Sails customers.  Other A-Catters downunder have already committed to the project and anyone is welcome to get involved.  Various highly-regarded foil designers have shown real interest in the project, with one boat already hastily converted with promising results.  It is certainly going to be an interesting winter down under.
The first A-Class Speed Open Championship will happen on Lake Macquarie during the next Aussie summer, with the exact dates and venue to be announced as soon as possible.  All are welcome, including anyone who wants to compare their existing boats to the new concept.  For further information, hit up Stevie Brewin on Facebook or send a PM to SimonN in the SA forums.
And if you don't know where the title for this piece comes from?  Screw you, kid.
February 24th, 2014 by admin
Assisted by some tenacious questioning from TV3 (NZ) host Paul Henry, Dean Barker quite clearly lays much of the blame for ETNZ's America's Cup loss right at the feet of Grant Dalton, and not just as the guy with the reins.  Barker blames Dalton for allowing Oracle to take the famous 'lay day' and says Winnie MacFarlane was a far better grinder, and goes even deeper – though they did not get into the single biggest reason they lost the Cup – ETNZ's acceptance of the 'post-Bart' safety recommendations that allowed a ten-knot wind speed to be simply too low to allow the boats to finish a race under the time limit.  This one is worth watching, and tomorrow we'll have part two of this excellent interview.  Click the pic or go here for the full ten-minute chat. The America's Cup Anarchy thread is already blowing up…add your comment here.
Hawaii 3-5
In other AC news, we hear that Hawaii is actually getting real consideration for the next America's Cup, and for the first time, we're not discounting it as yet another negotiation ploy by Ehman and Co. to get a better deal out of San Francisco – especially with SF recently announcing that the loss to the City from providing services to the Cup is more than double that initially thought.   Pros?  You're virtually guaranteed a massive crowd thanks to easy flights from Australia and New Zealand, it's never cold and wet and foggy and nasty, you have a local government that desperately needs the tourism dollars, and Larry already owns an island there.  Cons:  American and European fans will be in the firm minority…but thanks to Youtube and Stan Honey and the fact that Louis Vuitton never wants to be seen in the same zip code as Red Bull anyway, no one really cares…do they?
February 12th, 2014 by admin
Unlike lesser publications, Sailing Anarchy doesn't ever fuck off on vacation, and certainly not with one of the world's best racing competitions coming up in just a few days!  You can count on our front page becoming 'Sydney Hobart Central' for the next week or so thanks to McConaghy Boats and the Cleans, beginning with a full form guide for you later today, but in the meantime, how about a few videos to keep your sailing fires going as the ice creeps in over your roof?
Unfayer
Fayerweather Yacht Club (Bridgeport, CT) had some unwelcome company last week when a gravel barge ran right through their floating docks, a cruising boat, and an Olson 29.  The security-cam footage ain't the best, but it shows plenty, and thanks to moondance for the view and the thread.
Zeitgeist
Google's annual Zeitgeist video celebrates the most-searched for terms of the year (we assume they leave out 'lesbian teen'), and while it's mostly self-serving 'do no evil' crap, we were stoked to see a few milliseconds of ETNZ's AC72 on screen for the already more than 10,000,000 people who've seen it.  AC34 never had a single video that reached even a quarter of that, but it's the gift that keeps on giving especially in NZ, where "Americas Cup" was not only the most watched program of 2013, but it was also the most searched for term in the nation.  Speaking of ETNZ, they're not sitting around; a squad of six ETNZ'ers (including Gashby) are headed over to the A-Cat Worlds next month in Takapuna.  Thanks to MaughanNacra20 for the tip.
Blades On A Lake
We wouldn't have thought Garda would beat Geneva to the first-ever "all-foil sailing week", but it looks like they have, at least if this Youtube-sourced promo video and their basic website is to be believed.  Bring your foiling boat – any foiling boat – to the best sailing venue on the planet for two weeks of racing and a week of speed testing, brainstorming, idea exchange, and wine drinking?  Sounds good to us.  Check the site here.
Center Stage
We'd never have the gumption to get back at it after such a heartwrenching loss, but after a short soul search, the ETNZ boss is back at it, already looking for cash and signing up sailors.  Last week he sat down with Channel 3 News for the most wide-ranging interview he's done since he got home.  Plenty of interesting news for Cup fans as the long, long waiting game settles in; the waiting game that explains why the AC can never be like the World Cup.  Click the link to take you to an external player, or hit this one for a few minutes with Deano.  Grazie to Stingray for the links; from the Dalts' Optimistic thread.
December 23rd, 2013 by admin
Offshore Rules
For a decade, Alex Thomson has distinguished himself as the one non-French solo racer who can truly battle with the big boys both on the course and in the boardroom.  Second in the inaugural Barcelona World Race and then an incredible third place in the last Vendee against far quicker designs, Hugo Boss has become synonymous with Alex and his Open 60, and they are clearly happy about it.  That's why the fashion house pulled the trigger last week on yet another 4-year deal with Thomson and management company 5West; they used the occasion to announce Thomson's participation in the next Barcelona World Race with long time SA favorite Pepe Ribes, and the team also committed to next summer's Ocean Masters NY-BCN race; a bit of a stunt to try to get US interest up in IMOCA action prior to what should be a well-funded, well-attended, and brilliant 2015 BWR.  Congrats to Alex and his entire extended team; they are keeping IMOCA relevant for a hell of a lot of English-speakers.
Inshore Fuel
Thanks in part to some of the same great supporters of Alex's campaigns, we can confidently report that Sir Ben Ainslie – the first British member of a winning America's Cup team in 110 years – is most of the way to meeting initial funding pledges and goals for the next America's Cup and an all (or mostly) British team.  While Sir Ben wouldn't confirm or deny this when we spoke to him, other Pommie friends tell us that Ben's been making great inroads, and probably has around 80% of the necessary funding pledged by a syndicate of UK businessman and long-time commercial sponsors.  This all assumes a satisfactory protocol coming to light sometime before Judgment Day, and it's spectacular news for the Cup and great news for fans of arguably the world's best (and best-known) sailor, and we wish him all the luck in the world.
World Championship of the World
We're also hearing that the AC45s may be done and dusted, and that 2014 will not be a year of ACWS racing of any kind.  Meanwhile, Ben, Cammas, Luna Rossa, and ETNZ are likely to jump into the Extreme Sailing Series tout de suite, and some of the younger potential Cup B-teamers may get some starting and match racing practice in a resurgent World Match Racing Tour.  Add in some cross training with the Flying Phantom foilers and you've got plenty of AC action for the next year, even with no AC.  Good times (on tight budgets)…
December 19th, 2013 by admin