Posts Tagged 'America's Cup'
The first day of actual racing at the Little America's Cup certainly didn't disappoint; a mix of the kind of carnage you'd expect from the most bleeding edge of development classes and incredible high-speed, high-flying action from the dominant Franck Cammas and Groupama C.  The Rev Petey is back in action too, as you can tell from this incredible highlight reel from Races 1-3 of the 2013 C-Class Cat Champs.  Enjoy, and be sure to check out a full day's racing, broadcast live by Clean and team beginning at 1100 GMT – right here. 
The full video from races 1-3 are here.  Part One here, and Part Two here.
September 24th, 2013 by admin

Live Video streaming by Ustream
If you're into wings, foils, and technology, you've been waiting for this for a long, long time.  If not, you owe it to yourself to check out the 2013 Little America's Cup.  Technically known as the International C-Class Catamaran Championship, it's the best thing about sailboat racing, and thanks to Clean and the team, along with Magic Marine and the Canadian C-Class Team, it's live every minute of every race from today to Saturday.
Pics, interview, amd much more at the event Facebook Page.  Like it, share it, and enjoy.
September 22nd, 2013 by admin
It's not too fragile a limb that we're on when we tell you that this is the last day of AC34.  Let's watch it all happen (including the expected protocol signing aboard Imagine) right here (unless you're in America or New Zealand, of course).   If you like to jaw about your sports, go here.
EDIT:  With the Kiwis looking absolutely stunning in the light air, it looks like ACEA already knows their tenure is over.  At least that's what it looks like when they auction off hundreds of thousands worth of furniture, boats, and America's Cup gear!
September 20th, 2013 by admin
UPDATE: Thanks to the artificially low wind limits put in place due to the disaster that was the Paul Cayard-led Artemis AC program, today's racing is in delay, and likely not to happen at all…
It would appear that we just don't know what is going to happen in the AC today, but one thing we do know is that the end is near and roughly 75% of every television in NZ is watching.  Splits won't do for Oracle, only sweeps, and they will need three consecutive days of sweeps just to get even. Not gonna happen, but then again, if not for a little divine provenance we might still see ETNZ's second boat being prepped for racing today…
What will happen? If you have NBCSN, you can watch it happen at 1:15 PM, West Coast, and for Proxy Server congoscenti and non-US or Kiwis, here's the Youtube link.  In the meantime, you can watch the media going apeshit with last-second mostly-manufactured controversy here (Oracle Tries To Raise Wind Limits), here (GGYC Vice Commodore Calls ETNZ Cheats), here (Russell Coutts is the new Dennis Conner), here (AC Protests Cancelled Out Of Pity For Ellison) and here (Nationality Rules For AC35).
And above, you can get a little Clean while you're at it, from this morning's Radio NZ drive time show.
September 17th, 2013 by admin
If the last few weeks has contributed to an obsessive need for you to watch foiling catamarans racing through big wind on your computer screen, we're happy to inform you that you'll have a full week of it coming up this Sunday with the Little America's Cup.  Formally known as the International C-Class Catamaran Championship, the Little Cup will feature 11 teams from all over the world with some of the most advanced racing craft ever developed; in some ways far more advanced than the 'real' AC.  
Clean, Mer, Petey and a cast of famous and not-so-famous guests are digging the On-The-Water Anarchy cameras out of the shed to bring you live, hilariously and expertly commentated video action from every race at the 2013 Little Cup, along with our infamous 'Cocktail Hour' live talk shows, piles of interviews, and highlight reels put together by some brilliant folks in the UK.  We expect to have trackers, great photography and plenty of updating on Facebook, too.  So keep watching here, and for everything C-Class, hit the 2013 International C-Class Championship thread and bring yourself up to speed. If Facebook is more your speed, Like the Little AC page here.
Like the Minista below, the UK's Team Invictus have had a tough road to the starting line.  Here's the update from their skipper and the fastest sailor on the water – Paul Larsen:
Sunday: The start line is often the first finish line.
It's past midday on Sunday here in Bristol. The shed is full of various wing parts in heater inflated bubble tents. To say we are a bit late is a massive understatement.
This is yet another big ol' mission just to make it to the start line. I didn't want it, nobody did. I had no idea what I was walking into 13 days ago. Basically, for one reason or another, Helena and I walked in just as things had fallen apart. We had come to hopefully help a little bit to get the last bits together and help the team along. What confronted us was obviously going to require substantially more input. We had a main spar with the ribs attached to it… and that was it! No flaps, no moulds, no leading edge and no control systems/linkages'hinges… just CAD drawings.
My first reaction was to keep walking. This would mean that there would be no British boat at this event. That was unthinkable. We had to have a go. We went to the pub and began hatching plans. As long as there was a chance… we would have a go. We began pushing on.
None of us wanted to stand next to a piece of junk. It's obviously not going to be as good as it could be… but the old girl might be alright. The platform seems OK and there are some aspects of the wing that I am interested to see. We don't have the time to re-design everything to fit the schedule so there has to be some shooting from thew hip and acceptance of what we have.
Keep it in mind that this needs to be in Falmouth getting rigged on Tuesday.
We had to come up with a quick way to make a 3D curved leading edge so we used polystyrene blocks, a skilled carver and then Dan (from Independent Composites) did a great job of fairing and skinning. In fact Dan and the boys have been ripping into it. They made the large lower flap and have let us take over the workshop for the weekend.
Thankfully the National Composites Center (NCC) in Bristol did the MDF tooling for the top flap and Helena and I went and built that there with Nick Hewlings. The mould came off the machine last Wednesday afternoon. We used a quick method of sealing surfacing the mould involving putting the whole thing in a 'envelope' vacuum bag which we then sucked down onto the mould and used as a surface to actually laminate onto. Unbelievably… for some reason this bag sort of dissolved during the cure and is now structural i.e. part of the laminate. We were so lucky that it held its vacuum and that it didn't result in the part being permanently stuck in the mould. None of us have ever seen that before . So we'll be sailing around (hopefully) with a vacuum bag still on the upper flap.
We just don't have any time to get hung up on one process. It's all a bit mad. At times I wonder what the hell I am doing here. We shouldn't still be doing things this way. I guess when it all looked a bit too much I began to wonder if we really could do it. I'm still wondering.
The parts are all coming together. The flaps are a bit heavy but then we haven't finished cutting them down.
Anyway, here we are. It's getting warm in here. I'll let the pictures do the talking. The picture of us cutting out the holes in the lower flap was taken around lunchtime today.
Monday:  All the big pieces are together. The little bits are turning up and the trailer just arrived. The Harken order is on the way direct to Falmouth and the Marlow order is still being chased. The daggerboards are curing under a heater just off camera.
Helena is trying to hook up live tracking. This will all be loaded in the trailer tonight and should be in Falmouth in the morning. It just has to be that way.
Tuesday:   Invictus has once again… left the building. Well, actually there is still quite a bit of building to be done… but she's out of the shed anyway.  This boat and this team, in one form or another, are why the event will be in the UK this year. We felt that she simply had to be down there mixing it up with her Brethren on home waters.
Goodbye Dan, Leighton Mitch and Nick from the NCC, thanks so much for going the extra mile and helping to get rid of us:)  We still have a lot to do but the overall spirit in the team is good. We turned a corner. Let's see what happens now.
Next stop, Falmouth and the 2013 ICCCC.
September 17th, 2013 by admin
Update: Oracle absolutely dominated race number one today – they owned the start, were faster on every point of sail, and flawless in execution, if you didn't know better, you would think they switched boats! And yet just as soon as Oracle seemed to begin to establish supremacy in race #9, ETNZ snatched it right back with a come from ahead and then behind victory on the final run to once again take control of the AC, 7-1. A split simply won't do for Oracle, they need to win every pair from here on out….
Will the hand of god (or an inverted wing) save the Kiwis from their own errors today?  Will Oracle finally have their first 2-0 day, or will Dalts and the boys re-assert their downunder dominance and get just one race from a silver-studded flight home to Orkland.  Watch it above NOW, if you happen to be in a country that allows it.  If not, just hit the Proxy Server thread and take 60 seconds to work around it.  If you have NBCSN on your cable account, just go online to watch.  Talk about it as it unfolds or ask questions in the R8/9 thread.
September 15th, 2013 by admin
ACEA's live coverage of the America's Cup is pretty damned amazing, and we've now tested it on a big enough group of non-sailors to know that they like it too.  In fact it's hard to fault the combined Coutts/Ellison/Honey vision of what the Cup should look like on a jumbotron – except for the awful commentators, the geo-restrictions, the shit ratings, onsite turnout way below expectations, NBC's total lack of interest, ESPN's total lack of promotion, NBC Sports Network's total lack of being a real network…maybe it's not actually hard to find fault?
This video shows our pals at Bangin' The Corner giving the world a good look at ACEA's brilliant on-the-ground announcing team of Tugger Thompson and Andy Green.
September 14th, 2013 by admin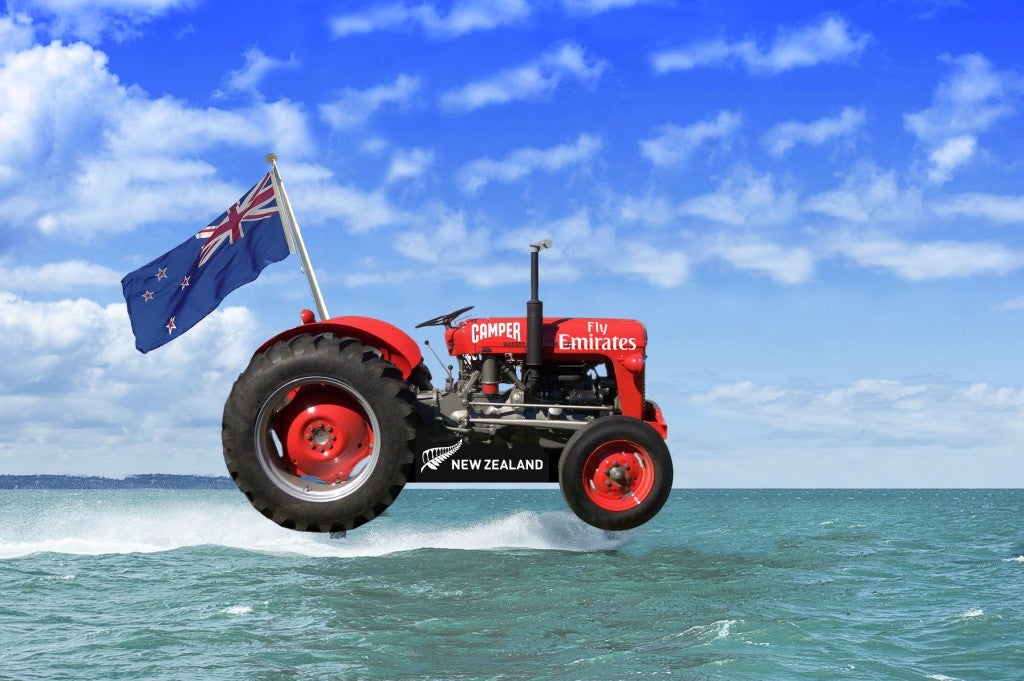 When AC Anarchists coined the term 'tractor' to describe the Kiwi AC72, no one knew it would end up being a badge of honor.  Compared to the slender, lithe OTUSA design, Aotearoa is indeed boxier and more substantial looking, but the metaphor goes a lot further.  She's solid in all conditions, powerful but forgiving, and above all, quite simple to operate.  And c'mon folks – Grant Dalton looks far more like a farmer than a Grand Prix racer; could the 'foiling tractor' be any more perfect?
There are actually AC spectators wearing 'foiling tractor' shirts.  Wanna print your own?  Head to the thread and download some of 'Webfish' or some of the other anarchists' doodles.
September 12th, 2013 by admin
Randy and Beau are at it again, this time getting in on our Hurt Locker competition with a video response.  Nice work, boys, and check out all the hilarious BTC videos over here.
And if Bangin' doesn't crack you up, a new Hitler AC video is always good for a laugh.
September 12th, 2013 by admin
As press conferences go, this is a good one; young Slingers looking like a deer in the headlights and Jimmy getting grilled on the early retirement for Oracle.  Watch the whole thing; Ray is always a chuckle and Jimmy's finally being his old compelling self, and now's the time to get to know them.
September 10th, 2013 by admin
We hate to say 'we told you so', but we did.
When the AC34 protocol came out, we applauded the America's Cup's first move to modernity in 15 years.  We were massively excited at the thought of 40-knot runs along the SF cityfront, and we said so.  In fact our enthusiasm for mega-multihull racing led to much of our disappointment in the execution of ElliCoutts' vision over the past year, but now that the main event is before us, here's a hearty 'Thank You" to everyone that made it happen.  And here's Senior Editor Mr. Clean with a 9-minute update with drive time Kiwi talker D'arcy Waldegrave that aired on Radiosport NZ this morning.
September 9th, 2013 by admin
The Maori creation myth is one of the world's most descriptive, and anyone who likes to be around top-level yacht racing might want to get intimate with it before the next Cup cycle begins.  Now you can, with this incredible animation from our pals at Virtual Eye.  The 5-minute video tells the Maori story of the birth of New Zealand, and the folks at VE and Animation Research clearly spent a lot of time on what they're calling a 'gift' to a San Francisco  in the grips of a great America's Cup battle.  Don't like watching cartoons? Here's something longer and more learn-y from Scientific American; a half hour discussion about wing sails with Sailrocket's Paul Larsen, the dude with the land sailing speed record, and some academic types recorded off a Google Hangout.  Skip to about 3 minutes to get through their tech issues.
September 9th, 2013 by admin
Based on what we saw yesterday, Russell Coutts won't need to search too far to see where the wheels came off the bus.  It wasn't ruddergate.  It wasn't the cheating or the penalties (though Russell Coutts is taking a hell of a bollocking on his Facebook Page). It wasn't too much or too little partying, or bad designers, or bad outfits, or having an old boat.  It had nothing to do with safety, or with Bart.  And it certainly wasn't a pre-start no call by the umps.
Nope – Oracle Team USA lost the 34th America's Cup almost a year ago; October 16th, 2012 to be exact, when Jimmy sent the boat down the mine and got blown out to sea.  And it wasn't the capsize itself; had Fresh and Tugboat and the other great seaman on Oracle properly planned for capsize and righted the boat without destroying her only wing, Oracle would almost certainly be on top now.  Or tied at zero, at least.  But in a competition where time is the single most important commodity, that cold day in October changed everything.  It stole months of training, modding, developing, and sailing from Spithill and his team just as ETNZ was learning how to sail above the water.
ETNZ are winning not with a major design advantage; they are winning it with practice, hard work, and time in the boat.  Have a look at the detailed data (Race 1 Race 2); Oracle are a second or two behind on the legs they sail well, with major errors costing 20 or 30 seconds.  The Kiwis are quicker to accelerate, quicker to gybe, and significantly faster at getting up to speed after tacks – that's opening up their starts and making their tactics a lot simpler, and as long as Ray Davies keeps sailing perfectly, and if the wind stays strong, by next Sunday the Cup will be sitting in First Class on its way to the land of the long white cloud.
NOW YOU SEE ME
Meanwhile, the live TV feed from Race 1 was perhaps the single most exciting sailboat race we've ever seen on any screen.  For all their problems, the AC72 is simply awe-inspiring at speed on a big flat screen.  When they're changing leads with every tack, coming within inches of each other through the spray and the noise, and it's all caught by amazing cameras and the brilliant LiveLine system, it's easy to cheer for Larry Ellison even as his team fades.  Could the commentating be a lot better? Sure.  Do we wish the NBC feed had no commercials?  Of course.  But from the graphics to the intros to the shots to the action, Race 1 was as good as any Super Bowl or Tour De France we've ever seen.
Furthermore, someone seems to have pulled all the Youtube geo-restrictions down for this America's Cup, letting anyone, anywhere watch the action live.  We've been asking for it for months, and it's great to see someone at ACEA decide to focus on maximum audience, rather than maximum TV audience.  Nice going, all – especially Ken Read.  The full replay (unfortunately, without Ken Read) is here, the Virtual Eye animated replay is here, and it's worth checking out the 22-minute press conference here.
HAIL MARY
Is it time for fans of Oracle Team USA to slit their wrists?  Not quite yet, though Spithill and Kostecki's look and sound at the post-race presser wasn't inspiring.  If the wind stays below 15 or 16, a good start may win the race.  Under 10, Oracle may be a a lot quicker – no one yet knows.  The data say that NZ sails faster on all points of sail, even if they have to sail extra distance to do so.  Kostecki and Coutts and Spithill spent all night learning what it means, and Sunday's racing should be something special.  We'll have it right here on the front page.  Martin-Raget and Cameron photos.
September 8th, 2013 by admin
For all their fuckups, we repeat what we've said for the better part of a year now; the best thing to come out of this America's Cup is a new standard of live video coverage.  Stan's e-wizadry, millions spent on TV buys and helicams, and excellent commentary from Ken Read  (and to a lesser extent) Nath Outteridge; these things overshadow all the missteps and bad decisions we've had from the AC's media delivery program.
We encourage you to check it out on NBC here in the states or Youtube overseas – if you can't get it, head to the ServusTV site for worldwide streaming in German; if you can't stand the language you can hack your own system; one window with the video and another with the audio from the Cup site.  You can also watch it on the go (if you live in the right area) with the NBC Sports app (IOS  Android) or Youtube.
On The Ground
For the thousands of Anarchists on the ground in SF or for those of you looking for more info on the atmosphere of the place, head over to the On-Scene thread to find out where everyone's going for drinks and much, much more.  There are apparently tons of hotel vacancies for those of you looking for a last-minute trip, and from the thread, here's local sailor 'finnfart' on where to watch the racing:
1)  AC pier 27:  Nice close viewing of the finish and not much else.  Video for the rest.   Can't even see the boats for most of the race.
2)  Up on the hill:  In a very nice appt of a mates behind Ghirardelli/Fishermans wharf/pier 39:   Too far back.   You can make out what is going on, but barely.  Lose the sense of how cool the machines are.
3) Boat on the bay:   Worst option.  Can barely see anything.   Unless you have a fearless friend who will drive around and 'elbow in', you will see next to nothing as the bigger boats take the front and block your view.
4) Marina Green:   Best IMO.  You can walk around and see a screen if you want, but can go find a good view point, and make yourself a way to the shore where you can really see.   Even here, you just get them as they pass the 3/4 mark up or down.  Wildcard is not sure how many people will be there
5) Alcatraz:  If you don't already have tickets, you are probably screwed anyway.  But it isn't easy to get the city side view from there… and I would expect that the spectator fleet is going to block the view pretty well.  Can't say as I haven't seen it with the crowd and the fleet, but not hopeful.
6) Best II)  Crissy field north or SFYC.   You get the start and the turning mark.   I think that this place is likely to be the least packed, and offer the most interesting sailing views.  No big screens or concessions, but that's fine by me.
September 7th, 2013 by admin
No cheating, plenty of man love, and a team that's so into it that they yell 'Fuck, Yeah!" after nailing a start and sailing off to a Red Bull Youth AC Race 1 win.  It's everything you wished the America's Cup was, and Sam Greenfield gives us the American Youth Sailing Force highlight reel above.
While Pete Burling's Sailing With ETNZ team has a nice 7-point lead going into the final day of action, we find it frightfully easy to cheer for a US team of real people actually doing well who got to the starting line by cutting checks from their savings account and learning how to hustle.  Genny T grabbed a few of the nippers and put 'em on camera as well; check it here.
See if America (or Australia, who finally has their train rolling) can pull it off during today's final races live on YouTube if you are in Nigeria and if ACTV can get their act together, here on TVNZ if you are a flightless bird, or here on ServusTV if you can't figure out the proxy server system or you don't mind German.
And go Like the Sailing Force boys if you're a proud American.  Title shout out to some animated brilliance.
September 4th, 2013 by admin
 Never mind the sailor bans, protests, brinksmanship, or gamesmanship; the AC should really just ban the video production crew.  After some two years of Youtube streaming, they managed to completely fuck up the live YT feed for the entire second race of yesterday's Red Bull Youth AC action.  Literally the entire world lost their feed for the better part of an hour; the thousands who were watching drifted off in minutes, many of them likely never to return – though a few hundred stayed to bitch on Youtube's chat room (see left).
On a similar note, we're a bit surprised to see ACEA hasn't been able to convince a major sponsor like Red Bull and a major broadcast partner like ESPN to officially acknowledge that their companies have even the remotest connection to sailing.  Take a look at Red Bull's main website; they've spent millions on the Youth AC, but we dare you to find anything – anything at all – about sailing on their site.  Snowboarding, surfing, base jumping, skateboarding…the company can even feature crappy music reviews on its home page, but not a sailing shot, promo, or piece of sailing, anywhere.
ESPN isn't any better; unless you stumble across the AC in their whacked schedule, you'd never know ESPN was the international broadcast outlet for the Red Bull event, and a major partner for the AC itself.  We challenge you to check them out, and be sure to click on 'other sports' to see just how many stupid-ass games ESPN can mention without once putting a header up for 'sailing'.
We assume Red Bull and ESPN know what they are doing; ACEA clearly doesn't.  So why are they so silent on sailing?  Is it because no one is watching, and they don't want to waste a penny on promoting a loser?  Or is it yet another example of pathetic ACEA communications and promotional work; no squeaky wheel = no grease?
September 4th, 2013 by admin
The Anarchists have decided to find the best America's Cup limerick writer; won't you join them?  Our favorite so far comes from the
mysterious 'snaerk', and required some…um…translation.
Coutts was a talented sailor
With an intellect big as Australia
But his confident sense
Of direction has meant
That his dreams have now arced towards failure.
Like his co-equals, Cayard is apt
To devise and contrive to have tapped
From a billionaire's stash
The most utmost of cash
Notwithstanding, their campaign unwrapped.
From a land with a shape like a boot
Came a team with no shortage of loot
But they ran out of timing
(As I've run out of rhyming)
In fact, timing was not their strong suit.
One thing that's quite certain with Dalts,
In spite of his manifest faults
His opponents have winced
'Cause his words are not minced
But his nuts sure are done up with bolts.
September 4th, 2013 by admin
Inside sources just confirmed the AC International Jury has slapped Oracle Racing with a two-point penalty for their illegal AC45 modifications.
That means they start the America's Cup this weekend – a first to 9 match – on minus 2 points.  More to follow, including, we expect, penalties for individual sailors and shore crew, or just fervently refresh the Jury thread.
UPDATE: CASH FINES TO BART CHARITY, CHEESE, MATTY, WALKER, RUTHENBERG GET FULL OR PARTIAL AC BANS/FORWARDED TO ISAF FOR RULE 69 HEARINGS, LANGFORD GETS WARNING ONLY/ANONYMOUS SAILOR PLUS MANAGEMENT (MOSTLY) EXONERATED…OFFICIAL JURY STATEMENT OF FACTS HERE.
Pursuant to Protocol Article 15.4(d)(iv), OTUSA shall be penalised one point for each of the first two races of the Match in which they would otherwise score a point. 100. OTUSA are ordered pursuant to Protocol Articles 15.4(d)(ii) and 15.3(B)/> to pay a fine of US$250,000. Such fine is to be paid to the following charities:  
US$125,000 to the Andrew Simpson Sailing Foundation which charity has been established following the death of Andrew (Bart) Simpson on an AC72 in San Francisco in May 2013, for the purpose of assisting young people to get involved in sailing through mentoring and support. (B) > US$125,000 payable to a section 501©(3) charitable organisation selected by the Mayor of San Francisco to provide support to at-risk youth in the San Francisco Bay area.
Individuals (Rule 69):
DECISIONS ON PENALTIES
Bryce Ruthenberg is excluded from further participation in any role in the 34th America's Cup. RRSAC rule 69.1© requires the Jury to inform his National Authority (Australian Yachting Federation) and the International Sailing Federation, which bodies may impose further penalties; however, in view of his full, frank and early admissions, the Jury will recommend that no further action be taken.
Andrew Walker is excluded from further participation in any role in the 34th America's Cup. RRSAC rule 69.1© requires the Jury to inform his National Authority (Yachting New Zealand) and the International Sailing Federation, which bodies may impose further penalties.
Kyle Langford In light of his age and inexperience in an America's Cup environment, the fact that he had no involvement in the work done and his truthfulness during the hearing, together with his sincere efforts to acquaint himself with the Class Rules since the matter came to light, Kyle Langford is warned to use his best endeavours not to be involved with any activity that may be in breach of a rule in the future. The Jury is not required to make a report to any federation.
Matt Mitchell is excluded from sailing on a Yacht competing in the Match for the 34th America's Cup until 4 races have been completed. RRSAC Rule 69.1© requires the Jury to inform his National Authority (Yachting New Zealand) and the International Sailing Federation, which bodies may impose further penalties; however, the Jury will recommend that no further action be taken.
Dirk de Ridder is excluded from further participation in any role in the 34th America's Cup. RRSAC Rule 69.1© requires the Jury to inform his National Authority (Koninklijk Nederlands Watersport Verbond) and the International Sailing Federation, which bodies may impose further penalties.
September 3rd, 2013 by admin
Nonstop action, real national teams, elation and disappointment, energy and emotion, and a Kiwi vs. US battle for the trophy?  Sign us up and watch above.  Two more days of great racing remain and if the LVC is anything to judge by, get it all in now; you might not ever see AC(ish) catamarans racing this closely again!
September 2nd, 2013 by admin
Like everyone else in the entire world, we're amazed at just how pathetic the Louis Vuitton Cup 'racing' has been.  And with Ainslie's rudder snapping clean off in Defender trials, the home team is no better than the visitors.  Listen above to hear Mr. Clean sum it up well, as recorded live this morning with D'arcy Waldegrave on Radio Sports NZ.
Meanwhile, remember we told you Oracle was threatening to protest Luna Rossa and ETNZ for 'trespass'?  As much as it sounds like it, we weren't joking.
As a final sum-up for the 'summer of racing' thus far, here's a good look at the what, the why, and the how of the AC72 debacle including an interview with a rapidly aging Russell Coutts, from our friends at the good ship Outside Mag.  Thanks to Kahlessa for the find, and don't forget to spend a few hours with the America's Cup Anarchy forums if you're looking for the best Cup discussion on the web.
August 20th, 2013 by admin