Posts Tagged 'America's Cup'
#LunaRossaChallenge is distinctly opposed to the proposal to change the Class Rule for the 35th America's Cup

— Luna Rossa Challenge (@lunarossa) March 26, 2015

To no one's surprise, Luna Rossa Challenge just said 'fuck you' to Coutts and Doc Harvey's plan to cut down the America's Cup to 40-footers, and judging by the silence coming from Bermuda's media, it appears they were blindsided as well.  Is this one of those changes that requires unanimous consent from all parties?  ETNZ seem to think it does.
What do you think?  Join the discussion raging in America's Cup Anarchy right here.
March 26th, 2015 by admin
Now that the big money is locked in for Bermuda's contract, it appears the America's Cup is looking to cut their expenses massively by getting rid of the entire AC62 concept, sticking instead with modified AC45 foilers for all teams.  And no, this is not April 1; AC PR released this bit of news today: "The existing operational costs of teams is much too high with a boat like the AC62."
Let's revisit the timing on all this; it has been 19 months since Oracle won AC34, and almost a year since the AC62 rule was announced.  And apparently, the folks at ACEA are just now figuring out how much it's gonna cost.  We honestly had to check the date when we first saw this release, because it seems like a joke.  Then again, this joke is brought to you by the same folks who've been delivering great ones for the past two years, though we have to think that Bermuda ain't laughing.
While it could be negotiation-by-press-release, it seems real enough, but we can't believe anyone thinks the AC45 will make a successful America's Cup. Running an AC in the visually much smaller (compared to an AC62) AC45s will absolutely destroy whatever spectacle the Bermudians and Cup lovers were hoping for; the thousands of you who've seen an Extreme 40 event know what kind of impact a 40-foot cat makes, and it just ain't much unless you're a couple hundred feet away or less.  On TV, the AC45 foilers will look great, but for sailors and AC enthusiasts – and let's face it, AC34 view counts and ratings proved that's the audience now – a 45-footer will simply be too close to what's already out there to generate real interest.   The Extreme 40 has a bigger fleet, and Alinghi, still one of the best-known teams in professional sailing – just joined the foiling GC32 show. The M32 is growing as well.  And a 45 foot cat is really America's Cup-worthy?
Worse even than the loss of the spectacle is the fact that the shrinking of the boat will mark the final admission that the America's Cup will never again be the pinnacle of yacht racing.  They tried, and for a few short years, the Cup truly had some of the world's fastest inshore sailboats.  But the AC45s won't be the fastest at anything, because in sailing, size matters. The reason a Formula 1 car is tiny is because small is fast.  In sailing, it's the opposite. Doc Harvey pretending the speed of the 45-footer 'is expected to be similar to what was achieved in the last America's Cup' is just plain silly, and yet another example of an AC promise that will fail to materialize.  The AC45 foilers are very cool boats.  They're slower, cheaper, easier to handle, and safer than AC62s.  But here's the thing: If you're gonna do it in slower, cheaper, easier, safer boats, why not just do it in GC32s?  If you follow Doc Harvey's logic, there's no reason to sail the 45 when you can sail the 'similarly fast' smaller boat.
Interestingly, the announcement says the deal ain't done yet, and Luna Rossa is missing from the list of team quotes giving half-hearted support for the change.  Maybe Patrizio Bertelli feels the millions they've spent to design their AC62 already (and millions more on salaries for dozens of sailors working toward that goal) shouldn't be thrown away to let in teams without the resources to compete?  As far as we can tell, the entire advantage LR has been working so hard for these past two years will be wiped away the moment this change is agreed to during next week's meetings.
Also missing from the endorsing quotes is anyone from Bermuda, where the change to AC45s will probably be rationalized by the fact that the AC eventually has their way with every municipality.  Someone might want to bring the island a bandage; we see a little blood dripping from its ass…
As we said a couple of months ago, we've given up our expectations, and we've quit criticizing the AC for their move to Bermuda; we're just looking forward to a fun regatta for fast boats.  It might be a little tougher to see them, if the GGYC has their way…
March 25th, 2015 by admin
Those of you who still think the 'second coming' story is real will probably not get this one either; instead, you might call your realtor to put in an offer…We promise we're not kidding when we tell you that this $2 million Bermuda America's Cup special 'fixer-upper' is actually named "Uppity".  Great views of the AC course top off this beauty – and according to the video walkthrough, she's selling at a discount.  Loaded African-Americans might want to look further afield…or at least change the name.
In other Cup news, Sailing Anarchy's new favorite is now Ben Ainslie Racing.  Not necessarily because we think they're going to win, but because BAR is the only team that's really thinking long term.  And with ETNZ's constant media shit show, they're now the most 'national' team – something that we find absolutely necessary if anyone is to turn around years of media, TV, and business model fails from Larry and Russell.  Ben would be a far better steward of the Cup and the competition than a confused old Ellison or the self-concerned Coutts.  Equally important is Ben's support – Portsmouth believes in him so much that they've given the BAR Portsmouth center 10 years of free rent Remember what San Francisco was prepared to give Larry after AC34?  A kick in the ass and a bill for $11M.
March 20th, 2015 by admin
Oracle just launched their test bed AC45 last week, and in just 5 days their maneuvers and boatspeed already look to have far surpassed the very similar Artemis 45 foiler.  They also look a hell of a lot smoother, more stable, and faster than what we've seen from the Luna Rossa testers months after their launch in Sardinia.  Meanwhile, Franck Cammas is playing with his C-Cat, and there's a whole lot of silence in the AC45 action from Sir Ben and ETNZ (at least on sailing issues) while Slingsby notches nearly 46 knots of boatspeed on San Fran Bay.  We sort of hate to say it, but it looks like Oracle are on their way to a 3-peat dynasty in Bermuda, assuming they don't turn any AC boats into matchsticks again a few months before the AC.
Kudos to San Fran videographer John Navas for the first 4K Ultra HD video we've ever posted here; we hope the 68 people in the world with 4K televisions love it!  More chat about the Bay in the thread.
February 26th, 2015 by admin
We've expected Barker to get eased off the helm of ETNZ for quite some time now, and the only nasty or surprising part of the affair was the shitty way he found out.  Kiwi's biggest radio station RadioTalkZB gave our Senior Editor a call to discuss the controversy over Barker's axing this morning; listen to the six minutes with host Rachel Smalley by clicking the player above.
February 26th, 2015 by admin
Next time you prepare a regatta budget, just remember this one…and thank your lucky stars you aren't on the hook.  According to the Bermuda government, the 77 million dollar cost of hosting the regatta can be broken down into two categories: The $37M bill is all Bermuda's, while the second depends on 'private sponsors' and totals another 40 million.
Investment in Bermuda infrastructure and services over the next three years, which is estimated at $37 million, and
Sponsorship of the event over three years as part of Bermuda's bid package, which includes $15 million in direct sponsorship and a $25 million sponsorship guarantee. For clarity, this sponsorship guarantee is not money spent by the government, but rather an underwriting of private sponsors. That underwriting will be reduced as additional commercial sponsorships facilitated by Bermuda come on line and by a proportion of admissions revenues earned up until August 2017
Finance Minister Bob Richards stressed that the claim that the America's Cup will cost the Bermuda government $77 million is false. That statement assumes that the America's Cup in Bermuda will be an abysmal failure with no sponsors. 
Read his full breakdown of the costs here.
February 23rd, 2015 by admin
Just as Emirates Team New Zealand's funding looks assured, the shitstorm about Dean's departure is casting a long black cloud over the team.  Barker threatening to 'tell all', according to a herald source, if he gets the boot?  Lawyers on retainer?  Shit's getting serious in Kiwi if the NZ sports media are to be believed.
Meanwhile, in the best-named radio segment since the call-in 'Do You Know Where Your Mom's Vibrator Is?', two sporty dudes debate whether Team New Zealand is 'Penis Or Genius.'  Hilarious.
February 21st, 2015 by admin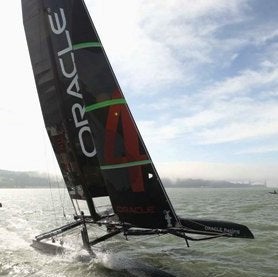 Add Joe Spooner to the pro sailors calling shenanigans on the already-embattled Oracle Team USA's hiring and firing practices.  From our friends at www.BoatingLaw.com, who do NOT represent the Plaintiff.  You can read the full complaint here.
The America's Cup AC45 "4 Oracle Team USA" may soon be arrested by the U.S. Marshals at its berth in San Francisco, pursuant to a lawsuit filed in Federal Court by a former crew member against Oracle Racing and the AC45 itself.   Joe Spooner, Oracle Racing's former grinder and crew for two America's Cup titles and three Fastnet Race wins, is claiming a seaman's lien against the vessel for approximately $725,000 in unpaid wages, plus punitive damages, for an alleged wrongful discharge by Team Oracle.

Under maritime law of the United States, the vessel itself can be sued in Federal Court and be arrested by the U.S. Marshals pending the outcome of the suit. 
The AC45 foiling multihull is raced in the America's Cup World Series and used for America's Cup training It is a smaller version of the AC72 raced in the 2013 America's Cup.  
For more information on admiralty and maritime law, click here.   We will keep you updated as this case develops.
February 19th, 2015 by admin
While the world's sailing media is reporting an Antipodean battle between Sydney and Auckland for the right to host the "America's Cup Qualifiers", it emerged this morning that Sydney has most likely lost it to the Kiwis, meaning ETNZ should have the funding soon to get their challenge really rolling.  Did the Harbour ever have a real shot, or do they join Rome, Newport, and San Diego as yet another pawn in Coutts' repeat-as-needed negotiating program?

Premier Mike Baird's events team has been slammed for "wasting everyone's time" after it let the opportunity to stage prestigious America's Cup races on Sydney Harbour slip away to Auckland.
The America's Cup organisers are set to award the qualifier races to New Zealand after Sydney's events tsar, Destination NSW chief executive Sandra Chipchase, told them she needed another eight weeks to make a decision on whether to lodge a formal bid.
It is believed Auckland secured the event — which organisers estimated could have attracted 40,000 international visitors and 15,000 domestic tourists to Sydney — for less than $10 million.
"For this opportunity not to be treated seriously is just a massive waste of everyone' time and a missed chance,'' said veteran promoter Tony Cochrane, who was trying to generate interest from Sydney.  "This is not how world-class event organisations operate when it comes to securing what is clearly a world-class event."  Opposition Leader Luke Foley said he feared the government had been "asleep at the wheel". "We have to show we are hungry for these lucrative money spinners otherwise you miss the boat,'' Mr Foley said.
Read on, and shout about it in America's Cup Anarchy here.  Tip o' the hat to previously self-exiled but recently returned AC Anarchy addict "Stingray".
February 16th, 2015 by admin
February 16th, 2015 by admin