Posts Tagged 'America's Cup'
With the America's Cup struggling to get anyone, anywhere to pay attention to it, former Oracle Racing Exec and former GGYC Vice Commodore Tom Ehman continues to stir the shit in the AC bowl.  Ehman's post, reprinted to the left, points out yet another in a long line of sponsors to be burned out of the AC by Russell and friends.  We note that while the AC has indeed scrubbed Bremont from their site, there is still quite a lot of active AC content on the Bremont site (see here, and here, ironically including a countdown timer to the event).  More ironically, we note that Ehman is still listed on the GGYC website with his old job, so clearly web maintenance ain't high on either Bremont or the Golden Gate priority list.
There's still discussion amongst the diehards as well as a few spy pics of the new AC50s in the AC forum…go there if you absolutely must, or go and beat up on Ehman on his FB page.
January 17th, 2017 by admin
There's a lot going on in this Emirates Team New Zealand video of the start of the Auckland-Russell Coastal Classic, and whether you're into analyzing AC50 designs, love watching 'old vs. new' shots, or you just want to see one of the world's ultimate sailing destinations in glorious HD drone shots, this short is not to be missed.  And maybe there's fodder for the "Which is better, Auckland or Newport debate" over here?
October 30th, 2016 by admin
Once again our ever-reliable rumor mill was right, and Dr. Harvey Schiller's exodus from the top spot at ACEA came just before the AC organizers got smacked down by an arbitrator for breaking their contractual agreement to hold the AC Qualifiers in Auckland this coming February.
As we reported in August, Schiller and Coutts had been at odds for the better part of a year over Coutts' screwing his fellow kiwis over, and according to the NZ Herald, ACEA may have to pay Team New Zealand up to $5 million for breaking their contract.
Of course Coutts and pals are fundamental enemies of transparency and literally no one is allowed to say anything about anything.
Look for an announcement about this sometime right after…never.
October 11th, 2016 by admin
The ACWS Toulon provided yet another opportunity to watch the world's fastest boats drift around for two hours this past weekend.  In fact the Med was so bad that the only foiling came courtesy of Groupama's tender and a long tow rope.  When this is the only thing worthy of a highlight reel for your title sponsors, you know it's pretty awful.
The black cloud of shitty breeze and shrinking audiences continues to follow the ACWS around everywhere it goes, and with the Auckland vs. ACEA arbitration decision argued back in July and a decision expected soon, it may be about to get a whole lot darker.  Here's a CNN report on the actual racing.
September 13th, 2016 by admin
We'd prefer not to support Oracle Team USA until they either drop the USA or add some American sailors, but we can't pass up this very well-done clip of sexy A-list superstar skier Lindsay Vonn and her day of sailing an AC45 in Bermuda.  Brilliant work from the always brilliant Sam Greenfield (working for the big O).
September 3rd, 2016 by admin
They may or may not be the first AC team to nail a proper foiling tack on camera, but they're definitely the first to provide a 'how-to' guide to it!  Great work from Chris Draper and the SoftBank Team Japan 'media team' (ahem…Matty…ahem) on provide compelling content for their fans and the public – something we've seen precious little of over the past year.  Chat about SBTJ here, or learn more about Softbank's "flack" here.
August 25th, 2016 by admin
Like the vast majority of you we have not watched much AC World Series action for a host of reasons we've documented many times before, but we're always happy to share it with you when we find it for free!  Thanks to Canal + for continuing to post full race videos like one of the Portsmouth days above; now let's see if Russell's minions allow it to stay online…
Don't hold your breath if you're looking for foiling…looking at past numbers, it appears the ACWS has seen foiling conditions on less than 40% of all official race days.  If someone at the America's Cup doesn't sacrifice a virgin to the wind gods before next summer and somehow fix their awful weather karma, a low-riding straight-foiled AC50 might just win the whole shebang in 5 knots of Bermuda High zephyrs.  Now THAT would be interesting!
July 29th, 2016 by admin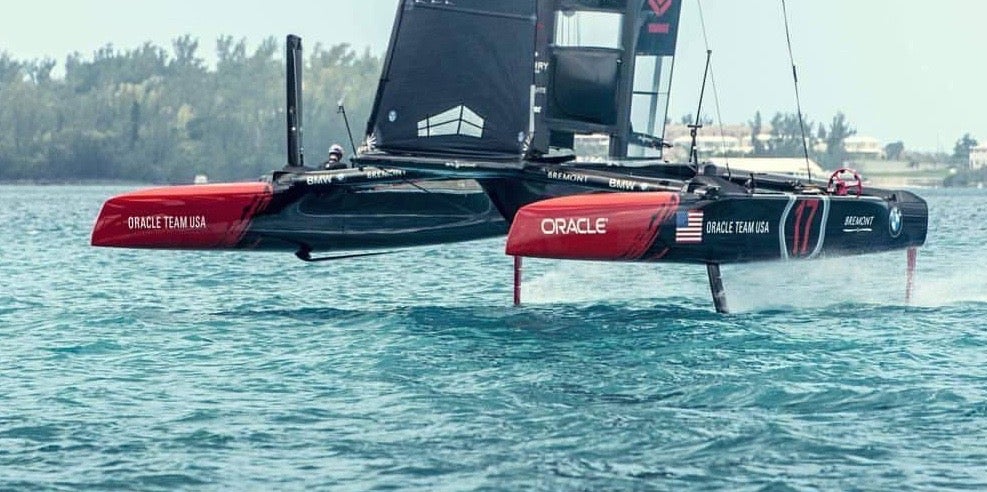 If the America's Cup were a one-design battle, we'd likely see the awesomely talented Pete Burling and his ETNZ boys run away with it, just as Pete has done against largely the same competitors in the past few years of Moth and 49er racing.  But even the highly restricted AC50 box rule allows enough design differences to likely take the ultimate prize out of the hands of the skippers, and the likeliest winner will be the team that can figure out how to get the most out of their foils, aero, and wing controls.
With variable ride control (à la the Moth) and changing foil shapes banned, designers tell us that variable foil bend characteristics may prove the key to the top speed puzzle.  You can see just how much bend the Oracle Team USA trial horse is putting into their foils, as seen above and shot the other day in Bermuda.  There's plenty of carbon bending knowledge inside the sport – see Moth, Finn masts, for example – but could the importance of flexi-foils mean the F-1 connected design team at BAR have a real head start?  After all, Formula One has been playing around with variable bend issues for a long time, most recently earlier this year.
Iron pumpers will recognize from whence comes our story title.  For the rest of you, clicky.
June 20th, 2016 by admin
With just a month to go until the ACWS Portsmouth and Big Ben's BAR Team coming off their best performance of the series so far in Chicago, morale is high at BARHQ – or at least it was until they dropped one of their wings on the building!  Nice eyes from one of the Anarchists at Spotted Portsmouth…anyone get a better shot than this iPic from the top of the Spinnaker Tower?
UPDATE: We spoke to one of our trusted BAR pals, and he told us they got away with one – no damage to the wing.  Let's hope he's right!
June 16th, 2016 by admin
Press release: The last person known to be following the America's Cup, Howard Grimby II, a member of Arizona Yacht Club, today announced that he's finally calling it quits.  Both a long time follower and the last member of a dying breed, Mr. Grimby expressed: "I held as long as I could, but finally my second favorite hobby, watching saguaro cacti grow, proved to be more exciting and rewarding."
The authorities governing the Trophy-previously-known-as-the-America's-Cup announced changes to make the event more exciting, racing in covered stadiums in trimarans with blindfolded crewmembers, powered by the downdraft of helicopters while being strafed by A-10 Warthogs.
While the above is a fabrication by SA'er 'MacGyver', it sums up yet another lost day of ACWS racing, this time in Chicago.  It also points to the silliness that America's Cup officials continue to cling to when trying to justify the two-day format of the Series, and how ridiculous it is to marry yourself to ironclad live broadcast schedules dictated by NBC and other major networks.
Warts and all (and gold-plated app prices) notwithstanding, Sunday's forecast looks to be about the best of all possible worlds.  15+ knots from the open Northeast should make for the best racing in the series thus far, with live coverage on the local NBC station, non-geoblocked app watching, and a live experience that our moles have told us is 'just awesome.'
While we do not recommend the overpriced, awfully-rated app you can download it here if you want.  And while we'd never condone piracy of any kind, that doesn't mean the Anarchists have a problem with it.  Read the thread for information on watching the show without dropping any cash.
Here's an interesting piece from Chicago Business about Don Wilson, the man behind the Chicago Match Race Center and the ACWS stopover, and the guy we most hope will take over when Larry Ellison steps away from the scene.
June 12th, 2016 by admin