Posts Tagged 'America's Cup'
UPDATE: Several bright Anarchists pointed out that the whole '40 knots VMG' thing doesn't pass the reality test, and that the poorly labeled VPP graph above actually refers to actual boatspeed on VMG courses upwind and downwind. Even so, the numbers are still ultra impressive and significantly faster on most points of sail than an AC50 – or any other course racing boat on the planet.  According to a slide shown during the 90-minute Bella Mente Quantum Racing presentation at this morning's US Sailing Leadership Forum, the America's Cup 75 might hit 40 knots of upwind VMG in 25 knots of breeze, and according to Terry Hutchinson, they should be quicker than the AC50 once on the foils.  Have a look at the polars above
for the details, and here's a look at an early Botin concept drawing of what the AC75 might look like. Head to the Foiling AC thread for discussion.
While of course you're never going to get any real secrets out of them, Hutch's presentation had some interesting bits and pieces and is worth a watch – it's here.  Clean's interview with him is quite a bit more intimate.  See below.
February 3rd, 2018 by admin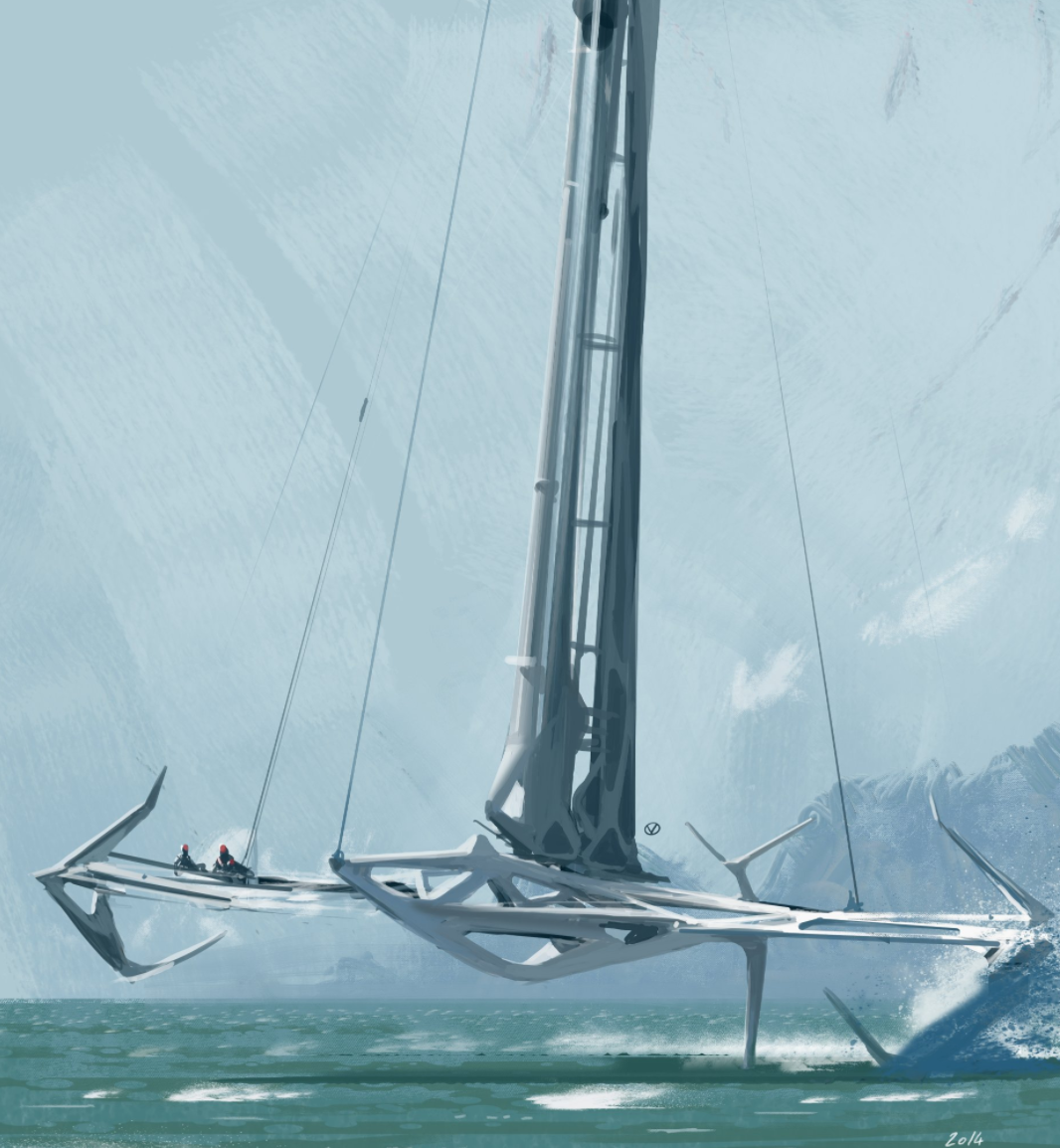 Design concept with application to Auckland or just more [above-the-] water vapor?  Do you know?
January 7th, 2018 by admin

It's an ad for DJI drones, but it's also a portfolio from one of our favorite filmmakers, so spend a minute with this sparkling aerial video shot during Oracle's Bermuda AC effort.  Sam Greenfield was the first guy to run a drone from an ocean racing boat and he's continued to innovate since. If you were wondering how his recent Volvo OBR drone work is so much better than anyone else's, look above – a year of fat budgeted training on the Great Sound helped Sam become sailing's standard in flying visuals.
December 9th, 2017 by admin
Clean Report
You see them at every major regatta; a chaotic, bedraggled corps of passionate wackos toting pelican cases and laptop bags who call themselves 'media professionals.'  They're more demanding than the most spoiled billionaire owner and more manipulative than a match racing champ, and they're more cynical and jaded than any sailor could hope to be.  The scariest part of it all is that the success or failure of an event can come down to whether or not someone can keep the journalists, filmmakers, and photographers happy, and in all the world, there was one woman better at that job than anyone else in the world.
And we're gutted to tell you that yesterday, after years of quietly battling against the disease that took her, one of the world's best managers of personalities anywhere died.
I'd say Isabel Genis exemplified the term 'grace under pressure,' but in reality, grace permeated Isa did regardless of pressure.  When we first met Isabel she was running a massive press operation at the Barcelona World Race, and her deft hand at handling the stickiest situations was already legendary.  Somehow able to turn the most negative story into a feel-good win/win narrative, Isabel always managed to find an elegant solution to any problem without sacrificing her integrity or honesty.
Isabel took the time to read every reporter's filing and watch almost every film.  She spoke at least 6 languages and could provide you with a fact, a name, or a translation in microseconds. To me,  a 30-something 'reporter' with my 20-something photographer wife representing an 'outlaw' publication, Genis did something that no one else running a major event had ever done: She made us feel like a truly valuable part of the whole thing, and helped us really want to bring our readers behind the scenes for some amazing stories.
Without Isabel, the world's understanding of the great races she worked – The Race, the Vendee Globe, Olympics, Barcelona World Race, America's Cup, Volvo Ocean Race (and everything else Isabel touched in her busy career) – would be much poorer.  Personally,  had I missed out on several late night, hours-long, red wine-fueled talks about the sport, controversy, ethics, technology and family with Isabel, I know I'd be a much poorer person for it.  We are all poorer this morning for her loss.
As evidence of the strength of her personality, the internet's blowing up with thoughts on her death.  First, an excerpt from Marcus Hutchinson's eulogy on Facebook (thanks for the pic, Marcus):
There is not a day that goes by that we are not confronted by a difficult choice or a situation where we need to lean on past experience. When it comes to being patient, understanding, tolerant and forgiving, something I often struggled with in my younger years, I now frequently revert to the behaviour of Isabel Genis and how she would have dealt with this or that situation. I know too that my children watch me and often react to how I react. This is good, great, the best possible outcome. Thank you Isabel. RIP
And from Corriere Della Sera's Bianca Ascenti:
When I landed in Auckland in September 2002 I had only two details, a contract with the Louis Vitton Cup and a postal address. When I arrived in what would have been my home for six unforgettable months, I came through the door: With one hand you gave me the house keys and with the other, a glass of red wine, all while speaking perfect italian about the Cup, the Kiwis, and the beauty of the land down under…
I want to talk about my friend Isa, who I had the honor of knowing and the privilege of attending: a rare person, able to hear and understand without ever judging; to enjoy life and to laugh at things without losing them; to take everything that came with strength and with extraordinary balance; to always find time for friends and affections, to say the right words at the right time, to recommend deep books and to stimulate always interesting conversations …
I can not believe it, but after 15 years the time has come to say goodbye. I'll miss you, Isa. And look at you when you're up there, as you always said to me, "Hay gente para todo."
Here's another from well known Spanish sailing journalist Pedro Sardinia, and another from Nicolas Martinez.
Fair breezes to you, Isa, and to her friends and family, we shed a tear for you, and with you.
November 21st, 2017 by admin
As many of us prayed for, the next America's Cup will indeed be a flying one.  No keel, ballasted foils, and a bow profile that looks more like an alien critter than a boat.  All in all, we dig, and how about the fact that it's actually early?  Discuss here, full release from ETNZ here.
To go back and listen to Dalts explaining all about their decisionmaking process, go back to this podcast from earlier in the fall.
November 20th, 2017 by admin
Anarchist yl75 caught a juicy little tidbit in the very latest edition of french sailing rag Voiles & Voiliers about the next America's Cup.  The French editors are typically quite credible, and while this rumor stretches the bounds of reality a bit, it actually gybes with what we've heard: A giant, lead-free beast that will be tough to keep from falling over in light air, while foils will create righting moment to deal with the forces in the heavy.  Here's the translation of the French piece:
"From a well-informed source, we can already announce that the AC75 will have a total beam of 18 meters (due to gigantic foils) and no keel, for a total displacement of 5 tons.  Imagine a 75-foot sailing dinghy flying over the water with the possibility of capsizing…"
Read more in the AC Anarchy thread.
October 28th, 2017 by admin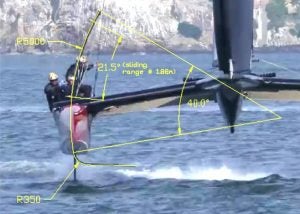 As the world awaits the big decision on what the AC75 monohull will look like, the man at the center of it all talks about the potential concepts and the details on how Emirates Team New Zealand crushed the world in Bermuda.  Here's 10 minutes with ETNZ Design Coordinator and former Formula 1 Vehicle Dynamics Engineer (McLaren) Dan Bernasconi from Radio NZ.
Concept 1 "…a fairly conventional but high performance monohull…"
Concept 2 "…a semi-foiling monohull…"
Concept 3 "…is it possible to get a really big yacht fully foiling. The sailors who are listening will know about foiling Moths which are single-handed fully foiling boats which are great. But on those you use a lot of your body weight to balance, and that is something which is really difficult to scale up."
Discuss the three options for the next Cup in the thread. 
October 11th, 2017 by admin
***WORLD EXCLUSIVE***
UPDATE: IT'S OFFICIAL!
AC BREAKING
Deep sources in both Western Michigan and Rhode Island tell us that New York Yacht Club will announce their challenge for the 36th America's Cup tomorrow at noon.  Backed by a syndicate funded in large part by the Devos family (of Quantum Racing, Amway, and Trump supporting fame) and longtime maxi competitor Hap Fauth (of Bella Mente fame), the team will be led by CEO Terry Hutchinson and will likely feature sails [badged, at least] from the green donut.
Several other potential syndicate members – including Chicago Match Race founder Don Wilson – were rumored to be in talks with Devos & the NYYC, but our pals in Newport tell us that's no longer the case, and the Chicago trader and property developer (and current North American M32 champ) is the first challenger casualty of New Zealand's decision to go monohull, along perhaps with Artemis and Alinghi.
We continue to hear that a West Coast challenge is also in the works…more on that when it's available.
October 4th, 2017 by admin
Grant Dalton doesn't reveal the deepest darkest secrets of the America's Cup in this 90-minute chat with Mr. Clean, but the Emirates Team New Zealand head man touches on a wide variety of subjects regarding the Bermuda AC, the AC75 monohull, and the just-announced protocol for the next one (natural disasters notwithstanding 😉  Get balls deep into the 26th Sailing Anarchy Podcast with Auckland vs Italy, trickle-down technology, the supercomputer vs. the mobile phone, how disbelieving the Kiwis were that the rest were so far behind, who nicked the videos of AC34 and 35, and much, much more in this frank discussion with one of the iron men of the sport.  Direct listen or download here for the podcast-challenged, and please subscribe to the SA Podcast on your iPhone or Android device.
Show Notes:
00:00-10:27 Intro
11:27 Who wrote the protocol and explanation of its genesis
13:17 Off-water battles in the Bermuda Cup buildup, and obstacles thrown up by Coutts & friends
14:47 Why should challengers trust you to be more fair as organizer than the America's Cup Event Authority were to ETNZ?
15:34 "The most ridiculous stacking of the deck in modern times came from Alinghi"
15:57 How much has Royal New Zealand Yacht Squadron been involved in the protocol process?
16:57 About the Cup's national NZ road show coming up
18:07 Why is it OK to take the Cup to a boat show but not a car show?
18:57 How the RNZYS will help lessen the load for Dalton and the TNZ staff.
20:57 What information did you base your decision to go to a monohull? What's the real motivation?
25:57 The density of breeze in Auckland and the frailty of the Cup cats. Dalts: "16 knots here would pull an AC50 to pieces"
26:41 On NZ's huge tech advantage in Bermuda. "For the life of me I can't figure out how all the other teams were so far behind us"
26:57 How keeping the AC50 would almost definitely guarantee another TNZ win
28:07 How many concepts are being considered for the actual boat? Are ETNZ consulting with other potential challengers besides Luna Rossa?
30:03 Does the design rule schedule mean TNZ and Luna Rossa get an unreasonable head start over other challengers?
30:57 Why can't you say whether or not the boat will lift out of the water?
31:57 Would you lose Glenn and Burling and the other speed junkie tech heads if you go to a heavier, more conventional type of boat?
32:47 Ashby's huge beard and his two months on walkabout
34:07 Dalts' motorcycle crash in the Isle of Man TT
36:02 Bicycle grinders and the openness of the AC36 design rule. "We have no intention of banning bicycles"
38:52 Box rules vs open Rules, and the element in the next AC of "one-design supplied parts". Don't want to stop innovation in areas that can help the average yacht racer, eventually.
41:30 Clean's disappointment with the residency requirement, and Dalts explanation of what he thinks people are misunderstanding about the new nationality/residency rule.
43:24 Finding the balance between a rule that would exclude many countries and one that will help reduce the mercenary culture in the sport, and how to get teams to look to their own countrymen first for crew.
48:07 Dalts: "They commit to a team and a country rather than a worldwide circus where they're guns for hire to an owner who doesn't realize he's getting ripped off"
48:57 Surrogate boats, regatta schedules, and high entry fees for the pre-regattas. "This will allow us to create a financial pool so we don't have to be beholden to a city for funds." Dalton says ACWS events were driven by venue fees in bad places or at bad times for sailing. "Make it great for the yachties, and the rest is easy."
52:27 With the residency requirements and lack of venue certainty right now, how does ETNZ ensure teams spend enough time in Auckland to justify the money the venue will have to spend to prepare for the Cup?
53:42 Dalts' sample schedule for Challengers.
57:12 Is the Italian Option really just Dalts holding Auckland's feet to the fire? What's with the natural disaster thing?
59:05 Two boat testing for ETNZ and no one else? How about a defender challenge?
60:58 There are ways around two-boat bans, but it might not help anyone. Dalts: "SoftBank was Oracles B boat, but they couldn't get it up to speed fast enough"
61:42 Fan questions begin: Soft sails or hard sails? Hybrids?
62:51 Limiting electronics? More PlayStation type controls? Dalts analogy for ac35: "Oracle were still a mobile phone and we were a supercomputer"
64:27 Sailhandling, stored power and the team's philosophical problem with combustion engines on AC boats.
65:37 What happened with the AC34 and 35 Facebook pages and videos? Were they stolen?
67:06 IF you can get the media back, will you publish all the video from those Cups for free to the world?
67:57 who owns the Liveline graphics system and do you intend to have them back in the mix for the worldwide audience?
69:02 Free to air distribution for AC36!
74:37 Omega time, Swiss Timing, and how am entirely new graphics system might be going into the AC46 broadcast
76:27 Entry period closes before venue announced. How is that ok? (Answer, it might not be).
77:57 What are you looking to get from Auckland and the NZ government to make the event possible?
80:01 How much will a basic, unembarassing campaign cost? "People will still spend 160 million" to try to win
81:38 Biggest sponsorship mistake made by most campaigns
82:57 Happy to see Louis Vuitton go, or will you miss them?
84:07 Burlington vs Tuke, Mark Turner's shock departure from the Volvo Ocean Race, and Dalts' picks for the 2017 VOR
86:42 Uniting the major races, World Sailing, and where the sport is headed at the pinnacle.
87:42 Exactly what they're releasing in November and how Dalts will judge whether it was the kind of technological success he hopes for.
88:47 What's by far the most read site in New Zealand (guess?), AC Anarchist Stingray gets a shoutout, and out.
Thanks for all your questions, and head over to the Protocol discussion in AC Anarchy.
October 3rd, 2017 by admin

We learned a few key things in today's AC36 protocol announcement in Auckland.  UPDATE: PROTOCOL HERE.
RNZYS Commodore Steve Nair should never, ever try to pronounce an italian name again.
The boat is a 75-foot long monohull, and the design details will be complete by next spring
Cost containment is a fundamental principal
The boats will need to be build in the country challenging.
Nationality rule: Citizenship requirement is a mere 20%, the rest of the sailing team needs a strict residency requirement in the country they are representing. "It's not a strict thing, but it's an attempt
Cup is Auckland 2021, but there's no infrastructure or plans yet.  2019 and 2020 there will be pre-regattas.
Two boats allowed per team.
Challenger series will be organized by the CoR.  AC will be organized by the defender.  Joint group for broadcasting/sponsorship/umpiring and other common issues.
Facebook Live means journalists can stay at work or at home, cause they sure didn't show up to the press conference.  Thank you ETNZ!
"They might be" foiling.  The next boat will be presented in November and it 'definitely will be an exciting boat'.
Some one-design componentry, some supplied parts likely.  Development 'open in the really important areas'.
10-12 crew, bicycles allowed.
No tank testing allowed, no wind tunnels.
If for any reason, it can't be in Auckland, it'll be in Italy.
Prada Cup.  Yes, Louis Vuitton is gone, and Prada is not only title sponsor of the challenger series, but presenting sponsor for the big one.  Does LV have the balls to return on a Challenger's sails?
Independent regatta directors and race management, similar to Bermuda setup for RM.
Longer races, ~40 minutes.  Longer pre-start, upwind start.
Watch it all above, and weigh in here.  We're talking to Dalts tomorrow for the SA Podcast, so add your questions for him here.
September 28th, 2017 by admin