Posts Tagged 'America's Cup'
Anarchist yl75 caught a juicy little tidbit in the very latest edition of french sailing rag Voiles & Voiliers about the next America's Cup.  The French editors are typically quite credible, and while this rumor stretches the bounds of reality a bit, it actually gybes with what we've heard: A giant, lead-free beast that will be tough to keep from falling over in light air, while foils will create righting moment to deal with the forces in the heavy.  Here's the translation of the French piece:
"From a well-informed source, we can already announce that the AC75 will have a total beam of 18 meters (due to gigantic foils) and no keel, for a total displacement of 5 tons.  Imagine a 75-foot sailing dinghy flying over the water with the possibility of capsizing…"
Read more in the AC Anarchy thread.
October 28th, 2017 by admin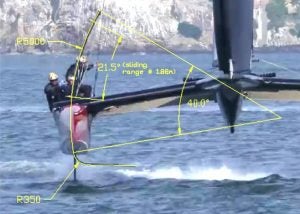 As the world awaits the big decision on what the AC75 monohull will look like, the man at the center of it all talks about the potential concepts and the details on how Emirates Team New Zealand crushed the world in Bermuda.  Here's 10 minutes with ETNZ Design Coordinator and former Formula 1 Vehicle Dynamics Engineer (McLaren) Dan Bernasconi from Radio NZ.
Concept 1 "…a fairly conventional but high performance monohull…"
Concept 2 "…a semi-foiling monohull…"
Concept 3 "…is it possible to get a really big yacht fully foiling. The sailors who are listening will know about foiling Moths which are single-handed fully foiling boats which are great. But on those you use a lot of your body weight to balance, and that is something which is really difficult to scale up."
Discuss the three options for the next Cup in the thread. 
October 11th, 2017 by admin
***WORLD EXCLUSIVE***
UPDATE: IT'S OFFICIAL!
AC BREAKING
Deep sources in both Western Michigan and Rhode Island tell us that New York Yacht Club will announce their challenge for the 36th America's Cup tomorrow at noon.  Backed by a syndicate funded in large part by the Devos family (of Quantum Racing, Amway, and Trump supporting fame) and longtime maxi competitor Hap Fauth (of Bella Mente fame), the team will be led by CEO Terry Hutchinson and will likely feature sails [badged, at least] from the green donut.
Several other potential syndicate members – including Chicago Match Race founder Don Wilson – were rumored to be in talks with Devos & the NYYC, but our pals in Newport tell us that's no longer the case, and the Chicago trader and property developer (and current North American M32 champ) is the first challenger casualty of New Zealand's decision to go monohull, along perhaps with Artemis and Alinghi.
We continue to hear that a West Coast challenge is also in the works…more on that when it's available.
October 4th, 2017 by admin
Grant Dalton doesn't reveal the deepest darkest secrets of the America's Cup in this 90-minute chat with Mr. Clean, but the Emirates Team New Zealand head man touches on a wide variety of subjects regarding the Bermuda AC, the AC75 monohull, and the just-announced protocol for the next one (natural disasters notwithstanding 😉  Get balls deep into the 26th Sailing Anarchy Podcast with Auckland vs Italy, trickle-down technology, the supercomputer vs. the mobile phone, how disbelieving the Kiwis were that the rest were so far behind, who nicked the videos of AC34 and 35, and much, much more in this frank discussion with one of the iron men of the sport.  Direct listen or download here for the podcast-challenged, and please subscribe to the SA Podcast on your iPhone or Android device.
Show Notes:
00:00-10:27 Intro
11:27 Who wrote the protocol and explanation of its genesis
13:17 Off-water battles in the Bermuda Cup buildup, and obstacles thrown up by Coutts & friends
14:47 Why should challengers trust you to be more fair as organizer than the America's Cup Event Authority were to ETNZ?
15:34 "The most ridiculous stacking of the deck in modern times came from Alinghi"
15:57 How much has Royal New Zealand Yacht Squadron been involved in the protocol process?
16:57 About the Cup's national NZ road show coming up
18:07 Why is it OK to take the Cup to a boat show but not a car show?
18:57 How the RNZYS will help lessen the load for Dalton and the TNZ staff.
20:57 What information did you base your decision to go to a monohull? What's the real motivation?
25:57 The density of breeze in Auckland and the frailty of the Cup cats. Dalts: "16 knots here would pull an AC50 to pieces"
26:41 On NZ's huge tech advantage in Bermuda. "For the life of me I can't figure out how all the other teams were so far behind us"
26:57 How keeping the AC50 would almost definitely guarantee another TNZ win
28:07 How many concepts are being considered for the actual boat? Are ETNZ consulting with other potential challengers besides Luna Rossa?
30:03 Does the design rule schedule mean TNZ and Luna Rossa get an unreasonable head start over other challengers?
30:57 Why can't you say whether or not the boat will lift out of the water?
31:57 Would you lose Glenn and Burling and the other speed junkie tech heads if you go to a heavier, more conventional type of boat?
32:47 Ashby's huge beard and his two months on walkabout
34:07 Dalts' motorcycle crash in the Isle of Man TT
36:02 Bicycle grinders and the openness of the AC36 design rule. "We have no intention of banning bicycles"
38:52 Box rules vs open Rules, and the element in the next AC of "one-design supplied parts". Don't want to stop innovation in areas that can help the average yacht racer, eventually.
41:30 Clean's disappointment with the residency requirement, and Dalts explanation of what he thinks people are misunderstanding about the new nationality/residency rule.
43:24 Finding the balance between a rule that would exclude many countries and one that will help reduce the mercenary culture in the sport, and how to get teams to look to their own countrymen first for crew.
48:07 Dalts: "They commit to a team and a country rather than a worldwide circus where they're guns for hire to an owner who doesn't realize he's getting ripped off"
48:57 Surrogate boats, regatta schedules, and high entry fees for the pre-regattas. "This will allow us to create a financial pool so we don't have to be beholden to a city for funds." Dalton says ACWS events were driven by venue fees in bad places or at bad times for sailing. "Make it great for the yachties, and the rest is easy."
52:27 With the residency requirements and lack of venue certainty right now, how does ETNZ ensure teams spend enough time in Auckland to justify the money the venue will have to spend to prepare for the Cup?
53:42 Dalts' sample schedule for Challengers.
57:12 Is the Italian Option really just Dalts holding Auckland's feet to the fire? What's with the natural disaster thing?
59:05 Two boat testing for ETNZ and no one else? How about a defender challenge?
60:58 There are ways around two-boat bans, but it might not help anyone. Dalts: "SoftBank was Oracles B boat, but they couldn't get it up to speed fast enough"
61:42 Fan questions begin: Soft sails or hard sails? Hybrids?
62:51 Limiting electronics? More PlayStation type controls? Dalts analogy for ac35: "Oracle were still a mobile phone and we were a supercomputer"
64:27 Sailhandling, stored power and the team's philosophical problem with combustion engines on AC boats.
65:37 What happened with the AC34 and 35 Facebook pages and videos? Were they stolen?
67:06 IF you can get the media back, will you publish all the video from those Cups for free to the world?
67:57 who owns the Liveline graphics system and do you intend to have them back in the mix for the worldwide audience?
69:02 Free to air distribution for AC36!
74:37 Omega time, Swiss Timing, and how am entirely new graphics system might be going into the AC46 broadcast
76:27 Entry period closes before venue announced. How is that ok? (Answer, it might not be).
77:57 What are you looking to get from Auckland and the NZ government to make the event possible?
80:01 How much will a basic, unembarassing campaign cost? "People will still spend 160 million" to try to win
81:38 Biggest sponsorship mistake made by most campaigns
82:57 Happy to see Louis Vuitton go, or will you miss them?
84:07 Burlington vs Tuke, Mark Turner's shock departure from the Volvo Ocean Race, and Dalts' picks for the 2017 VOR
86:42 Uniting the major races, World Sailing, and where the sport is headed at the pinnacle.
87:42 Exactly what they're releasing in November and how Dalts will judge whether it was the kind of technological success he hopes for.
88:47 What's by far the most read site in New Zealand (guess?), AC Anarchist Stingray gets a shoutout, and out.
Thanks for all your questions, and head over to the Protocol discussion in AC Anarchy.
October 3rd, 2017 by admin

We learned a few key things in today's AC36 protocol announcement in Auckland.  UPDATE: PROTOCOL HERE.
RNZYS Commodore Steve Nair should never, ever try to pronounce an italian name again.
The boat is a 75-foot long monohull, and the design details will be complete by next spring
Cost containment is a fundamental principal
The boats will need to be build in the country challenging.
Nationality rule: Citizenship requirement is a mere 20%, the rest of the sailing team needs a strict residency requirement in the country they are representing. "It's not a strict thing, but it's an attempt
Cup is Auckland 2021, but there's no infrastructure or plans yet.  2019 and 2020 there will be pre-regattas.
Two boats allowed per team.
Challenger series will be organized by the CoR.  AC will be organized by the defender.  Joint group for broadcasting/sponsorship/umpiring and other common issues.
Facebook Live means journalists can stay at work or at home, cause they sure didn't show up to the press conference.  Thank you ETNZ!
"They might be" foiling.  The next boat will be presented in November and it 'definitely will be an exciting boat'.
Some one-design componentry, some supplied parts likely.  Development 'open in the really important areas'.
10-12 crew, bicycles allowed.
No tank testing allowed, no wind tunnels.
If for any reason, it can't be in Auckland, it'll be in Italy.
Prada Cup.  Yes, Louis Vuitton is gone, and Prada is not only title sponsor of the challenger series, but presenting sponsor for the big one.  Does LV have the balls to return on a Challenger's sails?
Independent regatta directors and race management, similar to Bermuda setup for RM.
Longer races, ~40 minutes.  Longer pre-start, upwind start.
Watch it all above, and weigh in here.  We're talking to Dalts tomorrow for the SA Podcast, so add your questions for him here.
September 28th, 2017 by admin
In a move that's been telegraphed since we first reported on some of the inter-team intrigue while in Bermuda, Luna Rossa boss Patrizio Bertelli announced in an interview with La Stampa yesterday that America's Cup 36 will indeed end the reign of the America's Cup multihull in favor of something significantly slower.  ETNZ was forced to send out a confirmation of the lead-assisted future after Bertelli broke the news, explaining that ETNZ design coordinator Dan Bernasconi has been working on a number of 'exciting monohull concepts' with potential challengers and designers .  The Kiwis maintain that the new Protocol will be available by the end of September.a
The decision is as depressing as it is exciting:  The last three cycles have seen more innovation in high performance sailing than in the previous 30, with the Cup going from a dopey exhibition of obsolete design and sailing technique to an honest-to-goodness extreme sport whilst dragging the entirety of the sport along with it.  Consider: Without the DoG battle, there's no AC72.  Without the AC72, there's no foiling multihulls and no L/J foils.  There's no foiling A-Cat, no GC32/EXSS foiler, no Phantom, no foiling Nacra in the Olympics, and the monohulls aren't immune to the effect; the foiling IMOCA/Volvo Super 60 owes its existence to the ETNZ innovation.  Literally every exciting development in fast sailing since 2012 has come directly from the AC cats, and their inclusion in Sailing's 'pinnacle' finally gave credibility and respectability to multihullers – sailing's redheaded stepchildren for a century.
On the other hand, with the true 90% ballast ratio'd leadmines finally dead and buried, the new focus on what we expect to be an upwind-and-downwind foiling monohull may drive a new age for monohull sailing, and that's something to celebrate.  For far too long, the Moth has been the only monohull foiler to set the world on fire, and a few hundred million in development could work wonders towards bringing their level of performance that much closer for the average dinghy or (lightly) ballasted monohull.
So what will it look like?  We'd love to think it's wide open, with the ETNZ board and Bertelli's management allowing all sorts of development variations.  Centerline T-foils, mixed horizontal and vertical appendages, powered control surfaces – all the gadgets.  Unfortunately, that ain't reality, and there's no way Dalts is going to give away his biggest competitive advantage – Guillaume Verdier's knowledge of big monohull foilers – by allowing an outlier design the room to shock the world.  Look for something like the Volvo's Verdier design brief, but with lighter weight, more appendages, and a clever control system. We expect AC36's racers to look far more like cats than any monohull you've ever seen.
September 11th, 2017 by admin
You'd think with the America's Cup over and weeks left before we get any news on the new protocol, the AC world would be quiet.  Think again!  Here are a few bits of info:
*ETNZ boss Grant Dalton survived a 110 mph motorcycle crash at the infamously dangerous Isle of Man TT, and not only was he unhurt, but he jumped back on the bike and kept going.  Grant Dalton definitely does not need to harden the fuck up.  There's more about Dalts' motor racing obsession in this piece in Stuff.
*About a thousand students honored Pete Burling with an awesome haka when he returned home to Tauranga last week.  If you have any illusions about the Kiwi passion for the Cup, watch and learn.
*Jimmy Spithill admitted to hiring private detectives and a Bulgarian thug to scare the piss out of a Kiwi internet troll after the 2013 Cup.  It's part of the new Spithill biography that we discussed with author Rob Mundle in the SA Podcast earlier this summer.  Read about the episode in another Stuff piece.
*If you're tired of printing out stolen web photos for your America's Cup wall art, head over to trademe to get your hands on a 5-foot wide oil painting of ETNZ's Bermuda victory.  It's pretty pimp.
Stay up to date in the AC Anarchy forum.
August 30th, 2017 by admin
Like flies to honey, the chance to solve a big civil engineering problem always draws out the clueless creative types, and the 36th America's Cup is no exception.  Auckland's architects and thinkers are now flooding the media with ideas on where, exactly, to hold the AC in a town that's busting at the seams.
Ignoring the total lack of understanding of the scale of a race course is the above 'stadium sailing' proposal from this Noted article, and it's not the best or the worst – just the most fun.  The blurb for the stadium pitch is below, and 7 others are in the piece.
Herbst Architects  like the idea of the Cup being a catalyst for the development of infrastructure, and they've identified two key pieces that are missing from the city: a second harbour crossing for mass transit rail, and a stadium. Their cup proposal provides both, positioning a stadium as a feature in the Waitematā between the city and the North Shore, loosely aligned with Wynyard Wharf. The stadium would be designed with a playing field that can be dismantled to allow America's Cup races to be run between the grand-stands. Access to the stadium is via the mass-transit rail tunnel beneath.
August 10th, 2017 by admin
Blair Tuke made all the local papers when he signed up with MAPFRE last month with taglines like "Tuke Aims At First Triple Crown."  John Kostecki famously became the first – and only – sailor to hold the distinction of winning a Whitbread/VOR, Olympic medal, and the America's Cup, but since JK's medal was only silver, it left things open for Tuke to be the first to get the "Real" crown – the golden one.
The pin-up looking Olympian may be fighting for it against a familiar face, with Pete Burling looking for all the world like he's the latest addition to Bouwe Bekking's Brunel entry in the Volvo.  There have been rumors of Burling looking for a big deal from one of the teams for a while now, and Bekking knows the importance of fast drivers more than perhaps anyone who's done this race. This pic from before the Fastnet popping up in the forums doesn't seal the deal, but the fact that Bouwe hasn't been returning calls lately makes us think the Burling announcement is imminent.
Rumors continue to swirl about NZL 49er FX standouts Alex Maloney and Molly Meech joining another Volvo team, but whether it's the long-awaited Team 8 (perhaps a Kiwi-ish effort under the management of Craig Monk) or they do part-time duty for an already-entered while training to improve on their Olympic Silver we do not yet know.  One great skiff driver and one giant of an athlete…both under 30…why wouldn't you?
August 8th, 2017 by admin
Who knew Dennis Conner had a podcast? Love him or hate him, we're glad to see his voice out there in public.
Listen to him beat up on Bermuda, Russell Coutts, nationality rules, and kids on his lawn in this half hour episode of whatever the hell he's calling it.
August 7th, 2017 by admin