Posts Tagged 'alex thomson'
November 4th, 2015 by admin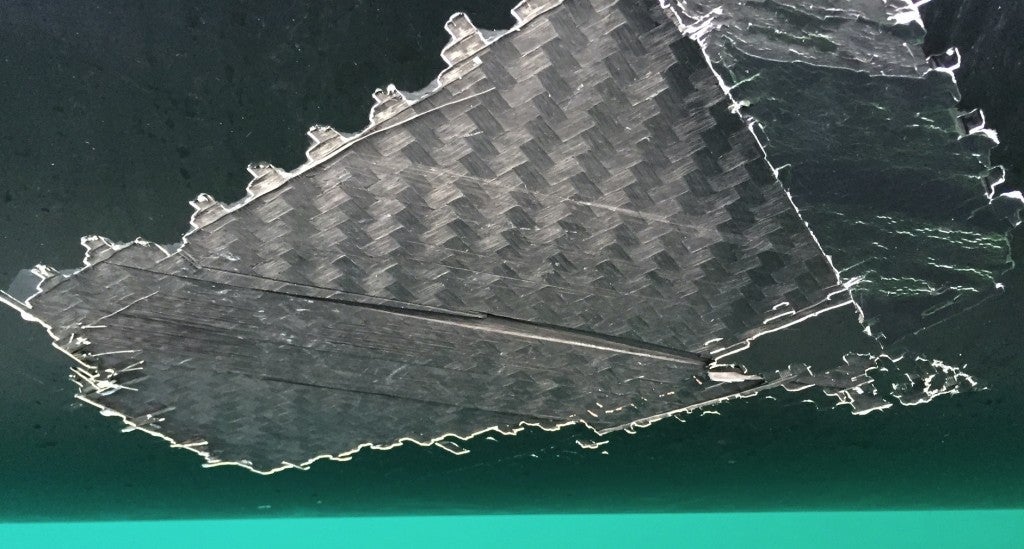 This shot of the outside of Hugo Boss's hull shows the impact that broke the ribs of Alex Thomson's brand-new Open 60; the first in a series of cascading failures that led to their near-sinking in the Bay of Biscay a few days ago.  Alex is 99.9% sure this presumed collision was the root cause of the rest of the issues,  but that's not the most surprising thing we learned in our Skype interview with him this afternoon.  You'll have to tune back in to this page for the rest of the story early tomorrow, exclusively on Sailing Anarchy.  It's a good one!  We're also pleased to report that VPLP and Verdier seem to be completely on top of it, with their top guys working hand in hand with all the teams with issues.  Stand by for more.
TJV thread here.  Boss Sinking thread here.
November 3rd, 2015 by admin
UPDATE: BOSS IS BACK ON THE DOCK!
We'll have more information directly from co-skipper Alex Thomson as soon as he has had some rest.
We spoke to  exhausted ATR Managing Director Stew Hosford a few minutes ago as he boarded a plane for Vigo, Spain, and he was glad to have the chance to update Alex and Guillermo's fans around the world.  Here's the exclusive report on what happened and what's coming up from Mr. Clean.
1) As you may have already read in their early-morning statement, Alex and Guillermo were on their way back to port after a temporary fix of several broken ribs – the same problem noted by at least two new other VPLP/Verdier boats – when they were rolled and dismasted.
2) In fact they'd stopped the boat and were hove to on port during the little unforecasted bomb of a depression that developed off the NW coast of Spain two days ago.  Alex was asleep down below and Guillermo was on watch when a massive breaker capsized the boat.
3) From inside the boat, Alex found the canting button and moved the keel to the other side.  The boat snapped back upright, coming up without a rig and with plenty of new damage, including a broken foil.
4) The boat was full of water, the electronics were fried, and it was time to GTFO.
5) On reaching shore, all Alex could tell his technical crew was 'I'm going to get my boat."  The team wasted no time chartering an oceangoing tug, and they are already on station about 100 NM to the Northwest of La Coruña with Hugo Boss.
6) The dewatering is going well, the boat will be cleaned up and made as safe as possible today, then towed back to Spain overnight.
As soon as Alex has had a big of sleep and his boat is safe and sound, we'll have an extensive interview.
Still no statement or word from VPLP or Verdier, who have a very difficult route to negotiate themselves right now.  Between the insurers, race organizers, teams, and the ocean racing community, Vincent and Guillaume have very few options in how they handle this situation if they are to avoid becoming known as the next JuanK.
Check back soon for more info; watch the thread for the latest.
November 1st, 2015 by admin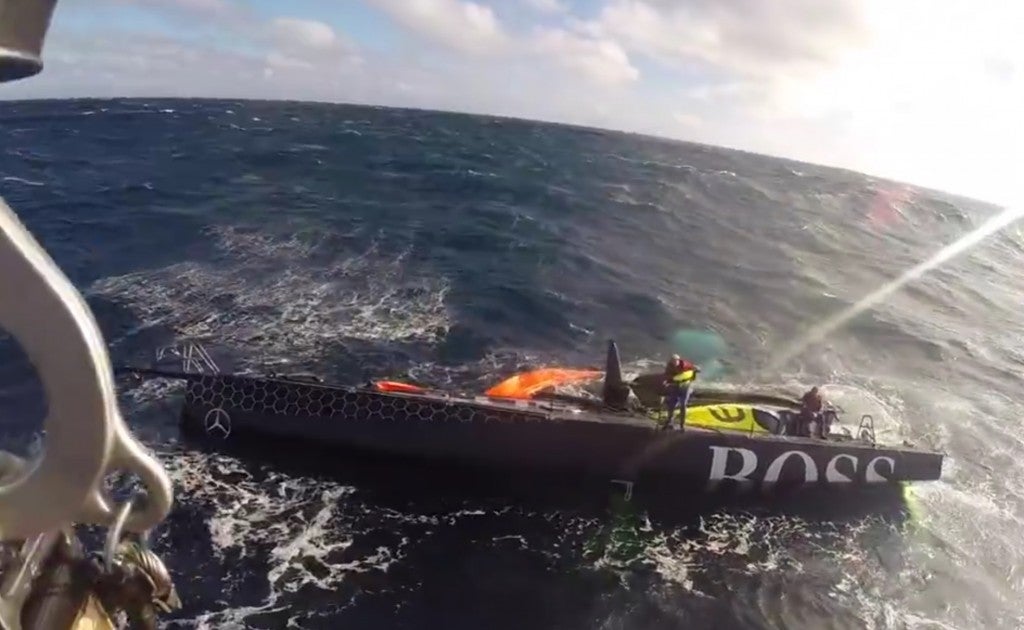 Sinking, dismasted – basically, fucked!  That's the Hugo Boss as shot by the Spanish Salvamento Maritimo crew who winched the IMOCA duo to safety.  First look at the boat is a screenshot from the video – complete with random rockin' soundtrack – of the rescue, shot from the sky.
Jump in the discussion thread here.
October 31st, 2015 by admin
We're extremely pleased to know Alex and Guillermo are safe ashore in Spain after they could presumably no longer keep up with the water ingress on the sinking Hugo Boss after her abandonment of the Transat Jacques Vabre.  The structure on the new Hugo Boss continues to break down while Alex and Guillermo and the shore team are meeting as we speak to figure out if and how a salvage will happen.
While the 6 new VPLP/Verdier boats are the most complicated and technologically advanced ocean racing monos ever created, there are only a couple of really 'new' things about their structure: The foils and cases, which look to have been a major problem with one boat, and the ultra-thin rib-and-skin construction of the hull, which took out another.  It'll be a little bit before we know which problem started Boss down her cascade of failure, but one thing is for sure: With four out of five new boats broken, at least one of them catastrophically, the designers have a lot to answer for – something we look forward to from the typically pretty straightforward folks at both VPLP and Guillaume Verdier Design.  Note that these boats were built at at least three different facilities…
The fact that the fifth of the new foiling boats is streaking away from the rest of the IMOCA fleet at a ridiculous pace doesn't really help; a small turn of fate and instead of being on shore, Alex and Guillermo are adrift in a raft.  Or lost forever.
Designers are finally starting to get around to accepting the fact that keels should not be ejectable.  Their next challenge?  Hulls need to be built to last past the first delivery.
Talk in the thread here, and track what remains of the fleet here.
If you haven't seen our one-hour interview with Alex on the deck of the now-sinking HB, get to it!
October 31st, 2015 by admin
UPDATE: After unsuccessfully attempting a repair for several hours at sea, Alex Thomson and Guillermo Altadill onboard HUGO BOSS have made the difficult decision to proceed to Vigo. This partial repair will not allow the duo to cross the Atlantic serenely.The technical team is currently en route to Vigo, Spain, to join the crew and try to consolidate repairs.More information tomorrow.
With two of the newest VPLP/Verdier foiling 60s already out of the TJV, it comes as no surprise that a third is now on the ropes.  With just a few days of sailing under her keel before the start of the race, Alex Thomson's Hugo Boss is the newest of all of 'em all, according to Facebook, Alex and Guillermo Altadill will spend the next few hours hove to in the North Atlantic as they dig into unspecified technical issues and try to save their race.  On one hand, the attrition rate of the new boats is a big failure for the teams; on the other hand, reliability is never great at the extreme edges of any development box…especially on the first real outing as they build up to the big dance next year.
Our Senior Editor sat down with Thomson just before the Boss left for France earlier this month to chat about everything Open 60, with questions mostly provided by you Anarchists.  It's another great chat between Clean and AT, and there's plenty to listen to as you wait to see if they get back in the race.  You can download the full video from Vimeo here to play later. Track the TJV fleet here.
October 28th, 2015 by admin
While the Macif foils have finally been revealed, details on the latest and greatest VPLP/Verdier Open 60s remain scant, in part because the secrecy in IMOCA world is exceeded only by that of the America's Cup.  Fortunately we've got connections, and our Senior Editor headed over to England last night to become (we think) the first reporter in the world to sail on an offshore foiling monohull.  He's headed offshore tonight with the one guy who continues to keep the torch lit for anyone who wants to see a non-Frenchman take the Vendee Globe trophy: Alex Thomson.
Alex and his Hugo Boss team have had unprecedented success with sponsors and the media over the past decade, but less so on the race course, with Alex able to grab a few victories in low-profile events and a couple of hard-fought 24-hour solo distance records. Bad luck ended his two strong chances to win the Barcelona World Race, but his 3rd place in the last Vendee (with a now 3-generations old boat) cemented his credibility as a potential race winner, if he could only build a competitive ride.
That has now happened, and we've got a couple of days to dig into Alex's program and his new boat, and more importantly, to answer any questions you guys can come up with – as long as they're not about the details on the foils, and if we told you about them, we'd have to kill you.  We'll have a report on the boat and on the new Mercedes-Benz stickered Hugo Boss before the TJV begins, and if you ask your questions today over in this thread, we'll put them to the team. 
For a fond look back at the two-generations old Farr Open 60 that Alex took his Vendee podium with (and Ryan Breymaier is about to doublehand across the ocean), check out the very cool video above. 'cause boats have souls…
October 13th, 2015 by admin
SA Special IberianCorrespondent Jen Edney gives us some great insight from the Barcelona World Race start.  Enjoy it, and check back towards the end of the week for our first look at what she can do with a video report. Track the fleet here, and get all the latest chatter in the thread.
"Bye Oscar!"
"Bye!"
"Bye, Oscar!"
"Bye, Dad!"
IT was one of the most touching scenes I've seen in my coverage of the sport; Alex Thomson and his 4-year old son Oscar, seeing who could shout the loudest as Hugo Boss team headed out to the race course for their third Barcelona World Race.  Boss is the only team to sail all three editions of the race, and that same young Oscar is a big reason they're the odds-on favorite for this one: They've got unfinished business.
Oscar was born just before the 2011 race, and then Alex developed apendicitis days before the start, sending him to hospital and the strong Hugo Boss team scrambling for a last-minute replacement skipper. Wouter Verbraak, there to help with last-minute weather routing, was recruited, and he and Andy Mikeljohn never were able to get on the pace. The HB team's high expectations for a strong second edition turned into a disappointing mid-fleet finish despite a faster boat and bigger budget than many of the boats ahead.  It was tough for the team to handle, and it's a big part of what motivated them to put everything they had into winning this race.
The long goodbye is an emotional and touching sight, and when combined with Boss's BWR saga, it's enough to give me goosebumps.  These sailors are waving goodbye to their family, friends and fans for the next 100-odd days, with all the dangers that entails.  So many nonsailors ask me 'why would they do something so crazy?' I'd never really thought about it, and it seemed like a great question to put to the racers.
We Are Water's Bruno Garcia:"I really don't know! I've never considered it a sport, it's something more…"  Garcia thought about it for a minute, then gave me a modified version of Everest trailblazer's answer about mountain climbing.  "Because the sea is there."
Bruno will be sailing with his brother Willy around the world, and their 'family affair' highlights one of the nice things about this edition of the race; the accessibility of communications between the boats and their families, friends, and fans. "I have two kids. One daughter, 12 yrs. old and a 10-year old son," said Bruno. " Four years ago, it was not that difficult. Now they are older, they ask you about the dangers of the race, and 'what will you do if you fall in the sea. You have to be quite clever to discuss with them what happens on the boat and what you will be doing. But I know they support me a lot and I can I count on them."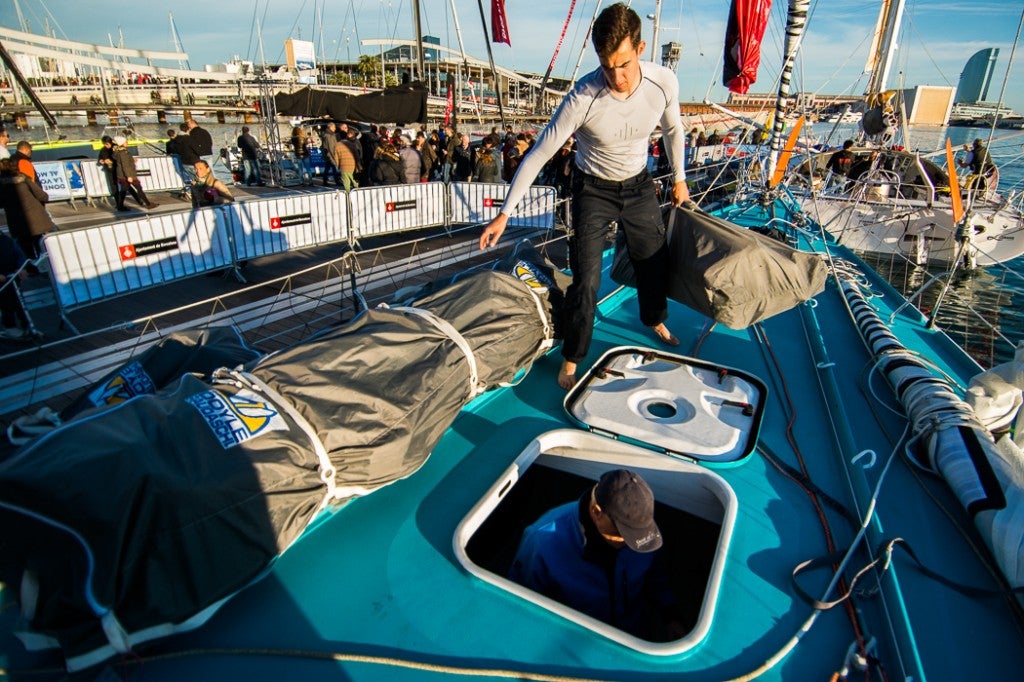 Sailing together is not new for the Garcia brothers, they grew up cruising with their parents and have been racing together since the 90s, but the world Barcelona World race is new for them. "My brother is one of the best gifts I've ever had in my life. He is a very good friend, a great brother and is also a great sailor. I trust him both on the sea and in the mountains. With him I have done many miles, many peaks, many courses..and trust we have is phenomenal…Since the last edition with Jean Le Cam I have learned that this type of racing is not just for those who go and sail but it is also for people like the shore crew and those who follow us. And there are many out there and my brother and I hope to reach out to them and have the public enjoy and share our adventure."
For some, like Nandor Fa's Spirit of Hungary, the entire team is a family affair, with his wife and daughter working full time for the project. "When I decided to return for racing, the family was the first I asked 'what do you think?' And they told me they supported me completely."  Nandor's wife is his media manager, and 22 year old Lili – a baby the last time he went racing – is now an adult and part of the support team.  Nandor's 'third daughter' is Spirit – the only home-built boat in the fleet. Lili says she is so busy that they have less time for worrying. "It is much better to be involved then watching from the outside, biting our nails!"  Lili has mixed emotions on his departure.  "I am going to miss him, but at the same time I am so happy for him because I know that this is his life, his passion and he's been stuck in Hungary for so long working hard and supporting his family…he really deserves to be at sea again."
Nandor is the oldest skipper in the fleet, and he's sailing with the youngest – Conrad Coleman, and they are already well in back of the fleet.  For them and many of the teams on the much slower Open 60s, winning isn't even a possibility; the journey, the challenge, the adventure – that's the victory for them.
For others, like Alex Thomson and Pepe Ribes on Hugo Boss, winning is everything.
And for me, watching and shooting and reporting on this human drama is winning too.  A huge thanks to all the teams for the unfettered access they provided, and an even bigger thanks to Isabel and Daniel and everyone at the FNOB for their constant support this week.
-Jen
January 4th, 2015 by admin
In 2006, the Pindar team launched the most powerful Open 60 ever built – a title the boat would never relinquish.  Unfortunately for Mike Sanderson (for whom the boat was designed and built) and later Alex Thomson, the boat was never a contender.  Too powerful and draggy, too hard to sail, and too physically demanding for even the strongest IMOCA men, Pindar was plagued by drama, failure, and weak results.  
Even in the hands of Alex Thomson, the JuanK boat was a dog (imagine that, a JuanK boat being a dog), relegated to corporate and PR sailing duty while Alex and his team sourced other boats for his racing.  And while losing a racing boat is never a good thing, we have to say that the world may be a better place without more JuanK grand prix boats around.  The embattled Argentine has to be relatively happy with this calamity; at least this one didn't break in half, lose a keel, or kill anyone.  More on the wreck from Alex Thomson management team 5West boss and long time Anarchist Stew Hosford:
The boat had been laid up in LA since the end of a tour last year for our sponsor, and we chartered the boat to a new IMOCA team in Europe to who were going to enter this winter's Barcelona World Race. Our team were bringing her back to Europe via Panama for a re-fit when TS Odile started to appear in the Pacific. We had worked out a number of stopping-off points in case of hurricanes with the team securing her in Cabo San Lucas well in advance of the hurricane strike, and given the forecasts, it was a massive shock to the team, city, and nation when the storm intensified into a hurricane and bore straight down on Cabo.
By all accounts, the storm was brutal; "The End of the Earth", as locals called it, shocked the entire region, and the morning after the storm hit, the picture you see above is what greeted our delivery team.  The boat was remarkably still in her berth, but took serious damage from flying debris and boats that had come loose, floating around while still attached to big chunks of dock and pontoon.
For the first few days, the team used what they could salvage – freeze dried food, water, diesel, and satphones – to help locals near the marina.  But without comms, electricity, or any way to get off the peninsula, the situation began to deteriorate badly into the looting and later, military response that's been widely reported.   It rapidly became a crisis situation for us, and the guys on the ground somehow managed to get a small plane out of Cabo and return safely to the states.
So now what?  To be honest, it is not clear; while we are used to dealing with crisis at sea, this is something of a new problem for us.  The boat is most definitely not seaworthy and remains tied to her slip, but until the local government gets control over security and infrastructure, there's not much we can do besides work on a plan for what happens next.  Given the intensity of the hurricane, the loss of life and property, and the fact that there are many people still trapped there, it is a stark reminder of what can quickly go wrong.  Everyone here has great hopes for the people still on the ground, and we wish them all the best of luck.
September 21st, 2014 by admin
The exciting news that our good friend Ryan Breymaier would be taking Alex Thomson's place aboard Hugo Boss for the upcoming NY-Barcelona double handed race is a bit less exciting today after news came in this morning that they've broken their mast.  Alex, Ryan, co-skipper Pepe Ribes and preparateur Willy Altadill (Guillermo's boy) will sail directly to Newport and, we imagine, get some of the Hall guys down to see just how much work it'll be to get the boat ready for the June 1 departure from the Big Apple.  The boat was in plenty of breeze – well over 40 knots, according to weather files, but this is not a common failure point for Open 60 rigs.  Maybe Alex should quit running up and down the mast?  Here's the official news:
The shore team were contacted by the boat early this morning and were informed that the Southern Spar mast is broken above the top spreader. We are relieved to announce that the four crew members on-board are safe and we have notified their families and our sponsors.
We could not have a better team on the boat to deal with this and members of the shore team are planning to meet the boat upon its arrival to Newport this weekend, and will carry out an assessment to determine if the boat can be repaired in time to enable us to take part in the New York to Barcelona race.
May 8th, 2014 by admin