Posts Tagged 'alex thomson'
Given that this $2M, 3100-horsepower branding exercise/penis extension doesn't even use Mercedes engines, I guess it's…nothing? How long til the concept car, the boat, and Alex Thomson's Benz-sponsored Open 60 do their photo shoot together?  Might be silly, but still sexy as…
Image credit Cigarette Racing.  Thoughts?
February 17th, 2018 by admin
With both foils extended and the Open 60 getting almost entirely airborne as she gets healthily into the 30+ knot range, Alex Thomson Hugo Boss looks as much like a huge bird as she does an oceangoing yacht.  Hitting a top speed of nearly 34 knots on this reach with never a hint of nosediving, this vid is a great example of the conditions where so-called 'Dali foils' absolutely destroy a non-foiler setup.  The video is an instant classic; a great antidote for those who are already tired of the VO65's somewhat more ponderous ways, and the shoot's location makes us think that perhaps the Hugo Boss organization has another 'walk' coming?
November 26th, 2017 by admin
Big Pimpin'
What do the Vendee Globe champion, the Volvo Ocean Race winner and the solo mono 24 distance record holder all have in common? They all trust one company to keep them warm and dry wherever the hell on the globe they find themselves.
Armel Le Cle'ach and his entire Banque Populaire team stood out amongst the throng in the Vendee start village with their smart and sexy shoreside Musto gear, while Armel showed just how smart he is offshore with a brilliant, textbook race that let him finish some unfinished business.   Congratulations to both Armel and Alex and to Musto – pwning offshore for generations. Learn more at Musto's site.
January 20th, 2017 by admin
UPDATE: French sailor Armel Le Cléac'h has today won the Vendée Globe, setting a new record for the solo non-stop round the world race in the process. Le Cléac'h, 39, from Brittany, crossed the finish line of the race in Les Sables d'Olonne, France, at 1537hrs UTC after 74 days, 3 hours, 35 minutes and 46 seconds at sea on his 60ft racing yacht Banque Populaire VIII.
His time sets a new record for the race, beating the previous record of 78 days 2 hours 16 minutes set by French sailor Francois Gabart in the 2012-13 edition by 3 days, 22 hours and 41 minutes. Le Cléac'h, the runner-up in the 2008-09 and 2012-13 editions of the Vendée Globe, covered 24,499.52 nm at an average speed of 13.77 knots during the race, which began from Les Sables d'Olonne on November 6 last year.
Armel benefitted significantly from the early-race foil breakage of what most believe to be a much faster design in Hugo Boss, but despite Alex Thomson pushing Armel as hard as maybe any human could have, we once again will have to wait another four years for the chance of a non-French winner to emerge from this quintessentially French race.
We continue to be amazed at Thomson's ability to remain glued to Le Cle'ach's transom for the better part of 70 days despite the damage to his boat, but Le Cle'ach played the game more as a wise owl than a sneaky jackal, and sailed a masterful covering match race from Cape Town all the way home.
While Armel had all the pressure of the favorite, once again, Alex has proved he belongs in the solo racing Hall of Fame with the performance of a lifetime.  Beating his own 2012 race time by nearly 10 days and setting the Vendee Globe and outright solo monohull 24 hour distance record in yet another edition (only exceeded by four crewed boats in the record books), Thomson really is the only hope for taking the title away from the French – and only if he comes back and gets it right, this time without the bad luck.  Photo © Jean-Marie Liot / DPPI / VENDEE GLOBE
Ask Alex and Armel ANYTHING!  We are 99% sure that we'll be doing audio or video with both these top dogs in the next day or two for the Sailing Anarchy Podcast, and as usual, we like your questions better than our own.  Ask Alex and Armel your own questions in this new thread and we'll see if we can get them answered.
Join the Vendee thread for the latest chatter.
Title should to the movie adaptation of a classic Forsyth spy thriller.
Tags: alex thomson, armel le cle'ach, banque populaire, finish, hugo boss, imoca, open 60, record, Vendee Globe, verdier, VPLP
January 19th, 2017 by admin
We suspect this little nugget is simply yet another example of the mess that is the Vendee Globe's official English coverage, but maybe – just maybe – there's more to the lower/thirds title slip up caught by an observant Anarchist watching the 28 Dec "Vendee Live" show on Facebook.
Look carefully under Alex Thomson team member "Neal McDonald" and you'll note it says "Alex Thomson Racing Volvo Race Skipper", and we're not quite sure why.  Did the VG producer simply forget to put Mac's 'title' on another line, or did someone sending over title graphics make a freudian slip because they know too much?  Could it be possible that Alex – and Hugo Boss's – next big challenge will be a crewed one?  VOR boss Mark Turner and Thomson go way back and there's precious little going on in IMOCA world for quite some time…and of course, much stranger things have happened.  What do you think?
January 2nd, 2017 by admin
Armel Le Cle'ach rounded Cape Horn on a sunny summer day, once again showing he can do no wrong in this edition of the Vendee Globe.  His 47-day tally from France to the Horn shaves an incredible 5 days off Francois Gabart's record-destroying benchmark of just four years ago, and with Hugo Boss more or less useless upwind on one tack, it's all over but the cryin' for him – and in fact, Jeremie Beyou on the Master of Cock has a real chance of reeling in the unlucky Thomson.
Stephane LeDiraison got the worst of recent bad luck, and he blames his dismasting quite specifically on a shattered Harken runner block.  Here's some of his words as translated by SA'er Laurent:
It is middle of the night, there is 6 Beaufort, The sea state is already well-developed; I am ahead of a cold front. The boat is doing about 16-17 knots.  The boat speeds up in a gust, and I hear something like a gun shot. A very violent noise, something very sudden, very short, very loud.

I run outside, and when I turn around and look forward, I realize that…the mast is gone.  Almost nothing is left. There is a 1 meter piece of the mast still tied to the deck and another 4 meter long piece, with shrouds and spreader attempting to punch holes in the deck.  Everything else, the rig and the sails are dragging in the water.

So I go back inside, put on my survival suit, a harness, take with me some spotlights and go back on deck to do a quick assessment, which ends up very dire, of course. Not only the rig is gone, but I have damaged the daggerboards, stanchions are gone…and the rig is threatening to hole the hull.

It takes me several hours to clean up the mess. You have to understand the conditions: breaking waves washing the deck, wind is getting stronger and stronger…Very cold water, all in the middle of the night. It is really not easy to manage…First, I keep the rig and the sails attached to the transom, thinking that I will be able to recover some sails. After several trials, it is obvious that it is impossible to do. It is even dangerous, because the whole rig behaves like a sea anchor, attached to the transom, stopping the boat in the breaking waves. The wind is now 8 Beaufort, the swell is about 5 to 6 meters high, so each breaking wave is crashing in the cockpit, sinking the rear of the boat. It is now puting the boat, and therefore myself in danger. So I decide, heartbroken, to cut off everything and let the rig go.
Watch it all unfold in the thread here.
December 24th, 2016 by admin
The Hugo Boss team's 'replacement rudder' headfake failed to effect a charging Armel Le Cle'ach, but Alex is happily hurtling along towards Cape Horn in the hopes that the Jackal will find some bad luck along the way.  In the meantime, illustrator Francois Denis and our friends at Ino-Rope continue to memorialize this Vendee Globe in cartoons, one of the latest featuring Denis's take on said spare rudder.
The caption reads "Sailing Anarchy knows the truth!"
Check out more of Denis's amazing cartoons over here.
December 9th, 2016 by admin
Clean Report
Finally, we get the answer to the all-consuming question of whether or not Hugo Boss is carrying a spare foil.  If so, how will he fit it and when?  If not, how will he deal with 'ol' stumpy'? How does Alex feel about getting passed by Armel Le Cle'ach for the lead (while we speak to him live)?  How did he hold him off for so long?  All that and much more in this half hour more worth of questions from the Anarchists and Clean. It's Hugo Boss skipper Alex Thomson, live from the Southern Ocean!
EDIT: We've brought up Alex's audio for those of you who had issues with the Facebook Live vid or those who just can't stand Clean's face – you can listen in loud stereo over here.
Title shout to the bubblegum punk that is Eve6.
November 27th, 2016 by admin
Our own Mr. Clean and RailMeat get bylines in an excellent short vid that gives you a real taste of the Vendee Globe from the perspective of New York Times sailing editor Chris Museler.  Watch it in the original spot here.
November 26th, 2016 by admin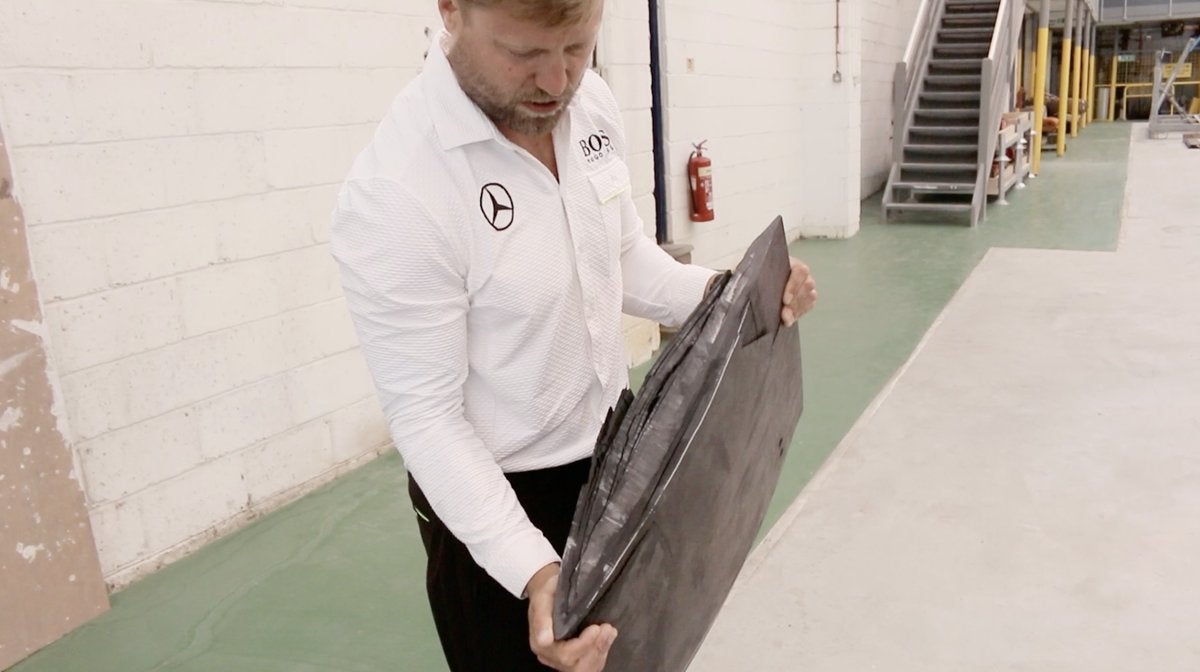 Our exclusive comment from the Hugo Boss team regarding Alex Thomson's replacement foil has lit a fire of speculation from all over the world, and we have to emphasize that we do not have any first-hand knowledge of a spare foil aboard the boat – it's all just words from an ATR source for now.  But a sharp-eyed Anarchist caught some of those words before they were deleted from the VG website; the conversation was between VG headquarters and Alex via satphone, and here is the text that's since been scrubbed:
VG: Do you have a spare foil?
AT: "It's an interesting question. One of the benefits of going for the design that we went for is that you have the ability to be able to push out what was there, and we'd be the only boat in the fleet that could put a foil in through the deck. It was certainly part of our consideration when we chose to go for this foil.
VG: Do you have a spare foil onboard?
AT: "One of the major problems with these foils is that they're very heavy. They're north of 100kgs each so the reality of being able to put another one in – getting it up on deck, and jiggling around with it – is that it would be very, very difficult. It's not an easy thing to try to do – I guess you'd have to have perfect conditions for it.
VG: Do you have a spare foil onboard?
AT: "Do I have a spare foil onboard? That would be telling, wouldn't it."
VG: Do you have a spare foil onboard?
AT: "No comment."
It may all be academic anyway, as Armel Le Cle'ach is just 12 miles from rolling Thomson as we speak.  It's head to head in the Southern Ocean for now in a race where anything can – and does – happen.  Anyone bored yet?
We're speaking to Alex tomorrow via satphone; we just put up a thread to ask your questions directly – post yours and if they're good, we'll get the answer straight from the leader of the Vendee Globe.
BONUS: For a crazy amount of data on the distances, speeds, and much more from the fleet, check out this cool page.
November 26th, 2016 by admin