Posts Tagged 'alex thomson'
SA Special IberianCorrespondent Jen Edney gives us some great insight from the Barcelona World Race start.  Enjoy it, and check back towards the end of the week for our first look at what she can do with a video report. Track the fleet here, and get all the latest chatter in the thread.
"Bye Oscar!"
"Bye!"
"Bye, Oscar!"
"Bye, Dad!"
IT was one of the most touching scenes I've seen in my coverage of the sport; Alex Thomson and his 4-year old son Oscar, seeing who could shout the loudest as Hugo Boss team headed out to the race course for their third Barcelona World Race.  Boss is the only team to sail all three editions of the race, and that same young Oscar is a big reason they're the odds-on favorite for this one: They've got unfinished business.
Oscar was born just before the 2011 race, and then Alex developed apendicitis days before the start, sending him to hospital and the strong Hugo Boss team scrambling for a last-minute replacement skipper. Wouter Verbraak, there to help with last-minute weather routing, was recruited, and he and Andy Mikeljohn never were able to get on the pace. The HB team's high expectations for a strong second edition turned into a disappointing mid-fleet finish despite a faster boat and bigger budget than many of the boats ahead.  It was tough for the team to handle, and it's a big part of what motivated them to put everything they had into winning this race.
The long goodbye is an emotional and touching sight, and when combined with Boss's BWR saga, it's enough to give me goosebumps.  These sailors are waving goodbye to their family, friends and fans for the next 100-odd days, with all the dangers that entails.  So many nonsailors ask me 'why would they do something so crazy?' I'd never really thought about it, and it seemed like a great question to put to the racers.
We Are Water's Bruno Garcia:"I really don't know! I've never considered it a sport, it's something more…"  Garcia thought about it for a minute, then gave me a modified version of Everest trailblazer's answer about mountain climbing.  "Because the sea is there."
Bruno will be sailing with his brother Willy around the world, and their 'family affair' highlights one of the nice things about this edition of the race; the accessibility of communications between the boats and their families, friends, and fans. "I have two kids. One daughter, 12 yrs. old and a 10-year old son," said Bruno. " Four years ago, it was not that difficult. Now they are older, they ask you about the dangers of the race, and 'what will you do if you fall in the sea. You have to be quite clever to discuss with them what happens on the boat and what you will be doing. But I know they support me a lot and I can I count on them."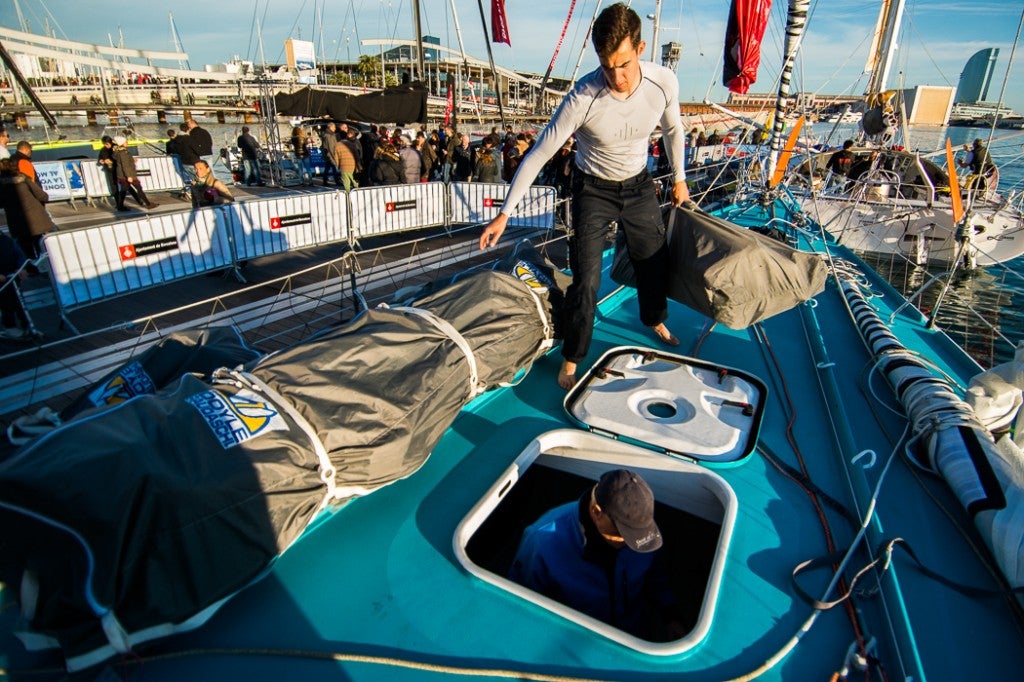 Sailing together is not new for the Garcia brothers, they grew up cruising with their parents and have been racing together since the 90s, but the world Barcelona World race is new for them. "My brother is one of the best gifts I've ever had in my life. He is a very good friend, a great brother and is also a great sailor. I trust him both on the sea and in the mountains. With him I have done many miles, many peaks, many courses..and trust we have is phenomenal…Since the last edition with Jean Le Cam I have learned that this type of racing is not just for those who go and sail but it is also for people like the shore crew and those who follow us. And there are many out there and my brother and I hope to reach out to them and have the public enjoy and share our adventure."
For some, like Nandor Fa's Spirit of Hungary, the entire team is a family affair, with his wife and daughter working full time for the project. "When I decided to return for racing, the family was the first I asked 'what do you think?' And they told me they supported me completely."  Nandor's wife is his media manager, and 22 year old Lili – a baby the last time he went racing – is now an adult and part of the support team.  Nandor's 'third daughter' is Spirit – the only home-built boat in the fleet. Lili says she is so busy that they have less time for worrying. "It is much better to be involved then watching from the outside, biting our nails!"  Lili has mixed emotions on his departure.  "I am going to miss him, but at the same time I am so happy for him because I know that this is his life, his passion and he's been stuck in Hungary for so long working hard and supporting his family…he really deserves to be at sea again."
Nandor is the oldest skipper in the fleet, and he's sailing with the youngest – Conrad Coleman, and they are already well in back of the fleet.  For them and many of the teams on the much slower Open 60s, winning isn't even a possibility; the journey, the challenge, the adventure – that's the victory for them.
For others, like Alex Thomson and Pepe Ribes on Hugo Boss, winning is everything.
And for me, watching and shooting and reporting on this human drama is winning too.  A huge thanks to all the teams for the unfettered access they provided, and an even bigger thanks to Isabel and Daniel and everyone at the FNOB for their constant support this week.
-Jen
January 4th, 2015 by admin
In 2006, the Pindar team launched the most powerful Open 60 ever built – a title the boat would never relinquish.  Unfortunately for Mike Sanderson (for whom the boat was designed and built) and later Alex Thomson, the boat was never a contender.  Too powerful and draggy, too hard to sail, and too physically demanding for even the strongest IMOCA men, Pindar was plagued by drama, failure, and weak results.  
Even in the hands of Alex Thomson, the JuanK boat was a dog (imagine that, a JuanK boat being a dog), relegated to corporate and PR sailing duty while Alex and his team sourced other boats for his racing.  And while losing a racing boat is never a good thing, we have to say that the world may be a better place without more JuanK grand prix boats around.  The embattled Argentine has to be relatively happy with this calamity; at least this one didn't break in half, lose a keel, or kill anyone.  More on the wreck from Alex Thomson management team 5West boss and long time Anarchist Stew Hosford:
The boat had been laid up in LA since the end of a tour last year for our sponsor, and we chartered the boat to a new IMOCA team in Europe to who were going to enter this winter's Barcelona World Race. Our team were bringing her back to Europe via Panama for a re-fit when TS Odile started to appear in the Pacific. We had worked out a number of stopping-off points in case of hurricanes with the team securing her in Cabo San Lucas well in advance of the hurricane strike, and given the forecasts, it was a massive shock to the team, city, and nation when the storm intensified into a hurricane and bore straight down on Cabo.
By all accounts, the storm was brutal; "The End of the Earth", as locals called it, shocked the entire region, and the morning after the storm hit, the picture you see above is what greeted our delivery team.  The boat was remarkably still in her berth, but took serious damage from flying debris and boats that had come loose, floating around while still attached to big chunks of dock and pontoon.
For the first few days, the team used what they could salvage – freeze dried food, water, diesel, and satphones – to help locals near the marina.  But without comms, electricity, or any way to get off the peninsula, the situation began to deteriorate badly into the looting and later, military response that's been widely reported.   It rapidly became a crisis situation for us, and the guys on the ground somehow managed to get a small plane out of Cabo and return safely to the states.
So now what?  To be honest, it is not clear; while we are used to dealing with crisis at sea, this is something of a new problem for us.  The boat is most definitely not seaworthy and remains tied to her slip, but until the local government gets control over security and infrastructure, there's not much we can do besides work on a plan for what happens next.  Given the intensity of the hurricane, the loss of life and property, and the fact that there are many people still trapped there, it is a stark reminder of what can quickly go wrong.  Everyone here has great hopes for the people still on the ground, and we wish them all the best of luck.
September 21st, 2014 by admin
The exciting news that our good friend Ryan Breymaier would be taking Alex Thomson's place aboard Hugo Boss for the upcoming NY-Barcelona double handed race is a bit less exciting today after news came in this morning that they've broken their mast.  Alex, Ryan, co-skipper Pepe Ribes and preparateur Willy Altadill (Guillermo's boy) will sail directly to Newport and, we imagine, get some of the Hall guys down to see just how much work it'll be to get the boat ready for the June 1 departure from the Big Apple.  The boat was in plenty of breeze – well over 40 knots, according to weather files, but this is not a common failure point for Open 60 rigs.  Maybe Alex should quit running up and down the mast?  Here's the official news:
The shore team were contacted by the boat early this morning and were informed that the Southern Spar mast is broken above the top spreader. We are relieved to announce that the four crew members on-board are safe and we have notified their families and our sponsors.
We could not have a better team on the boat to deal with this and members of the shore team are planning to meet the boat upon its arrival to Newport this weekend, and will carry out an assessment to determine if the boat can be repaired in time to enable us to take part in the New York to Barcelona race.
May 8th, 2014 by admin
When good things happen to good people and we have a hand in it, that makes us smile…here's some excellent news from our pal Ryan Breymaier.  Mark Lloyd photo.
Thanks in large part SA's support and promotion, everyone here knows I have been working with Alex Thomson Racing's management company 5 West in my search to find a partner for my Vendee Globe Project USA. Our cooperation took another step recently, when I was asked to race onboard HUGO BOSS for the upcoming Ocean Masters race, a double-handed transatlantic from New York to Barcelona, starting on June 1st.
Alex needs to be home for the birth of his second child, due in the first week of June and has asked me to take his place. This is an incredible opportunity for me, and I am very proud to have Alex and HUGO BOSS put their trust in me to fill his shoes in such an important way.
The boat is the ex Virbac-Paprec 3, sailed to 4th place by Jean-Pierre Dick in the last Vendee Globe. It's a latest generation VPLP-Verdier design; the same hull as winner Macif with a different deck layout.
It is a quantum leap ahead of Neutrogena that Boris and I sailed to fifth place in the 2010 Barelona World Race, and one of the fastest boats in the fleet today.  Each time we have been out sailing I am just floored by its sheer speed and ease of handling.
Along with such an incredible boat, I have the privilege of sailing with Pepe Ribes, who really does not need much introduction here.  FOUR times around the world in the Volvo Ocean Race, at least TWO Americas Cup campaigns, and 4th place (just ahead of me) in the last Barcelona World Race, Pepe is a wealth of knowledge and experience. He's hugely competitive and a great guy to go sailing with.  As serious on the water as he is relaxed off it, I could not ask for a better team mate.
I have been in Gosport, UK at the Alex Thomson Racing base working with the team for the past few weeks, training and helping prepare the boat. We are due to leave for the US on April 22nd.
We will be in New York at North Cove Marina from approx. May 11th -19th and will arrive in Newport on May 20th to prepare for the warm up race from Newport back to New York starting on May 24th. From May 26th there will be a race village set up at North Cove and on the 29th we have another 'friendly' race on the Hudson.  If you are in the area, come and see the boats, and feel free to say hello!  I am happy to answer questions, and I'm very serious when I say that I would love to meet every NYC and Newport anarchist, sailing enthusiast, singlehanded hopeful, ambitious junior sailor – whatever.  Come and say hello, please.
As for the race itself, what an awesome racetrack;  leaving iconic New York City to hook into a depression, ride it to the Portuguese trades, and then through the tactically challenging Mediterranean to my favorite European city of Barcelona, which also happens to be Pepe's current hometown.
We're going to be gunning for a HUGO BOSS win, and all the pieces are in place to make it happen!
April 15th, 2014 by admin
It took us longer than we thought to get this up and we thank you for your patience, but it's worth it; this hour-long Sailing Anarchy Innerview with Hugo Boss skipper Alex Thomson tells the secrets behind his mast walk stunt (and whether it was a stuntman who did the big dive) and gets into dozens of other subjects thanks to your excellent questions; Alex shares his plans for 2014 and the next Vendee Globe, tells us who has new boats coming in the IMOCA world, and gives us the low down on his Caribbean 600 race on a Beneteau 40.  You can grab audio only via your smartphone or browser here on the Mixcloud, or download an MP3 file for later listening here.
We highly recommend you check out the "Behind the Mastwalk" video here as well; it's even better than the other one.
March 20th, 2014 by admin
With his his excellent mast walk video rapidly approaching a million Youtube views, long time Sailing Anarchy fan Alex Thomson wants to answer all of of our reader's questions, and there's always plenty to ask the charismatic British offshore racer.  He's agreed to do an exclusive AMA (Ask Me Anything) with us on Friday, with questions coming via the SA Forum, Facebook, and Twitter, so here's your chance to get all the info on the mechanics of the mast walk,  the value of PR Stunts, how to keep a sponsor happy, what it's like being the top Brit in a Frenchman's game, what his plans are for the various IMOCA/Ocean Master events this year, what's the goss on the UK's chance at an America's Cup, and anything else you like. We'll add up all the questions and get AT to hit them one by one in a Skype chat with Mr. Clean that we'll have up and running by the end of the weekend.
Post questions right here in the forum, or send them in to our Twitter page or on Facebook with the hashtag #mastwalk before Friday at 0900 GMT/0500 EDT.  And while you're at it, we highly recommend you have a look at the Aussie Sailing Team's video piss-take of AT's mast walk posted a few days back.  Hilarious stuff, and a good example of why Sailing Anarchy gets along so well with Australia.
March 12th, 2014 by admin
Alex Thomson and the Hugo Boss team have proven masters at the art of the publicity stunt.  With the widespread success of his various suit-adorned keel walking stunts, you'd think the rest of the yachting media would've long ago caught to this extremely effective PR tool.  But the severe lack of creativity in those circles means no one else has, and that leaves us waiting every year to see how the Boss boys will outdo themselves.  That brings us to this coming week, when we'll see the full video of Alex Thomson doing something none of you has ever seen; a deck-to-masthead run and exit aboard the Farr-designed Hugo Boss that AT brought to an unlikely and hard-fought podium finish in the last Vendee Globe.  Keep your eyes right here for the movie shot in Cadiz, Spain and first reported by Voile.  Mark Lloyd photo.
Title from a TV show that you might've never seen, but you should have.  Here's a hint.
March 2nd, 2014 by admin
Offshore Rules
For a decade, Alex Thomson has distinguished himself as the one non-French solo racer who can truly battle with the big boys both on the course and in the boardroom.  Second in the inaugural Barcelona World Race and then an incredible third place in the last Vendee against far quicker designs, Hugo Boss has become synonymous with Alex and his Open 60, and they are clearly happy about it.  That's why the fashion house pulled the trigger last week on yet another 4-year deal with Thomson and management company 5West; they used the occasion to announce Thomson's participation in the next Barcelona World Race with long time SA favorite Pepe Ribes, and the team also committed to next summer's Ocean Masters NY-BCN race; a bit of a stunt to try to get US interest up in IMOCA action prior to what should be a well-funded, well-attended, and brilliant 2015 BWR.  Congrats to Alex and his entire extended team; they are keeping IMOCA relevant for a hell of a lot of English-speakers.
Inshore Fuel
Thanks in part to some of the same great supporters of Alex's campaigns, we can confidently report that Sir Ben Ainslie – the first British member of a winning America's Cup team in 110 years – is most of the way to meeting initial funding pledges and goals for the next America's Cup and an all (or mostly) British team.  While Sir Ben wouldn't confirm or deny this when we spoke to him, other Pommie friends tell us that Ben's been making great inroads, and probably has around 80% of the necessary funding pledged by a syndicate of UK businessman and long-time commercial sponsors.  This all assumes a satisfactory protocol coming to light sometime before Judgment Day, and it's spectacular news for the Cup and great news for fans of arguably the world's best (and best-known) sailor, and we wish him all the luck in the world.
World Championship of the World
We're also hearing that the AC45s may be done and dusted, and that 2014 will not be a year of ACWS racing of any kind.  Meanwhile, Ben, Cammas, Luna Rossa, and ETNZ are likely to jump into the Extreme Sailing Series tout de suite, and some of the younger potential Cup B-teamers may get some starting and match racing practice in a resurgent World Match Racing Tour.  Add in some cross training with the Flying Phantom foilers and you've got plenty of AC action for the next year, even with no AC.  Good times (on tight budgets)…
December 19th, 2013 by admin
As temperature plummet and ski areas begin to open their lifts, we bring you some interesting movies from the still-beating heart of the sport.
Project USA
We've made no excuses about our enthusiasm for offshore racer Ryan Breymaier, who may just be America's only real hope at a major US sponsor and top US result in the Vendee Globe.  The Annapolis native became the first American to break into the French offshore scene in memory, working as rigger and shore crew during Roland Jourdain's Veolia Open 60 and MOD campaigns, and taking the helm of the generations-old Neutrogena to finish 5th in the non-stop(ish) Barcelona World Race.
Thanks largely to Larry Ellison, America is more attuned right now to sailboat racing now than it has been since 1987.  Between the wonderful AC72 final, a recent HBO Sports documentary on Alex Thomson, and the soon-t0-be-released Robert Redford singlehanded blockbuster "All is Lost", if there has ever been a time for a US-based racer to push for a major sponsor, the time is now.
Fortunately the good folks at 5West know all that — that's the Sir Keith Mills-backed agency that handles Thomson's Open 60 management and the Hugo Boss sponsorship contract — and they're throwing their hat in with Breymaier.  5West hopes to use their contacts and experience to land him a budget for next year's Barcelona and 2016′s Vendee Globe, hopefully waking up the largely untapped American market to IMOCA style racing.  Anyone who cares about offshore racing and the US should head over to the Project USA site to find out more.  And if you'd like to see an American effort in the next big race and your company (or an affiliate) is looking for some innovative sports/green marketing, get in touch with them right away!
Americans of the Americas
With just one day left of the first-ever F-18 Championship of the Americas, the Dutch are hanging on to a slim lead over longtime SA'ers Tripp Burd and Mike Easton from New England, who are wicked close to the front as the breeze picks up for Saturday's racing.  Here's Friday's highlight skylight reel from Sam Greenfield.
American Gold
America's continued waning on the world sailing stage is certainly depressing to those who remember the dominating days of the star-spangled banner.  Embarrassing performances at the past few Olympics, yet another Volvo failure, sparse appearances on sailing's biggest podiums, and the sole US players at the recent America's Cup consisting of a tactician who got the flick, a helmsman long since booted, a CEO who disappeared in disgrace, and a lone US grinder who drank from the Cup.
But all is not lost, and America can now claim not only to have the world's best sailing website, some of the world's best sailing videographers, and even a recent Moth World Champ: We've also got the world's best match racer!
We're speaking of course of Taylor Canfield and his USone team.  They didn't repeat as Bermuda Gold Cup champions this year, but they did exactly what they needed to do in order to cement their lead at the top of the WMRT and the ISAF rankings: Crush Ian Williams.  They did it, and here's the video that proves it; produced, shot, and edited by Matt Knighton.
50 Shades Of Greenpeace
By now everyone knows what scumbags the folks at Gazprom are, and while no one thinks that morally-challenged ISAF is going to do anything about the knife-and-bottle-wielding thug and Esimit Europa shore crew who attacked peaceful Greenpeace protesters, it seems international outcry over the Arctic Sunrise arrests has finally accomplished something. Russia announced the imprisoned activists (along with two journalists) would now face charges of 'Hooliganism' instead of the Piracy they previously were threatened with after staging a sit-in on an Arctic drilling rig; while Piracy carries a 15-year sentence, "Hooliganism" presumably carries a different charge – that is, if it is indeed a crime and not just something made up by former KGB officials to suit their needs for the moment.  It's not much of a stretch – time and again, Russian officials show they care about laws only when it suits them – as evidenced last week when they announced they'd boycott next week's hearing into the arrests called by the UN-chartered International Tribunal for the Law of the Sea; the Russians said they 'not intend to take part in the tribunal's hearings'.  How convenient.  Regardless of the outcome of this gas profit-fueled shitshow, Gazprom ain't leaving sailing anytime soon.  Sponsorship hunters: Be careful what you wish for and even more careful who you are linked to.
The silver lining?  All this excitement gives us a nice excuse to show you a gorgeous video of Greenpeace's new sailboat; the one we first  reported on back in 2010. Movie produced by Heath Hanson.
October 26th, 2013 by admin
We're pretty jaded when it comes to mainstream coverage of the sport we love, but allow us to revel a bit in the glory that is HBO Sports.  Because the undisputed heavyweight of original cable programming has seemingly seen the light, producing a meaty segment on Alex Thomson's Hugo Boss and the Vendee Globe for their Real Sports with Bryant Gumbel show that airs tonight at 10 PM nationwide.
It ain't no 'found footage' either – HBO sent over a full production team to get down and dirty with what solo ocean racing is all about.  Click on the thumbnail to the left to watch a two-minute teaser, and make sure you set your DVR to record what we all hope is an eye-opening report for the millions who watch HBO.  When it makes it online, we'll let you know.
September 17th, 2013 by admin