Posts Tagged 'aground'

The yacht Quokka shows us all just how not to round The Needles during this clip of the Round The Island (UK) Race.  You can see a bunch of whacked our wreck dancers standing on the same bricks in the very cool video here.
July 10th, 2017 by admin
Sailing Yacht Orion owned by fellow anarchist and two-time Thai F-18 national champ 'Orca99' ran aground in Columbian waters last night, and he may need your help right now!
The boat hit the bricks at 14deg 24.728N / 80deg10.543W at approximately 2100hrs local time in the vicinity of the Serenna Banks. Skipper and 1 crew who were on board waited out the night, and were rescued by fishermen in the morning. Both are now on an island possibly known as Majuli approximately 12nm Southwest of the yacht.  Attempts by the fishing boat to pull Orion off the reef were unsuccessful. Their Van De Stadt Cumulant is 40′ and weighs approximately 18 tons .  Columbian Search and Rescue Station San Andres has been alerted and is possibly on scene already.
This is call for help from the Anarchist community. Need advice on plans to float Orion free of the reef.  Need advice on local tides. Anyone who may know of possible local assistance available in the area please PM Seaferns or post your info in the thread.  Thanks in advance for your help.
February 9th, 2017 by admin
Okay, so maybe drinking a mix of five different liquors while navigating your 72-footer offshore isn't the best idea?  Certainly telling the cops about your Long Island Iced Tea consumption ain't! The sordid tale of Thomas Baker's Time Out on the beach in (where else?) Florida is here, with thanks to RKoch.
September 8th, 2016 by admin
Fazisi has one of the oddest histories of any racing yacht, but her durability has allowed her to transcend her basic weirdness to become a true piece of ocean racing history.  Co-skippered by Skip Novak and Alexei Grishenko in the 1989-1990 Whitbread (until the latter hanged himself during the Punta Del Este stopover), the first-ever Russian entry in any major international race was lucky to get to the line, and still luckier that the oddball design and team held together despite the Uruguay tragedy or the loss of the team's main sponsor mid-race.
Fazisi's led an interesting life since all that, most lately as a sort-of mascot for the Polish Sailing Club of New York.  She ostensibly went through some kind of refit to prepare her for the '2015 Volvo Ocean Race' – an event the boat apparently missed despite being in good enough shape to play in the Caribbean a couple of months ago.
Whatever her plans, under skipper John Kedzierski, the Munikov design was at anchor on Saturday as a big front rolled through, and 30-knot winds (with no one on anchor watch) meant the boat is now high and dry in Brooklyn near the Gateway Marina. We'd ask 'is this the end?', but by now we know better.  Fazisi is destined to survive stupidity and carelessness forever, and she'll keep looking like the odd old bird she is.
There's a little presence on Facebook, but go to Youtube to see what Fazisi – and Skip – were like in their prime.
June 1st, 2015 by admin
MAPFRE wins the In-Port Race and then hits the bricks as they wave to the tens of thousands of spectators at Fort Adams.  Soundtrack courtesy of Team Vestas Wind.  UPDATE: MAPFRE diver is down prepping 'a few scratches' for underwater epoxy.  No hauling allowed without a penalty, no big worries until the repair falls off!
UPDATE 2: Knut said that the Spanish team can haul and repair, but team spokesperson Helena Paz says that it will not be necessary, as the damage is minor.  A happ-ish ending after MAPFRE's first In-Port victory of the VOR.
May 16th, 2015 by admin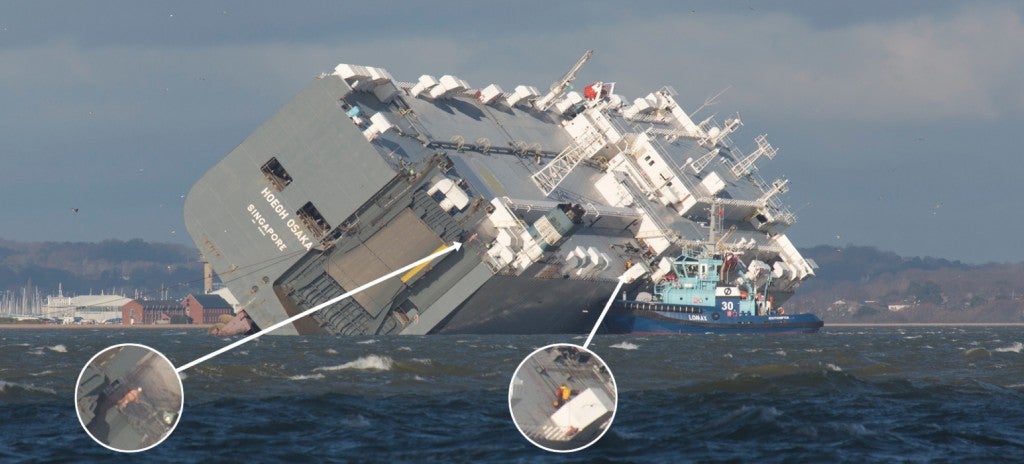 The car carrier Heogh Osaka enjoys a mechanically-induced holiday on Bramble Bank in the Solent, and it's even sailing related; Extreme Sailing Series and enthusiastic newish-to-sailing sponsor Jaguar Land Rover owns about 1200 of the vehicles aboard. (From Anarchist 'Peter Morton 1': "My flat looks right on to The Brambles so saw the whole thing and then listened to VTS last night. I heard the tug boat captain asking to to be vectored to the Brambles to get it "out of deep water". It had a massive heel on to starboard before it went aground from what I could see so my guess is the big port turn at West Bramble caused a list. Went out in my RIB first light and my guess is it will be there for a while. Is certainly not coming off on the next HW as that has just past and its meters out of the water."
More firsthand accounts, video and more pics over here.  Sweet shot from this dude on Flickr.
January 6th, 2015 by admin