Posts Tagged 'AC75'
While the Botins and JuanKers of the world are busy making digital finger paintings and programming simulators, Butch Dalrymple-Smith has already taken the America's Cup 75 'jesus lizard' by the horns with this frankenfoiler prototype.  You want Code Zero?  How about this bowsprit?
Plenty of discussion of both the new AC format and boat over in AC Anarchy, and while we may be fans of the new foiler, everyone sure isn't. Longtime SA'er and sportboat racer 'richiec' summed up the naysayers' comments quite succinctly:
"I thought the cats were fucking stupid. This is even more ridiculous. Can't you just sail yachts, for fucksakes? I supported ETNZ for the last 10 years, all in the hope the Cup would come back to the southern hemisphere – and now we are faced with some mongrel/hybrid/vapourware video game shitter. 
"Sail BOATS, you fucktards!"
November 26th, 2017 by admin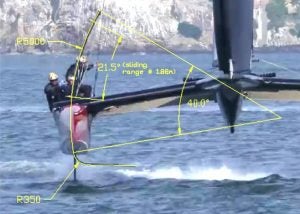 As the world awaits the big decision on what the AC75 monohull will look like, the man at the center of it all talks about the potential concepts and the details on how Emirates Team New Zealand crushed the world in Bermuda.  Here's 10 minutes with ETNZ Design Coordinator and former Formula 1 Vehicle Dynamics Engineer (McLaren) Dan Bernasconi from Radio NZ.
Concept 1 "…a fairly conventional but high performance monohull…"
Concept 2 "…a semi-foiling monohull…"
Concept 3 "…is it possible to get a really big yacht fully foiling. The sailors who are listening will know about foiling Moths which are single-handed fully foiling boats which are great. But on those you use a lot of your body weight to balance, and that is something which is really difficult to scale up."
Discuss the three options for the next Cup in the thread. 
October 11th, 2017 by admin