Posts Tagged 'AC72'
Last week we asked our friends Jacques Taglang and Francois Chevalier if they could put together one of their awesome line drawings comparing the various AC multihulls, and they did us one better – here's a look at the 'evolution' of the fastest inshore racing boats in existence; the BMW/Oracle 90, AC72, stillboard AC62, AC45, and GC32, simply to compare them with a more mortal boat (that still goes 38 knots and only costs $300k or so).
We'll have an update on Russell Coutts' Flying Circus tomorrow; use the time to troll Stingray in AC Anarchy.  For the more cultured, read up on Jacques and Francois' awesome project "The Impressionists and Yachting On The Seine" here.
March 29th, 2015 by admin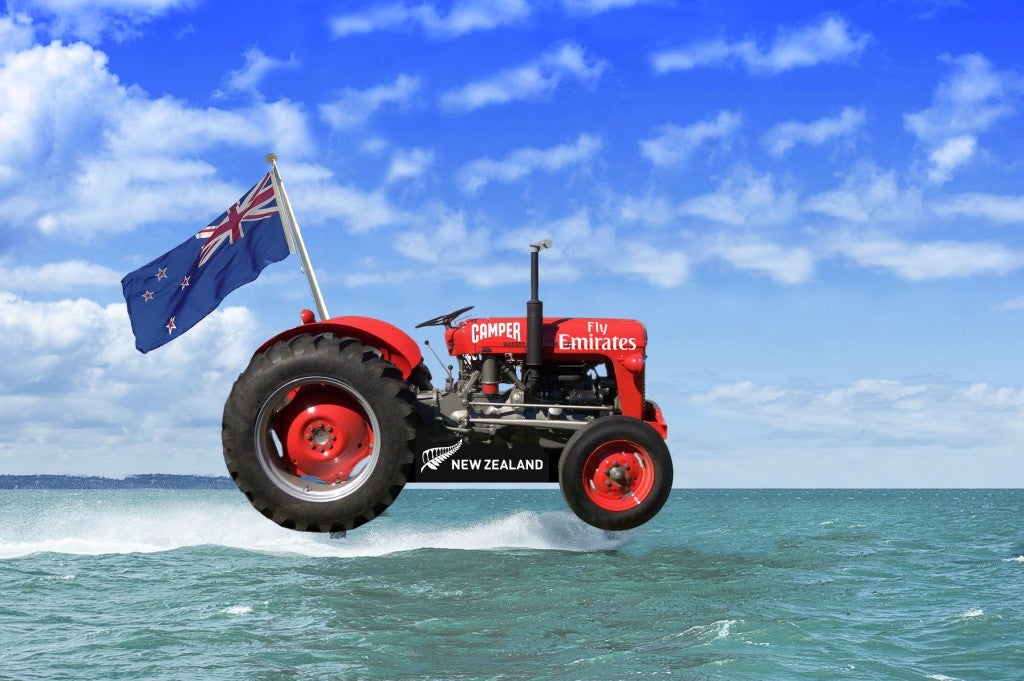 When AC Anarchists coined the term 'tractor' to describe the Kiwi AC72, no one knew it would end up being a badge of honor.  Compared to the slender, lithe OTUSA design, Aotearoa is indeed boxier and more substantial looking, but the metaphor goes a lot further.  She's solid in all conditions, powerful but forgiving, and above all, quite simple to operate.  And c'mon folks – Grant Dalton looks far more like a farmer than a Grand Prix racer; could the 'foiling tractor' be any more perfect?
There are actually AC spectators wearing 'foiling tractor' shirts.  Wanna print your own?  Head to the thread and download some of 'Webfish' or some of the other anarchists' doodles.
September 12th, 2013 by admin
Luna Rossa and Artemis (in training) are both decidedly canine compared to ETNZ when it comes to everything but looks, but that could be a blessing, for a week or two at least.  We might actually see some close racing between two badass boats.
Unless it blows 21.2 knots. That's right, folks – it might be called for too much wind.  Sigh…
August 6th, 2013 by admin