Posts Tagged 'AC50'
SA'er '~Stingray~' flipped and resized the available AC50 shots for an effective comparison of the different design features vinyl decals for the battle of Bermuda, and you can have any color you want, as long as it's black (or navy).  10 feet of bow are required to be contructed in the competitors home country, but given the lack of visible distinction between the competitors, why even bother?
So while the hulls are basically one-design, there's still plenty to get excited about, especially if you geek out on foils, human power equations, and hydraulic valve response times – not that you'd know about if if you followed the official America's Cup newsfeed.  This morning, our inbox lit up with the groundbreaking news from ACEA that they hired someone new to sell America's Cup branded clothing. Incredible! [/sarcasm]
As anyone who's been paying attention knows, the Cup will be won by the boat with the best foils and the most efficient rig.  Unless that one breaks, capsizes, or crashes – or is sunk to the bottom by a co-conspirator as Grant seems worried about in this excellent Chris Clarey NYT article.
Wanna find out whose got the latest edge?  Stay informed (and annoyed) on the America's Cup Anarchy forum.
March 6th, 2017 by admin
There's a lot going on in this Emirates Team New Zealand video of the start of the Auckland-Russell Coastal Classic, and whether you're into analyzing AC50 designs, love watching 'old vs. new' shots, or you just want to see one of the world's ultimate sailing destinations in glorious HD drone shots, this short is not to be missed.  And maybe there's fodder for the "Which is better, Auckland or Newport debate" over here?
October 30th, 2016 by admin
They may or may not be the first AC team to nail a proper foiling tack on camera, but they're definitely the first to provide a 'how-to' guide to it!  Great work from Chris Draper and the SoftBank Team Japan 'media team' (ahem…Matty…ahem) on provide compelling content for their fans and the public – something we've seen precious little of over the past year.  Chat about SBTJ here, or learn more about Softbank's "flack" here.
August 25th, 2016 by admin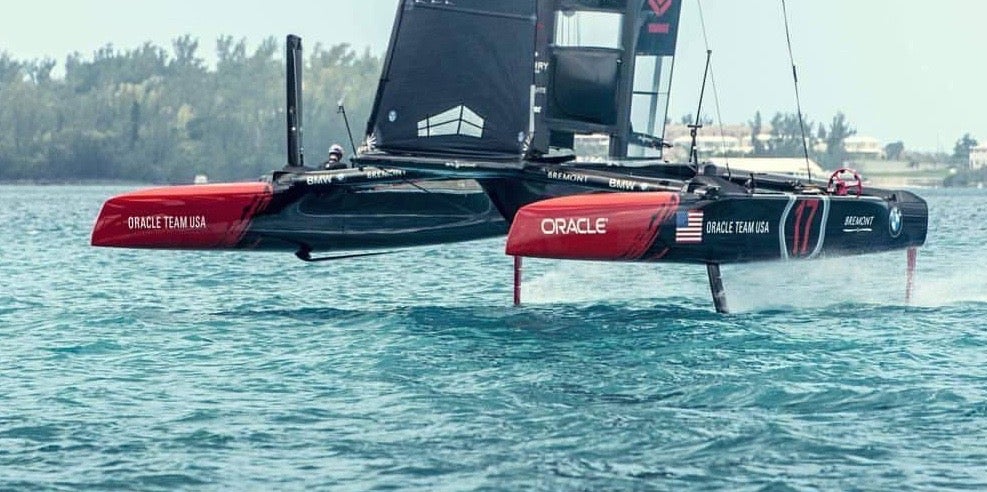 If the America's Cup were a one-design battle, we'd likely see the awesomely talented Pete Burling and his ETNZ boys run away with it, just as Pete has done against largely the same competitors in the past few years of Moth and 49er racing.  But even the highly restricted AC50 box rule allows enough design differences to likely take the ultimate prize out of the hands of the skippers, and the likeliest winner will be the team that can figure out how to get the most out of their foils, aero, and wing controls.
With variable ride control (à la the Moth) and changing foil shapes banned, designers tell us that variable foil bend characteristics may prove the key to the top speed puzzle.  You can see just how much bend the Oracle Team USA trial horse is putting into their foils, as seen above and shot the other day in Bermuda.  There's plenty of carbon bending knowledge inside the sport – see Moth, Finn masts, for example – but could the importance of flexi-foils mean the F-1 connected design team at BAR have a real head start?  After all, Formula One has been playing around with variable bend issues for a long time, most recently earlier this year.
Iron pumpers will recognize from whence comes our story title.  For the rest of you, clicky.
June 20th, 2016 by admin