Posts Tagged 'a-scow'
Dead calms meant lots of swimming and fishing on the big MN lake yesterday, with 29-year old Vince Porter (Melges 24 World Champ Brian's nephew) holding the A-Scow US National Championship lead after two races.  Racing begins at 10 AM central for all the marbles today, with Clean and the team streaming it all live.  Check it out above, and go here for the results after two.
June 22nd, 2014 by admin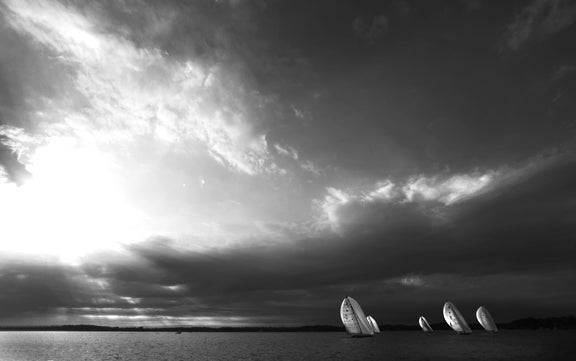 The 2014 Jaguar Land Rover A Scow National Championship is just a day away. I have just returned to Lake Minnetonka and it's a bit like a war zone.  Storms have been ripping through the area for the past week and the water level is at an all-time high. In fact, the entire lake is now a no-wake zone, which means great things for the A-Scows but bad things for spectators and our media team. We will be re-configuring the plan to make sure we bring you as much coverage as possible given the restrictions we are faced with.  Our goal is live video action from the course along with real-time results, near real-time photos, and all kinds of social action – but as usual, we'll be rolling with the flow to share the very best with you from twenty-one of the ass-haulingest inland racing boats in the world.
As you can see from the photo above, the Rodney Dangerfield Cruiser Jackass factor is at zero, and it's amazing how peaceful it is out here.  The sailors all know this might be the best A-Scow racing in history, and everyone is stoked.   Now we just have to hope for a decent weather window, which has been pretty sketchy as of late…Follow along via this front page and the Jaguar/Land Rover A-Scow Nationals Facebook Page
Petey Crawford, Regatta Chair
June 19th, 2014 by admin