Posts Tagged 'a-cat'
US A-Class Presidente Bailey White gives us the goods on the biggest regatta of the US season for the foiling singlehander, along with a controversial and exciting new direction for the extremely healthy US and Canadian Class.  Thanks to Walter Cooper for the great shots, and get in on the rules debate over here.
The A-Class Catamaran North American Championship is entering its last day here in Panama City, Fla., and I can guarantee no one wants it to end. We're not sure what the St. Andrews Bay Yacht Club sacrificed to the weather gods to get it, but every day has had perfect, solid breeze – not too much, not too little, and you can see how the new foiling guys are improving each day.
The leader board pretty much solidified after day one, with previous North American A-Cat Champ, iceboat world champion and Moth sailor Matt Struble, last year's NA champion Bruce Mahoney, and USACA president Bailey White going 1-2-3 respectively.  Struble returns to the fleet after a two-year absence and is using Ben Moon's A-Cat. In yesterday's perfect foiling conditions, as soon as he and Bruce Mahoney rounded the top mark, their event turns into a match race on foils. These guys just have another gear, going lower and faster than anyone else. In yesterday's six – 10 knots and flat water, at times they finished five minutes ahead of a very competitive fleet.
But more on the regatta report later … let's talk about the yesterday's excellent class meeting for Canada and USA members. We have voted to suspend the Class Rule 8 for two years.  That's the rule that limits foiling technology for the Class.   We have not modified any other rule, and this is a change just for our two countries, designed to give us the information we need to make a proposal to the International Class members.
The A-Class is the fastest growing and possibly largest foiling class of any kind in North America, with almost 50 foilers coming online in the last 9 months, We now have people aged 20 to 70 foiling at the regatta, and our new change means    we can now put foiling boards in from the bottom, eliminating all other restrictions to encourage members to experience the incredible sensation of flying.
So, what does this mean? Whether you have a new boat or an old boat, you will be able to fly in the A-Class.
In addition, at our skipper's meeting, we unanimously approved having a fixed spectator boat in the middle of the fleet. Yesterday a gorgeous 50-foot trawler hosted Panama City commissioners and guests so they could enjoy the action up close. This is one progressive community, where the City is actively pursuing hosting major events here – there is the support of the mayor, city commissioners and the local businesses to entice sailing to their area.
It's not too late to check in to the action. Today's the last day of the North American Championship, and racing kicks off at 12:30 CT. Superstar sailing PR Laura Muma and her team are sharing updates on their Facebook and Twitter pages, and testing out the new Twitter Livestream app, so you can watch the starts and roundings as they happen.
May 23rd, 2015 by admin
We love to get nerdy, and few can get nerdier than former Air Force Lt. Col., Boeing military aerospace engineer, Oracle Racing designer, and Sailing Anarchist Tom Speer.  This guy has been foiling since Egyptian Cotton sails – that's why we can excuse the crappy sound and image quality from The Foiling Week's video of Speer's talk on the state-of-the-art in foiling, just last week.  It's embedded above, and here's the companion PDF to Speer's talk.
July 15th, 2014 by admin
Ben Moon takes the lead on a very breezy Friday at the A-Cat NAs. Check it.
June 14th, 2014 by admin
With racing abandoned on day 2 of the A-Cat NAs, Houston cat racer Bruce Mahoney took the chance to trial his brand new flying J/boards in 12 knots of breeze and a beautiful evening in the OBX.  Here's the interview and Bruce's explanation, along with a look at what a stable 18-20 knot ride looks like on an A-Class.
June 13th, 2014 by admin
While its international appeal is fairly diverse, the American A-Cat Class has long been regarded as the province of athletic but greying sailors, so it's surprising that we've got not one but two teenagers racing their own boats at the A-Class NAs in the OBX.  Here's a Rachel Jesperson/OceanImages look at the excellent Jeremy Herrin, who nailed a second place yesterday sailing an A-Cat he built himself in his Sarasota, FL garage with his dad.
Here's the Day 1 Highlight Video with a short chat from Jeremy; three more days of sailing are ahead with Bruce Mahoney leading the fleet after two light air races.
June 12th, 2014 by admin
The low country of the OBX means you can always find flat water and cheap seafood, and calms are rare; here's the first video look at racing for the largest A-Cat fleet ever assembled for a North American Championship, thanks to Richard and Rachel from Ocean Images.  Photo gallery here, news release here, and keep an eye on the SailNC Facebook Page for updates.
June 11th, 2014 by admin
The A-Cats continue their uncertain march toward full foiling despite Class rules specifically formulated to prevent it; To paraphrase Jeff Goldblum, "Flight finds a way", and it certainly has.  And in spite of (or, perhaps, thanks to) the rules rift, the Gunboat A-Cat North Americans at SailNC on the Outer Banks has one of the biggest NorthAm fleets in the Class's history.
While we won't see the illegal but logical bottom-in L-foils that a few Aussies are experimenting with in Sydney, a 60+ boat fleet will include quite a few cassette and J-board foilers and some serious talent on hand.  Our own Senior Editor is on the ground in Manteo, North Carolina to help the Gunboat team provide all sorts of interesting coverage of one of the coolest events in the US this year, and it all begins above with a good look at some of the sailors and some of their rides.
Best place to follow every bit of 5 days of sailing on the breezy Carolina coast, including a pile of pics already? SailNC's Facebook Page.
June 9th, 2014 by admin
It's been another interesting week in the wide world of sailing on screen; here are the pieces we liked the most:
brand new friend
The number of Americans going sailing is still very near an all-time low, but as of this week, we're in what may strike you as a surprisingly good mood about the state of the sport here in the good old US of A.  Why?  Because, based on Senior Editor Mr. Clean's time at the 3-day US Sailing Leadership Forum in San Diego, we truly believe that, for the first time since Sailing Anarchy's birth 15-odd years ago, our sport's governing body seems to be on the right track – a track that, if it continues, will lead to real growth in the part of the sport that really matters – the base.
All the Yacht Clubs and all the regional racing authorities and all the 'welcome newbies" programs can't change the fact that we need far more people sailing recreationally to get more people racing, and one of the most impressive parts of the Leadership Forum was the makeup of the 600-odd attendees; almost half were female, with a median age of less than 40.  US Sailing doled out over $7000 in travel subsidies to help dozens of community sailing staffers show up, and they were overwhelmingly young and often female; these are the folks in the trenches bringing thousands of new faces into sailing every year.
If there is one criticism of the event's format, it's that there were perhaps too many seminars and breakouts in too short a time, and while the vast majority consisted of valuable, engaging content and speakers, a handful were nothing more than disguised corporate promotions for various service providers – something tough to tell from the titles of each session, but easy to tell when you sat down and found a business card on your chair.  But aside from that – and perhaps from the Hilton's price-gouging that left the younger folks and community sailing staffers unable to have a single drink at any of the parties or even the hotel bar – Event Director  Katie Ouelette seems to have found a formula for an annual meeting of stakeholders that's fun, exciting, and advances the sport forward in a way that's been both sorely lacking and desperately needed.
Even the Yacht Club crowd was a younger and more vibrant group than we've ever seen at any non-youth US Sailing gathering, and like everyone else, they were treated to an information smorgasbord from a distinguished group of young and old speakers including our very own Mr. Clean.  That fact alone should tell you that US Sailing is clearly on a new path; it's taken more than a decade, but we welcome them to the 21st century.
If you'd like to know what US Sailing is up to, and why we think you should drop the 60 bucks and join them for 2014, watch the 16-minute interview between Clean and US Sailing Executive Director Jack Gierhart above.  Give them a shot at doing good things with your money, and we'll circle back around in early 2015 and tell you if they are living up to their promises – and you can get into the spirited discussion about it all here.  Title shout to Lloyd Cole, and look for the full directory of both the interviews we did and the useful videos posted by US Sailing next week – including Clean's face off with other leading sailing media peeps.
find out why
Until November (and beyond, really), the Volvo Ocean Race is only as good as the stories it tells.  That's why we're overjoyed that they've pilfered one of SA's videographer gems – young Sam Greenfield sucks you into the US/Turkish Team Alvimedica in this excellent piece posted yesterday.  Check it out above, and go and like Sam's page here.  Whether or not the Volvo can handle his unconventional and no-compromise style, he'll always be welcome here.
may the force 10 be with you
Who says you can't sail in a hurricane?  Not the Red Bull Storm Chasers, and after a ridiculous 3rd stop in winds of ludicrous speed, France's Thomas Traversa is the new king of the hurricanes.   There's an excellent full report of the final stage of the three-event world-girdling event here.
mind over matter
Big money and big restrictions flowing from the Cup has stagnated most sailing videography over the past couple of years, and that only makes the sexy stuff coming out of UK production house RedHanded TV look even better; check out this trailer from the upcoming windsurfing movie Brutal Addiction.
neither fish nor fowl
The boys from ETNZ continue to crush the A-Class Cat Worlds fleet, in an odd Takapuna Worlds where some of the fleet is foiling some of the time, and none of the fleet is foiling in anything you'd call 'control'.  This is largely because the daggerboard designs are limited to the non-acute angles of board that can be 'fit in from the top', as required by A-Class rules, and without a stable Groupama C or ETNZ-style 'J' board, or a sophisticated system of controlling the more open "L" boards (like OTUSA or Hydros), the boats fly in fits and starts.  It's still faster to fly than drag in the breeze they've had, and aside from one DNF due to a rudder hardware failure, Ashby is on the verge of adding another one of these to his trophy closet.  This vid from Argentina Marine Media is the best we've seen yet, and you can find some great Cathy Vercoe pics here, and some video from Beau Outerridge here.  Of course there is plenty more first-hand reporting and debate about the recently defeated vote for a proper foiling rule in the thread, which will continue to rage on until someone makes a bold move either towards, or away from, the light. 
Former US A-Class Prez Bob Hodges put together a succinct note summarizing his views:
For those on this thread who are currently not active A-Class sailors and/or who have never sailed the boat.
The decision of the class as a whole to not change the current rules is because we are a cautious and conservative lot that do have a vested interest in how the boat and class evolves. I don't think you can appreciate that perspective until you own an A-Class and you actively sail and race it.
It's important to note that the top five at the WC currently are paid pro sailors. Theyare great guys, very approachable, and very supportive to their fellow sailors. But they do enjoy the advantage of someone else paying the bills when it comes to the equipment they are racing in this event. They understand the implications of what can happen if the class rules are changed to where the average A-Class sailor's financial means cannot keep up with the development. How many of you can afford to race a C-class?
I consider myself in great physical condition for my age (55 years old). We have a huge range of sailors in this class from their 20's to their 70's that have been able to race the boat across the wind range of our class rules (5-22 knots). The boats have become much easier, safer, and more enjoyable to sail with the addition of curved daggerboards and rudder winglets. But there is no doubt that foil packages that actually fly the boat will raise the physical requirements to sail the boat. I'm excited but at the same time concerned that I may not have the physical stamina and agility to competitively race the boat at the performance levels I am seeing at this WC. If the physical requirements to sail the boat increase by say 25%, we could see a vacuum created that would need to be filled by younger sailors who probably do not have the financial means to own the boat (a Moth is 1/2 the price if you want to foil).
As the boats start to fly and the speeds increase to the low to mid 20's, mistakes will be harsh on not only the sailor's bodies but on the structure of the boat itself. The current boats are amazingly strong and durable. If we start to routinely fly, it remains to be seen whether the boat's can handle the different load and torque dynamics on a routine basis. Crashing at over 20 knots of boatspeed will be hard on a boat that only weighs 75 kg and has a 29′ tall lever arm pushing the bows down, totally different dynamics than a Moth going over the cliff. If breakages and failures get out of control as the boats begin to fly, there is the potential for another vacuum to get created both in terms of losing sailors but also builders who get driven out of business because they cannot keep up with the warranty claims. There is also the insurance question. If the A-clas becomes a boat that has the potential for substantial damage in a routine "crash", no insurance company will want to offer coverage. Some will not insure our boats due to mast breakage claims.
From my own standpoint, I don't need to foil for the pure sensation of speed. I own a quiver of sailboards that in 15-18 knots are capable of sailing faster that an A-Cat will ever go even on foils and I can do that at a lot cheaper cost and at much less risk to my body and my financial investment in equipment. That is a perspective that I believe many in our class share.
I'll speculate that it's possible Landy's strategy for racing a "conventional" boat is to not only sail what he is the most comfortable with but also to be a benchmark in this championship that will be important for the direction he leads the class as its class president. Scott Anderson's performance so far is a great reference point as he typically does not trapeze downwind nor is he sailing a foiling package I believe. Scott is also in his late 50's so represents what is possible competing against the younger guns in the top five that have the financial support of TNZ. If the breeze truly lightens to the 5-8 knot range for racing later this week, it will be very interesting to see how Landy and Scott perform. This is an exciting but kind of scary moment for the class. I hope we make the right choices to keep the class as vibrant as it currently is.
Bob Hodges – A-Class USA 230
February 13th, 2014 by admin
The A-Cat Worlds fires up this week in Kiwi-land, and 2014 marks the sexy singlehander's first flirtation with full foiling thanks to new rudder winglets and trickle-down tech from the big and little America's Cups.   There's plenty of top-end competition as well as plenty of controversy on hand; will the class outlaw the flexi C boards or the J and L-shaped foils currently being used to fly above the water during their AGM?  Does the 'cassette' system meet the Class rule requiring all boards to be dropped in from above?  Will the new foilers be stable enough to beat more conventional boats?   No one has the answers just yet, but David Haylock is keeping his finger on the pulse of the event, and he checks in with us here. Photo also thanks to David, with a full gallery from setup here.  Team NZ has a full team playing in the fleet as well; their first video from the event is here.  And finally, get up-to-the-minute updates and talk about it in the forum here.
With the remnants of a tropical cyclone coming past Takapuna the last couple of days the pre-worlds has turned into a bit of a non event. The winds have been consistently above 20knots for the first two days of the regatta and there have been gusts of 40 and massive chop. Tonight it is supposed to ease and the race officer will try to get up to five races in tomorrow with a change to the sailing instructions to get a valid NZ champs/pre-worlds.The weather for the start of the worlds on Tuesday is looking the complete opposite to the current situation with about 5-10knots predicted for the first two days of racing.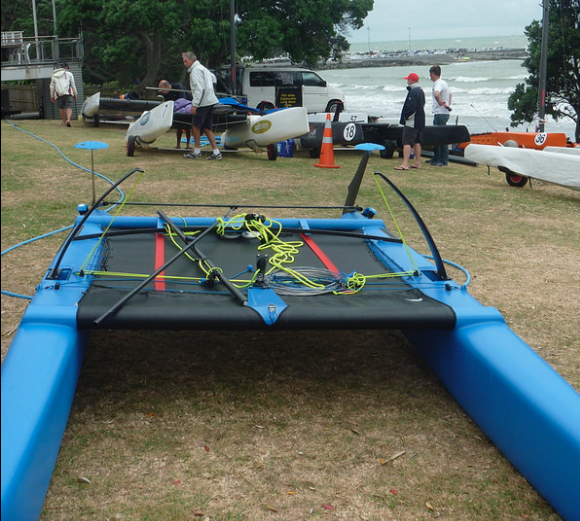 The ETNZ guys still haven't popped their heads out of the Waitamata harbour yet with all their development and testing taking place out of their inner city base. The measurers have been around there today and it will be interesting to see if all their developments measure up.
The Exploder with the large moveable cassettes has been given a measurement certificate and is good to race in the worlds, however the technical committee is contemplating whether the cassette is part of the hull or a hull appendage. So things could change. Today the boats have started to be checked and weighed in with a large variation of weight, I've just been down to the fishing shop to get 3.5pounds of lead to add to my boat.
February 7th, 2014 by admin