Posts Tagged '49er'

The MUSTO + Torqeedo "Cleanin' Up Europe" report continues with a talk about foiling Olympic catamarans, innovations in live race coverage, Rio craziness, and how to manage an Olympic Class of racing boats.
A few months back,  the guys who've been running the 49er and FX Classes so competently for the past few years added the Nacra 17 Class to their workload.  Canadian Class Manager Ben Remocker and expat Irish President Marcus Spillane are young, innovative, and don't give a shit about politics – they consider their duty to their sailors absolute, and the vigor with which they approach their job is refreshing.
They pull no punches, either – whether it's talking about the Nacra 17's problems or the concerns about foiling, the inside stories from Rio, or explaining how to get around ISAF obstacles, these guys are always entertaining interesting and there's plenty to learn in our mostly sober talk in a hotel room in Barcelona.
Listen above, download here for later listening, or subscribe to the SA Podcast on iTunes, and as always, a big thanks to MUSTO and Torqeedo for presenting all of our Vendee, ISAF World Council, and METS coverage this month.  Also thanks to Ocean Planet Energy and Doyle Sails NZ for their support of our coverage.
November 13th, 2016 by admin
The Clearwater, FL 49er and 49er FX Worlds are live for the final two days of the important qualifier.  Watch Pete Burling and Blair Tuke humiliate everyone else.  The iconic Peter Lester leads the commentary over a mix of drone and on-board video, and it's worth a watch.  Results over here.
February 13th, 2016 by admin
There have been precious few counterpoints to the Rio pollution monster, and while the author of the below piece is wrong about quite a few things (namely that our own SA staff spent dozens of hours in-country investigating the situation on both water and land, talking to locals, and speaking with Brazilian scientists), it's good to see some of that famous Brazilian pride come out. 
Hi there, I am a sailor from Rio. until recently on 49er campaign for the Olympics. just lost the qualifying to Marco Grael (yes, Torben's son). I see you are a big critic on Rio pollution. Not sure how much of it is to make news and get hits or how much of it is actually of interest to you.
I did notice as well that you have never talked to a single Brazilian regarding this matter. Never contacted a single club in Guanabara Bay, I dare to say you have never even sailed there. You might find some different pov.
Dont get me wrong, I am not trying to state that there is no pollution, or that people should not push for depolution. I just want to raise a point – can sailing be done in Guanabara Bay?
I think it's histerical to hear that ISAF president says he would resign if he doenst get depolution. What does he know about politics in Rio? Did you know that there are 15 municipalities around the bay? that the biggest water treatment plant in Latin America is right there, but the Mayor of that town refuses to clean the shit of the neigbour town?
Anyway, again off the point, but would just like to overstate how these brits are still thinking collonialy.
Every year, the Opti Nationals are packed with over 100 little kids. Every year Rio has the biggest fleet from all states. So this means that every year, on your opinion, really stupid parents allow their sons and daughters to face death when sailing their optis around the bay, or the lagoon (even worse polution). But aren't these the same parents who run one of the biggest economies on the planet?
Is there a chance they are not too stupid? that they know, albeit polluted, it is not as harmful as advertised?
I find it really strange that all these little kids manage to sail their way around the plastic bags, find their gusts, round their marks, and those big boys with medals and sponsors, cant even put their boats on the water.
Getting your info from germ free americans, or isaf bureocrats might not be the best source of info.
Through this Olympic Cicle I have hosted 8-10 teams from different countries and classes. Still to find 1 who says this place isnt paradise. Can you picture this with crystal clear water? I think it's just a way of making it fair with everywhere else.
Cheers from a SA follower
Thomas Low-Beer
January 29th, 2016 by admin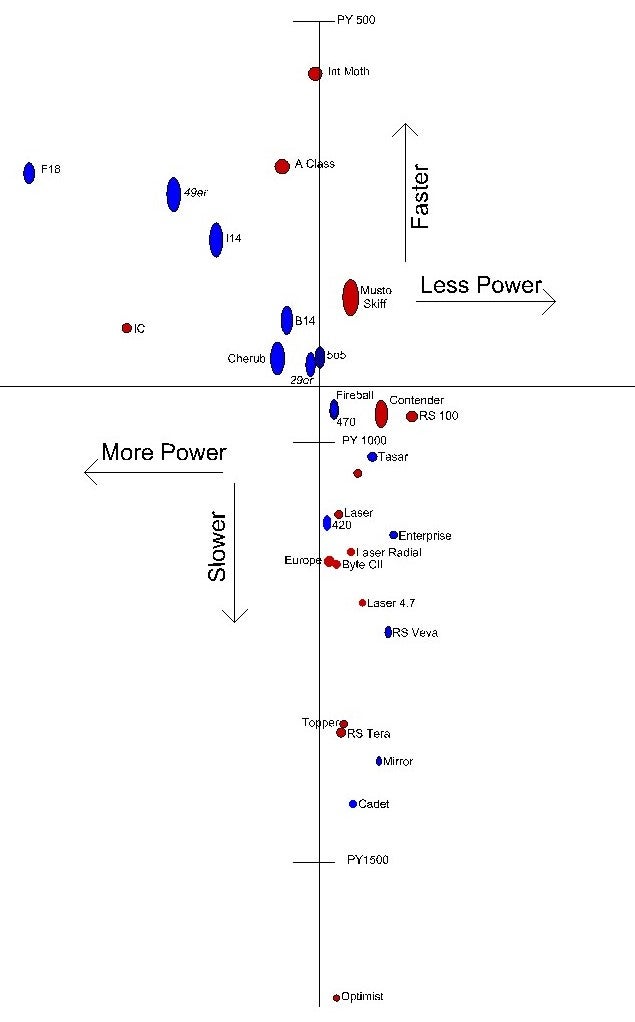 We're always happy to hear from longtime SA'er and high performance guru Julian Bethwaite.  He checked in with this interesting infographic, and here's why.
For the umpteenth time, I was asked 2 weeks ago what boats should a 12 year old Opie kid sail to best place him in a 49er when he gets into his late teens, early 20's.  This mum was very smart, with a far greater grasp of numbers than I, spreadsheets, etc., but I still struggled to get the flow across, so I generated the following graphical representation, and she has come back and said, and I quote  "Thanks for following up. Interesting graphical depiction of the relative properties of these classes of boats, brings the stats to life."
So, what I am seeking from you guys/gals is a peer review!
I could give you all my figures, but I think that would predispose a bias, which I have little doubt I will be accused of.   Instead, I plan to explain my rationale, and asked others to have a go at there own interpretation and maybe we can blend them and end up with something meaning full.
So what I have done is go to the RYA site and dig out the relevant PY [Porthsmouth Yardstick] numbers.  I have picked the boats mostly on simplicity, firstly if I did not know them, then I could not represent them.  I then went into the ISAF site and looked up the technical data.
So I have exclusively used that information unless the RYA/ ISAF data was simply wrong, in which case I went into that class's rules and gleaned it from there.
An example, 470 appears not to have a PY number, so I worked out approx where it should be.  I included the IC because its too interesting not to.  And we all know a moth sails heeled to windward and greatly increases its RM by doing so, where as a Laser, when sailed "flat" is actually heeled about 6° to leeward.  I have not imputed these shifts in CoB, I have assume the boats are all bolt upright as per their numbers.
Finally I have used the ISAF high performance definition about sailing faster than the wind, downwind, most of the time, to draw the red line. Not sure why a 470 does not do it more often (Tack down wind), but we also know a 29er does, most of the time, (and yes, I know why).
What is irrefutable is that a 5o5 and to a lesser extent a I14, spend a lot of money and effort setting their boats up so they can quite deliberately switch to HP modes both upwind and downwind, so, from my POV I consider the 5o5 to be the tipping point boat. It has has a foot in both camps, one could say the best of both worlds.
Get the full explanation from JB here in the thread.
August 17th, 2015 by admin
49er crusader Ben Remocker checks in from Porto and the Europeans.
It's been almost an entire quadrennial since Peter Burling and Blair Tuke stood anywhere but the top of the podium after a regatta.  They stood second in London, and since then, it's been 16 victories in a row, a record for any 49er sailor of any era.  But their run is in jeopardy on the final day of racing at the 2015 49er European Championship in Porto.  Just a day ago, the record looked set to continue, with Burling and Tuke having a solid day in Gold fleet when nobody else could, pushing themselves into a nearly 20-point lead.
49er championships are long, however, and Burling and Tuke have long maintained it's not been as easy as it's looked.  On the second day of their gold fleet, they muddled along with middling result, looking like normal gold fleet 49er sailors do when they each are up against the best in the sport every day.  They finished the day in first, but their lead had dwindled to 7 points, just clearing London 2012 Gold medalists Nathan Outteridge and Iain Jensen and Brit test event representatives John Pink and Stuart Bithell, Stuart also a Silver medalist from London in the 470.
A three way protest between the top three teams in the regatta brought things to a boil.  The media room was intense as all three teams reviewed the live broadcast of the incident and then took it to the jury room.  Rarely has one seemingly inconsequential mark rounding gotten so much scrutiny from so many amazing sailors.
The jury deliberated for almost an hour in the incident.  In the end both the New Zealanders and British were disqualified from the race, pushing Pink/Bithell back to 8th while Burling/Tuke are still in the hunt, only five points back in 3rd.
Over the past 30 months of Burling and Tuke dominance they have won by wide margins and small, they've won world Championships and local events, they've even won the Intergalactics, where the crews race the final double point race, but they have rarely had to come back and beat Nathan Outteridge head to head on the final day.
Join us for the final day live broadcast of the 2015 European Championship from the mouth of the river Douro in Porto, Portugal for three 25 boat medal races and a medal race in the river itself to decide the championship.  Racing starts at 10:25 local time with the medal race at 15:30.  Fantastic conditions are expected with another typical Porto day of clear skies, large swell, and strong winds.
July 12th, 2015 by admin



Willie McBride and Dane Wilson were born to the sea; two quintessential California watermen with a long, long sailing future ahead of them.  Will that future begin in Rio?  Only time will tell, but we love the fact that these young studs are already pushing the limits with their training and their organization.  More from Willie below, and have a look at their good-looking website and donate to their cause here.
For those of you not currently following the daily tweets and posts of your favorite Olympic hopefuls or don't live in Long Beach, CA, the traveling circus that is currently masquerading as the US Sailing Team arrived nearly unannounced in May at Alamitos Bay Yacht Club, and immediately began setting up camp to take advantage of the clockwork-like sea breeze and messy seas west of the LA Harbor breakwater.
For Dane and me, this was the first chance to train shoulder to shoulder with the other 49er teams vying for a spot on the 2016 Olympic Team. We're relatively new to the fray, having only been sailing the 49er for the past 10 months, but opportunity knocked, so we packed up our gear and abandoned our daily training grind in Santa Barbara to see where we fit in the fleet.
Day one was a bit jittery for us, as the other teams hoisted their sails plastered with sponsor logos, Olympic rings, and gigantic US flags. We were sporting an old set of Canadian sails. No matter – never judge a book by its cover – off we went. The agenda for the day was to speed test upwind until we ran out of runway, then turn around and send it downwind, best man wins. Somewhat to our surprise we hung in with the "senior class," so much so that by the end of the session Luther and Fuzz awarded us the title of "greatest rookie team of all time." We weren't entirely sure if they were encouraging us or hazing us. Either way, day one was under our belt and all was well.
The highlight of the month was the private coaching bestowed upon us by the famed McKee brothers – legends to any high-speed sailor on the West Coast. We'd been staying on the water after the group sessions each afternoon to solidify the day's lessons, and one afternoon Charlie and Jonathan stayed out to chase us around in a coach boat, with Charlie analyzing our crew work and Jonathan critiquing driving techniques. We made several changes that smoothed out a lot of the boat handling and helped with the rudderless aspects of our maneuvers. We were stoked to get the attention and hopefully to put it all to good use. Part of that process was sharing debriefs each night with longtime supporter and mentor Howie Hamlin. Howie was gracious enough (as always) to provide a roof over our heads while we were staying in Long Beach, and served up heaping bowls of ice cream each evening as we mused over the daily sessions, discussing tuning techniques unique to skiffs, boat handling nuances, and even the means by which we can collaborate more effectively in order to leap frog the US skiff talent in general, as he has always encouraged us to do in the 29er fleet. If that weren't enough, he even volunteered to ferry around our buddy, and epic young gun photographer John Kelsey in his ridiculously cool helicopter to shoot some aerial stills and video. The footage in this video is just a snippet from our time in Long Beach. Expect to see a lot more from John in the near future as we're collaborating on a movie about our collective love of the ocean.
In the end, it was an intense month of learning. We've now been training for nearly a year in the 49er and by far our biggest challenge has been getting good, consistent information and data to help us progress. It would be incredibly helpful if there were easily accessible institutional knowledge available for young teams here in the US, but unfortunately that knowledge base doesn't exist yet. In our own program we've been compiling, tracking and archiving all of our training sessions, lessons learned, testing procedures and Ah Ha! moments throughout our campaign. It's a bit of a mish mash of data at this point, but in time we hope to establish a baseline of open information that will be available to new teams getting started on the Olympic skiff path. Anyone willing, able, or interested in helping out can peruse our extended mission at www.FromWhenceWeCame.org.
Big thanks to Trevor Moore for letting us use the American flag sail for the video and to all who made it a great month of training: Leandro, Luther, the McKees, Oakcliff, ABYC, and of course Sailing Anarchy for always highlighting young teams like ours.
-Willie
June 27th, 2014 by admin
The 49er continues to dominate the skiff racing world, with nearly a hundred 49ers registered for this week's Worlds in Marseille, France and another 53 girls' teams registered in the FX.  And class scribe Ben Remocker puts it together pretty nicely in this guide below.  The pic above is not from Marseilles but from the 49er Grand Prix in Gdinia, but it's awesome so it stays.
Marseille, France is the host venue of the 2013 Seiko 49er & 49erFX World Championships.  This championship has the largest attendance for the 49er since 2001, with over 96 49ers registered.  Additionally, there are over 53 49erFX teams registered, so the Mediterranean Sea will be a buzz with skiff sailing action.  Catch all the action Sept 24-29 on 49er.org, including live broadcasts from the semi finals (27,28 sept) and finals (29, Sept).
Both fleets face a similar challenge to each other.  There are two clear favorites, and each will be chased hard by the pack.
Nathan Outteridge and Iain Jensen have an impressive string of victories behind them with Gold medals from London 2012 and World Championships victories in 2009, 2011, and 2012.   They were unstoppable in London, the last time they raced against the fleet but since then have not sailed the 49er very much.  Nathan was called up to Team Korea to sail AC45′s, and then was picked up by Team Artemis.  He won the spot to steer the Artemis AC 72, Big Blue, and added Iain as his wing trimmer before too long.  After elimination from the AC, they've had about a month to get back up to speed in the 49er ahead of the worlds.  It will be interesting to see how the professional experience complements their game.  We've seen more experience with less practice work at times, with Iker Martinez and Chris Draper, but in the end it's seemed like the 'pro's' don't keep up with the Olympians.  How will Nathan and Iain handle the dual focus?
Behind them is a large and talented pack of sailors dying to reach the top, in some cases again, but for the most part for the first time.  At the top of the list is Peter Burling and Blair Tuke.  London 2012 Silver medalists and recent Red Bull Youth America's Cup champions, these two have been on an amazing trajectory in their sailing careers.  They recently won the 2013 49er Europeans in a dramatic final race shootout.  We got the pleasure of hearing Nathan discuss the rivalry between Australians and New Zealanders as he commentated the RBYAC and to be sure these two each wants to beat the other!
There are a whole host of other teams who could also win the event.  After london 2012, there have been 11 different champions of the major 49er regattas, so there is no shortage of talented and able teams who can step up and win.
In the 49erFX fleet, it's a similar narrative and very different conditions.  On top, Ida Niesen and Marie Olsen have won every event they have raced in the 49erFX, but the gaps are narrowing.  They had a commanding victory at Palma 2013, where they showed the fleet how it can be done in big waves and big wind.  Since then, however, their margin of victories has been shrinking, and we saw some vulnerability in the lighter winds of the 2013 Europeans as some of the other teams are highly skilled in the lighter air.  Specifically, the Brazilian pair ofMartine Grael and Kahena Kunze along with Germany's Victoria Jurczok and Anika Llorenz seem to relish the light air, and if that's what we end up with in Marseille, Ida and Marie could be in trouble.
The real threat, however, is the bulk of the fleet and the pace at which all 49erFX teams are improving.  The now 55 boat fleet have only been sailing these boats for 10 months to date, and while some teams may have gotten off to a quicker start than others, it is the 4 year effort that will make all the difference in the end.  Most of these top teams are travelling and training with their 49er countrymen and coaches, soaking up 2 decades worth of knowledge as fast as possible.  There are so many talented teams, and so many champions out learning skiffs right now.  5 teams already have Olympic medals from other classes and they all are working like crazy to get back on top.  The other source of talented teams is the 29er phenoms.  Like in the 49er, more and more of the top teams are coming stright from 29er success into the 49er and 49erFX fleets.  To say that Ida and Marie have a target on their back is no understatement, not that they'd let that pull the smiles from their faces.
Join us for all the action on 49er.org to see if anyone can unseat the favorites.
September 11th, 2013 by admin