Posts Tagged '49er'
Sailor Chick of the Week
At a fresh 18 and 20 years old, Spain's Munté sisters sit in 2nd place after an early 3 races into the FX Euros, and our old buddy Mr. Clean had a word with these gorgeous former 29er World Champs after they hit the beach in Poland, and for a look into the past, check out this interview with these same girls, at 13 and 15 years old back in 2014!  More interviews and race coverage from Clean and team on the Nacra and 49er Facebook Pages.
July 9th, 2018 by admin
It's all up for grabs on the final day of the 2017 49er Worlds, and for the men at least, its the first time in ten years that anyone not named Burling, Martinez, or Outerridge will be crowned master of the men's skiff.  Plenty of breeze for the four men's gold fleet races, and if we don't get another afternoon gale, the medal races for the men and women will be a sight to behold.
Watch it all unfold above, and be sure to check out Clean's dock walk a few minutes ago for the forecast, format, and a look at the fleet launching.
September 2nd, 2017 by admin
With safety and reliability sorries skyrocketing after Bora's injury and the Nacra 17 bearing issues still fresh in World Sailing's mind, the sport's governing body, under pressure from the IOC, has pulled the foiling cat from the market and replaced it with Julian Bethwaite's long-awaited full foiling 49er.  Seen here testing under the able hands of Kiwi 49erers Isaac McHardie and Bill McKenzie, the boat has a simple and robust flapped t-foil daggerboard and twist-grip rudder, and it's already reached speeds  20% higher than any 49er in history.
When asked if it was maybe a little late to introduce a new foiling class for Tokyo 2020, World Sailing President Kim Andersen was nonplussed.  "We did it before, we can do it again!"
YES, WE'RE KIDDING. Happy September Fool's Day. 
Ricardo Pinto photo of the dogs-off-chains conditions at the 49er Worlds with a big ass gallery over here. Watch the full replay from Big Day 4 hosted by Mr. Clean over on Youtube, and stay tuned right here on the front page for today's still breezy action beginning at 1030 local time/1130 CET and running til they're done.
September 1st, 2017 by admin
This future skiff star is getting more sailing in than the Worlds fleet…watch his Lego video here.
August 30th, 2017 by admin
Two days of 49er and FX Worlds gone with zero racing, but at least there are piles of gorgeous racer chicks around to talk to!  Here's a half hour of Clean's Adidas Morning Show – first with super hot European champs Tina Lutz and Sani Beucke, then a chat with the entire 6-woman strong Dutch FX squad, and finally a preview of the top sailors by Class Manager and Beijing Olympian Ben Remocker.  And it's all shot right in front of one of the most famous Olympic boats of all time: Rodney Pattison's three-medal winning Flying Dutchman Supercalifragilisticexpialidocious – which he named to annoy the press.
Three days of fully livestreamed action are coming your way from Porto starting tomorrow…wind or no wind.  It might end up being a surfing competition instead of sailing….
More Clean interviews, pics from Ricardo Pinto and Maria Muina, and contests at the 49er Facebook Page.
August 30th, 2017 by admin
Theatre-style short-course racing for the Medal fleets, 20-30 knots, flat water, and definitely time for some carnage.  Don't miss it!
August 4th, 2017 by admin
Clean and the 49er/Nacra 17 media team are calling it all live today, and with real breeze on for the first time in the Euros, we're finally going to see some upwind foiling starting at 1100 CET.  49ers run in the afternoon, so don't miss it…or if you do, just press 'play…'  Isn't the modern era wonderful?
August 3rd, 2017 by admin
Talented and shredded sailor chicks, tales of stolen cars and inter-squad rivalries, and a guy who can't seem to lose as long as he has a female driver are the guests on today's Adidas Morning Show at the 2017 49er/FX/Foiling Nacra Euros.  Check out Clean and the team, LIVE from the deck of the 1972 Olympic Sailing admin building as Day 2 of the event begins.  Check out Facebook for more action from the fleets.
July 31st, 2017 by admin
The fastest Olympic boats have joined forces for their European Championship (and beyond, we expect), and with our own Mr. Clean moonlighting as their broadcast host, there's bound to be some interesting stuff coming from the site of the 1972 Olympics in Kiel.  The first three days feature a morning show and some social media content, while full tracking, live video with commentary, and the rest of the bells and whistles will come in on Wednesday for the important half of the regatta.
The 49er or Nacra 17 Facebook Pages are probably the best place to keep track of it all.
July 29th, 2017 by admin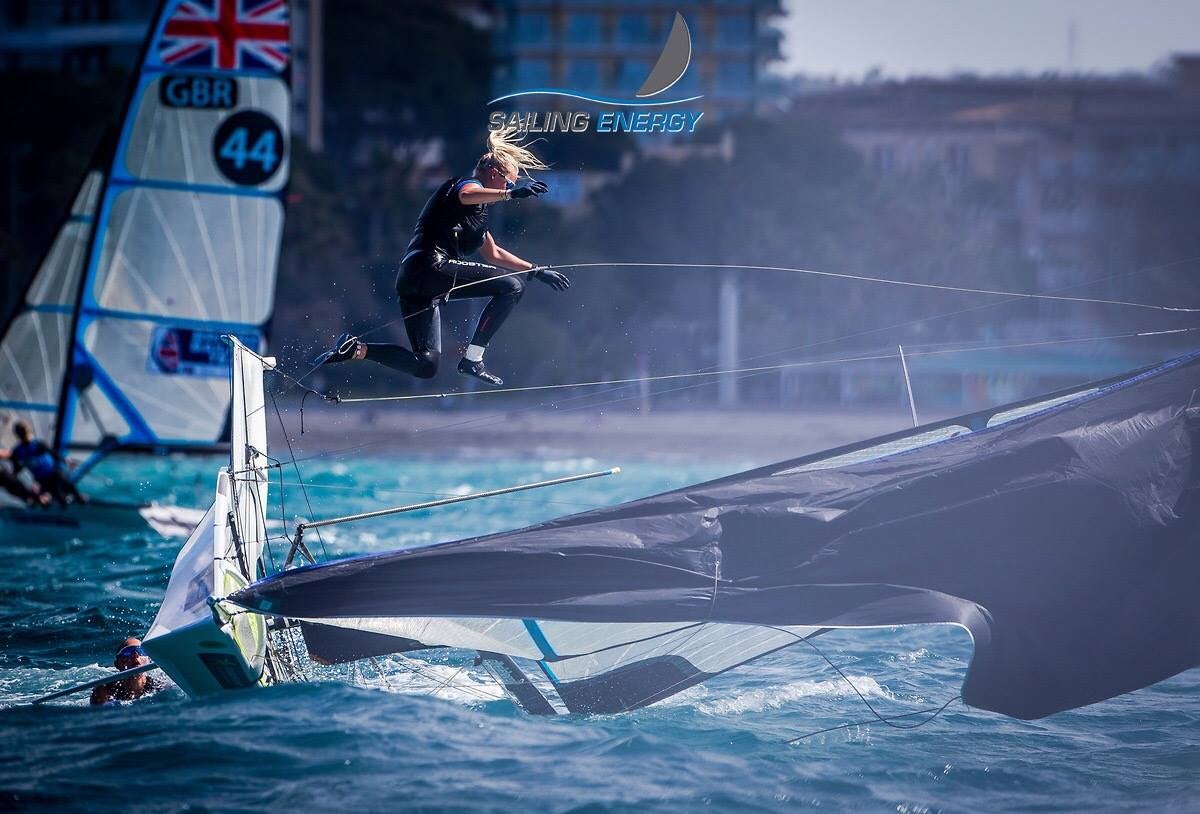 Our Sailor Chicks of the Week are 49er FX team Rebecca Netzler and Klara Wester from Western Sweden. Sure they look good, and yeah they kick some ass on the chick's skiff, but how about the form of this dismount during last week's Princess Sofia in Palma?  While we can't score the landing, Klara gets a solid 10 for amplitude and flight time, and the successful attempt to create a show for the crowd when the capsize became unsaveable. and despite the DNF they took in the medal race, the blonde-and-blue girls took 4th…
Get to know them better or support the team on their website here, and Becca's got all the pics from the flight sequence – as well as tons more – on their Facebook page, which we highly recommend you follow.  Or if you're under 30, there's IG.
Excellent shot from our old friend Jesus Renedo/Sailing Energy
April 5th, 2017 by admin