Posts Tagged '49er FX'
Blair Tuke made all the local papers when he signed up with MAPFRE last month with taglines like "Tuke Aims At First Triple Crown."  John Kostecki famously became the first – and only – sailor to hold the distinction of winning a Whitbread/VOR, Olympic medal, and the America's Cup, but since JK's medal was only silver, it left things open for Tuke to be the first to get the "Real" crown – the golden one.
The pin-up looking Olympian may be fighting for it against a familiar face, with Pete Burling looking for all the world like he's the latest addition to Bouwe Bekking's Brunel entry in the Volvo.  There have been rumors of Burling looking for a big deal from one of the teams for a while now, and Bekking knows the importance of fast drivers more than perhaps anyone who's done this race. This pic from before the Fastnet popping up in the forums doesn't seal the deal, but the fact that Bouwe hasn't been returning calls lately makes us think the Burling announcement is imminent.
Rumors continue to swirl about NZL 49er FX standouts Alex Maloney and Molly Meech joining another Volvo team, but whether it's the long-awaited Team 8 (perhaps a Kiwi-ish effort under the management of Craig Monk) or they do part-time duty for an already-entered while training to improve on their Olympic Silver we do not yet know.  One great skiff driver and one giant of an athlete…both under 30…why wouldn't you?
August 8th, 2017 by admin
The fastest Olympic boats have joined forces for their European Championship (and beyond, we expect), and with our own Mr. Clean moonlighting as their broadcast host, there's bound to be some interesting stuff coming from the site of the 1972 Olympics in Kiel.  The first three days feature a morning show and some social media content, while full tracking, live video with commentary, and the rest of the bells and whistles will come in on Wednesday for the important half of the regatta.
The 49er or Nacra 17 Facebook Pages are probably the best place to keep track of it all.
July 29th, 2017 by admin
Gothenburg smokeshows Rebecca Netzler and Klara Wester are pretty serious about their Olympic 49er FX campaign, and we're all the beneficiaries of their commitment, thanks to this fun little movie of their ramp misadventures.  Go and give this pair of blondes a like on Facebook.  You'll thank us later!
Tip o' the hat to our pals at the 49er Class.
December 13th, 2016 by admin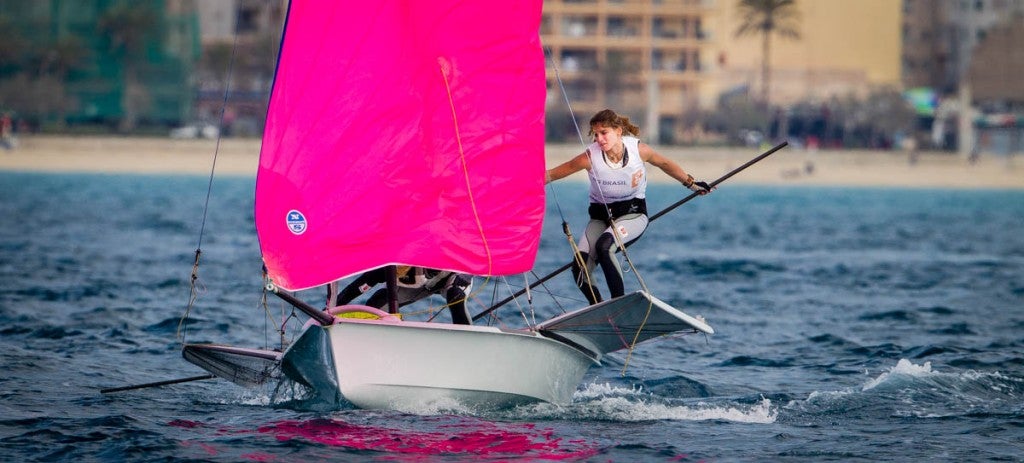 Check out the moves from Martine Suffiatti-Grael, daughter of Brazil's ultimate rock star sailor Torben Grael as she takes her first Sailor Chick of the Week award!  The young Brazilian, with Kahena Kunze on the front, took the win yesterday by over 30 points as the Arenal Training Camp Trophy wrapped up in Palma.  This event – the prelude to the Pricess Sofia Olympic Class event – has exploded in popularity recently despite a tiny budget, pulling a strong mix of next week's World Cup competitors and young sailors who want to share the same line.  The US team didn't enter, though after Miami we have high hopes for them at next week's event, and French and British sailors dominated the event with Spain taking some scalps as well, most notably in the 30-boat Nacra 17 class.  Full results here.
In other Palma news, the World Cup re-branding continues to prove how incompetent ISAF can be, with costs continuing to explode, still more format changes for seemingly every event, and dismal worldwide interest except in a few sailing-crazed nations.  To make matters worse, most of the live coverage from Palma promised to the public is now gone along with title sponsor MAPFRE; the Spanish company chose to spend their millions on a new Volvo Ocean Race campaign rather than throwing good money after bad on a dinghy regatta with a comparatively tiny ROI.   This is the last year of the Palma event's contract with sailing's international overlords, and if the island still has to come up with the money that ISAF wants to remain part of the 'World Cup" for 2015, our sources tell us the awesome Mediterranean venue will be out of the running.  Frankly, as great a venue and event as the Palma regatta is, we'd be surprised if the event isn't just as big without ISAF as it is with them.
Thanks to one of Europe's best sailing photographers – Spain's Jesùs Renedo – for the shot of the wonderful Martine, and get over to her campaign's Facebook page for more info.
March 17th, 2014 by admin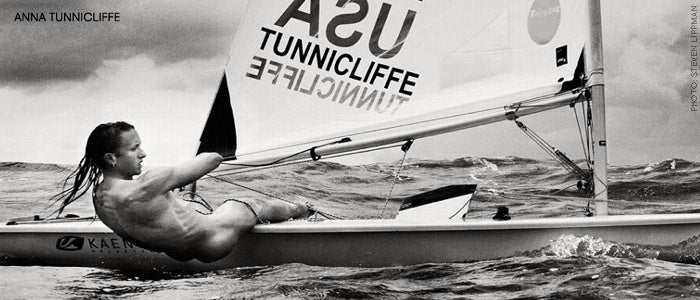 If we were betting men, we'd start selling short on the US Sailing Team's Olympic medal hopes right about now after Anna Tunnicliffe's not-so-shocking announcement earlier this month that she was retiring from her Olympic 49er FX campaign with crew Molly Vandemoer.  Insiders have noted Anna's lack of close connection to her teammates for some time; along with her obsession with CrossFit competition and her becoming one of the fittest humans on the planet, Anna has a non-sailing boyfriend and knows very well how all-consuming a real Olympic effort must be.
Anna is one of those extremely rare people that can do what mommy and daddy always lied to you about; anything she put her mind to.  That ultra-rare focus, power, and intensity translated into 1 Olympic Gold Medal, 2 ISAF World Sailor of the Year awards, 2 World Championships, Multiple Podium World Championship finishes, and a lot of World Cup titles for Anna, who'll be remembered as one of America's top sailors – if not the best –  of the past decade.  She's not gone forever; we anticipate we may see Anna on some big boats and maybe more of the Extreme Sailing Series-style stuff.  But with one of America's only proven winners now out of the Olympic game, weak results from the rest of the team in recent World Cup level-events, and a decidedly pessimistic feel from much of the US Sailing Team lamenting too much of the 'same old, same old," a rapidly-approaching Brazil is not looking good for the Red, White, and Blue.  Maybe Josh and Charlie have something special up their sleeves – we've just confirmed that they're about to sign the papers on a brand-new US Sailing Team Training Center based out of the Clearwater (FL) Community Sailing Center – but that just sounds like more of the 'divide and be conquered' approach that so humiliated American sailing in Weymouth.
If you're interested in the US Team's progress, pay close attention to the Miami OCR (or whatever the fuck ISAF is calling it these days) coming up later this week. Talk more about Anna here.
And those who don't know what the title reference means, remember that her nickname has long been 'tuna', and then go to a fucking library.
January 22nd, 2014 by admin
The 49er continues to dominate the skiff racing world, with nearly a hundred 49ers registered for this week's Worlds in Marseille, France and another 53 girls' teams registered in the FX.  And class scribe Ben Remocker puts it together pretty nicely in this guide below.  The pic above is not from Marseilles but from the 49er Grand Prix in Gdinia, but it's awesome so it stays.
Marseille, France is the host venue of the 2013 Seiko 49er & 49erFX World Championships.  This championship has the largest attendance for the 49er since 2001, with over 96 49ers registered.  Additionally, there are over 53 49erFX teams registered, so the Mediterranean Sea will be a buzz with skiff sailing action.  Catch all the action Sept 24-29 on 49er.org, including live broadcasts from the semi finals (27,28 sept) and finals (29, Sept).
Both fleets face a similar challenge to each other.  There are two clear favorites, and each will be chased hard by the pack.
Nathan Outteridge and Iain Jensen have an impressive string of victories behind them with Gold medals from London 2012 and World Championships victories in 2009, 2011, and 2012.   They were unstoppable in London, the last time they raced against the fleet but since then have not sailed the 49er very much.  Nathan was called up to Team Korea to sail AC45′s, and then was picked up by Team Artemis.  He won the spot to steer the Artemis AC 72, Big Blue, and added Iain as his wing trimmer before too long.  After elimination from the AC, they've had about a month to get back up to speed in the 49er ahead of the worlds.  It will be interesting to see how the professional experience complements their game.  We've seen more experience with less practice work at times, with Iker Martinez and Chris Draper, but in the end it's seemed like the 'pro's' don't keep up with the Olympians.  How will Nathan and Iain handle the dual focus?
Behind them is a large and talented pack of sailors dying to reach the top, in some cases again, but for the most part for the first time.  At the top of the list is Peter Burling and Blair Tuke.  London 2012 Silver medalists and recent Red Bull Youth America's Cup champions, these two have been on an amazing trajectory in their sailing careers.  They recently won the 2013 49er Europeans in a dramatic final race shootout.  We got the pleasure of hearing Nathan discuss the rivalry between Australians and New Zealanders as he commentated the RBYAC and to be sure these two each wants to beat the other!
There are a whole host of other teams who could also win the event.  After london 2012, there have been 11 different champions of the major 49er regattas, so there is no shortage of talented and able teams who can step up and win.
In the 49erFX fleet, it's a similar narrative and very different conditions.  On top, Ida Niesen and Marie Olsen have won every event they have raced in the 49erFX, but the gaps are narrowing.  They had a commanding victory at Palma 2013, where they showed the fleet how it can be done in big waves and big wind.  Since then, however, their margin of victories has been shrinking, and we saw some vulnerability in the lighter winds of the 2013 Europeans as some of the other teams are highly skilled in the lighter air.  Specifically, the Brazilian pair ofMartine Grael and Kahena Kunze along with Germany's Victoria Jurczok and Anika Llorenz seem to relish the light air, and if that's what we end up with in Marseille, Ida and Marie could be in trouble.
The real threat, however, is the bulk of the fleet and the pace at which all 49erFX teams are improving.  The now 55 boat fleet have only been sailing these boats for 10 months to date, and while some teams may have gotten off to a quicker start than others, it is the 4 year effort that will make all the difference in the end.  Most of these top teams are travelling and training with their 49er countrymen and coaches, soaking up 2 decades worth of knowledge as fast as possible.  There are so many talented teams, and so many champions out learning skiffs right now.  5 teams already have Olympic medals from other classes and they all are working like crazy to get back on top.  The other source of talented teams is the 29er phenoms.  Like in the 49er, more and more of the top teams are coming stright from 29er success into the 49er and 49erFX fleets.  To say that Ida and Marie have a target on their back is no understatement, not that they'd let that pull the smiles from their faces.
Join us for all the action on 49er.org to see if anyone can unseat the favorites.
September 11th, 2013 by admin