Posts Tagged '18 Foot Skiffs'
With four races sailed and the fifth one live right now, the 2016 JJ Giltinan's got just two more days to go before we learn whether the Seven era is truly over.  Meanwhile, two entries – Lumix and The Black Dog were
both killed off yesterday by non-competitors (including a Farr 40 racing their Worlds nearby).  For the full story, a look at the damage and a preview of Race 5, go here.
For picture galleries, Pick the Podium contest, and detailed results, here.
February 17th, 2016 by admin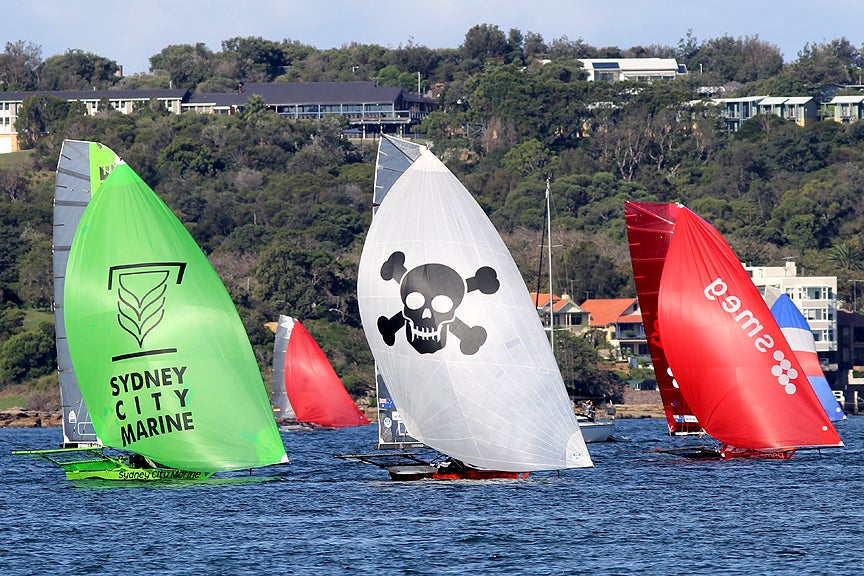 The spectacular racing of the 34th America's Cup was, at times, frustrating for we sailors, with an overhyped know-nothing commentator and an over-aged AC winner pointing out irrelevant facts and useless trivia in vain hopes of getting the 'mainstream' to buy into the live feed.  We got to see some of the most amazing sail racing ever captured on screen, but it was often better with the sound off.
This week's 18 Footer Worlds (also known as the JJ Giltinan Championship presented by Sydney City Marine) might feature some of the same faces; AC34 Regatta Director and AC35 Challenger of Record CEO Iain Murray is helping out with the commentary at times, while numerous AC sailors are spread throughout the fleet.
But this broadcast ain't for the landlubbers, it's for sailors only, and the boys behind the microphone make no bones about it.  So if you're a racer and you want to know who's on the inside of what shift, and who's got a slightly better kite drop than the other guy and the inside position at the Zone, this live coverage is for you.
Check out Day 3 of the JJ above, with all the news and current results from yesterday's racing here.  Scroll down the page for yesterday's video, and the highlight reels are here.
March 3rd, 2014 by admin
An up and down 2 hours of racing in everything from 2 knots to 15 knots for the 18 Footers.  Watch it all above or fast forward to this page for the day's results.  Tonight's racing starts 2230 EST/1930 PST once again, and once again, it's all live right here on SA.  Get over to Pick The Podium to bet on the winners.
March 1st, 2014 by admin
Whether you're in the middle of the Southern Summer or like most of us, you're still locked into the hellish landscape of ice and snow that is Winter 2013/14, we have got something extremely special for you beginning this Friday!  After our begging for it for years, the good folks of the 18 Foot Skiff Class have finally bitten the bullet to bring you FULLY LIVE COVERAGE of the entire week-long JJ Giltinan/18 Foot Skiff World Championships, and as their Exclusive Streaming Partner, we'll bring it to you every day, right here on the front page of Sailing Anarchy!
This ain't no stop-and-go stadium sailing surrounded by wind-blocking buildings, either – this is full-speed, full-on racing in beautiful Sydney Harbor at the height of sea breeze season, and if you thought 'Eyedeens" were just for Aussies, you haven't been paying attention: There are an amazing 34 teams from seven countries on the beach, with seriously credible challenges like the ass-hauling boys from the UK's Haier Team in the video above as well as a veritable smorgasbord of America's Cup, Olympians, Extreme 40'ers, Volvo Ocean Racers, and more.  You read that right: 34 of the fastest, flipppingest, launchingest, most acrobatic racing dinghies every created, picking their way through islands, ferries and spectators for the right to be known as the baddest boys (or girls, 'cause they've got them too) in all of dinghy-dom.  They may not be as fast as an AC45 or fly over the waves like a Moth, but let's be frank here: There's just nothing on the water that looks quite as awesome as an 18 Footer caught out with the big rig in a building breeze, careening from wave top to wave top, bows pointed skyward, crews leglocked together and hanging onto a tiny thread of spectra for dear life as they dodge sharks, crocodiles, and satan himself.
The format is simple:  There's just one race each day with a lay day somewhere in the middle, and the first day is the Invitational – a non-points scoring practice race that lets some of the many visitors get to know the Harbour, and lets the streaming video team and RC get up to full speed.  Racing begins at 3 PM daily in Australia except for the two Saturdays, when it starts an hour later, and the live stream will start 30 minutes before that.  Never mind the time conversion – we'll do it for you:  That means that for the next week, each night at 10:30 PM EST (7:30 PST) you'll get a full 2 hours of live action from one of the most colorful and exciting regattas in the entire world, commentated by the hilarious and knowledgeable team of Bob Killick and Mark Heeley along with a stream of guest stars to help along. Here's a little excerpt from 2010, with Killo explaining just what the Invitational is all about, and you can explore the past four years of JJ Giltinan racing videos in the archives here.
We'll have the live player up a couple of hours before each day's start, but in the meantime, now's a good time to register at 18footersTV.com so you can enter the Pick the Podium Competition, where the sponsors are giving away a bad-ass retro bar fridge worth literally thousands of dollars and shipped to whoever wins it regardless of your nationality, cases full of high-performance Barz sunglasses, and more; there's no cost to enter and each day you simply enter your three podium picks to be eligible for each day's prize.  Will Seve Jarvin defend his title and tie the all-time wins total of the legendary Iain "Big Fella" Murray?  We certainly don't know, but it will sure be fun to find out, and you might as well win some swag while you're at it.
Run over to the 18 footers Twitter page if you can't get to a real screen, and check into Facebook for a constant stream of info, including some soon-to-be-released shots of some of Sydney's most beautiful sailor chicks that you'll have to see to believe.
This event really does have it all, and we can't wait.
February 27th, 2014 by admin
Seve Jarvin's Gotta Love It 7 stormed off to a resounding win in Race 5 of the Three Buoys Challenge series, but Race Committee didn't quite see that way!  Seve missed his OCS call and sailed the entire course without getting a gun.  This let Michael 'Cocko' Coxon and Thurlow Fisher Lawyers jump in for the win.  Season standings are here, full video coverage of the 18 Footers is here, and thanks to Frank Quealey for the heads up and for the photos courtesy of www.18footers.com.au.
November 18th, 2013 by admin
Details are sketchy, but Queensland Police have reported that a 23-year old Black Mountain man died today after his race boat capsized.  UPDATE FROM BRISBANE 18 FOOTERS:
It is with great sadness that we have to report the passing of one of our sailors during yesterday's racing.
David "Casper" Hansa was crewing onboard Team Pendeo yesterday.  Despite the best efforts of the Team Pendeo crew, our rescue boats and the Coast Guard, David was unable to be revived.
For all the people who knew him as "Casper" he was the most enthusiastic blokes that wanted to sail on an 18.  When he couldn't get a crew position, he was often down at the Club having travelled from the Sunshine Coast to assist on the start boat or rescue boat, and was wrapped about the whole 18 thing.
Club officials and crews have been assisting authorities with investigations, and our Commodore Bruce met David's family this morning to pass on condolences on behalf of all Club members.
Counselling is being arranged for the crews involved in the rescue attempt yesterday through the Yachting Queensland consultation psychologist.  If anyone else requires assistance seeking counselling, please contact the Club at [email protected]
We will pass on details of the funeral once we have been advised.
Our thoughts and prayers are with David's family in this tragic time.
Ours too, mate.  Ours too.
November 9th, 2013 by admin
Battling through their skipper's knee injury and sporting the only reefed main in the fleet in the final deciding race, Seve Jarvin, Scott Babbage, and Peter Harris took another JJ Giltinan/18 Foot Skiff World Championship this past weekend with some serious last-race heroics. Meanwhile, SA friend Cocko on Thurlow Fisher Lawyers was among the many spectacular crashes in perhaps the ultimate 18 Footers weather:  25+ knots and Sydney Harbour's finest chop.  Above is the highlight reel from the final race; you can see the full Race 7 coverage (along with the entire JJ) at the 18FootersTV.com site here.  We think the Sydney TV boys do it better than almost anyone on 1/1000th the budget…check 'em out.  Title inspiration thanks to some Aboriginal rap from the Yarrabah kids.
February 27th, 2013 by admin