Actually, it is.
September 19th, 2017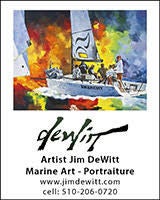 If you don't know who Jim DeWitt is, you should, especially if you are a boat owner and would love to have your boat immortalized by one of the greats.
Jim has spent his career painting beautiful versions of many, many boats over the years, and can paint yours as well.
Just click here for a rare opportunity to have an incredible talent do some magic for you!
September 19th, 2017
Golly, we are as surprised as you are, but it looks like SWYC accepted our entry into the San Diego to Ensenada Race! Check the entries here.
We must commend them for doing what is best for the sport, and of course, that is encouraging, not discouraging participation. It is refreshing to think that they saw they were acting the best interests of sailing, the sport, and finally, their club.
I guess I'll go take that mean 'ol article I just put up, right on down. Just as soon as my entry is indeed confirmed, I'll jump right on that!
Isn't love beautiful? Tell us how you think this romance will turn out?
September 18th, 2017

We were rafted up waiting for the fog to lift and breeze to fill on Sunday, the last day of the last T-Bird Regatta for 2017. Breeze finally filled in after a couple of postponements. There was a bit of alcohol involved and we happened to be DDW to the RC. Why not stay rafted and throw some kites up? It turned out to be the right decision. made it the .75 miles to the RC just in time to break up the barge and get ready for the first gun!
The T-bird fleet in Boston has grown from 5 in 2010, to 14 boats in '17 and we have 2 more arriving this fall. It's a scrappy fleet of young and old and having sailed on everything from TP 52's, Fast 40's and RP 56's in Handicap, I always find myself making more room in my schedule for Tank, my Thunderbird.
Cost of entry is very low, and you wont find a fleet with more camaraderie in the North East. Friends and fun make sailing enjoyable. Both are plentiful in Fleet 5.
Cheers,
Murphness
Title inspiration here.
September 18th, 2017
Given Southwestern Yacht Club's long history of incredibly poor race management coupled with it's recent targeted vitriol, it is little surprise that the upcoming San Diego to Ensenada race, with just 13 days until entries close, has a whopping 14 boats entered. This is a race that routinely drew 70, 80 boats, but has seen a steep and steady decline, finally reaching it's nadir this year.
Are they just this dumb, or are they purposely trying to kill it? After all, why continue to slowly, year after year, just beat it to death when you can finally be done with it? Any guesses what they'll do with the body?
We'd guess they'll dump it at the feet the Cortez Racing Association.
September 18th, 2017
September 18th, 2017
Big Pimpin'
Making sense of sailing is hard enough when you're in the race, let alone when you're on the outside looking in, whether as organiser, coach or spectator. But the advent of accessible GPS tracking is now starting to make things easier to understand and Germanybased software giant SAP is working hard to refine the technology while – and this is crucial – also making it relevant at a level of regattas below the rarified heights of the America's Cup.
SAP was founded in 1970 by well-known racer of maxis and 505s… Hasso Plattner along with four of his fellow former IBM software engineers. So a healthy racing connection from the start. Today Milan Cerny is the innovation and technology lead for sailing at SAP Sponsorships. 'When we started working with SAP Analytics in 2010-2011 it was not much more than a live leaderboard on the edge of the screen… though that was already quite a breakthrough for the sport!
'Making sense of who's in the lead and how that lead is changing from one side of the course to the other, it's not even that easy to know for the sailors, let alone those watching from outside.
'Bit by bit over the last five years we've added more and more functionality, working closely with sailors and race officials to help make sense of the racing by taking advantage of the data that we can now grab from the boats, the wind and the racecourse.'
September 18th, 2017
Lightly attended and largely inconsequential, the frisco bbs continues the slide to irrelevance. If not for the sexy Pac 52's, this once impressive regatta would be little more than just another shitty frisco affair in the cold, gray bay.
Far as we can tell the two things worth noting are Gavin Brady's straight bullet dominance on Beau Geste in the aforementioned Pac 52 class, and Daniel Thielman's Melges 32 also straight-bulleting the weak 6 boat "sport" fleet.  Superb photo thanks to Lyn Hines. Results.
September 17th, 2017
I see New Zealand Herald are at it again seems to be typical NZ Herald reporting on sailing- trying to sensationalize something that is not sensational. They claim that Larry Ellison is set to "snub the America's Cup ".
For the record snub means to "ignore or spurn disdainfully"(Oxford English Dictionary) This comes on the back of Russell Coutts confirming by e-mail to America's Cup expert and leading Yachting Journalist, Bob Fisher (Please note, the offending headline wasn't written by 'The Fish') that it was unlikely that Larry Ellison's Oracle USA team  would be competing in America's Cup.
Now I was not really a fan of the multihulls but AC 33; 34 & 35 were what they were, they kept the cup alive and that is all down to the Oracle founder whatever your opinion – he footed much of the bill.
Larry Ellison tried to a) win the America's Cup and then b) defend the America's Cup. JOB DONE, he's got the T-shirt – that's all. It is hardly a snub. The article writer clearly failed Journalism 101 – or English for that matter.
Was Ernesto not re-challenging after losing a snub? Or Alan (Bond) doing likewise? Or Sir Thomas eventually giving up? Of course it wasn't, this was just some Kiwi editor trying to stir an empty pot.
Not so much a cheap shot as a free shot. Grow up New Zealand Herald, your readers deserve better than this.
Al Skinner aka Shanghai Sailor
September 17th, 2017
An amazing and impressive effort, Francisco Lufinha along with German world record holder Anke Brandt set a world record in an unprecedented odyssey that began on September 4 in Ponta Delgada on the island of São Miguel.
Lufinha and the team were welcomed as true heroes in the Marina of Oeiras, after a long journey with 1,646 km that had several obstacles and set a historical landmark in the nautical sport worldwide.
"It is very gratifying to have achieved this new goal and set a new world record. Ten days later, we were able to finish this extremely hard crossing, which demanded a great deal from us in physical and psychological terms. With head winds, which diverted us from the route, made it more difficult "explains Francisco Lufinha.
"In the end, I, Anke and the entire support team, are proud of this achievement. And I'm even happier because four years after my first odyssey I finally managed to connect Portugal by sea, "says Lufinha.
September 17th, 2017