Jesus, how long will Quantum Racing continue to assault our eyes with this failed pseudo-psychedelic boat and sail graphic design? It was played out after one season. They certainly win their share, but they have failed to get many of the top boats to switch to their sails…
The 52 SuperSeries continues in Spain. This photo thanks to Max Ranchi.
July 25th, 2017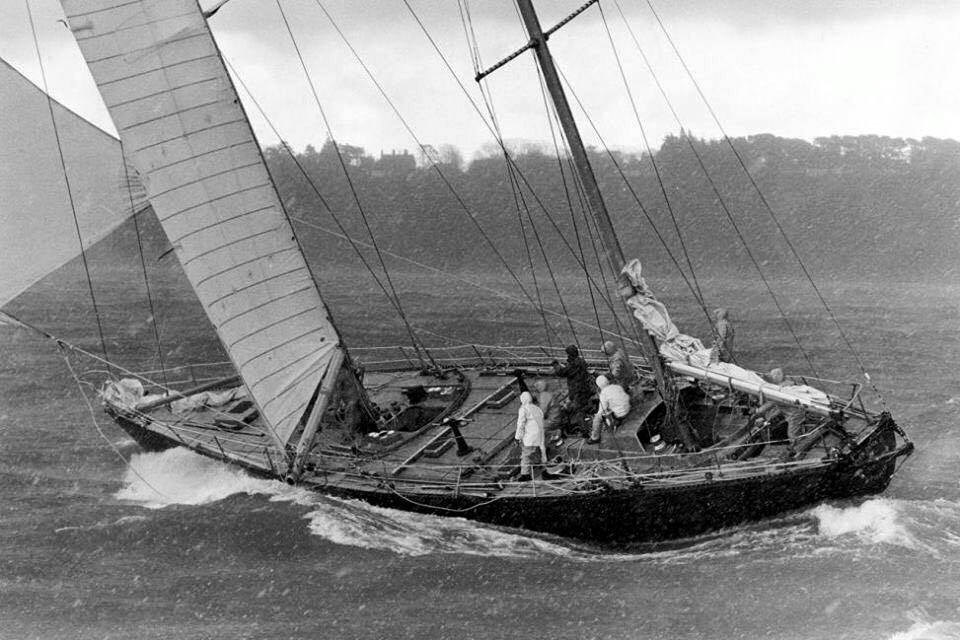 The dust has long settled on the 35th America's Cup and many a pundit has weighed in on what went wrong and what went right. The Auld Mug rode a First Class flight back to the Land of the Long White Cloud and knowing how Kiwis are when they celebrate I am sure that big drinks were drunk out of the cup. And goodonthem;  they won. Now it's my time for a little opinion piece.
It's funny how a single image can change the way you think, isn't it?  I read a long piece by Angus Phillips, formerly of the Washington Post, where he took his turn at pontificating about the recent regatta; I disagreed with him. I sympathized with him and understood where he was coming from, but disagreed. That was how I felt about the America's Cup, but that was also before that image popped onto my screen and changed my opinion.
I loved the most recent Cup.  I loved the boats, the technology, the extreme speeds and I even got to like the fact that sailors had to wear crash helmets. Whowouldhavethunk. Yes I know I am channeling too much Steven King with those run-on words, but it's true. A decade ago no one would ever have imagined that sailors would need crash helmets. But that's what was so cool about this most recent regatta. Crash helmets were among the most sensible ideas put forth in this incredible duel between nations. What was not anticipated was a regatta between two sailboats that barely touched the water for the entire race. My non-sailing friends could not believe it was a sailboat race and in some ways, it wasn't.
But that's what I loved about it. In my (most humble) opinion the Americas Cup is  all about being on the cutting edge. Technology that pushes boundaries and changes the world. That wording was not there in the Deed of Gift but it might well have been. So I disagreed with Angus, who is a great journalist, and whose opinion I respect. He – and many others judging by the comments in the comments section – longed for the old days when the boats didn't fly, the racing was closer and there were tactics involved. Not just a good start.
That was until I came across a certain pic. It showed up in my Facebook feed which seems to be where I get all my news these days. It was a photo of a famous french yacht by the name of Pen Duick VI rolling up the Solent on the south coast of England to finish (unofficially) the 1977/78 Whitbread Round the World Race. The boat was rail down. There was plenty breeze, snow was falling and the crew were huddled aft in their oilies holding on tight while an old cross-cut spinnaker did the work up front hauling them toward the finish line. The boat had been formally disqualified from the race because Tabarly had his keel poured with depleted uranium (Google it). The stuff made lead look light. Anyway they chose to complete the race as an unofficial entrant.
So this is where my thinking changed with regard to the America's Cup. I am an offshore sailor, not an inshore sailor, and for most of my sailing career pretty much disdained those pansy sailors who raced the America's Cup and got to go home and sleep in their own bed each night. My head was filled with big seas and snow squalls. I have been a bit of a critic of the modern Volvo Ocean Races; too much glitz and not enough adventure, but maybe when I search deeper I realize that I too am longing for a time long past. A time when oilies – yes foul weather was called oil skins black then – were in place of the latest Helly Hansen. Back when men where men and so were the women, or at least that's how we joked about it. Back when the world was flat; at least around the edges, and when the most cutting edge thing on board was a plastic sextant that replaced the metal one.
We can all pontificate all we want. Most of us are just full of shit. I want the future of the America's Cup to be in flying boats made out of a substance called unobtainium. But I also long for the days when things were rough and raw and a guy by the name of Tabarly was not only cunning enough to fill his keel with depleted uranium, but when he was disqualified said screw it, let's lap the planet anyway just for the fun of it.  
– Brian Hancock.
July 25th, 2017
Clean's back, this time with his final America's Cup thoughts, and this time, with a slew of experts to dig into it with.  First, two longtime yachting scribes 6 decades of AC coverage between them; Associated Press sailing correspondent Bernie Wilson and longtime Aussie scribe Rob Mundle, who pull no punches in an analysis of went went right and wrong on the business and media end of AC35.
Next, a tech talk with the man behind the on-screen broadcast graphics known as Liveline, multiple world-record-holding navigator Stan Honey.  Find out what it will take for other events to get the kind of broadcast tech the Cup enjoys, and hear more ultra-geeky TV tech info from the ultimate tech geek.
Finally, a chat with America's fastest foiler, double Moth world champion Bora Gulari, about the recent carnage in the Mackinac Race, his picks for the Moth Worlds, and his overall thoughts about an America's Cup he was once destined for with Luna Rossa: Foil design, controls, and a great discussion on what Bora would like to see in the next America's Cup (hint, it ain't a multihull!).
Special thanks to all of you who've liked, shared, or commented on the SA Podcast; thanks to you, we passed the 200,000-download milestone last month, and our monthly averages are now over 30,000 downloads.  Please keep it up, and let us know if you've got someone we absolutely must talk to. Subscribe to the SA Podcast for two dozen episodes so far, with more great shit to come! (iTunes, Stitcher)
Show notes:
Intro
00:00:19 Sailing Anarchy current podcast numbers – 200K downloads – thank you listeners! 00:01:04 Reach out on itunes, stitcher, [email protected] if you have any show ideas. 00:05:55 The Ellison Era – the good, the bad, the ugly. 00:16:30 Cup media program, media coverage. 00:18:50 The in-person experience at AC Bermuda, 00:19:33 Broadcast/production problems with analysis. 00:26:222 Clean goes to Nacra 17/49erFX/49er European Championships – what to expect.
Bernie Wilson & Rob Mundle – Pre-America's Cup – in Bermuda                                      
00:28:55 Intro to Bernie Wilson and Rob Mundle, plug for Mundle's soon-to-publish Spithill biography. 00:30:57 legendary parties and the Society of International Nautical Scribes (SINS). 00:34:00 Does the Associated Press see sailing as a major sport? How do they cover it and why? Who is following the SA in mainstream media? 00:46:22 ACEA/Coutts/Bermuda administration; did Russell take his eye off the prize? "If they want to be mainstream, they have to act like a mainstream   sport." 00:54:22 "Good riddance to Larry Ellison and the Cup. The Louis Viutton effect vs. the Red Bull effect. 00:58:00 will the US get behind an American challenger? 1:01:08 The Cup as a hooker and Coutts as the pimp.
Stan Honey – A Touch of Genius & A Taste of Brilliance               
01:03:07 Stan's interesting month in Bermuda, his role in the 2017 AC. 01:06:42 Stan's/Liveline's role in AC35, differences between SF and BDA systems. 01:08:52 Factchecking Spithill's claims that the software caused his multiple OCS. 01:11:20 On screen graphics/green screen/Hockey Puck swoosh from 1993/geeky broadcast stuff. 01:15:19 Bringing Liveline to lower budget classes/events. 01:18:18 Too much information for sailors? 01:21:08 Tech's ability to make the sport less intimidating for both fans and competitors. 01:22:55 Storytelling, digital streaming, customizable interactive viewing, the PGA tour, professional directing. "The key to everything is the story." 01:27:43 Stans's experience at the AC, overall highlights. 01:28:45 Stan's transpac record, what's next. 01:29:35 That's a wrap – custom feed and the importance of the storytelling team.
Bora Gulari Interview – Midwest Tech
01:35:27 Mackinac carnage – what happened to Natalie J? 01:38:38 the MOD aboard Meridian X, thoughts. 01:41:48 Safety conscious sailing – more sensible these days or more reckless? 01:43:19 Battle of the Lakes superboats, damage to Earth Voyager. 01:45:15 America's Cup impressions, good vs. bad matches, and the problems with the grinding. "It just doesn't feel right to me." 01:47:46 Foil shapes and changeable surfaces, new Gitana, flaps. 01:50:07 Wing trimming vs. sail trimming. 01:51:25 automatic foiling, the Holy Grail of perfectly stable/low drag foiling. 01:53:07 The rise of Burling – luck vs. skill vs. maturity. 01:54:05 Foil shape analysis of AC. "Aspect ratio is king", daggerboard shredding. 01:59:19 Getting personal/emotions at missing the Cup after being part of Luna Rossa team. "They definitely got the short end of the stick." 02:01:53 Underdogs and outsiders. 02:03:15 If Bora picked his perfect boat for the next AC, what would it be? Why don't we have widespread automated electronic foil control now? Other formats, "I think the Superfoiler has a lot of potential." 02:10:30 Bora pulls out of Moth Worlds. 02:13:27 Moth Worlds form guide.
02:19:30 Outro/What's next for the Sailing Anarchy Podcast/Wishlist for future talks
July 24th, 2017
Peter Thornton's Volvo 70 Il Mostro broke its own race course record today in the 93rd Bell's Beer Bayview Mackinac Race. The newly established elapsed time record for the 254-nautical mile Cove Island Course is 21:45:12. Il Mostro's previous record, set in 2015, was 23:39:54. Il Mostro missed breaking the course's multihull record (held by Rick Warner's Arete) by a mere 15 seconds.
Title inspiration thanks to The Beasties.
July 23rd, 2017
The immediate success of the ClubSwan 50 was the missing ingredient needed for Nautor's Swan to step into the void left by the great team events like the Admiral's Cup, Sardinia Cup and Hawaii's Kenwood Cup
The concept of national identity remains one of the strongest drivers in modern sport – with the opening ceremony of the Olympic Games the most powerful and best known example. It's what makes events like the Football World Cup so special. And it's the America's Cup and Volvo Ocean Race teams with the strongest national element that continue to attract the most passionate supporters.
As its name implies, national identity will play a strong part in the appeal of the Nations Trophy, a new regatta being launched this October by Nautor's Swan, with the inaugural event set to take place in Palma de Mallorca. Enrico Chieffi, vice-president of Nautor Group, explains where the idea came from.
'It has been a long time since the last nation-based regatta of this kind. We took our inspiration from old classics like the Admiral's Cup and the Sardinia Cup, but modified the concept for today's competitive environment. Also this is a one design regatta, so it is very clear on the water who has done well, even before you see the results.'
July 23rd, 2017
A couple of days of Lake Garda gorgeousness saw 149 sailors take the line at the Italian Nationals – a/k/a the Moth Pre-Worlds, which starts Tuesday.  A few unknown names like Burling, Outerridge, and Slingsby are enjoying the low-pressure environment, while Paul Goodison took five straight bullets to beat up on second place Rob Greenhalgh.  Check back tomorrow for some form guide action and a podcast with absentee 2x World Champ Bora Gulari about the fleet. Photo by Martina Orsini with results here and some good action over at the Moth Worlds facebook page.
July 23rd, 2017
As the first finishers cross the line in the Bayview Mack race, SA'er Doghouse has provided one of the most comprehensive debriefs of a near-death incident we've ever read after their MOB in the Chicago Mackinac. For anyone going out on the water beyond their little harbor, this is MUST READ stuff.  And hey US SAILING- because we know you're listening – this should be sent out to all of your membership, and its lessons incorporated into the Safety At Sea program.  Thanks to Graham and the entire crew of Meridian X for their openness, and if you have questions for the crew, hit them up in the thread.
I'd like to preface this by stating this is only one man's perspective, mine and mine alone. As I said up thread, there will be a full article coming out that we are working on, will probably hit the shelves in a month. This is to give everyone a narrative of what transpired, and I think it will answer a lot of the questions I've seen posted here.
I am the bowman and boat captain for the Farr 400 Meridian X. Approximately 11:15pm on Saturday night I was off watch in the port quarter berth, when someone said they were asking for me on deck to get the A2 down, and I anticipated the wind must be building as the hull noise below was increasing.
Halfway into my harness and gear I heard massive stomping on the deck to get up, which indicated it was getting bad rapidly so I rushed into my boots and threw on my pfd and went above just after Mark Wheeler who was running on deck for the all hands call as well. At this point everyone was on deck. Before going off watch, I had set the foredeck in the ready position for a quick drop, martin breaker on kite, drop line tied off, J3 lashed to foredeck, which is pretty standard practice in an offshore big boat.
I made about three steps forward when the MOB call came. Mark had gone over the side as described by him in his letter. His light was initially spotted and followed. At the time I had no idea who it was. Luckily everyone was in the back of the boat for weight, and he was seen as he fell over and the call came immediately. Unfortunately, everyone was in the back of the boat, and I was solo upfront with the kite. The trimmer came to the pit and blew the tack, immediately tripping the breaker and freeing the kite.
With no one else around I went straight past the mast and gather the kite foot until more hands made it forward and could help drag it down. It took around three minutes to get the kite completely off deck and attempt to turn back. As we came back up into the wind we were knocked over by a 45-50 knot gale and completely flattened for several minutes, ripping the staysail out of the furler and shredding it.
Eventually the wind abated enough for us to turn back into the wind and begin sailing a reciprocal course, we estimate we were over 2 miles away at this point as we'd been traveling 18+ kts. A few of us wrestled the staysail pieces off the deck, and I had to use pliers to get the tack shackle off as it had distorted in the storm. We proceeded to clean up lines and continue our mayday broadcasts, with the skipper Sledd Shelhorse on the VHF and myself on the hand held.
At this point we were actively looking for the strobe, not knowing it had failed. This led to a lot of wasted time, as there is a fleet of lights out there, and ended up being a huge distraction from getting back to where we needed to be. We realized that there was no light after probably 15 minutes of looking, and began working our way back up wind in a search pattern. We get the main down to hear better. This point was absolutely the most terrified and helpless I have ever felt in my life. I know the clock is ticking, and a person in the middle of Lake Michigan at midnight is beyond a needle in a haystack. The fact we were at the forward end of the fleet means a lot of other boats are coming through, but still crazy long odds.
At this point we think we have heard a faint whistle, but was so far away we are having trouble knowing. We swing slightly to port, then one crew man calls out hard to starboard. As we come around, several of us definitely hear a whistle. We begin to motor, then pull back to listen and make course corrections. We see Aftershock coming at us and begin to hail them. They have apparently heard the whistle just before this, and their jib drops and spotlight immediately comes out. At this point, the whistle is very clear, and I absolutely know we are going to get him, it's an intense moment, but in a positive way. We pick him up on spotlight rapidly and begin setting up for the grab.
Our helmsman teaches heavy air sail handling and boat handling for Safety at Sea, so we are well versed in what is getting ready to happen. We set up about 30 degrees on the breeze, and grab him on the starboard side around the primaries, then fireman bucket brigade him down the side to the transom where it will be much easier to get him in the boat. We know after an hour in the water he won't be able to assist. I get him at the back, get the lifesling on, and two of us haul him into the boat. A huge cheer erupts from Aftershock, which I will never forget. He is awake and cognitive at this time, which is good, though not really shaking which worries me. After getting him stripped and down below in blankets, he begins to shake which is a good sign and I know he will be ok.
I am the only other one on the boat who does the navigation, so I go quickly below and start looking for harbors. We are almost due west of Muskegeon, at a range of ~34 miles, so we immediately head that way. I make some hot water for Mark, then climb on deck with the tablet to navigate us to port. Approximately two hours in Mark pokes his head up, and starts chatting, and huge amount of tension finally unwinds. We are gonna make it.
A lot of you guys have asked specific questions, and if I don't answer them here, just let me know. As far as boat setup, the boat is prepared to the letter of the law on safety. We carried a MOM8, we have four locations to signal MOB, we checked all life jacket lights pre race. We did not have an AIS receiver, and we are absolutely installing one. Mark had a PLB, as did I, and that would have been a boon. I really hope they become required equipment, the cost versus benefit is laughable.
As described above, the kite was set for an immediate drop which is best practice in any offshore event. Windquest had practically an identical situation as us minus losing someone overboard after getting caught with A2 up. They had minute plus knock down, but they were able to blow the kite and get the boat back up because they could release the tack. I don't believe it's a stupid question at all to ask about the quick stop (I bring up what we feel the max breeze for a quick stop in every prestart safety briefing, including this one), but it is absolutely not feasible in this breeze. The boat was knocked over with just the main up, you'd end up on your side with a bigger mess and possibly more people ejected off the boat.
Our MOB buttons are on the tablet/computer, handheld GPS, GPS head unit below, and VHF radio. The MOB locations we have became very redundant as one went over the side with Mark, one nobody knew the location of the tablet other than Mark, one was triggered, the VHF, and the other was part of VHF chain, the Simrad. We were able to start spitting out coordinates over the VHF fortunately.  Our MOM did not get deployed immediately, we thought about deploying late, but felt it would be a distraction from getting back to his immediate vicinity.
The AIS receiver and placing MOB buttons in the reach of the helm are the two biggest hardware changes that are necessary, one to track, and one to get a quicker MOB target on the GPS. The bigger changes have to be procedural. We were properly set up for sail handling, which is critical and I can't emphasize enough. If you get back footed trying to take down a 2000 SF  kite in a gale it could wrap you up for half an hour and cause more carnage in terms of boat and crew.
The issue that needs to be drilled relentlessly is what was mentioned above, you have to practice with crew minus 1. In this case a critical component of our process went over the side, and it negatively impacted our ability to respond. It's also critical to practice minus the bowman, and have the rest of the team be comfortable in getting the sails down in extreme conditions.
For crew, mandatory to carry a secondary light. As a bowman I have always carried a second light, as I've run through this very scenario in my head countless times. Everyone on the boat needs to as well. Whether it be glow sticks or strobes or torches, always have backup. A PLB is a good idea as well.
We are very fortunate to have gotten our man back. Mark and I have done thousands of miles together, in everything from dinghys to 52's to Vipers to everything in between. I couldn't imagine losing him, and implore everyone to take this seriously. Our crew collectively has Whitbreads, IACC sailing, Sydney Hobarts, Transatlantics, Newport Bermudas and countless Macs, among many others under our belt, and this is by far the most dangerous situation we have been a part of.
The biggest challenge is that there is very few people with real world experience in dealing with it, so you have to rely on drilling relentlessly and strict adherence to best practices, along with gleaning all you can from people who have dealt with it. I hope this little bit is helpful to anyone who is reading.
Graham Garrenton, a/k/a doghouse
July 23rd, 2017
MAYDAY alert via satellite from 11'19.876S 112'23.973W @21.07.2017 0030UTC came in 1 hr ago via friends of Jørgen Emmerik Andersen and Anna Viera on S/V Restless.
If anyone is sailing in the vicinity please help them them out.
MAYDAY MAYDAY, SY Restless OSLO with Anna Viera and Jorgen Emmerik Andersen on board are slowly sinking in the south Pacific ocean, 11'19.876S 112'23.973W @21.07.2017 0030UTC. We have a crack of about 60cm in length in front of the keel, where the mast base is located, no visible crack on the inside of the boat, it must be under the stringers.. . I have been diving and trying to fix the leak with epoxy sticks unfortunately not working, to reduce the leak we have tied a tarp from side to side under the boat.
The 3 electrical bilge pumps are not working great so we have disconnected the raw water intake from the engine and connected a hose so we can pump out the water quickly.. We have contacted via Satellite phone HRS Sola Norway and they have issued a mayday to vessels within 600nm of our location. VHF DSC Mayday has been sent. Other than being really bummed and sad, we are doing well. Keeping her afloat until rescue comes, so please share so we can get to safety.
July 21st, 2017
July 19 at 3:27pm · Chicago, IL ·
7/18/2017 High Priority 2 Update
A long day on the water, 13 hours later she is floating upside down at a commercial ship yard in Milwaukee. 2 boats and 4 able body seamen ; David (boat owner/skipper) myself, Pete and Gary from Tow Boat US were not able to right her 20 miles offshore in 400 feet of water.
Carbon fiber mast is broken, code o damaged,screecher damaged, main, jib and spinnaker destroyed. Most of the sails and rigging were removed offshore. Some untangled, some cut way.
Pete and I spent most of the morning in the water clearing lines , removing sails, rigging and what was left of the mast. David and Gary hoisted the gear aboard Petes trawler.
We made every effort possible per manufactures guide lines to right the Corsair 31 .
I believe it's possible but Pete exhausted his air supply and was unable to continue diving. Approximately 12 feet of mast and 3/4th of the main sail are still attached. With this much drag from below she will not flip back over when towed backwards.
So after 8 hours of towing her on her back, we will right High Priority2 in the a.m
– Jim Goempel
July 21st, 2017
Like a whirlwind of brilliance and carbon fiber, Russell Coutts leaves a path of devastation behind him.  First in NZ, where to many he is still one of the biggest traitors in the island's sporting history.  Then to Switzerland, where his divorce from Alinghi was so nasty there was a rule written specifically to ban only him from AC32.
Then to the US, where after a brilliant comeback and a great event in San Francisco, he found ways to completely alienate the majority of the team's American supporters for the recent Cup:
First by removing the competition from the country that won it; second by decisions that brought bad ratings and made it expensive (or downright impossible) for Americans to watch the majority of racing, and third by saddling San Fran with an unexpected, 8-figure bill – a move that ensured no US host cities bid for the event with even a fraction of what Bermuda came up with.
It appears that familiar old Coutts tornado has left another wrecked venue in its path now that results are in from the parliamentary election we reported about before the Cup that was held this week in Bermuda.
On Tuesday's General Election, the mostly white, ruling One Bermuda Alliance party (the OBA – jokingly called Oracle Booster Association in online chatter)  suffered a crushing defeat at the hands of the mostly black Progressive Labor Party, many of whose members had been strongly critical of the money spent to bring the AC to the island.
The election was a true landslide in the tiny island nation, with the PLP receiving 20,059 votes, or nearly 59 percent, while the OBA secured 13,832, with resigning PM Michael Dunkley complaining that the biggest issue in the country is its "racial divide."
While we are certain that there are much bigger, far reaching components to the OBA's thumping than just the America's Cup, it probably didn't help the race problem to spend millions and millions of dollars on perhaps the least racially diverse sport on the planet?
July 21st, 2017