Hometown Cleveland teams getting a briefing before a high school regatta on Sunday. First ever event @Foundry216, Cleveland's first community sailing center!
September 20th, 2017
Last year's challenge with the China Club Challenge Match, or Club Cup as it is affectionately known was that 48 hours prior to the event, the largest tropical storm of the year, (statistics later showed it was the most powerful storm anywhere in 2016) made a direct hit on Xiamen, the venue for the event.
4 of the boats due to be used in the boat were sunk or dismasted along with many others.
To this day I am still amazed that they managed to pull it off and every entrant had a race ready boat on the morning of the first day and that was for 30 teams.
Two days out from the event this year the exact opposite appears to be the case. The forecast for the whole event looks to be light and fluky. With the tides being close to the Equinox as a further test, sailors wind sniffing skills will be at a premium.
The event, in its 13th iteration – making it comfortably the oldest regatta of significance in China and as it is only for Chinese sailors and/or teams has a special significance (note the absence of the word "international" in the event name).
It started rather ingloriously as a challenge between Ironrock Sailing Club, Xiamen and Zhuhai Sailing Club in two beat up J24s and has grown over the years in size, stature and most certainly quality both off the water and of course that shown by the teams on the water. Many years at a de-briefing session, one of the umpires mentioned that a dial up had never been seen at the event and the mechanics were explained on the whiteboard – next morning there were 6. They learn fast in China!
Only two people have been involved in every event. One Wei Jing, known affectionately as 'The Captain' had an interesting experience many years ago. He took a photographer from the local newspaper out sailing to get some shots for the paper when the fog came down. Strong tides off Xiamen but also off Xiamen is an off-lying island that is part of Taiwan – just 1,500m off the Chinese coast and you guessed it, they ran aground on Jimen (Taiwan).
With the photographers fancy cameras the Taiwanese authorities were suspicious and The Captain spent (I am told) some 3 months in a Taiwanese prison as a spy until the matter could be cleared up. Even if it is just scuttlebutt it is a great story but I am assured it is 100% true. No such worries this weekend! Back to the event!
The quality of officials has also had to be raised to meet the sailors growing expectations. In the early days it was knowledgeable, experienced sailors who took to the water with the flags. These days there are two International Umpires on the water for the event with this year's finals being umpired by 3 IUs and an NU – no place to hide.
Perhaps an unusual format with the first stint of racing being in a fleet with on the water judging using Addendum Q – the same rules as Olympic Medal Races – and with an entry list pushing 50 the umpires will need to keep their eyes out of the boat, that's for sure.
The top eight teams from the fleet racing return 1 month later for the match racing element which starts off with a round robin. This event regularly puts in 20+ races a day during the match racing – long enough for the sailors but spare a thought for the umpires who are out there EVERY race.
Updates will follow as time allows. – Shanghai Sailor.
September 20th, 2017
So after giving this some thought, I've decided not to pursue the SWYC issue.  No protest, no legal action. Nada. It's clear some people there hate me and I don't see them changing anytime soon. Life is too short to battle with people who seemingly have almost no idea what they are doing.
Let them continue to run their crappy race. The number of entries says plenty about what people think of their race.
There's really nothing more to it than that, it's just time to move on. – ed.
September 20th, 2017
We think the war on drugs is perhaps the biggest US policy failure ever. That this is what we send the Coast Guard to do is an insult to what their real mission should be. Thousands and thousands of people are jailed, families torn apart, while billions and billions of dollars have been and continue to be pissed away. The result? Almost exactly the same drug use percentage by American citizens now as when this disastrous policy was enacted decades ago.
In a ceremony in San Diego on Wednesday, the crew of the Coast Guard Cutter Stratton offloaded an impressive 50,500 pounds of cocaine onto the pier. The drugs were captured in 25 interdictions in the eastern Pacific by the cutters Stratton, James, Dependable and Steadfast and the destroyer USS Chafee.
The ceremony capped off a record-setting fiscal year for drug seizures at sea. All in all, the USCG has captured cocaine shipments totaling to 455,000 pounds since last October, edging out last year's record amount by roughly six tons. This year's final number could be higher, as there is still one week left before FY2018 begins.
September 20th, 2017
"Hey look, those guys capsized…never mind."
September 20th, 2017
Proving that some people are not only small-minded and vindictive, but they also behave in ways that go against the corinthian nature of our sport. Is this really the pony that SWYC wants to bet on? Is this really the kind of publicity they want their club to get?
I guess the answer is yes. Perhaps they have not heard the saying, "be careful what you wish for."
This morning I woke to this e-mail:
Mr.  Tempesta,
 As per the letter we sent you dated February 15 of this year, we are rejecting your entry to the Little Ensenada Race. The letter stated that we are rejecting any entry by you or the boat "Anarchy" for the year 2017.
Peter Blake, Little Ensenada Race Chair
One has to wonder how an entire yacht club can be driven by just a couple – if not one – members in doing something like this. Well, I am done wondering.
Today I have begun putting together not only a protest against SWYC, and a letter of complaint to US Sailing, I am consulting with an attorney to evaluate what, if any, legal options I may have.
I am done tolerating their bullshit. – ed.
September 20th, 2017
Actually, it is.
September 19th, 2017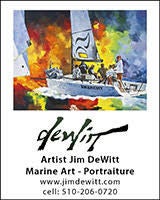 If you don't know who Jim DeWitt is, you should, especially if you are a boat owner and would love to have your boat immortalized by one of the greats.
Jim has spent his career painting beautiful versions of many, many boats over the years, and can paint yours as well.
Just click here for a rare opportunity to have an incredible talent do some magic for you!
September 19th, 2017
Golly, we are as surprised as you are, but it looks like SWYC accepted our entry into the San Diego to Ensenada Race! Check the entries here.
We must commend them for doing what is best for the sport, and of course, that is encouraging, not discouraging participation. It is refreshing to think that they saw they were acting the best interests of sailing, the sport, and finally, their club.
I guess I'll go take that mean 'ol article I just put up, right on down. Just as soon as my entry is indeed confirmed, I'll jump right on that!
Isn't love beautiful? Tell us how you think this romance will turn out?
September 18th, 2017

We were rafted up waiting for the fog to lift and breeze to fill on Sunday, the last day of the last T-Bird Regatta for 2017. Breeze finally filled in after a couple of postponements. There was a bit of alcohol involved and we happened to be DDW to the RC. Why not stay rafted and throw some kites up? It turned out to be the right decision. made it the .75 miles to the RC just in time to break up the barge and get ready for the first gun!
The T-bird fleet in Boston has grown from 5 in 2010, to 14 boats in '17 and we have 2 more arriving this fall. It's a scrappy fleet of young and old and having sailed on everything from TP 52's, Fast 40's and RP 56's in Handicap, I always find myself making more room in my schedule for Tank, my Thunderbird.
Cost of entry is very low, and you wont find a fleet with more camaraderie in the North East. Friends and fun make sailing enjoyable. Both are plentiful in Fleet 5.
Cheers,
Murphness
Title inspiration here.
September 18th, 2017