It took Quantum Racing 8 races to finally get a bullet in the 52 SuperSeries, but they did in race 8 today. They sure don't look like they won! They are 4th overall, and in striking distance with 2 to go. Funny photo thanks to Max Ranchi obviously not taken in race 8…
July 27th, 2017
Our friend Zack Downing is at the Moth Worlds in Italy, and his dad John sent us what Zack told him! Ever the innovators – haha!
"It's never like this around here" is the refrain. Thunderstorms took out the first day of qualifying. Yesterday they managed to get off two races early in the morning for each of the four qualifying groups of 55 boats.
Then then wind died for the day – rather than make it's usual mid day switch from the north to the south. Today they managed to get two more qualifying races in for each of the four groups in conditions that started out nuclear going to glass. There were a number of broken masts in the 25 to 28 knot conditions experienced by the first two groups to race at 8:30 am.
Better, but very flukey conditions ( big holes on the race course ) for the second group. Another attempt was made to get another race in this afternoon but this was abandoned as the wind completely shut off. So how does this leave Zack? He's in P135 with a 41, 28, (43), 23 in his four qualifying heats. That should put him into Silver fleet – just. First start tomorrow isn't until 1 pm so perhaps the weather system that has played havoc with the regatta has passed through.
July 27th, 2017
You get up early and have a quick breakfast. Next you jump into your layers of clothing – thermals, shorts, polar, thermal socks, sailing boots, foul weather trousers, foul weather jacket, sunscreen, sunglasses, gloves.
You slip the lines; 5, 4, 3, 2, 1, Start, and off you are.
The wind is howling at 25kts in your face, the swell is heavy and the boat is pitching up and down into one wave after an other. You're sitting on the rail, Water is splashing over the foredeck and every 3rd or 4th wave the water splashes you as well. It's cloudy, it's raining, you start getting damp and cold in your foul weather gear; if not because of the water because of the sweat.
Nature is putting you, the crew and the boat to a test and you can't but wonder why, why are you doing this, why are you putting yourself voluntarily through this.
And then the sea calms a bit down, the sky opens and you get a glimpse of that short moment that makes you forget it all and makes everything worth it.
The boat is pushing smoothly through the sea, you are sitting on the rail and have no option but to become a spectator of pure beauty. – Anarchist Sebastian.
July 26th, 2017
Looks like our latest SCOTW is sailing in the OK Dinghy Europeans.  She is girl is Maja Hansson-Mild, daughter of 2009 world champ Thomas Hansson-Mild who is also sailing.
We are appreciative of her fine form… Photo by Robert Deaves. And look! – there is already a thread condemning us for this. Jump in!
July 25th, 2017
UPDATE: We did hear from Randy Borges, and he is going to share some insight about what happened to this once stellar company. And Kris isn't a hack!
We heard that US Watercraft, builders of the C&C 30, C&C 41 (um…),  Alerion, True North, etc., are in receivership. The term receivership describes the process in which a 'receiver' is appointed by the creditor, typically a bank, to administer and 'receive' (i.e. liquidate) the company's assets so the secured creditors can collect the money it's owed.
We don't know the specific details as neither President Randy Borges or PR person Kris McClintock could be bothered to reply to our e-mail enquiries. Little did we know that McClintock no longer worked there…
We suspect that the moribund C&C 41 combined with the early death spiral of the underwhelming C$C 30 didn't help matters. Whatever, they are in trouble.
Title inspiration thanks to Devo.
July 25th, 2017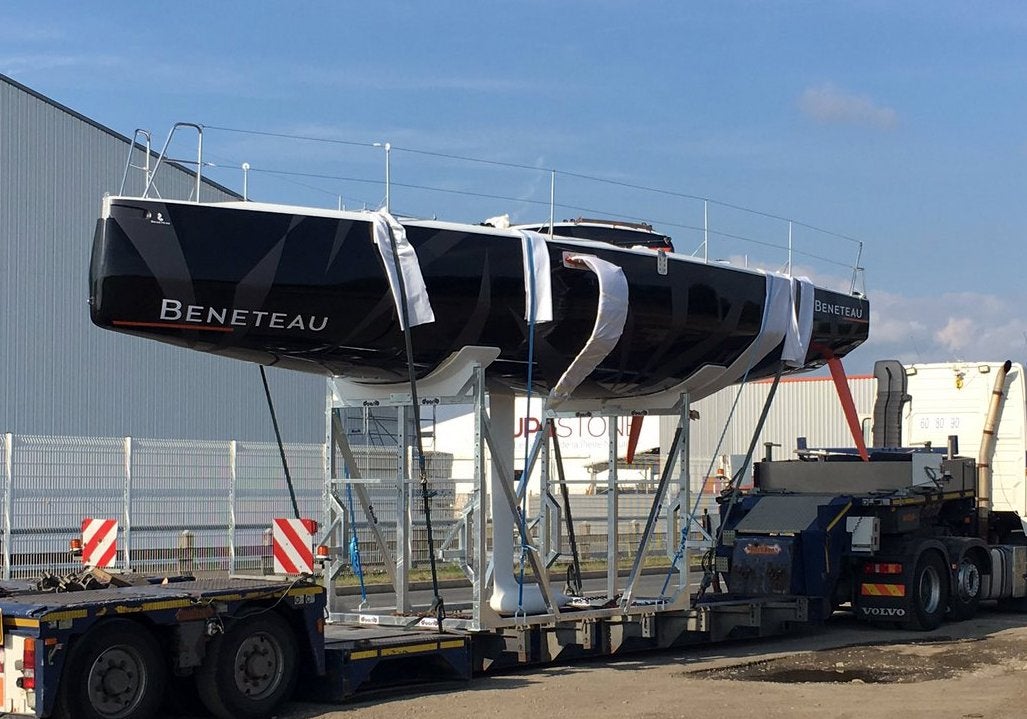 The new Figaro 3. Looks f-ing good! Notice the side appendages? Thanks to Anarchist Oliver.
July 25th, 2017
You have a great story of Eric and PD VI with the depleted Uranium keel, but there is the equally stick it up your butt story of Pen Duick IV. My wife and I had signed up as members of the AW yacht club to put up pictures and standings for the Transpac boats all over Waikiki in 1969. I had cut class to be sailing out of the Ala Wai early one gorgeous morning on a new fiberglass sloop to watch the winner come across the finish line between the lighthouse and Diamond Head buoy.
We were pounding along to weather off Waikiki when I heard a sizzling noise from aft. I looked back to see a strange something, a spider sitting on 3 aluminum-colored tubes with 2 big sails. They zoomed closer showing 2 big mainsails and threw spray high into sun as the flew past us like we were sitting still. "What the hey is that thing?", I squeaked, awestruck. It had 2 huge yellow mains with full battens, schooner rigged.
They flew about 4 miles to weather to pass by Blackfin, the TP leader several miles away, plowing downwind with a bone in their teeth. The strange boat tacked to pass behind BF, then jibed and popped 2 chutes, to fly away from the TP leader down past us to the finish line with incredible speed. The stranger dowsed, then repeated this event, slicing upwind past us beyond to round Blackfin a second time, then jibing and putting up both chutes to cross the finish line again in front of Backfin. It was totally amazing to me, but then I found Eric at the Ala Wai, and got the whole story. He told me about this new unpainted trimaran and described the speed, pretty much unknown at the time.
PD had started to Hawaii a day later than the regular yachts, and finished a day earlier. But this was not admired. This was the first time I had heard that multihulls were not really sailboats, and that this was just unjustified trickeration. (Oop, that wasn't invented yet) . However I was not convinced, as there were slow and heavy P-cats, but just 1 Hobie14 and no Hobie16s had yet made it to the Islands…that was all to come. Eric leads my heroes, but I have been fortunate enough to meet Woody Brown and even Hobie himself, among my multihull pioneer heroes.
Anarchist dacarls.
July 25th, 2017

We were all set to deliver our own Moth Worlds prognostications (late, as usual), but then we ran across this piece on The Foiling Week's blog from flying scribe Neil Baker, and we knew we wouldn't be able to do much better.  So we pulled some excerpts to post here – with a Day 1 cancellation meaning it's just in the nick of time – and advise you to head over to the original pieces (Part 1, Part 2) if you want the rest of the story.  Shoutout to "Randy Cunningham," the funniest on-air personality in sailing, in the Worlds intro video above, and tune in to the Worlds video feed for more gems from his generation's Mouth of the South.  Here's Baker:
On Any Moth Worlds:
Why is it horrible? Well mostly it is the crushing realisation that you have to deliver. Its high noon in the racing stakes and you have nowhere to hide now. You have to make good on what you've invested training, in brownie points with the wife (or husband!) and of course in carbon. Moths have that extreme element for sailors of trying to calculate the biggest bang for your buck when buying your kit for a season, and also figuring out the best time to do it so that you haven't, quite literally, blown your wad too soon. It can be frustrating to buy something new, like a high lift foil, only for someone to release a newer better one a few months later. Of course most annoyingly for one still stuck at the desk looking over a London train station…the really horrible element this week is the self-gratifying pictures of people already on their way or even already at the best sailing spot on the planet, lake Garda, filling social media feeds with increasing regularity.
On Garda:
The wind is like clockwork (touch wood) and the Italians are superb hosts. The pasta always seems to be ready just when you're going sailing?? The coffee is good enough to make even the most committed Melbournian barista swoon, and for those of a "Patonator" type persuasion, an Aperol Spritz is the finest post sales recovery beverage you'll get anywhere in the world. The water is also Pan flat when the Orais blowing. Less so when the evil northerly wind is blowing and if we get some f that again it will no doubt separate the men from the boys. If it happens before the gold fleet selection is made it could really change the make up of the fleets.
On Gear Evolution
The kit has changed in an imperceptible yet highly effective way. 2012 was a year when gains were increasingly marginal around the foil horizontals despite a lot of the focus being in that area. There have only been small improvements since. However, many other areas have progressed. Aero tramps, lower mast stumps and stiffer EVERYTHING. Adjustable wands have gone mainstream and then moved onto become telescopic and hang off the Bow sprits to give the boat extra stability and much more control in waves. The foil verticals have got thinner and stiffer and the sails have evolved to a whole new level with Carbon battens being de rigeur. Of course there have been a few howlers along the way, the less said about the twin wands idea the better,one can only assume those guys were trying to make up for something. We also don't see too many wing sails either although that was partly because it was found they didn't measure.
On Boats
Exocets have gone from just single figures in 2012 with just one in the top 10, to being the boat of choice for many. They even finally managed to win the worlds in 2016 at the 5th attempt (took long enough!). Does that mean they're the best…we'll find out. Cookie has taken the Rockets into the solid state design and they are going like, erm, something fast that flies, wait, it'll come to me, and Mach 2 have continued to make small, incremental but effective improvements. There are a few other new designs coming through, we might even see the Lennon "Thinnair"doing well although it's not raced yet. The Voodoo is getting there and now has some good sailors developing it, we still don't know what the heck Josh McKnight is going to turn up with. Really, between the big builders, the margins are now very fine. We don't know which design will win, we know that a Wazsp won't so stop ****ing asking. One thing we can be certain of is that the best sailor will still probably carry the win. Actually, one more thing we can be certain of is Simon Owen-Smith, the mothies SoS. The most important bit of Moth Kit will be there and he will be busting his ass off for everyone to keep them on the water. Buy that man a beer, I doubt Aperol is his thing, although you never know.
On Fleet Talent
If anyone can name an event with the quality of fleet to match this then I'd like to see it. There really is a depth of talent here that is eye watering. In fact it's enough to make you cry if you spend the majority of your week trying to do an honest days work flogging lubricant to the over 50s. The majority of Dinghy sailors never get to race against the best in the world. A few occasionally get to race against an Olympian, the odd one of us gets to race against a medallist. At the moth worlds in 2017 you'll be banging on the toilet door just before launch o'clock, complaining at the wait, with a good chance that it's someone you'd normally go a bit weak at the knees about if they sailed within 200 metres of you at the round the island race.
On British Hopes
First to go is the current holder of the world championship title, the UK. In fact that very World Champion is Paul Goodison who is turning up fresh from the AC and, knowing nothing about how much time he's had to sail, he's definitely got a good chance, he is pure quality. Another strong UK sailor will always be Rob Greenhalgh; usually well prepared and driving some primo, slightly experimental kit, you'd be a fool to bet against him. However, time in the boat is also a challenge for him of late. Well that's what he'll tell you anyway. Sadly the current UK champ, Dylan Fletcher, is not available. As member of the GB Olympic squad he's being marched off to Kiel to continue the relentless Olympic cycle. Far be it for people to have a break in the first year of the cycle. It's a real shame as Dylan was unbelievably fast at the UK nationals. Still, his Solid State Rocket, not to be confused with a skate park for mice, is coming and will be sailed by none other than former Euro champ Cookie himself. Now we'll find out if it's the boat or the sailor eh Cookie? No pressure. There are plenty of other strong UK contenders but it's unlikely they'll fight for the title. Ben Paton has already reserved 4th place and Rashley has moved on to some kind of sunsail holiday, or is it Nacra sailing, it all looks the same.
On The Other Big Moth Nation
From the Australian contingent we've got a huge bevvy of talent coming, including former Moth world champions Josh McKnight and Nathan Outteridge , Americas cup sailors like Tom Slingsby and Iain Jensen and of course long time Worlds contenders like Scott Babbage and Rob Gough. Whilst many of them have been heavily involved in the AC, or several other types of boat, they've all got some great kit and will no doubt be loving the idea of getting stuck into racing at Garda. Rumour is a few of the AC sailors went straight from the Cup to Malcesine to get practicing. Commitment like that shows why they are so much better than the rest of us. I'd have been happy to just get away from boats for good I expect.
Again, read the full breakdown at The Foiling Week here.
And if you want to know Sailing Anarchy's picks, here they are:
First: Pete Burling
Second: Paul Goodison
Third: Rob Greenhalgh
July 25th, 2017
We'd like to try this in a dinghy.  A free one.
July 25th, 2017
Even after being hauled, Italian-flagged trawler Trer is still munching on the deck and winch of the sailing vessel Malateska in an accident in the Zadar channel at Kukljica, Croatia. Sime Pitur reports that both boats sank in just minutes, with the crew of the sailboat – a married couple with two young kids – in serious danger – the wife hospitalized in urgent condition with the family in shock.   He writes that the arrogant Italian owner of the powerboat never even asked about the health of the victims…
July 25th, 2017