Apologies if you have already seen this; for the rest of you – enjoy! And be sure to watch in in HD.
Title inspiration from Iggy Pop – ed.
October 16th, 2017
After the Caribbean Islands were left devastated from recent hurricanes, Dutch yacht transport company Sevenstar quietly went to work. The result: last week Sevenstar delivered 140 pallets of aid, including generators, medicines and water at no cost to the devastated island of St Thomas for the American Red Cross.
Says Richard Klabbers, MD Sevenstar Yacht Transport: "We are frequent visitors to the Caribbean islands, delivering hundreds of yachts each year. Over the last ten years we have built many great relationships; they are close friends and are in great need of help to re-build their community. We have the ships, and we want to help. It is fantastic to be able to assist in a meaningful way with what we do best – providing timely transports in a well prepared and coordinated manner."
We see it as our humanitarian responsibility to take care of those in need and where possible we will help at no cost.
Please contact Nic Kühne who is coordinating our aid efforts on should you feel we can be of further service.
October 16th, 2017
The boys at OneSails Perth putting the finishing touches on their super bad filmless 4T molded sails for our Santa Cruz 33, Anarchy III. Omg, we are so stoked!
October 16th, 2017
I have been reading about this latest "crisis" to befall the Volvo Ocean Race, formerly known as the Whitbread Round the World Race, and can only smile. Yup the VOR has finally grown up; the suits are "officially" in charge.
OK for those that have not been following a couple of things. The Volvo Ocean Race bills itself, and rightly so, as the preeminent fully crewed offshore ocean race and the 13th edition is about to set sail from Alicante, Spain this weekend. With just over a week to go to the start of the race one of the teams, Team AkzoNobel, decided that it was a swell idea to can it's skipper. Can, as in fire him, or to put it in PR-speak, he was 'invited to stay on but declined.'
The (former) skipper is the Dutch sailor Simeon Tienpont who has participated in two previous VOR races and has also been part of a winning America's Cup team. Clearly the guy is qualified and he put together a formidable crew that includes Brad Jackson, an old mate of mine who is a Watch Captain, and Jules Salter a three-time veteran of the race. Did I mention that the next Volvo Ocean Race starts this weekend?
Before I get too deep in the weeds here I must note that I really don't have a clue what actually happened. (we do, click here. – ed).  Both sides have (presumably) lawyered-up and the statements coming from both sides are as vague as a hookers perfume after a long night…:)  I have, however, been in this game for a long time and I can smell a suit from a mile away.
Tienpont, cleverly, wrote a lucrative deal with his sponsor before becoming engaged with them. AkzoNobel is, according to their website, "a leading global paints and coatings company and a major producer of specialty chemicals." Fair enough and I can see why they would probably like to align themselves with a global brand like the Volvo Ocean Race especially since the idea of the VOR is all about being clean; as in the wind is free and the water is pure, and they make chemicals which I am guessing are not so clean or pure. But I digress. It seems that AkzoNobel has been less than impressed with the performance of their skipper and his management team, Steam Ocean B.V. There was, apparently, a cost overrun on some things and AkzoNobel used this as an excuse to terminate their contract with Steam Ocean B.V.  In other words the "suits" got involved.
Let me digress one more time. The very best thing that happened to the VOR was the appointment of Mark Turner as CEO. There are few people more qualified to run this race but less than a year into his term Mark is out. Resigned I believe (or was he pushed…:)?  Mark had many interesting and innovative ideas of how to bring this iconic event into the 21 century but it seems he might have fallen afoul of the bean counters. And he is out.
Late this afternoon there was a report that the aforementioned Brad Jackson has been appointed as skipper of AkzoNobel. Good for him and I am sure he will deliver but I have to wonder where you draw the line. Loyalty to your mate and the guy who hired you, or loyalty to the pay check that will come as skipper. That goes for the rest of the crew. They too could have resigned in protest and I read that there were plenty of rumblings on that note, but a job is a job and a paycheck is a paycheck so I don't blame them. But I do blame the suits for their heavy handedness. One thing that sets a winning team apart from the rest is crew morale. I am sure that crew morale is at a low ebb on the good ship AkzoNobel.
So back to where I started. The Volvo Ocean Race has finally grown up and come of age. It's now about money, bean counters, egos and suits. Surely this is a sign of a well developed event?
Brian Hancock
October 16th, 2017
Cruising Anarchy
Lots of other boats out here traveling this lonely blue highway. In the Northeast we are all heading south down the Atlantic coast, Delaware and Chesapeake Bays, and ICW. Lots of warm, blue water to chose from once you make further points south.
Some chose to spend more time offshore than others, but everyone has to make the New Jersey coastoffshore passage which is 120 miles with sketchy inlets and short weather windows this year. First it was hurricanes and tropical storms, now it's autumn gales.
Sailors of all levels on boats of all different sizes, shapes and pedigree are out here. Folks on a C&C 38 blew past me and are well close to South Carolina by now. A kid on a Catalina 25 towing a hard dinghy is out there right now north of here (Atlantic City). It's blowing 30 knots. He probably won't die but must be shitting his pants by now. At least it's a following wind and sea. Another C&C is continuing on south in a day or so. An old Pearson 30 is still north in Sandy Hook. Lots of French Canadians on Beneteaus. Met one couple on a Brewer 44 and another on a beautiful Baba 35. A Hunter 33 almost dragged into me. There's a Shannon 28 floating around here somewhere…
I left from Lake Champlain in September onboard my 1968 Pearson Ariel 26, down the Champlain Canal and Hudson River. I was shit out into the ocean at the Verrazano Narrows south of NY Harbor where the Hudson, East River and Atlantic all meet. I solo'ed eighty miles offshore from Sandy Hook, New Jersey to Atlantic City where I've been stuck for five days.
A landlubber friend came to visit whom was intending to be my crew for a bit, but left me high and dry at the dock when she saw the size of my boat in comparison to the size of (everyone else's boats) the ocean. All's well that ends well, though. It looks like I finally have a weather window to continue south tomorrow. See you out there!
Emily Greenberg
S/V Vanupied
www.dinghydreams.com
Title thanks to Billy Idol.
October 16th, 2017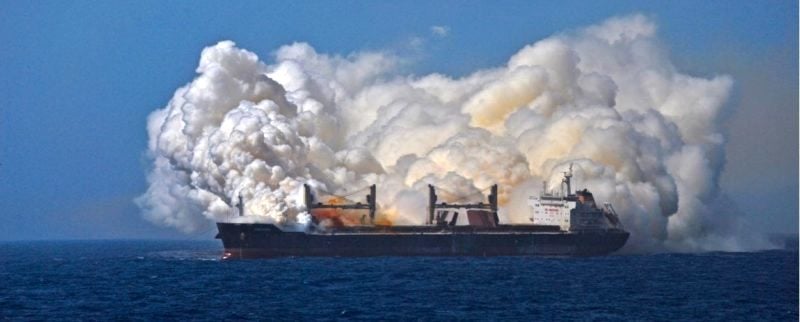 Not Sailing
A photo released by Spanish Maritime Search and Rescue Society shows just what can happen when 50,000 tons of fertilizer overheats during transit.
The photo shows the 56,000 dwt British bulk carrier MV Cheshire, which suffered a cargo fire in August off the coast of the Canary Islands during a passage from Norway to Thailand with a cargo of ammonium nitrate fertilizer.
The cargo in all five of the ship's cargo holds burned for two straight weeks until there was no more fertilizer to burn.
October 16th, 2017
With any early-start advantage destroyed by the dispute between sponsor and team owner AkzoNobel and former skipper Simeon Tienpont, it's left to multi-time winner Brad Jackson to pick up the pieces and get his team off the bricks.  With the skipper announcement just coming out a few minutes ago and the race beginning this weekend, Brad's job won't be easy, especially with the continuing conflict likely to play out in court over the next year.
So what was the fight really about?
According to the latest press release from Tienpont's people, it was all about AkzoNobel not paying the crew their agreed-upon salary…for months, and reading between the lines, it seems to have been a case of the team owner not wanting to pay the salaries they had long ago agreed to…not that any of you owners would ever stiff a paid crew…
Read the Akzo press release here.   Tienpont's release:
"AkzoNobel seriously neglected its sponsor obligations by withholding payments to Steam Ocean. As a result Tienpont was brought in a position where he could not pay the salaries of his crew over the last months.
Last Saturday AkzoNobel offered Tienpont a new contract against worse conditions. Tienpont's first priority was with his team, reason why he asked Akzo Nobel's full commitment to an instant payment of the crew and a settlement on the early termination of the sponsorship contract. AkzoNobel did not want to make these commitments.
On Sunday Tienpont had a meeting with his crew and expressed his confidence that arrangements with AkzoNobel can be made in the coming days. He wants to return on board as skipper and is eager to restore the unique opportunity of sailing a safe and promising Volvo Ocean Race with his team.
Last night AkzoNobel invited most crew members to work for them directly under similar conditions and to pay the outstanding salaries, however under the condition that they had to terminate their contractual relationship with Steam Ocean (Tienpont) with immediate effect, putting enormous pressure on the crew to opt for their money and for achieving their personal goal to sail the Volvo Ocean Race."
October 16th, 2017
Apparently, mother nature's record-setting year for the strongest Atlantic hurricane and Caribbean hurricane wasn't quite enough – she's back to the record books with the incredible Hurricane Ophelia, which has somehow hit Category 3 strength despite being nearly in Ireland and is now the strongest Eastern Atlantic hurricane ever recorded, and thanks to a 'sting jet' (whatever that is), already a 191 km/103 knot gust hit Fastnet Light.  And the leader of the world's biggest climate-changer just hired a climate change denier as his top environmental advisor…
Our Irish and Scottish friends need to pay attention to official guidance.  We know you are hearty people used to windy weather, but please recognize that a storm this nasty has very little in common with even the windiest Irish Sea storm.  Good luck to all…
October 16th, 2017
Two MacGregor 26's ran aground in Port Credit when a storm cell passed through this afternoon. Two down and only 4,998 of these 3ksb's to go!  – Anarchist Brian.
October 15th, 2017
VOR BREAKING –  BREAKING UPDATE:
Chris Nicholson is indeed on the move for the Mediterranean, but not for the reason we all thought – at least not yet.  Nicho is headed to Malta for the start of the Middle Sea Race aboard George Sakellaris' Mini-maxi Proteus.  As both the VOR and MSR start on the same day, it's pretty clear someone else will be at the helm of Team AkzoNobel, at least until Lisbon.
We EXCLUSIVELY hear that former Vestas Wind and Camper skipper Chris Nicholson is headed for Spain right this moment to take over the AkzoNobel program, and of all the possible choices the paint group could make, this one is probably the best thanks to Nicho's complete genuineness and the level of respect he gets from all sailors.  Best for getting the crew on board with the new program, best for having a chance to do well in the race, and best for Akzo.  Unfortunately for everyone, it sounds like it will take an Amsterdam judge to figure out who is to blame for the team's going off the rails. 
Outgoing skipper Simeon Tienpont put out his own release last night with one crucial bit of information inside: According to Simeon,  Akzo's allegation that he has breached their management contract "is absolutely unfounded and is very damaging to my reputation, especially in view of the timing, just before the start of the race. I can only guess that it is about a small budget overrun on a safety issue, but we have always been 100% transparent to AkzoNobel about our financial affairs and all our expenses have been made with their approval. It is them, not me, who is in clear breach of the contract."
Meanwhile, Akzo published their own statement a few hours later:
"– Simeon Tienpont's management company STEAM breached its contract to manage the team AkzoNobel entry in the Volvo Ocean race 2017-18
– The breach was serious enough for AkzoNobel to terminate the contract with immediate effect and AkzoNobel then took over the full management of the team
– Simeon was offered the option to continue as skipper but opted not to continue and has left the team

AkzoNobel has restated to us its unwavering commitment to our entry in the Volvo Ocean Race.  The sailing team and management are working together to move forward and find the best solution for the race which starts in seven days time.  As soon as the new skipper is confirmed we will make sure our sailing fans are the first to know about it."
So, like any good argument, both parties think they are 100% correct, and that the other is to blame, and Tienpont has himself confirmed that the team was overbudget (some sources say by as much as $2M), but it's telling that AkzoNobel's messaging is completely silent – over and over again – on the nature of the breach.  Looking at our crystal ball and knowing how sensitive AkzoNobel's brand new CEO is to bad publicity, we'd guess Simeon gets a quiet payoff in a few weeks…
October 15th, 2017